Tam Ky Chicken Rice (Cơm Gà Tam Kỳ) is a classic Vietnamese dish that will bring joy to your dining table with its enchanting flavors and enticing aroma. Featuring succulent chicken and fragrant rice, it is the perfect balance of comfort and taste, offering a symphony of delightful sensations to your palate.
With today's recipe, you'll not only master this cherished dish but also create unforgettable moments for your loved ones as you gather around a plate of this soul-satisfying meal. Don't hesitate any longer! Let's scroll down and learn everything you need to know about Com Ga Tam Ky!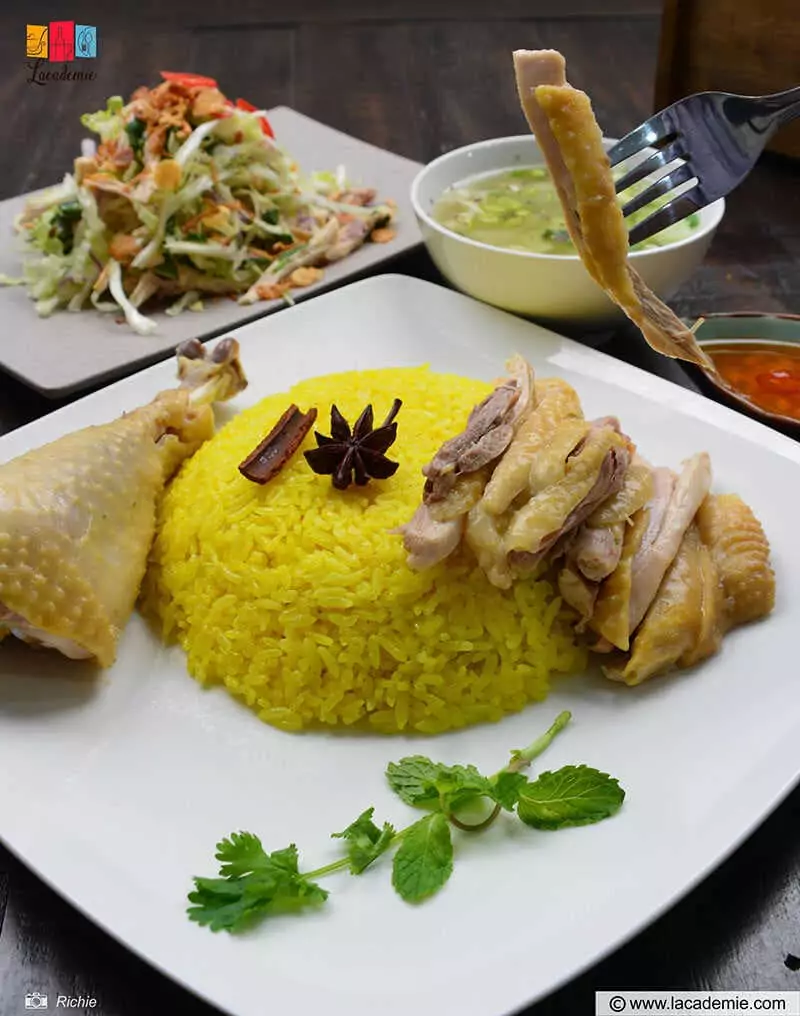 Com Ga Tam Ky – A Delicacy From Central Vietnam
Com Ga Tam Ky, a captivating signature dish from Quang Nam in central Vietnam, is a true feast for the senses. Picture a plate of gleaming rice cooked in chicken broth alongside succulent Tam Ky chicken.
These free-range birds, known for their firm yet tender meat and thin skin, create a taste sensation like no other.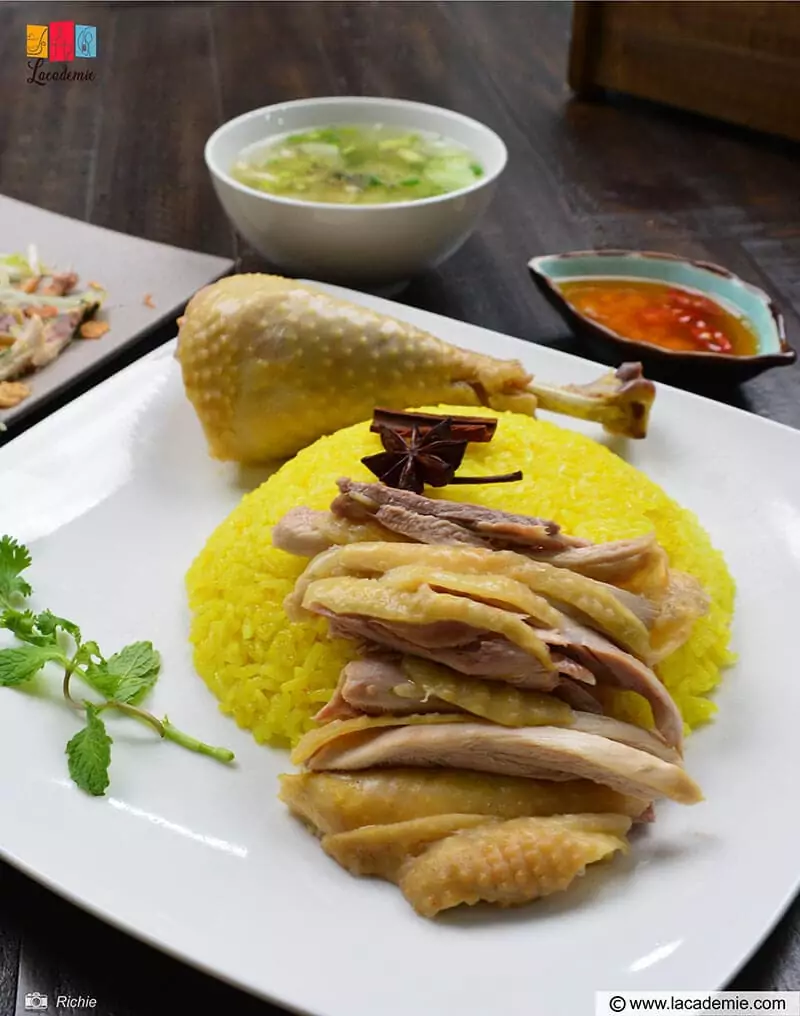 This vibrant Vietnamese chicken dish is a celebration of local ingredients: golden turmeric-infused rice, creamy chicken, fiery red chili, fresh green salad, Vietnamese coriander, and deep purple onion. Each mouthful is a testament to the culinary richness of Vietnam.
Tools
Preparing a delicious Tam Ky Chicken Rice dish requires a few essential tools to make the process smooth and efficient. Let's take a look at the must-have kitchen items for this flavorful Vietnamese recipe.
Knife and cutting board: For cutting up the ingredients. For the smoothest cooking experience, remember to maintain your kitchen knife regularly.
Mixing bowl: For tossing the salad.
Food prep gloves: The salad features a fish sauce-based dressing, which tastes phenomenal but will leave your hand with a fishy smell. To prevent this from happening, wear food prep gloves when you toss the salad.
Large pot: For cooking the chicken.
Rice cooker: If you're a fan of Asian cuisine, this device is a must-have. You can cook perfect rice with a rice cooker by simply pressing some buttons!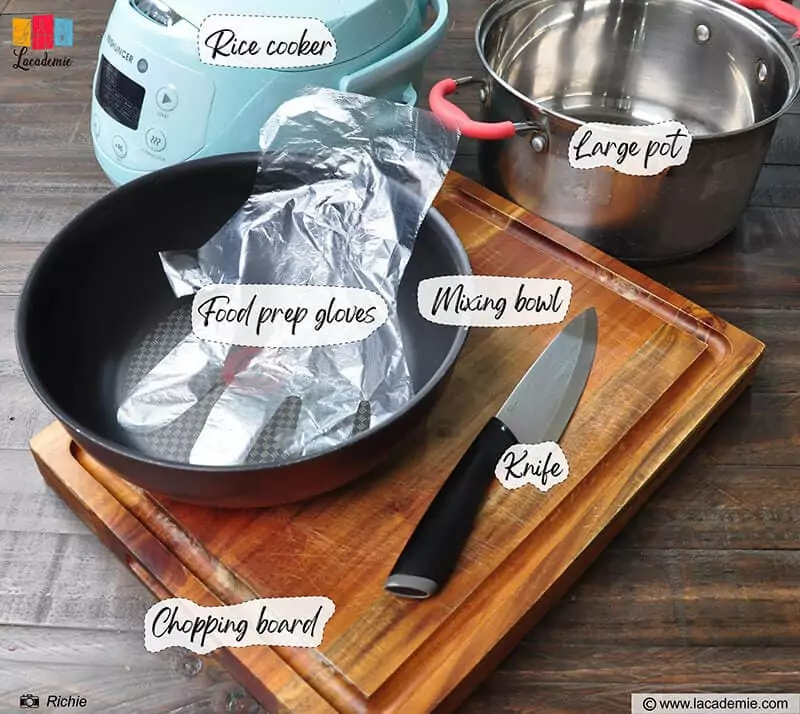 Ingredients
Here are the fundamental elements required to create the authentic taste and aroma of the renowned Com Ga Tam Ky.
Chicken: While the original recipe asks for chickens grown in Tam Ky province, you can use free-range chickens, which also have firm meat, as an alternative.
Spices: Ginger, garlic, shallots, and onion.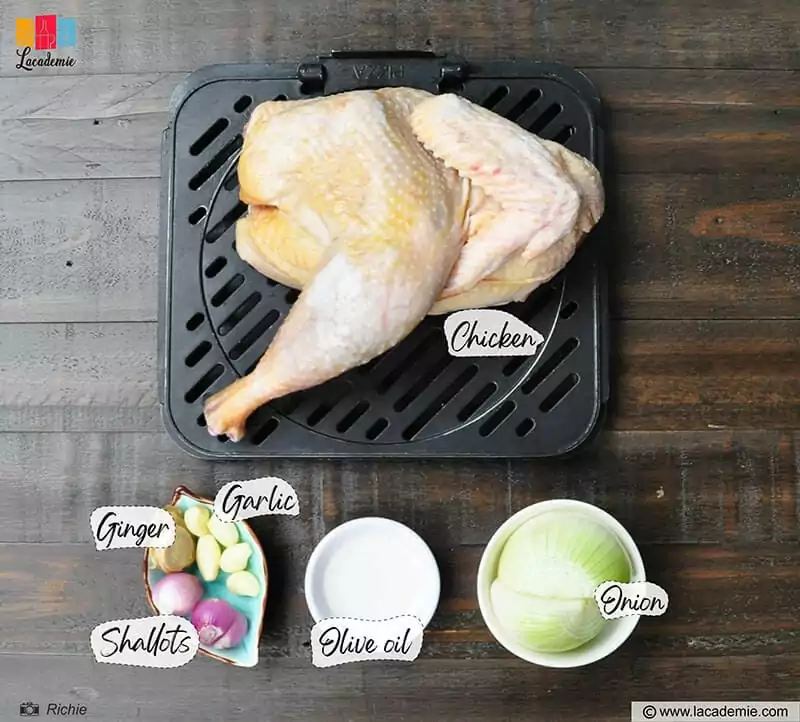 Chicken salad
Cabbage: You can try using various kinds of cabbage to add a pop of color to the dish.
Purple onion: This onion cultivar has an attractive color and tastes less pungent than white onion.
Herbs: Cilantro, Vietnamese coriander (laksa leaves), and spearmint.
Salad dressing: Fish sauce, lime juice, garlic, chili slices, chili sauce, and sugar.
For the rice
Rice: You will mix two kinds of rice: Jasmine rice and glutinous rice together. This combination creates a one-of-a-kind texture that's soft and a little chewy.
Turmeric powder: Gives the rice its signature golden color.
Spices: Star anise and cinnamon.
Other seasonings: Salt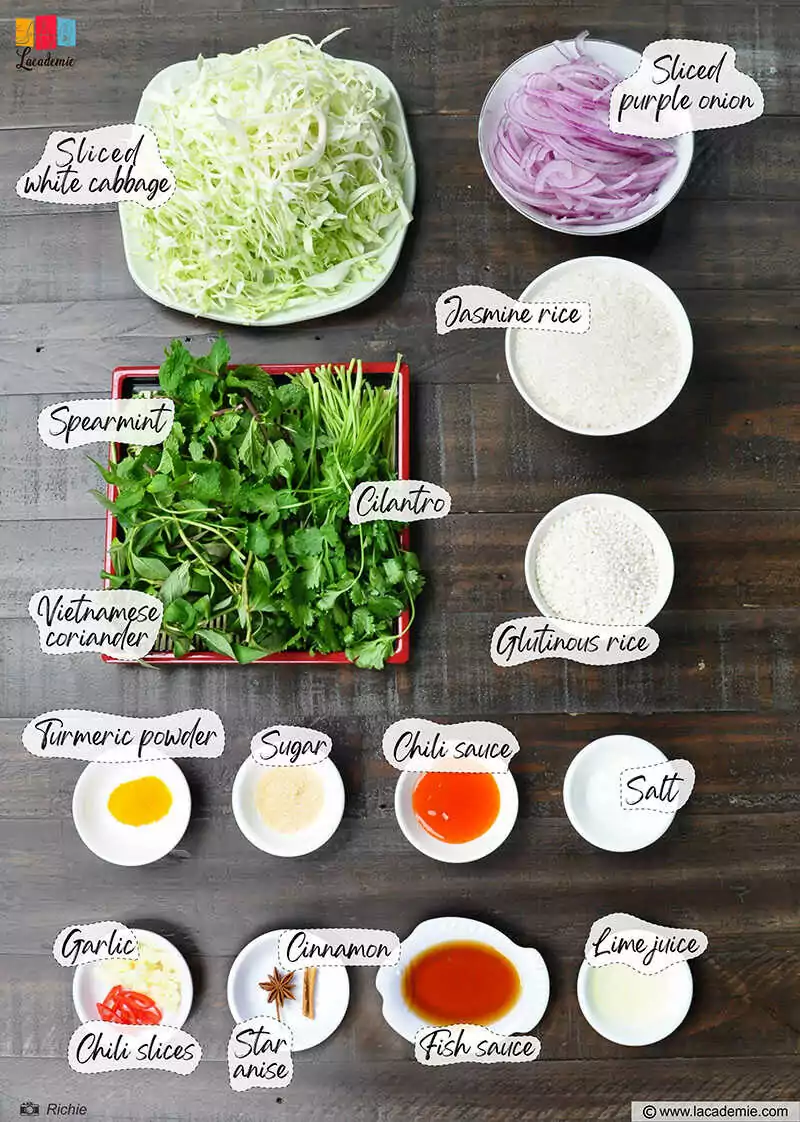 Directions
Making Tam Ky Chicken Rice at home is not as difficult as you may think. Simply follow these steps, and you'll enjoy a delicious meal.
Step 1: Prepare the ingredients
First, wash the chicken thoroughly and let it drain, or use a paper towel to pat it dry.
Next, mix and wash the rice 2-3 times, then let it drain.
Finally, thinly slice the cabbage and purple onion.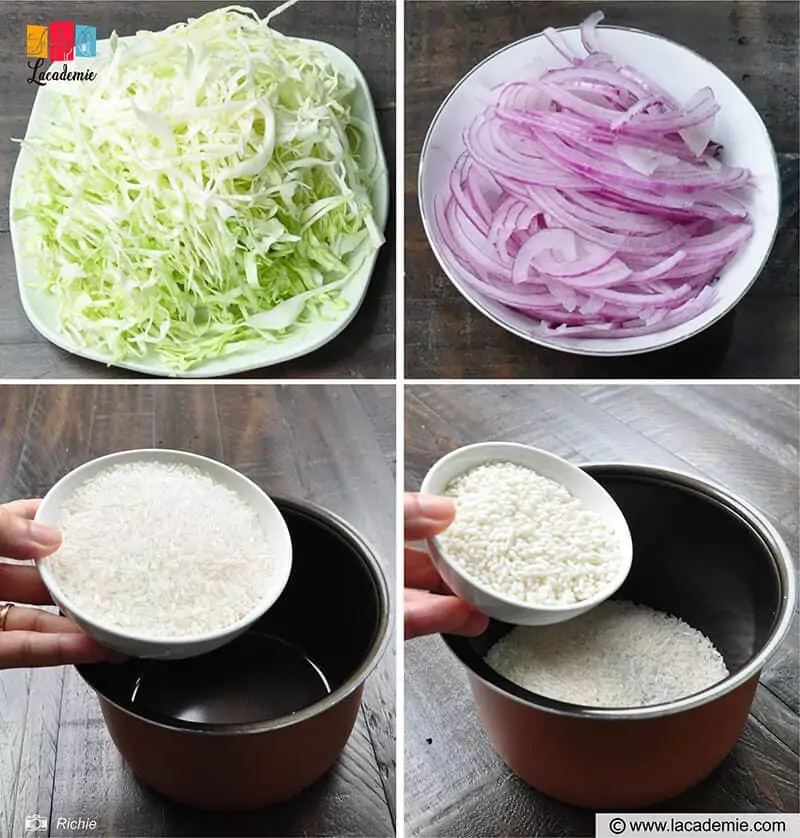 Step 2: Boil The Chicken
Add 1 teaspoon of salt to a pot of boiling water, then blanch the chicken in the water for 1-2 minutes and remove it.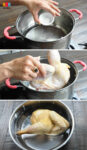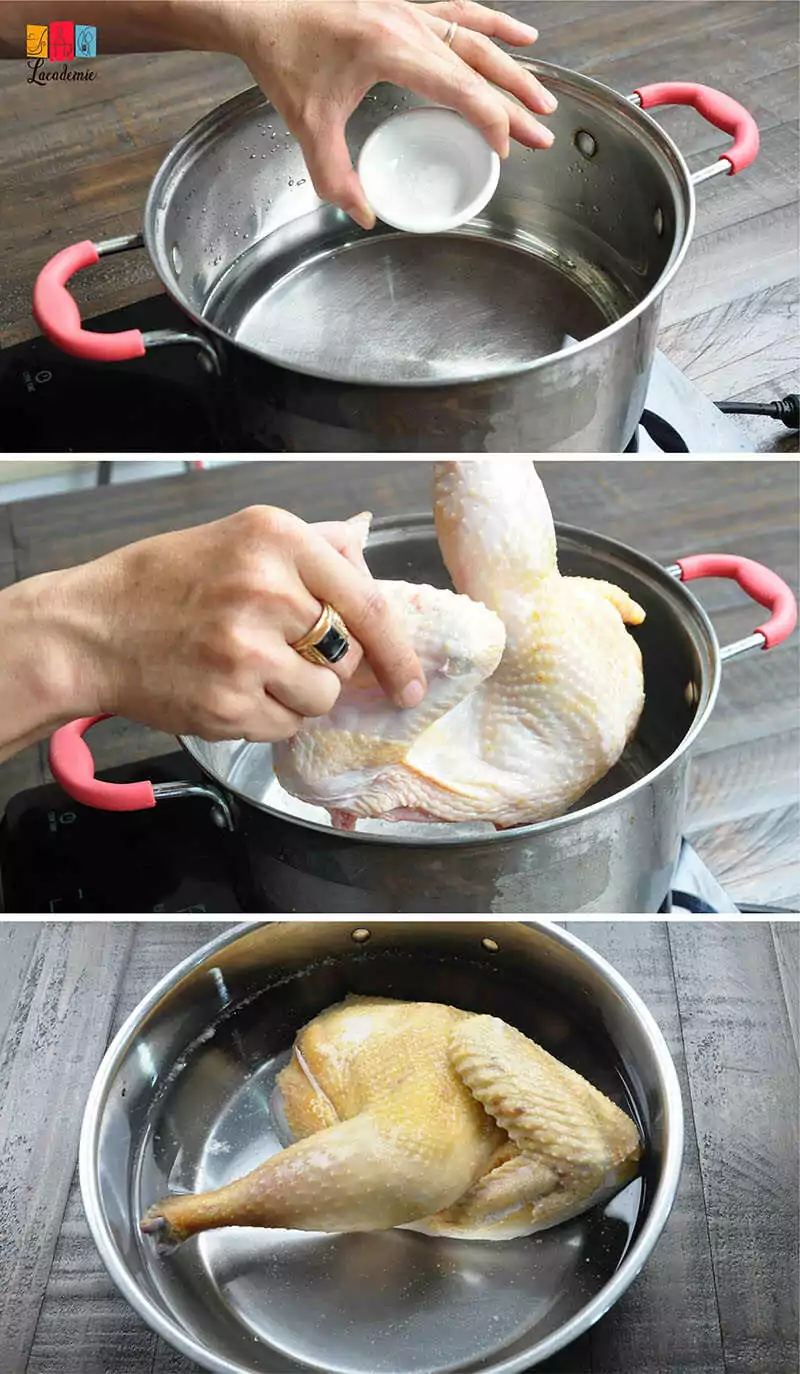 Heat olive oil in a pot and sauté the shallots, garlic, and ginger until fragrant. Then, add 2.5 quarts of water to the pot, along with 1 teaspoon of salt and the onion.
Next, add the chicken and boil for 25 minutes. During the boiling process, skim off any foam to keep the broth clear, as you'll use the chicken broth to cook the rice and accompanying soup.
After boiling, immerse the chicken in cold water to maintain a bright and attractive color.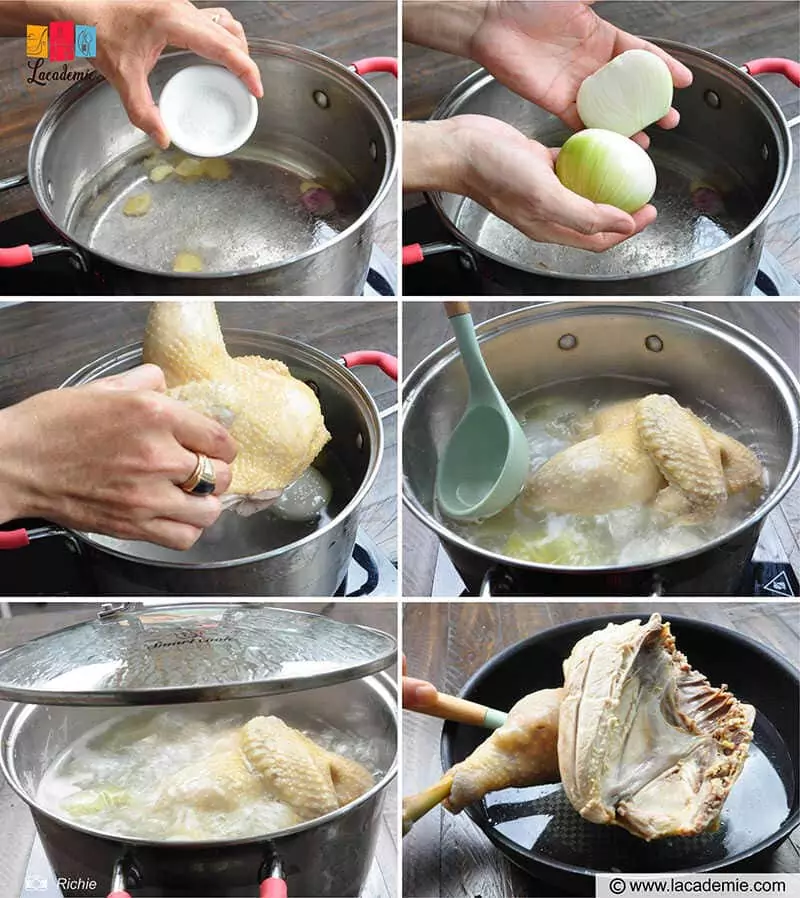 Step 3: Cook The Rice
Strain the chicken broth and add it to the previously washed rice (use 10.5 ounces of mixed glutinous and regular rice with 2.5 bowls of chicken broth).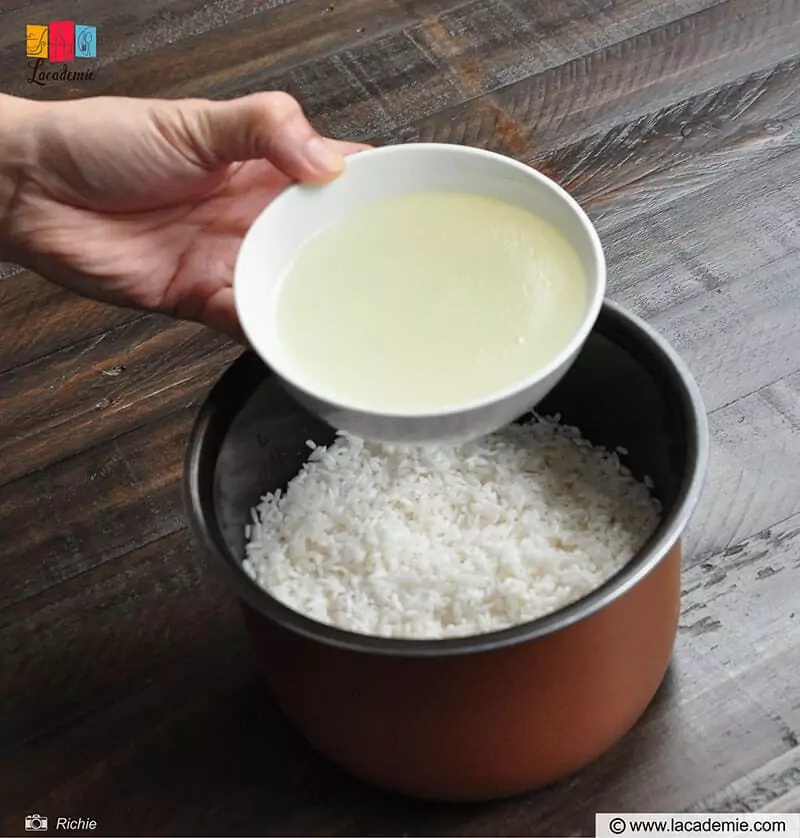 Mix in ½ teaspoon of turmeric powder. Add star anise and cinnamon sticks to the rice cooker for additional flavor and attractive color.
Cook the rice for 30-45 minutes using the standard setting.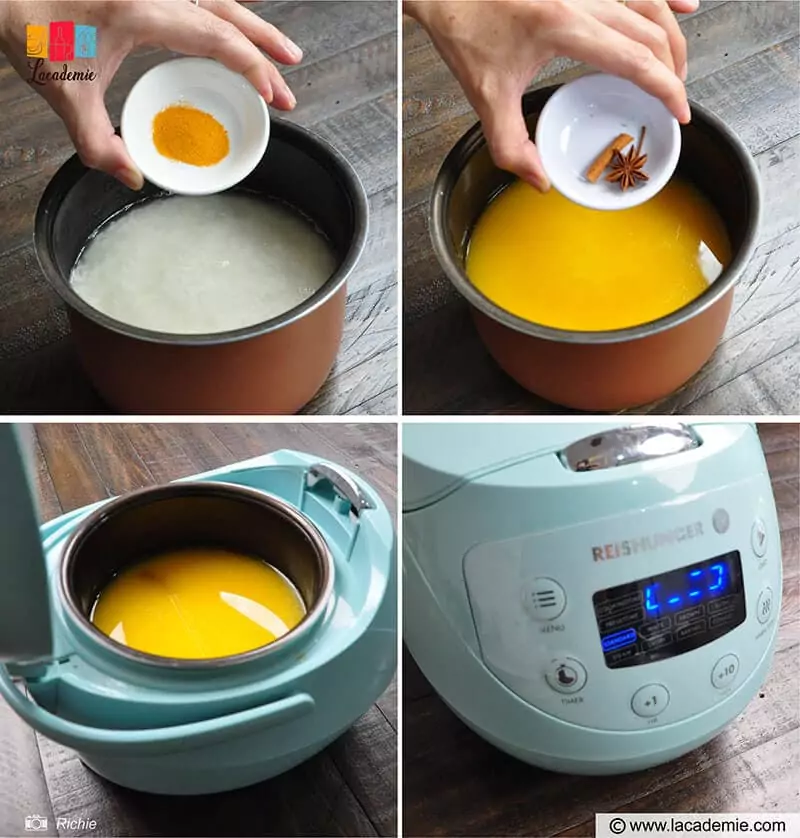 Step 4: Prepare The Salad
Marinate the purple onion with 1 teaspoon of sugar to create a crunchy texture and reduce the pungent taste.
Next, finely chop the cilantro, Vietnamese coriander, and spearmint.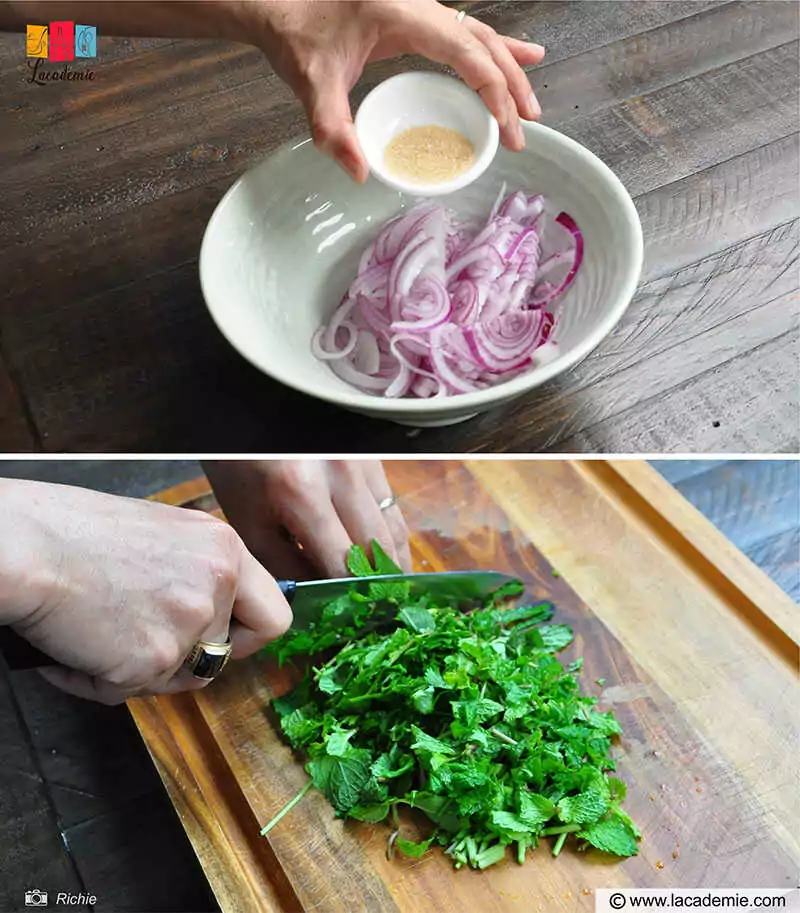 Once the chicken has cooled, divide it into three parts. Set aside the wings and drumsticks, slice the thigh meat, and shred the breast meat for the salad.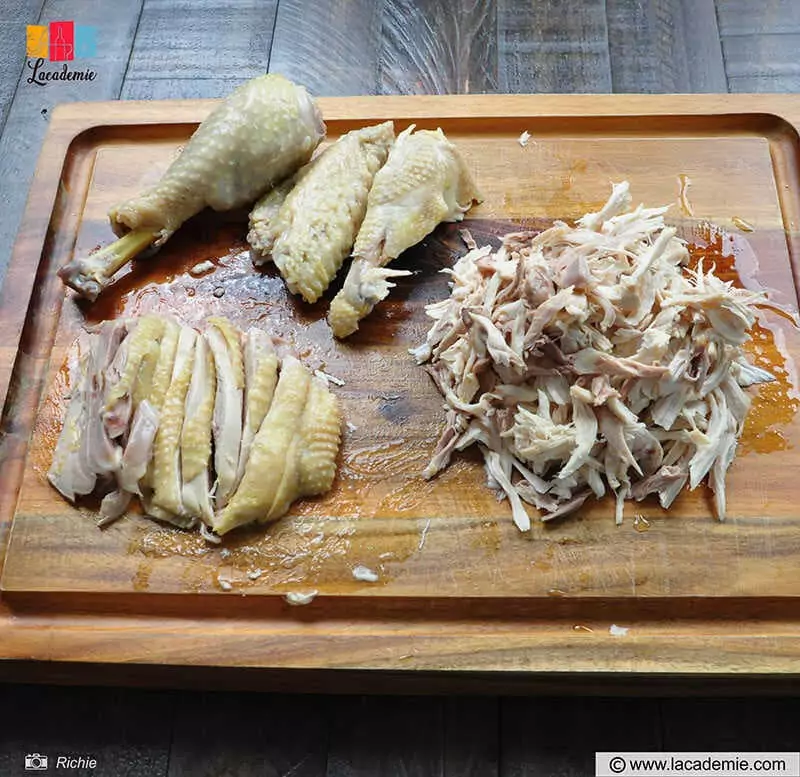 Step 5: Make The Dressing
Combine 1 tablespoon of chicken broth, fish sauce, chili sauce, minced garlic, sliced chili, 1.5 tablespoons of sugar, and lime juice in a small bowl. Stir until the mixture dissolves. Taste and adjust to your preference.
You will also use this dressing as the dipping sauce for your chicken rice.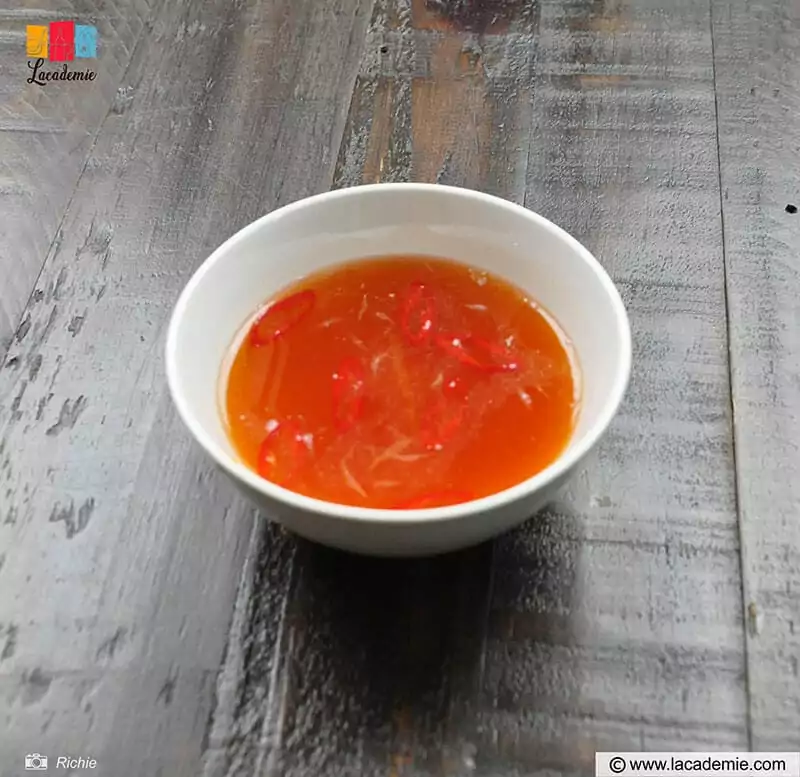 Step 6: Toss The Salad
Combine the marinated purple onion, cabbage, and 1 teaspoon of salt. Add the cilantro, spearmint, Vietnamese coriander, and shredded chicken. Pour the dipping sauce evenly over the salad and adjust the amount used to your taste.
Toss well so all ingredients absorb the flavors. Don't toss them for too long, though, as the vegetables will become mushy.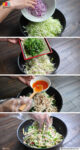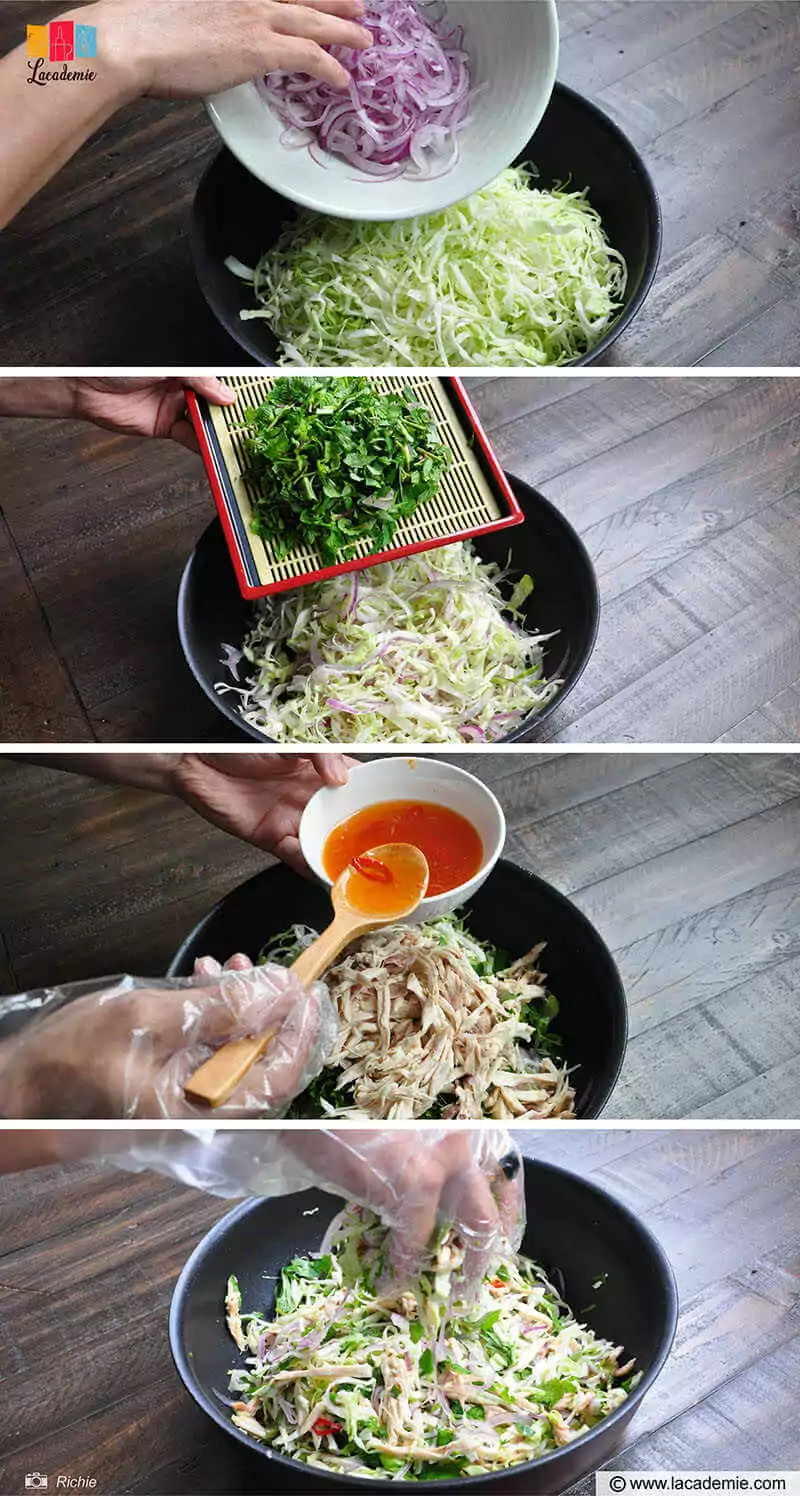 Step 7: Present The Dish
By now, your chicken rice should be cooked and fragrant. Adjust the seasoning of the chicken broth to your taste. Optionally, you can add cabbage and cook it for a few more minutes to make the soup more appealing.
Now, scoop the rice into a bowl, press it slightly, and flip it onto a plate. Place the chicken slices and drumsticks next to the rice, along with the chicken salad and accompanying soup.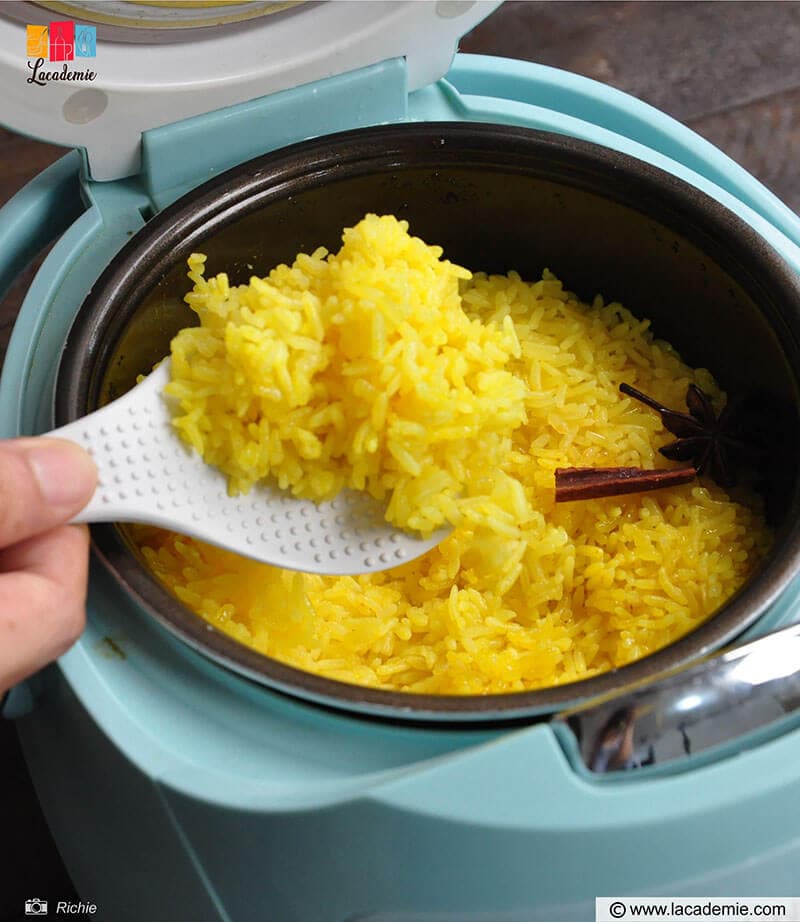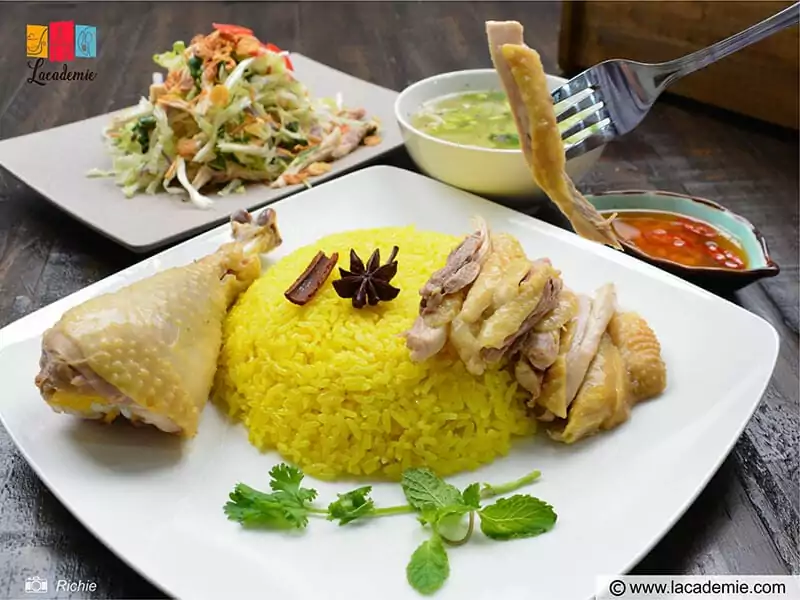 Tips And Tricks
In this section, you'll learn a few tips and tricks that help maximize the flavor of your chicken rice dish. Don't miss out!
The Proper Storage Method For Com Ga Tam Ky
Since the dish is composed of various elements such as chicken, rice, herbs, and dipping sauce, it's essential to store them separately to maintain their individual flavors and textures.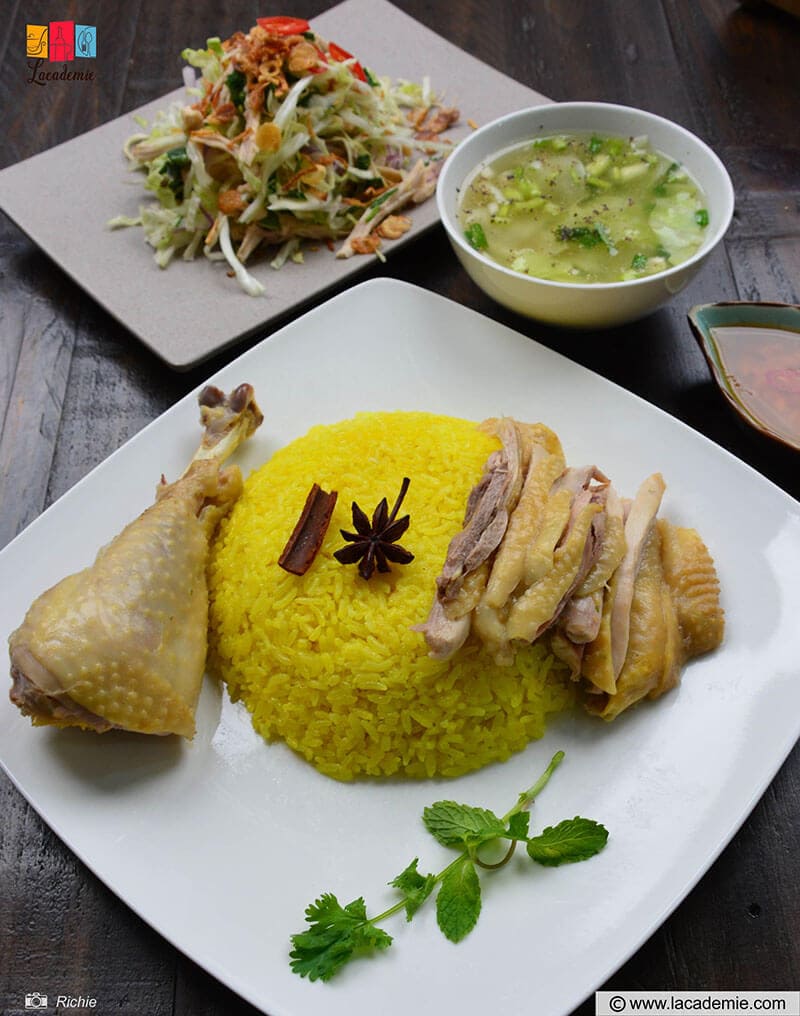 For the rice, you can store it in the rice cooker. This helps keep the rice warm and moist, preventing it from drying out or becoming hard for up to a day. Alternatively, transfer the rice to an airtight container and store it in the refrigerator for 3 to 5 days.
As for the chicken, let it cool to room temperature before transferring it to an airtight container. Store the container in the refrigerator if you plan to consume it within 2-3 days, or freeze it for longer storage, up to 3 months.
Keep the herbs and dipping sauce in separate containers in the refrigerator. The herbs should be wrapped in a slightly damp paper towel and placed in a resealable plastic bag to retain their freshness. The dipping sauce can be stored in a small airtight container.
Check Out These Vietnamese Dishes
After trying Com Ga Tam Ky, I'm sure you're eager to explore more recipes from Vietnamese cuisine. Here are some of my favorites.
FAQs
Let's dive into the most common queries to deepen your understanding of Com Ga Tam Ky and create a perfect plate.
A Chicken Rice You Won't Forget
Com Ga Tam Ky, with its tender marinated chicken, fragrant jasmine and glutinous rice, and zesty dipping sauce invites you on a memorable gastronomic journey to central Vietnam. If you like the homemade version, I encourage you to take a trip to Vietnam and enjoy this dish in all of its glory!
If you have any further questions or feedback on the recipe, please write them in the comment section below. To support today's post, remember to give it a good rating and share it with people you know.
Nutrition Facts
4 servings per container
---
Amount Per ServingCalories680
% Daily Value *
Total Fat 8g

13

%
Cholesterol 192mg

64

%
Sodium 3859mg

161

%
Potassium 1388mg

40

%
Total Carbohydrate 75.3g

25

%

Dietary Fiber 4.5g

16

%
Sugars 7.6g

Protein 71.2g

142

%
---
* The % Daily Value tells you how much a nutrient in a serving of food contributes to a daily diet. 2,000 calories a day is used for general nutrition advice.