Many people enjoy chocolate every day, but I wonder whether anyone can answer this question correctly: Does chocolate go bad? Not only does it vary significantly with different kinds of chocolate, the appearance symptoms sometimes can be pretty misleading.
Don't freak out now! Because in this article, I will provide you everything you need to know about chocolate's storage life and how to store it properly. I will also solve all the misunderstandings and issues regarding chocolate.
But, let's look at the big question first: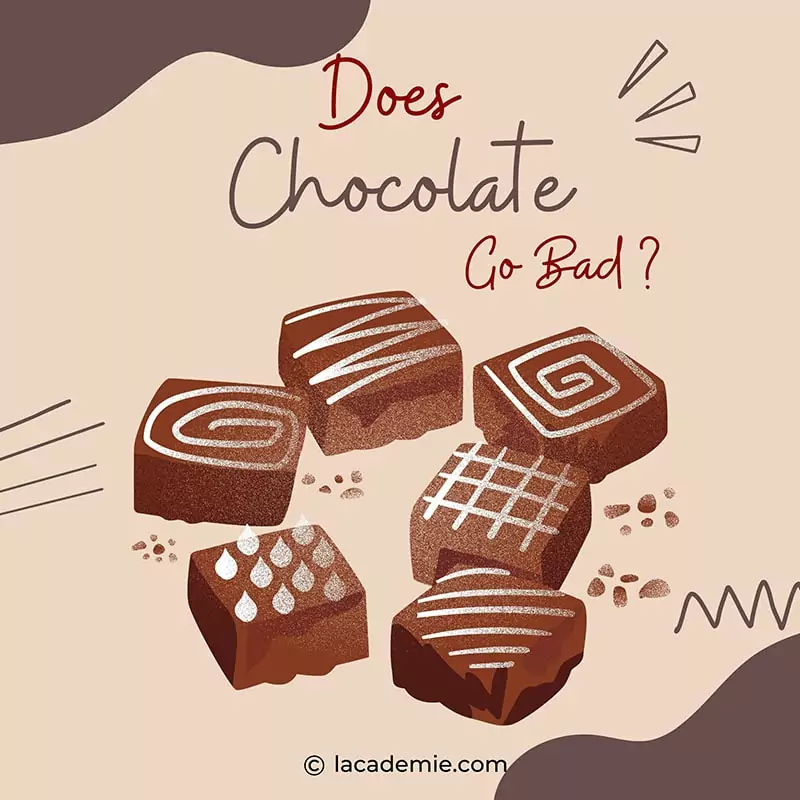 Does Chocolate Go Bad?
Yes, it does. And the longevity differs from each type of chocolate.
Dark chocolate: This kind can last for two years unopened, and one year opened.
Milk chocolate: When unopened, milk chocolate can survive up to one year. And its life reduces to eight-ten months once opened.
White chocolate: This one lasts the shortest, with only six months if sealed. After opening, you should eat it within four months.
Filled chocolate: Filled chocolate's shelf life depends mainly on its ingredients like dairy products, fruits, etc.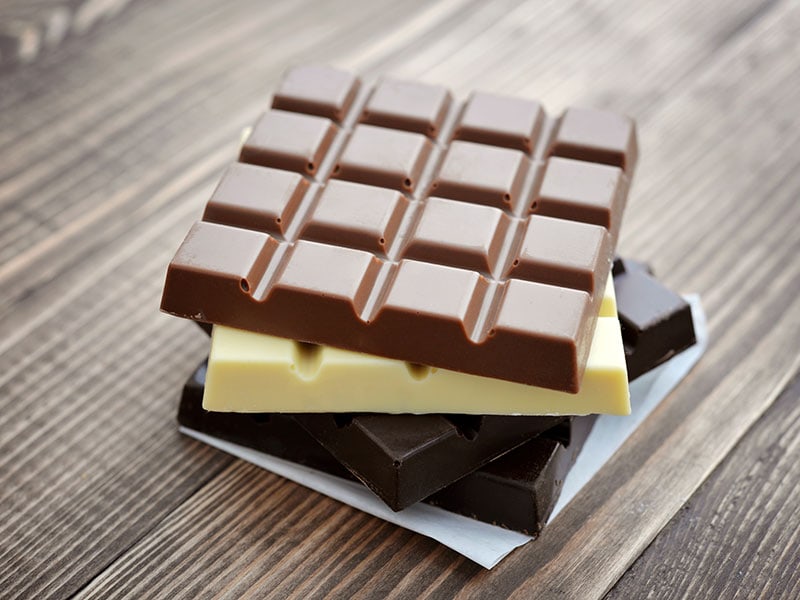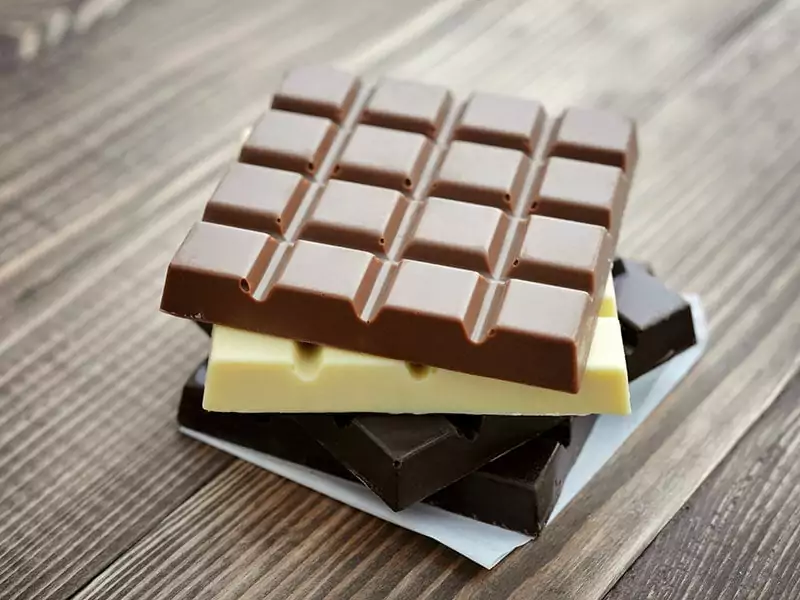 This short answer may satisfy you, but there is multiple interesting information waiting for you to find out below.
So, keep scrolling for more!
How Long Does Chocolate Last?
There are various factors that can affect chocolate's storage life. But most of the time, you have to mention different kinds of chocolate and the storage condition.
The most significant and crucial element is always chocolate's type. High-quality chocolate fountains, dark chocolate, white chocolate, milk chocolate, and other kinds have different cacao content.
And the higher the cacao content, the longer it lasts. It's because cacao's naturally packed with antioxidants. (1)
Now, I will go through all the most common chocolates.
See how chocolate is made in this video!
Dark Chocolate
Bitter chocolate has the longest shelf life of all as it has the highest cocoa content and lowest milk content. On a side note, it's also the go-to choice for people who wonder if chocolate is vegan or not since there are many dairy-free dark chocolate products.
With the proper storing method, an unopened pack of dark chocolate can last for two years. And if it has been opened already, you should consume it within one year.
Milk Chocolate
When milk gets involved, you'd better cut the chocolate's shelf life by half. So, you have roughly one year for the sealed package of milk chocolate. But once it's opened, its storage life reduces to only eight to ten months.
All are under one condition that you store them correctly.
White Chocolate
Containing mainly milk and butter, even white chocolate from the most trusted brands certainly can't last any longer than the other two. It can survive up to six months if tightly sealed. Unseal its package, and you have your white chocolate spoiled after four months.
Check this table below for more transparent information about the shelf life of different chocolate varieties. Also, you can use it as a guide for buying chocolate by comparing their shelf lives with how long you intend to keep them at home.
| States | Dark Chocolate | Milk Chocolate | White Chocolate |
| --- | --- | --- | --- |
| Unopened | 2 years | 1 year | 6 months |
| Opened | 1 year | 8-10 months | 4 months |
Filled Chocolate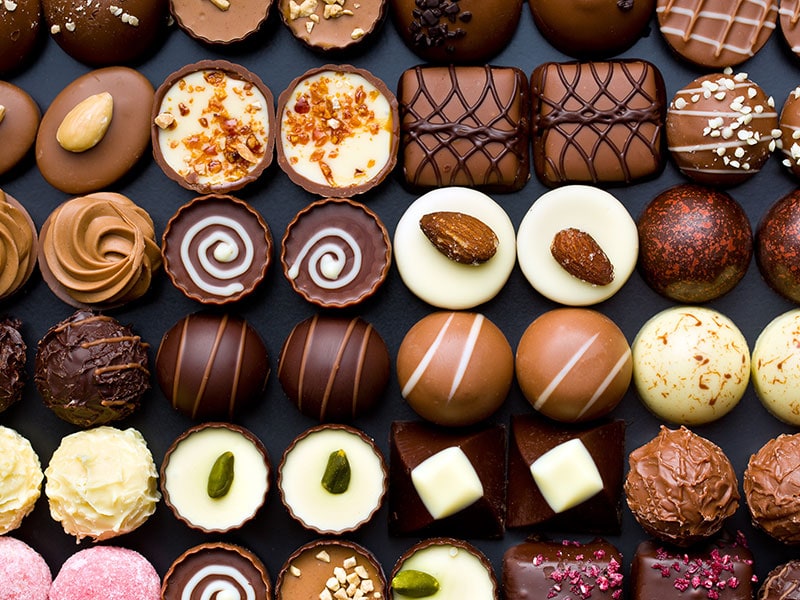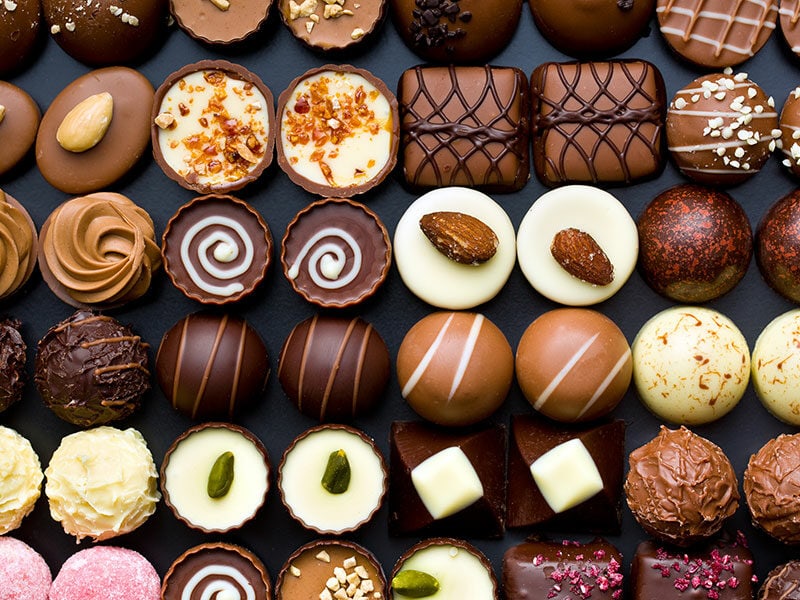 When it comes to chocolate products, things get more tricky. It's because filled chocolate usually contains various ingredients instead of just cacao and milk. There are nuts, fruits, dairy products, and many more inside one bar of chocolate.
And the problem is, these components tend to get spoiled quicker than the chocolate itself. Thus, when buying filled chocolate, you need to read its ingredients list and the "Best by" date on the package.
How you store chocolate can also affect its longevity. Chocolate kept at cool and dry places can last longer than one that isn't. The reason is humidity can encourage bacteria to multiply and damage the food.
Regarding storage methods, I will talk more about details in the below part.
How To Store Chocolate Properly?
As you've read, the storage method plays a vital role in protecting chocolate's quality and shelf life. But what is a proper way to keep your chocolate? Here is the answer you need.
Unopened Chocolate
As I've stated above, chocolate needs to be stored in a cool and dry place. The proper temperature you should look for is from 54°F to 61°F. If it's too hot or too cold, your chocolate can either melt away or condensate.
Also, keep the chocolate somewhere dark and far away from all the heat sources since light and heat can ruin its quality. So, one place I suggest is your kitchen pantry with a sealed bag or container to avoid picking up other odors.
Opened Chocolate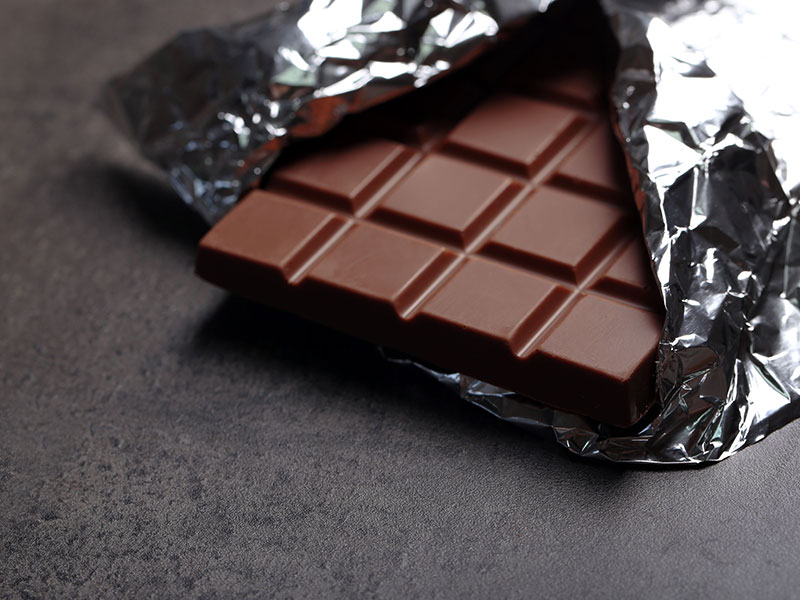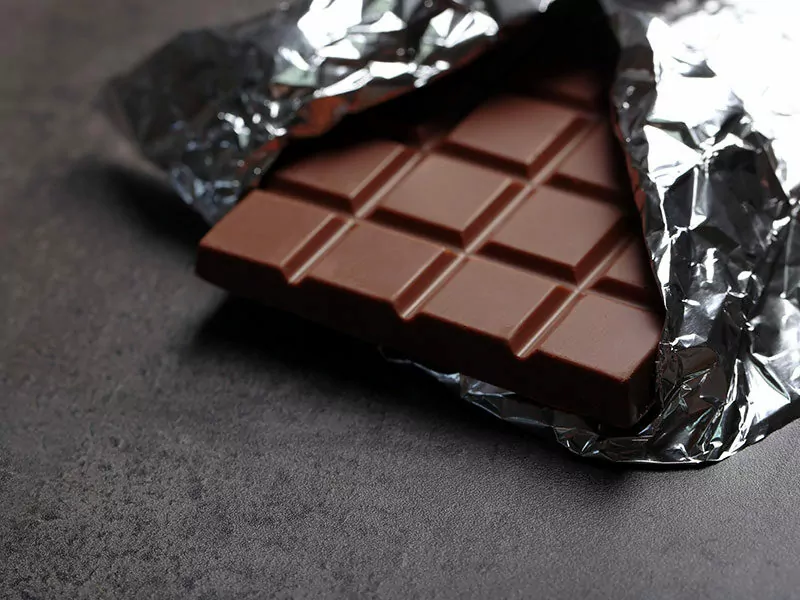 The kitchen cabinet is still suitable for an unsealed package of chocolate. However, there is one preparation step before storing it. After opening, make sure you wrap it carefully. You can use the original packaging if it's aluminum foil or opaque paper.
Or you can put the leftover chocolate in an airtight container or a sealed bag. This step will protect your sweet from all the scents from different foods.
Can I Refrigerate Or Freeze Chocolate?
Actually, I don't recommend both these options unless you're in a hot and humid region. Scroll down for more reasons.
Low Temperature:
As I've stated, the ideal temperature for chocolate is between 54°F and 61°F, which is higher than the average temperature in the fridge and freezer. This would cause crystallization on the chocolate, leading to fat and sugar blooming.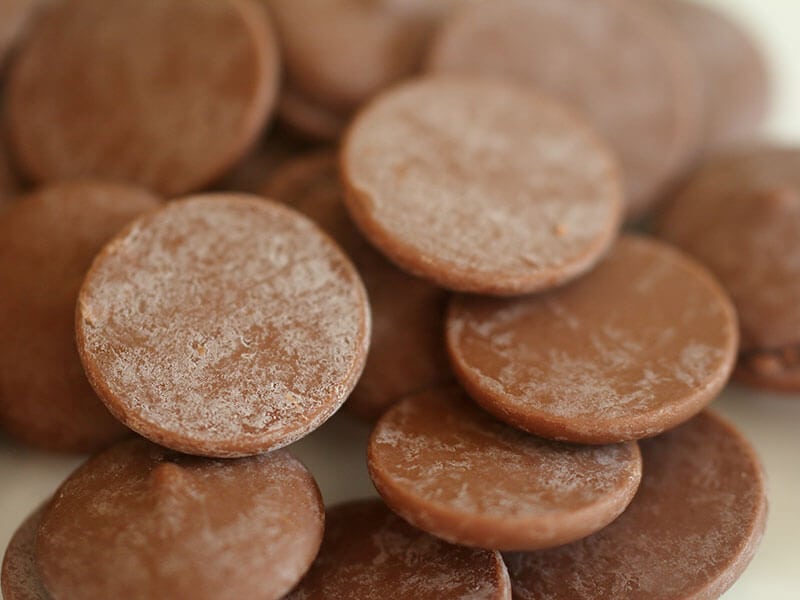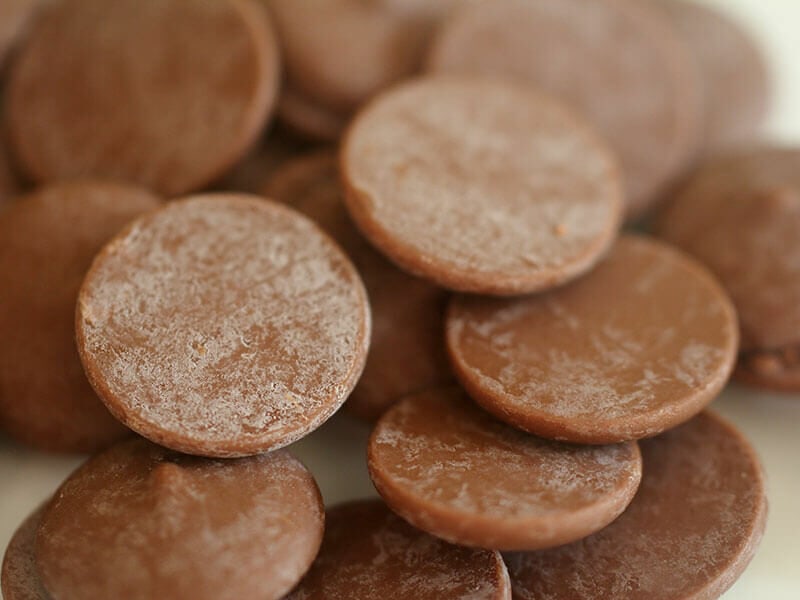 Various Odors:
Admit it, you tend to store various foods in the fridge and freezer. And no matter how tightly you seal them, their smells still leak out here and there. Putting chocolate, which easily absorbs other odors, into a refrigerator or freezer only ruins its flavor more quickly.
Aside from these two above reasons, while refrigerating and freezing chocolate can prolong its shelf life, you don't necessarily need a bar of chocolate lasting for more than a year. Instead, consume chocolate when it's best and buy some more. That's quite a more decent way than trying to store it for years.
However, when you run out of options and have no choice but the fridge or freezer, here is some advice to protect the chocolate quality:
Put the chocolate in a sealed bag or airtight container that can handle the freezer (if you're going to freeze it). Remove as much air as possible.
If you want to freeze the chocolate, put it in the fridge first for 24 hours. A drastic temperature drop may cause your chocolate to bloom.
You should take the refrigerated chocolate out for 30 minutes before eating. Or else, it would taste dull and too crunchy.
To defrost frozen chocolate, move it to the fridge for 24 hours before leaving it at room temperature. This would prevent your chocolate from melting, ruining its quality.
I've Just Said Blooming. But What Is It?
In the previous part, I've stated that refrigerating and freezing chocolate would cause blooming. So, what is blooming? And does it negatively affect your chocolate?
Chocolate Bloom Definition
Chocolate bloom happens on improperly stored chocolate, especially when you keep it in places with unsuitable temperatures. Either cocoa butter or sugar will separate from the chocolate and cause some white or gray film on the chocolate surface.
There are two types of bloom: fat bloom and sugar bloom.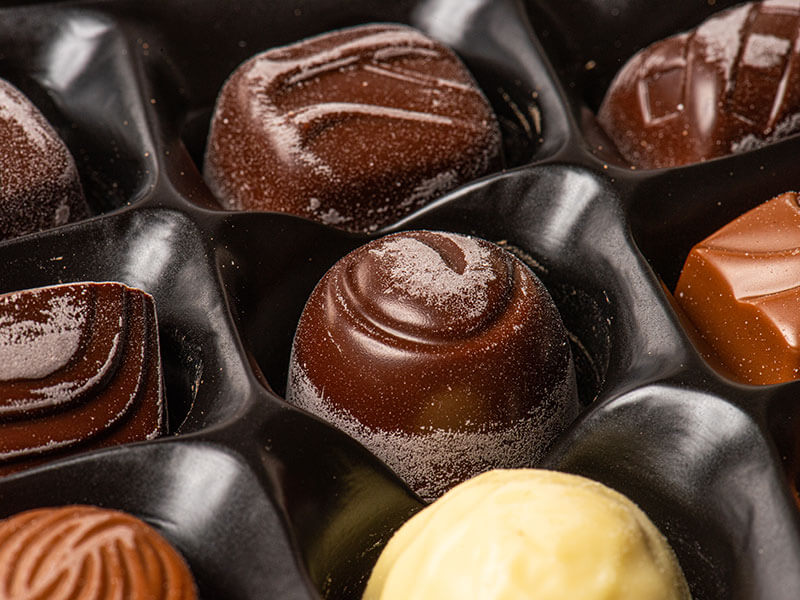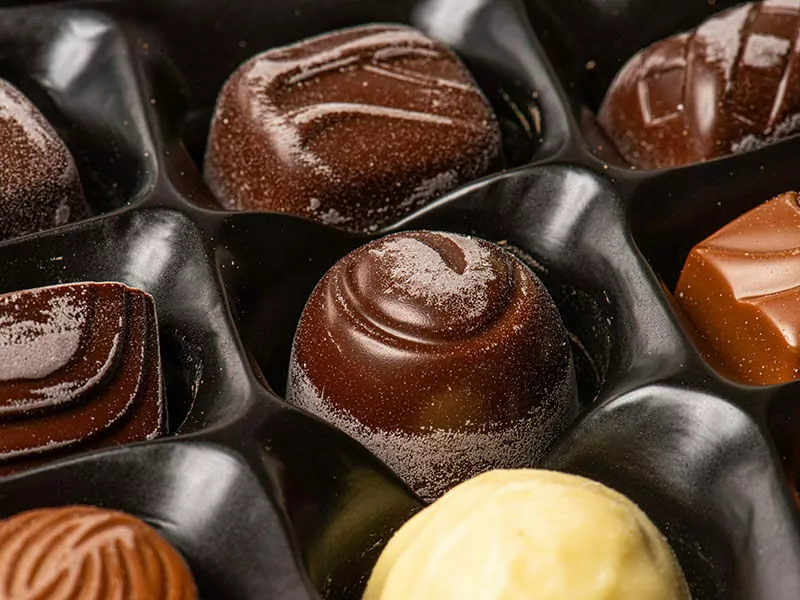 Fat Bloom
This kind of bloom happens when your chocolate suffers a sudden temperature change. As a result, the lipid structure in the chocolate becomes unstable, causing the fat to rise onto the sweet's surface.
You can spot it by looking for some lighter colors like grey or white marks on your chocolate.
Sugar Bloom
While fat bloom happens due to temperature fluctuation, sugar bloom occurs when chocolate's exposed to moisture. This is because humidity breaks down the sugar crystals in the chocolate.
When water evaporates, the dissolved sugar will crystalize again, leaving a whitish, dusty coating on your chocolate. (2)
Bloom's Influence On Chocolate
The big question is, does bloom harm chocolate? Luckily, it mostly doesn't. Well, you can't expect a bar of blooming chocolate to taste just like fresh chocolate. Instead, its texture will turn quite grainy and powdery, especially with the sugar-blooming chocolate.
However, besides these results, blooming chocolate is still suitable to consume. That's if you can handle the weird texture. My recommendation is to use it in cooking, like making hot chocolate or some brownies.
This video will give you some suggestions for your chocolate desserts.
3 Identify Signs Of Spoiled Chocolate
Now, you know that blooming chocolate is different from spoiled chocolate. So how can you tell whether your chocolate has gone wrong? Lucky for you, I have some suggestions here.
Appearance
Check your chocolate for any signs of discoloration or molds. If yes, discard it immediately. Also, cracks or dots on the surface may signal that this chocolate has gone stale in taste.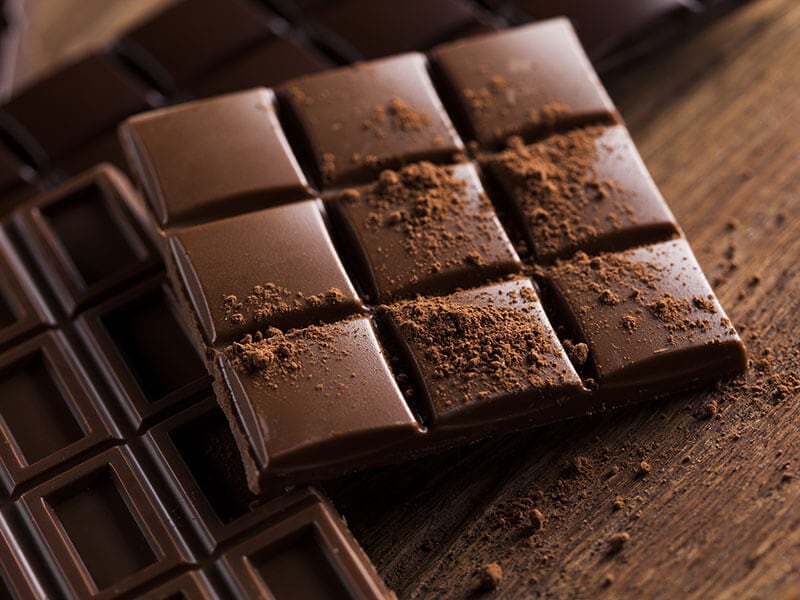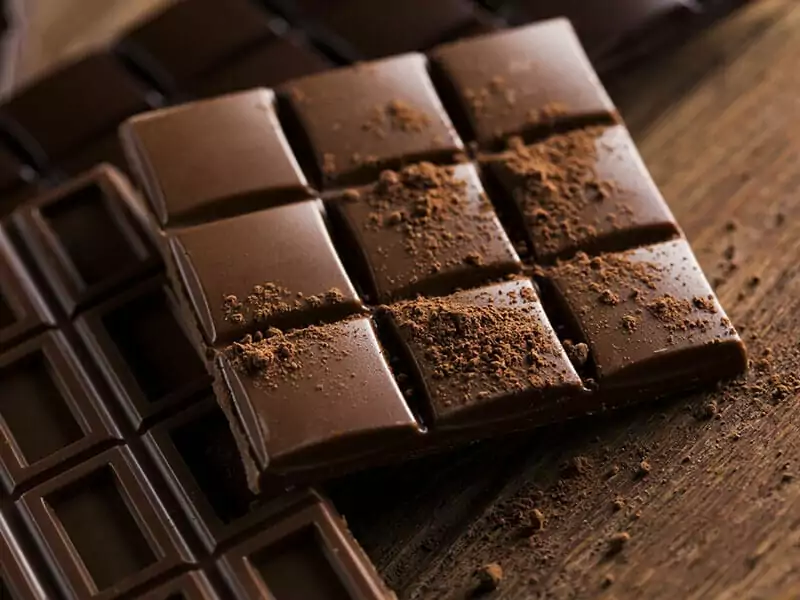 Smell
If you aren't confident about checking the appearance, try smelling it. For example, if you have your favorite bottle of hot chocolate mix laying around for a long time, it tends to smell funky and make you cringe. If your chocolate has these signs, it's time to say goodbye.
Taste
When push comes to shoves, you might need to take a small bite. Make it really small and spit it out if you feel something wrong.
If you can still taste the cacao flavor, lucky for you, this chocolate's still edible. However, any rancid or off-taste is a warning sign that you shouldn't eat it.
Also, you should at the "Use by" date on the package. Although that only indicates the period your chocolate tastes the best instead of its expiration date, it still gives some basic information on whether you should eat this chocolate or not.
Frequently Asked Questions About Chocolate
Concerning chocolate, there are as many questions as the chocolate stores. And you must have some yourself. So here I will answer some of the most frequently asked questions. Keep scrolling down. Maybe you will find your troubles right below.
Further Information
Sometimes, chocolate's storage life also depends on its quality. Store-bought chocolate is likely to contain various artificial preservatives, which reduce its longevity significantly. In contrast, some high-end quality can even be compared with wine as its value increases with time.
Whatever chocolate kind you own, I hope this article has helped you learn how to protect it effectively. So share it with your mates or anyone who needs assistance with their chocolate. And if you have other ideas about this matter, please write them down in the comment section below.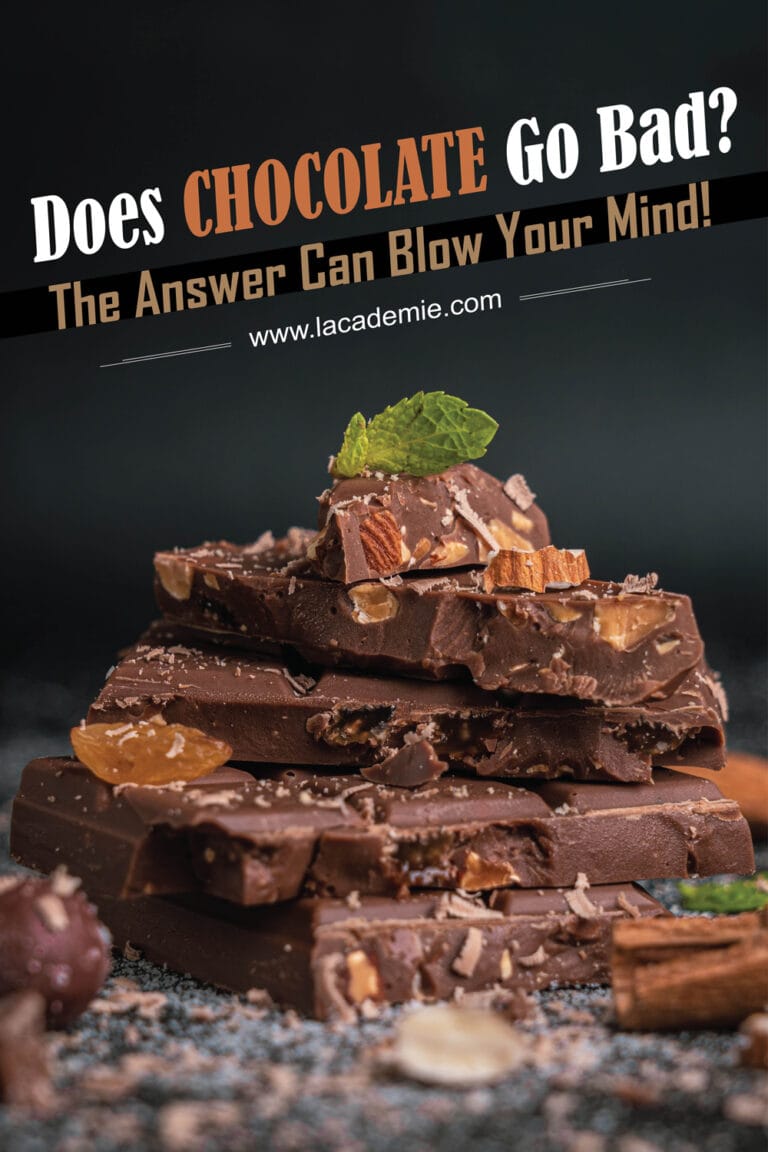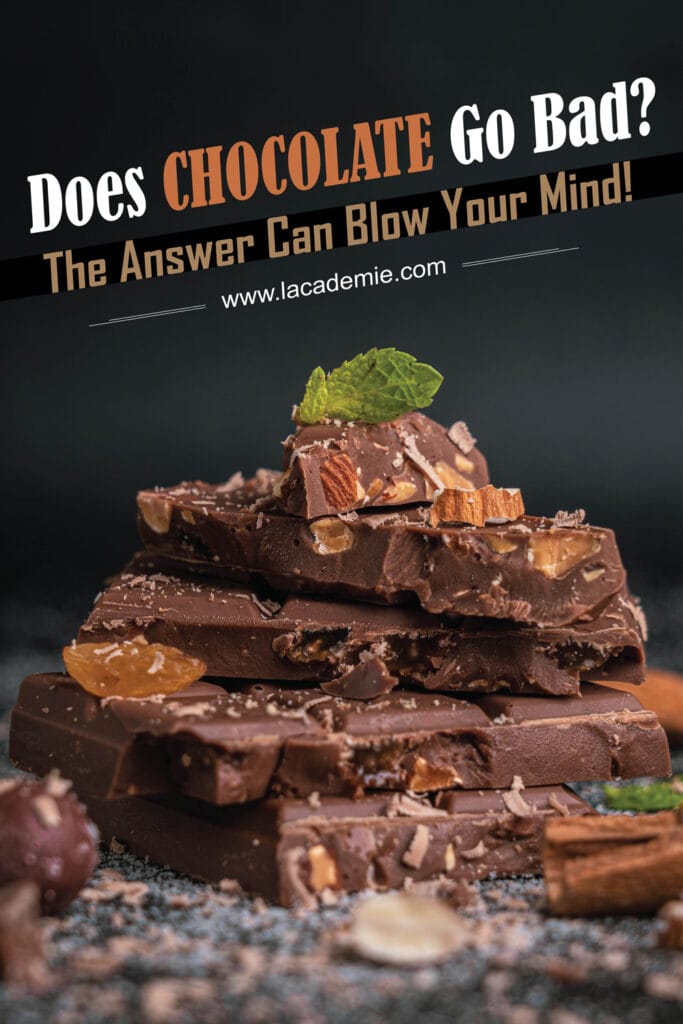 References
1. En. wikipedia.org. 2021. Chocolate – Wikipedia.
2. En.wikipedia.org. 2021. Chocolate bloom – Wikipedia.
3. Blum, D., 2021. The Poisonous Chemistry of Chocolate.