Lots of people love tahini, and rightfully so! But does tahini go bad? Although this question appears to be quite simple, the answer is not so straight-forward. Fail to answer this, and you might have an unpleasant time eating spoiled tahini.
But since you have come across this article, there's no need to worry anymore as it'll include all the necessary information about the longevity of this yummy sesame paste and how to maximize it.
Keep reading to learn about the quintessential of tahini that everyone should know!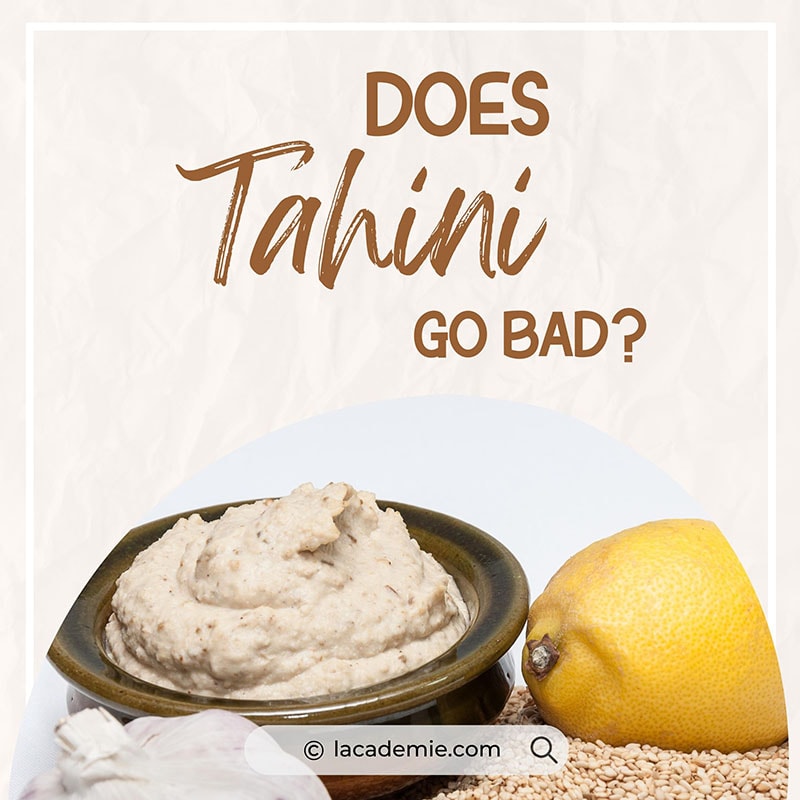 What Exactly Is Tahini Made Of?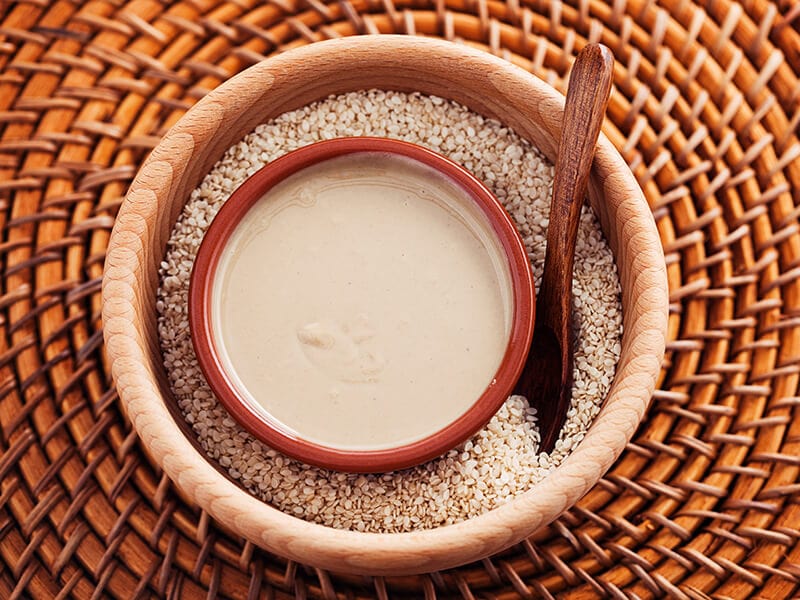 The history of tahini dates back to as far as 3500 BC when it first appeared in Mediterranean and Middle Eastern cooking. Turkey, Armenia, Cyprus, Iraq, Greece, East Asia, and India are some of the places where tahini plays an essential role in traditional cuisines.
Simply speaking, tahini is a paste made by grinding sesame seeds (with or without oil) until they reach a smooth and peanut butter-like texture.
Either roasted sesame seeds or raw seeds can be used to create tahini. However, the end result might be slightly different as raw seeds will make for stronger tasting tahini, while tahini made from roasted seeds has a milder taste.
No matter what kind of sesame seeds the tahini was made from, its taste is always a perfect blend of the earthy, nutty flavor of sesame (that people can't get enough of) and a slight hint of lingering bitterness that gives it a subtle boost in flavor.
In modern cuisine, tahini is used in both savory and sweet dishes or eaten directly from the jar. Traditionally, tahini is a crucial ingredient to improve the taste of hummus and baba ghanoush, but you can pair it with salad, fruits, or even add to cheesecake for an extra kick.
When used as topping for salad or a condiment, it's often better to use the lighter-tasting tahini that is made from toasted or raw hulled white sesame seeds. At the same time, dark sesame seeds tahini, though tastes a tad more bitter, goes really well with sweet food.
Let's learn how to make delicious tahini at home. Watch this video:
Does Tahini Turn Bad?
Sesame is a rich source of antioxidants and generally takes a long time to go bad. Add it up with the oil needed to make tahini, and you have a paste that practically stores itself with all the natural preservatives coming from its ingredients.
However, this doesn't mean that tahini can last forever; in fact, it will turn rancid when kept incorrectly. That said, depending on various factors, your tahini can last longer than you might think.
The Best Way To Store Tahini For Longevity
Now that you know that tahini can go bad, let's move on to some of the best ways to maximize its longevity.
Always Close The Lid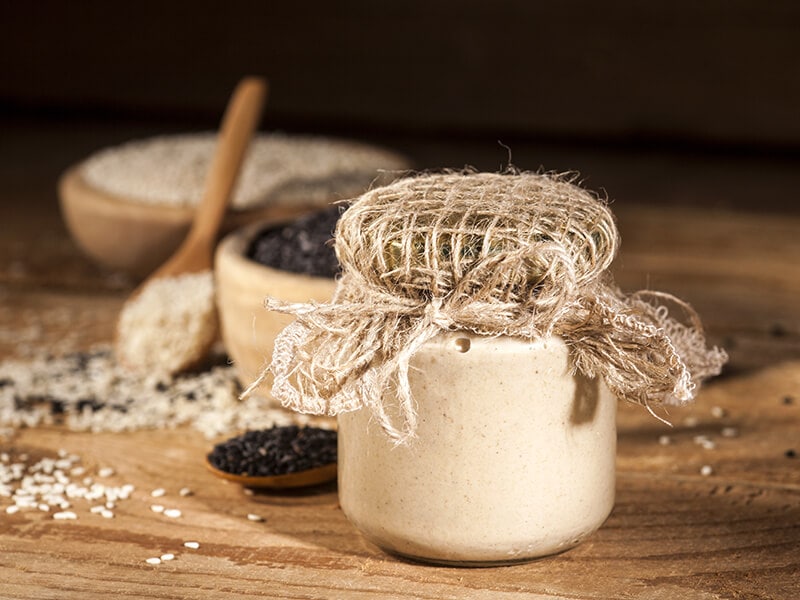 Tahini is most often ruined by oxidation, so don't forget to close your jar's lid after having a spoon or two of tahini!
In addition, an unclosed jar of tahini is more likely to be affected by cold air in the fridge, thus losing all moisture and hardening. If stored in the pantry, dust (or even bugs!) could get into your tahini, and that's a straight no-go.
Pre-packaged tahini will always come in a can or a jar, so it's easy to remember; however, for homemade tahini, it is best if you can find a secure jar or bottle that comes with a secured lid.
Use The Pantry For Short-Term Storage
As mentioned above, you can definitely keep your tahini in the pantry at room temperature. Just make sure to put your jar of tahini in a cool place with no direct sunlight on it.
However, if you plan to keep them for a longer time or live in a hot and humid area, the fridge will be a better bet.
In addition, some manufacturers will insist on keeping their products in the refrigerator after opening. Make sure to follow suit if that's the case.
To Keep Tahini Longer, Put It In The Fridge
The fridge is a suitable place to keep your tahini for a decent amount of time. The only downside is that the dry air inside can make the texture thicker and almost ice cream-like in terms of consistency.
To fix this, you can blend your tahini with a teaspoon of water or premium culinary sesame oil after taking the right amount out of the jar. An immersion blender will work just fine for this job. However, remember to only do this with the amount of tahini that you plan to eat, not the whole jar.
In addition, before storing them in the refrigerator, stir your tahini well to make sure that the oil is evenly distributed. While in the fridge, make sure that the container is well-sealed to avoid cross-contamination with other food.
These Factors Will Decide The Longevity Of Tahini
If you want to make sure that you won't have to throw away a bottle of tahini because it has passed its prime, remember the following factors!
Is It Homemade Or Store-Bought?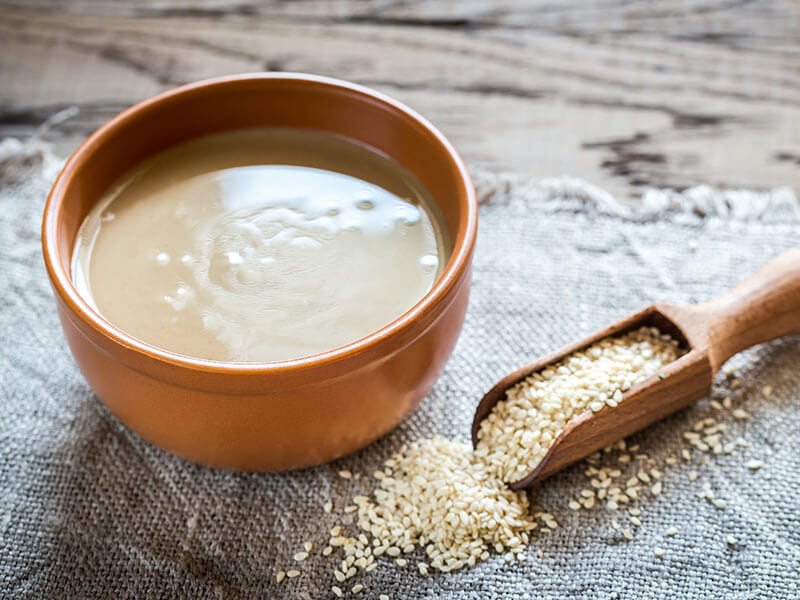 When estimating the amount of time your tahini can stay edible, the first thing to consider is whether you made it yourself or bought a jar from the store.
Generally, homemade tahini won't last as long as store-bought ones due to the lack of preservatives.
It is recommended to consume homemade tahini within 1-3 days after making if you place them in the pantry or at the very best about 1 week if kept in the fridge.
On the other hand, the expiration date of store-bought tahini is considerably longer. Typically, a jar of store-bought tahini can last for 4-12 months at room temperature and 6-12 months in the refrigerator.
Here's a table to summarize the shelf life of these 2 types of tahini:
| Type | Storage | Shelf life |
| --- | --- | --- |
| Homemade Tahini | In the kitchen | 1-3 days |
| Homemade Tahini | In the fridge | 1 week |
| Store-Bought Tahini | In the kitchen | 4-12 months |
| Store-Bought Tahini | In the fridge | 6-12 months |
In addition, pre-packaged tahini will have a best-before date, so it's your best bet to follow that date to enjoy the tahini at its peak. However, it doesn't necessarily mean that you can't eat your tahini if these dates have passed; more on that in the next section.
Have You Opened Your Tahini?
The next thing to consider regarding the edibility of tahini is whether you have opened it or not. As soon as your tahini touches the air, its lifespan has declined for a few months.
When kept unopened, store-bought tahini can last up to about 6 months after the best-by dates at room temperature and can even be stored for more than 12 months in the fridge.
Once opened, your tahini lifespan will be reduced to 4-6 months in the kitchen. If properly kept in the refrigerator, it can last for about 6 months after the best-by dates.
That said, the quality of tahini will decrease over time. That means on many occasions, you would want to throw them away because they don't taste as good as fresh ones, not because it's unsafe to eat.
To get the best out of your tahini, I recommend eating all of it within 3-5 weeks after buying.
Of course, this is best applied to store-bought tahini as you would want to use up your homemade tahini in about a week anyway. However, always remember to close the tahini jar's lid after eating!
This table will give you the lifespan of unopened tahini in comparison with opened ones:
| Type | Storage | Lifespan |
| --- | --- | --- |
| Unopened | In the kitchen | 6 months after best-by |
| Unopened | In the fridge | More than 12 months |
| Opened | In the kitchen | 4-6 months / best-by |
| Opened | In the fridge | 6 months after best-by |
Types Of Sesame Seeds Used
The last factor that decides the shelf life of tahini is the kind of sesame seeds that were used to make it. Ideally, tahini made from raw seeds can last for about 6 months. The roasted seeds version, though, can stay edible for up to 3 years.
For more specific storage time, make sure to check the best-by date printed on the label.
Freeze Tahini? Yes, You Can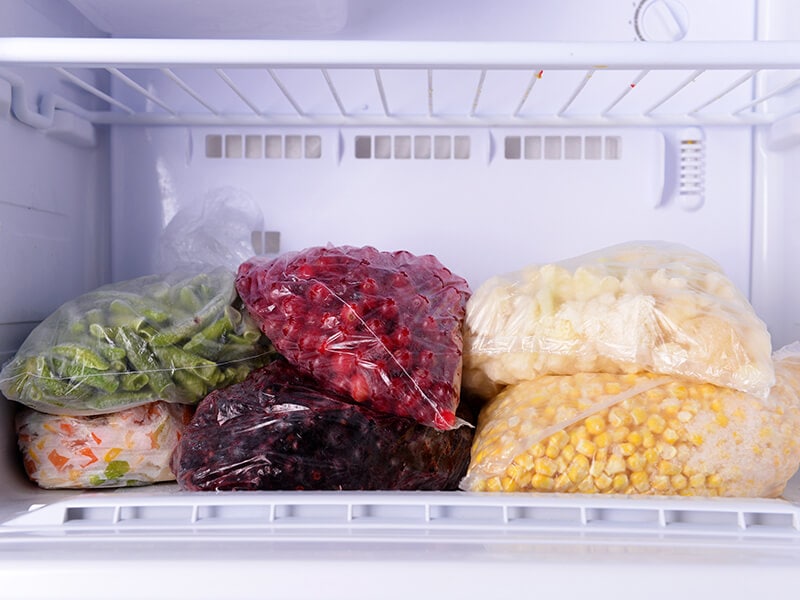 The last method to prevent tahini from turning rancid is using the freezer. Although this method will provide you with the longest storage time of 6-12 months (if stored properly), it requires more steps and is not always necessary.
Typically, you wouldn't want to freeze the whole tahini jar. Instead, splitting your tahini into reasonable portions before storing them will give you less headache when thawing.
Freezing In Scoop Portions
If you want to go with this method, prepare a baking sheet and some parchment paper, then follow these steps.
Step 1: Split The Tahini Into Portion
Line the baking sheet with parchment papers (or some suitable alternatives for parchment papers if you don't have ones), then scoop out your tahini in small portions and lay them equally on the baking sheet.
Step 2: Pre-freeze The Tahini
In order to pre-freeze your tahini, place the baking sheet in the freezer for about 1-2 hours or overnight. You don't have to cover the sheet.
Step 3: Seal And Freeze
After the tahini has completely frozen, put them in a freezer bag or an airtight container to avoid freezer burn.
Freeze Using Ice Cube Tray
If you don't have time to pre-freeze your tahini, you can make use of the ice-cube tray to speed up the freezing process.
Step 1: Prepare The Ice Tray
Line the tray with plastic wrap. The goal here is to wrap each cube of tahini individually, so make sure to leave some extra wrap in the center and on every side.
Step 2: Fill The Tray
Fill the tray with tahini. After that, slice the wrap for each slot in the tray.
Step 3: Wrap And Freeze
Use the extra wrapping at the sides and center to wrap each cube of tahini securely. After that, you can straight up freeze it without having to pre-freeze.
Thaw Frozen Tahini
Defrosting tahini is quite straight-forward and doesn't require much attention. However, to make sure that your thawing process goes smoothly, follow these steps.
Step 1: Take Out The Desired Portion
Take the amount of tahini you need out of the freezer and put it in a bowl or a large tray designed for defrosting food. You should find something to cover the bowl (for example, a plate or towel) while waiting for your tahini to defrost.
Step 2: Let Thaw
Wait about 10-15 minutes; your tahini will thaw naturally at this time. While melting, you can give it some stir to save time. In addition, avoid using the microwave as it can mess up the tahini's consistency.
Step 4: Give It A Good Mix
After the tahini has reached room temperature, use a fork or a whisk to mix the tahini evenly for the best consistency and texture.
Step 5: Put The Leftovers In The Fridge
In case you didn't finish all the defrosted tahini, don't freeze it again. Instead, pour the leftovers into an airtight jar or container and place them in the fridge.
Discard Your Tahini If You See These Signs!
Whatever storage method you choose, you had better discard your tahini immediately if you come across these signs.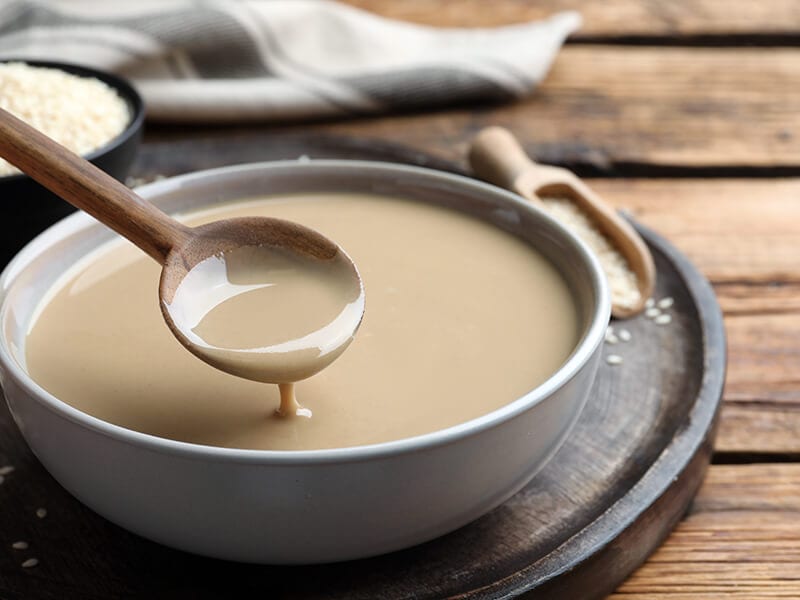 It Smells Rancid
The oil in tahini acts as a preservative that gives tahini its long lifespan. However, when exposed to oxygen, heat, and light, oils can turn rancid. Although rancid food typically won't harm you if only eaten occasionally (1), it will give your tahini an unpleasant smell and taste.
Rancid tahini will smell bitter, a little metallic, and soapy-like, so give your tahini a sniff before eating if you suspect it has turned bad.
The Taste Is Weird
Apart from the nasty odor, tahini will taste weird when spoiled. Try a small scoop first. If your delicious tahini has a stale, metallic flavor, or the taste reminds you of gas or old, overcooked oil, throw it away.
Hardened Tahini
What will happen when you forget to close the tahini jar's lid? Well, in addition to it becoming rancid, your tahini might harden and lose all its freshness and consistency. So don't forget to seal the jar!
Mold On The Jar
It is indeed difficult for mold to grow in tahini. However, it is not entirely impossible, especially at the jar mouth. Unlike rancidity, which often won't do you any actual harm, mold-infected food can be dangerous. So if you see mold, don't hesitate and discard that tahini instantly.
What Will Happen If You Eat Spoiled Tahini?
It depends on how "spoiled" your tahini is. If it is a case of rancid tahini, you will most likely be fine eating it from time to time. Even though rancid food isn't 100% healthy, you probably won't see any harmful effects from eating it once or twice.
However, if your tahini is mold-contaminated, you might want to avoid eating it entirely as some mold can be extremely dangerous, causing allergic reactions and respiratory problems (3).
FAQs About Tahini
Here are some common questions regarding tahini. If you still have some more things that you want to know about this yummy paste, you are likely to find the answer in this section.
You Have Now Mastered All The Essentials About Tahini!
Congratulations! Now that you've reached this section, you've officially passed the tahini 101 class. Not only have you cleared your head of the question about tahini longevity, but you also learned a great deal about this wonderful ingredient.
I hope that this article has proved helpful to you. If you've learned a thing or two through this post, don't hesitate to like and share it with the people around you. Everyone loves tahini, and you don't want your loved ones to have a stomach ache over some bad tahini, right?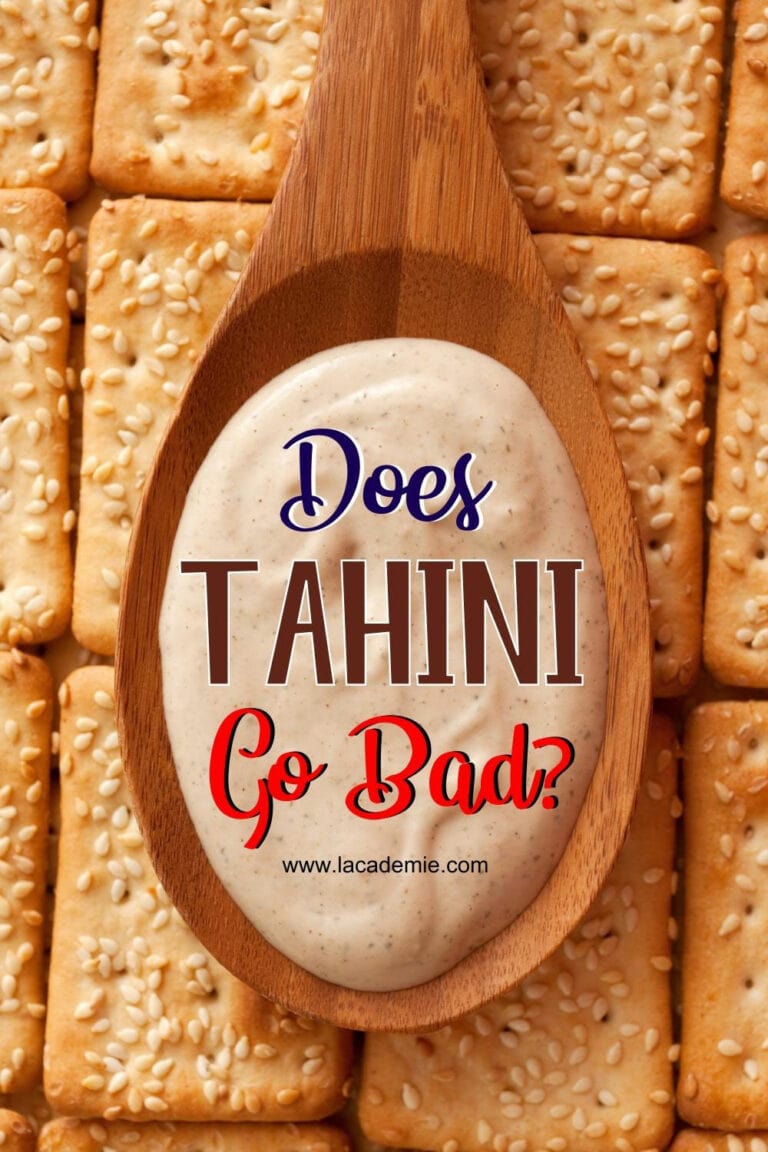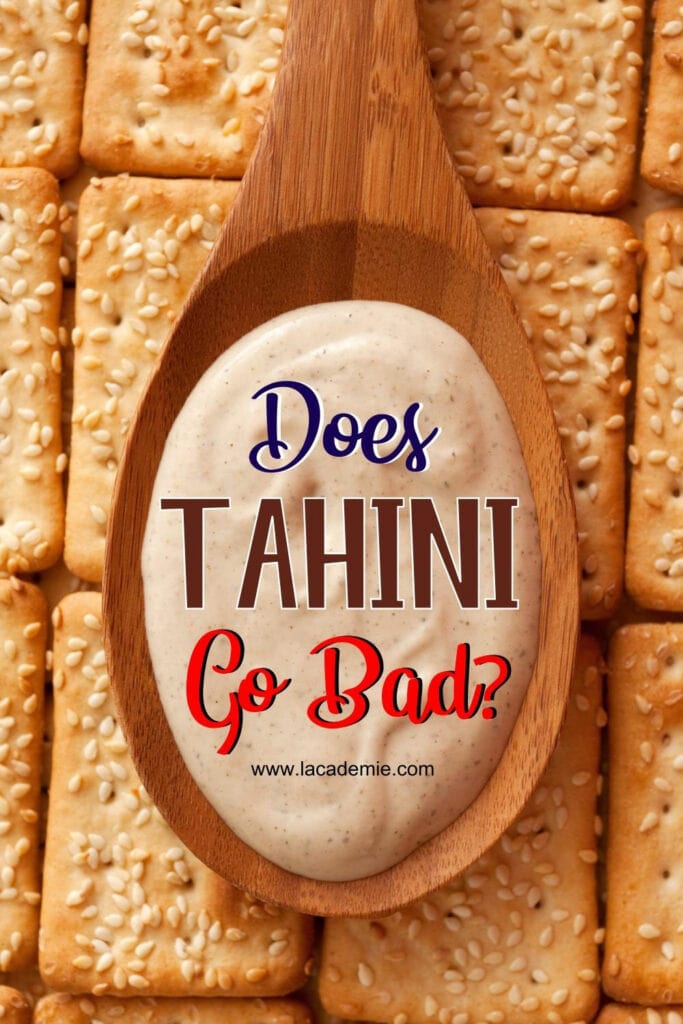 References
1. Susan Okparanta, Victoria Daminabo, Leera Solomon, Assessment of Rancidity and Other Physicochemical Properties of Edible Oils (Mustard and Corn Oils) Stored at Room Temperature, Journal of Food and Nutrition Sciences. Vol. 6, No. 3, 2018, pp. 70-75. doi: 10.11648/j.jfns.20180603.11
2. Anon, Fooddata Central Search Results. FoodData Central.
3. Cleveland Clinic. 2021. What Happens if You Accidentally Eat Moldy Food?.