Different types of chocolate are a fascinating topic that many people wish to learn more about. Although most people have tasted chocolate at least once in their life, not many know the number of chocolate varieties on the market.
Well, if that sounds like your quandary, you're in the right place. In today's article, I'll provide you with all the vital information regarding chocolate types, including their ingredients, special traits, and uses. Plus, you'll also gain useful knowledge about different chocolate shapes and sizes.
Without further ado, let's jump right into the wonderful world of chocolate!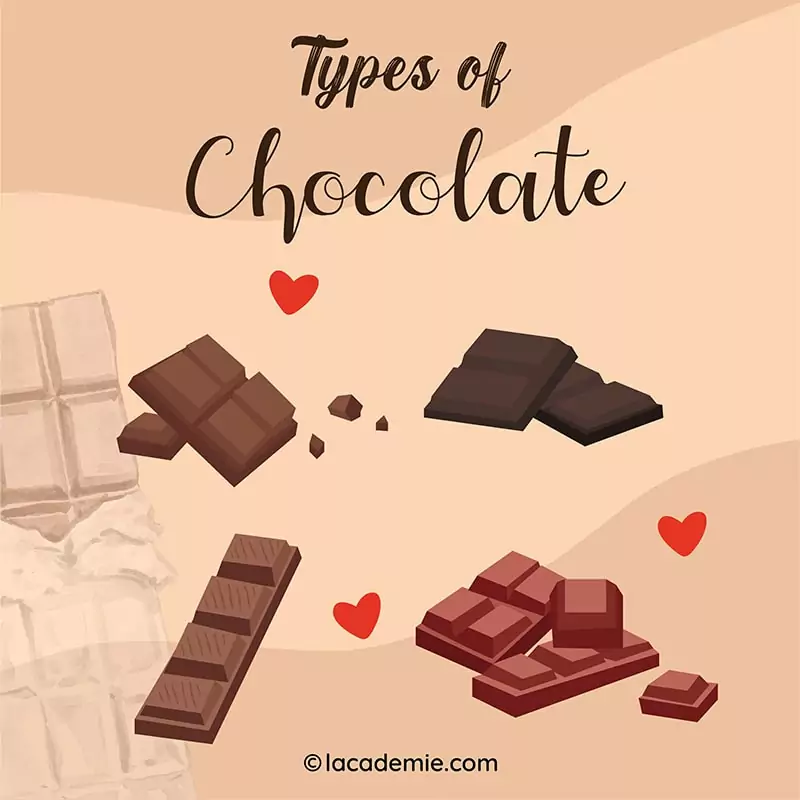 A Quick Run-Through Of Chocolate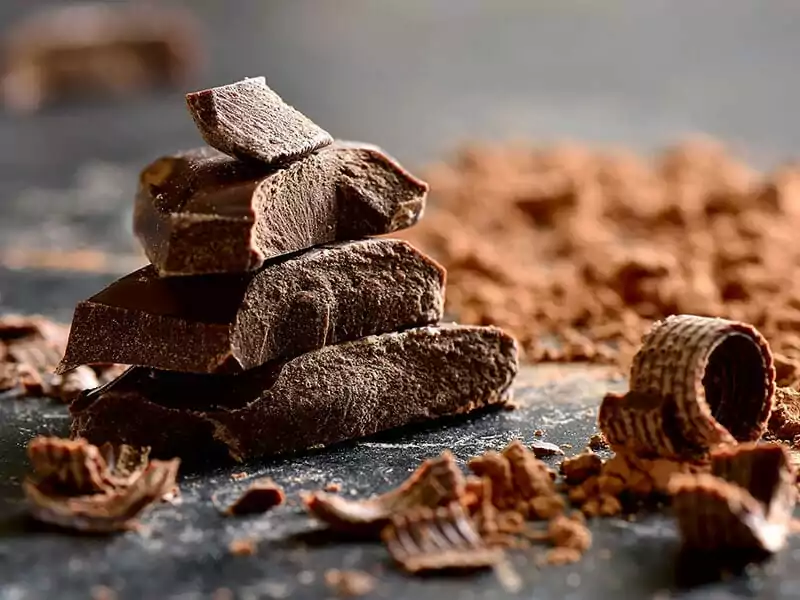 Chocolate is a popular food made from roasted and ground cocoa seed kernels. Since cocoa seeds naturally have an overwhelming bitter taste, chocolate producers must ferment, dry, and roast them to create a more crowd-pleasing flavor.
After roasting, the seeds are then deshelled, resulting in cocoa nibs. Manufacturers might sell the nibs as nutritious snacks or continue to grind them into cocoa mass. From there, the cocoa mass is melted to make chocolate liquor – the base of most chocolate types.
You might be surprised that chocolate's history dates back thousands of years. As the cocoa tree is native to South America, the utilization of cocoa seeds to make beverages began in Mesoamerica. People have been enjoying fermented chocolate drinks since 450 BC!
This cocoa bean made its way to Europe in the 16th century, thanks to Christoper Columbus's expedition. Afterward, the Spaniards started adding sugar and honey to chocolate to milden its bitterness.
Despite its Mesoamerican origin, most modern days cocoa comes from Western Africa, with Ivory Coast taking the leading position. Considering how well-loved chocolate is worldwide, it's hard to imagine a life without these bittersweet confections.
The shelf life of chocolate is quite impressive. For the most part, chocolate products will last at least 6 months. A general rule to remember is that chocolate's lifespan will shorten if it contains dairy goods. The more milk it has, the faster the spoiling speed of chocolate will be.
People following a strictly plant-based diet might wonder whether chocolate is vegan or not. Well, the answer is yes, but depending on the variety, this famous sweet might include dairy products that render them not vegan-friendly.
A fun and interesting summary of chocolate's history.
5 Must-Know Types Of Unsweetened Chocolate
Now that you've learned a thing or two about what chocolate is, it's time to get to the main part of today's article. In this section, you'll get to know the 5 most common kinds of non-sugar chocolate on the market and their main uses.
| Types Of Chocolate | Main Characteristics | Primary Uses |
| --- | --- | --- |
| Chocolate Liquor | Contains 100% cocoa and is the basis of most chocolate products | Making chocolate and process into cocoa butter and cocoa solids |
| Raw Chocolate | Made from unroasted cocoa beans. Contains no sugar and additives | Snacking and cooking |
| Cocoa Powder | Made from dry cocoa solids | Making chocolate baked goods, beverages, and ice cream |
| Cacao Nibs | Made from crushed cocoa beans and contain no additional sweeteners | Snacking, adding to various beverages and desserts |
| Baking Chocolate | Usually unsweetened, made specifically for baking | Cooking and baking |
1. Chocolate Liquor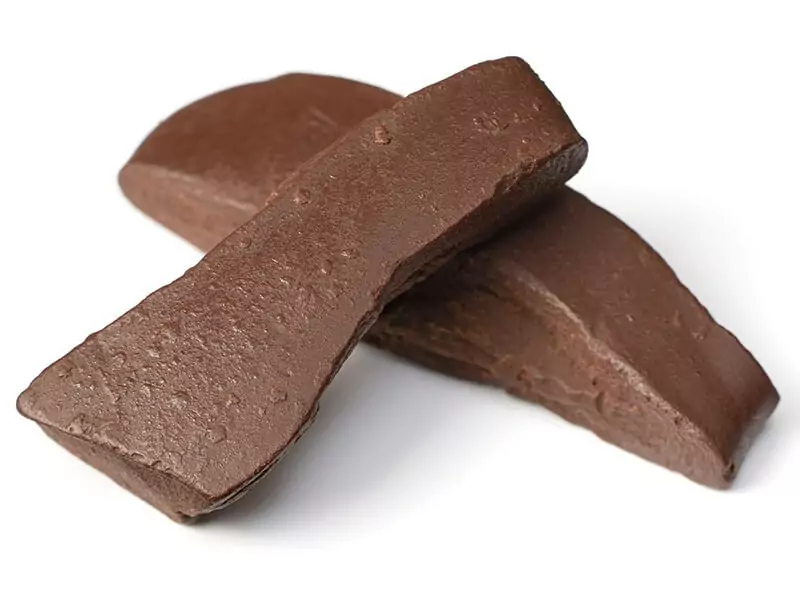 As mentioned above, chocolate liquor is the basis from which manufacturers make chocolate. Although it has the term "liquor" in its name, don't mistake this chocolate type for an alcoholic drink!
Basically, it's melted cocoa mass (or paste) and thus contains 100% cocoa. After melting the cocoa paste, people will let it cool and put it into molds to make chocolate.
Besides, companies also utilize cooled chocolate liquor to process cocoa butter and cocoa solids, both of which are crucial in chocolate-making. Chocolate liquor consists of roughly the same proportion of cocoa butter and cocoa solids.
Different kinds of chocolate contain different percentages of these base ingredients, which affect their bitterness and nutritional profile.
2. Raw Chocolate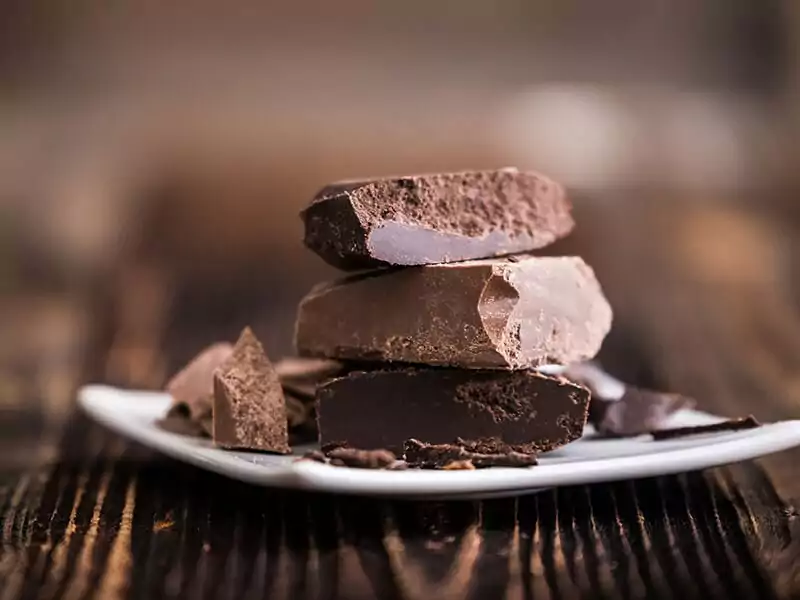 There are two factors that make raw chocolate what it is. First of all, this kind of chocolate must not contain any sugar or other additives. Additionally, the cocoa beans used in producing raw chocolate do not go through the roasting stage.
Instead, companies in the US, Asia, and Europe will leave the beans outdoors to dry naturally, which they claim to be the African and South American way. According to chocolate manufacturers, uncooked cocoa beans processed this way contain higher nutrition levels.
As a result, raw chocolate is promoted as more health-giving than other types. That said, there haven't been many studies to support this claim.
Plus, since it has no sweetener, raw chocolate is inherently more bitter than other kinds, making it a rather niche product that companies produce in small batches. You'll have more luck buying raw chocolate in cocoa-growing countries than in other ones.
3. Cocoa Powder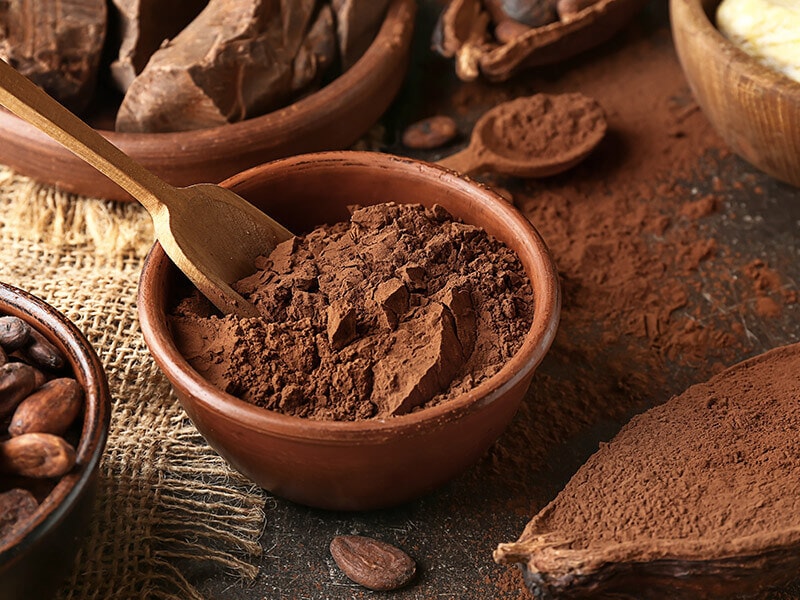 As you've already known, chocolate liquor contains both cocoa butter and cocoa solids. After the fatty content is extracted from chocolate liquor, the remaining component is called dry cocoa solids. Cocoa powder is the result of grinding cocoa solids into powder form.
There are two main types of cocoa powder based on the extracting process: The natural process and the Dutch process. There are many high-quality cocoa powders to choose from, no matter what your preferred method is.
Natural or Broma process cocoa powder comes directly from grinding the dry cocoa beans without any further treatment. This variety has a pH level of 5.3 to 5.8 and a light brown hue.
Due to its acidic nature, people often pair natural cocoa powder with baking soda, which helps neutralize the unpleasant taste.
On the other hand, the Dutch process type goes through an alkaline treatment to increase its pH level, thus reducing the acidic taste and deepening the color. Since it has a milder flavor, the Dutch-process cocoa powder is ideal for making chocolate baked goods, beverages, and ice cream.
4. Cacao Nibs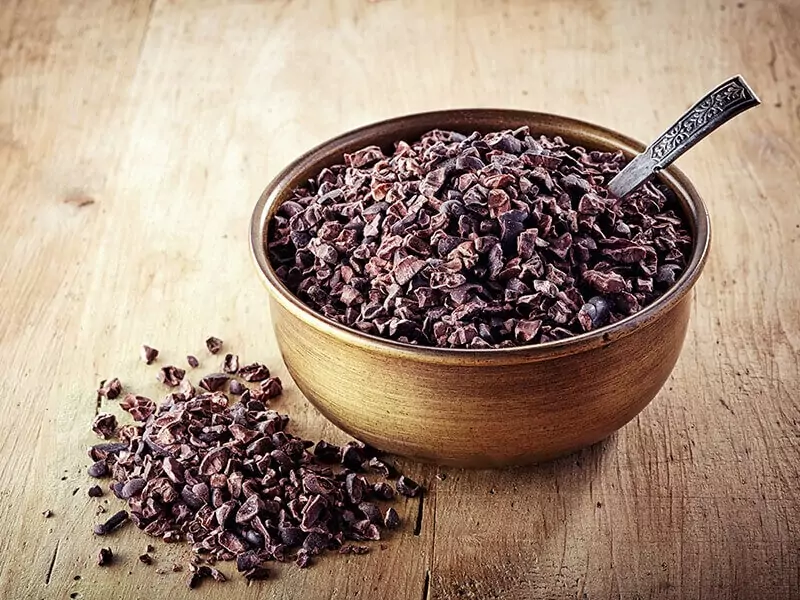 You can think of cacao nibs as the purest form of chocolate. They are essentially cocoa beans that have been fermented and crushed. There are two basic kinds of cacao nibs: roasted and unroasted (raw).
These nibs taste just like an unsweetened chocolate bar with strong bitter notes. They contain plenty of nutrients and have many health benefits. You can snack on them or add them to your smoothie, baked goods, or yogurt. Some chocolate bars also have cacao nibs inside.
Making cacao nibs might require more meticulous steps than you think.
5. Baking Chocolate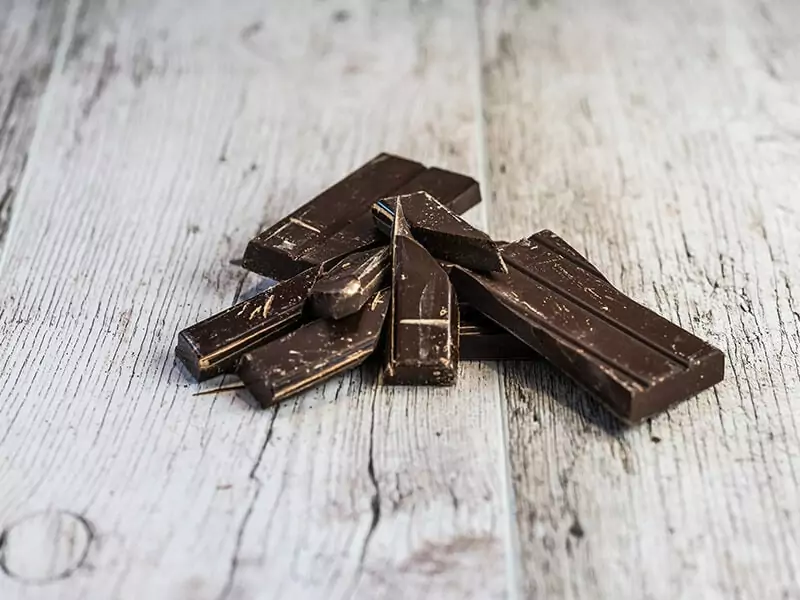 As the name implies, baking chocolate (also called unsweetened or bitter chocolate) is essentially a baking ingredient for countless kinds of cake.
Although it might or might not contain added sugar, the ones found in the States are typically sugarless. In other words, it consists of 100% cocoa and 0% sweetener.
While baking chocolate isn't the go-to snack for a lot of people (unless they're into extremely bitter treats), it's great for cooking and baking. Its pure and deep chocolatey flavor lends well to many recipes. Plus, it helps you control the amount of sugar that goes into your desserts.
11 Sweet Chocolate Varieties For Your Eating Delight
If bitter chocolate is not your cup of tea, this section is for you. Here, you'll learn about the 11 essential sweetened chocolate types for everyday purposes, from snacking to cooking and baking!
| Types Of Chocolate | Special Characteristics | Main Uses |
| --- | --- | --- |
| Dark Chocolate | Cocoa content varies from 35 to 100. Contain no dairy products. Makes the iconic "snap" when broken | Snacking and baking, depending on the bitterness level |
| Semisweet Chocolate | At least 35 percent cocoa solids. Has a balanced sweet and bitter flavor | Snacking and baking |
| Bittersweet Chocolate | Has a higher cacao percentage than semisweet chocolate. Deeper, more bitter chocolatey flavor | Snacking and baking |
| Milk Chocolate | The most popular chocolate type. Contains milk product and a lower chocolate liquor percentage. Smoother and less firm than dark variants | Snacking and baking |
| White Chocolate | Has no cocoa solids. Soft, creamy texture and incredibly sweet taste | Snacking, cooking, and decorating |
| Couverture Chocolate | Contains a high cocoa butter percentage. Has a beautiful gloss, vibrant texture, and creamy flavor | Tempering candies, coating, dipping, molding, and garnishing |
| Compound Chocolate | Uses vegetable fat instead of cocoa butter. Cheaper than regular chocolate. | Candy bar coating |
| Modeling Chocolate | A paste-like mixture of melted chocolate and syrup. Highly moldable | Garnishing gourmet pastries |
| Organic Chocolate | Made entirely from certified organic ingredients | Snacking and baking |
| Ruby Chocolate | Made from ruby cocoa beans. Has a different fruity flavor profile and pinkish color, unlike regular chocolate | Snacking, coating, making beverages, and baking |
| German Sweet Chocolate | An American creation. More sugary than bittersweet chocolate | Snacking and baking German chocolate cake |
6. Dark Chocolate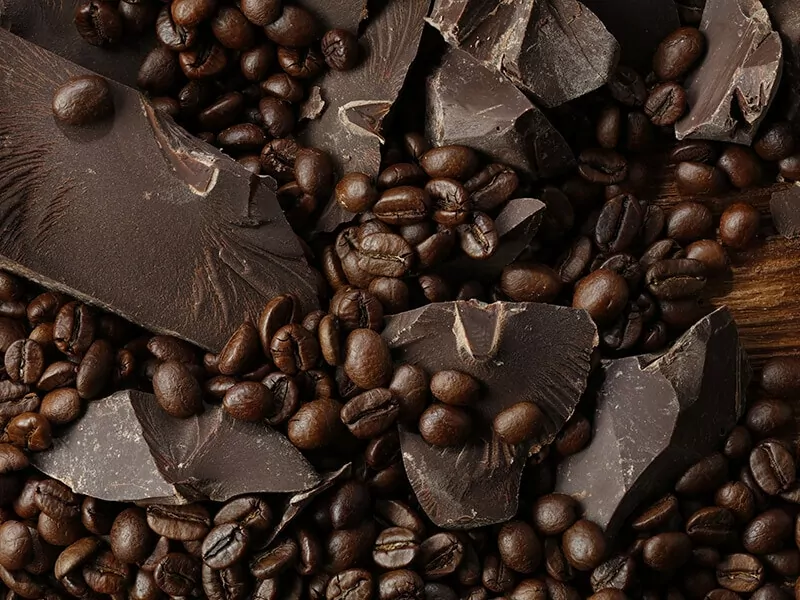 This deep brown chocolate variant consists of chocolate liquor, cocoa butter, sweeteners (usually vanilla and/or sugar), and an emulsifier called soy lecithin. Depending on the country, the required cocoa percentage of dark chocolate might vary.
Although the FDA does not have a standard for products marketed as dark chocolate, this type usually has a minimum of 35 percent cocoa content. On the other end of the spectrum, some dark chocolates have very high chocolate liquor percentages, varying from 70 to 100 percent.
The higher the cocoa ratio, the more bitter your dark chocolate will be. The ones with about 35 percent cocoa are called semisweet chocolates, while bittersweet chocolates typically sit at around 50 to 80 percent. More on these two kinds later!
Dark chocolate that comes with less than 35 but more than 15 percent chocolate liquor is generally categorized as sweet chocolate. If you prefer a darker, more "chocolate-forward" taste, you can try 80 percent cocoa (or higher) chocolate.
One important note is that this chocolate variety typically includes no dairy products, such as milk or butter. As such, it is firmer than white or milk chocolate, although extremely dark chocolate might be a bit brittle. Dark chocolate also makes the iconic "snap" when you break it.
Dark chocolate is the ideal choice for snacking (remember to choose the ones with the right bitterness level for you!) and baking recipes. Its bitterness combines very well with citrus fruit to create many delicious orange desserts.
It is perhaps one of the most sought-after chocolate kinds these days due to various online articles praising its health benefits.
All the scientifically proven health benefits of dark chocolate.
7. Semisweet Chocolate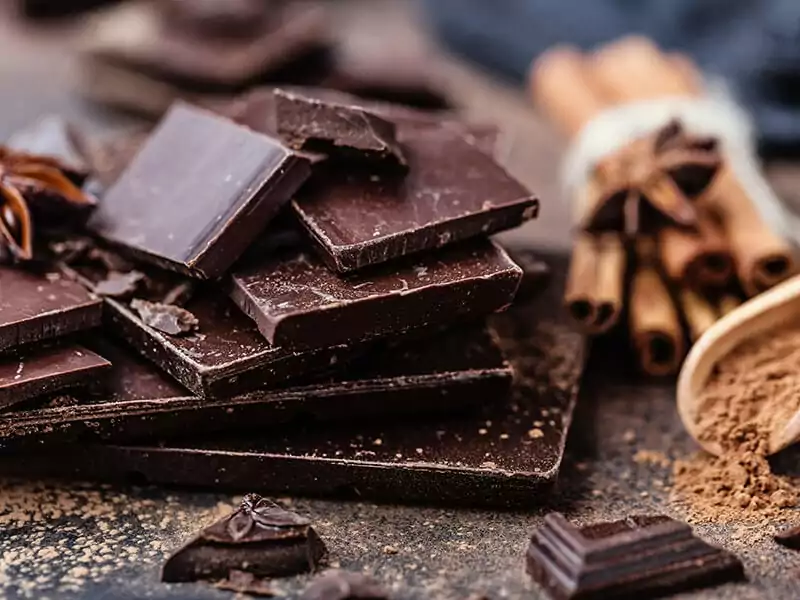 Semisweet chocolate is mainly an American term that Nestle popularized through a product called Toll House Semi-Sweet Chocolate Chips. As stated above, it has at least 35 percent cocoa solids, though you can find many ones that have around 50 percent.
Less chocolate liquor means more sugar and vanilla. As a result, semisweet chocolate is a fine middle ground that provides a slight bitterness of cocoa while still having plenty of vanilla sweetness.
You can easily find this type in the form of chocolate chips. It also makes an excellent baking ingredient.
8. Bittersweet Chocolate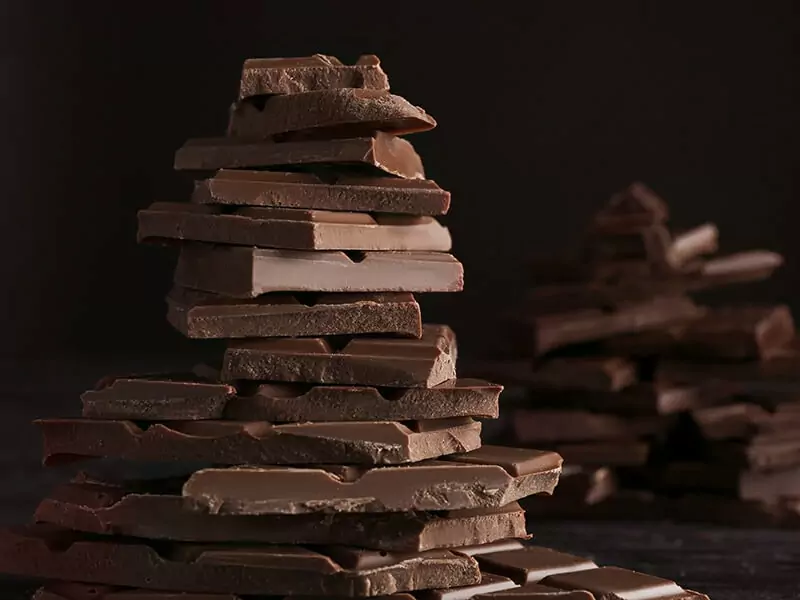 Bittersweet chocolate is basically semisweet chocolate, but with more cocoa solids and fewer sweeteners. The chocolate liquor percentage usually falls into the 50 to 80 range.
In other words, this kind possesses a deeper, more bitter flavor and is the go-to choice for many chocolate lovers. Plus, feel free to use them in making baked goods, especially brownies.
Due to the lack of regulations, some bittersweet chocolates might contain more sugar than others. Nevertheless, once you have found your favorite brand, you won't be able to stop munching on this kind of chocolate.
9. Milk Chocolate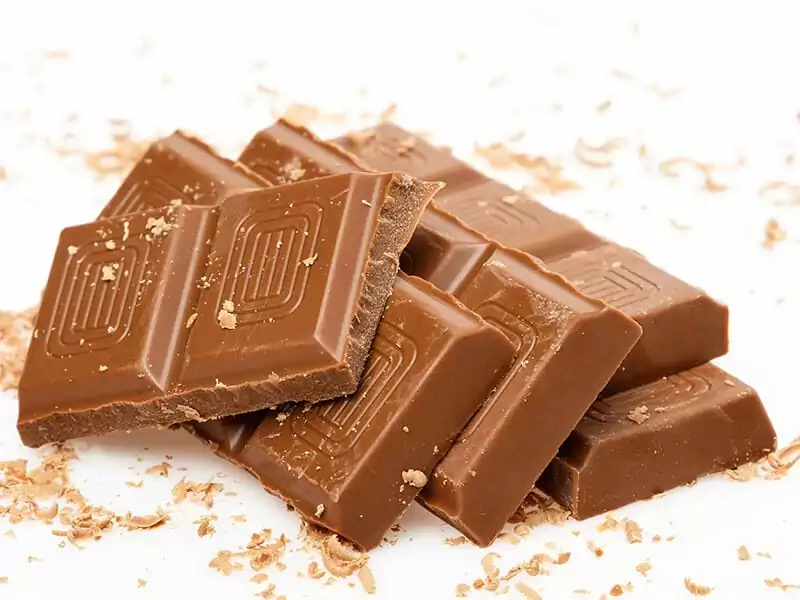 Milk chocolate is undoubtedly the most well-loved chocolate variant as they account for more than half of the chocolate consumed worldwide. It contains chocolate liquor, milk products, and sugar. In Europe, condensed milk is the more popular choice, while Americans prefer milk solids.
By the FDA guidelines, this famous food beginning with M must have at least 10 percent of chocolate liquor, 12 percent of milk solids, and 3.39 percent milk fat. Companies also add an emulsifier (usually soy lecithin) to improve the confection's smoothness.
Milk chocolate is much sweeter than all forms of dark chocolate, with less cocoa's bitter flavor and more cooked milk and caramelized sugar's sweetness. Although it still possesses a brown hue, the color falls on the lighter side compared to dark chocolate.
In general, milk chocolate is smoother and less firm than dark chocolate due to the added dairy content. However, high-quality products should also make a snappy sound when broken.
This feel-good chocolate type is an impeccable choice for eating on its own. Some people also use it for baking, namely in making cookies, brownies, and pancakes.
However, milk chocolate isn't really the best for baking and melting as it's prone to overheating. Plus, it can sometimes sweeten the dessert's flavor a little bit too much. Therefore, many prefer to mix it with dark chocolate for a more balanced taste.
10. White Chocolate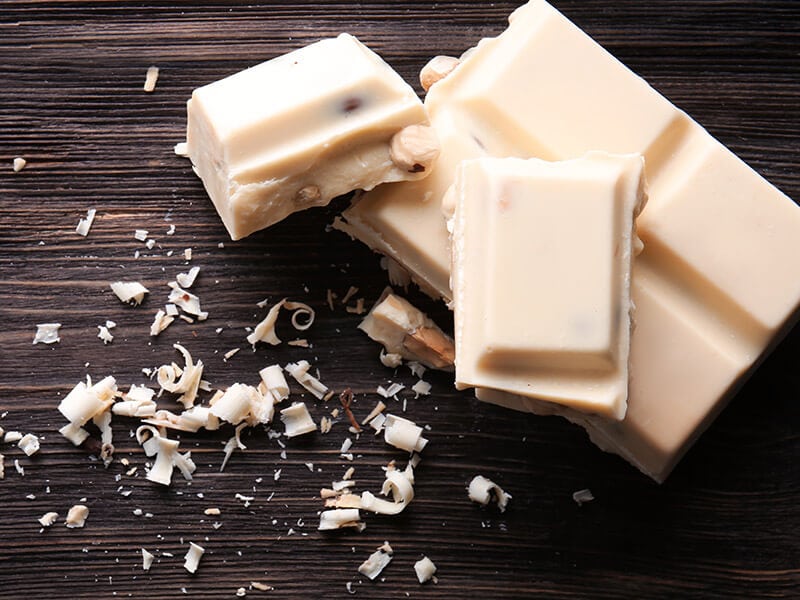 White chocolate is probably the least "chocolate-like" type on today's list. In fact, some chocolate enthusiasts might argue that it's not actually real chocolate, but I beg to differ.
This smooth, pale-colored chocolate variant consists of cocoa butter, sugar, milk, and sometimes vanilla. Yes, you read it right. White chocolate contains no cocoa solids.
Due to the lack of cocoa solids' bitter notes, white chocolate is the sweetest chocolate type on the market. Thanks to the butter and dairy base, it has a tender, creamy texture and rich vanilla-like taste.
According to the FDA, a bar of white chocolate must have at least 20 percent of cocoa fat, 3.5 percent milk fat, 14 percent milk solids, and no more than 55 percent sugar.
Note that some lower-quality white chocolate might use cheaper vegetable fats to replace cocoa butter. By FDA standards, these products aren't "real" white chocolate, so avoid them if you're looking for the most authentic flavor.
White chocolate is versatile in usage. You can utilize it in baking many delicious white chocolate desserts, cooking, and decorating many confections and cakes. It's also a great choice to snack on, especially if you have a sweet tooth.
Some more compelling facts about white chocolate you'll definitely want to know.
11. Couverture Chocolate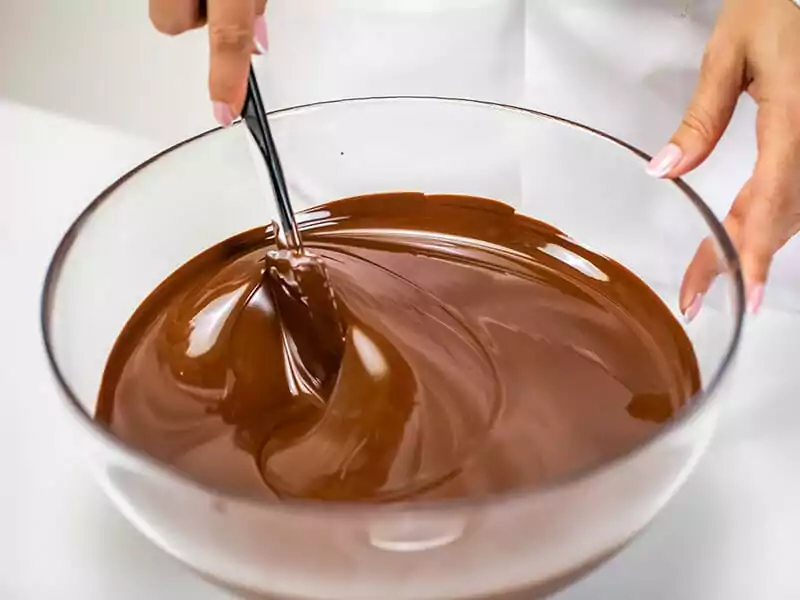 Couverture chocolate is a high-quality class of chocolate used by professionals. It has a higher cocoa butter percentage than other eating chocolate kinds and has the best texture and flavor. Other ingredients include cocoa solids, sugar, soy lecithin, and milk powder.
Certified couverture chocolate must contain a minimum of 31 percent cocoa butter and 35 percent cocoa solids. Top-of-the-line ones might even have up to 39 percent cocoa fat.
The impressive cocoa fat content gives it a beautiful sheen, vibrant texture, and pleasantly creamy taste. It also has the classic chocolate "snap" when broken.
This exquisite variety of chocolate excels in enrobing and tempering candies, thanks to its ability to melt evenly and quickly. Seasoned chefs also use it for coating, dipping, molding, and garnishing.
Be careful when baking cakes and brownies with it, though, as the higher cocoa butter ratio might cause unexpected reactions in the oven. Couverture chocolate comes in three variants: dark, milk, and white.
12. Compound Chocolate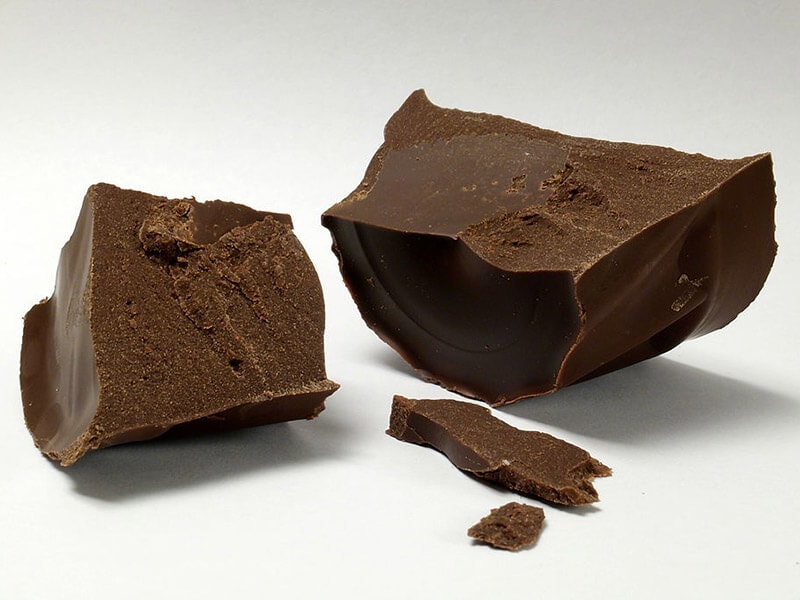 At first sight, some might mistake compound chocolate for couverture chocolate as they can be somewhat similar in terms of texture. However, these two variants are miles apart in both quality and ingredients.
Compound chocolate comprises a blend of cocoa, sweeteners, and vegetable fats. Replacing expensive cocoa butter with cheaper vegetable fats allows manufacturers to cut down on the cost. Thus, compound chocolate is a low-cost substitute for regular chocolate.
Candy bar coating is the most frequent use for compound chocolate. Unlike cocoa butter-based chocolate types, which often require tempering before coating, chefs only need to warm compound chocolate to above its melting point (between 95 and 99 degrees F).
Since there's no cocoa butter involved, compound chocolate is, by regulation, not legally chocolate in some countries. For this reason, people also call it a chocolatey coating or compound coating.
13. Modeling Chocolate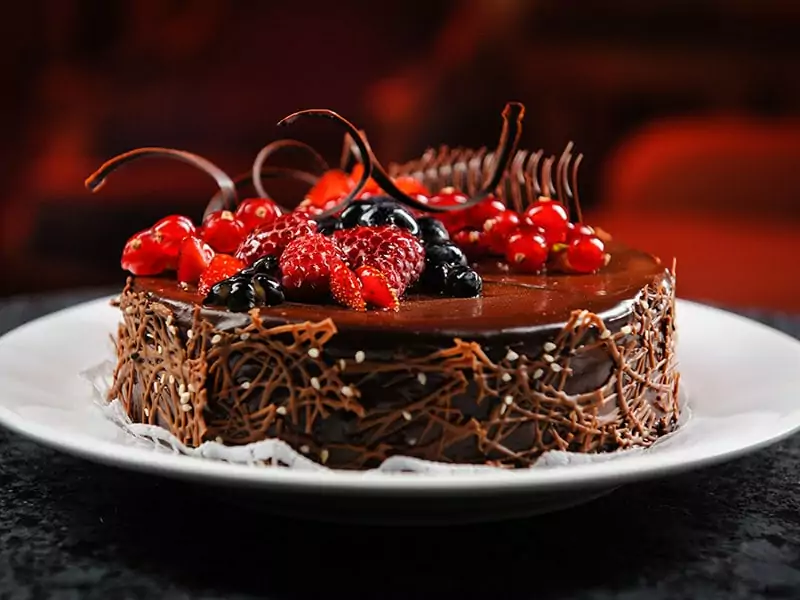 Modeling chocolate, also known as plastic chocolate, candy clay, or chocolate leather, is a mixture of melted chocolate and syrup. It has a texture of a paste rather than the standard solidified form. The common syrups used in making it include golden syrup, corn syrup, and glucose syrup.
This special type of chocolate is extremely moldable and has many similarities to fondant, except for the iconic chocolatey flavor. First-class pâtisseries make excellent use of modeling chocolate's pliability to create various decorations for gourmet and fancy desserts.
Modeling chocolate comes in three variations: dark, white, and milk.
14. Organic Chocolate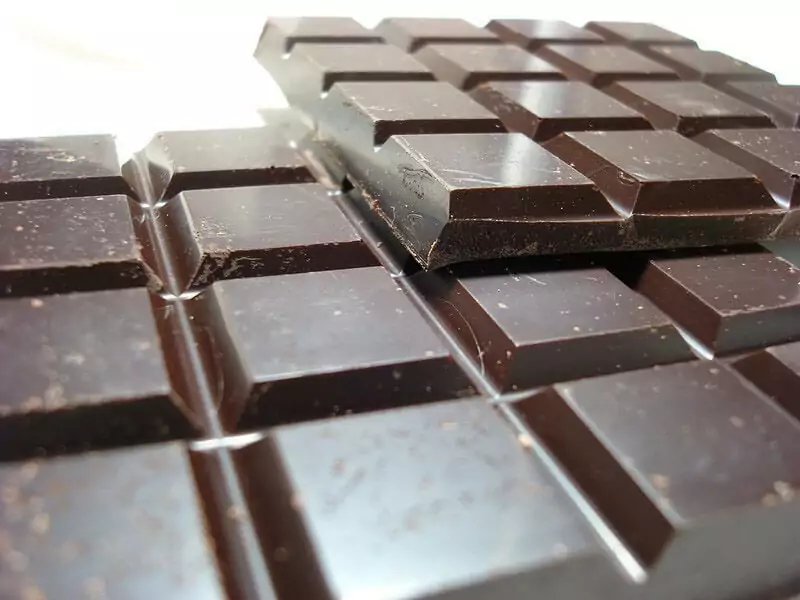 Organic chocolate is not a particular kind of chocolate but rather an umbrella term to describe any chocolate that has been certified organic. Since 2006, organic chocolate has become increasingly more desirable for health-conscious consumers worldwide.
To receive this desirable label, there must be no pesticides or chemical fertilizers involved in cocoa beans cultivation. Most companies use ingredients provided by fair trade cocoa farms or cooperatives to make organic chocolate.
Theo Chocolate was among the first companies to produce organic chocolate. Today, many giants in the chocolate industry, such as Hershey's and Green & Black's, have also hopped on the "organic food" trend.
Apart from the cocoa beans, other ingredients in a high-quality organic chocolate bar also have to be certified organic. You can find this environmentally friendly and health-giving chocolate type in wide varieties, the most common ones being white, dark, and milk.
15. Ruby Chocolate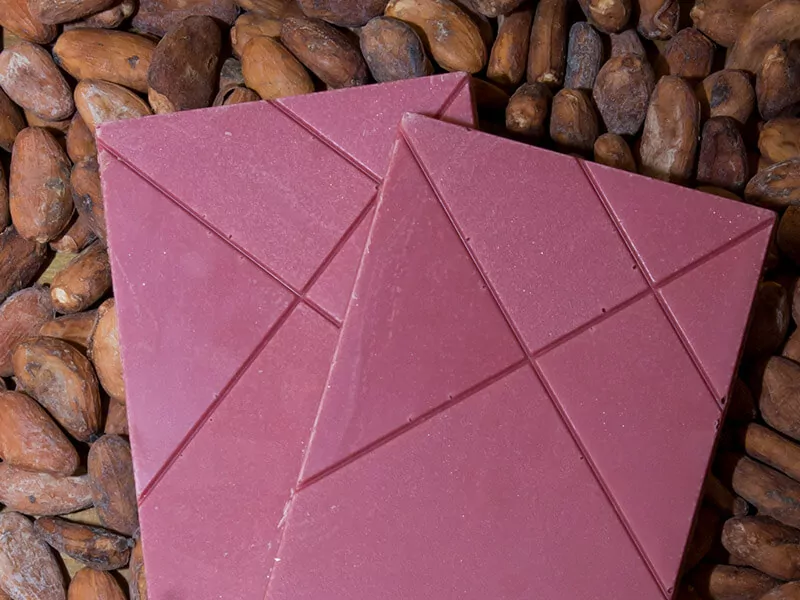 Ruby chocolate is a fairly new player in the chocolate market, with development starting in 2004 by a Belgian-Swiss cocoa company named Barry Callebaut. The company officially introduced this unique pink-colored type of chocolate in 2017 at a privately held event in Shanghai.
The most special thing about this R-something food is that there's no food coloring or additives used in creating its color. What gives the chocolate its distinctive pink hue is the unfermented ruby cocoa beans – a naturally red cocoa cultivar grown in Brazil, the Ivory Coast, and Ecuador.
Apart from the color, the flavor is another factor that sets ruby chocolate apart from other varieties. Instead of the signature cocoa's bitterness, ruby chocolate has a fruity flavor that is slightly sweet and sour. Its taste is somewhat comparable to berries due to the acidity.
You may love or hate this new take on the classic cocoa-based sweet, but there's no denying that ruby chocolate has been a big hit since its release.
In January 2018, an agreement between Nestle and Barry Callebaut resulted in special ruby chocolate-coated Kit Kat bars that cost 400 dollars each.
Major food and beverage corporations, such as Starbucks and Haagen Dazs, have also incorporated this up-and-coming chocolate type in their products.
Learn more about ruby chocolate – the ambitious fourth type of chocolate.
16. German Sweet Chocolate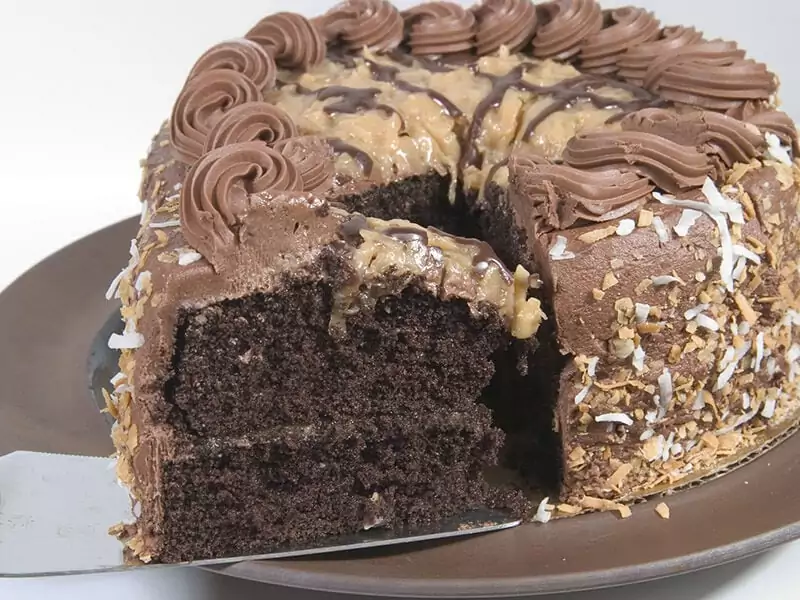 Don't be confused by its name. This kind of baking chocolate actually originated in America, not Germany. Samuel German, an English American baker, created this sweetened dark chocolate in 1852. The official name for this product is Baker's German's Sweet Chocolate.
German sweet chocolate has a higher sugar proportion than bittersweet chocolate, usually at around 60 percent or above. Though originally meant to be a snacking chocolate bar, it also works great in baked goods.
Speaking of baked goods, it would be a big mistake not to mention German's Chocolate Cake – a cake recipe using German sweet chocolate. A Texas homemaker came up with this recipe, which was then published in The Dallas Morning News and gained popularity nationwide.
Common Forms That Your Chocolate Will Come In
Chocolate comes in three main shapes and sizes: bars, wafers, and chips. Each is best suited for particular purposes.
Chocolate bars are probably the most well-known form and are incredibly versatile. You can easily break them up and enjoy them as a healthful and delicious snack. Many home cooks also melt them or chop them into smaller sizes to use in place of chocolate chips in baking.
Chocolate chips are vital baking ingredients as they can retain their shape well in the oven. On the flip side, they aren't really suitable for melting due to the stabilizers inside. Top-of-the-line chocolate chips that contain fewer additives are generally better at melting.
Chocolate wafers are the best choice when you want your chocolate to melt beautifully. They're larger than chocolate chips and are designed to melt more easily. Use them for coating fruits, cookies, ice cream, and other desserts.
These Chocolate Recipes Will Make Your Day
After learning about all the above chocolate types, it's time to put them into good uses. And what better place to do so than your kitchen? In this section, let's go through some yummy recipes for your chocolate!
A chocolate mousse cake is a perfect dessert after your hearty meals. There are not one but three layers of chocolate goodness in this light dessert. Each layer has a different texture, creating a fascinating eating experience.
You'll need two kinds of chocolate for this recipe: unsweetened and semisweet. The bitterness in these varieties ensures that your dessert won't be overly sugary and still has that iconic chocolatey flavor profile.
If you want your chocolate-filled dessert to be a little bit more nutritious, this banana-based sweet course is what you're looking for. The bread is moist, soft, and is a delicious combination of chocolate cake and banana bread. Better yet, it's super simple to make!
Remember to sprinkle chocolate chips on top to turn this dessert into chocolate heaven. You can use either dark or semisweet chocolate, but stay away from the milk version since it can make the bread too sweet.
It would be a big mistake not to include chocolate cake in this section. This classic chocolate dessert is always a big hit whenever it appears on a dining table. Follow this recipe for a moist, fudgy, and visually-impressive cake.
The secret to baking the perfect chocolate cake is coffee. No, I'm not kidding. Adding some coffee enhances the richness of your dessert. Even if you're not a fan of coffee, give it a chance, and you'll have a pleasant surprise.
Reputable Chocolate Brands To Opt For
The chocolate market is a very profitable one, so it's no surprise that many manufacturers want to have a share. If there comes a time when you don't know which chocolate brands to go for, use this part as a guideline.
The Hershey Company (or Hershey's) is a multinational company based in America. It is probably the first brand to come over many people's minds when talking about famous chocolate producers. Hershey's is not only well-known in America, but also in over 60 other countries.
Milton S. Hershey founded The Hershey Company in 1894 as a subsidiary of Lancaster Caramel Company – another company owned by him. As of 2021, Hershey's has been one of the most community-minded companies in America, according to The Civic50.
Learn more interesting facts about Hershey's chocolate factories.
Although not an American-originated brand, Nestlé has surely created a huge consumer base in the States. This multinational corporation has its headquarters in Switzerland and is now operating in nearly 190 countries, with more than 330,000 employees worldwide.
Not only is the company a respectable chocolate producer, but it also churns out many other food and beverage products. You might find the Nestlé logo on the packaging of popular brands such as KitKat, Milky Bar, Aero, Smarties, and many more.
Every chocolate lover in the United States has probably enjoyed Mars products before. The company is the proud owner of well-loved brands such as Mars bars, M&M's, Milky Way Bars, Snickers, etc.
Besides chocolate and confectionery items, the company also manufactures other food products. Combos, Ben's Original, and even the popular pasta sauce brands Dolmio are all subsidiaries of Mars.
Cadbury is a British confectionery company that has gained popularity in the US over the years. It's one of the biggest confectionery corporations in the world, second only to Mars. Plus, it has an extremely long history since the company was founded almost 200 years ago.
Like other companies in this section, Cadbury has a long list of products, ranging from multiple kinds of chocolate to cooking items, ice cream, and beverages. Kraft Foods Inc bought the brand in 2010.
Make Your Life Happier With Chocolate!
Have you found your next favorite chocolate type? I'm confident that after reading through all the incredible chocolate variants in today's post, you have gained a significant amount of useful information about this world-famous snack.
Do you know a type of chocolate that I can add to the list? Drop a comment below to let me know if you have any suggestions! I'd also appreciate it if you could like and share the post with other people around you! Thank you for reading, and see you soon!