How long do brownies last? I believe many of you've thought of this question once or twice. Buying too many brownies or wanting to share them with others may be the cause to ponder about these brownies' shelf life.
So, How Long Can You Keep Your Brownies Fresh?
That varies significantly, depending on different ingredients and storage methods. Here are some examples:
At room temperature: 3-5 days
In The Fridge: 2 weeks
In The Freezer: 4-6 months
Aside from that, you will learn how to detect whether your brownies have gone wrong and multiple ways to preserve your brownie to the best quality.
So, let's start reading to save your brownies from being dried out!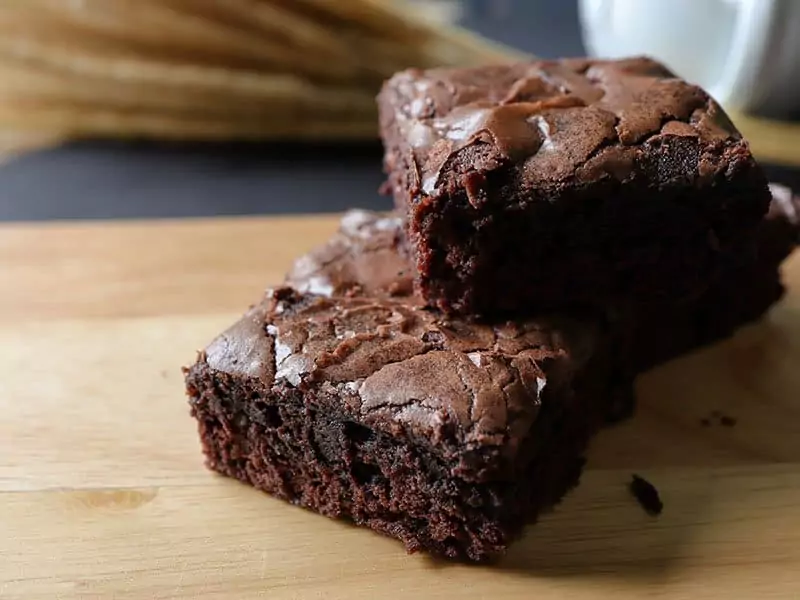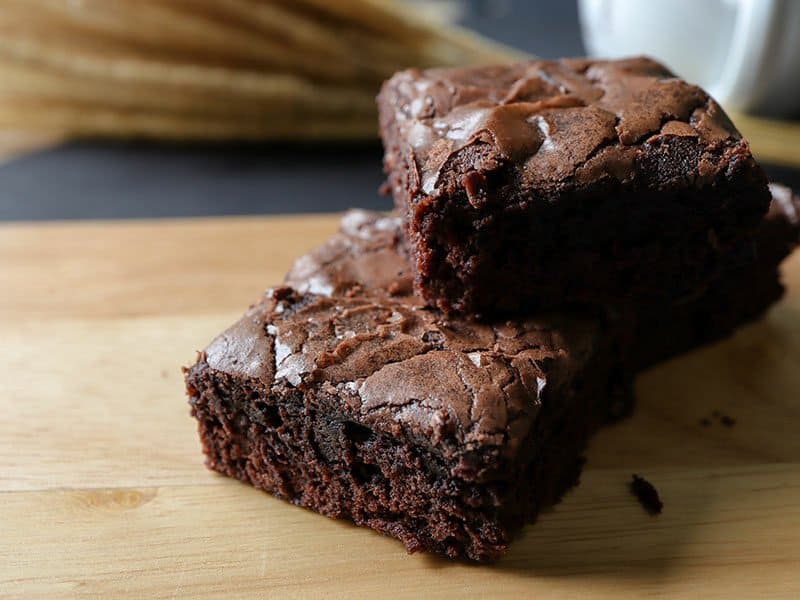 What Are Brownies?
Brownies are one of the most well-known American "comfort" foods. They are made with chocolates but without any baking powder added, creating a thicker and denser texture than regular cakes. Brownies get their name from their dark brown, nearly black color. (1)
People usually cut brownies into small squares or rectangles and eat them by hand like a snack or cookies. Many coffeehouses and pastry shops serve them with ice cream or whipped cream, topped with powdered sugar and fudge.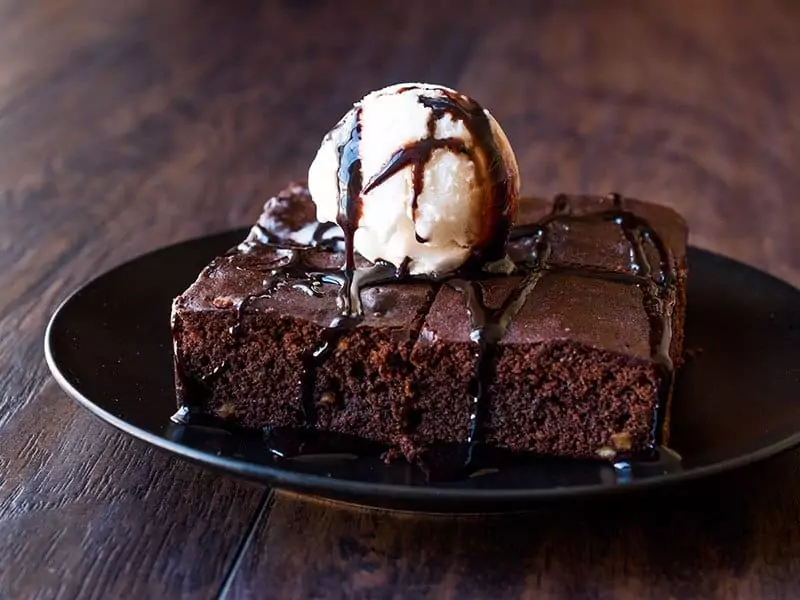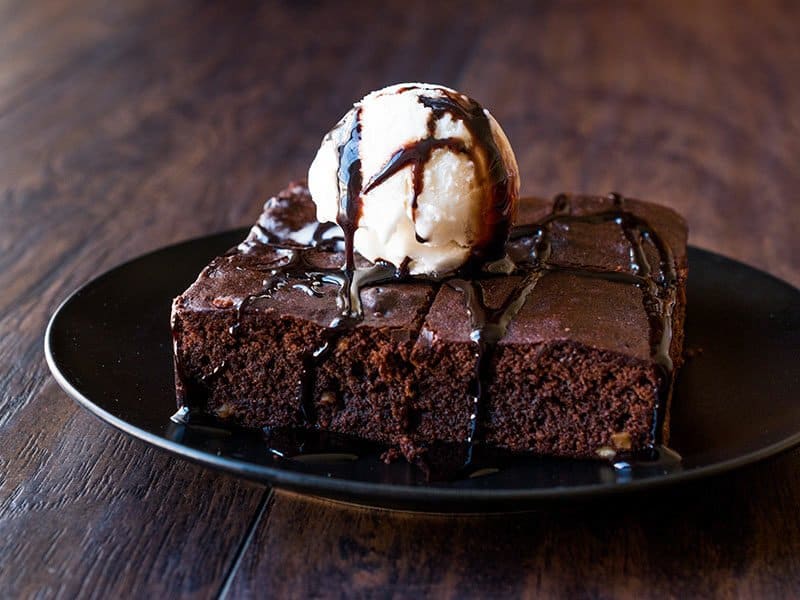 Just like how there are many varieties of brownies, they can come in different textures. It all depends on the ratio of the ingredients in the recipe. Some places add nuts, cream cheese, chocolate chunks, dried fruits, and many more in the brownies for different textures and flavors.
There are other varieties of brownies. For example, blondies are a chocolate-free brownies version with brown sugar. Or another version has chocolate mixed with vanilla batter to create unique veins.
You can see this video to know more:
No matter what types of brownies, they all taste amazing. That's why sometimes, people bake or buy too many brownies at once and waste all of those. Knowing how long brownies can last and how to store them can help you solve this problem.
Indicating Signs Of Spoiled Brownies
As a baked product, brownies can retain their quality for a long time. And they won't get moldy or rotten like other dairy goods. (That's if you store them in the right way.) But there are still some signs indicating that you should throw those brownies away.
Appearance
First, you should look for even the slightest change in your brownies' appearance. If your once moist brownies now turn dry and crumble, let them go. The same applies when their filling or frosting's color changes.
In case you store brownies in the fridge, check whether there are any white splotches or ice crystals. They are the indicator of freezer burn brownies. These brownies have entirely lost all their flavors, and you should throw them away. (2)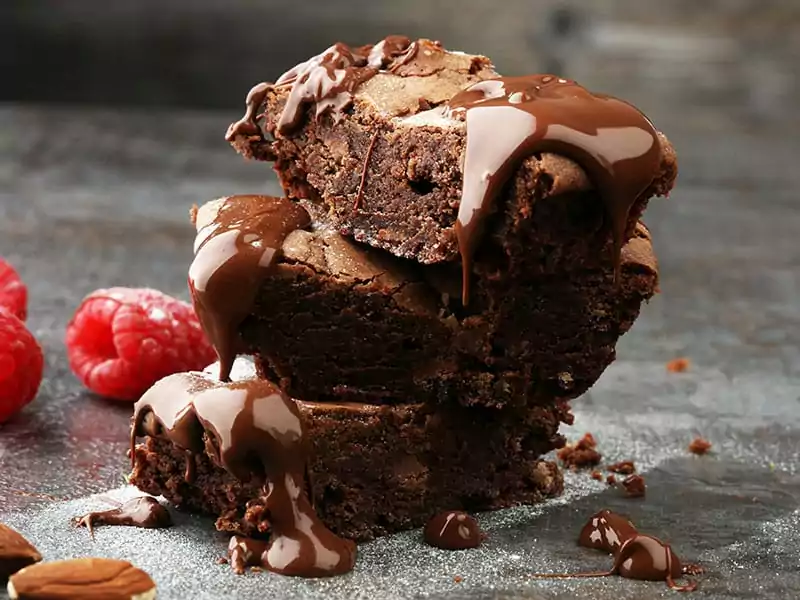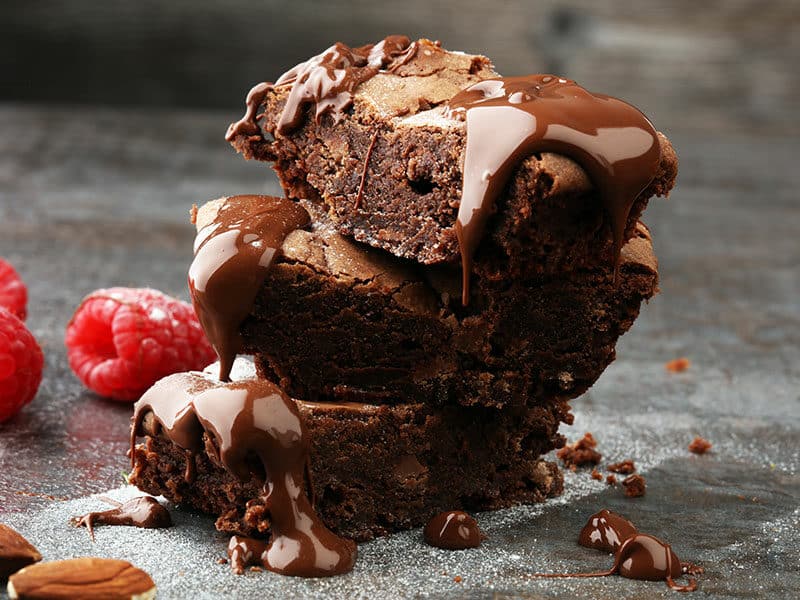 Smell
Smell is another sign telling you whether your brownies have gone spoiled. Fresh brownies usually smell sweet. So if you notice any strange and unpleasant smell from your brownies, it's time to get rid of them.
Flavor
If you can't spot these two above indicators, the flavor is your last resort. If brownies taste bland or just wrong, discard them immediately, especially when their texture becomes dry and crumble.
All in all, brownies' quality depends mainly on how long they are stored. So you'd better notice their storage time and throw them right away if these brownies have been reserved for too long.
How Long Do Brownies Last?
There are hundreds of varieties of brownies, and therefore there are hundreds of accordingly answers to this question. Not to mention, different storage methods also bring different results.
So, does this mean that the dessert you just made after learning the ultimate method to turn brownie batter into cakes will have a different shelf-life from the regular brownies? To a greater or lesser extent, yes. However, no worries, the difference is not that noticeable.
Basically, brownies can last from 3 to 5 days at room temperature. Some bakery stores can add preservatives to keep their brownies for longer. Now, you get a general answer, and it's time to dive into details!
Ingredients
As I've said, the storage time varies depending on the recipe of brownies, mainly the ingredients and their ratio. The more dairy components, the shorter the shelf life.
Regular brownies mainly consist of chocolate and butter, which can last longer than other ingredients. That's why these moist brownies have a longer lifespan than those with high flour content.
Even when you substitute some components, like using another ingredient to replace vegetable oil in the brownies, chances are that their shelf life will remain more or less the same. This is because the core elements of brownies still usually remain unchanged.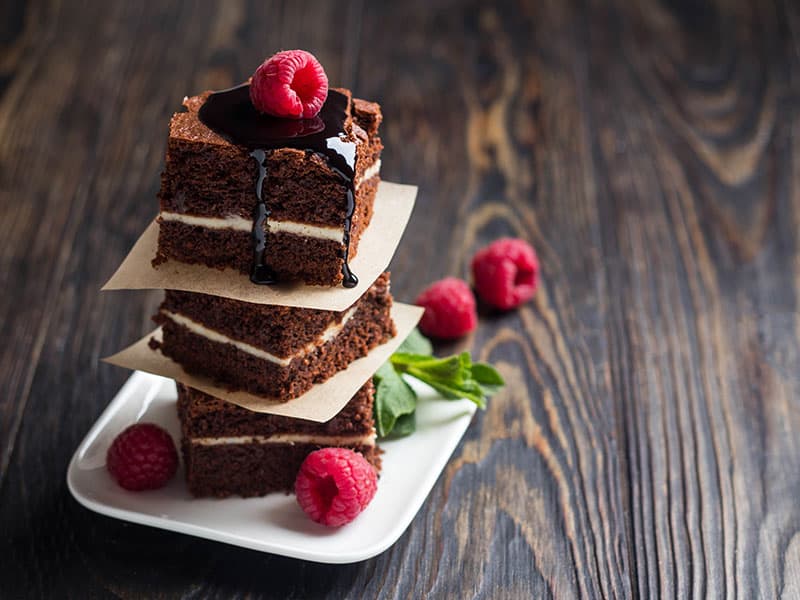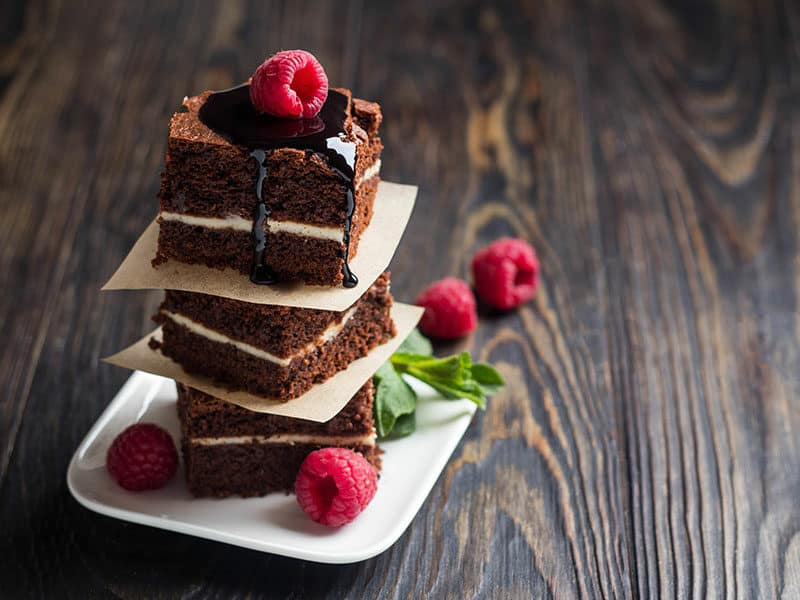 However, the opposite goes with brownies containing whipped cream or dairy filling and topping. It's because these ingredients aren't long-lasting. They can only last for roughly 5 days at best. With those brownies, you'd better enjoy them fresh.
For store-bought brownies, the bakers can add some preservatives to the brownies. Therefore, these brownies last the longest, maybe up to a month. However, you should ask the sellers for a detailed answer just in case.
Storage Methods
Aside from the ingredients, storage methods can significantly affect brownies' shelf life, whether at room temperature, fridge, or the freezer.
At Room Temperature
With proper care, freshly baked brownies can last up to 4 days outside at best. To maximize the result, cover your brownies with foil or plastic wrap even if you have already put them in Ziploc bags or airtight containers.
These covers don't necessarily prolong brownies' timespan, but they retain these snack's quality better. Without being covered, brownies can get dried quickly. In this case, make sure to warm them up before eating.
In The Fridge
However, if your brownies contain dairy products as filling or topping, or if you want to retain your brownies for more extended use, then put them in the fridge immediately. They can last for a couple of weeks if stored in the right way.
Without appropriate wrapping, your brownies' quality can degrade quickly as the starches crystallize at cold temperatures. To prevent that, you should wrap them with cling film.
Moreover, before eating, remember to take the brownies out of the fridge and stay at room temperature so that they can return to their former fudgy and chewy texture.
In The Freezer
Freezer is the only option if you want to preserve the brownies for months. If you wish to store them whole or in separate pieces, don't forget to seal all of them tightly with plastic wrap to avoid freezer burn.
You can also add some parchment papers under the brownies and other layers of foil besides cling film for better results. These brownies can last up to 6 months with all this preparation and maintain their best flavor.
After that, they're still edible, but the quality decreases to some extent.
This table here will show you an estimated lasting time of brownies with different storage methods.
| | |
| --- | --- |
| Brownies State | Lifespan |
| Room Temperature | 3-4 days |
| Refrigerator | 4-5 days |
| Freezer | 4-6 months |
7 Ways To Preserve Brownies
As you've read above, no matter what ingredients, tips to gauge brownies' doneness, or storage method, the most essential part is how you store your brownies. Execute properly, and your brownies will last precisely like the instructions.
The most formidable challenge is to keep them moist as the quality can degrade quickly with a dry texture. Therefore, here are a few suggestions on how to store brownies properly for you.
Don't Cut Brownies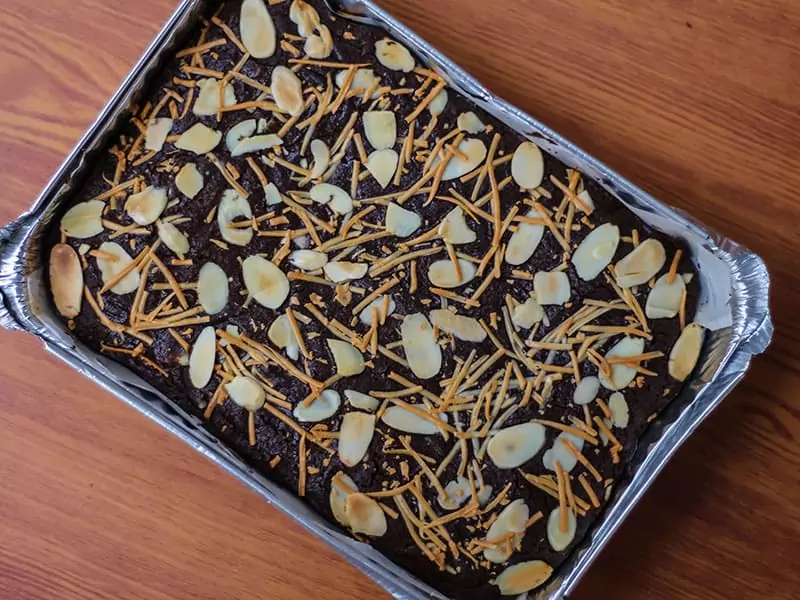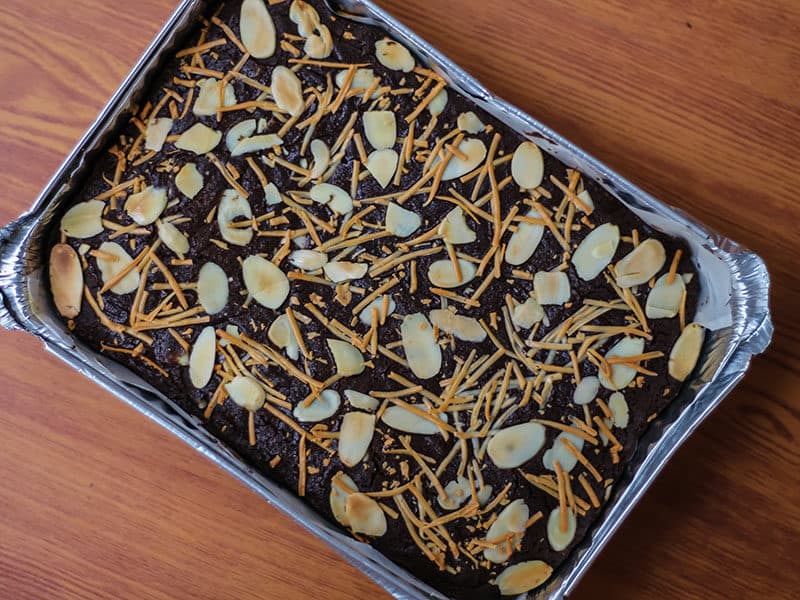 If you will eat just a few pieces and save the rest for future use, it's better to leave them inside the baking pan for brownies instead of cutting them all into separate parts. Or at least, cut them into large squares.
Or else, you will expose most parts of brownies to the air, making them dry out more quickly. And all you've got is some crunchy, unappetizing brownies.
However, if you buy brownies from some bakery shops, you can skip this step as the seller may have already cut them all.
Keep The Brownies Away From The Air
The next crucial part is to protect your brownies from the air. And the best answer is to use cling film to wrap them. Set plastic wrap just above the brownies and pull it around them as tightly as possible to cut off all the drying air. Foil is an appropriate substitute if you don't have any plastic wrap.
Airtight containers are another option, especially when you want to store brownies pieces separately. These containers have lids that can block the air entirely. You can cover the container with cling film on the top to maximize efficiency.
Although not as practical as other solutions, tight cookie jars or tins are a decent choice after airtight containers. If you need to store the brownies quickly, then put them right into some Ziploc bags. These bags are designed to keep all the drying air out, just like airtight containers.
Add A Slice Of Bread
It's an old trick your grandmother may have used with her cookies. And you can apply them the same with brownies. If you are going to keep them in some containers for later use, also put a slice of bread inside.
The moisture of the bread will keep your brownies fresh and soft. Make sure to check whether the bread slice goes dry. When this happens, replace it with another piece immediately.
Experience storing brownies with bread. You can see this video to know more:
Coat The Brownies With Chocolate
You can use this trick to maintain the quality of already cut brownies. Prepare some melted chocolate and dip the brownies totally into the liquid to get an entire chocolate coating. This solution doesn't only sound delicious, but it also ensures the brownies' quality.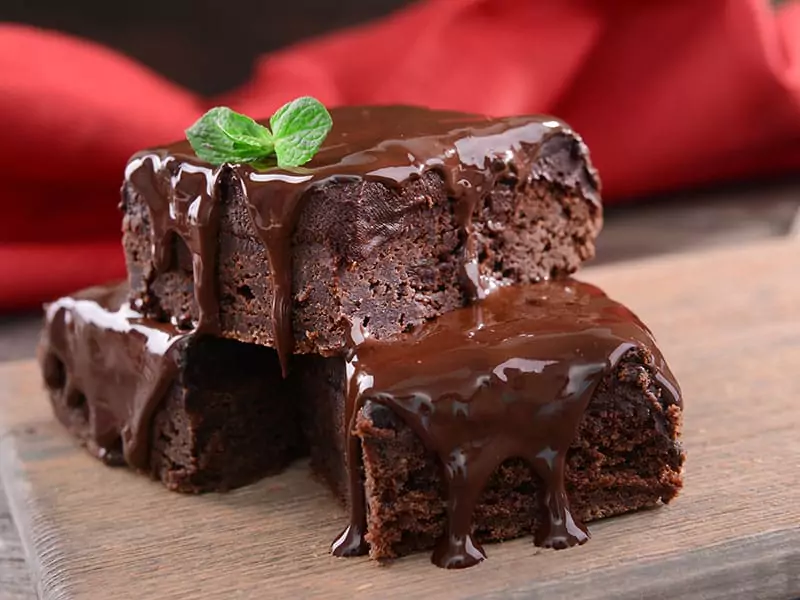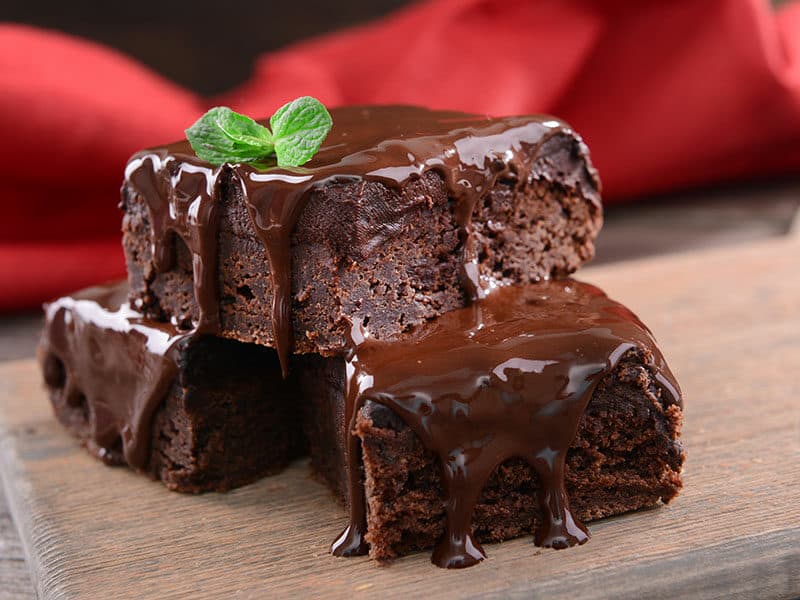 The chocolate coating will act as a shell, protecting the brownies inside from the air. Thus, it will preserve the flavor of brownies and keep them as chewy and fudgy as before.
Keep The Brownies At Room Temperature
Pastry tastes the best when kept at room temperature, which includes brownies. And you know what's better? Room temperature is the closest to the melting point of chocolate. That means brownies at room temperature will melt in your mouth as if they are freshly baked.
Store them correctly on your counter, and they will remain soft and chewy for roughly 4 days. However, this option is only suitable for brownies not containing dairy products or eggs.
Refrigerate The Brownies
So, for brownies having dairy ingredients as topping or filling, the best way is to put them in the fridge. The same goes for if you want to store them longer than just a few days. Make sure you wrap them tightly enough before placing them in the fridge.
A careful wrap prevents not only the air but also other foods' smell from ruining the brownies. When you want to grab a bite, take them out and wait for a while until the brownies come to room temperature. You can microwave them for a few seconds to warm them up.
Don't forget to rewrap the brownies before putting them back in the fridge. Follow the same procedure, and your brownies will stay soft and fresh for 14 days.
Store Brownies In An Airtight Container And Ziplock Bags. You can see this video to know more:
Place The Brownies In The Freezer
Freezer is the option that can retain the brownies longest, sometimes up to 6 months. Wrap each brownie square tightly to avoid the cold air. Plastic wrap or saran wrap is the ideal option. Or else, you can choose aluminum foil or freezer bags instead.
Put all the wrapped brownies in a large container and store them in the freezer. You can write the date on the container or the wrapping to know when they expire. (3)
There are numerous ways to defrost those frozen brownies. But the most common option is to leave them in the fridge overnight. If you need them faster, just put the brownies into the microwave for a couple of minutes. You should finish these softened brownies in 3-4 days.
FAQs About Brownies' Shelf Life
Brownies are a favorite snack for many people. That's why there are so many questions regarding their shelf life. Here I will answer some of the most frequent problems.
Further Information
If you find preserving baked brownies so tricky, there is another alternative for you: Preserve the brownies mix instead. A brownies mix is a mixture of all the needed ingredients to make brownies. It can last longer, up to a year and a half, with less complex care.
These are the only tips you need to follow:
Put them in a cool, dry place.
Don't open the package before you use it.
After opening, keep the mixture in an airtight container.
Put the mixture into a freezer bag and store it in the freezer for more prolonged use.
Now, I hope this article is helpful to you. Share it with your family and friends so that you all can enjoy delicious brownies at any time. If you have other tips about storing brownies, don't hesitate to comment for other readers!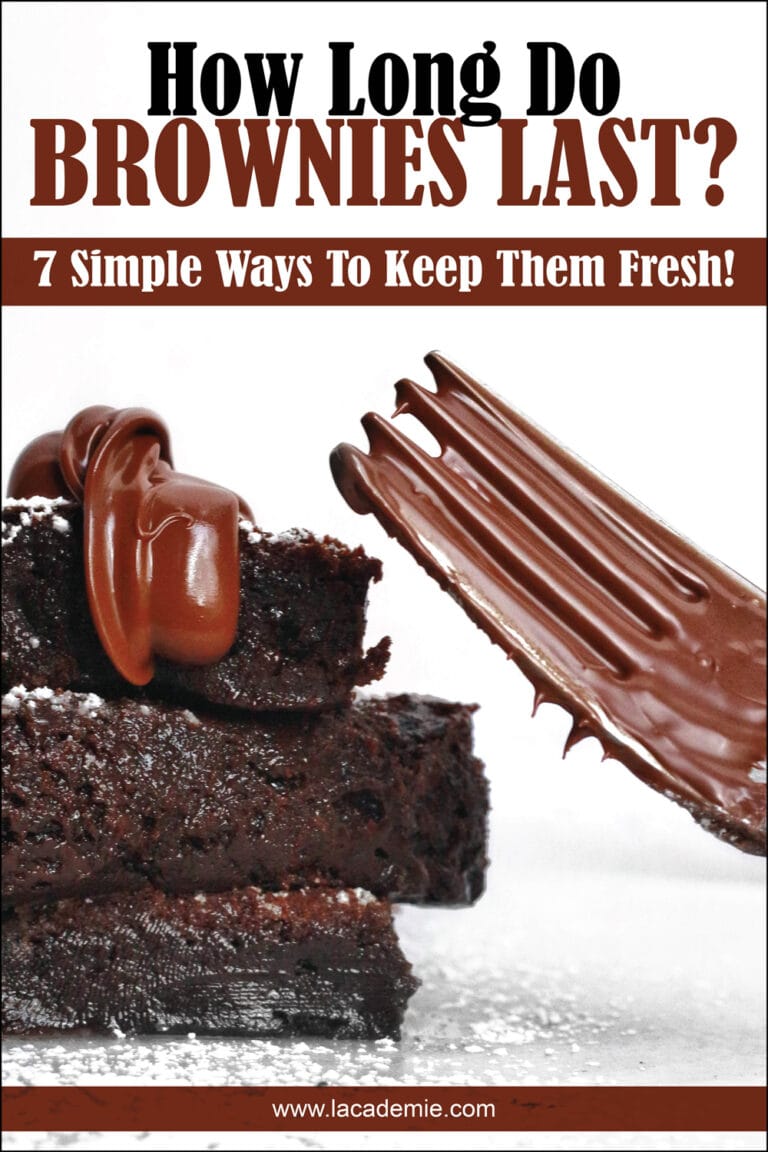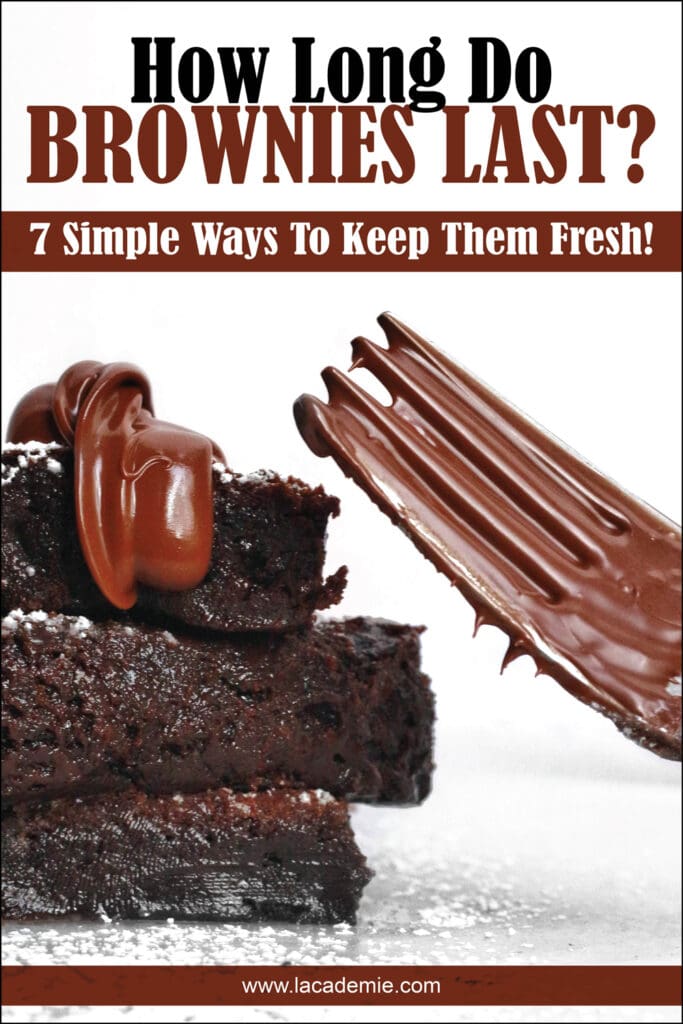 References
1. Newenglandrecipes.org. 2021. Brownies.
2. Healthline. 2021. Freezer Burn: Why It Happens and Tips to Prevent It.
3. Wikihow.com. 2021. How to Store Brownies: 3 Steps (with Pictures) – wikiHow.