It's time to uncover the fascinating world of history and culture of Asian cuisine! Join me on this epic exploration that goes beyond the plate. I will take you deep into the stories, traditions, and flavors that have shaped the culinary heritage of the world's largest continent.
From the fragrant food scene filled with exotic spices of West Asia to the refined cuisine of East Asia and the charming lands in between, I will tell you all about them. You may also learn how to incorporate these insights into your own culinary adventures!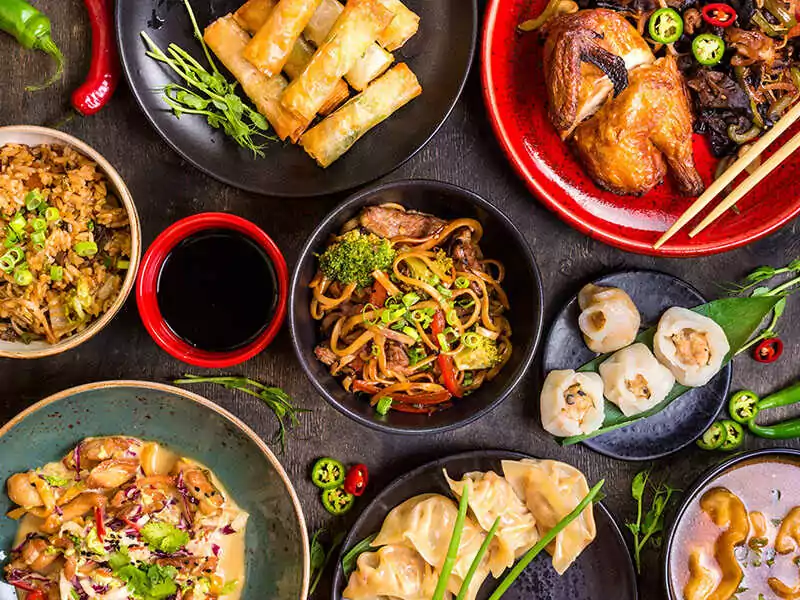 Historical Roots of Asian Cuisine
Earliest Known Food Practices In Asia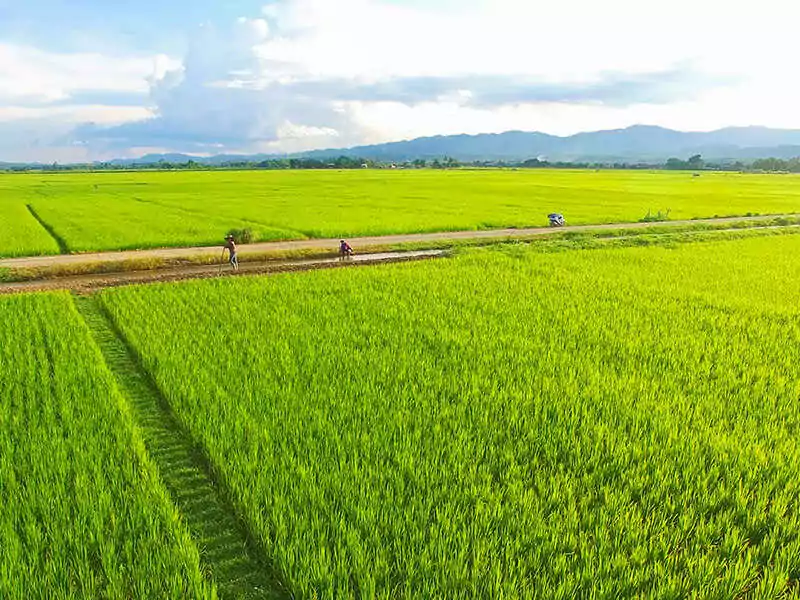 The earliest food practices in Asia can be traced back to the hunter-gatherer societies of prehistoric times. Over time, they began to develop simple farming techniques and domesticated animals, shifting from hunting and gathering to settled agriculture.
Archaeological evidence suggests the cultivation of rice began in China around 7000 BCE, one millennium after wheat and barley were grown in the Fertile Crescent region, which included parts of modern-day Iran and Iraq.
Early societies in India relied on a mix of hunting, gathering, and farming, with crops like millet, rice, wheat, and pulses.
Influence Of Agriculture, Trade, And Conquest On Asian Cuisine
The advent of agriculture dramatically influenced all the major Asian cuisines. The cultivation of cereals (like rice and wheat) and the domestication of animals provided consistent food sources, enabling societies to settle and civilizations to develop.
Trade also played a vital role, especially thanks to the Silk Road, a network of trade routes stretching from China to the Levant. In that way, new foods and culinary techniques were exchanged across Asia. Spices from India and beyond were particularly prized.
Here is an interesting fact: many staple spices in your kitchen are of Asian origin, and they only became popular in the West during the Middle Ages or the Renaissance. A few examples are garlic, ginger, and scallions (green onions).
Conquests and invasions also left their mark on Asian foods. Mongolian, Chinese, Persian, and Arab invasions influenced the cuisines of the conquered areas, introducing new ingredients and culinary traditions.
Evolution of Asian Cuisine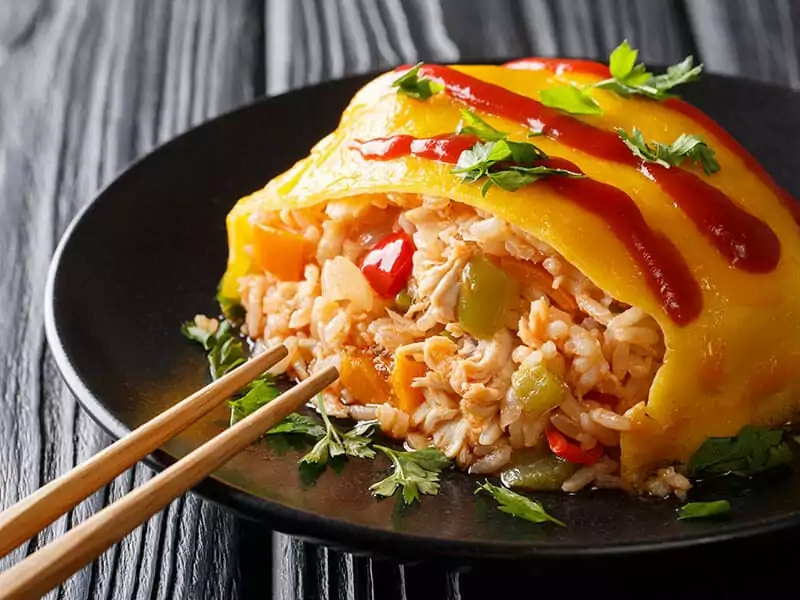 One of the oldest and most complex cuisines, Chinese cuisine has experienced many changes. Major dynasties during the country's long history, such as the Han, Tang, Song, and Ming dynasties, left an indelible mark on how to prepare Chinese food.
Meanwhile, Japanese cuisine saw significant evolution during the Edo period (1603-1867), with the popularization of sushi, tempura, and soba.
The introduction of various spices and vegetables to Asia by Portuguese traders in the 16th century dramatically transformed many Asian cuisines from every corner. Colonial influences, like Dutch, Spanish, British, and French cuisines, led to new ingredients and cooking methods.
In the modern era, Asian cuisine continues to evolve. Urbanization, globalization, and increasing interconnectedness have led to shifts in eating patterns and fusion trends. However, traditions remain strong, and many Asians still maintain food practices that have been passed down for generations.
Diversity in Asian Cuisine: A Regional Overview
East Asian
1. Chinese Cuisine
Known for its diversity, Chinese cuisine is a testament to China's vast geography and rich history. It is often divided into 8 regional culinary traditions with distinct qualities.
For example, you may be into Szechuan's bold and spicy flavors, the unique salty-sweetness of Cantonese food, or the sweet and sour dishes of Shandong. Woks, which are one of the most commonly used cooking tools in Asia, are a hallmark of all these regional cuisines.
2. Japanese Cuisine
Traditional Japanese food (known as washoku in Japanese) emphasizes seasonal ingredients, simplicity, and the natural flavors of food.
Notable dishes include many kinds of sushi (vinegared rice topped or filled with raw fish or other garnishes), ramen (noodle soup in a rich broth), tempura (battered and deep-fried seafood or vegetables), and the multi-course meal kaiseki.
3. Korean Cuisine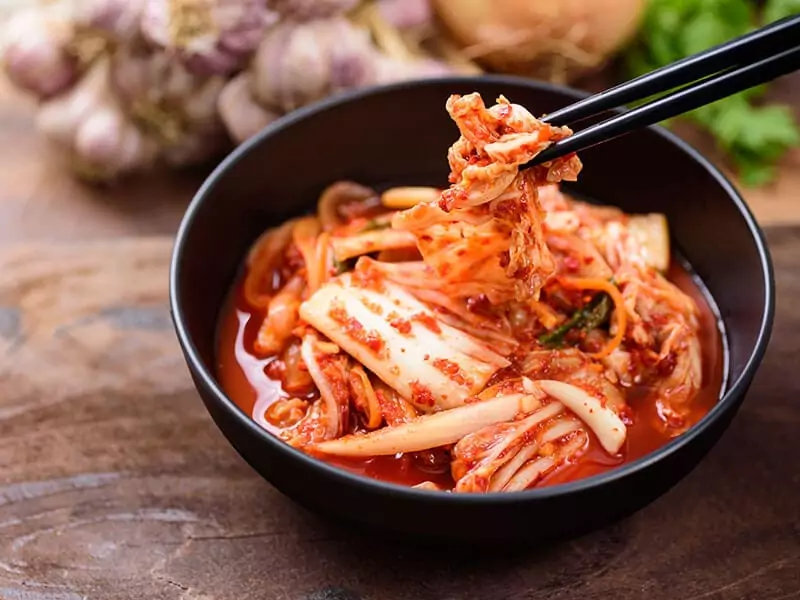 You may know about the bold and robust flavors of Korean cuisine through staples like kimchi (fermented vegetables), Bibimbap (mixed rice with meat and assorted vegetables), and Bulgogi (marinated and grilled meat).
As you can see, tanginess, saltiness, and spiciness play an essential role. Korean dining is also known for banchan – small side dishes that accompany cooked rice.
4. Mongolian Cuisine
In contrast to its neighbors, the cuisine of Mongolian is heavily based on meat and dairy due to the country's nomadic history. It features hearty dishes like Buuz (steamed dumplings filled with meat) and Khorkhog (Mongolian BBQ).
Southeast Asian
1. Thai Cuisine
Signature Thai food is beloved for its balance of sweet, sour, salty, and spicy flavors. Key ingredients include fish sauce, tamarind, lemongrass, and Thai chilis. Iconic dishes include Pad Thai (stir-fried noodles), green curry, and Tom Yum Goong (hot and sour shrimp soup).
2. Vietnamese Cuisine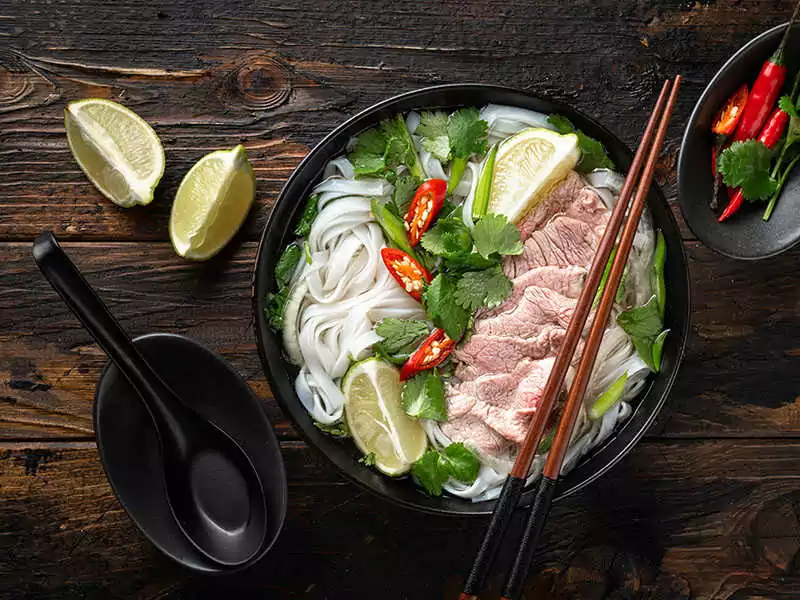 Vietnamese culinary delights emphasizes freshness and balance. Popular dishes include Pho (a noodle soup with beef or chicken), Banh mi (a baguette sandwich with fillings), and spring rolls. Herbs and fish sauce are commonly used for flavor.
3. Indonesian Cuisine
An archipelago of over 18,000 islands, Indonesia cuisine is highly diverse. Key dishes include Nasi Goreng (fried rice), Rendang (slow-cooked meat in coconut milk and spices), and Satay (skewered and grilled meats).
4. Filipino Cuisine
Authentic Filipino delicacies is a fusion of Malay, Chinese, Spanish, and American influences. Adobo (dishes made by braising food in a mixture of vinegar and aromatics), Lechon (roasted suckling pig), and Pancit (noodle dishes) are among its well-known dishes.
South Asian Cuisine
1. Indian Cuisine
Indian cuisine varies by region, but the extensive use of spices is often a hallmark feature. Northern India is famous for tandoori and biryani, while Southern India is known for its Dosa (fermented rice crepes) and sambar (lentil stew). Vegetarianism is widespread due to religious reasons (1).
2. Pakistani Cuisine
Pakistani traditional dishes are rich and hearty, featuring meats cooked in aromatic spices. Biryani, nihari (slow-cooked meat stew), and samosas are massively popular. Wheat-based breads like naan and roti are staple side dishes.
3. Sri Lankan Cuisine
Because of its history as a trade hub, the cuisine of Sri Lanka features dishes like dhal curry (lentil curry), coconut sambol (a type of condiment or relish), and a variety of seafood. Rice and curry (rice served with various curries and condiments) is the national dish, signifying the country's agrarian history.
4. Bangladeshi Cuisine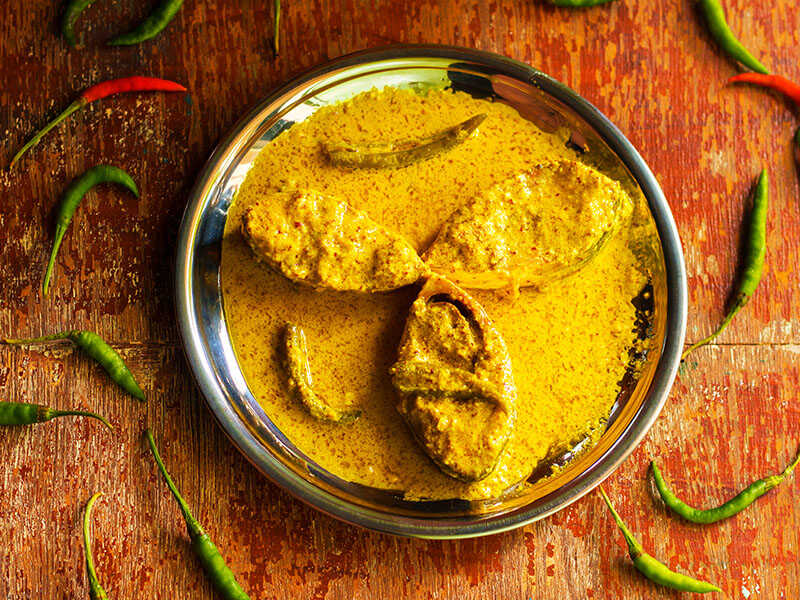 With an emphasis on fish, lentils, and rice, Bangladeshi culinary dishes is a mix of Bengali and Mughal influences. Hilsa, a type of herring, is the most popular fish and appears in many curry varieties.
Bhuna Khichuri (a rice and mung bean dish) and Bakarkhani (thick spiced flatbreads) are other popular items.
Central Asian Cuisine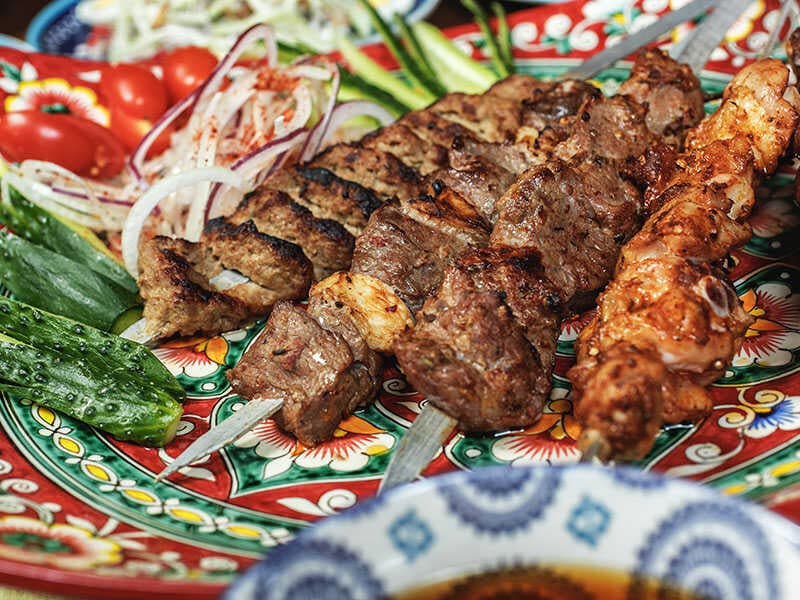 1. Kazakh Cuisine
Heavily meat- and dairy-based, traditional foods of Kazakhstan is reflective of the nomadic lifestyles of the Kazakh people. Beshbarmak (a dish of boiled meat served over noodles) is a traditional dish, and Kumis (a fermented mare's milk) is a common beverage.
2. Uzbek Cuisine
While Uzbek fares showcases the Central Asian fondness for meat, it also loves spices dearly. The most iconic dish is Plov, which is a take on pilaf and made of rice cooked in a seasoned broth with meat and vegetables.
Manti (large steamed dumplings) and Shashlik (skewered and grilled meat) are other typical dishes.
Middle Eastern (West Asian) Cuisine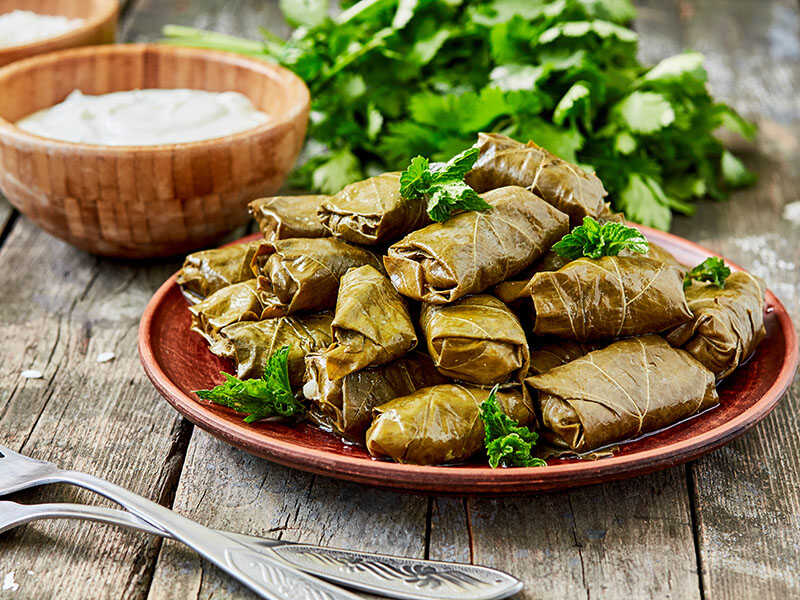 1. Turkish Cuisine
Authentic Turkish dishes varies across the country but typically features meat (especially lamb), vegetables, and dairy products. Must-try delights from this country include kebabs, dolma (stuffed vegetables), Sarma (stuffed grapevine or cabbage leaves), and baklava (layered pastry desserts).
To understand Turkish cuisine, you should also try meze (or mezze), an extensive range of small dishes served with drinks as snacks or appetizers.
2. Iranian Cuisine
Traditional Iranian gastronomy or Persian cuisine offers many flavorful dishes made of rice, meat, fruits, nuts, and spices (especially saffron). It is also known for its wide range of sweets and pastries.
Dishes like Chelo Kebab (steamed rice served with roasted meat) and Ghormeh Sabzi (Persian herb stew) do an excellent job of showcasing Iran's culinary depth.
3. Arabic Cuisine
Stretching from the Arabian Gulf to North Africa, exquisite Arabic cuisine features staples like Dajaj Mashwi (marinated and grilled chicken), hummus (a chickpea spread), falafel (deep-fried chickpea balls), and Tabbouleh (a salad made with bulgur, parsley, tomatoes, mint, lemon juice).
Arabic cuisine is also known for its aromatic coffee and sweet treats like Ma'amoul (date-filled cookies) and Knafeh (a dessert made from cheese and shredded phyllo dough).
Key Ingredients and Techniques
Essential Ingredients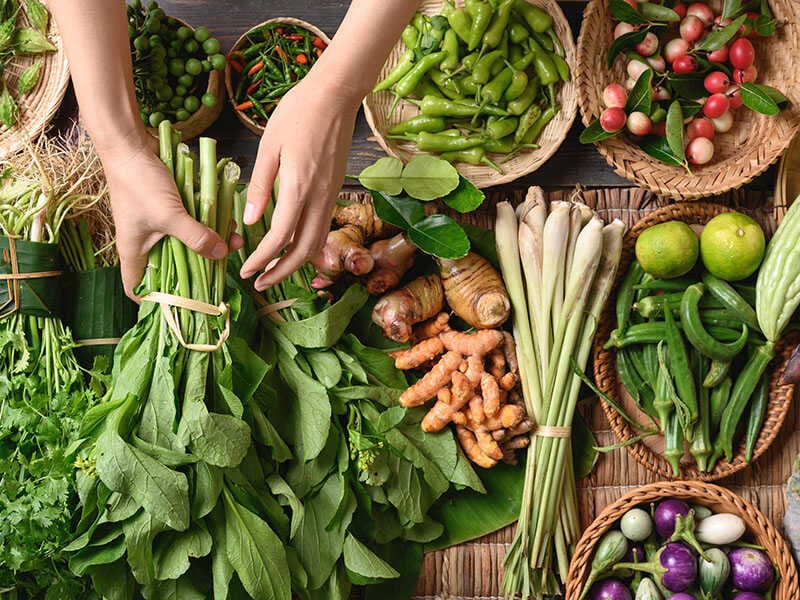 Asian cuisines are united by a few essential ingredients despite their diversity. Rice, in its many varieties, is a staple across the continent. Soybeans also play a significant role, whether they are in the form of tofu, soy milk, or soy sauce. The last one is among the most important Asian condiments.
Speaking of condiments, many other exotic sauces and pastes are necessary to bring about the unique Asian savoriness. Add rice wine, fish sauce, curry paste, tahini (ground sesame paste), or kerisik (toasted coconut paste) to your food, and you will be surprised by the result!
Spices, fresh herbs, and a variety of meats and seafood enrich the culinary tapestry. Vegetables, fruits, mushrooms, legumes, and nuts are other popular food ingredients in Asian cooking, too. This is one of many reasons why Asian foods are so healthy.
Many varieties of vegetables are popular in Asia but largely unknown in the US, such as water chestnuts, banana blossoms, lotus roots, bamboo shoots, etc.
Signature Techniques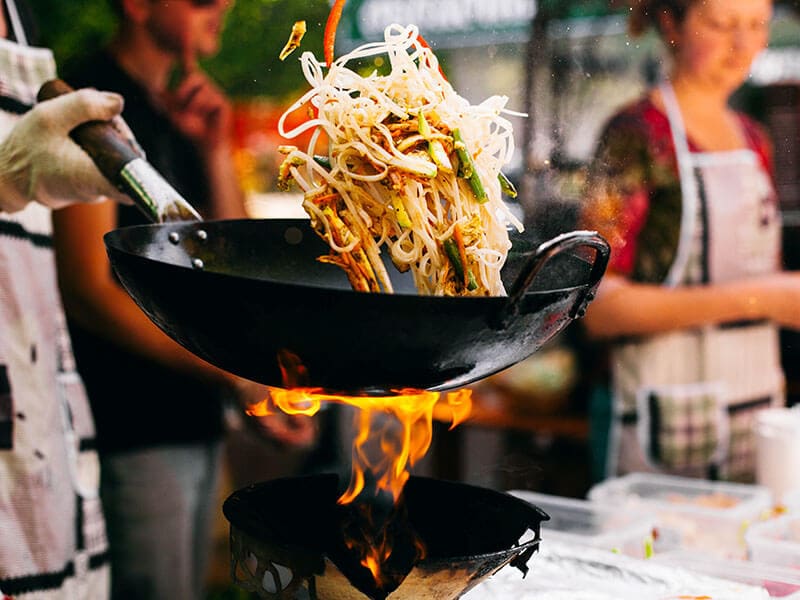 Asian cooking techniques are as diverse as the continent itself. Stir-frying and deep-frying are popular in Chinese-influenced cuisines. Nowadays, vegetable oil is the mainstream choice, but traditional options include coconut, soybean, and sesame oil.
Japanese cuisine embraces raw preparations (nama is the technique of cutting raw food ingredients for sushi and sashimi) and grilling (teppanyaki).
Steaming is a typical Asian way to prepare food across multiple countries, from Indian Idlis and Bhapa Ilish (steamed ilish fish with mustard) to Chinese dim sum. Meanwhile, fermentation is prominent in Korean (kimchi) and Japanese (Umeboshi – pickled plums) cuisines.
The Influence Of Religion, Philosophy, And Health Beliefs On Asian Cuisine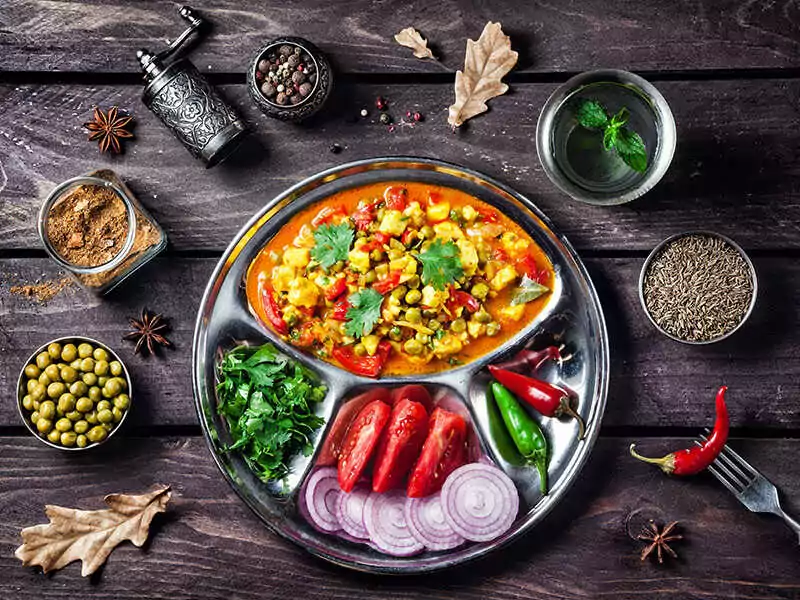 Religions play a significant role in shaping Asian cuisine. In Islamic regions, including much of the Middle East and parts of Southeast Asia, halal laws dictate the types of foods that are permissible (2). Pork isn't among them, so it is completely absent here.
In Hindu-majority India, beef is a no-go. Since this South Asian country also has a sizable Muslim population, pork isn't popular in many places, either. The exclusion of both pork and beef is one of many reasons the Indian vegetarian tradition is highly developed.
In addition, cultural philosophies and traditional beliefs about wellness have a considerable influence on Asian food practices. The Chinese concept of yin and yang, for example, promotes the idea of balance and harmony in food as a way to improve overall health.
Also, various Asian cultures recognize the medicinal properties of certain foods and incorporate them into their diets to prevent or treat illnesses.
The Concept Of Balance In Asian Cuisine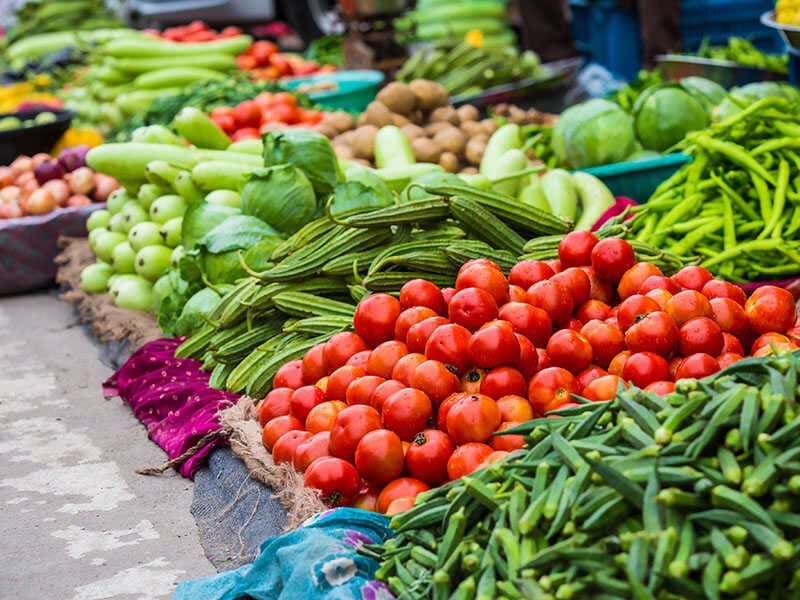 Balance is a central theme in many Asian cuisines. This is not only about balancing flavors – sweet, sour, bitter, spicy, and salty – but also about creating harmony between the food and the consumer's body condition in terms of "heat" and "coolness."
Traditional Chinese cuisine is all about the principle of balancing yin ("cool" or "cold" foods, such as those with high water content or sour, bitter, salty flavors) and yang ("warm" or "hot" foods, such as those with high energy content or sweet, pungent flavors) properties (3).
Likewise, the Ayurvedic tradition in Indian cuisine classifies foods into three categories (4). They are Sattvic (fresh, unprocessed foods with light flavors), Rajasic (fish, all kinds of meats, foods with strong flavors), and Tamasic (Rajasic foods, plus oily, stale, or processed foods).
In other Asian cuisines, such as Korean and Thai, balance is also crucial. A typical Korean meal would include a range of dishes with different tastes, colors, and nutritional benefits, while Thai cuisine is famous for its balance of the four fundamental flavors (sour, spicy, sweet, and salty).
Food Symbolism And Traditions In Asian Cultures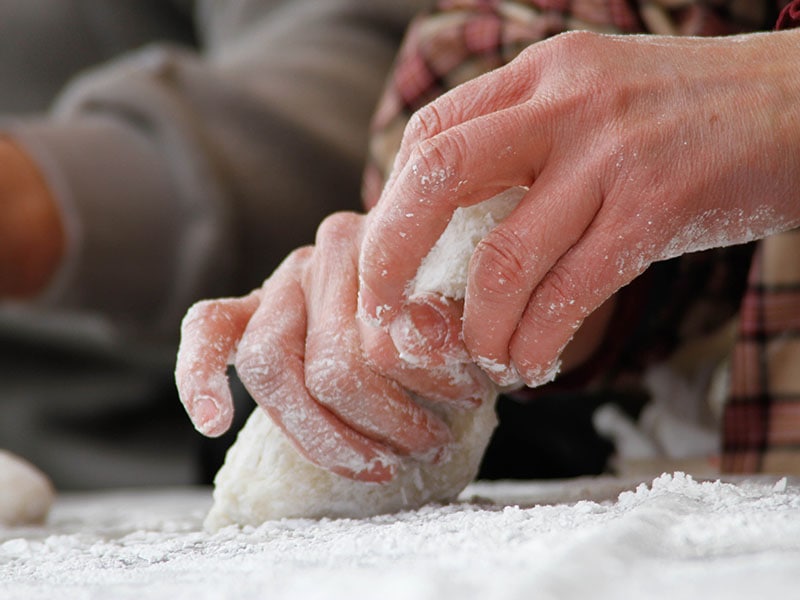 In many Asian cultures, food is often a medium for expressing cultural values and social relationships. For instance, in China, certain dishes and ingredients boast specific symbolic meanings, such as fish for abundance and longevity noodles for long life (5).
In Japan, the making of mochi (rice cakes) is a significant event around the New Year since it symbolizes good fortune for the coming year. Similarly, in India, various sweets signify joy and prosperity and are associated with celebrations.
The Role Of Cuisine In Asian Festivals And Celebrations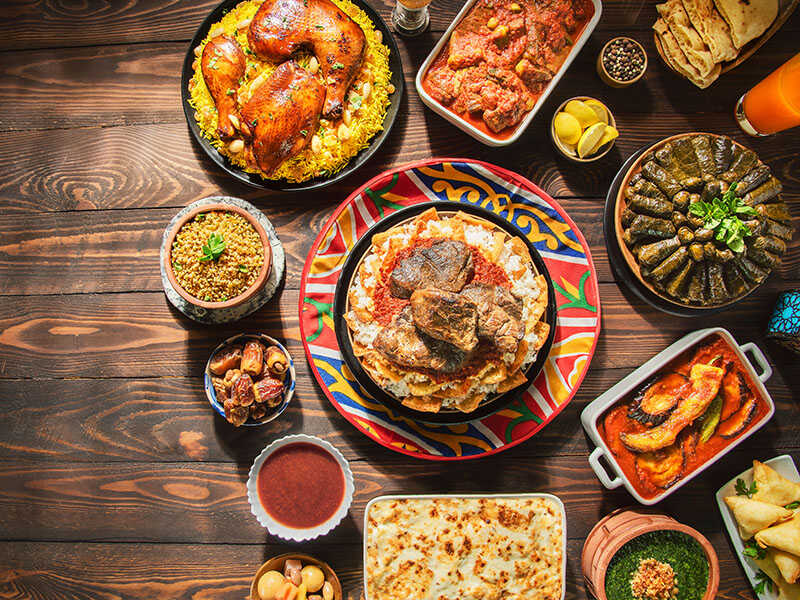 Festivals and celebrations in Asia often revolve around food. During Chinese New Year, a reunion dinner with various symbolic dishes is a crucial part of the celebration. Mooncakes, one of the most iconic cakes and desserts from Asia, are traditionally eaten during the Mid-Autumn Festival to symbolize family unity.
In India, different festivals feature unique dishes: Modak (sweet steamed rice dumplings) are offered to Lord Ganesha during Ganesh Chaturthi, while Laddu (spherical sweets) and Gulab Jamun (fried dough balls in a sweet syrup) are traditional offerings for Diwali, the Festival of Lights.
In the Islamic tradition, the breaking of the fast during Ramadan is done with a meal known as Iftar, which often includes a rich array of dishes and desserts. They can be dates (enjoyed plain or stuffed with nuts), Haleem (mixed stew), or Fattoush (bread and vegetable salad).
Food Etiquette And Dining Customs
Food etiquette is a big part of Asian culture. For example, in Japan, it's customary to say "Itadakimasu!" (a polite form of "Bon appetit!") before a meal as a way of expressing gratitude for the food. Slurping noodles is encouraged and considered a compliment to the chef.
In China, letting the oldest or most senior person start eating first is a sign of respect. Leaving a little food on the plate indicates that the host has provided enough food and hospitality.
In India, meals are often eaten with the hands, especially in the south. But only the right hand is typically used for eating, as the left hand is considered unclean.
Impact of Asian Cuisine Globally
Spread Of Asian Cuisine Outside Of Asia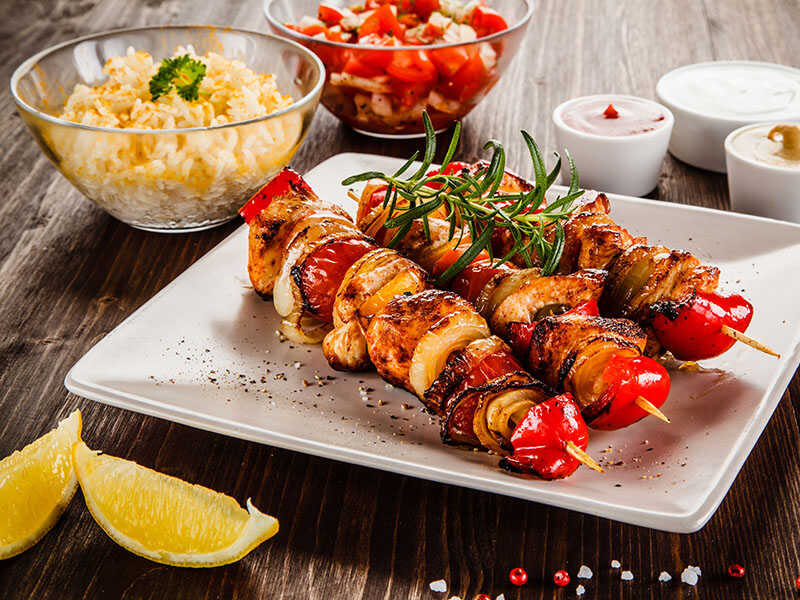 Asian cuisine has spread globally due to several factors, including immigration, trade, and the global appeal of its varied flavors. Cities worldwide feature restaurants serving Chinese, Japanese, Indian, Thai, Korean, and Middle Eastern food, among others.
The international adoption of sushi, dim sum, curry, kebab, and Pho demonstrates the global appeal of Asian cuisine.
Fusion And Adaptation Of Asian Cuisine In Western Countries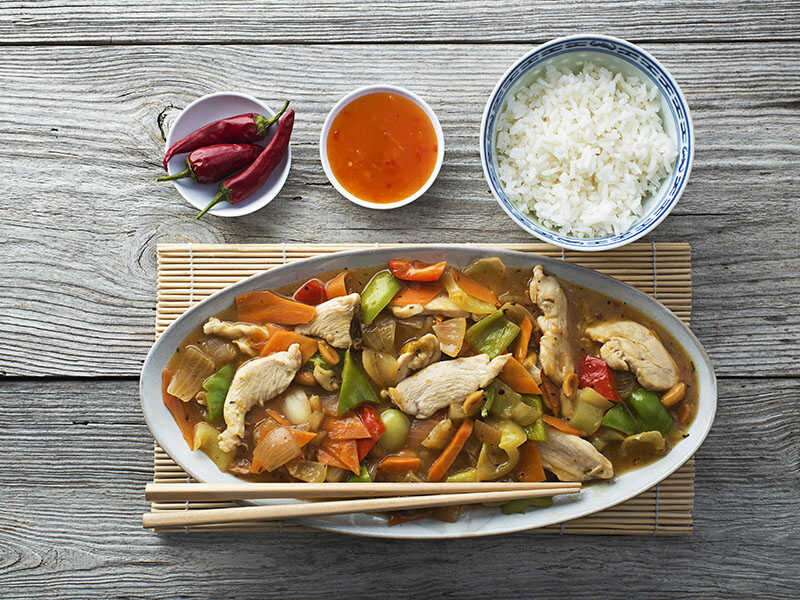 Asian cuisine's migration to Western countries often involves adaptation to local tastes, leading to the creation of fusion dishes. These can be as simple as adding Asian-style sauces or spices to a Western dish or as complex as completely reinventing traditional Asian recipes.
Noteworthy examples include American-Chinese dishes like General Tso's chicken and chop suey, which cater to Western tastes while retaining an Asian influence.
The California roll is another example. It changes traditional Japanese sushi by including ingredients like avocados, cucumbers, and crab meat, which are more familiar and appealing to Americans.
Impact Of Asian Cuisine On Global Food Trends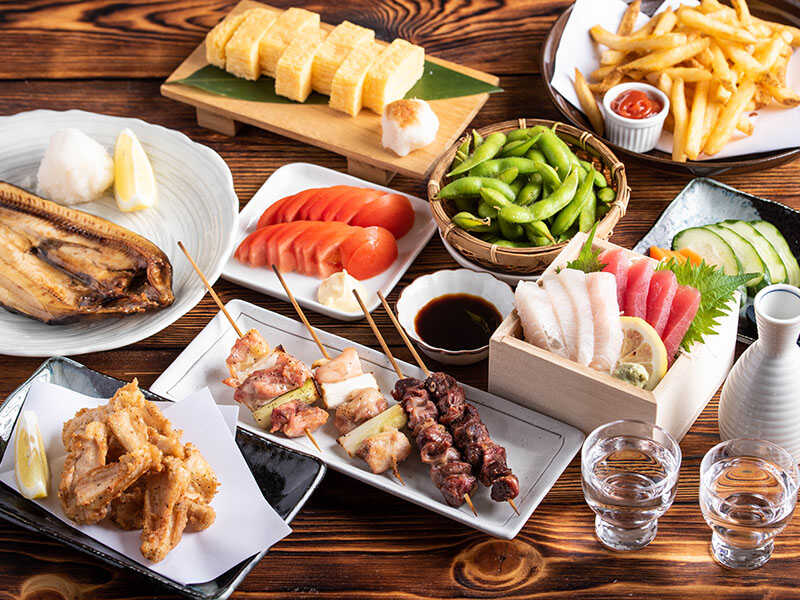 The impact of Asian cuisine on global food trends is significant. Asian street food delights, like Banh mi, ramen, and bubble tea, which have gained massive international popularity.
Asian cuisine's influence also extends to health trends. Fermented foods like kimchi and miso soup are now globally recognized for their probiotic benefits. Similarly, famous Asian spices and herbs like turmeric and lemongrass are celebrated as "superfoods" due to their health benefits (6), (7).
Additionally, if you love Spanish tapas, you'll be thrilled to know that Asia offers multiple ways of sharing small plates. The spread of Asian traditions like Chinese dim sum, Japanese izakaya, and Korean banchan further demonstrates the extensive influence of Asian cuisine on global eating habits.
FAQs
Exploring Asian Cuisine Is An Art!
Stretching from the expansive Pacific Ocean to the oceans of sand in the Middle East, Asia encompasses a staggering amount of culinary diversity. Its foods are like itself: varied yet united, ancient yet constantly evolving. Taste their flavors, listen to their stories, and you will learn amazing things.
As you reflect on these interesting facts, feel free to share your thoughts and experiences in the comments below. Don't forget to tell your friends and fellow food enthusiasts about this article if you find it helpful. Many thanks, and see you soon!
References
Corichi, M. (2021) Eight-in-ten Indians limit meat in their diets, and four-in-ten consider themselves vegetarian, Pew Research Center.
Halal: What it is, its history, and examples (no date) WebMD.
(No date) Travelogue: The Yin-yang of Chinese food – CGTN.
S., D., V, R.N. and Mishra, A. (2019) Traditional methods of food habits and dietary preparations in ayurveda-the Indian system of Medicine – Journal of Ethnic Foods, BioMed Central.
Food symbolism—asean—china center (no date) ASEAN.
Health benefits of Turmeric (no date) WebMD.
Lemongrass: Are there health benefits? pros, cons, nutrition, and more (no date a) WebMD.