The list of these best Halloween cocktails will make the preparation for your party more convenient and faster. Please remember the instructions of these amazing recipes to prepare and serve your guests on Halloween.
These recipes are carefully selected to ensure the quality of your party. Moreover, you will have the opportunity to expand your knowledge with helpful information about the Halloween festival.
All Information About Halloween You Must Know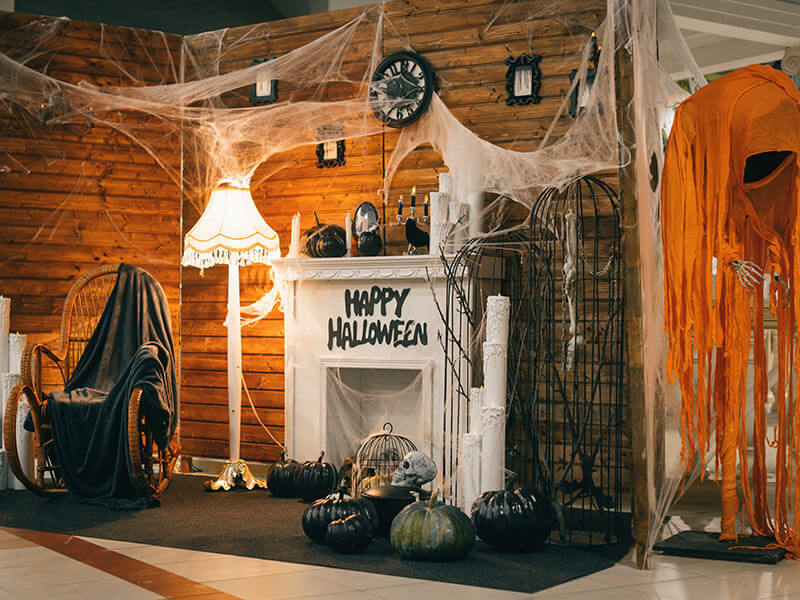 Halloween is a familiar festival for many people globally. It is held every year on October 31st. Many hypotheses said that it originated from the Celtic harvest festival. Another view said that this is the Christianization of All Hallow's Day and Eve.
This festival has been famous in Scotland and Ireland for a long time. It began to appear in North America in the 19th century. Gradually, it became famous worldwide.
You will participate in the trick-or-treating, pumpkin sculpture, costume festival, and other activities.
People often initially dress up as vampires, devils, skeletons, or ghosts. Later, famous film figures, such as ninjas, princesses, superheroes, or monsters, appear popular at costume parties.
Foods containing apples are the popular choice in the Northern Hemisphere countries as Halloween occurs after the apple harvest season.
Dishes made from chocolate, nuts, corn, and pumpkin are commonly used on this occasion. There are plenty of delicious Halloween-themed cupcakes to enjoy. Plus, attractive cocktail recipes are a critical part of the parties.
Fall In Love With These Excellent Halloween Cocktails
Besides the delicious foods, cocktails will be the excellent chilled method at the Halloween party. This part will show a source of ideas for your Halloween drinks menu.
Total time: About 10 minutes
Bloody Mary is one of the famous cocktail recipes you should not ignore at Halloween parties. The fruity and healthy alcoholic beverage is the perfect blend of herbs, fruit, and vegetable juices, such as tomato, carrot, and lime.
Turmeric and black pepper are especially good for improving memory, relieving pain, and against inflammation. Moreover, you can find a hint of sour tamarind and sweet molasses from Worcestershire sauce in this cocktail.
If you search for the chill feeling, vodka will bring it to you. You can use a celery stick and lemon wedges for garnishing this recipe. Sprigs of cilantro or parsley are also suitable options. Furthermore, you can try decorating it with a veggie skewer, cheese, or turkey jerky.
Discover the instructions to make the perfect Bloody Mary.
Total time: Around 15 minutes
I often start the mysterious Halloween party with a glass of Witches Brew. The combination of white rum and Sprite is always an immortal choice because of the tasty and fun flavor they bring. Also, Creme de Menthe is another highlight of this cocktail.
Creme de Menth is a mint syrup made from peppermint extract, sugar, and water. So, besides the sweetness, it adds a cool and relaxing touch to the dessert. You will be impressed by the green color that comes from the mixture of green and gold luster dust.
In addition, a little smoke from drinks will fit the atmosphere of a Halloween party. So, I added some dry ice to the glass. However, you should wear gloves when using dry ice to avoid being burned. Besides, don't drink the cocktail while it is still smoking.
Total time: About 3 minutes
This cocktail is straightforward to make with some easy-to-find ingredients and simple operations. Besides Halloween, it is possible to make this cocktail for Christmas or birthday parties. Its deep color is suitable for the Halloween concept.
You have to prepare vodka and black raspberry sparkling ice. After mixing these elements, you will get a delicious cocktail. In terms of serving, I often enjoy Hocus Pocus with witch hats, Halloween-themed cookies, or Black Magic Cocktail.
If you are looking for a yummy cocktail for the keto diet, Hocus Pocus is an ideal suggestion you should consider. Moreover, it contains only a minimum amount of calories, and you can create a non-alcoholic version for your kids.
Total time: About 2 hours
Have you prepared a drink for the Halloween party? Do not forget to add Candy Corn Halloween Martini to your menu. You will have the chance to enjoy the flavor of vanilla vodka and candy corn in the same lovely glass.
If you are a big fan of alcoholic mixed drinks made from Grand Marnier, this recipe is the perfect option. You need to spend 1 to 2 hours preparing ingredients by soaking candy corn in vanilla vodka. After stirring and straining out candy, you need to mix it with Grand Marnier and ice.
You can serve this cocktail after shaking the mixture in a Martini shaker. If you do not want to wait long to enjoy this drink, it is better to prepare all ingredients beforehand since they take a long time to get ready.
Total time: Around 10 minutes
There are many popular cocktails with apple cider, and the Poisoned Apple cocktail is an ideal representative to serve on Halloween. Also, the subtle flavor of this liquid dessert is compatible with breezy fall.
You can find a bit of magic feeling while trying this excellent fall cocktail. Pomegranate juice and apple cider adds a sweet and sour note to it. I often use spiced rum to bring the liqueur touch to my diners in this recipe.
You will feel like a scientist working in the laboratory, such as a Frankenstein, when processing this recipe with a bit of gold luster dust.
Total time: Around 5 minutes
It is hard to resist the eye-catching black and red colors of the Black Widow cocktail. This vodka-based cocktail is flavored with vanilla and blackberries. In addition, lemon juice and soda water are the other vital components of this cocktail.
To create 2 layers of red and black shades, you will need blackberries. After muddling blackberries and diluting them, you will have a red solution. Meanwhile, the black shade will come from whole blackberries.
You can choose one of the following ways to decorate this cocktail. Dipping the rim of the glass with food coloring, lime, and kosher salt is a good decorative option. Moreover, you can try putting a skewered blackberry and raspberry on the glass rim.
It is time to create a Black Widow cocktail for your Halloween party.
Total time: Around 5 minutes
Halloween Blood Orange Martini is a delicious Triple Sec cocktail I want to introduce. The blood shade of it makes your Halloween party more memorable. Citrusy is the prominent taste of this fantastic drink.
Because it is a concoction of lemon-flavored vodka, blood orange juice, and orange liqueur (Triple Sec), you can make the non-alcoholic variation by replacing vodka and Triple Sec with lemonade.
You can adorn this fantastic drink with a plastic spider. Furthermore, it is perfect for drawing a spider web on the glass to make it look scary. To avoid washing away the spider web and keep the cocktail chilled, you should freeze the glass before.
Total time: About 5 minutes
This revitalizing cocktail containing Bourbon, St Germain Elderflower liqueur, ginger beer, and lemon juice will not let you down. In addition, Skeleton Key gets a slight bitterness from Angostura bitters. The citrus and spicy note will conquer you immediately.
I suggest that you serve this drink in tall glasses like Collins glass or St Germain Spritz glass. After filling the glass with ice, you will add Bourbon, St Germain, and lemon juice in the glass. Let's stir to blend them. Finally, add the rest of the ingredients to the mixture.
Total time: About 5 minutes (excluding the refrigerating time)
It is a fantastic experience to sip a glass of Black Magic Sangri and participate in the costume festival on Halloween with your friends. Almost all Sangrias are straightforward to make, and so is this recipe.
If the party takes place tomorrow, you need to prepare this drink today. Please prepare a pitcher and fill it with blackberries, plums, grapes, brandy, and Creme de Cassis. They create a concoction with a dark red color and sweet, sour, and nutty taste.
After mixing this mixture, you will leave it in the fridge for about 4 to 8 hours. When guests arrive, you just need to add some pieces of fruit and pour the cocktail into the glass with club soda.
Check out the directions to get the tasty Black Magic Sangria.
Total time: Around 5 minutes
Let's chill with your friends with a Jack-O-Lantern cocktail on Halloween. The strong citrus note of this drink will captivate you right away. It is time to go to the kitchen and process this recipe according to the following steps.
The drink needs light and dark rums to bring the warm and sweet hints to you, so please prepare them. Besides, orange juice, orange liqueur, grenadine, and lemonade are the other essential ingredients to make it.
You just need to fill the shaker with all components and shake to blend them to prepare this recipe. It is good to serve it in a Jack-O-Lantern or hurricane glass with ice. Do not forget to garnish this drink with an orange wheel.
Total time: About 5 minutes
It would be a mistake if you did not add Vampire Bite to your Halloween cocktails menu. The deep red color will bring a mysterious feeling to your guests. This easy recipe comprises lemonade, black cherry soda, and cherry vodka.
It is not complicated to make this Halloween drink as you are just obligated to add lemonade and vodka to a shaker and shake to get a harmonious mix. Remember to add the dark cherry soda on top and decorate with frozen cherries before serving.
Total time: Around 2 hours 5 minutes (including 2 hours of soaking the butterfly pea flowers)
The fun Color Changing Margaritas will bring the magical feature to your Halloween party. You will witness the transfiguration from a blue shade to a purplish-pink hue of this drink. The main factor causing this color change is the butterfly pea flowers.
This flower is pretty common in Southeast Asian countries, and it is a natural dye. When you combine it with an acidic liquid, the color will turn purple. You must soak the flower with tequila for 2 to 3 hours, so you should prepare in advance.
To instigate the transformation, you should first put Butterfly Pea flower-infused tequila into the glass. After pouring the mixture of Triple Sec, simple syrup, and lime juice into the glass, this cocktail will switch from blue to purple.
Go to the kitchen to make the simple Color Changing Margarita.
Total time: About 5 minutes
I firmly believe that your Halloween party will become unique and explode with the appearance of Toasted S'more Martini (S'more originates from the phrase "some more"). This excellent drink is a good choice for those who love Torani vanilla syrup and chocolate taste.
Torani vanilla syrup is made from pure cane sugar and natural flavors. It adds an exquisitely sweet taste to this dessert. After shaking chocolate vodka, coffee liqueur, vanilla syrup, and a half and half (a 50/50 mix of whole milk and cream), you get a harmonious mixture to enjoy.
If you want a more professional cocktail, you should moisten the rim of the glass with chocolate syrup and soak it into the graham crackers. A few toasted marshmallows will make this drink look more gorgeous.
Total time: Around 2 minutes
Bloody Champagne Bellini is a versatile cocktail because you can enjoy it on Halloween, Christmas, New Year's Eve, or other occasions. The ruby shade of this drink will fascinate you for sure. In particular, the sweet-sour flavor of cherries and syrup will captivate you.
After preparing a flute glass, you need to fill it with Amarena cherry syrup. The next step is to add the Amarena cherry to the glass. The drink will be finished when you add champagne. It is possible to replace champagne with sparkling wine.
Total time: Around 10 minutes
Freaky Frankenstein is an excellent cocktail for New Year's Eve or Halloween parties. This alcoholic drink is flavored with melon and apple liqueur. Furthermore, a bit of sparkling lemon water will enhance the taste of this treat.
Let's mix black food coloring with sugar and dip the rim into the mixture to create the dark, fearsome-looking sugar-rimmed coat for decoration. After mixing ice with melon and apple liqueurs, you will add sparkling water to diversify the taste.
Overall, when enjoying it, the fruity flavors of apple, melon, and citrus fruit are outstanding tastes that you can clearly feel. Another highlight is the pleasant sweetness.
Total time: Around 5 minutes
The Grave Digger is the well-known Cointreau-based cocktail that you should give it a shot. Moreover, you can feel the smoky note of Mezcal and the citrus flavor of lemon juice and orange bitters while trying this incredible treat.
You only need a little time to create this excellent recipe. With a few simple shake movements in 1 minute, you get a chilled mixture of apple cider, Mezcal, Cointreau, bitters, and lemon juice. Do you know what else to make it rock? A little ginger beer.
Observe these instructions to prepare a delicious Grave Digger cocktail.
Total time: Around 10 minutes
When enjoying this cocktail, you will immerse yourself in the rich taste of whipped cream, the mild bitterness, and the incredible fragrance of chocolate sauce and milkshake. Furthermore, the orange sherbet adds the citrus note to the cocktail.
To get a chilled mixture, you have to blend milk, sherbet, and vodka in a blender. You can drizzle chocolate sauce on the inside of the glass before serving. Finally, let's fill the glass with the prepared concoction.
Making the cookie crumb-rimmed glass is the perfect way to enhance the aesthetic of this dessert. Whipped cream and sprinkles are other notable additions.
Total time: About 20 minutes
Apart from a Halloween drink, Espresso Martini is a famous Thanksgiving-themed cocktail. This traditional Martini is a mixture of Kahlua (coffee liqueur), vodka, and espresso. Furthermore, it will be tastier and creamier with coconut milk.
Honey syrup made from honey and Chai tea will bring natural sweetness and mild bitterness. Espresso is the dominant highlight of this cocktail, thanks to its sweet and caramel note. It blends perfectly with the intense coffee and vanilla flavor of Kahlua.
Total time: About 5 minutes
If you want to enjoy a strong drink, you should not ignore the Zombie cocktail. It contains many different types of rum. Its typical flavor is reminiscent of alcoholic beverage inventions in the 1960s and 1970s.
However, this famous Halloween cocktail was born in 1934 in Hollywood. Initially, a businessman named Donn Beach prepared this recipe to serve a hung-over guest. And the guest thought that he had become a zombie because of the strength of this drink, hence the name.
White, Dark, Spiced, and 151 rums are the main ingredients in this recipe. Besides, the success of this drink partly comes from juices like lime, lemon, and pineapple juices. To balance the tartness of citrus juice, syrup and grenadine are necessary.
Explore the tutorials to get the excellent Zombie cocktail.
Total time: About 5 minutes
If you are searching for a cocktail made from tequila for Halloween, why don't you try Haunted Orchard? The gothic story "The Legend of Sleepy Hollow" is the main inspiration for this drink.
The warm and cozy cocktail is an effective way to make your Halloween night more fantastic. Tequila, lemon, maple syrup, apple cider, and spices will tickle your taste buds. Meanwhile, cinnamon and ginger are the high kicks of this cocktail.
Total time: Around 10 minutes
The creamy and tasty Almond Joy cocktail is a fantastic option for Halloween. To have an appealing and eye-catching cocktail, vanilla vodka, amaretto, Creme de Cocoa, and Almond Joy coffee creamer are the indispensable components.
You only need to mix ingredients and serve the mixture with ice to bring the best experiences for your diners at the Halloween party. To beautify this cocktail, you should rim the glass using corn syrup and shredded coconut.
Especially, I am strongly impressed with its characteristic white and creamy color. You can think of white clouds in the sky when looking at the cocktail. Plus, it looks better with the swirl of Amaretto.
Total time: Around 5 minutes
Have you ever tried the Good And Evil cocktail? Let's make it to sip with your friends at the upcoming Halloween party. This cocktail is a mix of tangy, refreshing, and crisp flavors with various ingredients.
Apart from the typical flavor of vodka and Triple Sec, Apple Pucker, Sierra Mist, and Midori are memorable and practical additions to this recipe. For those not in the know, they help diversify the taste with the apple and melon touch.
Do not miss these directions to have the wonderful Good And Evil Cocktail.
Total time: Around 5 minutes
Pumpkin is a symbol of Halloween, so the cocktail flavored with pumpkin is an excellent choice for this occasion. The combination of pumpkin-spiced cream, vodka, Kahlua, and cinnamon stick will create a masterpiece.
Before making the alcoholic liquid, you need to prepare pumpkin-spiced cream by boiling whole milk, pumpkin pie spice, maple syrup, pumpkin puree, and cinnamon stick. Please leave the mixture in the fridge for 5 minutes before using it.
The preparation of this cocktail is pretty simple because you just need to mix vodka with Kahlua. It will be ready to serve as soon as you provide pumpkin spice topping and a cinnamon stick for garnish.
Total time: About 5 minutes
The creepy Eyeball Martini will bring memorable memories for the upcoming Halloween party. Besides vodka and dry vermouth, eyeballs made from grapes, olives, and radish are the unique features of this recipe. I will give you specific steps to make this cocktail properly.
To make grape eyeballs, you have to remove a small part of the fruit skin and create a hole in the middle with a paring knife. After filling the gap with a small blueberry, you will stick the "eyeball" into the toothpick and put it in the glass.
After preparing grape eyeballs, you will continue with the olive eyeballs and radish eyeballs using the same method. When you fill the glass with eyeballs, you will mix vodka (or gin) with vermouth to form an alcoholic mixture to serve.
Total time: About 2 minutes
The easy recipe will be a big hit for your Halloween party. The cloudy shade of this drink will conquer you at first sight. The famous writer Ernes Hemingway was allegedly the inventor of this treat. He named it after his "Death in the Afternoon" book.
Besides this name, people often call it "Hemingway cocktail or champagne". Initially, absinthe and champagne were the two main components of this drink. Gradually, the need for sweetness led to the addition of simple syrup.
Absinthe is a famous spirit with an anise flavor. It has a distinctive deep black color. Instead of champagne, you can try its variations by using Prosecco or sparkling wine to appeal to your palate.
Let's save the recipe to make the wonderful Death In The Afternoon.
Total time: About 10 minutes
Sparkling Spiced Pumpkin Punch is an ideal suggestion for a big Halloween meal. You can prepare it in a big batch to enjoy all day. The festive and fruity cocktail will drive you crazy with pleasure and leave a deep impression in diners' hearts.
In particular, the unique pumpkin shape of the batch will be compatible with the concept of a Halloween festival. It takes a short time to get the outstanding and fresh Pumpkin Punch for dessert.
First, you need to create a mixture of apple cider, cinnamon, orange juice, and pumpkin. You have to chill this mixture in the fridge to enhance the taste. When everything is ready, you just need to pour this mixture into a big batch with champagne.
Are You Satisfied With These Halloween Cocktails?
What do you usually drink on Halloween? Your cookbook will become more diverse with these beautiful recipes I have introduced in this post. I am delighted to bring valuable knowledge to make your life easier and happier.
Although the instructions for these recipes are pretty detailed, you can still have trouble while making them. Let me know your problems via comments, and I will give you helpful solutions as soon as possible. Please share this post now!