Imagine holding a cold glass of sweet and fruity alcoholic drink to enjoy an exciting night with everybody. It's hard to say no to a vision like that. That's why you should read this post to spark new ideas for your next boozy concoction.
Even when you're not throwing a party, these simple mixed concoctions are perfect for experimenting with whatever spirits you have in your house. I'm sure that you will soon be able to whip up a recipe in no time with little effort.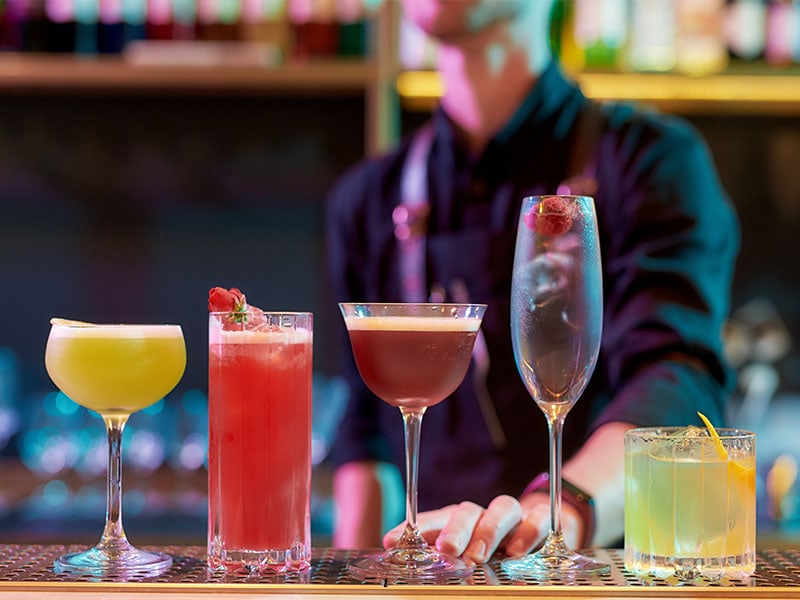 Which Ingredients Do Sweet/Fruity Alcoholic Drinks Usually Have?
Before I offer you some of the most amazing boozy mixes, you probably want to know about the ingredients you need to have. For the alcohol, almost any kind of spirit can be made into a sweet or fruity cocktail. However, the best choice is usually neutral-flavored alcohol.
Commonly, people like using gin, tequila, or vodka because of the versatility of these spirits. For sweeteners, the most popular variety is simple syrup, a mixture of water and sugar. Other types of sweeteners can include grenadine or blue Curacao.
In some cases, fruit-infused alcohol is also a solid choice to complement the fruit juice in your recipe. As for the fruit, people commonly use tropical fruits like oranges, pineapple, or kiwi for a refreshing sensation. Another variety is citrus fruits which go well with all types of spirits.
Make Your Day Amazing With These Mixed Drinks Recipe
No matter what the occasion, it's always nice to have a refreshing mixed alcoholic drink recipe at your disposal to whip out at any time you need. Without further ado, let's discover what you can make at home with simple spirits.
Total time: 3 minutes.
The Malibu is a popular rum cocktail that utilizes the Malibu as the main ingredient. For people who don't know, Malibu is a type of coconut liqueur based on a traditional rum recipe with around 21% alcohol content.
Typically, this Malibu-based cocktail has 2 layers: the top has a nice orange color while the bottom possesses a vivid red. People often mix the rum with pineapple juice in a glass to build the base flavor for the cocktail.
Thanks to the difference in liquid density, the grenadine (pomegranate syrup) usually sinks to the bottom, creating an illusion of a sunset, hence the name of the cocktail. A conventional Malibu Sunset is characterized by the sweet fruity profile of the rum and juice.
Total time: 5 minutes.
When it comes to cocktails or mixed drinks, you can't rule out the Pina Colada from the list. It's an iconic cocktail of Puerto Rican island, invented in 1954 in San Juan by a bartender named Ramón Marrero.
There's even an alcohol-free cocktail of the Pina Colada for children. It's easy to make since all you have to do is exclude the rum from the ingredient list.
A traditional Pina Colada is a 3-ingredients recipe, with rum being the main highlight of the mix. Ideally, I like to use a blender to create a smooth consistency for the cocktail. Just make sure you use light rum to achieve a mild sweet taste.
In addition, you need coconut cream for that addictive sweet and creamy flavor. Furthermore, pineapple juice brings the ingredients together by contributing a light sourness. Remember, you don't have to add any sweeteners since the coconut cream itself is enough.
Discover the simplest way to whip up your favorite Pina Colada.
Total time: 5 minutes.
If you love enjoying the natural sweetness of fruits in your cocktail, then I got the perfect mix for you in the form of a Cosmopolitan cocktail. To simplify the definition of a glass of Cosmopolitan, you only need to know that it resembles a Martini, which is a combination of gin and vermouth.
The nice thing about making a glass of Cosmopolitan is the versatility when you can make it with any kind of spirits that you have. For this recipe, I prefer using vodka as the main alcohol. Thanks to the neutral flavor, it's easy to combine with other liquids.
Aside from the vodka in your tin shaker, the Cosmopolitan is also a cocktail that relies on triple sec (orange liqueur) with some cranberry juice and freshly squeezed lemon juice. Shake the mixture well with ice and pour it over a fancy cocktail glass for serving.
Most often, the Cosmopolitan has a slight pinkish color from the toned-down red cranberry juice. For garnish, stick a slice of lime to the side of the glass for a simple decoration.
Total time: 20 minutes.
I know the Grasshopper may sound unappetizing when you think about the insect. However, the cocktail gets that peculiar name because of the unique light green color. Better yet, I'll show you how to enjoy this delicious recipe as a frosty mixture on hot summer days.
Let's start whipping the Grasshopper concoction, beginning with creme de menthe (mint-flavor liqueur) to give the green color and a refreshing mint taste to the cocktail. Then, you want to add a hint of cacao by using creme de cocoa.
Combine these 2 ingredients in a blender with some ice cubes. In addition, I love throwing in some scoops of vanilla ice cream to get a nice creamy texture. Blend the mixture until you get a desirable texture. For serving, always add a splash of creme de menthe for an extra minty taste.
Total time: 5 minutes.
As the name suggests, this is a delectable Amaretto cocktail characterized by its unique sour taste. However, the addition of a simple syrup concoction helps balance the sourness. If you love the pure almond flavor of regular Amaretto, then you have to give it a try with the sour version.
For the alcohol mixture, you need to combine Amaretto with Bourbon whiskey and lemon juice in a shaker. Don't forget to pour in some syrup to sweeten up the blend. In some cases, people even add egg white to the concoction, but I'll leave that for you to decide.
The shaking process should happen around 15 seconds before serving the Amaretto Sour. Make sure you strain the cocktail to get a nice foam layer on top. Finally, garnish it with a cherry.
Total time: 3 minutes.
The Mudslide is an unforgettable Bailey cocktail with Kahlúa (coffee liqueur), Irish cream, and ice cream. It is a very rich and creamy recipe; sometimes the Mudslide reminds me of having a chocolate milkshake instead of having a boozy drink.
To make the ultimate Mudslide full of chocolate flavor, you need to get your hand on Kahlúa for a strong kick of rum infused with coffee beans. The Irish cream with half and half (a blend of half whole milk and half heavy cream) creates the signature creaminess of the concoction.
However, there's always an option to throw in extra ice cream scoops for a creamier and slushier texture. The best way to make a Mudslide is to use a blender to combine all the ingredients. For garnishing, you only need to sprinkle a pinch of cocoa powder on top.
I promise the chocolate flavor of the Mudslide is more addicting than any drink you've ever had.
Total time: 5 minutes.
There is almost no limit to what you can do with Tequila because the spirit goes well with almost any mixed drinks. But I always come back for the Tequila Sunrise every summer for its refreshing taste. Better yet, you only need around 3 ingredients to make this recipe.
In general, this cocktail with a Tequila base has a certain fruity flavor. Anyway, you want to use more orange juice than Tequila to tone down the alcohol potency of the spirit.
To give the mixture a little bit of sweet taste, I recommend using grenadine. Plus, the red syrup tends to stick around at the bottom, creating a perfect illusion of a sunrise. The cocktail tastes best when you enjoy it cold with a cherry on top for garnish.
Total time: 5 minutes.
Nothing feels better than enjoying a cold glass of fruity booze to go through the heat of summer days. Although people usually serve strawberry Daiquiri in liquid form, I always love devouring it as a frozen strawberry treat.
Daiquiri may sound unfamiliar to some people but it is essentially a combination of citrus juice, rum, and sweeteners. It's one of the cocktails that you often encounter in fancy restaurants or bars.
The recipe is relatively easy to follow as you only need to put all the ingredients in a blender to combine. I like mixing frozen and fresh strawberries to use for this concoction. Then pour in your booze of choice; mine is rum because of the already sweet taste.
For a hint of citrus flavor, freshly squeezed lime juice will work wonders for your blend. Depending on your blender, you may need to blend slightly longer for the mixture to become perfectly smooth. The strawberries give a nice bright red color to the cocktail.
Total time: 5 minutes.
The origin of Long Island iced tea traces back to the year 1972 when Rosebud Butt crafted the drink in Hampton Bay on Long Island. Despite having the word "iced tea" in the name, the main focus of this mixture is the combination of various spirits.
Before I give you any guide, I must warn you that this recipe is not for people with a weak head for alcohol as its alcohol content is considerable. Let's start with the alcohol mix first, you want to grab an even amount of vodka along with white rum, tequila, and gin to add to your glass.
Most often, people tend to introduce triple sec and lemon juice to the concoction to enhance the overall citrus taste. To sweeten things up, just use simple syrup to avoid ruining the original flavor of the alcohol mix.
Finally, you should leave some space on top of the glass for the cola to go in. Remember, it's the Coke that gives this potent alcohol mixture the color of a conventional glass of iced tea. My advice is to drink Long Island iced tea one sip at a time to avoid being too tipsy.
Total time: 4 minutes.
Bushwacker sounds like a wild and strange name for a cocktail. In 1975, the beverage was first invented by bartenders on Virgin Island who later named their creation after a guest's dog called Bushwack.
In terms of flavors, the Bushwacker can catch you by surprise with 5 types of alcohol. You need to get your hands on even part of rum, Amaretto, and vodka for your alcohol base. Furthermore, I prefer having a chocolate taste in the mix by adding Kahlúa and Bailey.
People commonly serve Bushwacker as a slushy beverage, so you should use a blender to make this recipe. To give the Bushwacker an additional sweetness, you have to use coconut cream for the best effect.
Blend the concoction until you get a desirable consistency. Then, pour it into a class with some grated nutmeg and a cherry on top for serving. Be cautious because the chocolate flavor can mask the high alcohol content of this drink.
Learn the secret to making a simple yet creamy Bushwacker from your kitchen.
Total time: 3 minutes.
The Aperol Spritz is a classic Italian cocktail that reminds people of a beautiful golden orange sunset. The light alcohol content of the mixed drink makes it perfect for enjoying a nice breezy afternoon on your balcony.
For a standard Aperol Spritz mix, you want to use an equal amount of Aperol (Aperitif Italian liqueur) and Prosecco (Italian wine). Since the Aperol usually possesses the bitter flavor of burned orange, I prefer diluting the blend with a splash of club soda.
Most often, Aperol Spritz has a bright orange color coming from the Aperol. People tend to describe the cocktail profile as a slightly sweet orange cocktail with a hint of herbal tang from Aperol.
Total time: 3 minutes.
Originating in California, the Mai Tai supposedly made its first debut in 1944 thanks to Victor Bergeron. The original concept of Mai Tai was for people to enjoy high-end rum, but it takes a turn when modern bartenders introduce juices and a variety of alcohols to the recipe.
For the most authentic approach to the Mai Tai recipe, I suggest combining rum with orange Curacao (a type of orange liqueur). To give the mixture a smooth sweetness, you want to merge a concoction of simple syrup and Orgeat syrup (made from almond sugar).
Finally, a splash of freshly squeezed lemon juice will help the ingredients combine better during the shaking process. Remember to add some chipped ice so your boozy refreshment is chilled when you serve it.
Total time: 5 minutes.
Are you looking for a new twist to enjoy your captivating cocktail using Gin? I have just the right choice for you in the form of a glass of Clover Club. The creator of this tangy sour mixed drink remains a mystery, but the earliest recipe appeared in New York in 1901.
When it comes to Gin, there are various choices that you can use to make the Clover Club. However, I need to remind you not to utilize sweet gin since it overwhelms the overall flavor when combined with raspberry syrup.
In a shaker, you need to prepare Gin with egg white, vermouth, and raspberry. You need to give the mixture a dry shake which is essentially a two-step procedure. The first shake doesn't have ice in the mix, while the second shake does.
The purpose of dry-shake is to create a nice froth when you serve the Clover Club in a glass. For garnish, skewer a couple of raspberries and place them over your Clover Club.
Total time: 3 minutes.
Calling to all chocolate fans out there, the chocolate martini is a must-try as a rich and creamy dessert. If anyone is serving a glass of chocolate martini, then I'm always in the mood to enjoy this delectable drink.
For a glass of Martini, you want to serve it in a chalice for a fancy look to your drink. To further decorate the glass, you want to rim it with chocolate syrup and stick some shaved chocolate over it.
As an important note: you want to shake the Martini to avoid diluting your mix as much as possible. For the concoction, I like using a combination of chocolate liqueur with creme de cacao (a type of chocolate liqueur) and vodka.
To make the Martini creamier, my go-to choice is half and half. After gently shaking your Martini mixture, pour it over your fancy chalice, and you're ready to enjoy the addicting chocolate flavor.
Try out the chocolate version of the Martini to diversify your options.
Total time: 5 minutes.
Everyone is familiar with Mojito, a refreshing Cuban alcoholic mixed beverage that takes rum as its main focus. Many people even consider Mojito as the king of summer drinks to fight against the unbearable heat.
However, I have a better way to elevate the traditional Mojito recipe to a whole new level. The addition of raspberry improves the overall flavor with a touch of fruity taste. But first, let's whip up the Mojito by mixing rum with club soda and sugar to adjust the sweetness.
In a glass, you want to muddle some mint leaves to extract the oil. Then, you can throw in the raspberry to crush up with the mint. As a reminder: don't completely crush the mint leaves because it will leave a bad bitter taste on your drink.
Finally, combine all ingredients in a shaker and give it a thorough shake. Strain your Mojito to remove the crushed mint leaves before serving the Raspberry Mojito in a glass with ice.
Total time: 30 minutes (including 20 minutes of steeping time).
Summer is the perfect time to enjoy a cold and fizzy glass of Tom Collin. Although both America and England lay claim to the recipe of Tom Collins, the artist behind the creation of this recipe remains unknown.
I prefer customizing my Tom Collins by introducing a homemade lavender syrup to the ingredients. To make the syrup, you need to combine sugar with water, then put some lavender buds to extract the fragrant aroma.
As for the Tom Collin, start by adding Gin to your glass for the alcohol base. Then, squeeze in lime juice for a touch of citrus flavor. Your lavender syrup should come in last before you top off the rest of the glass with club soda. Stir the concoction with ice, and you're good to go.
Total time: 5 minutes.
Spanish coffee is not something I recommend for you to start your morning. However, it's a perfect caffeine treat to start your party. Despite having the word coffee in the name, Spanish coffee is more leaning toward a cocktail based on Licor 43 with a chocolate flavor.
The nice thing about using Licor 43 is the smooth vanilla taste of the alcohol. On average, the alcohol content of Licor 43 falls at around 31%, which is a mediocre range. Therefore, you can add Licor 43 without worrying about getting drunk.
Of course, you want to mix in coffee and cocoa powder to turn the blend into Spanish coffee. After pouring the coffee mix into a glass, top it off with a generous spray of whipped cream to make the cocktail more appetizing.
Total time: 10 minutes.
If coffee is a must-have drink for you, then you need to try mixing cocktails that utilize coffee as the center of attention. The ingredients to make Irish coffee are so simple to find. Yet when combined, they create such an amazingly sweet and boozy coffee.
Let's start with the coffee; I won't make it difficult for you, so it's your choice to make on which type of coffee you want to use. Next comes the whiskey; I want you to pick an Irish whiskey brand for a light and fruity taste. Plus, Irish whiskey tends to have a slight floral aroma.
After mixing the whiskey and coffee, make sure to give it a taste so you can make any adjustments in sweetness by putting in more sugar. Don't forget the whipped cream on top before serving Irish coffee. Ideally, you want to serve the beverage hot to enjoy on cold days.
Stir up your morning by making a potent glass of Irish coffee.
Total time: 3 minutes.
The Hurricane is a short way of impressing anyone at a party. The beverage displays a gorgeous bright orange color with a fruity taste. The first Hurricane glass made its first appearance in 1938. It's a tradition for the cocktail to be served in a tall and curvy glass.
The required ingredient list for a glass of Hurricane is rather long but it's worth the try. Normally, people employ both dark and white rum for the alcohol base. As for the fruity flavor, you need to grab some orange juice to combine with lime and passion fruit juice.
For sweeteners, I prioritize the combination of simple syrup and grenadine to improve the color. Commonly, people will shake the ingredient vigorously for around 30 seconds before serving. To make the Hurricane with a tropical theme, I suggest garnishing it with an orange wedge.
Total time: 5 minutes.
White Russian is a vodka-based cocktail that first materialized in 1949. Most often, there's a polar opposite version of the White Russian that people often refer to as Black Russian. The cocktail began attracting the attention of drinkers after the 1998 movie The Big Lebowski.
For your alcohol base, people usually employ vodka with Kahlúa and some ice to chill the concoction. Commonly you will see people serve White Russian in an old-fashioned glass, which is also a traditional way of serving this recipe.
To get the best out of White Russian, people tend to pour the cream over the booze without stirring. The milk cream will gradually work its way into the booze to give a lightly sweet and creamy flavor.
Total time: 3 minutes.
The origin of Brandy Alexander is still a huge debate today. However, I'm not here to argue but to give you the knowledge to whip up this recipe in your kitchen. Although the Brandy Alexander is uncommon as a tasty Christmas cocktail, people usually have it that way because of the warm Cognac.
Aside from using Cognac as the main alcohol of the cocktail, folks prefer adding an even ratio of creme de cacao and cream to the shaker. As a reminder: you only have to shake the mixture with ice for around 20 seconds before serving Brandy Alexander in a fancy chalice.
To get a slightly nutty and sweet flavor on your first sip of Brandy Alexander, I suggest dusting nutmeg powder over the drink's surface. The best way to serve Brandy Alexander is as a dessert.
Total time: 5 minutes.
First of all, the Painkiller is no medication to treat your pain, so don't come after me if you use it for treatment. Instead of being a medicine, the beverage is a traditional Tiki cocktail recipe that came into the world in the 1970s.
Typically, a Painkiller mix consists of rum, pineapple juice, and coconut cream. For this recipe, you don't have to feature ice during the shaking process. I know many will say that the recipe is similar to the Pina Colada, but I'm not finished yet.
The Painkiller usually has orange juice in the concoction as well to complement the citrus flavor of the pineapple juice. Remember to add ice to your glass for a chilled Painkiller. For decoration, stick a piece of pineapple to the side of the glass or you can simply grate nutmeg over the drink.
Let the Painkiller be your new choice to make at home for a tropical-flavored mixed drink.
Total time: 10 minutes.
The Golden Cadillac is a unique cocktail made with ice cream that has a distinct creamy taste. To some people, the concoction is more fit for a dessert. But be careful if you're planning to make Golden Cadillac for children because the recipe calls for alcohol.
To be specific, you have to use Galliano (sweet herbal liqueur) as the main alcohol. In addition, people tend to enhance the chocolate flavor by using creme de cacao. I almost forgot to remind you to make use of the blender to get a smooth texture on the Golden Cadillac.
Also, I like to throw in a couple of ice cream scoops to make the blend creamier and slushier. Don't forget to add a dollop of whipped cream before serving your delicious Golden Cadillac.
Total time: 4 minutes.
Get ready to blast away the summer heat with an amazing tropical cocktail filled with various fruit flavors, the Jungle Bird cocktail. For me, the alcoholic beverage instantly hits me with its brown and yellow color.
Normally, the Jungle Birst utilizes dark rum to mix with fruity liquids like pineapple and lime juice. Commonly, people prefer introducing Campari to the concoction for a slightly bitter herb to the drink. The most important step in making a Jungle Bird is to shake the ingredients.
Serve your Jungle Bird right on the ice for a refreshing beverage on a hot day. The reason I prioritize dark rum over regular variety is because of the signature smoky sweet taste.
Total time: 10 minutes.
Batida de coco is a traditional coconut water cocktail from Brazil that takes the sweet coconut taste to a whole new level by utilizing vodka. If you're planning to have a tropical mixed drink, then the Batida de coco should be on top of your list because of its simplicity.
To create a traditional glass of Batida de coco, aside from the vodka, you need to prepare coconut milk, sweetened condensed milk, and coconut meat. Combine all the ingredients in a blender and puree until you reach the desired consistency.
Although the vodka essence may get masked by the sweetness of the cocktail, the heavy alcohol content is still there so you need to take it easy so as not to become drunk. Overall, Batida de coco is super easy to make because you easily find the listed ingredients.
Total time: 1 hour 5 minutes.
The Glühwein is a traditional German wine recipe that commonly appears during festive seasons, especially on Christmas occasions. Most often, the wine is characterized by a sweet and tart taste with the fragrance of cinnamon.
Traditionally, people make Glühwein by adding oranges to infuse with red wine. Furthermore, you want to throw in a couple of cinnamon sticks and cloves to the wine. Don't forget to pour in some extra rum.
Give your Glühwein a good stir and return after an hour to give it a taste test. Typically, you will need to put in extra sugar to sweeten up the Glühwein. For serving, make sure you get a little bit of the ingredient in one glass for the fullest experience.
Which Is Your Favorite Choice Of Sweet And Fruity Beverage?
So, have you made up your mind on which beverage to quench yourself? Many of these recipes take under 10 minutes to fix right in your comfortable kitchen, providing you already have all the ingredients. Whatever your choice is, I'm sure it will be a nice addition to your menu.
If you know of any more sweet and fruity alcoholic drinks, please share them with everyone in the comment section. Better yet, send this post to your friends who are running low on ideas on fixing a drink for their parties.