As you might know, Brandy cocktails are so famous that you can easily find them served in any bar. Yet, enjoying your own variations at home can deliver an outstanding experience. Don't know where to start, my suggested cocktail recipes below might help you out.
No more wandering around to have a perfect cocktail glass, and everything you should do now is grab the ingredients needed and match them together. I'm sure these standard recipes won't cause you any trouble. Check them now!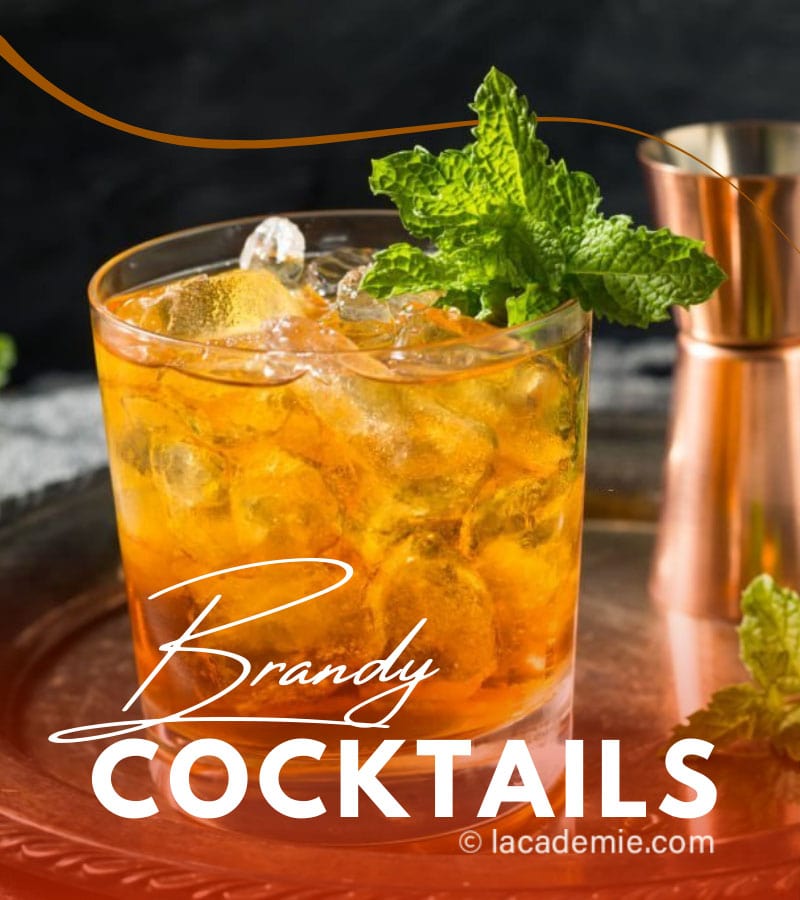 The Featured Flavors Of Brandy And Its True Origin
As I have mentioned previously, Brandy is special alcohol with an exceptionally high ABV (alcohol by volume) of 35 to 60% (although the most commonly seen variant is only 40%).
It is not the strongest alcohol (like Spirytus Vodka with 96% ABV), but drinking it straight still makes you quickly feel drunk. Because of that, people have created various ways to form easy-to-make mixed drinks with Brandy, so you can enjoy it more.
The strict distillation process is the main reason for its high alcoholic content and distinctive clear taste. There is almost no prominent bitterness in the base. Instead, you can scent the fruity, floral, oak-y notes and undertones of subtle sweetness.
22 Ideas For Brandy-Based Cocktails You Shouldn't Miss Out On
Enjoy these Brandy-used mixed drinks right in your comfortable kitchen since they are definitely toothsome with loads of flavors. There is no boundary between the different cocktails with Brandy for only one reason: They're super delectable!
Total time: Around 3 minutes.
This Stinger follows the classic recipe with the mix-and-match of white Crème De Menthe liqueur with Brandy (or others), which was highly famous during Prohibition (in the 1970s). The spirit kind and the ratio between them can be different, and you will use the ratio of 7:3.
Seven parts of Brandy over three parts of Crème De Menthe offers the smoothest and most balanced harmony for your homemade Stinger. Match your Stinger Brandy cocktail with chocolate desserts, and your drink can be even more memorable. Easy breezy!
Do you believe you can make a Stinger cocktail with only two ingredients? Find out now!
Total time: About 5 minutes.
This initiative suggestion will include fruity Brandy and Triple Sec (with its pronounced orange-like and bitter flavor). My most suggested ratio between these two ingredients is 4:1, 4 parts of Brandy over 1 part of Triple Sec.
You won't want the bitterness to be too prominent here. Remember to shake it gently for 10 to 20 seconds only before draining the ice and serving it in a glass with a thin layer of sugar rim. Decorating your drink with an orange twist, and your treat is ready.
Total time: Around 3 minutes.
First appearing in the "Applegreen's Bar Book," this Snowball Brandy cocktail has been loved since then. Although its name is "snowball ", it's not a seasonal delight, and you are free to go for it any time of the year. This Ginger Ale-used cocktail delight is highly recommended for beginners.
Since this fruity-sweet alcohol-based drink has a generally versatile flavor, it can please various ones' taste buds. So, serving it as a summer party cocktail or making it a winter drink with a foam layer on top is never a bad idea. Just try them all!
Total time: Approximately 3 or 4 minutes.
You can use various fruits to make Brandy, and the apple is one of them. In this Applejack Rabbit cocktail, you will need a more accentuated fruity taste, so apple Brandy is a good choice. Besides, lemon and orange juice for additional tartness is vital.
Next, combine every ingredient, such as Brandy, citrus juice, and sweet maple syrup, into one shaker. Don't forget some ice to make the liquid cool quicker.
I use a thin slice of Envy apple to decorate my glass of a beautiful cocktail using orange juice, but you can consider the other variants you have. This drink can become even more attractive than you expected!
Total time: Around 5 minutes.
Wish to find a cocktail recipe for autumn parties? Consider this Apple Brandy Sour cocktail for its compact, robust flavors ranging from fruity and citrusy to sweet. Depending on the Brandy brands, you might easily find other flavors, such as allspice or pear.
To emulsify egg whites ultimately, you should shake other ingredients (Brandy, lemon juice, maple syrup) with ice first. After that, discard the ice cubes, and give your cocktail a few more good shakes.
Your Brandy-based cocktail is served in a sour glass (or Delmonico glass). This special glass (a common choice to place sweet, citrus drinks) is also the reason for the name of this treat.
There's no harm in learning another Brandy Sour cocktail.
Total time: About 5 minutes.
The next Sour on the list is this Pear Brandy Sour with pear-flavored spirits (for example, Pear Brandy and another pear liqueur) and Demerara syrup. The syrup is the special part of this American cocktail recipe as it offers a notable toasty flavor undertone.
Shake this cocktail strongly since this step will decide the result. Once tasting this delight, you'll first notice the viscous/frothy texture before the luscious pear-like flavor rushes into your tip tongue.
Total time: About 6 minutes.
This Spiced Orange Brandy Spritzer somehow resembles the previous Applejack Rabbit; but they are a bit different. This is actually an alcohol mixed drink with Ginger Ale and other signature spices.
If you don't want your drink to be sweet, alter the Ginger Ale to the sparkling or seltzer water. The other ingredients in your cocktail are whole allspice berries and cinnamon sticks (for flavoring and decorating).
Your first sip into this cocktail will deliver a gentle heat harmonized with the fruitiness of Brandy and orange.
Total time: Approximately 5 minutes.
Fresh fruit juice can never go wrong when matching with Brandy, and this recipe calls for the sweet-sour taste and the slight astringence from pomegranates. Don't worry if you cannot find the fresh juice sold at stores; you can always prepare some at home!
Cognac (for additional spice notes), Pear Brandy, and cherry bark vanilla bitters are some components you should have to form this treat. From the ingredient list, you can now expect a mouthful of rejuvenating here.
Toss them all into the shaker, and your winter-compatible cocktail can effortlessly be ready to serve after a few good shakes. Enjoy!
Total time: Approximately 5 minutes.
This Sparkling Apple Brandy cocktail with apple cider is for you in the mood for something light, fresh, and needs only a breeze to make. Your first sip into this delight will be aromatic, sour, and delightful.
Also, although cocktails are often associated with summer parties, I suggest enjoying this cocktail in autumn when everything gets colder. For the best flavor, shake the Brandy with apple cider for a few seconds and strain the ice out to serve.
Total time: About 8 hours 10 minutes (including 8 hours for freezing).
This basic Brandy Slush is absolutely ideal for the novice bartender since it's exceptionally easy to make. While Slushy is generally a frozen drink, this Brandy Slush is a twist to make it into a tasty frozen cocktail with crumbled ice.
One astounding fact about this Brandy Slush is it is compatible with the freezer, and you can keep it inside the airtight container for up to a month. To serve, scoop some of it, put it into a regular glass, and pour some soda. Switch Brandy to Gin, Vodka, or Bourbon if you wish.
You will regret not making Brandy Slush follow this guide!
Total time: About 15 minutes.
What is better than a fabulous cocktail? It's a hot cocktail. You have to cook everything in the saucepan until simmering before every other step in this recipe. Although Brandy is the only must-have spirit, in this case, you can still add a dash of caramel-like Bourbon if you like.
Now, you can make your Hot Apple Cider cocktail in a flash by mixing apple Brandy with hot apple cider mixture (including cranberry/lemon juice and maple juice). Assemble your soothing cocktail into a mug and top it with a cinnamon stick for a deeper fragrance.
Total time: Around 5 minutes.
Don't confuse this Cidertini with the previous Hot Apple Cider because the materials and preparation methods are different.
As you may know, cider is made from fermented fruits (often apples). And hard cider is the alcoholic variant, not the regular non-alcoholic one.
For the best result, you need to shake the mixture of apple-flavored Brandy, hard cider, and some syrup (any kind you want). So quick and easy!
Total time: About 15 minutes.
This coffee-brandy cocktail can quickly get you hooked if coffee is your jam. On the base of aromatic and bitter Spanish coffee, the creamy heavy whipping cream and the zesty grated orange act as the supportive topping here.
When combining espresso and regular coffee with a ratio of 2:1, the coffee taste is pretty dominant. Besides the sweetness from Brandy, remember to sweeten your coffee-used alcoholic mixed drink with brown sugar.
The coffee flavor matches beautifully with the gentle bitterness from Brandy, and the sweetness from sugar upgrades everything.
Total time: About 5 minutes.
All I want to say about this Wisconsin Brandy Old Fashioned cocktail is these two words: "herbs" and "spices". It's because the fruitiness from Brandy and cherry juice is unquestionable, so the undertones of Angostura bitter are easier to notice.
Cinnamon and spicy flavor is what this bitter lends to your cocktail. Brandy and the soda (lemon-lime or grapefruit flavor) will go last in the recipe, so you need to mix the sugar, bitters, and cherry juice first.
Have 5 minutes to spare? Make this Wisconsin Brandy Old Fashioned as soon as possible!
Total time: Approximately 3 minutes.
Typically, the Fizz cocktail features carbonated water and acidic juice, and there is not much difference in this case. Instead of using unflavored Brandy, you should opt for the cherry-based one to enhance the bright, fruity layers of the drink effectively.
Pour the shaken Brandy mixed lemon juice into the highball glass with some ice cubes before adding the carbonated water. Now, only stir them gently and have a sip. This recipe is absolutely alluring, even if Cherry Brandy is your first cocktail ever!
Total time: About 30 minutes.
The best part about the Bourbon-based cocktails is the combination of mellow, juicy pear with sour lemon juice and ginger. Aside from that, cinnamon's earthiness and sweet scent will lift the exquisiteness to another level.
Although Bourbon is the main part of this American drink delight, the Pear Brandy isn't inferior. This beverage also needs Ginger Ale, so you can expect a mouthful of sweetness. Let it chill in the fridge until used.
Total time: About 5 minutes.
This Cold Brew Brandy Alexander cocktail will not disappoint you, whether it's a date night, a simple family dinner, or a regular weekend gathering.
The hero of this treat is the coffee liqueur, not the regular cold brew or coffee. Crème De Cacao also shows up to lend supportive cocoa notes to accentuate the goodness even more.
Don't be too surprised if you can smell the Mocha flavor in this cocktail. It's thanks to heavy cream (or milk) with its outstanding creaminess. Coffee beans are also here, but for decorating only. Shake well and serve!
Not a fan of coffee-flavored cocktails? You might prefer this Brandy Alexander guide!
Total time: Around 2 to 4 minutes (more or less).
Sometimes, the simplest things are the most attractive, and the story goes the same with your tasty Brandy Holiday Sour. It is the last Sour cocktail on the list, so it's time for something different.
While egg whites and orange juice have already been used in some other Sour, this cocktail uses cranberries instead for a whole new flavor. Looking at its illustration now, my suggestion is not only flavorful but also beautiful.
Total time: Around 1 minute.
Have enough citrusy cocktails already? Then, let's create a creamy one! The most prominent flavors you can detect in this favorable cherry cocktail are the sweetness from cherry Brandy, creaminess from half-and-half, and almond taste from Amaretto.
The subtle bitterness undertone from Amaretto highlights everything effectively. It would be definitely great to sip this creamy and delectable drink after a hearty dinner or at a gathering party.
Total time: Approximately 10 minutes.
Move to a Christmas-theme cocktail recipe with Brandy! There is no specific flavor required for the Brandy because the refreshing taste from other fruits here are strong enough. Notably, you need to make the cinnamon-flavored syrup and let it chill for 24 hours.
Only add the club soda (or sparkling seltzer water) and rosemary into your cocktail right before serving. The herby notes and gentle carbonated bubbles won't be as good after time, so be mindful.
I adore how red wine and Brandy perform in this Sangria, which makes me unable to stop devouring it.
Total time: About 5 hours 15 minutes (including 4 hours for cooling).
The ingredient list of the Sangria might make you hesitate a bit. But it's so easy to prepare and tasty that you should never miss out. Because the fruitiness is the main attraction of this cocktail, various fruits appear on the component list.
From pomegranate (arils/juice) and pear to orange/lime and persimmon, the citrus notes are irresistible. Even the Lambrusco adds a note of violet and orange blossom to the deliciousness of this recipe.
Total time: About 7 minutes.
I guarantee this Caramel Apple Hot Toddy seems to be the heartiest cocktail on this list since many components exist. You'll need Apple Brandy for the base, apple cider for an intense sourness, caramel sauce for drizzling, and heavy cream for topping.
Even though the traditional Hot Toddy goes as a whiskey-utilized cocktail, the employment of Brandy is still great. Never skip the heating step and treat your delight warm for the best taste experience.
Otherwise, this no cream Brandy Hot Toddy is also great!
Trust Yourself And Prepare Some Good Cocktails From Today!
These wildly flavorful Brandy cocktails can never fail to impress you, and there is no reason not to give each of them a chance.
Since there is nothing fussy about these delicacies, you can have the materials for your favorite drink at home so that you can have some whenever you want.
After all, what's better than enjoying a sip of heart-warming flavors from various ingredients included? Share my article with your loved ones and enjoy good cocktails together!
Nutrition Facts
1 servings per container
---
Amount Per ServingCalories204
% Daily Value *
Total Fat 0.1g

1

%
Sodium 1mg

1

%
Total Carbohydrate 10.5g

4

%
---
* The % Daily Value tells you how much a nutrient in a serving of food contributes to a daily diet. 2,000 calories a day is used for general nutrition advice.