Nothing beats the feeling of having some of the best coffee cocktails to energize yourself. Thanks to this article, you can easily whip up a boozy cocktail recipe with a few simple ingredients. Commonly, people tend to complement strong coffee with various fruity liquors.
Furthermore, many coffee cocktails tend to bring out the caffeine flavor. Better yet, some recipes even fit to serve as a dessert to enjoy a light tipsy sensation. Whether you're a fan of coffee or not, these ideas are must-try drinks for any cocktails fan.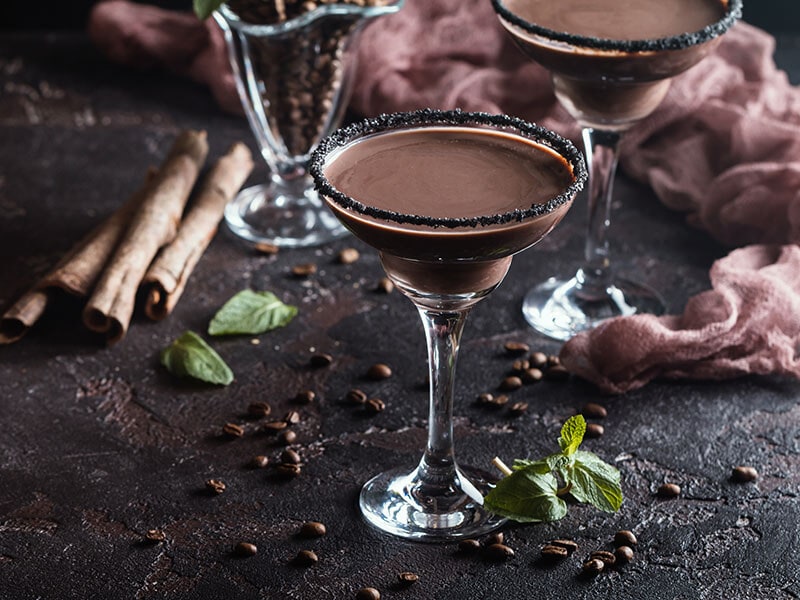 Which Spirits Should You Pair With Coffee?
Fresh coffee alone is a strong beverage that provides a decent dose of caffeine into your bloodstream. Therefore, you may turn to neutral-flavored spirits like vodka or whiskey. In some cases, employing fruity liqueur is also a great choice to complement the coffee flavor.
Since people tend to use espresso, I suggest utilizing any type of nut liqueur for a smoother experience. Sometimes, dark spirits like rum provide an amazing toasted sugar flavor to accompany the intense caffeine.
Splendidly Coffee Cocktails To Experiment At Home
I know you always have spare coffee lying around in your refrigerator. Instead of wasting valuable caffeine, mix in your favorite spirits to create a boozy drink for the night. Better yet, these alcoholic coffees are light and don't leave you with a lingering tipsiness.
Total time: 5 minutes (excluding infusing time).
The Coffee Negroni is a bitter alcoholic mix that you have to try right at your home. Thanks to the unique bittersweet taste of the Campari, it's perfect for infusing with coffee to complement the bitter taste.
To create the coffee-infused Campari, you need to soak the coffee bean in the alcohol for at least 24 hours. Once you have your coffee Campari, continue to add gin, ice, and vermouth (fruit-infused alcohol) to the mixing glass.
Stir the concoction well until the ice begins to dilute the alcohol mixture. Typically, people strain the blend into a glass for serving. The sweet vermouth and gin provide a fantastic citrus taste with fruitiness.
Discover the different ways to make coffee-infused Negroni right at home.
Total time: 5 minutes.
The Nutty Irishman is the ultimate upgrade of traditional Irish cocktails. Instead of serving the coffee cold, people serve the Nutty Irishman as a warm, comforting drink. In addition, the appearance of Frangelico (herb-flavored liqueur) gives the cocktail a cocoa and vanilla taste.
It's easy to whip up this worldwide famous cocktail when you only need whiskey with an even part of Bailey, Frangelico, and Kahlúa (coffee liqueur) as the base alcohol. Of course, it's not a coffee cocktail without having a dash of coffee in the mixture.
Ideally, you want to leave some space on your mug for the whipped cream. Before serving your nutty Irishman, throw some sprinkles over the cream for a colorful decoration. The warm coffee drink is perfect for enjoying cold nights with a bit of tipsiness.
Total time: 15 minutes.
This splendid bourbon-based cocktail combines two of the best drinks, fragrant bourbon with strong coffee. Commonly, people usually serve the cocktail as a cold beverage, but the effect it gives you is a warm sensation throughout your body.
Before I tell you about the required alcohol, let's talk about cold-brewing your coffee. The process calls for soaking the ground coffee in cold water to extract all the caffeine essence. Usually, the cold-brewed variation has a less intense taste with a touch of sweetness.
Back to the bourbon, I recommend measuring the bourbon carefully to mix with Licor 43, cinnamon vanilla infusion, and chocolate bitter. Throw in ice and stir until the alcohol base is slightly diluted. Next, transfer your alcohol mix to a serving glass.
As for the coffee, I suggest pouring in sugar before whisking vigorously. If you don't have an electric mixer, you better use a hand whisk. It takes around 20 – 30 minutes of whisking for the coffee to get a foam layer.
Finally, you can assemble the cold brew bourbon cocktail by layering the coffee foam over the alcohol mix. For garnish, sprinkle some cinnamon powder over the glass or serve the cocktail with a cinnamon stick instead.
Total time: 5 minutes.
The Brandy Alexander is a classic dessert cocktail that many people believe originated in London in 1922. However, this recipe is a twist on the original Brandy Alexander by adding cold brew coffee liqueur to the equation.
To mix the brandy-based cocktail, you have to get yourself a tin shaker that you usually see at bars. For the liquor, pour into the shaker your Brandy with the cold brew coffee liqueur, Cognac, and creme de cacao (a chocolate liqueur). Don't forget to throw in the ice as well.
Shake the mixture for around 20 seconds and strain it into your fancy glass for serving. Furthermore, I like to place some coffee beans over the Alexander cocktail for a simple yet fancy decoration.
Total time: 10 minutes.
Irish coffee is a great beverage, invented in 1942. It possesses a strong caffeine kick and a boozy flavor. Commonly, Irish coffee often appears as a holiday cocktail like the St. Patrick celebration with a few simple ingredients.
First, you need to take your heavy whipping cream to whisk until a soft consistency. Combine the Irish cream liqueur (commonly Bailey) and hot coffee in your serving glass. As for the fluffy whipped cream, gently pour it over the surface, so the cream remains afloat.
Aside from the stunning coffee flavor, the Irish coffee provides a pleasantly sweet and creamy taste from the Irish cream liqueur. For garnish, you want to shave some chocolates over the whipped cream.
Irish coffee is irresistible no matter when you make it.
Total time: 5 minutes.
The Bushwacker is a renowned cocktail with a strong chocolate and coffee flavor. In most cases, people usually make the Bushwacker into a slushy cocktail, similar to the consistency of a milkshake. The refreshment has been roaming worldwide since the 1970s.
The best way to materialize your Bushwacker is to incorporate all the ingredients in a blender. Typically, the Bushwacker's alcohol base includes dark rum, coffee liqueur, and creme de cacao liqueur. To get a creamy flavor, you have to pour in coconut cream and milk.
Blend the concoction with ice until you get a consistency that you like. Make sure you give the drink a taste test before pouring it into a hurricane glass for serving. If you have any leftover Bushwacker, you can store the liquid in the freezer for later consumption.
Commonly, the creme de cacao provides a chocolaty sweetness flavor to the Bushwacker, while the dark rum offers a taste of caramel and spices. However, the Bushwacker still tastes amazing with any conventional type of Rum.
Total time: 2 minutes.
Revolver is a classic bourbon cocktail that is spiked with the flavor of coffee liqueur. The drink was first invented in 2003 by a bartender with the name of Jon Santer. The idea of the refreshment is to enjoy the whiskey's high-quality flavor with a touch of coffee aftertaste.
To prepare a Revolver, grab your glass and start pouring in bourbon with coffee liqueur. I like to enjoy the beverage with a couple of splashes of orange bitters for a light note of citrusy. Stir your concoction for around 30 seconds and strain the mixture into a cocktail glass for serving.
For garnish, I suggest peeling a thin layer of orange zest and twisting it a little bit. The process helps infuse the oil into the drink for an extra fruity flavor. Any big fan of bourbon will have to give the Revolver a try right at home to experience an amazing whiskey taste.
Total time: 5 minutes.
Are you in need of an instant kick to go through a long night ahead? If that's your case, allow me to guide you on how to fix an easy glass of espresso Martini. I promise you that the cocktail's sweet and rich flavor will keep you coming back for more.
If you're unfamiliar with a classic Martini glass, it is essentially a concoction of gin and vermouth. However, the recipe allows various ways to tailor it to your taste. In addition, people even use other spirits to make the Martini instead of solely using Gin.
The simplest way to infuse your espresso with Martini's ingredients is by using a shaker. Moreover, I prefer a Vodka base in this recipe combining simple syrup (a mixture of water and sugar). Of course, you can't leave out the espresso.
Make sure you shake the tin vigorously to mix all the liquid contents. Ideally, there should be a foam layer before straining the blend to a serving glass. For a final touch, dust the drink's surface with espresso powder to bring out more coffee flavor.
Learn the easiest way to elevate your Martini by infusing it with coffee.
Total time: 5 minutes.
Whether you're looking for a drink to save you from a hot day or simply want an easy-to-make Amaretto cocktail to enjoy your night, the Amaretto coffee is always a solid choice. Every sip of the beverage is an explosion of nutty almond flavor with a mesmerizing creamy texture.
To prepare the drink, you need to brew your coffee first. Then, pick your favorite cream or milk variety to mix with the coffee. Of course, you can't miss the Amaretto, which provides the signature nutty almond taste.
Ideally, there should be some space left for you to garnish with whipped cream. Since the coffee takes up most of the portion of the recipe, you don't have to worry about getting drunk from a couple of sips.
Total time: 5 minutes.
Sometimes I just crave the Caribbean tropical experience in one simple glass of drink. If you're like me, then it's time to whip out the Café Caribbean to enjoy right at home. The mixture is so easy to make with only two types of spirits to accompany the coffee.
In some ways, Café Caribbean is relatively similar to Amaretto coffee. However, the big twist is in the appearance of rum for a refreshing tropical taste. The addition of rum delivers an extra sweet with toasted sugar flavor to your mix.
In your glass, pour in the rum and Amaretto liqueur, then follow it up with the coffee. Likewise to the Amaretto, you should spray some whipped cream on top for garnish. Furthermore, I recommend preparing a few almond slices as an extra decoration option.
Total time: 5 minutes.
Despite being a drink, the Affogato is often featured as a sweet, decadent dessert to enjoy your night after a fulfilling dinner. Traditionally, a classic Affogato recipe only calls for a combination of coffee and a dollop of ice cream to enjoy.
However, there's always an option to turn the Affogato into a delicious Italian cocktail by adding a coffee or nut liqueur of your choosing. Take your glass and fill it with a scoop of vanilla ice cream. Don't get greedy with the ice cream because you need to leave space for other liquids.
Commonly, you should pour hot espresso, so it's easier to melt the ice cream scoop. This delicious ice cream cocktail is perfect for enjoying a layback day as you take small sips of creamy coffee at a time. For decoration, all you have to do is sprinkle shaved dark chocolate into the glass.
Total time: 6 minutes.
The Dalgona was a popular coffee beverage around 2020 when people were still struggling with the COVID-19 lockdown order. The trend started in Korea and took over the Internet by storm when people began to create different variations.
Although the Dalgona may seem to appear in recent years, the recipe dates back to 2004 in Macau. Traditionally, Koreans create the Dalgona by whisking instant coffee with sugar and water to a fluffy consistency. Then, they spread the coffee foam over a milk concoction to enjoy.
For an alcoholic cocktail version of the Dalgona, you need to substitute the milk with a blend of spirits. My pick is a combination of vodka, Kahlúa, and heavy cream for an extra creamy flavor. The fun part of this drink is that you get to work out your hand while whisking the coffee foam.
The appearance of alcohol adds a light kick to the creamy foam. Furthermore, the Kahlúa brings out more coffee flavor from the concoction.
Total time: 5 minutes.
Carajillo is a popular cocktail in Spain and other Latin American countries that are often associated with the working class. Depending on the country, the locals have different tweaks to the usage of liquor. For example, Colombians tend to add brandy while Cubans use rum in Carajillo.
However, I like a Licor 43-based cocktail with espresso for this Mexican-style cocktail experience. Most often, Carajillo has a sweet taste with a nice vanilla flavor from the Licor 43. Remember, you need to stir the Licor 43 first with ice to chill it.
Once your espresso is ready, place a spoon over the alcohol to guide your coffee. This helps create a beautiful layer of coffee on top with Licor 43 at the bottom. Carajillo mainly possesses a dark color from the espresso.
Spice up your conventional coffee recipe with a terrific Carajillo in Spanish style.
Total time: 5 minutes.
On hot days, nothing helps you out more than taking a gulp of refreshing Caipirinha, a classic Brazilian cocktail with cachaça (sugarcane hard liquor) as the alcohol base. However, I prefer tweaking the recipe a little bit by introducing espresso into the mix.
While you're brewing the coffee, grab the limes and start muddling them with sugar. Remember, you only extract the lime juice, not the bitter oil of the zest. Next, shake the lime juice with cachaça, ice, and espresso. To chill the Caipirinha, you can throw ice into the process.
It should take around 15 seconds of shaking before straining the Caipirinha for serving. Original Caipirinha has a clear liquid, while the coffee twist produces a brow-ish color drink. For a final touch, I like throwing a few coffee beans over the glass.
Total time: 3 minutes.
I know what you're thinking the name of this beverage sounds like a potent alcohol combination. But this Tequila shooter provides you with an instant kick of caffeine into your bloodstream. This fun tequila cocktail is also a great choice for throwing a party.
For the preparation, you have to use Tequila (Mexican Agave spirits) as the base alcohol. In addition, you want to bring coffee liqueur and espresso to the concoction for a strong caffeine taste. Plus, the sweet aftertaste of the espresso is perfect for wrapping up the shot.
Shake the three ingredients with ice and strain the liquid content into small shot glasses for serving. Be responsible with what you drink because this Tequila shooter may take you out completely with only a couple of shots.
Total time: 3 minutes.
Any fan of thick chocolate refreshment has to give the Mudslide a test right at home to experience an ultimate boozy blend. Better yet, you can omit the spirits to create one of the best alcohol-free cocktails that are packed with chocolate flavor.
Originally, the Mudslide first came into the world in the 1970s on Cayman Island. At that time, the bartenders were using Irish cream to substitute for the fresh cream to make the White Russian. They blended the mixture with ice to give birth to today's slushy Mudslide.
In other words, you may say the Mudslide is a close relative to a classic White Russian. To fix the concoction, I want you to combine Kahlúa, Bailey, and half-and-half in the blender with ice. As an optional ingredient, you may add a scoop of ice cream for extra creaminess.
Fire up your blender until you achieve the desired consistency. Pour the Mudslide into your serving glasses with a light dust of cocoa powder for garnish. I almost forgot to tell you guys about using whipped cream as a fancy decoration with the cocoa powder.
Total time: 5 minutes.
When it comes to a coffee-based mix, you can't overlook the White Russian, a popular cocktail with a mesmerizing taste. Alternatively, the Black Russian is the polar opposite version without the addition of cream to the recipe.
In your shaker, you want to use vodka as the base alcohol to accompany the Kahlúa. Shake the mixture well and pour it into an old-fashioned glass for a traditional serving method.
Remember, you don't have to stir in the cream. Instead, you want to layer the cream over your alcohol gently. Allowing the cream to spread in the glass slowly is a traditional way of enjoying the White Russian. The creamy and strong kick of coffee is sure to please anyone you serve.
Making the White Russian is the ultimate way of enjoying your night.
Total time: 5 minutes.
The Insomniac cocktail is not going to keep you up throughout the night. With that fact out of the way, the Insomniac is an addicting combination of intense coffee flavor with neutral vodka. The beverage is straightforward with not many steps of preparation.
In your shaker, I prefer combining an equal amount of vodka with Frangelico (hazelnut liqueur) and Kahlúa. You want to use espresso with half-and-half to achieve the best result. Next, it's time to put your hands to work by shaking the concoction vigorously for around 12 seconds.
A side note for you: the Insomniac is a special mix that requires you to strain it twice before serving. For a fancy decoration, I suggest throwing some coffee beans over the Insomniac.
Total time: 5 minutes.
Picture yourself on a cold day; you may want a comforting glass of Kahlúa-based cocktail to keep your company through the long night. Lucky for you, I have a game-changer recipe for you in the form of a Kahlúa pumpkin spice coffee.
The beverage calls for using any type of strong black coffee with pumpkin spice Kahlúa. In addition, people also utilize vodka for a strong alcohol kick without influencing the coffee flavor. If you need a touch of sweetness, then adding a splash of milk is a great idea.
Follow that up with a good stir to incorporate all the liquids. Don't forget to add a splash of whipped cream on top for garnish. Furthermore, I want you to sprinkle cinnamon over the whipped cream for a final touch of decoration.
Coffee Cocktails Should Be Your Number One Pick
Don't stop at these recipes alone you should take these beverages as a reference to make your customized coffee cocktail. I promise it's always an amazing feeling to successfully fix your own drink. Plus, it's the perfect occasion to practice your tolerance for caffeine.
Are you feeling excited already? If you want someone to fix you a nice glass of coffee cocktail, send this article to them. With the various options of spirits, you'll never run out of ideas for your mixture. Therefore, you may also drop your take on coffee cocktails right in the comment section.