If you are a hardcore fan of mixing ice cream with everything, the best ice cream cocktails are waiting for you to find out in this article. Honestly, it will be an unforgettable experience to sip a cocktail and talk with your friends about the ups and downs in your life.
All the icy and creamy cocktails listed below will also work well when you need some drinks to lighten up your mood after a long day at work. What's more, reading through all the information will make you realize how little you know about the history of ice cream cocktails.
So, what are you waiting for? The combination of alcoholic beverages and ice cream is what you are destined to try. Jump into the recipes and get down to making your drinks!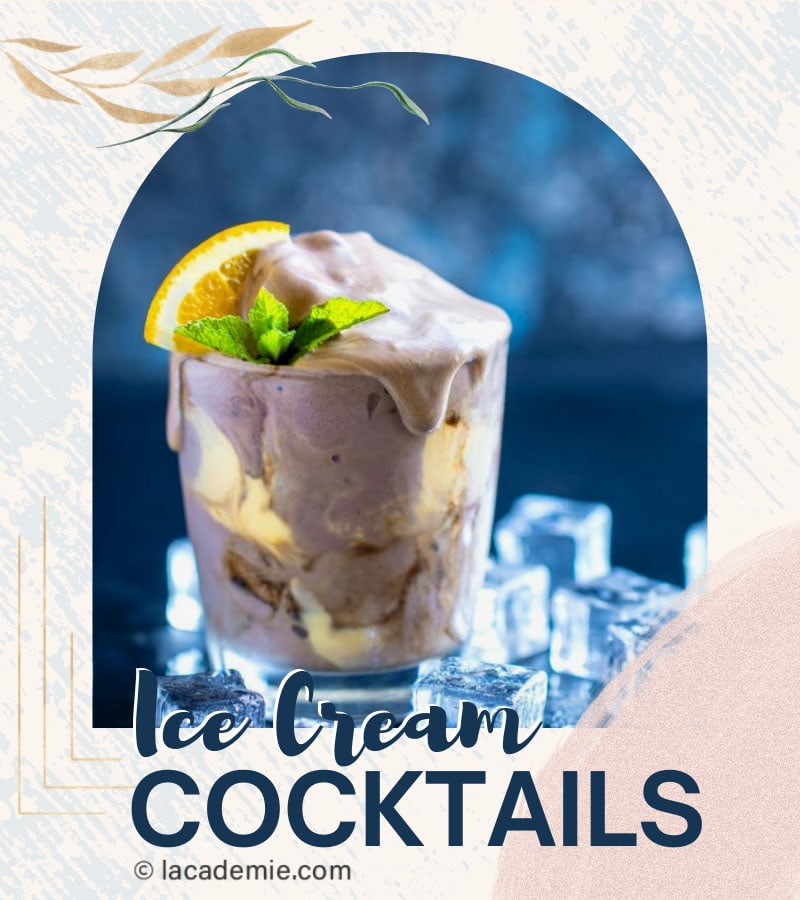 The History Of The Sweet Combination
The combination of ice cream and booze started in 1892 when a bartender named William Schmidt published more than 20 recipes for ice cream cocktails. Many recipes still maintain their recognition throughout the years, such as Curacao or the Reverie.
However, the equipment that supported ice cream cocktails' popularity actually appeared in 1884. James Tufts was the inventor who created a new type of milkshake mixer. It was first used to make ordinary desserts and non-alcoholic ice cream drinks.
From the 1920s to the 1930s, there was significant development of ice cream cocktails partly because of Prohibition (the era when the U.S. forbade alcohol). People needed alternatives to alcohol and prompted many innovative ideas, e.g., the Aspen Crud cocktail.
22 Ice Cream Cocktails That Will Blow Your Mind
Have you ever tried ice cream cocktails? Whether your answer is yes or no, a wide range of brilliant cocktail recipes below can definitely blow your mind. Let's fasten the seat belt and kick off your journey through this fascinating cocktails list!
Total time: 20 minutes
Do you love gulping cocktails on your holidays? This Frozen Grasshopper Drink is one of the fantastic mint cocktails that have both beautiful appearance and pleasing tastes. Even if you dislike the mint flavor, you still should give this a try.
Regarding the list of ingredients, there are four main things that you have to prepare: ice cream, Creme de Menthe–sweet mint-flavored alcohol, Creme de Cacao–a chocolate liqueur, and ice cubes. You will also need a large blender and a Tupperware container.
First, use the blender to combine all the ingredients until they become a creamy mixture. Then, put it in the Tupperware container waiting to be served. When you need to serve the drink, scoop the mixture into glasses and pour Creme de Menthe on top.
It's great to pair this cocktail with Christmas sweet treats such as cookies, biscuits, or chocolate sticks. The mix between creamy, minty flavors and chocolate will make you drunk with sweetness but not really overload.
This quick and interesting tutorial will help you mix the one-and-only Frozen Grasshopper Drink.
Total time: 5 minutes
To simplify things for you, this Spiked Bananas Foster Ice Cream Rum Nog Cocktail is the harmonious blend between bananas foster and eggnog that contains black spiked rum. Eggnog is a creamy cocktail that consists of milk, cream, white egg, and alcohol.
Nonetheless, in this recipe, you will mainly use blackening bananas (or overripe ones) and vanilla ice cream instead of raw eggs and milk to make the eggnog. Also, in place of sugar, there is a brilliant sweetener in this cocktail, the Butterscotch sauce.
You can buy the Butterscotch sauce at a supermarket. On the other hand, the sauce is not difficult to make at home. All you need is brown sugar, butter, heavy cream, vanilla extract, and maybe a little bit of salt.
Regardless of all the mentioned sweetness, you have something to balance the overall flavor of this cocktail. Black spiced rum is a Caribbean spirit that has strong and rich flavors. Together with the citrusy cinnamon, you will have a sweet yet powerful cocktail.
Total time: 10 minutes
This Champagne Float With Raspberry Sauce is a perfect cocktail to enjoy on Valentine's Day. You may not know this, but ice cream blended with tart raspberry sauce and champagne will definitely boost your mood for any festive occasion.
Regarding the list of ingredients, you have to prepare 3 things: raspberry jam, any ice cream that you like, and champagne. You can buy raspberry jam at a supermarket or make a simple version at home with the addition of lemon juice.
It's very easy to make the drink. You just need to put all the layers according to a specific order. First are two scoops of ice cream, then the jam, and finally the champagne layer. After that, you will need to repeat the order until your glass is full.
This can be a creamy or frosty cocktail, depending on the ice cream you use. In case you don't want a too sweet drink, try adding more lemon juice to the jam. About the container, it's best if you have a fun cocktail glass – a tall glass that has a little curve along the side.
Total time: 5 minutes
Apple cider is a juicy and nutritious drink that is made from smashed apples. It's astonishing to know that apple cider originated in ancient times. According to existing evidence, this drink was a native Celtic Britons beverage back in 55 BCE.
In this Apple Cider Float Cocktail version, besides apple cider and chilled champagne, you will also need cinnamon schnapps, vanilla ice cream, and other ingredients for garnishing. The garnishings are cinnamon sugar, caramel syrup, apple slices, and cinnamon sticks.
The first step is to make a cinnamon sugar rim for your cocktail glass. Remember to wet the rim with apple cider. After that, mix apple cider and cinnamon schnapps in the glass. Then, pour champagne until the glass is nearly full. Finally, top with some vanilla ice cream scoops.
Since this cocktail is sweet, nutritious, and has a hint of cinnamon, it can be served to the elderly if they don't have any major disease related to any ingredients specified. With the appearance of champagne, the cocktail is fizzy enough to be regarded as an alcoholic soda.
A perfect Apple Cider Float Cocktail can't be completed without this guide.
Total time: 5 minutes
The Hummer Cocktail is an ice cream cocktail that is traditionally made from vanilla ice cream, rum, Kahlua, and crushed ice or ice cubes. In my opinion, it's one of the most vintage ice cream cocktails that still appears on the menu of many bars and clubs nowadays.
This cocktail was created in the 1960s when a new trend of alcohol consumption appeared in the United States. A barman named Jerome Adams invented this drink in 1967, and eventually, it became a significant cocktail that represents the state of Michigan.
In this recipe, you will use coffee ice cream (or chocolate ice cream) instead of vanilla ice cream to add more significant flavors to the cocktail. In terms of alcohol, to boost sweet and rich flavors, you should use amber rum (also known as gold rum).
A blender is required to combine all the ingredients together. After mixing, serve your glass with a straw and garnish it with cherries. It's best if you have maraschino cherries to make your drink look more stunning and classic.
Total time: 1 minute
Away from all the classic cocktails, this Mango Melona Soju Cocktail will bring a modern feel to this already diverse list. This drink is an unexpected combination between mango melona ice cream bars and fruity apple mango soju. Sounds very interesting, doesn't it?
You may not know about mango melona ice cream if you are not an ice cream lover. It's a mix between ice cream and popsicles in a bar shape. On the other hand, apple mango soju is a Korean distilled rice alcohol with an apple mango flavor.
Overall, you can say that this delightful cocktail with soju is sweet inside because of its rich mango flavor and creative appearance. A fruity yellow cocktail glass with a popsicle sticking out can become a favorite drink for a summer theme or a girl's night party.
It's very simple to mix this drink. All you have to do is fill half a glass with ice, and pour soju and sprite (or any kind of colorless soft drink) into it. Finally, stick the ice cream bar into the cocktail at a straight or tilting angle, and wait for it to melt.
Total time: 10 minutes
Talking about ice cream cocktails, it will be a huge mistake if I don't include this Orange Creamsicle Cocktail in the recipes list. It is a sweet and creamy drink that probably reminds you of your own childhood when you craved popsicles every day.
In fact, this cocktail was inspired by the invention of the popular popsicle that children enjoy nowadays. Frank Epperson was the one who accidentally created the popsicle (originally named creamsicle) with the initial aim of pouring juice over a scoop of vanilla ice cream.
The main ingredients to make this cocktail are vodka, orange liqueur, vanilla ice cream, and orange juice. What's more, this cocktail will taste fantastic and icier with the presence of orange sherbet, which you can easily buy at the supermarket.
Before taking any step, remember to pre-chill your cocktail glass in the refrigerator for about 15 minutes. After that, use a blender to mix all the ingredients with ice cubes. Finally, pour the mixture into the glass, add orange soda on top, and your drink is ready!
Let's make the Orange Creamsicle Cocktail for your summer evening!
Total time: 5 minutes
Are you seeking an easy-to-make cocktail for Christmas? This Santa's Rum Spiked Milk is an ideal drink to sip next to the fire and wait for Santa to come! It's absolutely creamy, sweet, and milky with some citrusy and woody hints.
The reason is that this recipe includes honey, cinnamon, and nutmeg in the ingredients list. They can also give you a festive feeling while drinking the cocktail. Besides the mentioned components, you will also need shredded coconut, coconut milk, ice cream, and dark rum.
Firstly, you will make a spectacular rim for your glass by dipping it into honey and coating it with shredded coconut. After that, just combine the ingredients with a blender. Finally, pour the cocktail into the glass and top it with a little grated nutmeg.
Traditionally, people drink eggnog during Christmas. However, I think this cocktail is a perfect alternative. It still fits the season's theme of giving gifts and showing gratitude. This drink is not only tasty, but it can also keep you warm in the winter.
Total time: About 30 minutes
If someone tells you that ice cream and spices can't go together in a cocktail glass, don't believe them! This Boozy Horchata Hibiscus Float is the perfect combination of sweet, tart, and herbal flavors. Therefore, this also can become festive drinks on any holiday!
You need to separate the making process into two parts to make this unique drink. In terms of the homemade hibiscus tea, you have to prepare a medium-size pot to boil water, sugar, and dried hibiscus–a flowering plant that tastes cranberry-like and earthy.
It's best to simmer the tea for about 10 minutes before straining and chilling the tea. On the other hand, it's much easier to make the float. First, scoop vanilla bean ice cream into your prepared glass, pour Ricura Horchata over the scoops, and finally, top with fresh raspberries.
You can also garnish the cocktail with the remaining dried hibiscus flowers. I bet this probably is one of the most diverse drinks you've ever had, especially with the addition of Ricura Horchata. It's a special Caribbean liqueur that combines rum, cinnamon, and cream.
Total time: 10 minutes
This Dirty Coke Float Cocktail is an altered alcoholic version of the original classic drink–Coke Float. The Coke Float is one of the most prominent variations created after the birth of the ice cream float by Robert McCay Green in 1874.
Normally, a Coke Float mainly consists of cocoa and vanilla ice cream. However, in this recipe, you can switch to diet coke and coconut ice cream. Besides, coconut rum, lime juice, and half-and-half also play important roles in making this Dirty Coke Float Cocktail.
Taking the first sip from this cocktail, you can only feel a little note of alcohol from the coconut-flavored rum. The tropical and sweet highlights from coconut, together with the frosty and creamy texture from ice cream and half-and-half will refresh your mind.
To mix the cocktail, you will need a cocktail shaker. The only step you have to do is fill the shaker with ice and all the ingredients and shake until you have a smooth mixture. When serving the cocktail, it's preferable to have a fresh lime wedge for garnishing.
Total time: 10 minutes
It just takes you a short time to make and serve this one-and-only classic cocktail – The Bushwacker Cocktail. One fun fact is that this drink was named after a dog whose owner dropped by a pub on the Virgin Islands to enjoy the cocktail.
Normally, to mix this cocktail, the bartender uses equal amounts of dark rum, Kahlua, and Creme de Cacao. However, you can replace Kahlua with any coffee liqueur that you find. In addition, you will also need vanilla ice cream, milk, coconut rum, and chocolate sauce.
Drizzle chocolate sauce into the glass before making the cocktail. You need a blender to combine all the ingredients with ice cubes. When the mixture is done, pour it into the glass and finally top with rum. Additionally, you can also put cherries on top of the cocktail.
Bushwacker is a tropical, rich, creamy, and flavorful cocktail that can wake you up from drowsiness in the summer. If you want creamier, less sweet, or even more intoxicating versions, you can freely adjust the recipe, but be aware of how fast the cocktail can get you drunk.
Total time: 10 minutes
The Frozen Turkey Cocktail is the go-to cocktail on Thanksgiving Day. Apparently, you can say that this drink is the winter version of The Hummer Cocktail that you just scrolled through with the addition of caramel sauce.
It's not difficult at all to make the sauce. You need dark brown sugar, a cup of cream, salt, and unsalted butter. Prepare a saucepan to combine the ingredients after the brown sugar melts. After boiling the mixture for about 3 minutes, turn off the heat and set the sauce aside.
Do you wonder why there is a "Turkey" in the cocktail's name? Certainly, you will have the famous Wild Turkey bourbon on the ingredients list. Besides, there is also amaretto–a sweet Italian liqueur made from apricot pits and almonds that will bring out sweet and nutty flavors.
Use a blender to combine butter pecan ice cream with the alcohol. Before pouring the drink into your glass, drizzle it with the caramel sauce that you have prepared. It's recommended you sip this cocktail as a dessert treat after dinner!
Total time: 5 minutes
Here comes another classic cocktail from the vault! Brandy Alexander was a very well-known cocktail in the early 1900s. While it's impossible to define the exact origin of this drink, there's a chance that its name came from a bartender named Troy Alexander.
Brandy Alexander is usually mixed by combining Cognac–a French brandy, Creme de cacao, and cream. Nonetheless, following this recipe, you can use any brandy bottle. Also, the recipe replaces heavy cream with vanilla ice cream.
Another special thing about this recipe is that it uses Kahlua liqueur. Besides the powerful coffee flavor, it also adds caramel and vanilla flavors to this boozy brandy cocktail.
A blender is necessary to mix the ingredients. Remember that ice cream must go in first. When the mixture is smooth enough, you can complete the cocktail by garnishing it with cocoa powder, grated nutmeg, and a stylish straw if you like.
Brandy Alexander With Ice Cream is a beautiful drink for your holiday!
Total time: 10 minutes
Out of all the cocktails listed in this article, this probably is the most creative and modern-styled ice cream cocktail. Aside from resembling a milkshake, Gin And Strawberry Milkshake is a simple combination of gin, strawberry, and a summer herb–fresh basil.
About the alcohol component, you can use any brand of gin that you can find. Nevertheless, it's best when your gin has strawberry, rose, peach, or raspberry flavors. I think this delectable gin cocktail can revive your summer and can be paired with any BBQ dish!
To perfect this drink, you need to cool the cocktail glasses in the refrigerator in advance. It's simple to mix the drink just by using a blender. After pouring the cocktail into glasses, garnish it with whipped cream, strawberry, and the remaining basil leaves.
Total time: 8 minutes
If you love creamy and delicious frozen cocktails, you can't skip this Frozen Mudslide! The mudslide was first mixed in the 1950s at Wreck Bar in Grand Cayman Island. The classic recipe of the drink includes vanilla ice cream, Irish cream liqueur, Kahlua, and vodka.
You just need a medium-size blender to mix this Frozen Mudslide. To make the "Frozen" part, instead of serving the drink with ice cubes like the original Mudslide, you will include them in the blender. Mixing ice cubes with other ingredients will result in a frosty texture.
I suggest you prepare a hurricane or a tall glass to contain this cocktail. Before pouring the Frozen Mudslide into the glass, you should garnish it by swirling chocolate into the glass. One note when serving is that you should also serve this with a spoon besides a straw!
Do you find it challenging to mix a Frozen Mudslide? Just follow these instructions!
Total time: 2 hours 5 minutes (included 2 hours of chilling time)
Do you have a sweet tooth? And are there any raspberries left in your fridge that you don't know what to do with? If the answer is yes, you must try mixing this Raspberry Prosecco Ice Cream Float. Make sure that your raspberries are fresh enough to make the cocktail.
Prosecco is sparkling white wine, so it will make the cocktail fizzy. Together with the sauce and fresh raspberries, you will have an amazing prosecco cocktail with tart and fruity flavors in the middle of summer.
There are two main parts of the cocktail that you have to complete: the Raspberry Aperol Sauce and the cocktail. You need a saucepan to cook the sauce. On a side note, you should use a fork or a potato masher to mash the raspberries in the pan.
After that, use a jar to contain the sauce and refrigerate it for about 2 hours. Turning to the cocktail itself, first, scoop vanilla ice cream into the bottom of the cocktail glass. Then, add the sauce, club soda, and Prosecco.
Total time: 5 minutes
Do you crave the strawberry flavor all of a sudden? This Strawberry Mudslide Cocktail is a fantastic strawberry cocktail that can satisfy your craving and lift up your mood in the middle of the day.
Besides all the normal ingredients in a Mudslide, you just have to prepare frozen or fresh strawberries. After blending all the components, pour the mixture into glasses, and you can additionally top them with a scoop of vanilla ice cream.
This cocktail has a beautiful and dreamy pink color accompanied by adorable garnishment. Therefore, keep an eye on your kids because they can mistake this drink for a normal smoothie, especially by its sweetness and creaminess.
Are you looking for a cocktail to enjoy on Valentine's Day? Try this Strawberry Mudslide Cocktail!
Total time: 10 minutes
Are you looking for a combination of tasty coffee cocktail and ice cream? If yes, then this White Russian Milkshake is specially dedicated to you! What's more, this delicious cocktail is very simple to make.
The only equipment you need is a blender or a food processor to mix all the ingredients until they are combined. The final mixture must be as smooth as a regular smoothie. Then, you can garnish your glass by drizzling chocolate syrup inside the glass.
Finally, pour the cocktail into the glass, and you can serve it to the table! You can enjoy this drink as a dessert or a drink after your supper.
Total time: 15 minutes
Hot Buttered Rum is the classic American cocktail that you should drink on a winter day. It can warm your body and comfort your mind with its hot temperature and the presence of some herbs on the ingredients list.
Before mixing the cocktail, you have to make Hot Buttered Rum Batter. You will need a stand mixer or hand mixer to combine all the ingredients. It's also good to know that you can make the batter and keep it in the freezer for up to 3 months.
If you want a more convenient solution, you can consider buying an alternative batter at the supermarket. To make the cocktail, prepare a pan and water to boil the batter. After pouring it into a mug, add dark rum, hot water, and whipped cream. Now you are all set!
Total time: 5 minutes
As you may not know, Root Beer Float is one of the earliest variations of ice cream drinks. However, it's quite confusing to talk about its origin. The reason is that there are at least three people who were regarded as the inventor of this drink.
However, everyone has to agree that Charles Elmer Hires is the person who successfully commercialized and popularized root beer. The attractiveness of this inevitable cocktail comes from the special combination of two contradicting sides.
Vanilla ice cream, half-and-half, and whipped cream will make anyone captivated by the creamy and milky tastes of the cocktail. On the other hand, root beer, vodka, and Kahlua create the strong and addictive characteristics of the Russian Root Beer Float.
For the appearance, you should use a tall glass and garnish the cocktail with maraschino cherries. It's not complicated to mix this interesting drink. After combining all the liqueur and alcohol, top the drink with ice cream scoops and now you can serve it!
You can't miss this Russian Root Beer Float tutorial if you like beer.
Total time: 13 minutes
Do you wonder why a mocktail appears on this list? In fact, a mocktail is also a kind of cocktail but it doesn't have alcohol. Therefore, it's absolutely appropriate for your children to try these appetizing Snowdrop Mocktails at Christmas or at any holiday party.
I'd say that the lemonade and lemon zest mixture create the base flavor of this drink. There are two parts of this recipe that you have to make. The first is the mocktail itself. Apparently, you will need a saucepan to make a simple syrup with water and sugar.
Then, mix that with other ingredients to finish the mocktail. The second part is making the rim for the cocktail glass. You will run a lemon wedge around the rim and then dip it in the lemon zest mixture, which is made by combining lemon zest and sugar.
In my opinion, you should pair this delightful mocktail with any dish or meal that you prepare to serve, especially meat or seafood. Overall, the Snowdrop Mocktails taste like a creamy version of lemonade with a refreshing appearance.
Total time: 5 minutes
Many people believe that the top classic Pink Squirrel cocktail was first served at Bryant's Cocktail Lounge in Wisconsin in the early 1940s. Since then, it became a popular ice cream drink because of its sweetness and unique pink color for quite a long time.
This recipe is the vegan version of the original Pink Squirrel cocktail because it's dairy-free and egg-free. Also, there are variations of this cocktail, some make it with heavy cream, the others prefer using vanilla ice cream. In this version, you will use vanilla dairy-free ice cream.
Besides the ice cream, you also need two other components to recreate a complete Pink Squirrel: creme de noyaux–a French almond-flavored liqueur and white creme de cacao. Apparently, creme de noyaux is the factor that creates the pink color of the cocktail.
First, garnish the cocktail glass with sprinkles. Then, blend all the ingredients and pour the cocktail into the glass. Pink Squirrel is somehow similar to the Brandy Alexander cocktail but has a lower alcohol level. If you like, you can always top the cocktail with whipped cream.
Let's Shake Ice Cream Cocktails To Chill With Your Friends!
Believe me when I tell you that shaking ice cream cocktails will help boost your happiness. It's not only about getting things done but also the creaminess, colorfulness, and flavorful tastes of the drinks will help you engage in the making process.
Sipping ice cream cocktails can be a relaxing time in your day after long hours of working. Also, they can become healthy and kid-friendly versions if you are familiar with the recipes and know-how to adjust the ingredients.
Don't forget to share this article with your friends and leave your thoughts below so that more and more people get to know about the amazing ice cream cocktails. After that, go grab the ingredients and mix the cocktails right away!
Nutrition Facts
4 servings per container
---
Amount Per ServingCalories340
% Daily Value *
Total Fat 7.2g

12

%
Cholesterol 29mg

10

%
Sodium 56mg

3

%
Potassium 131mg

4

%
Total Carbohydrate 38.7g

13

%

Dietary Fiber 0.5g

2

%
Sugars 36.7g

Protein 2.3g

5

%
---
* The % Daily Value tells you how much a nutrient in a serving of food contributes to a daily diet. 2,000 calories a day is used for general nutrition advice.