Today, the question "is flour vegan?" stayed in my mind all day long. As I have noticed, flour is always in my daily vegan diet, from noodles to bread. However, I never noticed whether the flour is truly vegans' friend. And I know that you can feel the same, too.
So, is flour vegan? Is flour made from any animal ingredients? Or does its making process include any animal-related use? In this post, I have generated a lot of information about the topic. Let's accompany me and figure out the answer throughout the article!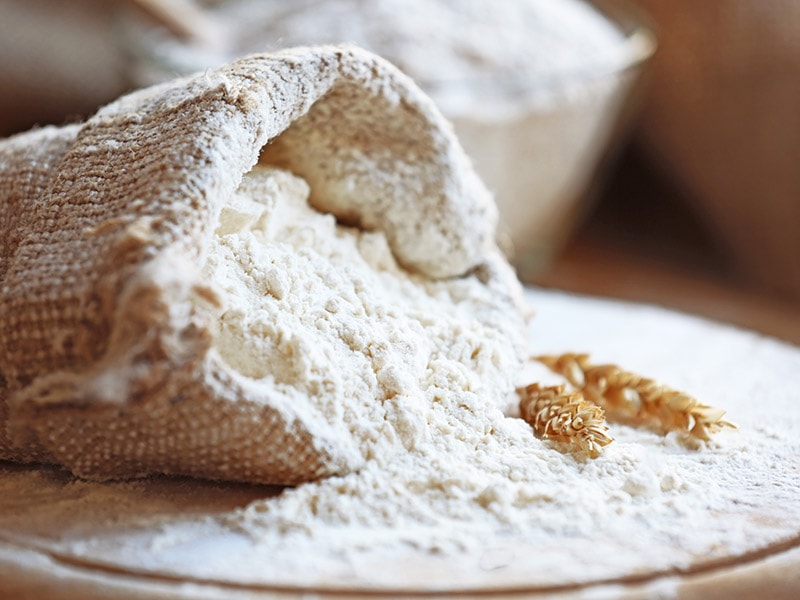 What Is Flour?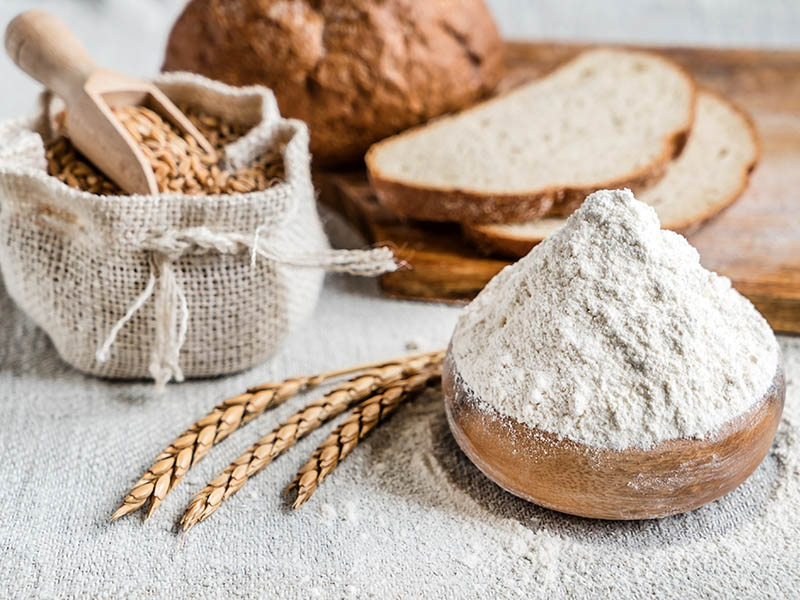 Flour is the cooking ingredient in the form of powder with the main color of white. People grind raw grains or other materials such as roots, nuts, seeds, or beans to produce flour. Therefore, many kinds of flour are used to create many different foods.
By familiarity, flour is divided into rye flour (made from rye) and white flour (made from white wheat). Besides, people also divide flour by its different uses and protein content. Specifically listed are all-purpose flour, pastry flour, bread flour, high-gluten flour, etc.
Flour-Making Process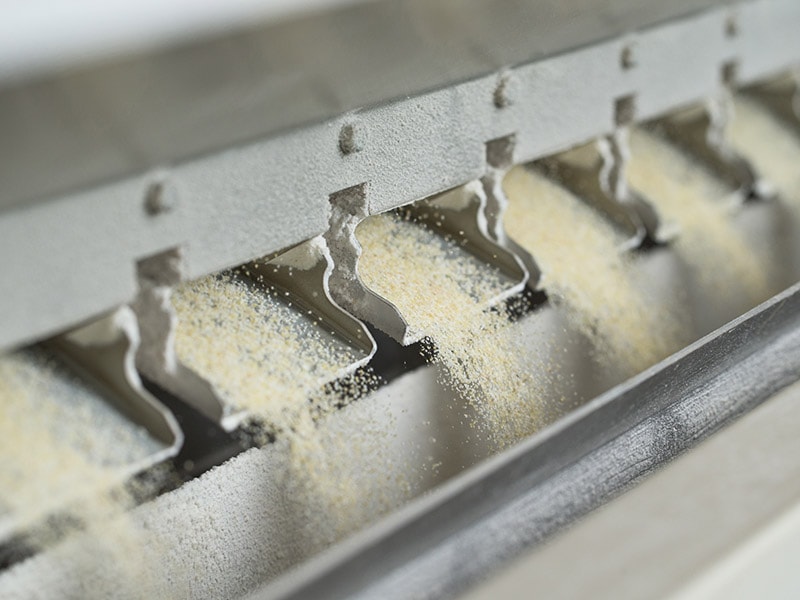 Not as easy as it seems, the flour-making process is somewhat complex, and quality is required. It is separated into five main stages: grading the materials, purifying the materials, preparing for grinding, grinding, and processing flour.
Stage 1: Grading The Materials
Since the materials are grown and supplied from different fields, there will be a test on both the physical and chemical of the materials for quality analysis in the lab. Not only checking the materials for the quality required to produce flour but also for the presence of foreign elements.
Stage 2: Purifying The Materials
Due to the variety of foreign matter, there will be many cleaning machines for purifying, namely a separator machine for large objects, an aspirator machine for lighter objects, a size sorting machine for unqualified materials, and a cleaning machine for dust and dirt.
Stage 3: Preparing For Grinding
At this stage, the purified materials are soaked into the water for the removal of bran to improve the color and time storage of the flour. Then, using the centrifuge to dry materials. And after all, the materials will go through a moisturizing step to make their content more elastic for grinding.
Stage 4: Grinding
The first step is putting the materials on the roller mills. After that, the milled materials go through the sieving machine to determine their size. Then, identify the number of times the materials stay in the grinding cycle by their size for the final homogenous powder.
Stage 5: Processing Flour
In the end, to ensure the quality requirement, the lab specialists always take samples of flour to check before packaging the products. Then, the vitamins and minerals are added to the powder to enrich the nutrients in the final products. And the final step is the packaging process.
Flour production is not as easy as it seems. Here is why!
What Ingredients Are In Flour?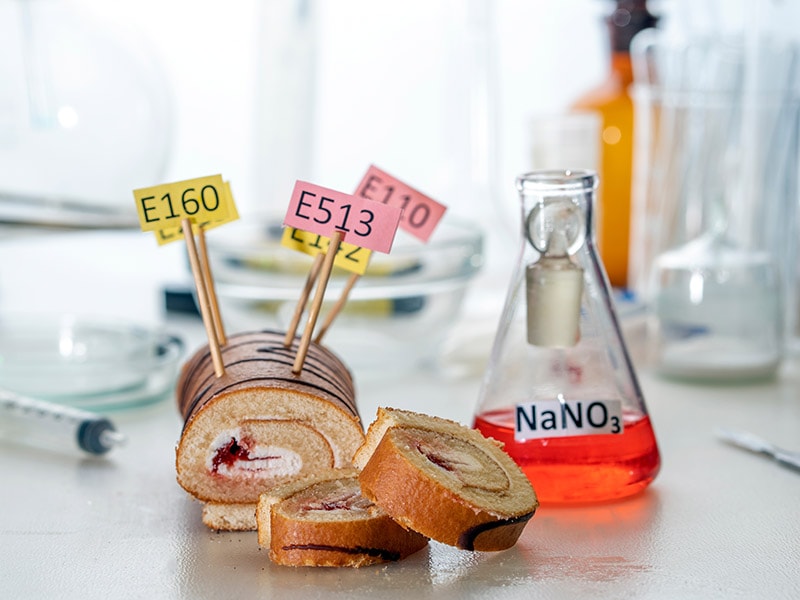 As analyzed at the beginning of this article, the main ingredients in flour are raw grains or other materials such as roots, nuts, seeds, or beans. Besides, there are also some other additional substances put in flour to make different kinds of products along with preventing food poisoning. (1)
In particular, there are five additives usually being put in the flour:
Ascorbic acid: An oxidizing agent (also known as Vitamin C) helps speed up the rise of the dough and long the shelf lifetime of bread, which is found in citrus fruits and many vegetables.
Raising agents: Substances are added to flour to make it rise in dough by chemically releasing the carbon dioxide. A common raising agent used in flour is sodium bicarbonate, which is a chemical raising agent without any animal-related.
Emulsifying agents: The agents are added to help stabilize the structure and maintain the softness of the baked goods derived from vegetable oils. The most commonly applied are E471 and E472(E).
Preservatives: The flour treatment agents help protect starchy molecules in flour from being oxidized and microbial, which mostly come from natural or chemical. The three most preservation additives are vinegar, fermented wheat flour, and E282.
Other vitamins and minerals: Substances are added to increase the nutritional content of baked goods, especially to fit with some specific law requirements, which usually come from natural plants. The three main substances are Vitamin B1, B3, and iron.
Is Bone Char Used To Make Flour?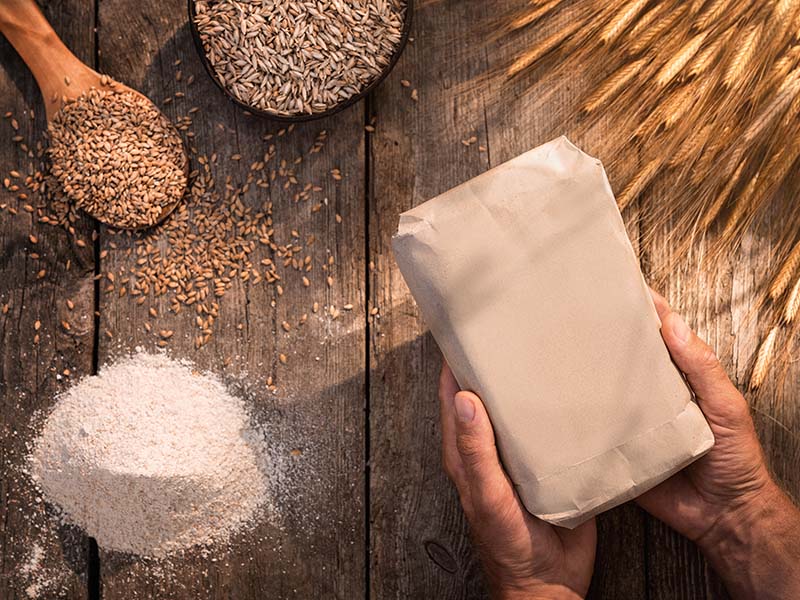 To some vegans, there is a rumor about using bone char (a substance made from animal bones) in the bleaching process of making flour. However, until now, none of the credible research officially confirms this information.
As most manufacturers publicize, the four bleaching agents commonly used are benzoyl peroxide, chlorine dioxide, calcium peroxide, and chlorine gas. They did not use the bone char because it's inefficient and expensive compared to the vegan-friendly ones.
In case you want to confirm whether the product contains bone char or not, you can check for inorganic oxidants on its label. The known inorganic oxidants are bromates or lodates, peroxides (magnesium, calcium, etc.), azodicarbonamide, nitrogen dioxide, or chlorine dioxide.
Also, there is a widely applied inorganic oxidant, oxygen (or air), which usually is not named on the labels.
If these agents are not listed on the bleached flour's label, bone char has likely been used in the bleaching process. Therefore, before shopping for flour, you should check it for sure.
Is Flour Vegan?
In case you have little time, the answer is both yes and no, based on the manufacturers' ingredients. Let me make it clear.
Most Of The Time, Flour Is Vegan
Most of the time, flour is vegan-friendly. Not only is flour vegan because it is free of animal cruelty in the making process, but also according to its ingredients.
Particularly, there are some common additional ingredients besides the original ones, which are mostly plant-based, you might see on the flour bags, including:
Folic Acid
One of the B vitamins, namely Vitamin B9, is crucial for the breakdown of homocysteine, an amino acid that can be dangerous to the body if consumed in excess. Therefore, it had been added to flour to prevent spinal problems in children. (2)
With its natural derivation from green leafy vegetables, beans, and citrus fruit, Folic Acid is vegan.
Niacin
One of the B vitamins, namely Vitamin B3, assists in the conversion of food into energy. Also, it plays the role of an antioxidant aiding in DNA repairs. About its source, niacin is in most vegetables, fruits, and whole grains, especially nuts, legumes, and seeds products.
In short, niacin is friendly to vegans.
Thiamine Mononitrate
One of the B vitamins, namely Vitamin B1, helps keep the nervous and cardiovascular systems in good condition. In production, thiamine mononitrate is mainly sourced from grains, specifically soy and corn.
Therefore, thiamine mononitrate is a vegan substance.
Riboflavin
One of the B vitamins, namely Vitamin B2, helps in digestion, especially the processing of fats and carbs. So, what is the origin of riboflavin? Riboflavin exists in most green vegetables, grains, and cereals.
For its vegan origin, riboflavin is suitable for vegans.
Iron
One of the nutrients added to flour increases the nutritional elements in products, which is considered an oxygen carrier for the body. Thus, adding iron to flour will aid in preventing anemia.
And to be clear, iron is considered vegan as it does source mainly from legumes.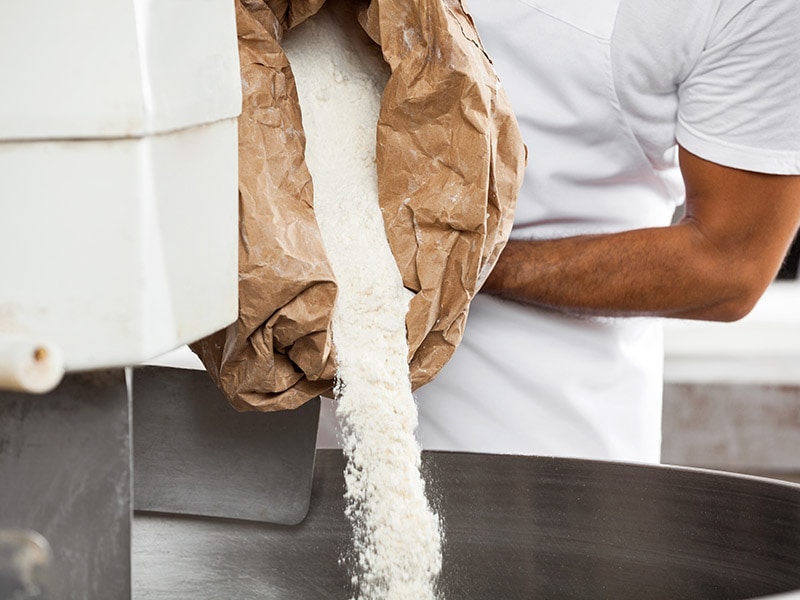 Some Of Additives In Flour Are Not Vegan
However, in some cases, mass-produced flour can be considered a non-vegan product due to its additives.
L-cysteine
Like bone char, L-cysteine (as known as E920) is a reducing agent derived from animal bodies, namely animal hair and feathers. It is used as a flour improver, which helps harden the dough and reduce its fermented time.
Nevertheless, L-cysteine use is rarer in the present than that in the past due to some potential substitutes such as ascorbic acid mentioned above. Therein, these substitutes fit all the flour consumers as well as are cheaper than the animal-related substances.
But, if it has been used, there will be a mention in the ingredients list. Therefore, a quick check on the labels will help you discover it right away! Also, be aware that some manufacturers can hide L-cysteine under the name E920!
Vitamins And Minerals
Another exception is some risks in the addition of vitamins and minerals into flour. Especially when people may use animal-related ingredients, like iron, to add nutrients to flour products. In particular, iron is hard to identify whether it is from vegan or non-vegan sources.
Baking Mixes
In addition, you should be conscious of some baking mixes, too. Since most of the baking mixes are ready to cook, they usually contain some adhesives and flavor additives like egg or dairy elements. Thus, have a glance at the ingredients before choosing the baking mixes!
Overall, although most of the flour is vegan-friendly, carefully watching out for the animal-related ingredients in the list is still a must if you want to make sure the foods or flour are 100% vegan.
Is All Flour Suitable For Vegans?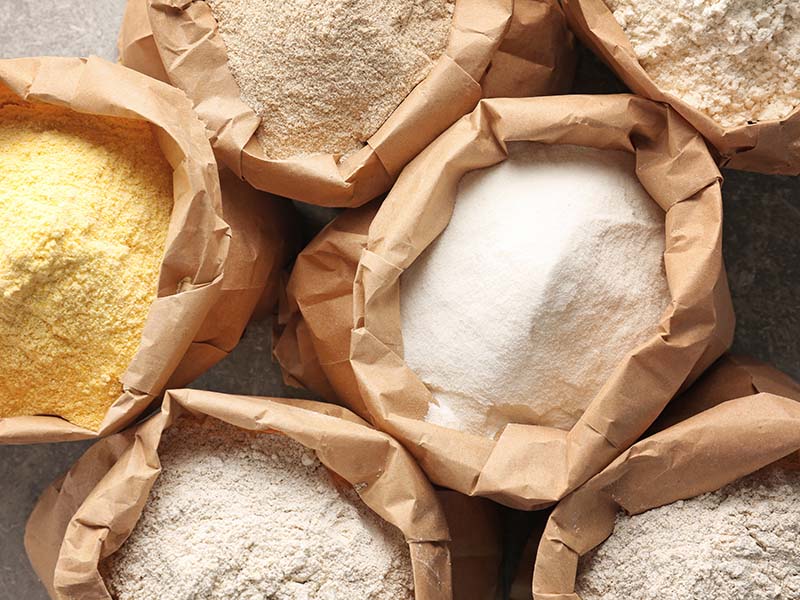 Indeed, not all kinds of flour are suitable for vegans. However, the "not all" part consists of a few uncommon kinds of flour, such as cricket flour, which you neither use nor even buy after reading their specific names.
For your information, there is a list of common flour uses and their vegan explanation.
All-Purpose Flour (White Flour)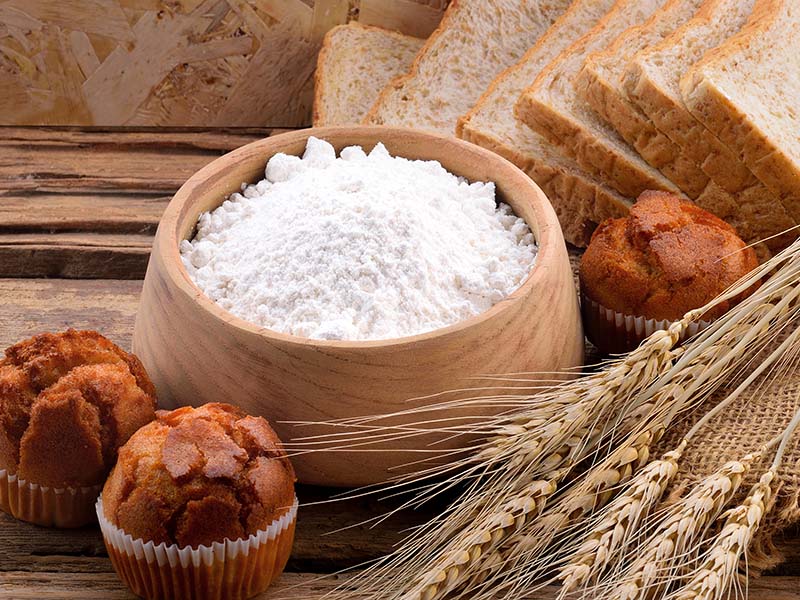 All-purpose flour is made from both soft and hard kinds of wheat. That's why this kind of flour has a medium protein scale, at about 11.5% of gluten content. As its name implies, people use it to make a lot of different cakes, from the simplest to the most improvised ones.
For baking recipes, all-purpose flour is also a good replacement for rice flour when you have run out of this ingredient.
Is all-purpose flour vegan? Since it is made mainly from plant-based, including wheat and barley, the answer is yes.
Besides, there are also some controversies around all-purpose flour that you should be aware of, such as environmental factors and working conditions. However, not every mill has problems with the environment or workers.
Thus, have this in mind, and track the production of the flour you buy to make sure it's 100% good for vegans!
Pastry/Cake Flour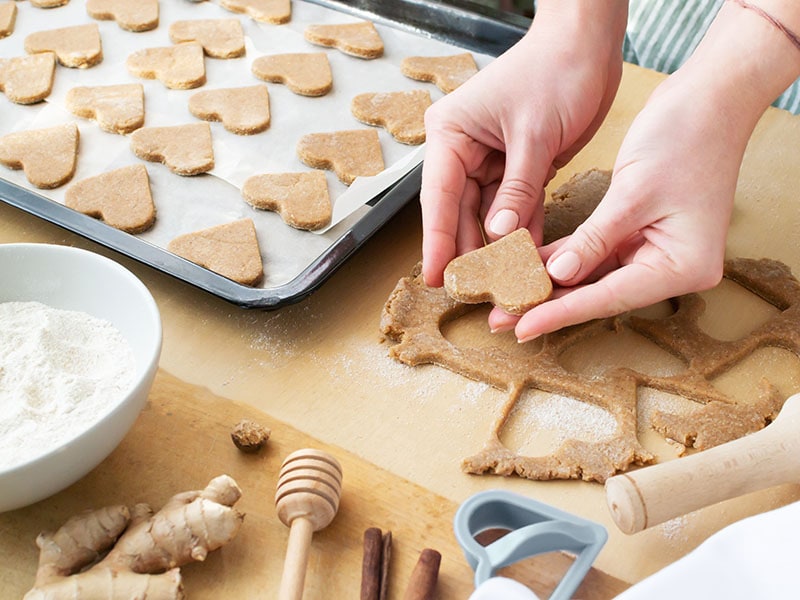 Pastry/Cake flour is a milled flour made from whole wheat flour with low content of gluten at about 9%. This kind of flour has uses in baking goods with tender textures such as cookies and muffins.
Is pastry/cake flour vegan? Yes, since it is derived from soft winter red wheat or soft white wheat, which is 100% plant-based.
Bread Flour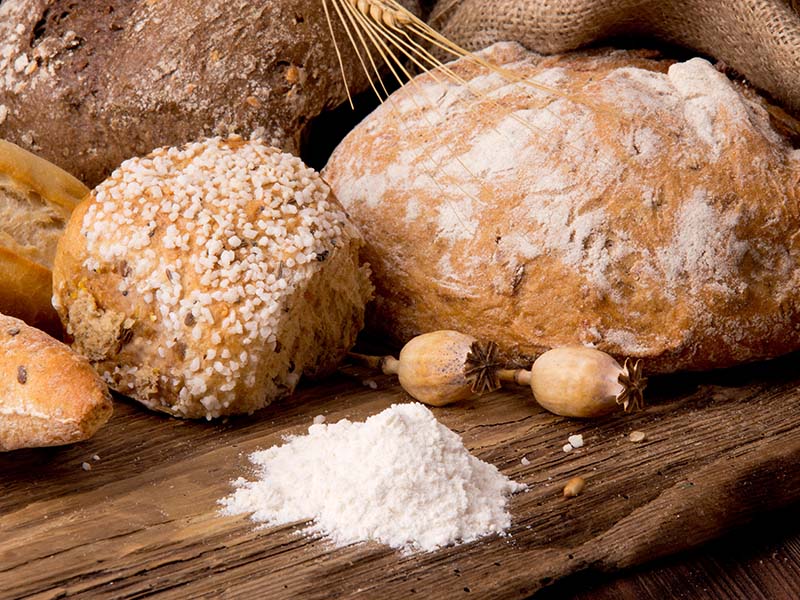 As it is called, bread flour is used to make plenty of bread types or some hard and crispy crust cakes. It comes from hard wheat flour with a high gluten content of up to 11 – 13%.
Is bread flour vegan? Of course, it is due to the plant-based ingredients in it.
Self-Raising Flour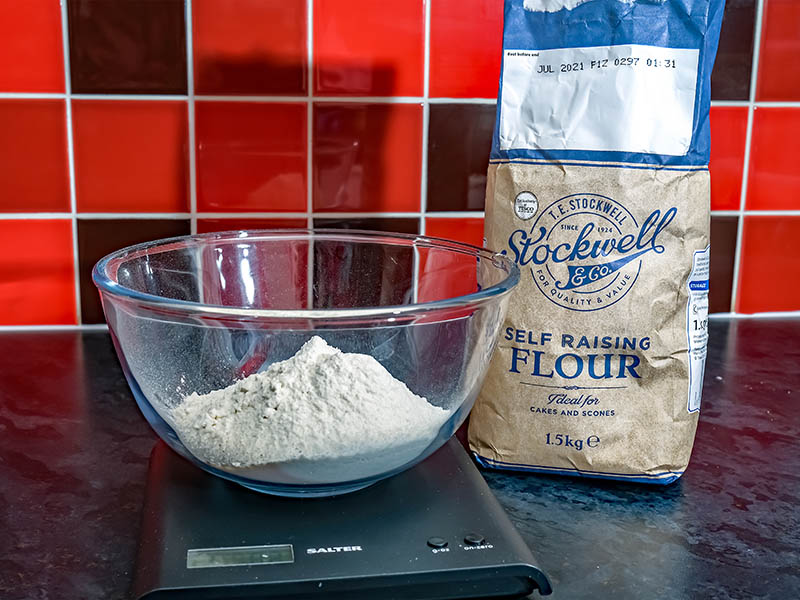 Self-raising flour is a combination of wheat flour, baking soda, and sometimes salt. Therefore, it has a use in helping the leavening of the cakes.
Is self-raising flour vegan? Absolutely yes, since its ingredients are alike with wheat flour plus some baking soda and salt, which are also none animal-related.
High-Gluten Flour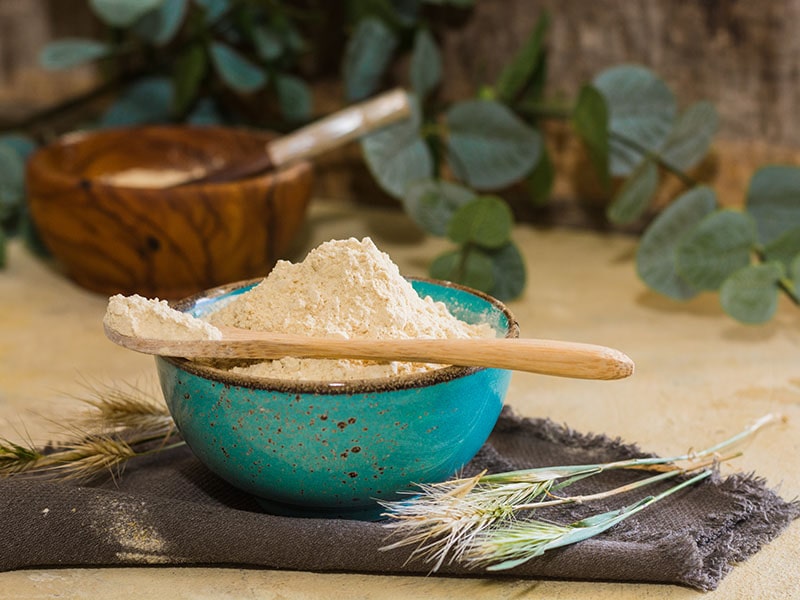 High-gluten flour is made by milling some hard wheat, which contributes to its high content of gluten (also known as protein), up to 13.5 – 14.5%. With the high content of gluten, this kind of flour is used to make cakes demanding more structure and elasticity.
Is high-gluten flour vegan? The same as other common flour, high-gluten flour is vegan due to its derivation.
Gluten-Free Flour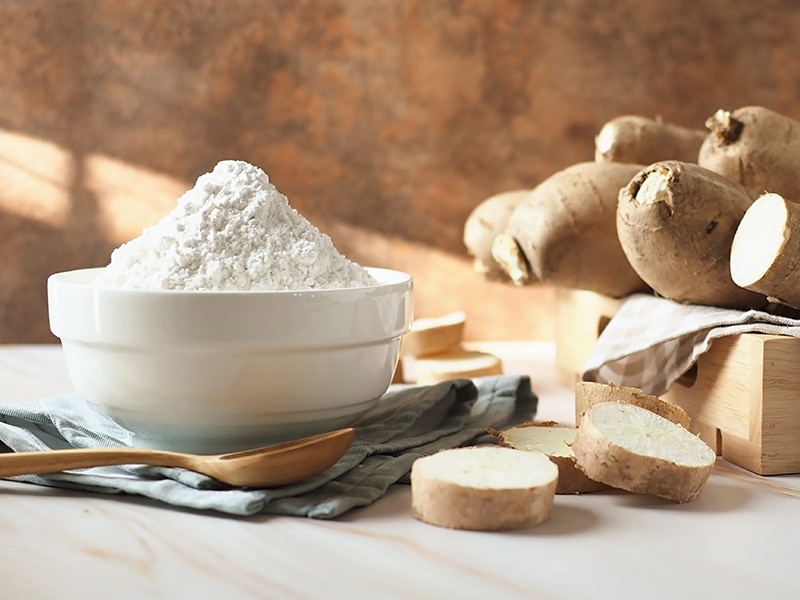 Gluten-free flour is made from other grains besides wheat, such as rice, quinoa, oat, etc. Since there are many gluten-free flours from trusted brands, people having celiac disease or wheat allergy no longer need to worry.
Is gluten-free flour vegan? Yes, it should be vegan as gluten-free flour is from plant-based ingredients such as nuts and grains.
Whole Wheat Flour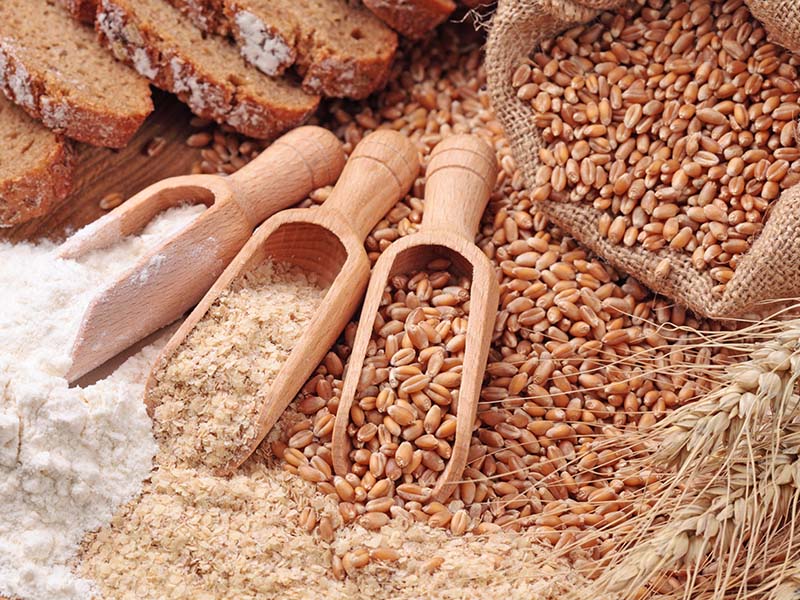 Whole wheat flour comes from all three parts of wheat, including bran, germ, and endosperm. Thus, it is one of the most nutritious foods of all. Like white flour, people use whole wheat flour for baking any kinds of cakes, from sandwiches to bread.
Besides, it is a plus for whole wheat flour because it does not go through any bleaching process, which claims to use bone char for bleached products, even without proof.
Is whole wheat flour vegan? Of course, it is vegan since it is made entirely from wheat without any vitamins or minerals addition.
Buckwheat Flour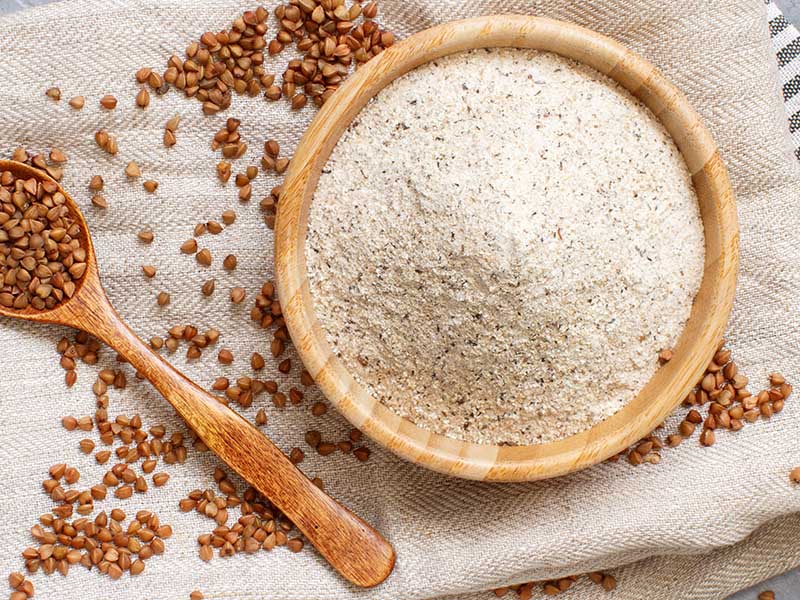 Buckwheat flour is made from buckwheat, which is full of carbohydrates and protein but low in vitamins. With its earthly taste, in baking, people use buckwheat flour mainly in making pancakes and bread.
Is buckwheat flour vegan? Like whole wheat flour, buckwheat flour is suitable for vegans by its derivation from buckwheat, which is 100% plant-based.
Barley Flour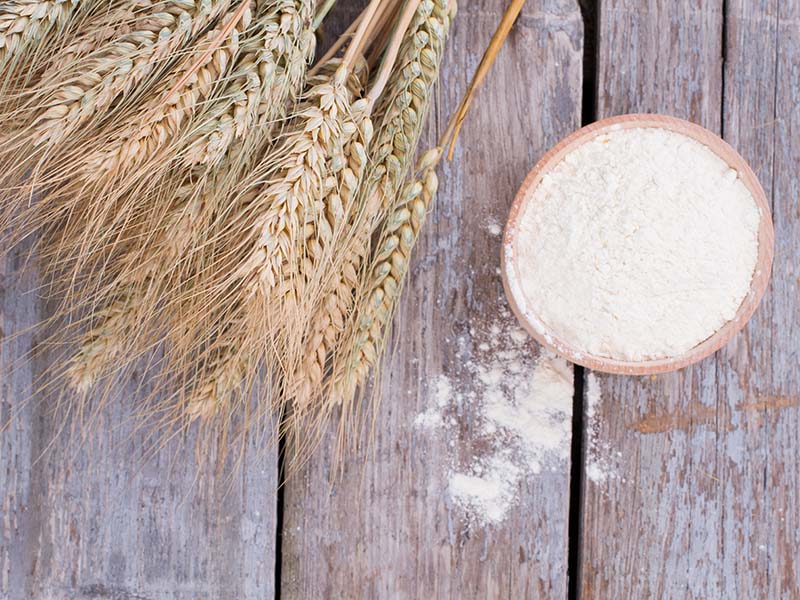 As its name suggests, barley is the ingredient used to make barley flour. Due to the high absorption capacity, chefs usually use barley flour to thicken the sauces or soups.
If using barley flour for baking cakes, the cakes will have a moisturized texture. That's why barley flour has become the main ingredient in making one of the signature dishes in German cuisine – Bauernbrot (also known as Farmers Bread).
Is barley flour vegan? Yes, it is, thanks to its origins in barley.
Almond Flour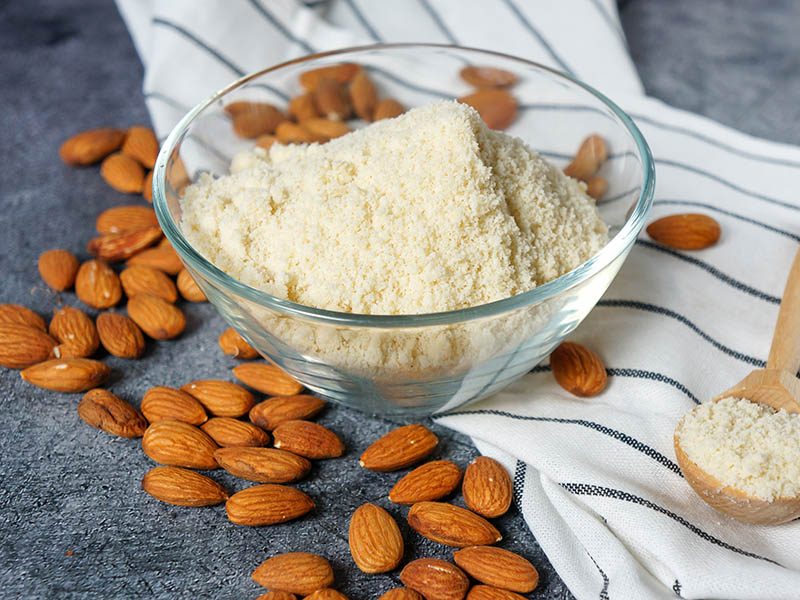 Of course, almond flour is made from ground almonds after removing the brown skins outside. With its high content of fat, using almond flour to bake goods, the result will be moist and tender cakes.
Seeking top-rated almond flour to enjoy its benefit. A big plus for almond flour is that it lacks carbohydrates and sugar while high in fiber, protein, and fat, which is suitable for people with diabetes and people losing weight.
Is almond flour vegan? Yes, it should be due to the making ingredients.
Oat Flour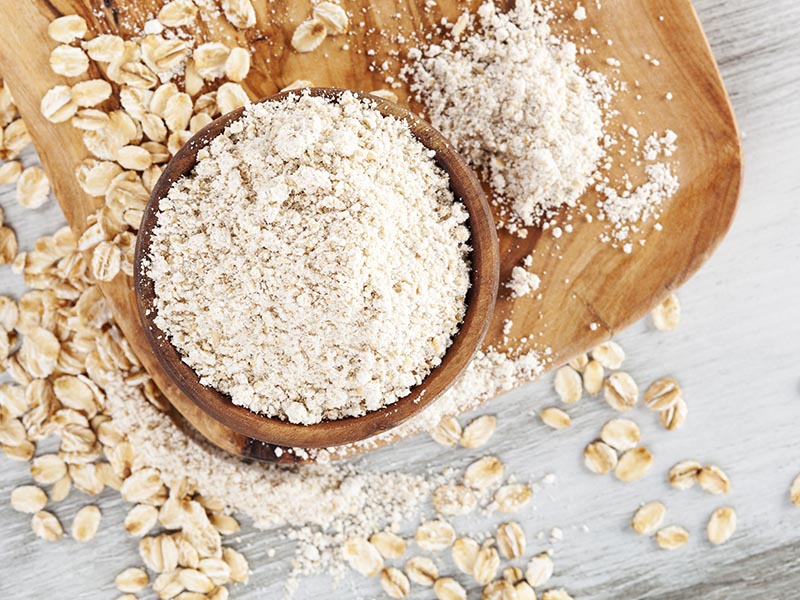 Oat flour is a whole-grain flour rich in minerals and fiber due to its derivation from rolled oat. Thanks to its natural taste, using oat flour for cooking, people will get the delicate softness and subtly nutty flavor.
Is oat flour vegan? Of course, it is since it consists mainly of oats.
Coconut Flour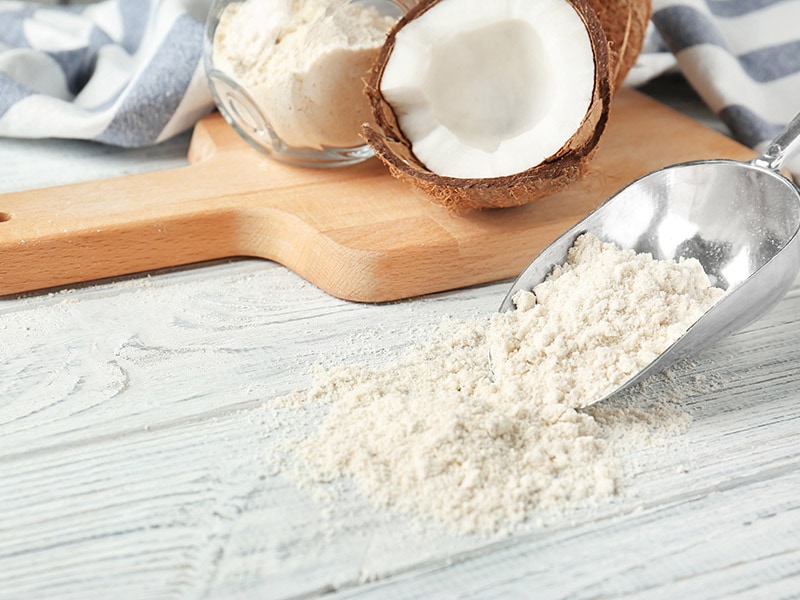 Coconut flour is a special flour produced from the coconut meat after drying and grinding for coconut milk production. With its natural properties, coconut flour is high in protein and fiber. Adding it to your diet will maintain good digestion and a healthy heart.
Is coconut flour vegan? Yes, it is vegan as being made solely from coconut meat.
Rice Flour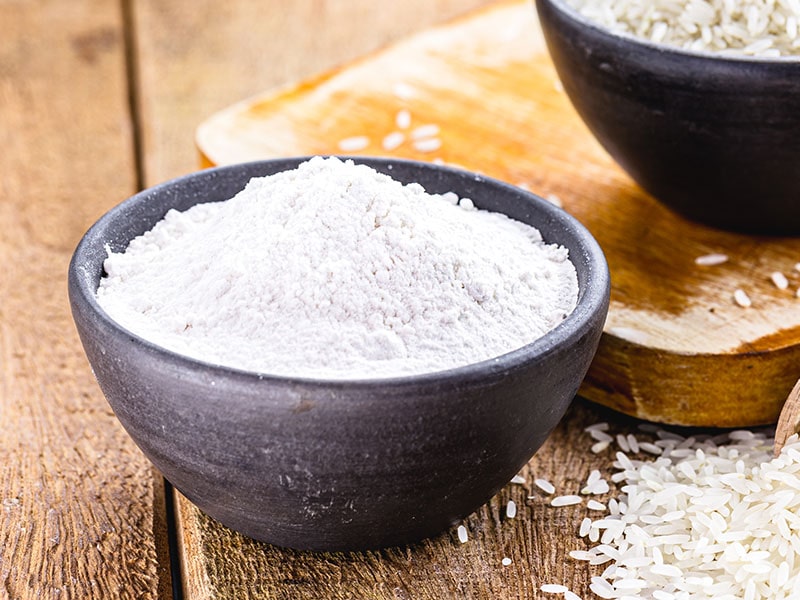 Appearing as a substitute for wheat flour, rice flour is a powder created from finely milled rice. There are two types of rice flour, including white and brown rice flour.
While many amazing dishes can be made from rice flour, brown rice flour is ideal for thickening purposes.
Is rice flour vegan? Yes, not only is it vegan, but it is also good for baking gluten-free cakes for diabetics.
Konjac Flour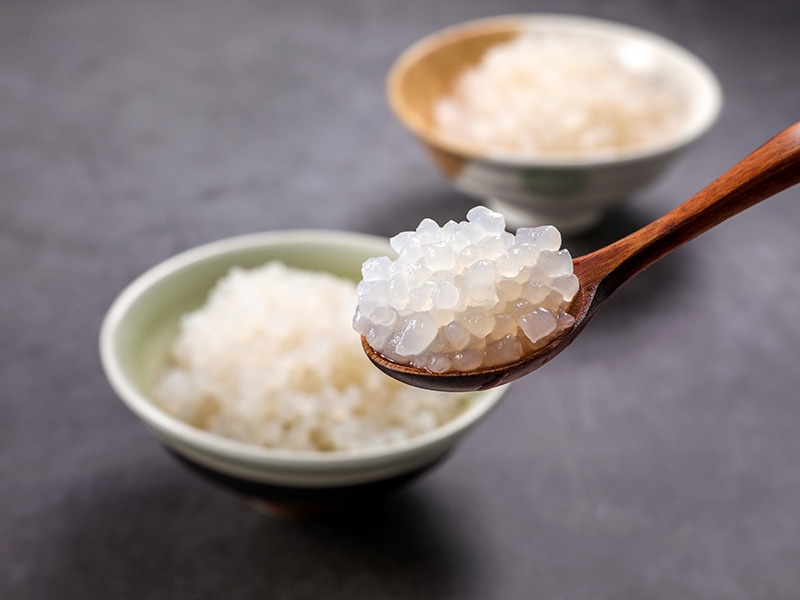 The main ingredient of konjac flour is the Amorphophallus konjac plant's corms. Therefore, konjac flour contains a lot of fiber. Often, people use konjac flour as a thickening ingredient in cooking recipes, substituting gelatin.
Is konjac flour vegan? Like other plant-based flour, konjac flour is vegan.
Sorghum Flour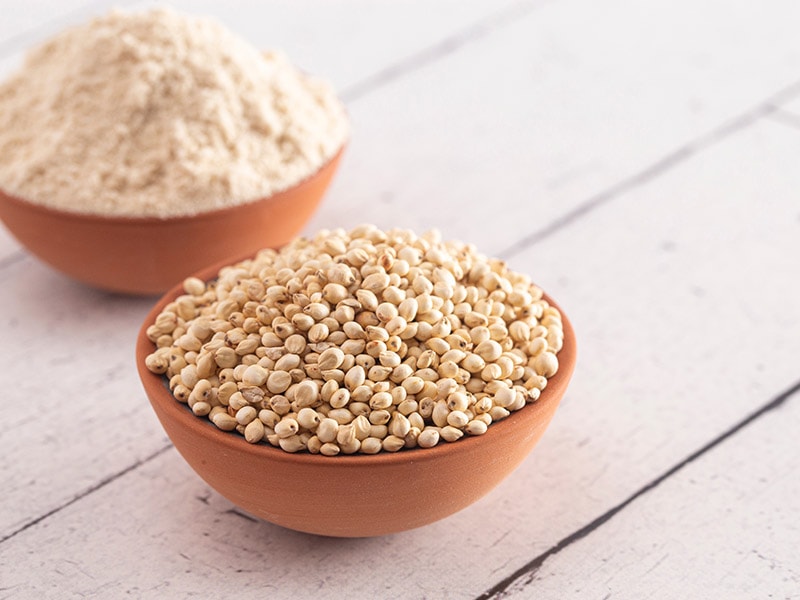 Sorghum is an ancient cereal grain, the main thing in producing sorghum flour. Due to its sweet and mild texture, sorghum flour is often used in making cookies, muffins, or brownies.
Is sorghum flour vegan? The same answer as others, yes, it is vegan.
Quinoa Flour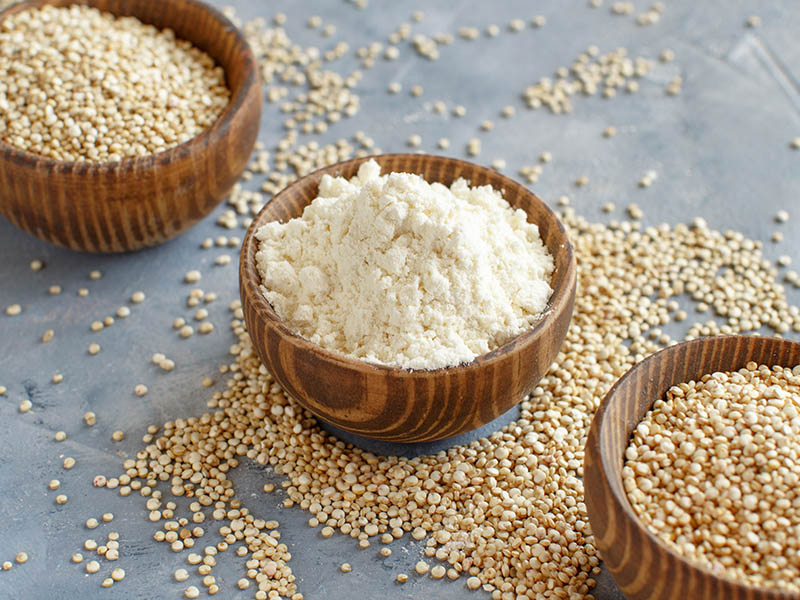 Similar to buckwheat flour, quinoa flour is a plant-based flour with high protein and fiber content. It is made of finely grinding quinoa grains, which have a creamy yellow color. Like other whole grains flour, quinoa flour, a gluten-free flour, can be used to make foods for diabetics.
Is quinoa flour vegan? Yes, it is vegan because of its plant-based source.
Chickpea Flour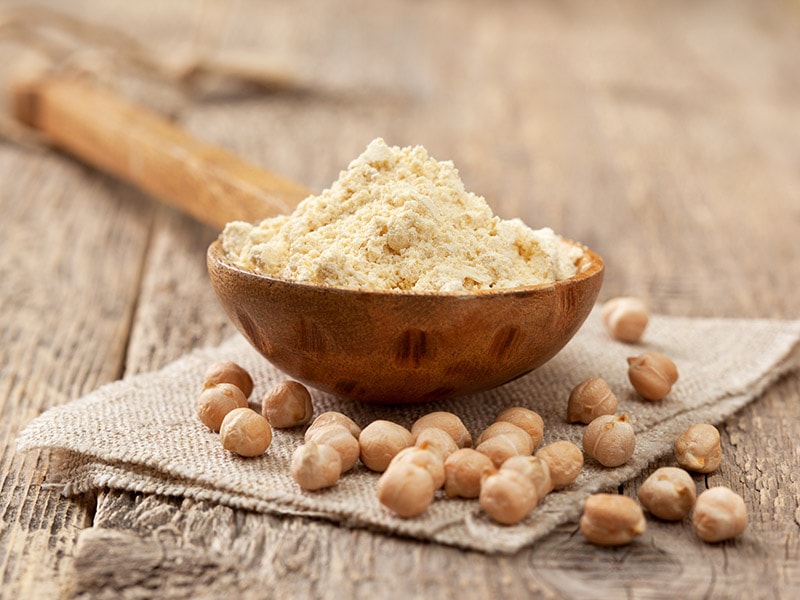 The sole source to make chickpea flour is garbanzo beans, which are known for their creamy taste and a good source of fiber. Vegans often love to use chickpea flour as an ingredient to make veggie burgers or for thickening purposes.
Is chickpea flour vegan? As vegans love to use it, there's no reason for it not to be vegan!
Cassava Flour And Tapioca Flour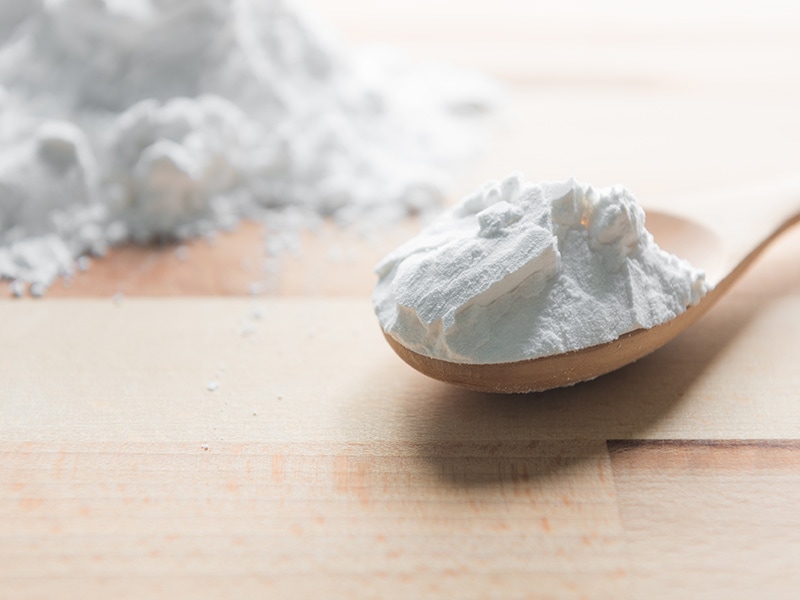 People use cassava root to make both kinds of flour. While the starchy part of the root is used to make tapioca flour, the whole root is used for making cassava flour. Mainly, chefs use both flours for thickening sauces and soups in cooking.
Are cassava flour and tapioca flour vegan? Yes, they are not only vegan but also a good source of fiber for vegans.
Durum Flour And Semolina Flour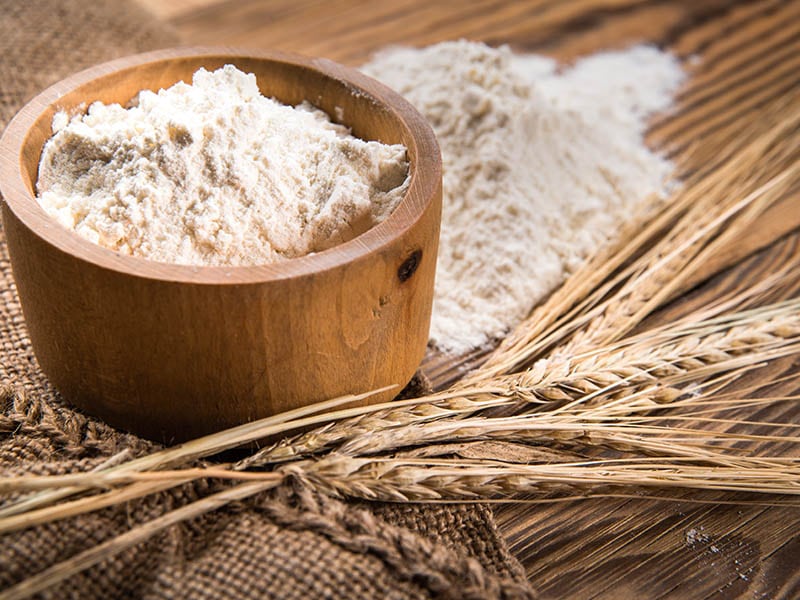 Both durum flour and semolina flour are manufactured from durum wheat. While durum flour is milled extremely finely, semolina flour has a coarse milled form. The bakers use both kinds of flour to make pasta and bread in common.
Are durum flour and semolina flour vegan? Yes, they are. Besides, they are both high in protein for your curiosity.
Potato Flour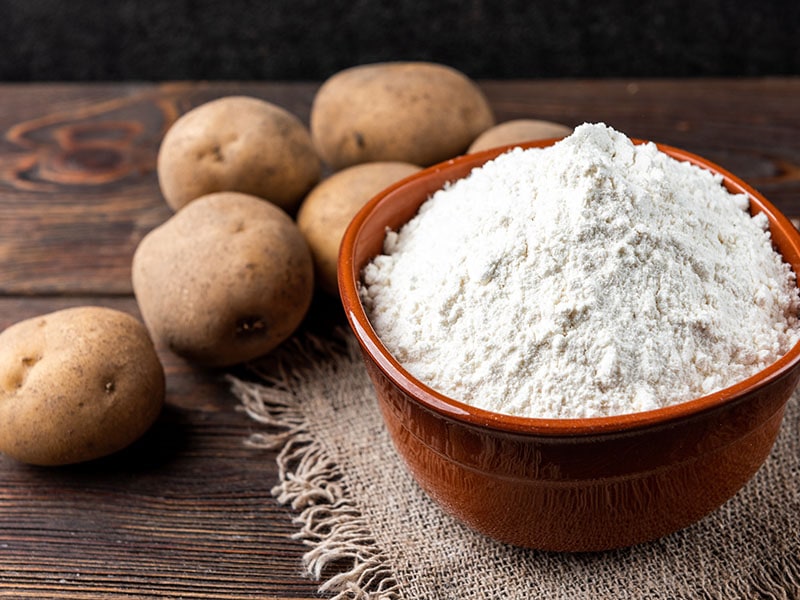 I love potato flour since it is multi-purpose and the production process of potato flour is also simple. As the name tells all, potato flour is made from cooked, dried, and ground potatoes. Known as the substitute for wheat flour, potato flour is used in many cooking recipes, but mainly for thickening soups or sauces.
Is potato flour vegan? Since it is solely from potatoes, yes, it is vegan.
Rye Flour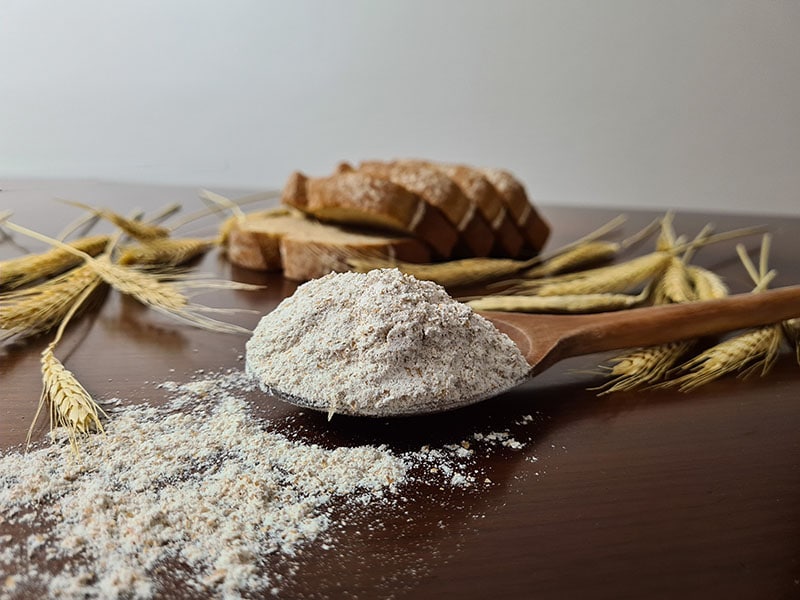 Flour mills make rye flour from whole rye kernel, a cereal grain close relative to wheat and barley. Many traditional French bread types have rye flour as the main ingredient in their recipes.
Like all-purpose flour, rye flour can be applied in all the baking recipes, but the cakes' appearance will be a little darker due to its color.
Is rye flour vegan? Sure, it is vegan due to its whole grain ingredient.
Soy Flour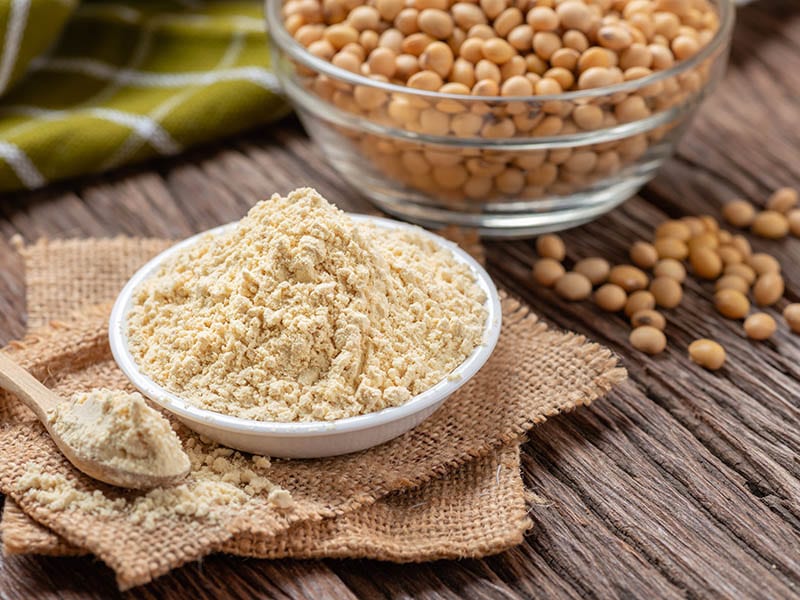 As the name says, soy flour is created from grinding soybeans. Due to its high nutrition, vegans enjoy using soy flour to cook and bake goods. Usually, it is used for making candies, doughnuts, and pies.
Is soy flour vegan? Yes, soy flour is vegan-friendly, thanks to its main source of soybeans.
Corn Flour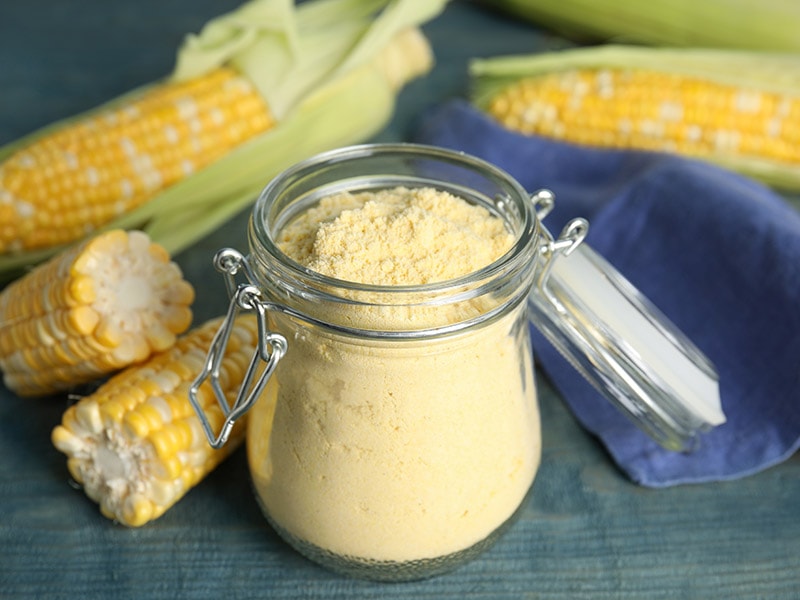 The flour factories use corn kernels to make corn flour. Due to the adhesiveness of corn flour, it is usually used for fried dishes, such as corn sticks, pancakes, and spoon bread.
Corn flour is also an excellent alternative for chickpea flour, thanks to the similarity between the texture of these two kinds of flour.
Is corn flour vegan? Of course, it is vegan as it is made mainly from corn kernels, a plant-based ingredient.
Cricket Flour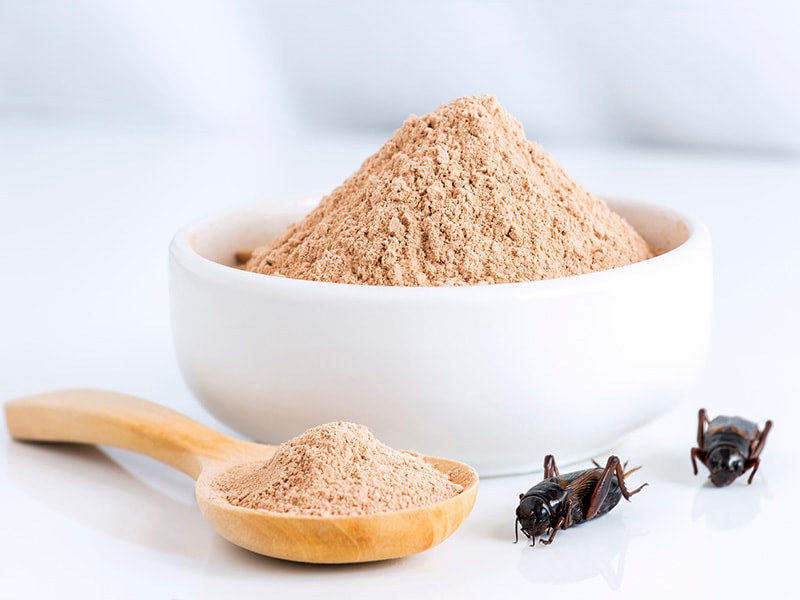 People make cricket flour from dried and ground insects, namely crickets. To non-vegans, cricket flour consists of a lot of protein content. Thus, they enjoy having it in their diet.
Is cricket flour vegan? 100% not since it is made from cricket, a kind of animal.
How To Choose The Right Flour?
Having read until now, I am sure that you now know that flour is vegan. But there are too many kinds of flour, how do you know which one to use? It's easy. Let me show you the way!
Step 1: List Out Your Purpose For Cooking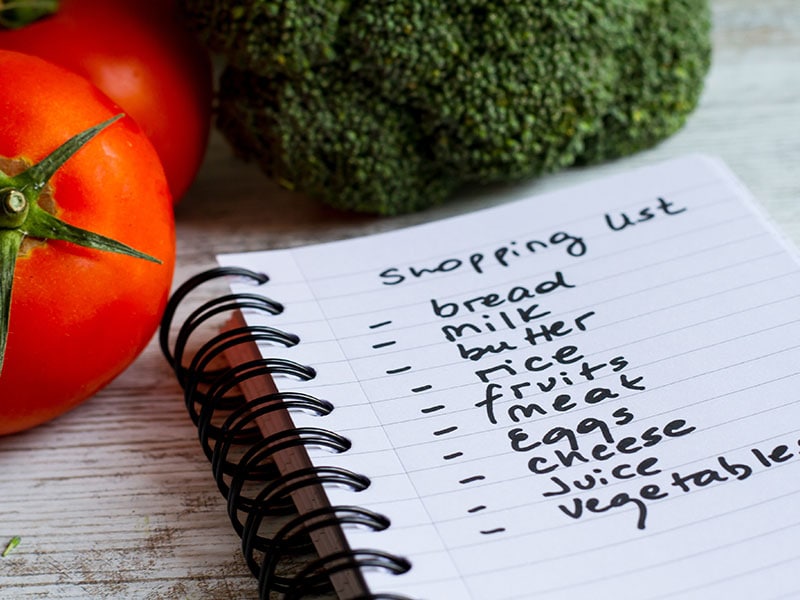 First of all, you need to identify your purpose for using flour. Whether for making bread, pasta, or anything else? What kind of texture do you want it to be? Soft or hard? And keep note down your purpose in as detail as possible.
Step 2: Choose Flour Based On The Ingredients In The Flour
After having a clear goal for your foods, now it's time for you to go shopping based on the ingredients in flour. Usually, there are two main things I consider when buying flour.
First is the protein content in the flour. Remember that the higher the protein content, the more structure and chewy, and vice versa. Therefore, based on the purpose of cooking you set in the first step, you will find the right kind of flour for your foods.
The second is the quality of the flour. In this step, I will consider many different brands of flour by looking at whether any of them has too many bad substances for health, such as preservative substances.
Eventually, after making comparisons between kinds of flour and brands, I am sure that you will find the one that fits you the most.
Gluten (Protein) can be seen and felt, thanks to science!
Can You Make Your Flour At Home?
If you still doubt vegan flour or are afraid of some additional substances in plant-making flour, you can make your flour at home with some simple steps as below.
Step 1: Choose Your Materials
Based on the kind of flour you need, you will get the raw materials for it. For instance, if you want to have wheat flour, then get some wheat berries at the shop.
Step 2: Grinding Your Flour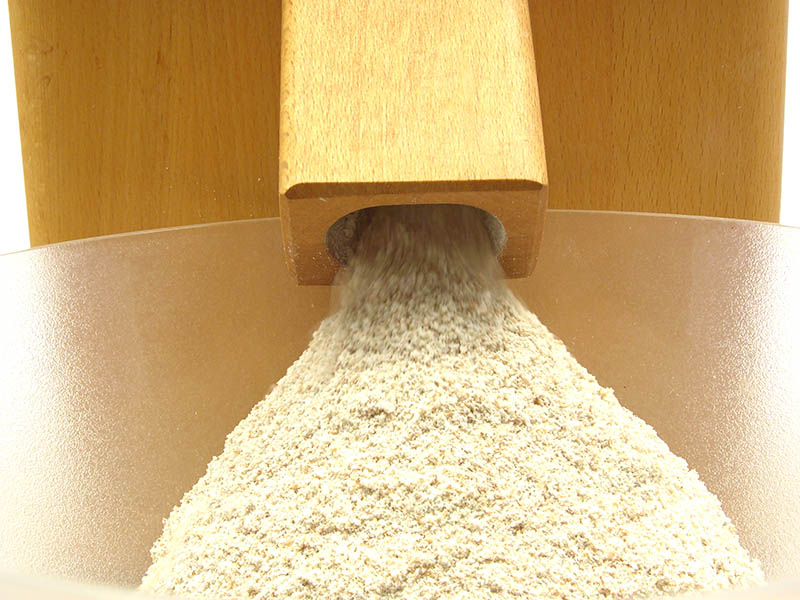 After having the raw materials, the next step is grinding since most berries you get from shops or supermarkets are clean and ready to cook. Noticeably, the longer you grind, the finest the flour will be. Therefore, according to your need, the amount of powder and time is determined.
Step 3: Use Your Flour
Well done! Now you have your fresh whole grain flour for instant use. However, due to its 100 percent whole grain, the baked goods may be denser than the one used shop-purchasing white flour.
Pro tips: To have the perfect texture of baked goods, you should put more yeast than in the recipes and let the dough rise a little longer than normal.
Make your flour at home? Why not?
Is Flour Nutritious For Vegans?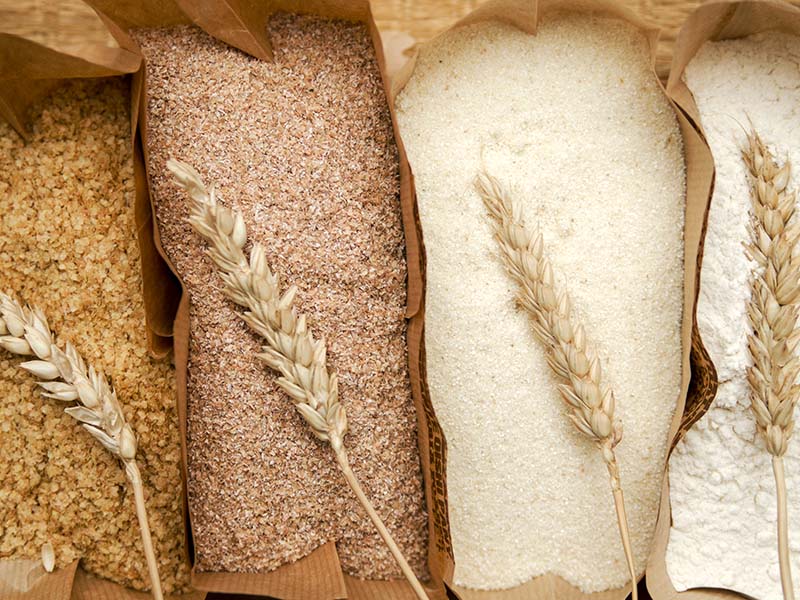 According to nutrition analysis, flour is nutritious to vegans with some daily needed components such as Fiber, Fat, Protein, and Carbohydrate. These healthiest flour can be named almond flour, whole wheat flour, cornflour, and coconut flour.
These flours contain a lot of fiber and minerals and provide a lot of protein for eaters, which vegans have eaten less than the meat-eaters. Therefore, having flour in the diets is the perfect balancing of protein for vegans.
However, not all kinds of flour are healthy. Specifically, white flour is the one causing bad health since the carbohydrates and calories in it are too high while the other healthy substances are too low.
So, if you eat white flour, try to eat it in moderation, or you can change it into some whole grain flour for more nutrients and fewer calories.
Bonus Tips For Getting Rid Of Flour Bugs
For a flour user, flour bugs are always a nightmare. That's why in the final section of this article, I am going to show you how to get rid of flour bugs in the right way.
Tip 1: Use An Airtight Container Or Jar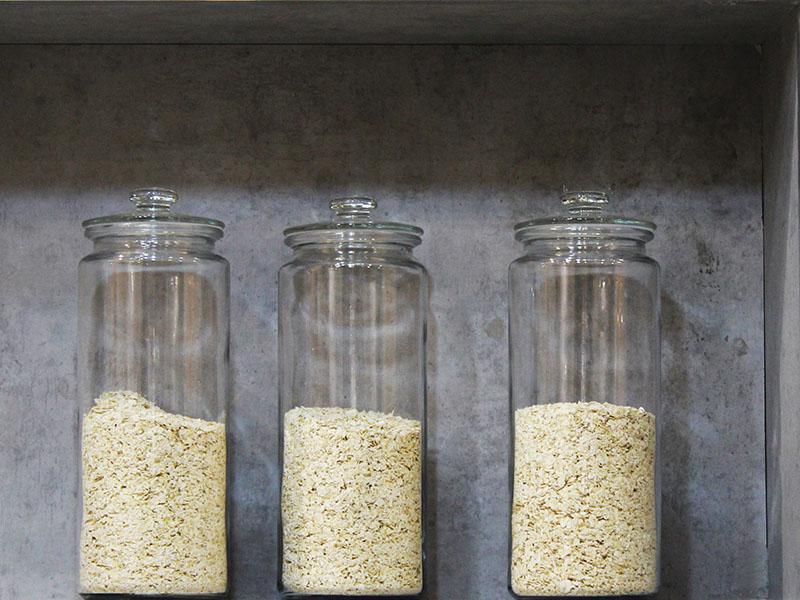 The flour bugs are tiny and love to creep into the openings of the product to get into the powder. Therefore, to prevent them from entering the flour, the flour should be stored in an airtight container or jar with a tight cover.
Note: You should divide the flour into different amounts and store it in various containers to avoid opening the cover often and creating opportunities for bugs to enter.
Tip 2: Freeze The Flour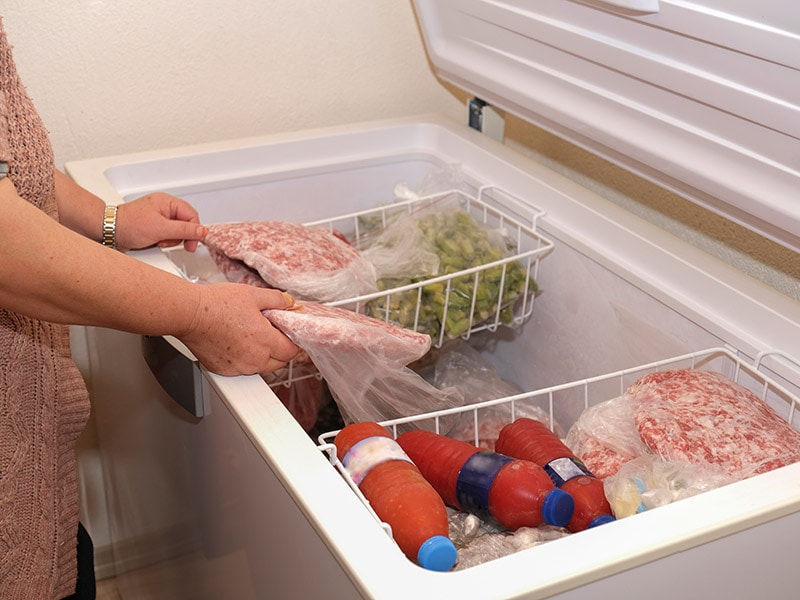 Freezing the flour not only helps longer the storage time, as mentioned early, and helps prevent it from bugs. In case your flour product has bugs, you can put it in the freezer for a few days to kill the bugs. Then, you can use the sieve to separate the bugs from the flour.
Tip 3: Use Bay Leaves, Tea Tree Oil, Or Garlic Gloves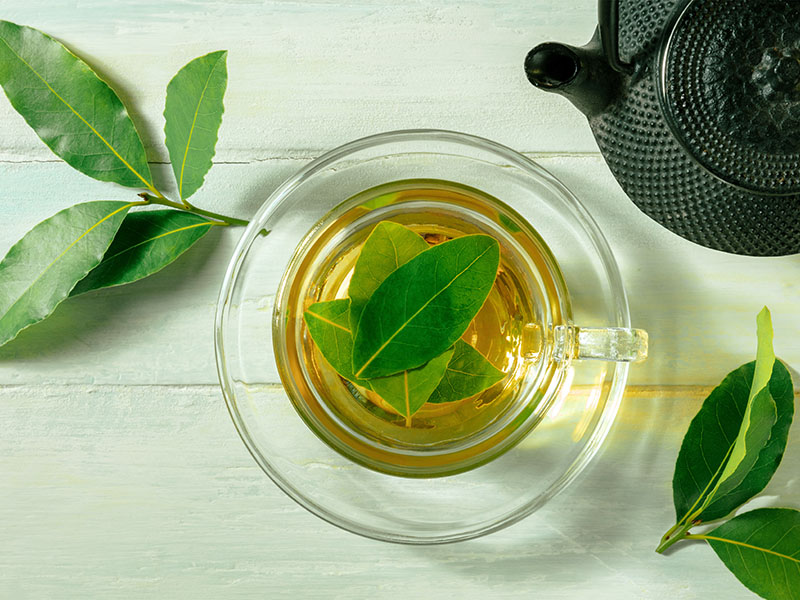 To prevent bugs, you can also use some natural flavorings, such as bay leaves, tea tree oil, or garlic gloves, to put in the storage.
Have a look if you have flour bugs in your flour!
FAQs
Find out the topic of flour interesting? For your curiosity, here are some questions people frequently ask.
Not All Flour Is Vegan, But You Can Know It!
In general, almost all types of flour are vegan and good for health. However, some types of flour are not 100% vegan as well as healthy since few manufacturers use animal-related and harmful additives, such as preservatives.
For that reason, in this article, I have generated a little useful information for you. In particular, how to look out for the animal-related ingredients, how to choose the right flour, how to make your flour, how to get rid of the flour bugs, and a few more frequent questions for your information.
I truly believe that after reading this article, you have had enough knowledge to identify the vegan flour out of the crowd and even know which is the best flour for you, too!
So, if you find the content useful, please do not hesitate to share it with your friends! Your love and support are my pleasure!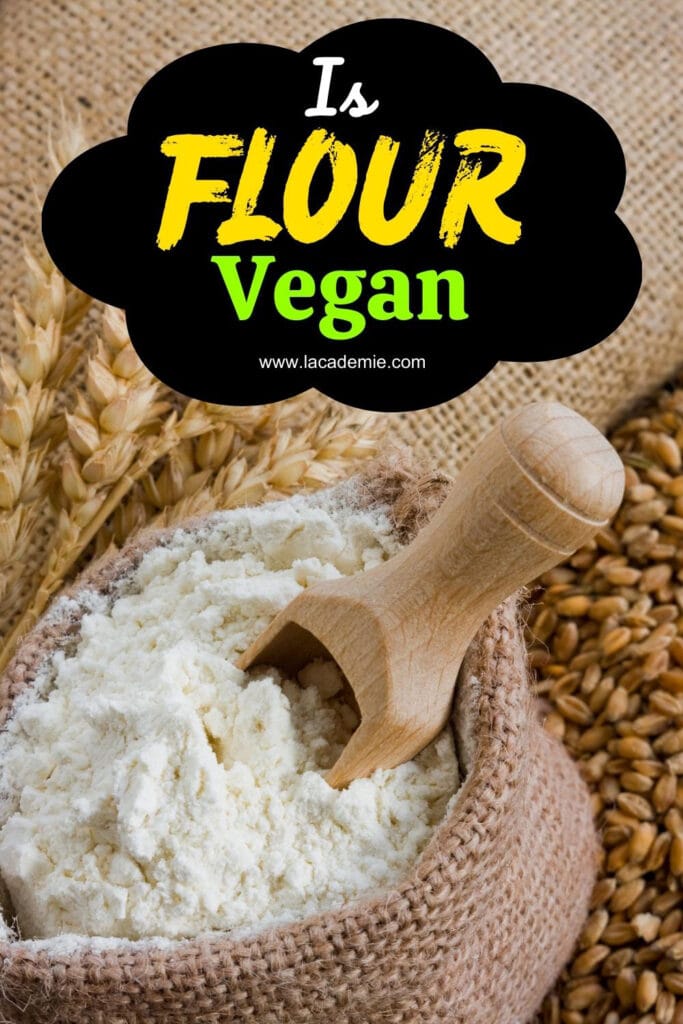 References
fabflour.co.uk. 2022. Additives – FAB.
gov.uk. 2021. Folic acid added to flour to prevent spinal conditions in babies.
npr.org. 2015. Paleo People Were Making Flour 32,000 Years Ago.