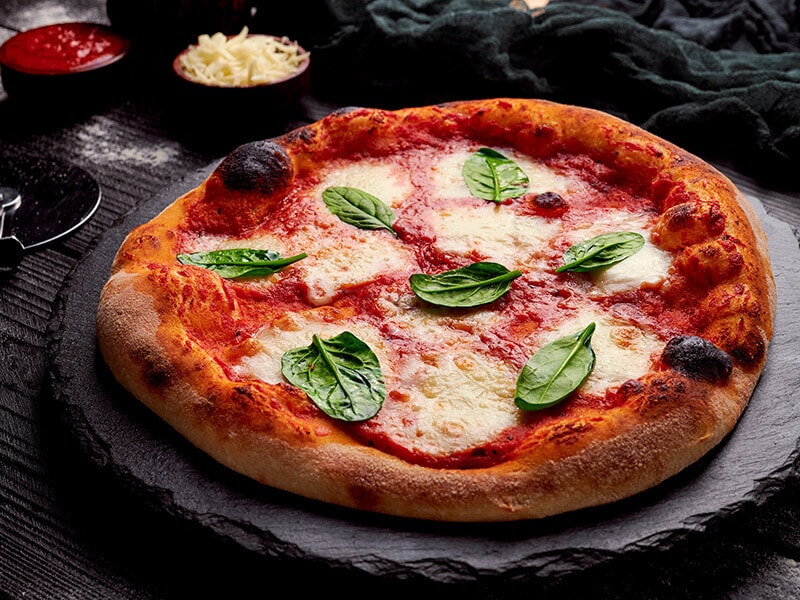 What is artisan pizza, and why does it stand out among a dozen pizzas in the mass market? There are numerous forms and styles of pizza all over the world, so how can artisan pizza be so unique?
This post will help you answer this question while discovering everything about this special pizza because artisan pizza is a culinary art that you must acknowledge and enjoy!
What Is Artisan Pizza?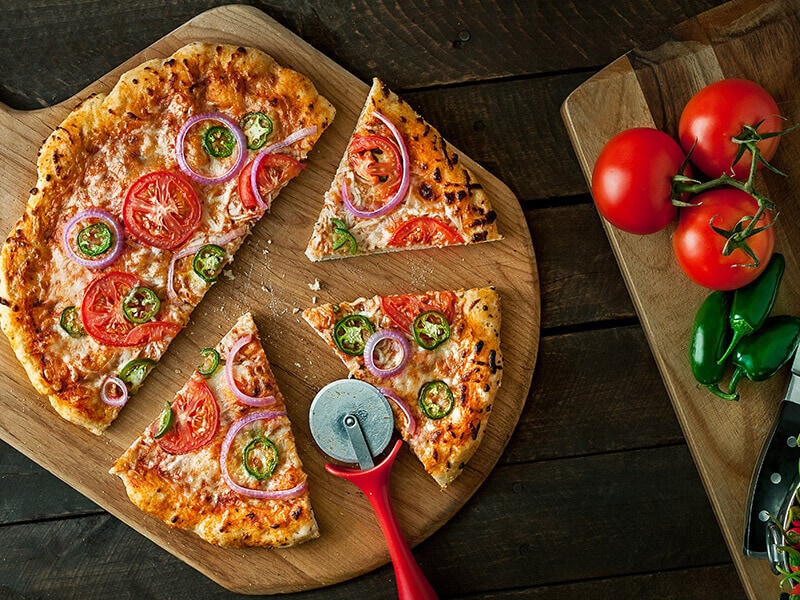 The word "artisan" means "a worker in a skilled trade, especially one that involves making things by hand." In culinary, this term refers to food prepared by hand or traditional methods with the highest-quality ingredients, without any help from machines.
So, artisan pizza is the pizza that's made fresh by the experienced chef's hand, with hands-on control of ingredients and all the care for the process and quality.
The first artisan pizzas date back to ancient times when people started inventing a flatbread filled with toppings. The official name "pizza" was first called in the Southern Italian town of Gaeta in Lazio in AD 997 and spread all over the world (1).
Artisan pizza does not indicate any specific type of pizza. The chefs can create high-quality pizza with diverse processes, unique flavors, and toppings.
Wood-fired ovens are the traditional types of ovens used for these pizzas. You can also see people use brick-and-mortar ovens. Nowadays, electric pizza ovens are among chefs' favorite choices.
Over time, pizzas are now made with machines doing most of the work, making them lose their authentic hand-made taste. Fortunately, the traditional pizza-making method is still alive, and the signature flavor is always preserved in the artisan pizzas.
Let's pass by some Pizzerias in Rome and learn how they make the scrumptious artisan pizza!
What Makes Artisan Pizza Special?
Artisan pizza is not well-known by accident. There are a thousand reasons that make this pizza so unique and artistic! Just get to know some of the special things below:
Art of Creativity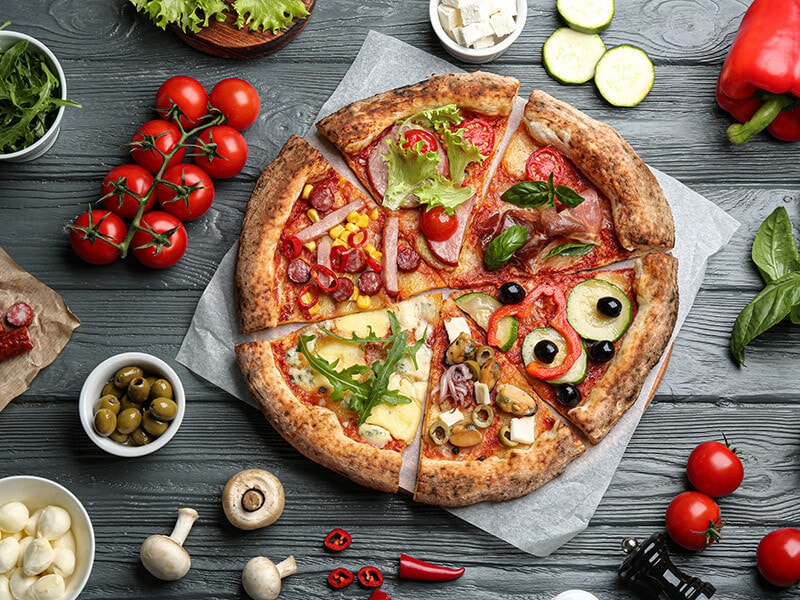 A pizza-making machine does not have imagination. It only follows the steps which people design them to do. It cannot knead the dough to the point of perfection or choose the best standard ingredients. Therefore, machines can only make so-so pizza for the mass market.
In contrast, artisan pizza chefs have all the creativity to fabricate the highest quality hand-made pizzas. Depending on their particular taste buds and culinary precepts, each artisan pizza has its own authenticity with the inescapable taste and style.
Interactive Quality Control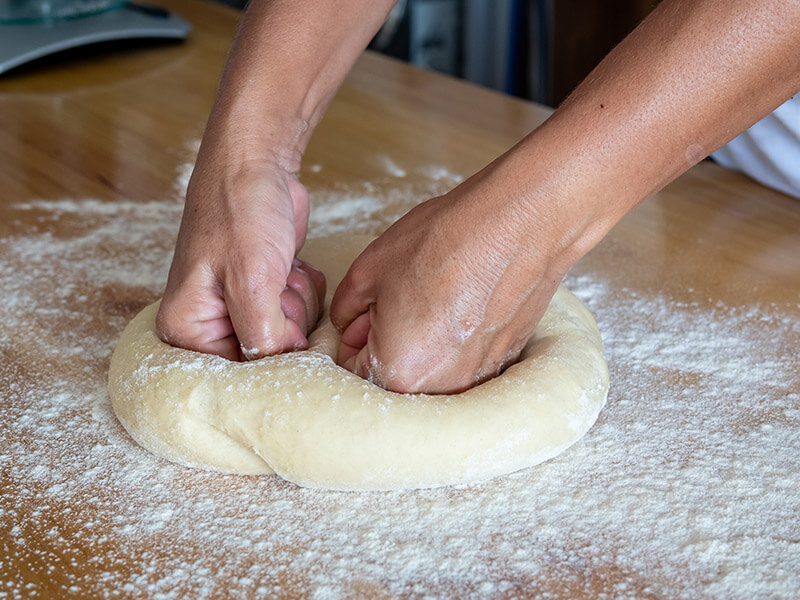 Artisan pizza dough is made thoroughly from scratch. The chefs must pick the best quality and freshest ingredients to make the quintessential pizza dough. After that, they knead the dough with hand control and calculation to reach the perfect condition.
With all this complicated control, the kneaded dough is ensured to reach an impeccable consistency. This will make up the perfect pizza ever. Besides the dough, artisan pizza chefs also carefully choose each ingredient to make toppings and sauce. Machines definitely cannot do it!
Culinary Revolution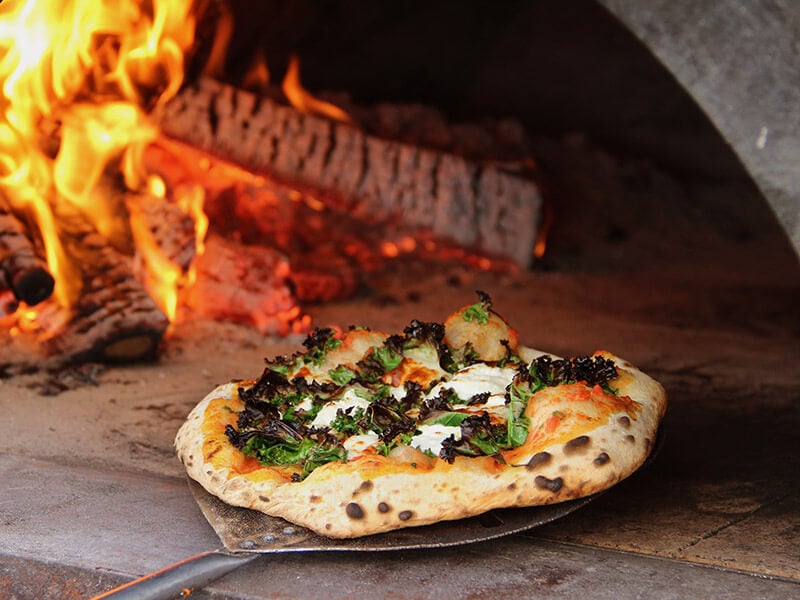 Pizza-making technology has passed through many revolutions to gain perfect achievements over the years. Not only being made by hand, but Artisan pizza also apprehends new innovative appliances and technologies to improve the pizza-making process and quality.
For example, traditional artisan chefs usually baked pizzas in wood-fired ovens before. According to the development timeline, artisan pizzas nowadays can also be made in standard pizza ovens for more convenience.
Despite all the technological developments, the traditional signature taste of artisan pizza remains intact in every bite. It just gets better every day with all the creativity of the talented chefs.
Overview Of Artisan Pizza Dough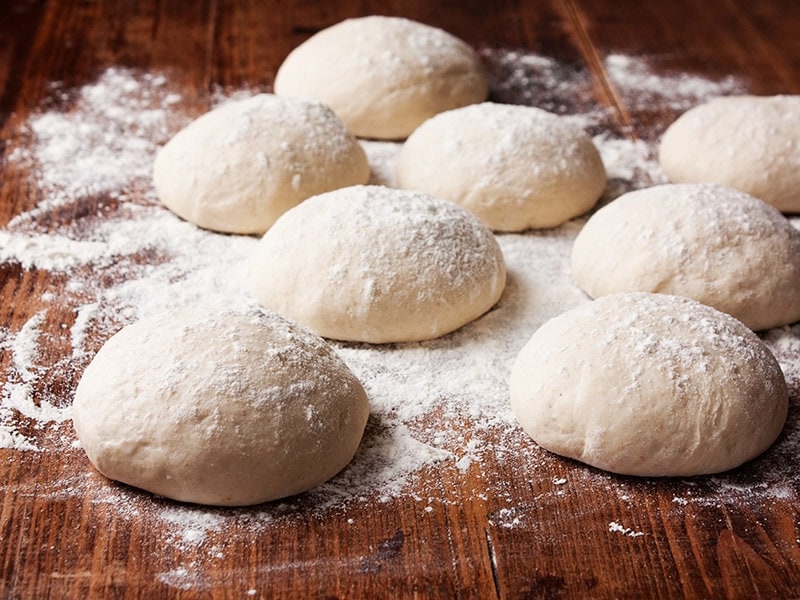 If you are a professional chef, you will know that all-purpose flour or any regular bread flour is not suitable to make the best quality pizza dough. Since artisan pizza's country is Italy, the pizza makers usually use selectively Italian flour.
Depending on the extraction rate, which is the degree to which the germ and bran separate from the flour, the chef will choose the appropriate flour to make the superb dough, and that is the must-have background to make up the superior artisan pizza crust.
What Is An Artisan Pizza Crust?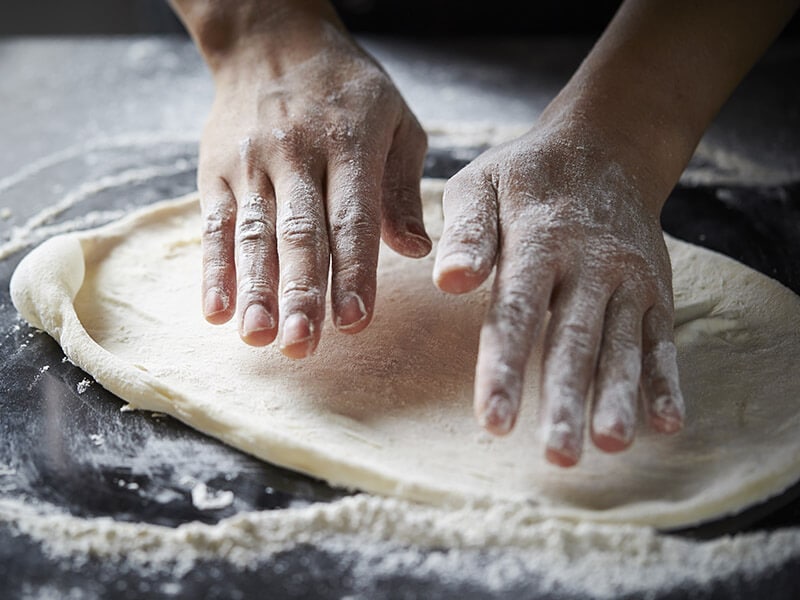 The excellent crust is the prior factor to creating an authentic artisan pizza. To make the artisan pizza crust, Italian chefs' most commonly used and favorite dough are Grade 00 and Tipo 00, which promise to bring great texture and flavor. These are the highest quality milled flour with a fine texture and white color like baby powder.
Besides, many chefs can take advantage of baking flour (usually semolina) and baking powder (usually cornmeal). This flour can improve the texture of the dough and enhance the overall flavor and aroma of artisan pizza. Then, chefs need to add salt as an indispensable ingredient for the dough.
Because, unlike a regular pizza, artisan pizza must be really scrumptious. The pizza crust must have the right consistency, which is a critical factor in creating high-grade artisan pizza.
The crust can be thick and chewy or thin and crispy at the chef's discretion. The chef's creativity is limitless with a different flour, water, and salt ratios. The flavor of the crust is amplified when baked in a fire-wood oven.
Other Ingredients And Equipment To Bake Artisan Pizza
Here are some other cooking utensils and ingredients you need to make a fantastic artisan pizza:
Toppings for An One-of-A-Kind Artisan Pizza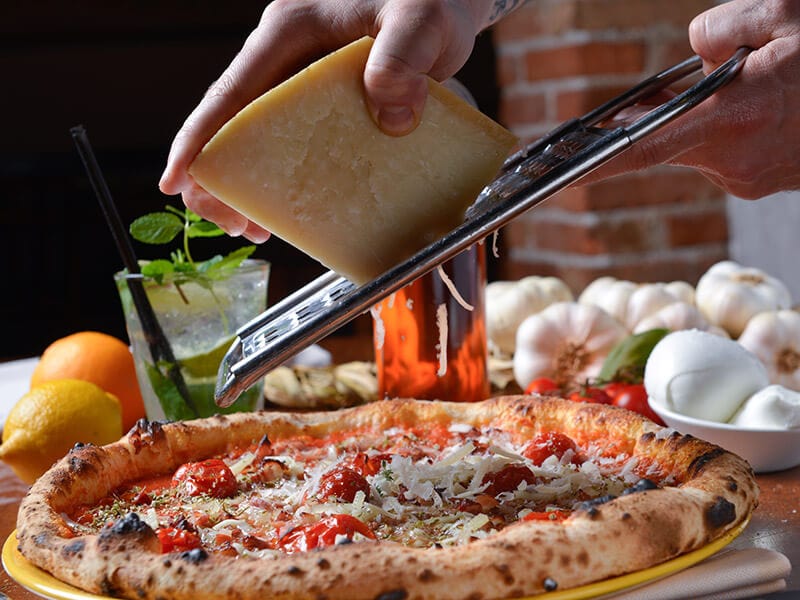 You can freely create an artisan pizza with any favorite traditional or novelty topping. It doesn't matter what they are; you need to pay attention here to choose the ingredients with the freshest quality, as this affects the overall taste of the pizza.
You will probably have to go through trials, failures, and successes to find the perfect ingredient for your artisan pizza. All are handcrafted with carefully selected layers of materials carefully arranged on the surface. Keep trying until you feel your pizza has reached the pinnacle of art and taste.
The chefs' traditional ingredients are high-quality cheese, meat, tomato sauce, red bell peppers, fresh garlic, ranch, olives, onions, and other spices or herbs as toppings to generate the unique flavor of artisan pizza.
Food Processor or Dough Mixer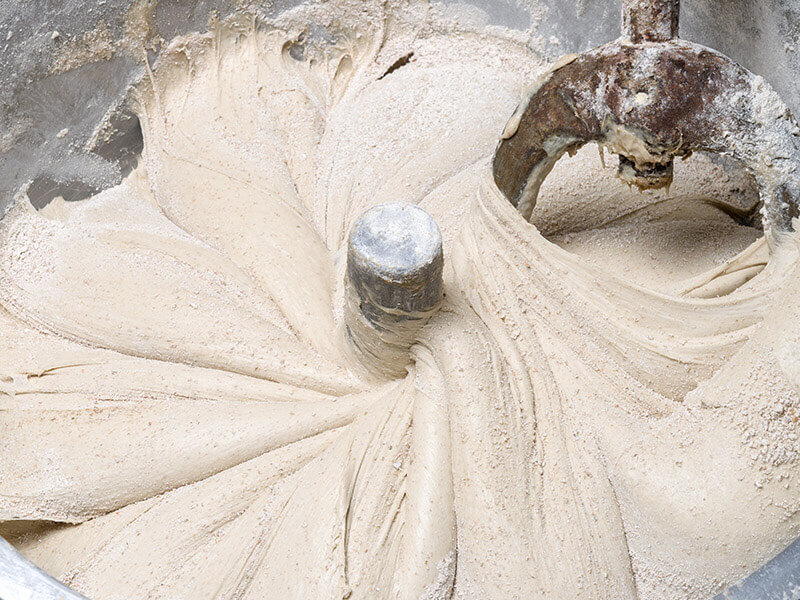 You can always mix and knead the dough by hand like an absolute pizza master. Professional chefs do that since vending machines cannot handle the type of pizza crust that each individual chef prefers.
However, kneading the dough can take quite time and effort. If you're not a professional chef, it's going to be extremely difficult. Therefore, you can always get the help of a food processor or stand mixer.
Of course, you must pay attention to how much flour and water you put in the food processor and how long you let it take to knead. To achieve the perfect dough consistency, you must monitor the kneading process closely.
Wood-fired Oven or Electric Oven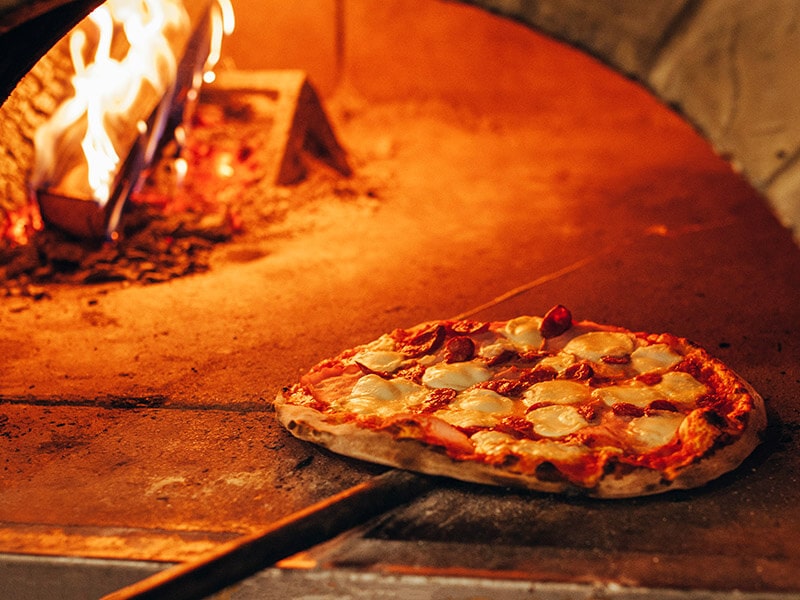 An authentic artisan pizza should be baked in a wood-fired oven. This type of tool makes the artistic taste of pizza pop like never before. Typically, artisan pizza will be baked to perfection and reach the ultimate in deliciousness at an extreme temperature of 1000 degrees F.
This temperature can only be reached in a wood-fired oven. In contrast, conventional ovens can only do this at about 550 degrees F. A good suggestion here: you can use an induction or convection oven for homemade artisan pizza since they are more powerful and cook quicker than the conventional type.
The Pizza Peel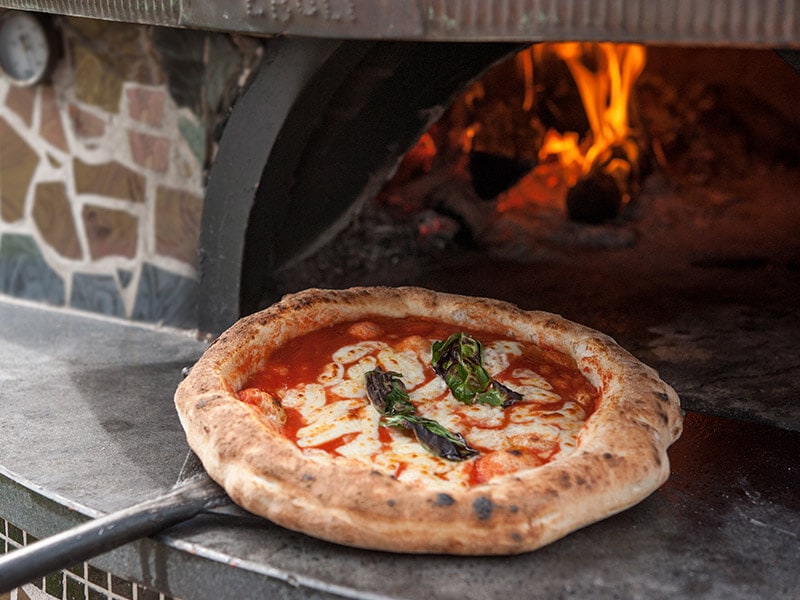 For the best result, you choose a premium pizza peel from a trustworthy brand. If you don't know, a pizza peel is a shovel used to slide the artisan pizza in and out of the oven.
Thanks to this tool, the pizza dough won't stick to the oven or other surfaces, making it easier to move the pizza and create a smooth surface.
The Pizza Stone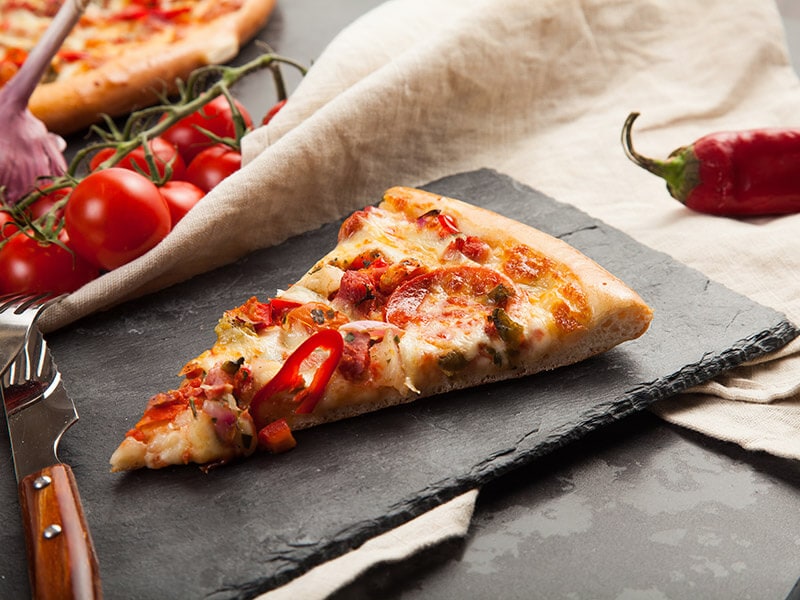 For homemade artisan pizza, an easy-to-handle pizza stone is one of the must-have items. You will heat this stone up in the standard oven before putting the pizza dough on. You can ignore this equipment if you use a wood-fired oven.
The Ultimate Making Process Of Artisan Pizza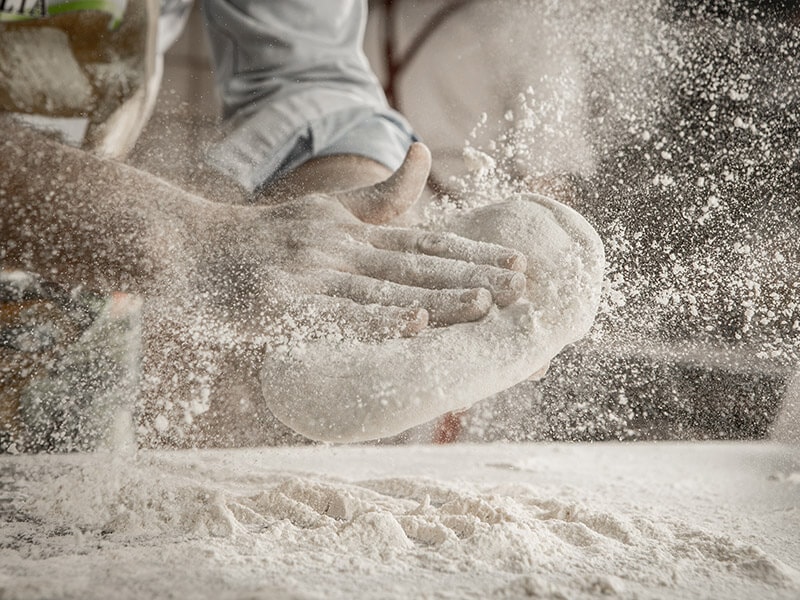 The method of making an artisan pizza is an art with the chef's talented hands. You can also do that with the simpler recipe below!
Ingredient Preparation
Before putting your hand to the work, let's prepare some simple ingredients that you can easily find in the stores:
Pizza Dough Ingredients
Pizza dough (high quality, 1 ball)
Semolina flour or cornmeal
Pizza Sauce Ingredients
You may have heard that pizza sauce and pasta sauce share some similarities. However, when you taste this secret sauce, you'll realize the gap between the two types.
Fire-roasted tomatoes (crushed, 15 oz)
Extra virgin olive oil (1 tbsp)
Garlic (1 clove)
Dried oregano (½ tbsp)
Kosher salt (½ tbsp)
Pizza Toppings Ingredients
Pizza sauce (⅓ cup)
Parmesan cheese
Mozzarella cheese (¾ cup)
Fresh basil leaves
Artisan Pizza Making Process
Let's perform the complex and laborious artisan pizza making process in the following steps:
Step 1: Knead The Dough
Knead the dough by hand until it reaches a specific consistency that satisfies the chef. Mix with salt, oil, yeast, and other spices to help it rise later.
Step 2: Preheat The Oven
Preheat the wood-fired oven to 1000F or the home oven to 500F. If you use a standard oven, preheat it with a pizza stone inside.
Step 3: Prepare The Sauce and Cheese
Make the artisan pizza sauce with garlic, olive oil, tomatoes, and other prepared spices by a blender or hand-mincing.
Prepare some cheese which can be watery fresh mozzarella cheese. Remove any additional moisture from the cheese to get the perfect texture.
Step 4: Preheat The Oven
Get ready to bake the pizza after preheating the oven. Use cornmeal or semolina flour to dust the pizza dough first. After that, gently place the artisan pizza dough onto the pizza peel (in case you use a wood-fired oven) or onto the preheated pizza stone (for standard oven).
Step 5: Add Sauce and Cheese
Use the prepared sauce to spread a thin layer over the dough. Then, use fresh minced Parmesan cheese and some pinches of salt to top your dough before baking.
Step 6: Start Baking
Carefully transfer the dough into the preheated oven by the pizza peel. Bake the pizza at 100F (wood-fired oven) or 500F (regular oven) for about 5 minutes until the crust and toppings are nicely browned.
Step 7: Add Topping
Leave the artisan pizza to cool down before adding other toppings. After that, add the best quality selective toppings such as spinach, olives, mushrooms, and more. Serve as soon as the pizza remains warm, crispy, and fresh.
Let's discover 5 excellent artisan pizza-making tips that you may never know before!
Several Fascinating Pizza Recipes To Try
There are many artisan pizza recipes you can follow. These ideas have one similar characteristic: the ingredients must be fresh and high-quality with suitable smoothness. Just refer to some excellent recipes below: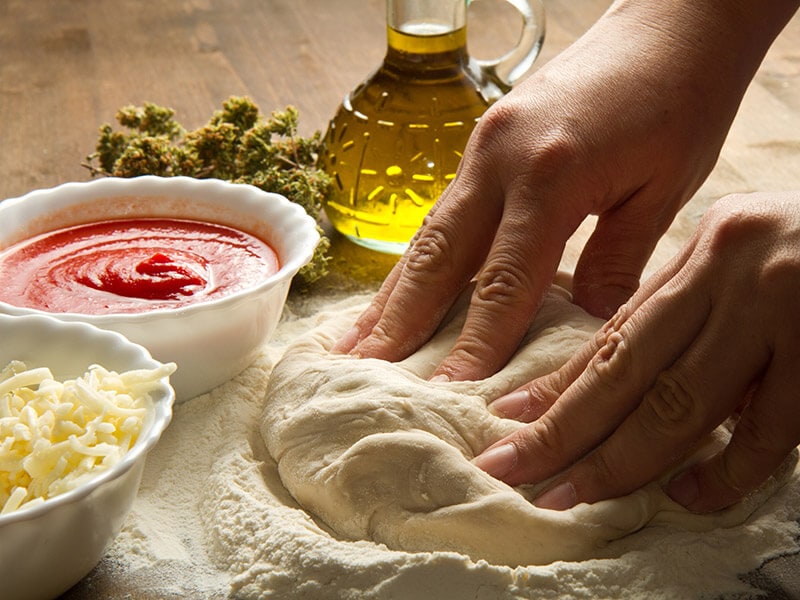 Making the dough or crust is the first thing you have to be skilled at to get the best artisan pizza. And if you make the dough properly as this recipe guide, the pizza will have a crispy bottom and bubbly crust, meanwhile in your mouth is the funny chewy feeling.
Discover the art of artisan pizza dough making by a professional chef!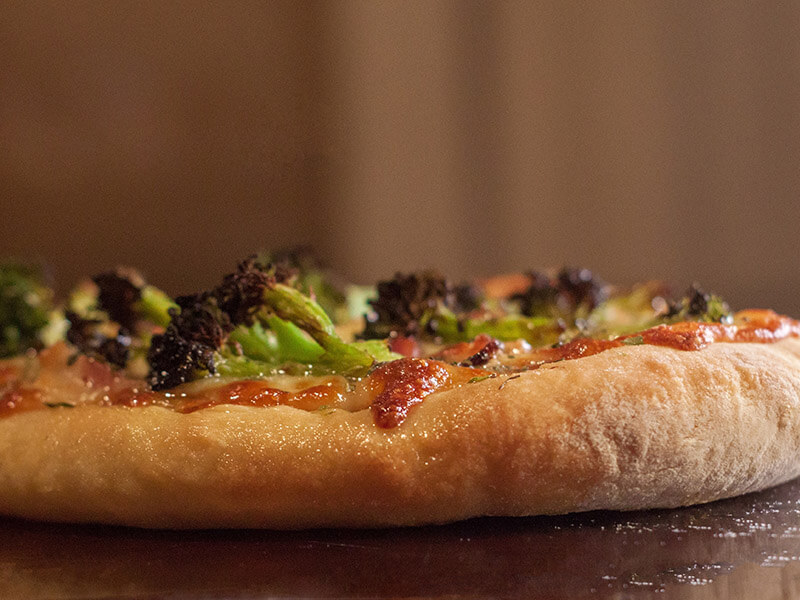 Nothing can be healthier than pairing your artisan pizza with broccoli! This is a comforting dish with simple ingredients and a baking method. The melting cheese combined with the crispy crust and crunchy broccoli will satisfy all the taste buds.
If kneading is not your forte, just discover this artisan no-knead pizza crust. With the quality flour and some yeast, this simple crust is pretty bubbly and charred on the edges after being baked. Add more favorite toppings, and your best artisan pizza is coming!
Other Attractive Ideas For Artisan Pizza
In addition to the above recipes, you can refer to many other options below. As long as there are fresh ingredients, you can use your creativity to make countless unique artisan pizzas:
Alfredo veggie pizza
Bruschetta pizza
Mashed potato pizza
Cherry tomato
Mushroom Pizza with Fresh Herbs
Olive and thyme pizza
Garlicky kale and bacon pizza
Margherita pizza
Truffle Pizza
Perfect Neapolitan Pizza Recipe
Ricotta Pizza
Learn the artisan pizza-making ideas and techniques right here!
Artisan Pizza Vs. Regular Pizza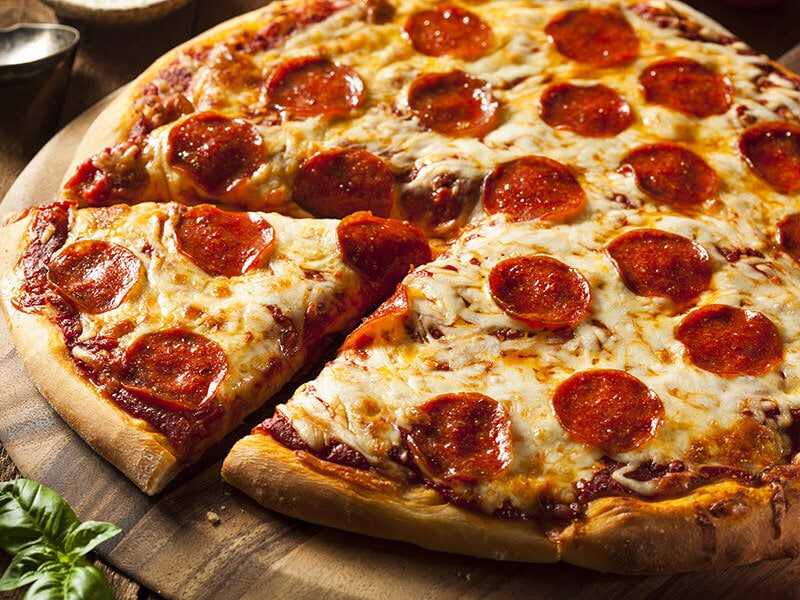 What is the difference between artisan pizza and regular pizza? Are they really that unequal in quality? Find out in the table below!
| Comparison Factors | Artisan Pizza | Regular Pizza |
| --- | --- | --- |
| Customer's Access Level | Low | High |
| Ingredients | Fresh and high-grade | Standard quality |
| Making Process | Manual | Machine-made |
| Baking Equipment | Wood-fired oven | Standard oven |
| Price | High | Affordable |
| Where to Find | High-grade restaurants | Most conventional restaurants |
Ingredients And Making Process
Artisan pizza must contain high-grade ingredients, from dough to toppings. Unlike regular pizza, artisan pizza is made entirely with human hands, without any help from pizza-making machines. It shall be baked in the wood-fired oven for the best quality.
On the other hand, regular pizza is made mostly by machines through pizza-making machines, with standard quality ingredients and hardly cares about appearance.
The Price
However, most people still prefer the regular pizza to oven artisan pizza. The reason for this limitation is the high prices of artisanal pizza. Of course, the price must be increased due to the high-quality ingredients and the making process.
Therefore, artisan pizza is not served in any next-door restaurant which everyone can afford. This is a downside that makes artisan pizza much less popular compared with regular, affordable pizza.
Main Customer Target
Moreover, as said many times above, artisan pizza is an art, not just a dish. It was uniquely created with a big ego and chef's style to form a perfect piece of art for the professionals.
For that reason, artisan pizza gradually became hard to reach with the masses because this kind of pizza was simply not made just to satisfy customers' appetites or to serve mass tastes. This is also a significant limitation for the development of artisan pizza.
But no matter what, no one can deny the popularity of artisan pizza and the good things it has contributed to world cuisine from time immemorial. Everyone now can enjoy the full flavor of artisan pizza as long as you choose the right restaurants.
Differences Between Artisan Pizza And Neapolitan Pizza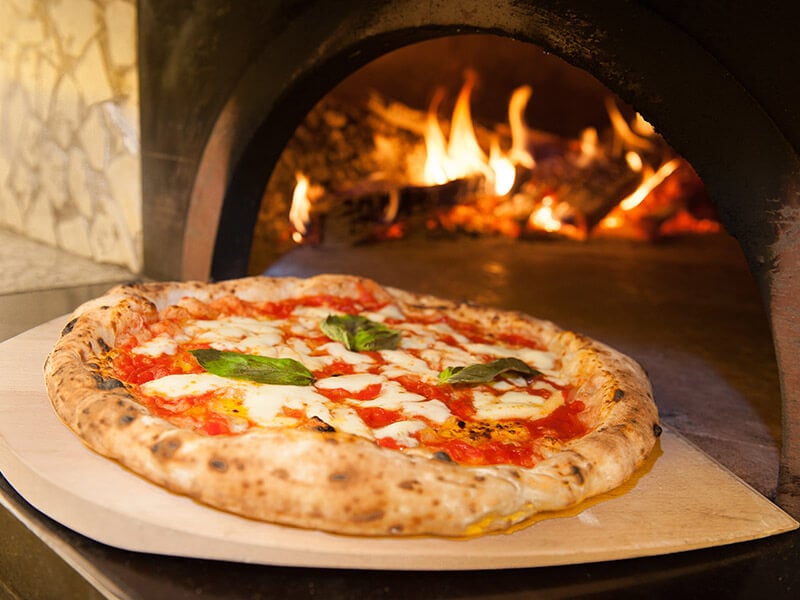 How about the famous Neapolitan pizza? How different is it compared to artisan pizza? Take a look at the information below:
| Comparison Factors | Artisan Pizza | Neapolitan Pizza |
| --- | --- | --- |
| Size | Traditional size | Personal size (10 to 12") |
| Origin | The Southern Italian town of Gaeta in Lazio | Naples, Italy |
| Making Method | Manual (with machine help if needed) | Manual (without any machine or equipment help) |
| Toppings | Freely chosen with fresh and high quality | The specific type of tomato, mozzarella cheese, fresh basil, and extra-virgin olive oil |
| Crust | Grade 00 and Tipo 00 milled flour, water, and salt | Italian type 0 or 00 wheat flour, yeast (Neapolitan or brewer), water, salt |
| Baking Temperature | Around 500F - 1000F | 800F - 900F |
| Texture | Puppy middle, crispy edge, crackly, chewy, pillowy soft, blistered bubbles | Bubble up, charred in spots and soft, wet, and soggy middle (baked with fresh ingredients) |
The Origin
Neapolitan pizza originated in Naples, Italy. The art of Neapolitan pizza makes it sit on UNESCO's list of intangible cultural heritage. It is also certified as a Traditional Speciality Guaranteed product in the EU and UK (2).
The Making Method
You can say that Neapolitan pizza is one kind of artisan pizza. Made all by hand from the all-natural and freshest ingredients, this type of pizza is exactly a high-grade product. The chef must knead the dough by hand, without any help from a machine or even just a rolling pin.
The Toppings
Any ingredients and toppings are suitable for artisan pizza as long as they are fresh and high-quality. But the Neapolitan pizza must only use raw pureed San Marzano tomatoes, mozzarella cheese made of cow milk or water buffalo milk, fresh basil, and extra-virgin olive oil.
The Crust
Besides, an authentic Neapolitan pizza is defined with quality crust. The chef must choose the highest refined quality dough, such as Italian type 0 or 00 wheat flour. The yeast added must be a Neapolitan or fresh brewer, with freshwater and salt.
The Baking Temperature
Similar to artisan pizza, Neapolitan pizzas should be baked quickly (just about 90 seconds) in the wood-fired oven at extremely high temperatures around 800 – 900F.
The Texture and Size
The texture of Neapolitan pizza is bubbled up and charred in spots. This special pizza is characterized by a soft, wet, and soggy middle with more sauce than cheese.
The Size
Due to the soft and wet texture, Neapolitan pizza is not suitable to be served by the slice, and they are usually made in the size of a personal pizza (10 to 12").
Which Health Benefits Can Artisan Pizza Bring You?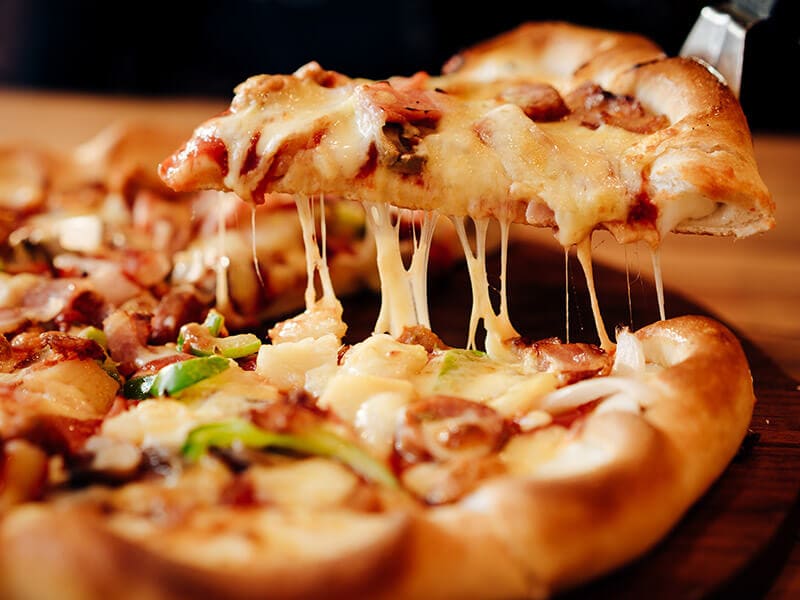 Artisan pizza not only tastes better but also better for your health. The topping options consist of healthy vegetables, meats, cheeses, and more.
Because of the higher quality ingredients and healthy toppings, you can be sure that consuming artisan pizza can provide you with nutrition and vitamins, unlike the usual pizza with all the calories and fat.
Furthermore, artisan pizza is baked in a wood-fired oven, which naturally preserves all the healthier nutrients, vitamins, and antioxidants.
The reason is with a wood-fired oven, and your pizza can be cooked faster than the standard oven due to the high temperature. This helps prevent the artisan pizza's nutritional value from being reduced.
FAQs
Let's discover some helpful information about artisan pizza in this Q&A section with me!
I am pretty sure that now you are aware of artisan pizza – culinary art in the food world. You also know how to make your own artisan pizza with a unique flavor. All the fresh ingredients will make up the best tasty artisan pizza.
If you ever try to make this state of the art, do not hesitate to share with me your experience in the comment section! And if you find this post helpful, please share the artisan pizza culture for everyone around to find out!
References
En.wikipedia.org. 2021. History of pizza – Wikipedia.
En.wikipedia.org. 2021. Neapolitan pizza – Wikipedia.