If you don't know the exact answer to the question "Is brown rice gluten-free?", don't worry, I will answer this inquiry for you in this guidance! What's more, I promise you will benefit a lot from this article.
You may notice that some people refuse to cook brown rice in daily meals but many others are eating it frequently because brown rice is believed to be beneficial for the human heart. But do you know that some people have to eat gluten-free because of their fatal diseases?
In the end, you will walk out of this article with helpful knowledge to renew repetitive and unhealthy meals into refreshing and nutritious dishes for your own diet and beloved family. Ready to improve your life and health quality? Let's get started!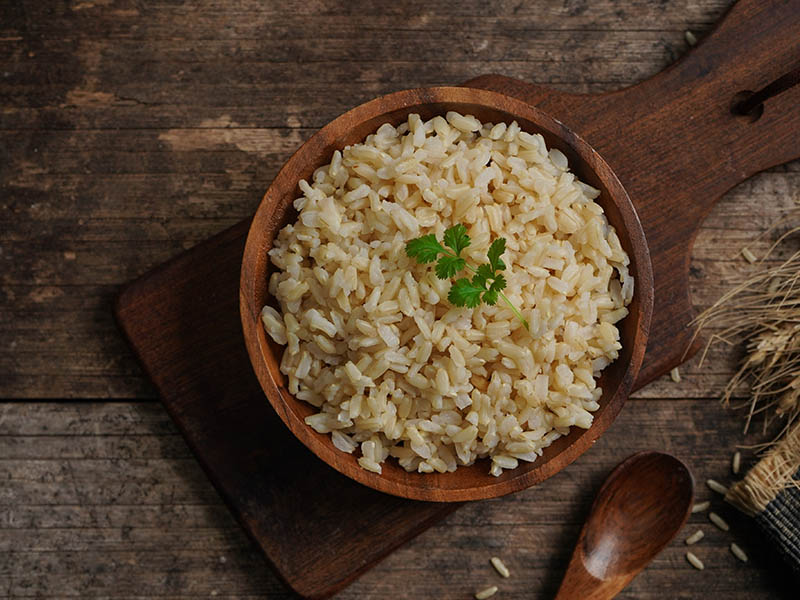 Getting To Know Brown Rice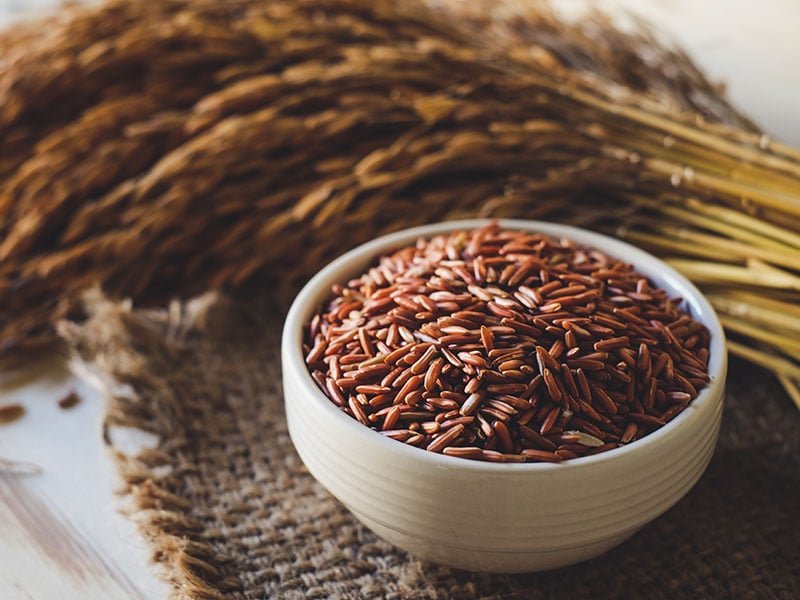 From the appearance, you can notice the unique brown color of this rice. The reason is that after the inedible hull is removed, the bran and germ still remain which results in the natural "brown" color of this rice.
Normally, you can store brown rice for 6 months, and even longer if the rice is kept in the refrigerator. Besides, while the U.S has many famous brands that produce brown rice, you can also go to Filipino, Indian or Indonesian markets to try Asian brown rice.
What's more, the "brown" color of brown rice can tell many things more about the nutrients and the difference between brown rice and white rice. Therefore, let's jump to the next sections to find out what is waiting for you to discover!
What Is Gluten? Is Brown Rice Gluten-Free?
I believe that you already know something about gluten and gluten-free eating, however, it's never a bad idea to learn more knowledge while reading this article. Therefore, I dedicate a whole section to correcting any misconception you may have about gluten and gluten-free.
Gluten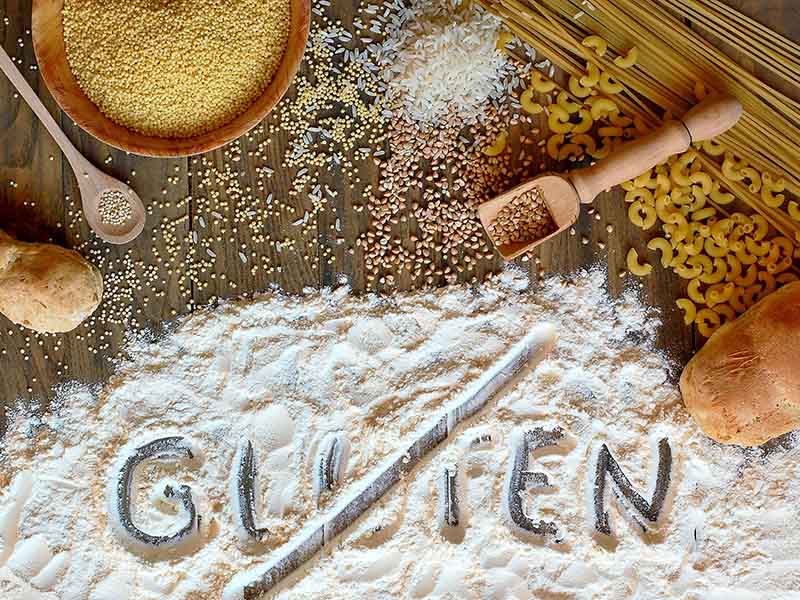 Gluten is a structural protein that is made up of glutenins and gliadins. You can find gluten in many food and ingredients, especially grains such as wheat, barley, and rye. In fact, gluten is the factor that creates the "chewy" and "stretchy" quality of food that we eat every day.
Is Brown Rice Gluten-Free, And If Yes, How Can It Be Beneficial For You?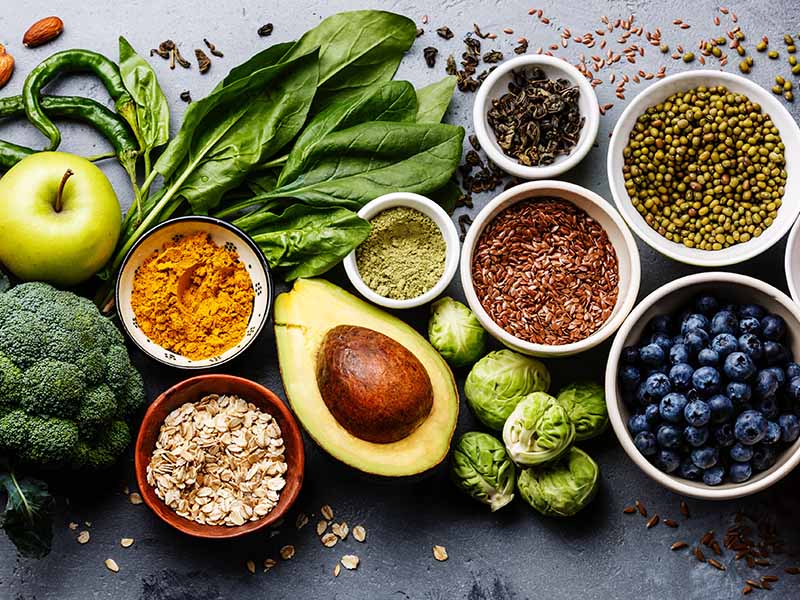 And, is brown rice gluten-free? The answer is yes. All types of rice – from white rice, brown rice to red rice, and so on – are naturally gluten-free! In reality, many people suffer from a disease that is related to gluten protein and they have to go gluten-free for their entire life.
On the other hand, while a gluten-free diet also has some benefits for normal people, it's not recommended to avoid gluten if you don't have any disease such as wheat allergy, celiac disease, gluten sensitivity, etc.
If you decide to replace gluten-containing food with vegetables and more green diets, it can benefit your health and well-being. However, my advice is that you should consult your doctor before committing to any new dietary choice.
Be Aware Of Cross-Contamination!
If you want to eat gluten-free, it's a must to know about the cross-contamination from food to food, especially with brown rice. In the process of producing brown rice, bacteria can be transferred from one type of whole grain to another.
Therefore, there are chances that originally gluten-free brown rice can also contain gluten after being harvested, transported, and milled. In addition, even though your chosen brown rice is already confirmed to be gluten-free, cross-contamination can still happen in your own kitchen.
Cross-contamination maybe happens when your rice comes into touch with other gluten-containing food in the kitchen. For example, it can happen while you are cooking, when you store brown rice with other ingredients, or when you enjoy dinner with family members.
The best advice is that you should have separate spaces and storage in the kitchen that are dedicated only to gluten-free food. In addition, you should try to avoid exchanging foods with others while eating together.
Instructions On How To Choose Gluten-Free Brown Rice
You are confused and don't know how to differentiate between cross-contaminated and truly gluten-free brown rice? Don't worry at all, I'm here to help you!
Mind The Labels!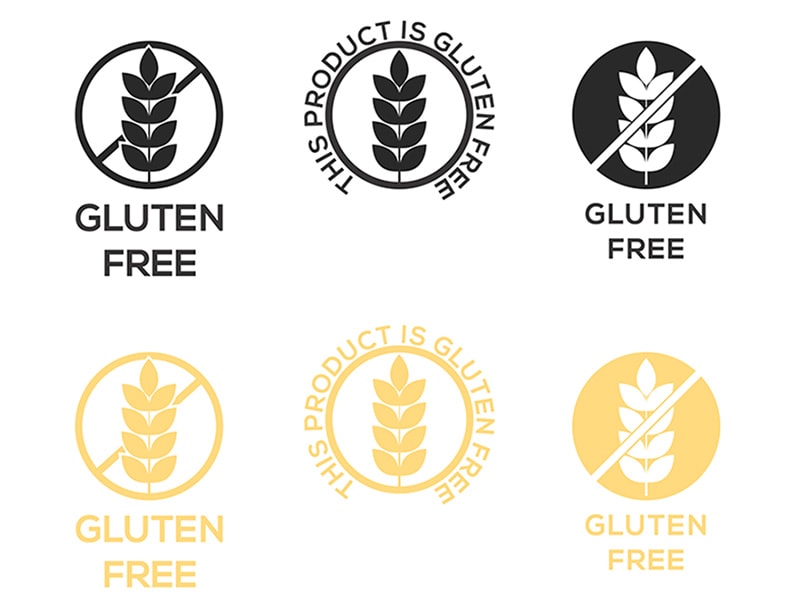 The first thing you should do is carefully search for the "gluten-free" label on the products. You should avoid any brown rice package that doesn't have clear origin information.
Be Cautious At Grocery Store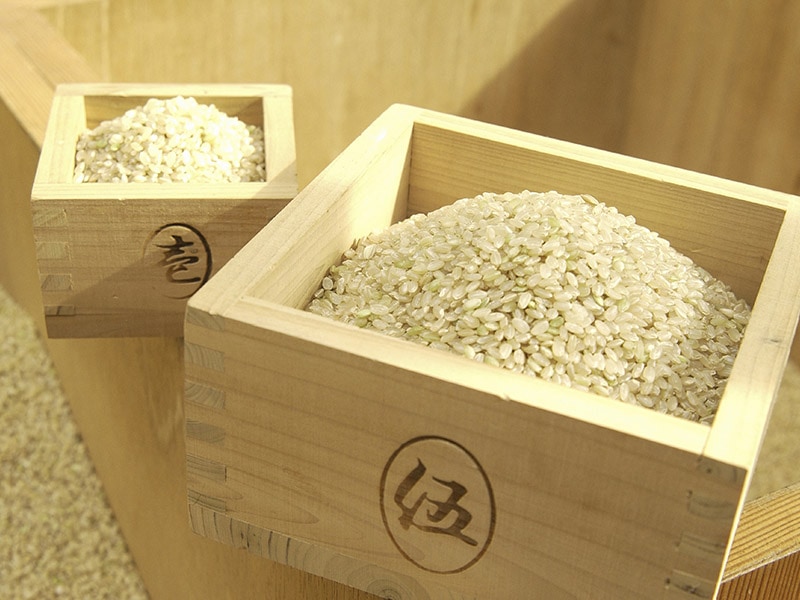 Besides, in the case that you want to buy gluten-free brown rice from a grocery store, be aware when rice is contained in bins. There's no way to know whether that rice is contaminated or not, nor even how hygienic it is.
Reg Flag At Super Market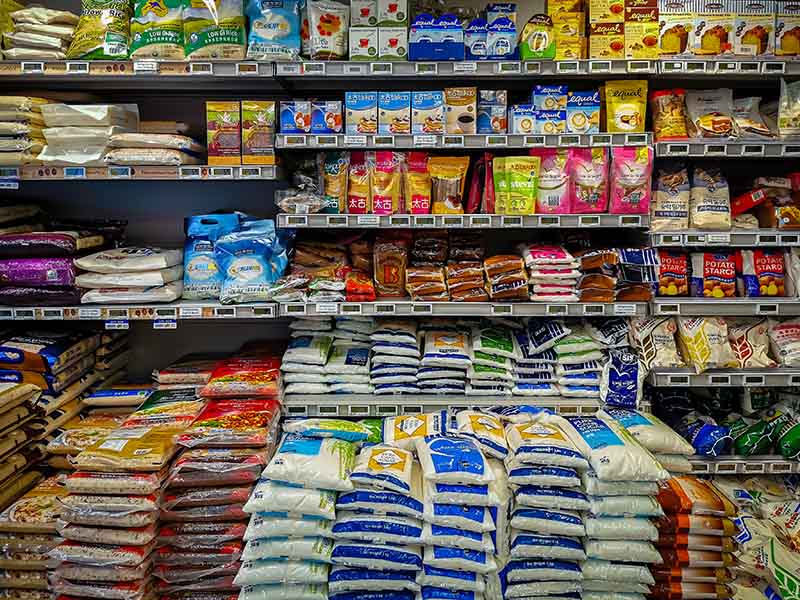 On the other hand, you should also be careful while shopping in the supermarket. If brown rice packages are arranged near or just below gluten-containing foods such as flour, pasta, baked foods, bread, etc., you should skip them because cross-contamination can happen.
Be Aware Of Seasonings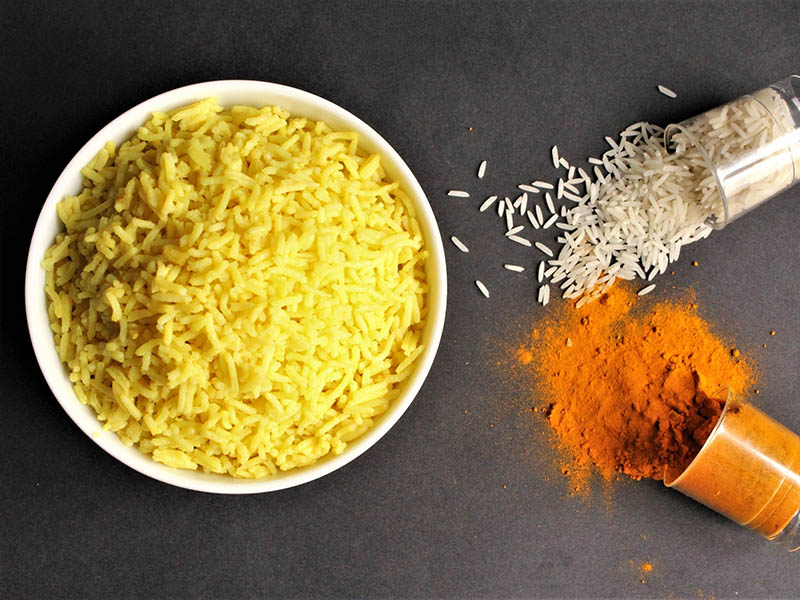 Finally, I recommend you not purchase seasoning brown rice in your gluten-free diets. The reason is that many colorings, seasonings, flavorings, sauce, etc., can also secretly contain gluten.
Let's Dive Into The Nutrition Of Brown Rice!
Now that you are already familiar with the definition and know how to choose gluten-free brown rice, are you curious about the nutrition facts of this famous food with a brown color? If comparing brown rice with white rice, how far is the difference?
Facts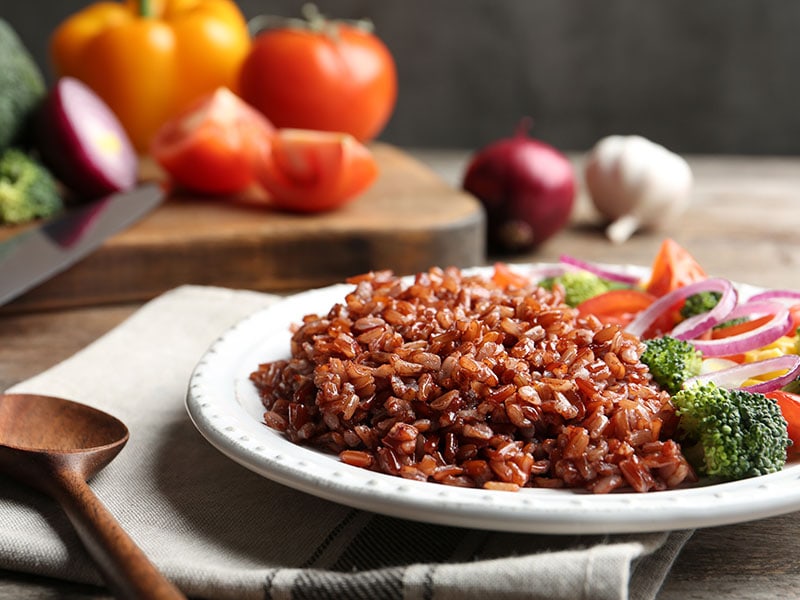 First of all, it's a scientific fact that brown rice is very healthy and beneficial for your heart. The reason is that brown rice contains fiber and magnesium, which help lower the risk of suffering from heart disease and stroke (1).
Besides, eating brown rice frequently can help you control and lose weight. As a matter of fact, food that contains high levels of dietary fiber like brown rice, can make you feel full quickly and longer than normal.
Therefore, you can plan your diets and focus on losing weight on specific weekdays instead of making yourself starving for a long period. What's more, the fiber in brown rice can also help lower blood cholesterol (2), and decrease the risk of Type 2 diabetes (3).
Comparison: Brown Rice vs. White Rice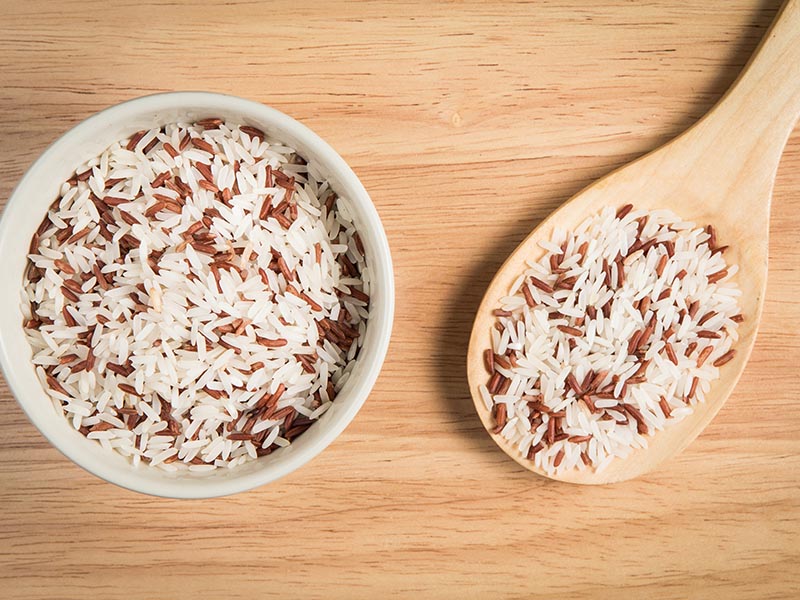 Normally, rice contains three basic parts: the bran, germ, and endosperm. While white rice is a refined grain, brown rice is a very typical whole grain. This means that brown rice is white rice but doesn't go through further milling to get rid of the bran and germ layers.
| Nutrients | White rice (1 cup) (4) | Brown rice (1 cup) (5) |
| --- | --- | --- |
| Calories | 242 g | 218 g |
| Carbohydrates | 53.2 g | 45.8 g |
| Protein | 4.43 g | 4.52 g |
| Fat | 0.391 g | 1.62 g |
| Dietary Fiaber | 0.558 g | 3.51 g |
| Thiamine | 0.311 mg | 0.199 mg |
| Vitamin B6 | 0.093 mg | 0.291 mg |
| Magnesium | 24.2 mg | 85.8 mg |
| Copper | 0.071 mg | 0.158 mg |
| Manganese | 0.071 mg | 2.14 mg |
| Iron | 2.77 mg | 1.03 mg |
White rice will take less time to cook because it's softer, but it also has fewer nutrients, fiber, and vitamins than brown rice. As you can see from the table, brown rice has fewer calories than white rice, so it's more beneficial to eat brown rice if you don't want to gain weight.
Dr. Berg's comparison between white rice and brown rice can help you decide what you really want to cook for your family.
Do You Know That There Are Different Types Of Brown Rice?
According to what you and your family like, you can choose between various brown rice types to figure out the suitable one to purchase. In this section, I will show you the most popular ones as well as one special kind of brown rice.
Short-Grained Brown Rice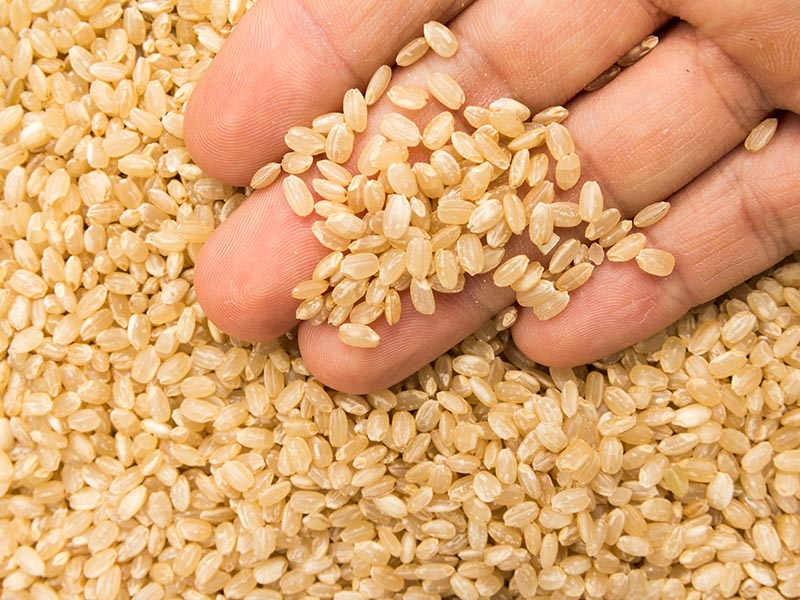 This type of brown rice has a short kernel in length and an almost round-shaped grain. When you cook short grain brown rice, it will become very sticky to eat. You can let your children try this type of brown rice first because, in many cases this can be their favorite type.
Medium-Grained Brown Rice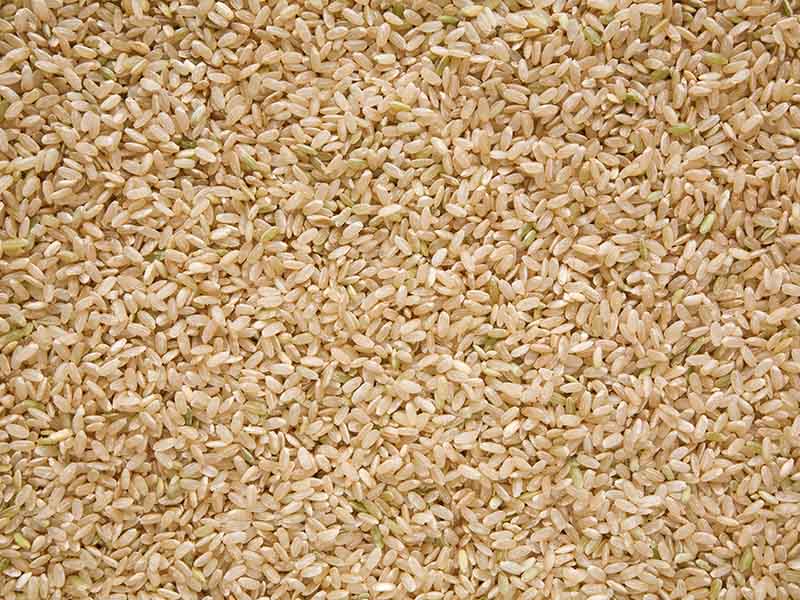 This type will have quite a bigger size of grains than other types. After being cooked for about 20 minutes, the rice will be moist and tender. Besides, medium grain brown rice is quite popular in Spain so you can also try cooking Spanish dishes.
Long-Grained Brown Rice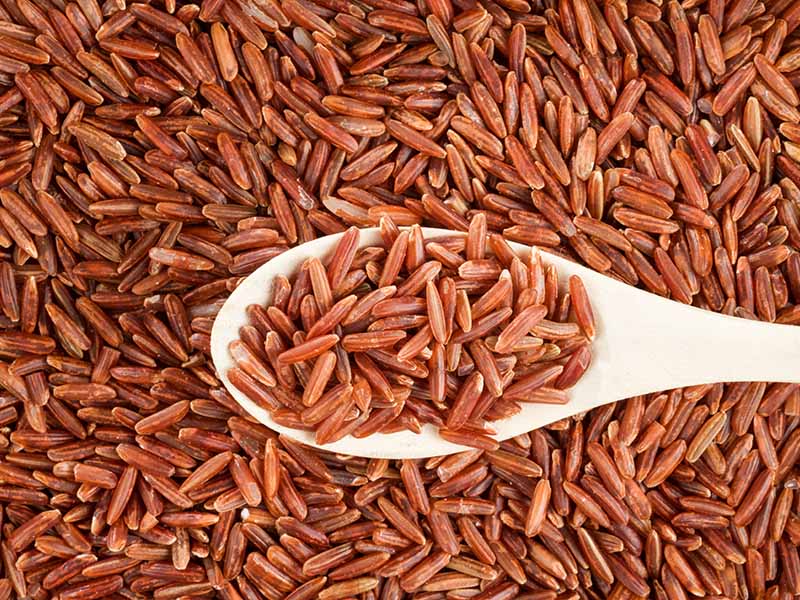 Long-grained brown rice has a long and thin kernel. Its length is about four to five times longer than its width, and many Indian dishes use this type of brown rice. If you don't like eating rice and all the grain is stuck to each other, you can give this a try.
Light Brown Colored Brown Rice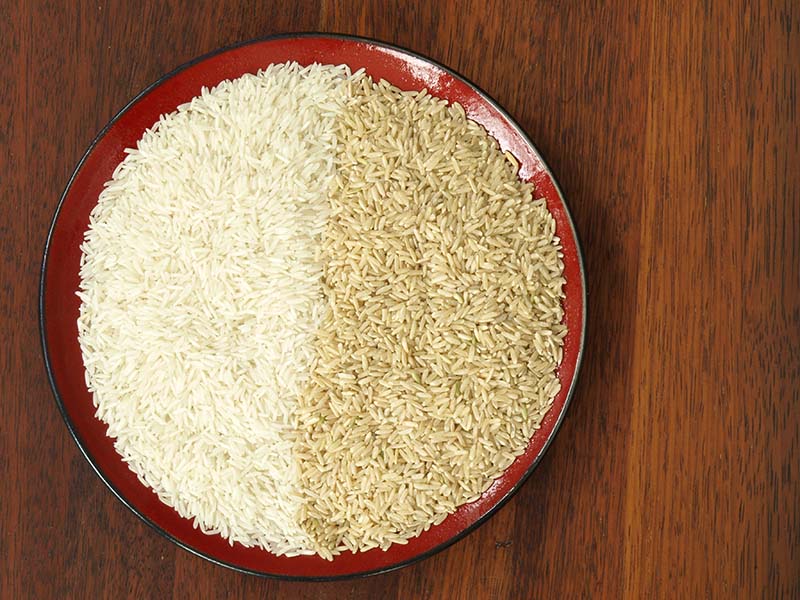 Compared to other types, light brown colored brown rice has part of its bran removed in the milling process. It has a lighter color, and a nutty taste after being cooked. In addition, this type has fewer fibers than those 3 types above, but it can be more eco-friendly in production.
Sweet Brown Rice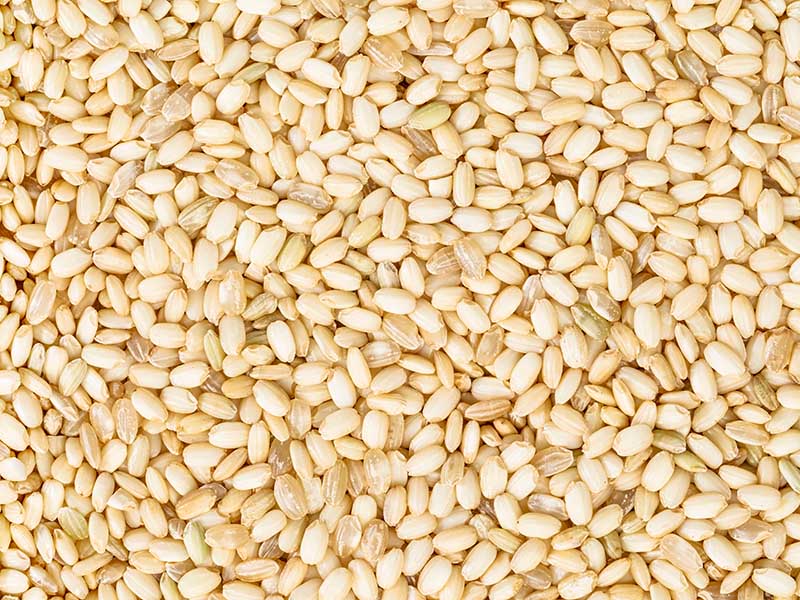 Sweet brown rice has a small, plumb kernel and a special color of milky white. This type can become sticky and sweet after the cooking process, so it's also recommended for your children.
Brown Basmati Rice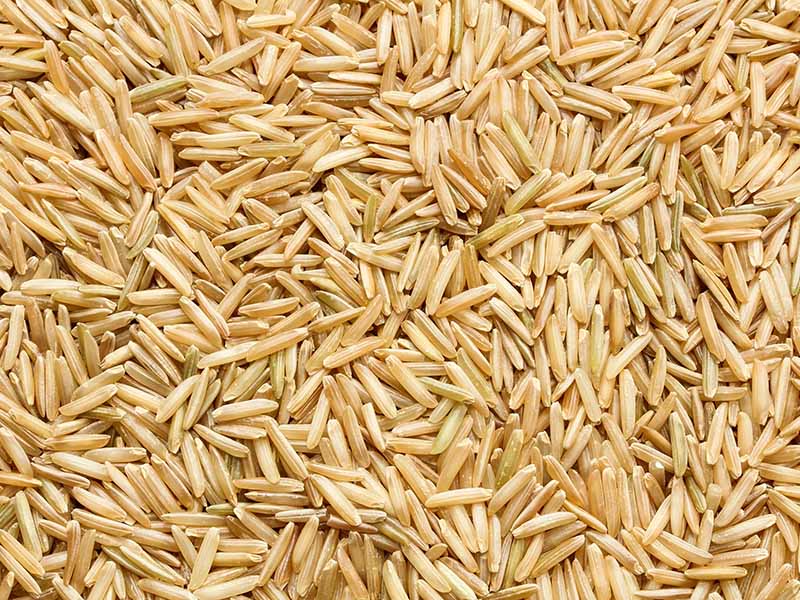 This is well-known Indian rice with a long-grained shape and firm texture after being cooked. And what's special about this type is its fragrance, which sometimes can smell like seawater.
Brown Jasmine Rice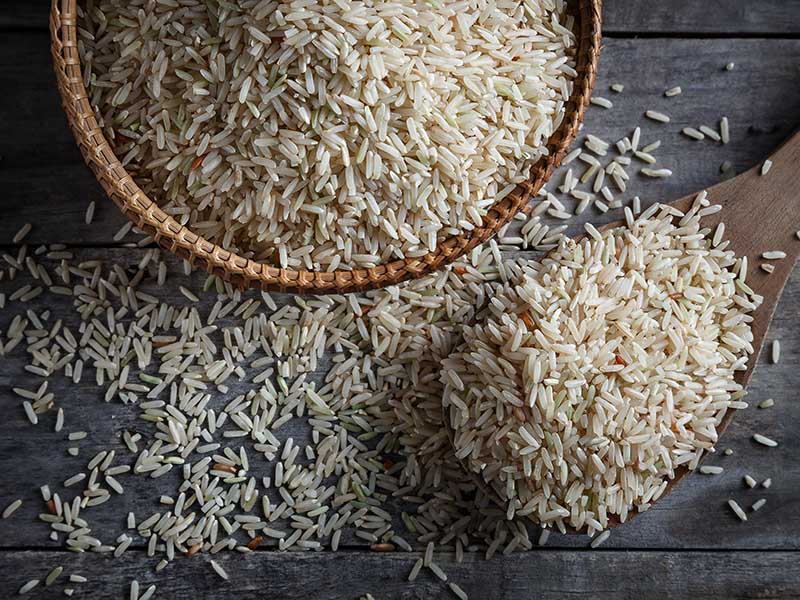 This type of brown rice is highly aromatic due to the lingering pandan leave and popcorn scent. Jasmine rice has a quite sweet and nutty flavor, which makes it compatible with many Southeast Asian dishes.
Germinated Brown Rice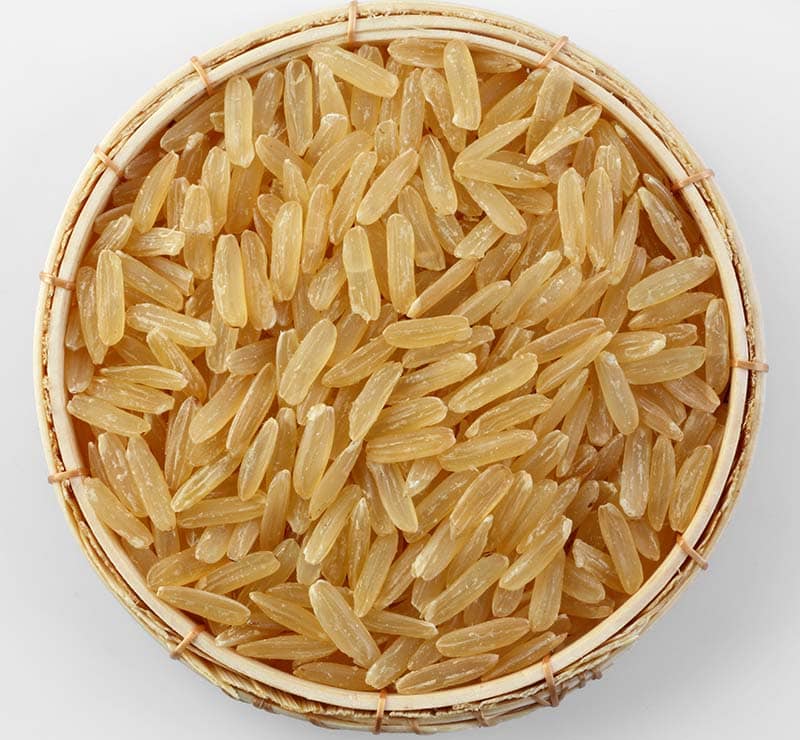 Different from the above types, I will first present to you a very special kind of brown rice–germinated brown rice. By definition, this type has its name because it is brown rice but isn't polished and also is allowed to germinate under special conditions.
You may be curious why many people choose germinated brown rice over normal brown rice. It's simply because that germinated brown rice is proven to have 10 times more GABA (gamma-aminobutyric acid) than refined white rice and normal brown rice (6).
In the 1970s, the consumption of brown rice in Japan was on a rapid increase because of its obvious health benefits. However, because brown rice is difficult to chew and less tasty than white rice, the Japanese found a solution to that problem by germinating brown rice.
Germinated brown rice is the combination of white rice and brown rice and is accompanied by 10 times more nutrients. The germinating process is the key factor in increasing the contents of brown rice and bringing up new components from inside the grains.
Top Brown Rice Brands For You
In my opinion, listed below are the top 5 choices of brown rice you should consider purchasing. You can try all the brands that are mentioned and then choose the most suitable ones according to your preferences.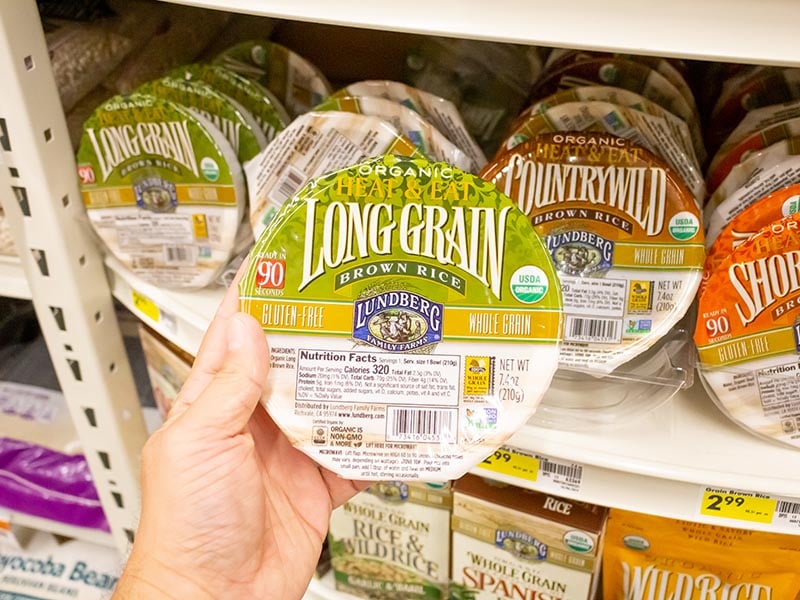 Lundberg Family Farms is a very well-known brand, and it has a three-generation history. All the products from Lundberg are highly recommended on Amazon, and I can confirm that the quality is just out of this world.
Specifically, Lundberg Family Farms' Organic Long Brown Grain Rice is deserved to be the most versatile brown rice. The product contains a variety of grains, including brown long-grain, organic long-grain, brown short-grain, and so on.
Gerbs always makes sure that all of their products are pesticide-free, which means that they are eco-friendly and very healthy. In addition, Gerbs particularly has some selections for instant brown rice, which can help you save a lot of time to cook daily meals.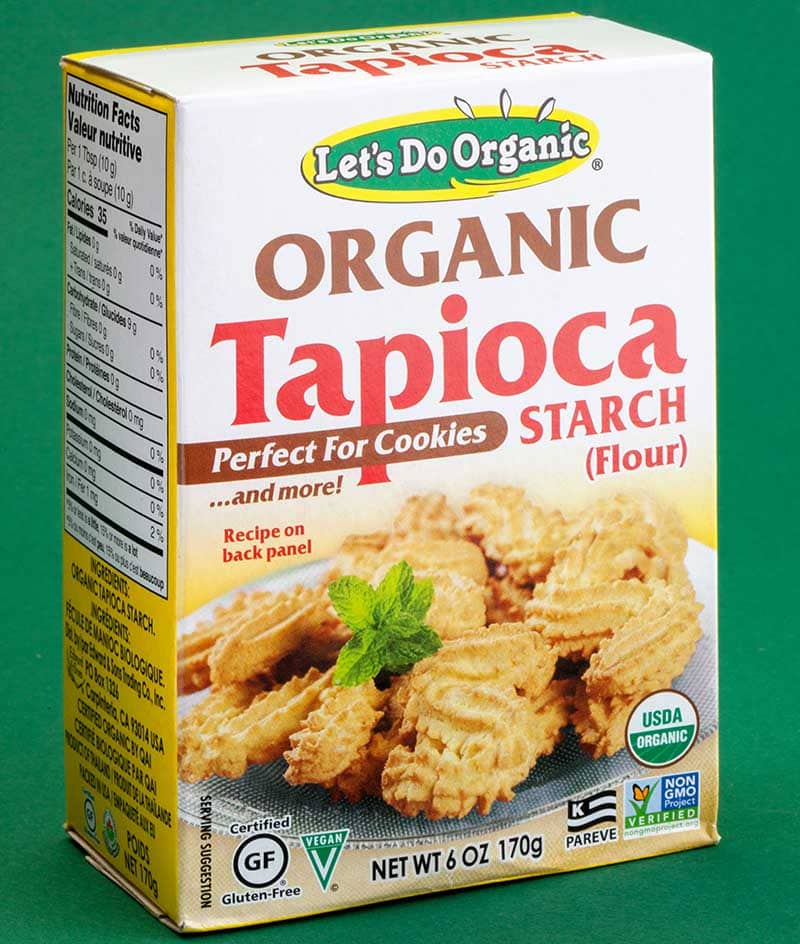 This brand is dedicated to you if you want both gluten-free, organic, and vegetarian dishes. Edward And Sons was established in 1978, and since then, they haven't let any customers down because of the brand's developing quality.
RiceSelect Brown Rice has its name familiarized by not only Americans but also international customers. One of their most famous product is the RiceSelect Texmati Brown Rice. Besides, their rice is packaged in jars which are much more convenient to carry around with you.
How To Cook Brown Rice?
If you are already familiar with cooking white rice, it can still be challenging to cook brown rice. Below are the steps that you can follow to have perfectly cooked and delicious brown rice.
Note: It's incredibly easy to cook brown rice using a rice cooker. However, you don't have to own a rice cooker to cook perfect brown rice.
Step 1: Preparation
Brown rice (numbers of cups depending on your choice)
About 10 cups of clean water
A pot or a rice cooker
Seasonings if you want to add flavor to your rice
Step 2: Rinse Your Rice
You have to rinse your brown rice in cool water to get rid of any starchy dust that still lingers on the rice. About 5 cups of water will be enough, and don't ignore this step because the process of milling can leave the rice with a lot of dirt, chemicals, bugs, etc.
Note: Spending too much time rinsing your rice is not recommended because the rice grains can be broken due to being rubbed harshly.
Step 3: Add Rice To The Pot
At this step, you can add your rice to the pot, or to the rice cooker that you have prepared. Then, add water at normal temperature after adding rice, remember 1 cup of rice = 1 + ½ cups of water. After that, shake the pot gently to make sure that the rice doesn't lean over one side.
Step 4: Boil The Water
Now, you bring your pot to the stove to cook the rice. After turning the stove on, lower the heat a little bit, cover the pot and leave it for about 30 minutes. However, throughout the time, check the pot two or three times to make sure the water is enough and that your rice isn't burned.
Note: If you use a rice cooker, just turn it on and use it like normal. After cooking is done, you can jump to step 6.
Step 5: Rice Simmering
Continue to lower the heat, letting your rice simmer for about 15 minutes before taking it off the stove. Remember to always cover the pot with a lid in order to make sure that there's always enough heat inside the pot.
Note: At this step, you can use a spoon to stir your rice a little bit, checking whether or not your rice is burned or undercooked.
Step 6: Steaming
After turning off the heat, let the rice steam for another 10 minutes. If there's still cooking water in the pot, then drain it off before the steaming.
Step 7: Serve The Rice
After steaming, open the lid, and fluff the rice a little bit. After that, you can season the rice with salt, sugar, pepper, sesame, or any other ingredients that you like. Finally, serve it to the table with the side dishes or soup that you have prepared.
Note: You can adjust this manual due to your habits or tastes.
If your brown rice always ends up being soggy or undercooked, then this video will help you become an excellent brown rice chef!
Welcome To Brown Rice & Asian Food Tour!
In this section, I will lead you through various options for your daily healthy meals whether or not you want to go gluten-free. Furthermore, it will be fascinating to know more about traditional dishes with brown rice as the ingredient!
Brown rice has a notable role in Asian cuisine because it's used in a variety of food ranging from curry to even traditional alcohol. So, please let me take you on a tour and taste the different flavors of brown rice!
This traditional Thai dish is cooked with Thai Jasmine GABA rice and a lot of vegetables so it's both gluten-free and healthy. The taste of this dish is also very special because it's the combination of aromatics, onion, ginger, garlic, and so on.
Thai Red Curry can give you enough energy to start the day, but you can also enjoy it at lunch and, of course at dinner. It's not recommended for children when they are not familiar with Thai unique flavor and seasoning.
If you want a really spicy Thai Red Curry, you can try to cook this recipe at home.
Nasi Goreng is the Indonesian Shrimp Fried Brown Rice, which has the original meaning of "leftovers". Therefore, traditionally, Indonesians will combine all the leftovers including rice, meat, vegetables, and a special sweet sauce called "kecap manis" to cook Nasi Goreng.
Brown Rice Pulao is a special and healthier version of the original Indian Pulao, which is cooked with white rice. Different from normal rice recipes, pulao is often served on festive occasions and it's a very sophisticated dish.
While there are many ingredients such as onion, green pepper, potato, cauliflower, garlic, etc. cooked together with the rice, each component has its role and significant flavors just from the first taste. Besides, you can adjust the ratio of ingredients but shouldn't get rid of anything.
Healthy Brown Rice Pulao is the dish that you shouldn't skip while exploring brown rice recipes!
The final specialty I want to introduce is the Brown Rice Amazake–the Japanese sweet sake that is made from brown rice and koji. While the taste can be light and sweet, the alcohol level is quite high for those who are not familiar with sake and alcohol made from rice.
Do you want to make Brown Rice Amazake? Just use this video for your own reference!
FAQs
It's a journey to explore dietary choices and decide on the most suitable brown rice and gluten-free food for yourself. However, don't worry, because I'm here to answer your questions!
Gluten-Free Brown Rice Is Healthy, But Only If You Have Proper Knowledge!
Brown rice, white rice, gluten-free, or gluten-containing foods are a variety of cuisine for you to choose from and apply to your daily dishes. However, dietary choices can be crucial when it comes to people's health.
If one of your family members must commit to gluten-free diets, you have to acknowledge the cross-contamination and try to avoid it. What's more, even though brown rice is very nutritious, you shouldn't eat it regularly in everyday meals, or else it can lead to heart disease or cancer.
Therefore, don't hesitate to share this article with your family, friends, acquaintances, or even strangers. Diseases can occur to you if you don't have proper dietary choices, but knowledge can save you from them!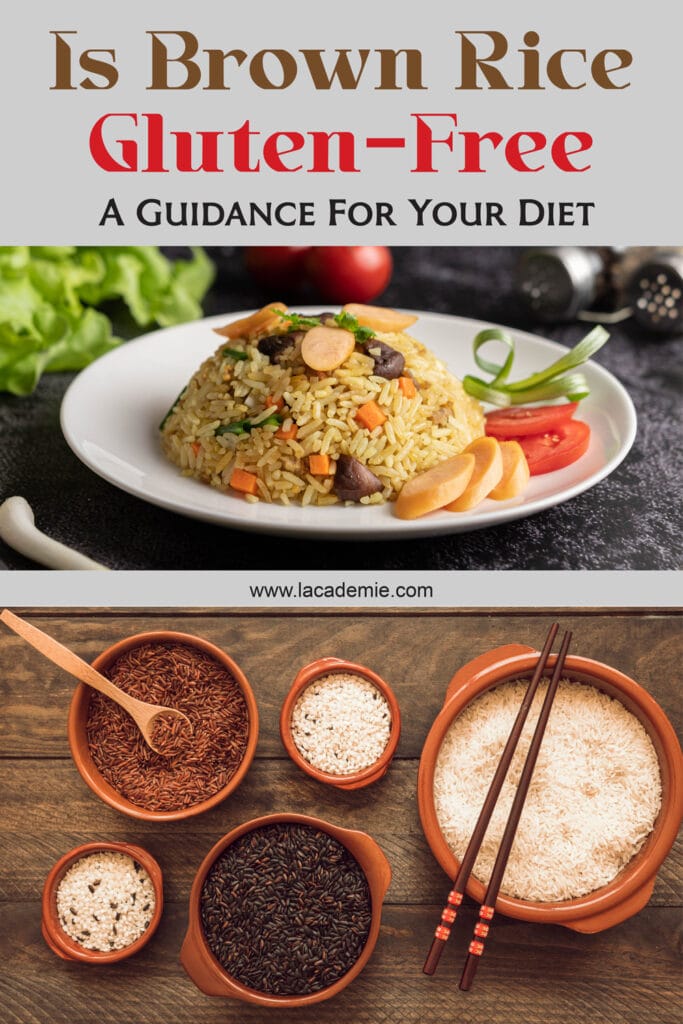 References
Park, Y., Subar, A., Hollenbeck, A., & Schatzkin, A. (2022).
Wu, H., Flint, A., Qi, Q., van Dam, R., Sampson, L., & Rimm, E. et al. (2022).
Sun, Q. (2022). White Rice, Brown Rice, and Risk of Type 2 Diabetes in US Men and Women.
Rice, white, medium-grain, enriched, cooked. U.S. DEPARTMENT OF AGRICULTURE. (2022).
Rice, brown, medium-grain, cooked (Includes foods for USDA's Food Distribution Program). U.S. DEPARTMENT OF AGRICULTURE. (2022).
Patil, S., & Khan, M. (2022). Germinated brown rice as a value added rice product: A review.