Are you dealing with the issue "is cornstarch gluten-free"? Don't worry, by providing you with clear and specific information along with checking methods, I will create confidence in you when using cornstarch-related items.
In addition to helping to improve health, a gluten-free diet is important for some special cases, such as celiac disease or being extremely sensitive to gluten. So I'll be your answer to questions that are no longer an impediment to your daily life. Then let's handle your worries right now.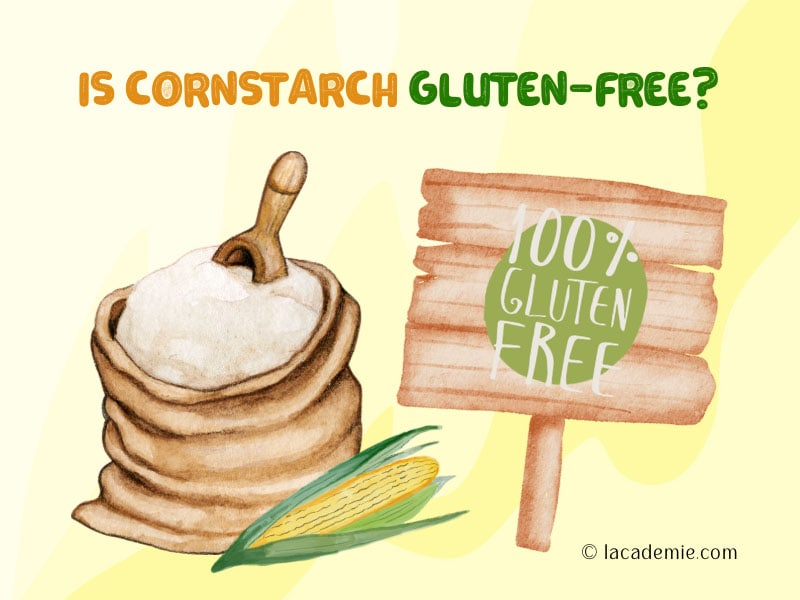 Overview Of Cornstarch
The stronger the root system of a tree, the more blossoms it produces at its top. Starting from the basics, from the origins, can assist you in resolving any related issues. So, let's take a brief look at cornstarch, the principal ingredient that has to be handled in the present topic.
What Is Cornstarch?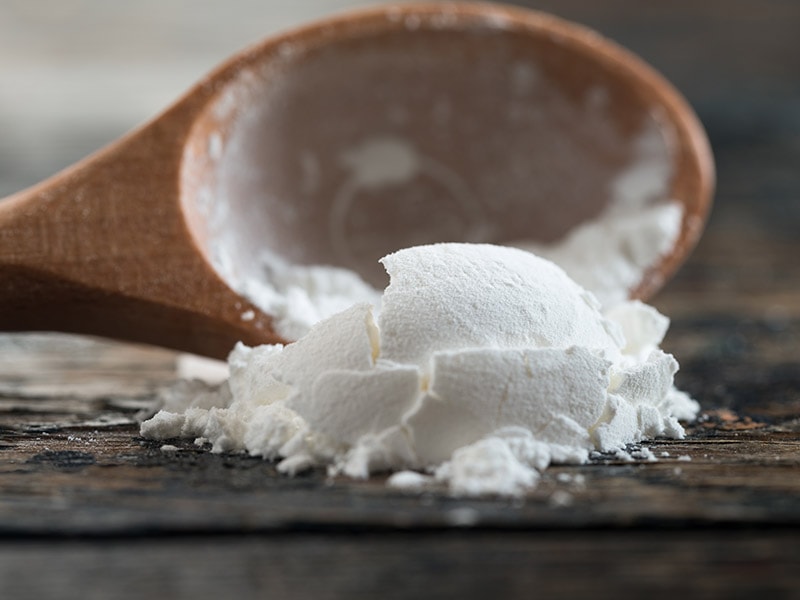 The definition will assist you in better understanding what you require. I'll remind you a little about cornstarch.
Cornstarch is created from the white endosperms found inside a maize kernel. These endosperms are then pulverized into a thin white powder, which is often used as a thickener.
Usage Of Cornstarch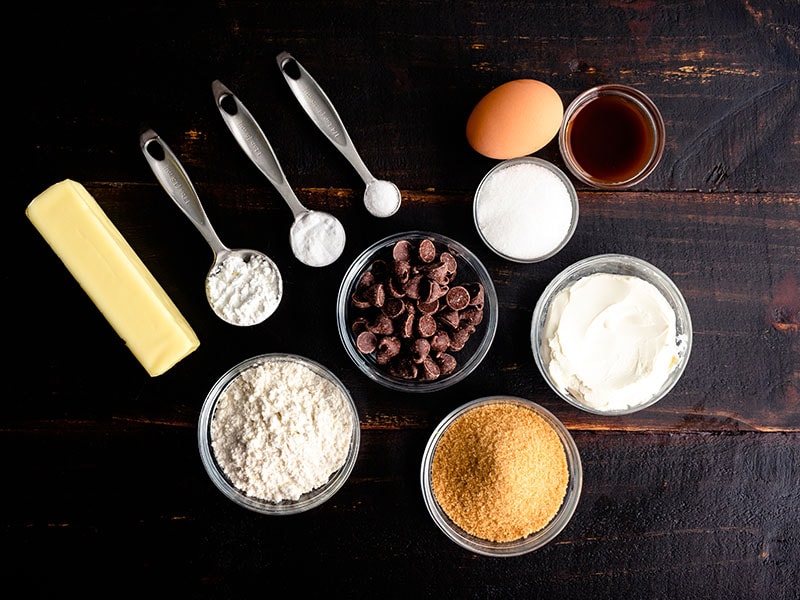 You now know what cornstarch is. However, do you have any concerns regarding the usage of this substance?
Cornstarch is most typically used to thicken liquid dishes, such as soups, stews, sauces, and custards. Cornstarch is translucent and flavorless, making it ideal for adding to meals to improve smoothness. However, if you don't want the dish to get too thick, use only a small quantity of it.
Cornstarch has several uses outside of the kitchen. For example, it relieves irritated skin, deodorizes, acts as a natural dry shampoo, and helps in the untangling of knots.
Cornstarch Vs. Cornmeal Vs. Cornflour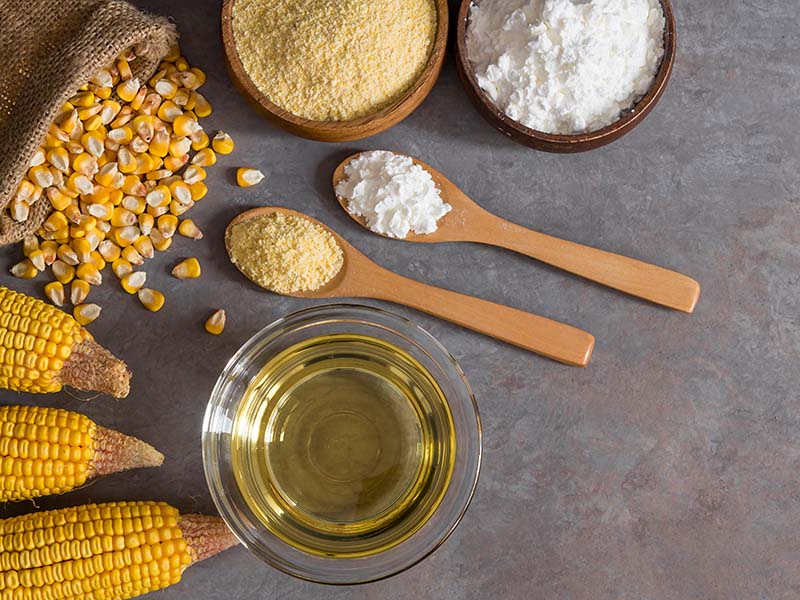 Cornstarch, cornflour, and cornmeal are prominent corn products. But did you know that these three types are not the same? I'll explain how to tell them apart.
Cornstarch, cornflour, and cornmeal are all produced from corn. However, certain differences cause them to be incompatible in recipes and usage:
Cornflour is made by grinding corn kernels into a fine powder. Meanwhile, if you just use the starch in the corn kernel to make flour, it is now called cornstarch. Besides, you can make cornmeal as a raw ingredient from dried corn kernels.
Cornstarch is mostly flavorless and serves a purpose (thinning a combination) rather than providing taste. Cornmeal and cornflour have an earthy, sweet taste that may be recognized in meals.
Cornmeal is a coarse flour made from pulverized dry corn. It comes in coarse, medium, and fine textures, although not as fine as wheat flour. Cornmeal has a distinct flavor and a golden color and can be used as a substitute or supplement for wheat flour in baking.
Is Cornstarch Free Of Gluten?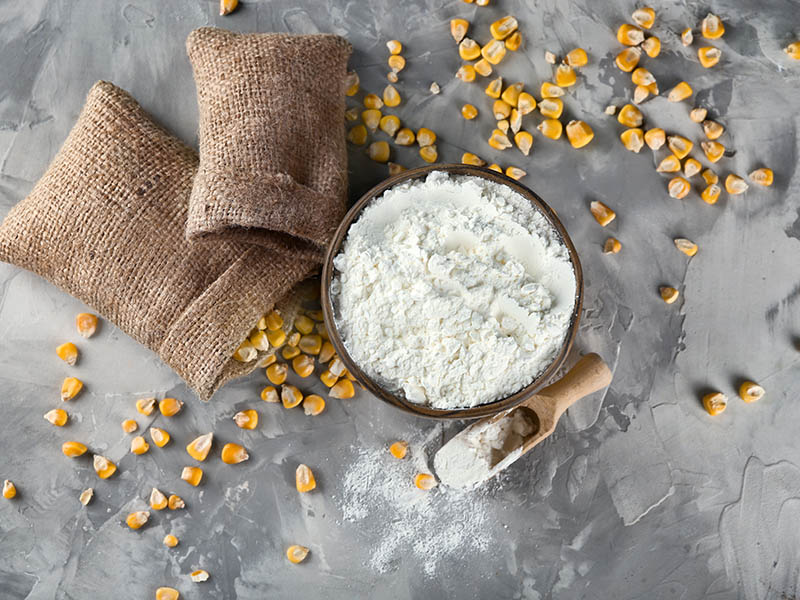 This is the primary question discussed in this article. I promise to properly answer your questions so you won't have to worry or wonder.
A gluten-free diet may benefit those with irritable bowel syndrome or chronic fatigue syndrome because it restricts the consumption of certain carbohydrates, worsening stomach problems, and mental health issues.
However, unless you have celiac disease or an allergy to gluten, no studies have been conducted to determine if consuming less gluten is beneficial to your health. (1) Yet, because gluten-free cornstarch is your concern, I will handle it now.
General Knowledge Of Gluten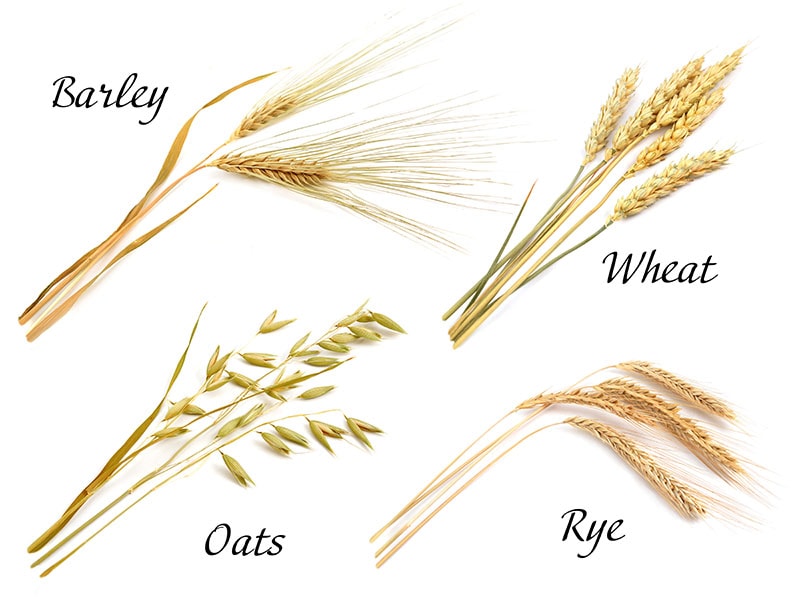 I know you already have some understanding of gluten, but I'd want to offer you a quick review to help you generalize your gluten knowledge.
Gluten is a term used to describe the proteins present in barley, rye, wheat, and triticale. Gluten acts as a glue, connecting food and assisting it in maintaining its structure. It may be found in a wide variety of foods, including those you might not expect.
Is There A Connection Between Cornstarch And Gluten?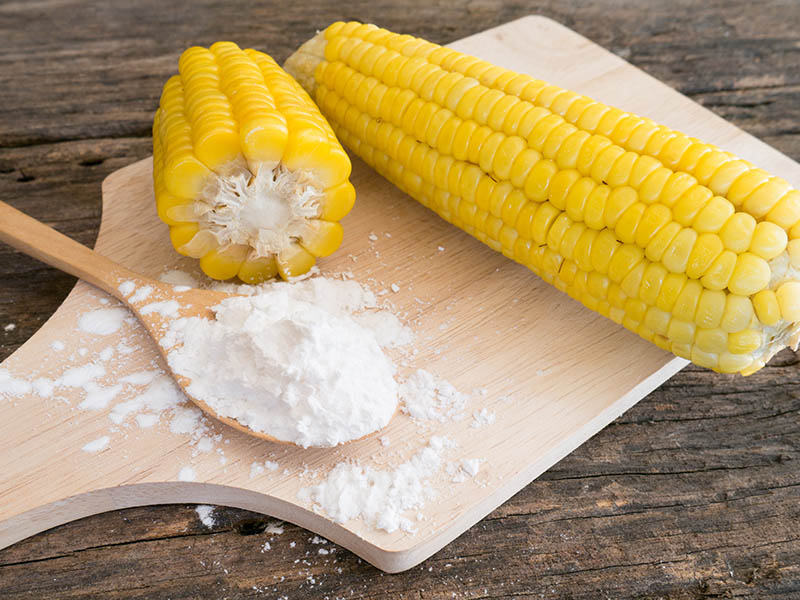 This will be the primary response to your long-standing problem. Are you willing to find out? I will assist you in stopping worrying from now on.
Although corn is classified as starch, it is a gluten-free grain. So, cornstarch is derived from the endosperm of maize, also gluten-free. In reality, although some mass-produced cornstarch may include gluten-containing ingredients, almost all corn starch is gluten-free. (2)
According to actual research, cornstarch has a significant benefit because it almost doesn't contain allergen-containing components. Cornstarch is free of most major allergies, including soy, dairy products, and peanuts.
However, because of the potential cross-contamination during processing at manufacturing sites where many ingredients are used together on shared equipment, not every brand will be certified safe for people allergic to lactose or gluten. (3)
Cornstarch, a carbohydrate produced by the maize plant, has long been used as gluten and lactose-free alternative component.
Is Modified Cornstarch Gluten-Free?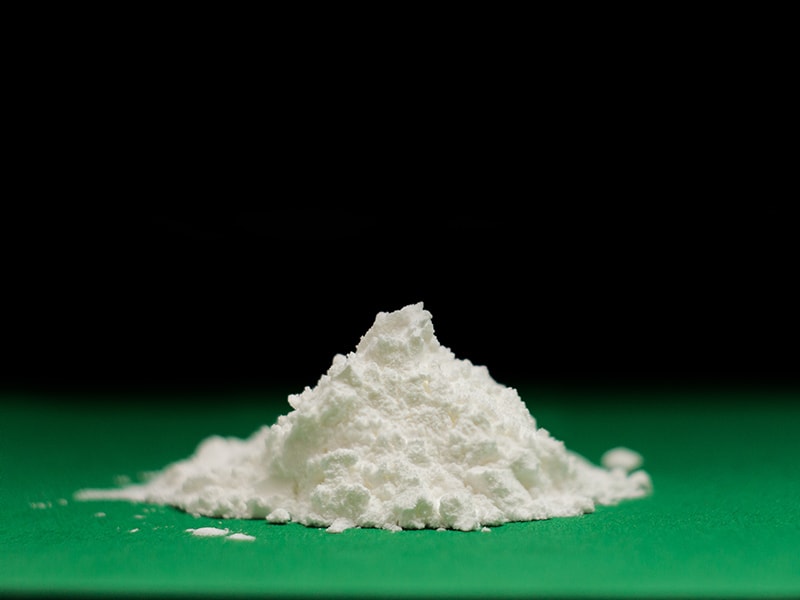 Modified corn starch is a food additive made by modifying starch and causing it to partially break down. So is it gluten-free? I now respond to give a clear answer.
In fact, in America, modified food starch is frequently gluten-free. According to consumption data, modified cornstarch has become a widespread ingredient in both gluten-free and gluten-containing packaged meals.
In a nutshell, modified cornstarch is virtually known as gluten-free in the United States. Modified cornstarch is typically made from maize or waxy corn, so it is gluten-free. If a product contains a modified food starch-containing wheat, the product's label must state such.
The FALCPA (Food Allergen Labeling and Consumer Protection Act) demands that eight allergens be highlighted on product labels. There are milk, eggs, fish, shellfish, tree nuts, peanuts, wheat, and soybeans, respectively.
The above law, however, only applies to items controlled by the FDA (US Food and Drug Administration) and not to foods regulated by the USDA (United States Department of Agriculture). This is unsafe since wheat items may not be shown on the label.(4)
Don't Be Confused – Here's How To Identify Whether Cornstarch Contains Gluten
I understand you are confused about the method for selecting a product because of certain unknown factors caused by the brand or the product. But don't panic! I'm here to help you get through it.
Homemade Cornstarch (Natural Pure Cornstarch)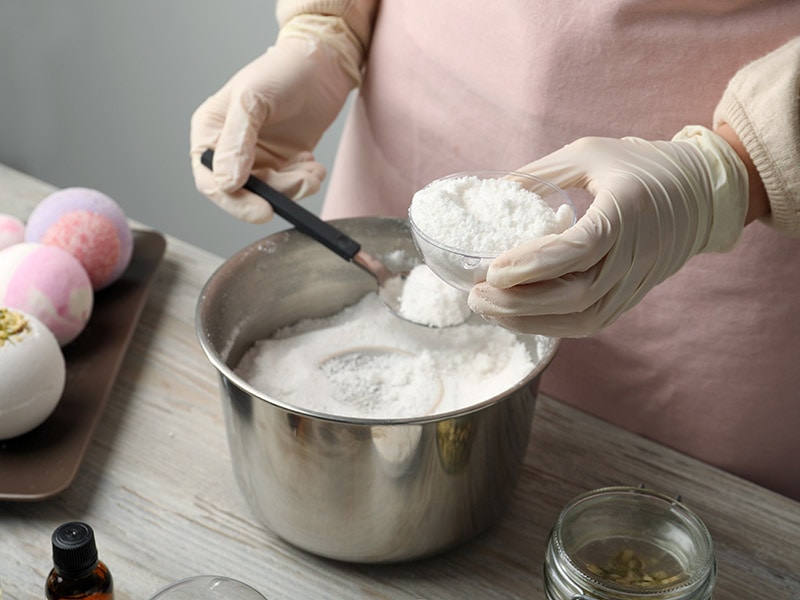 Because corn is a gluten-free source of starch, you may buy maize and produce your own cornstarch if you want to use it in your meals and ensure it's gluten-free.
This homemade cornstarch is really simple to make because it simply takes corn, either white or red corn. In truth, cornstarch is a fantastic substitute for flour for thickening, particularly in gravy sauce and beef stew recipes.
Commercial Cornstarch – How To Make Sure Corn Starch Is Gluten-Free?
Buying cornstarch is more convenient and time-saving than producing your own cornstarch. To determine the gluten level of a purchased product, you must examine the label using appropriate testing certificates.
Gluten-Free Certification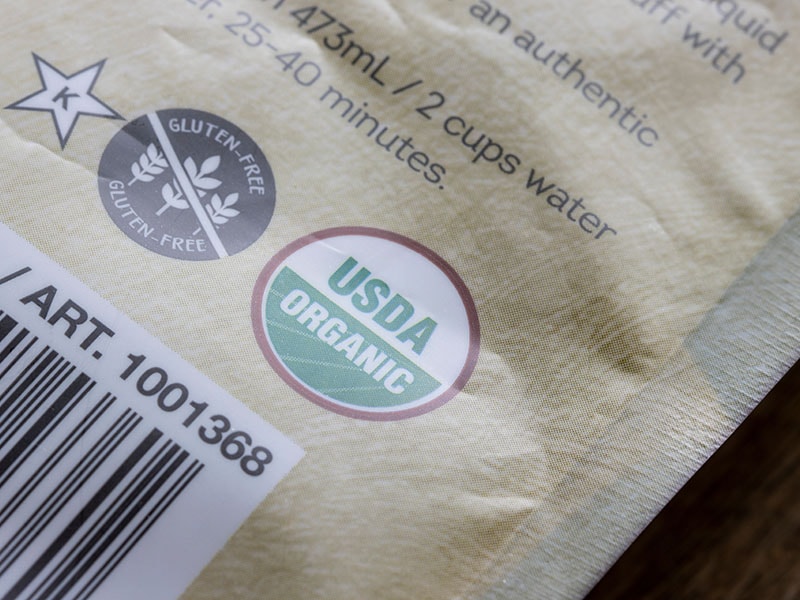 You must understand which certifications are on the product's label that you must verify. Three programs provide gluten-free food certification: (5)
Gluten-Free Certification Organization (GFCO) demands tested items to have fewer than 20 ppm of gluten, although many foods have less or no detectable levels of gluten.
Celiac Support Association (CSA) demands tested items to be less than 5 ppm of gluten and to be free of oats, including gluten-free oats.
Beyond Celiac endorses the Allergen Control Group as the Gluten-Free Certification Program, which requires tested goods to contain fewer than 20 ppm of gluten (GFCP).
Certifying a product as Certified Gluten-Free can be time-consuming and costly. The CSA goes a step further by conducting extensive facility inspections and product packaging reviews. To justify the expenditure, a company must be devoted to servicing the gluten-free market.
So, the most pressing concern is whether a food product with the Certified Gluten-Free label is completely safe. In general, the answer to the question is yes. In fact, food producers go through a hard time gaining certification and maintaining that quality level every year.
How To Read Labels For Gluten-Free Checking?
I know you may struggle with food shopping and waste a lot of time because you don't know if the product you buy is suitable for your needs. I'm here to help you by providing several tips that will help you gain confidence and save time when shopping.
Tip 1: Get Third-Party Certification
Tip 2: On The Label, Search For The Terms "Gluten-Free."
The FDA guidelines also apply to the use of the phrases "no gluten," "gluten-free," and "gluten-free" on product labels. If you notice any of these phrases and the maker adheres to the FDA's gluten-free requirements, the item should be gluten-free.
Notes: In the ingredient list of a gluten-free product, the phrase "wheat" may appear. However, the label must also read, "The wheat has been treated to allow this item to fulfill the Food and Drug Administration's (FDA) regulations."
Tip 3: Check The Ingredients List
For non-gluten-free items, reading the ingredient list is the best way to ensure you're eating or serving them correctly. What are you seeking to prevent?
If any of the following ingredients appear on a product's ingredient list, it is not gluten-free: Wheat, Rye, Barley, Oatmeal, Malt, Brewer's Yeast.
Reading the product ingredients will save time while choosing items that match your needs.
Cornstarch Brands
There are so many brands of cornstarch available that it's easy to become confused about the quality and whether it's gluten-free. Stop worrying right now; I'll support you.
Brands Of Gluten-Free Cornstarch
I'll list several gluten-free cornstarch brands down below. You now have a trustworthy source of information to pick from before you shop.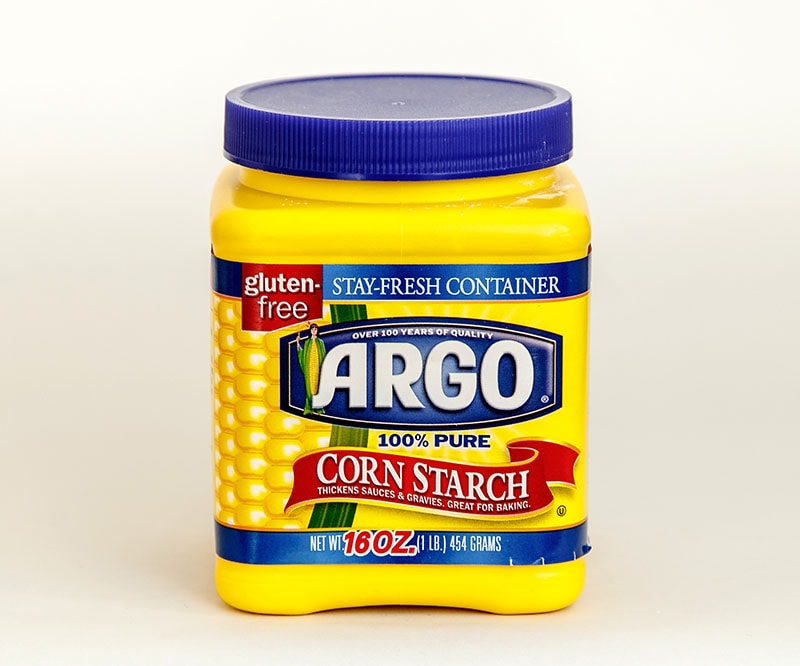 Current information shows that this brand mainly produces two sorts of products: cornstarch and baking powder. According to the details provided by the company, both of its product lines are gluten-free.
However, because this company's product contains certain GMO ingredients, you should take caution when using it.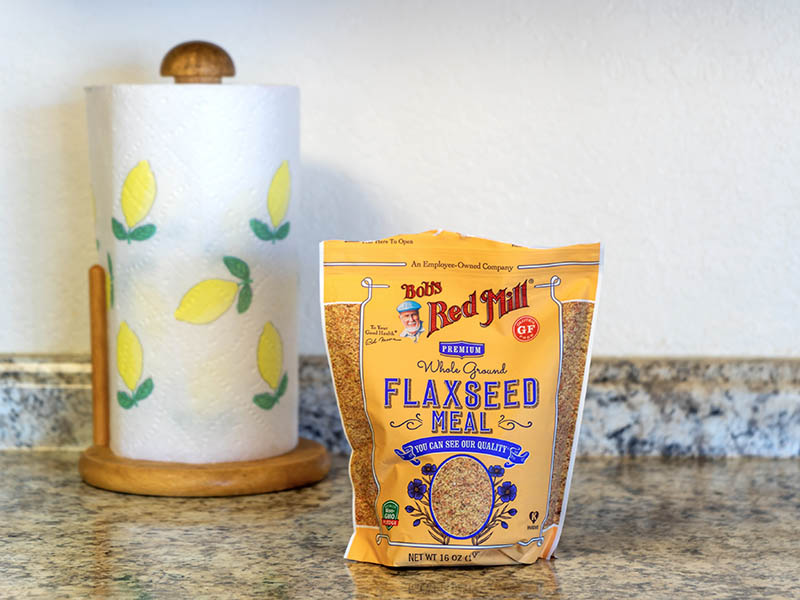 Bob's equipment for making gluten-free food, particularly cornstarch, distinguishes this brand from all others. However, in addition to cornstarch, the firm manufactures a variety of gluten-free items such as oats.
This means items in the same stream of production using standard technology can be combined. If you are sensitive to oats, you should be cautious while purchasing cornstarch from this supplier.
Furthermore, a small fact is that the brand is extensively tested with a gluten ratio of fewer than 20 parts per million to assure gluten-free certification.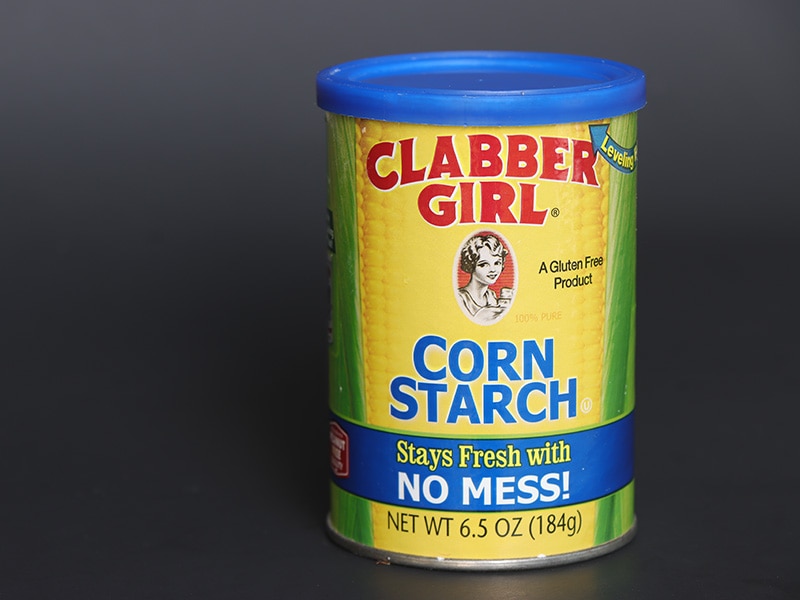 In comparison to other companies, this one has confirmed and proclaimed that its products are gluten-free. Aside from cornstarch, the company's other dessert-related product categories, such as banana bread and chocolate chip cookies, are all gluten-free.
In addition to all items under this brand's name that are certified gluten-free, cornstarch from its subsidiaries, Hearth Club and Rumford, is also gluten-free.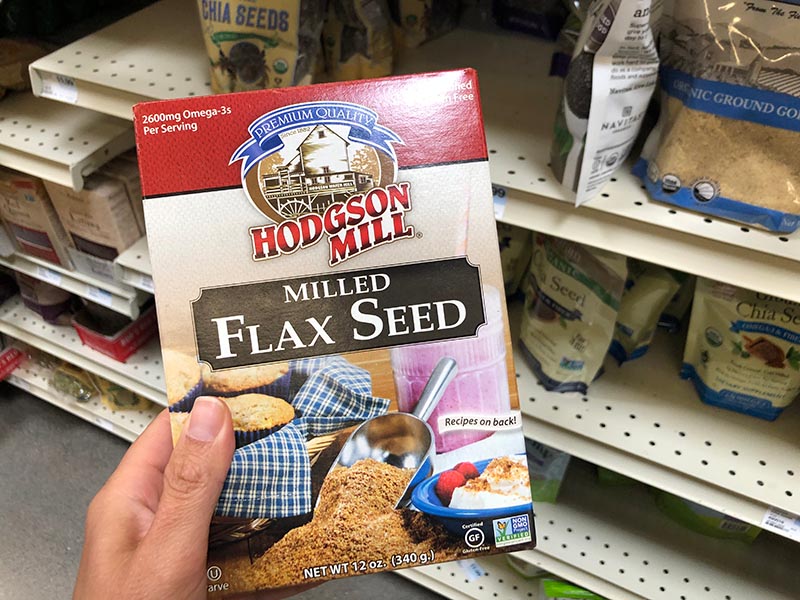 This brand is quite popular among gluten-free dieters. When compared to other businesses, this company's products are more diverse since they are a range of items that offer baking components, all of which are gluten-free.
This company, in particular, has been certified gluten-free by the Celiac Support Association. This accreditation requires gluten levels to be fewer than 5 parts per million. Moreover, what distinguishes this brand from others is the availability of non-GMO cornstarch.
Brands Of Cornstarch Are Not Guaranteed To Be Gluten-Free
Besides reputable brands that produce gluten-free cornstarch, you will need to find sources of information on products that do not guarantee quality to consider when making your selection. And now, let me be your guide.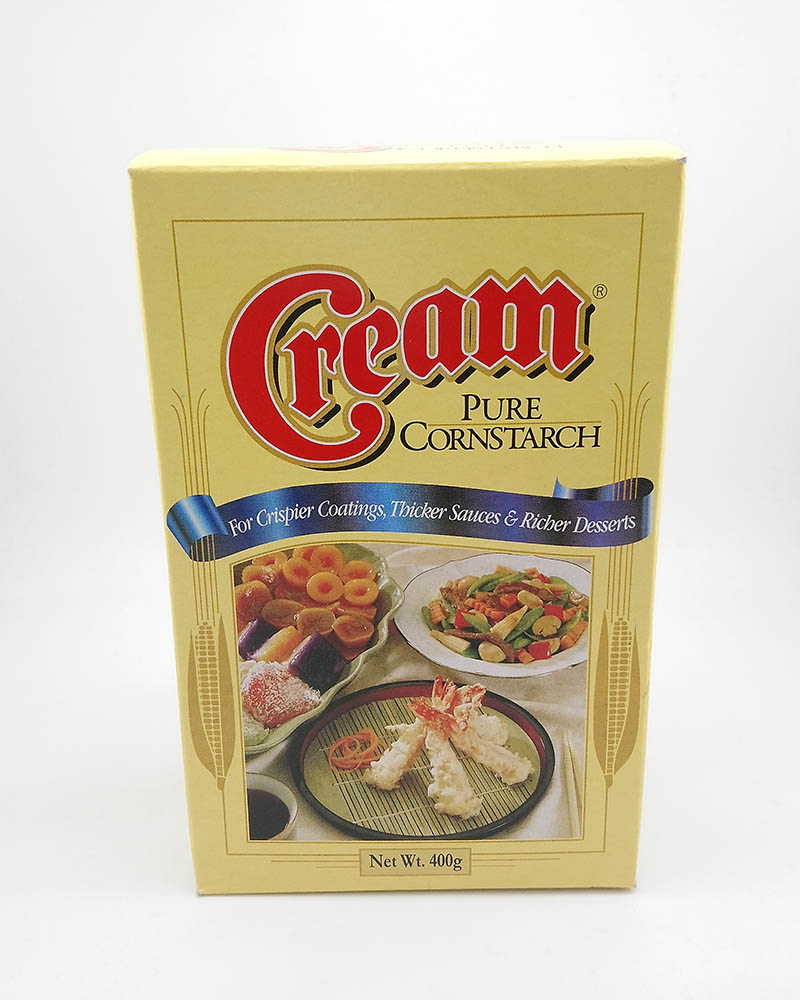 This is a reasonably well-known brand. However, this company's cornstarch is not guaranteed to be gluten-free.
All other brands claim to share equipment with wheat, but "Cream" cornstarch just mentions "corn starch" for the ingression with no additional labels/warnings… and there is no phone number to contact the corporation.
This brand offers cornstarch in abundance and a variety of other products, although the majority of them include gluten. This business does make a range of gluten-free items, but cornstarch is not one of them.
This is an imported cornstarch brand. However, the producer has not confirmed gluten-free qualities, and all cornstarch from this business is made on the same wheat flour production line. This creates a significant risk when purchasing items from this supplier.
Gluten-Free Cornstarch Substitutes
There will be times when you can't afford gluten-free cornstarch. Don't worry, I'll provide you with a solution by presenting a list of alternatives for you to choose from.
Arrowroot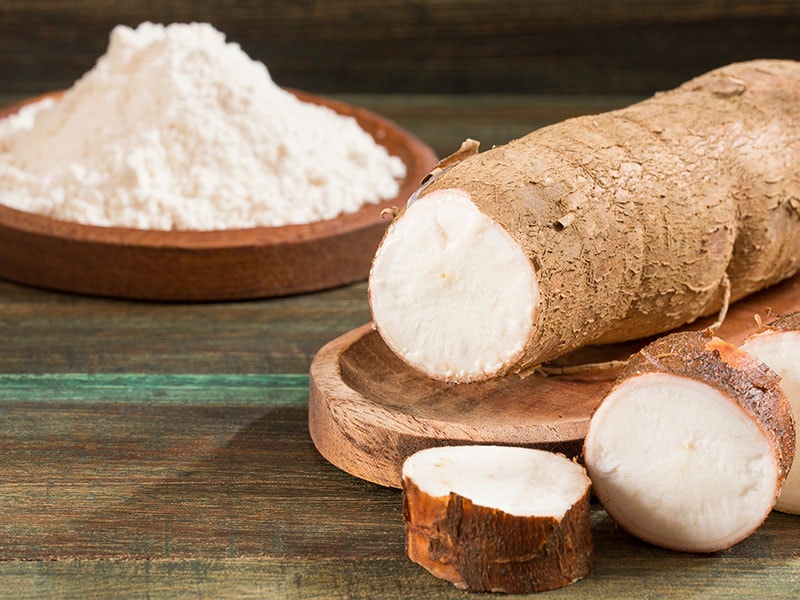 A starchy flour originating from the Maranta genus of plants that is commonly sold as arrowroot starch or arrowroot powder. When combined with water, this starch has more fiber than cornstarch but produces the same transparent gel.
When using, I recommend using arrowroot to cornstarch ratio of 2:1.
Potato starch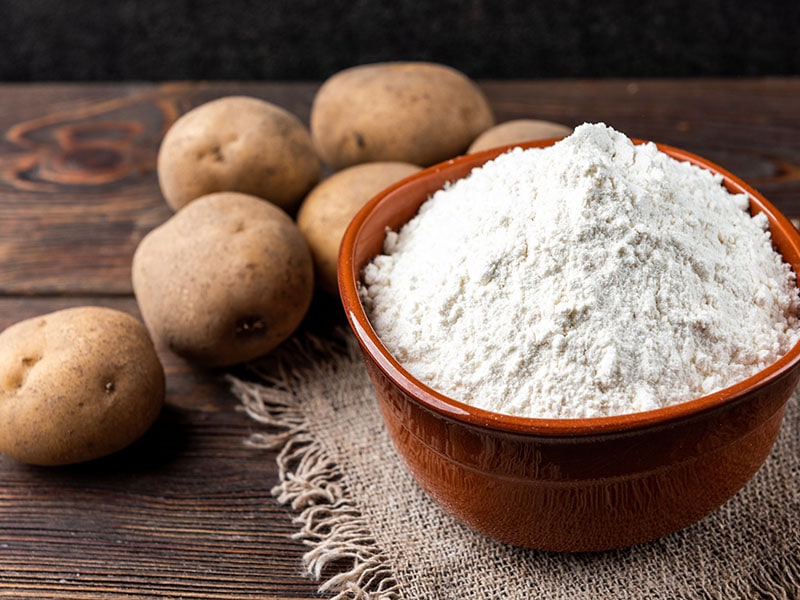 Potato starch uses the extra-starchy portion of potatoes, and it is gluten-free. It thickens quicker than cornstarch and can degrade when exposed to high temperatures over an extended period.
Besides, potato starch is an ingredient that is heavy in carbohydrates but has no flavor since it is made by mashing potatoes to liberate the starch and then drying them into a powder. It can be used in a one-to-one substitution.
Tapioca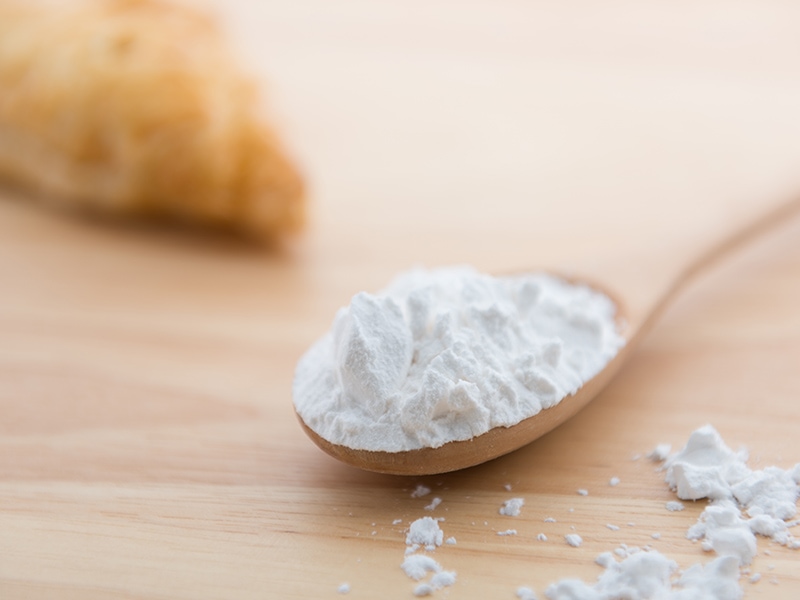 Tapioca flour is the starch that is taken from cassava roots and mashed into a pulp before being dried into flour. It has a pleasant neutral flavor, so you won't notice it in any baked products or recipes. Use the same quantity of quick tapioca, but don't use it in sauces with dairy.
It's ideal for high-heat meals and frozen foods. Tapioca starch can be replaced in a two-to-one ratio with cornstarch.
Rice flour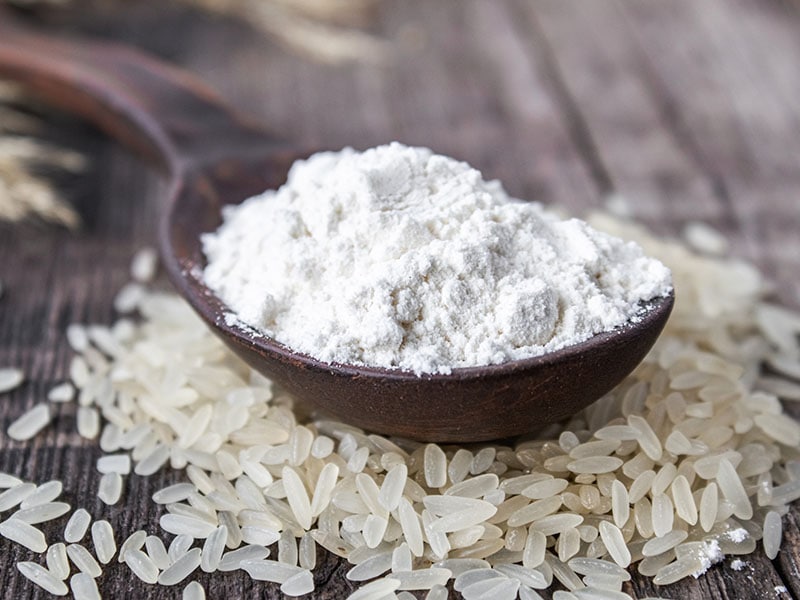 Rice flour, a wheat-free starch derived from finely crushed rice, is probably well known among gluten-free cooks and bakers. It works well in savory and sweet applications, including difficult dishes like continental crust and dessert creams. It substitutes cornstarch in a 3:1 ratio.
Flaxseed gel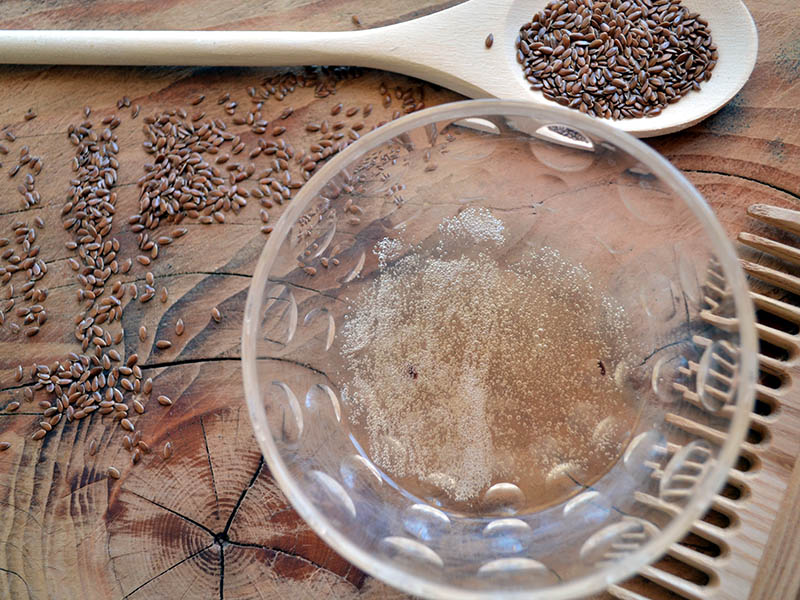 When combined with water, ground flaxseeds absorb a lot of liquid and produce jelly. However, unlike cornstarch, which has a silky consistency, flax can be gritty.
Moreover, because flaxseeds are high in soluble fiber, replacing flour with ground flaxseeds will increase the fiber content of your food. To prepare a gel, combine 1 tablespoon of powdered flax seeds with 4 tablespoons (60 mL) of water. This substitutes 2 tbsp cornstarch.
Xanthan Gum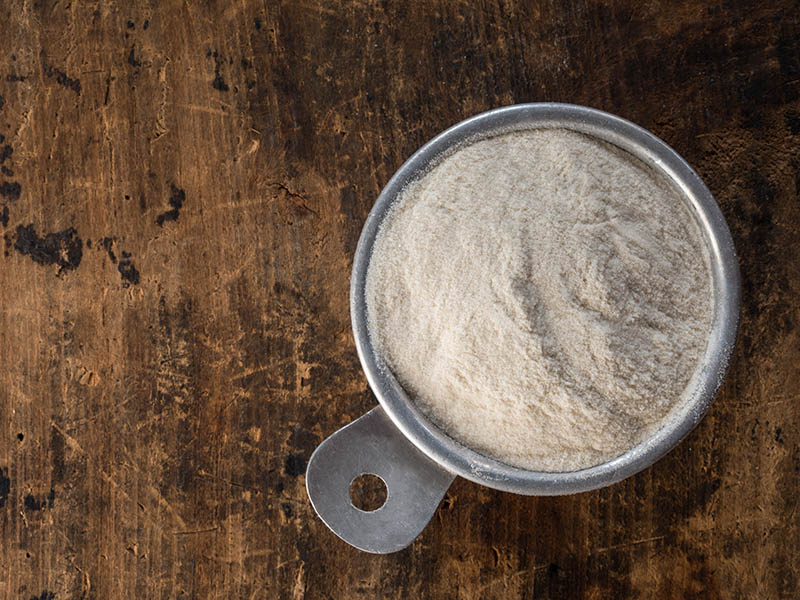 Xanthan gum is sugar that is fermented with specific microorganisms to produce this vegetarian gum. This is an excellent thickener like cornstarch, but it takes longer to become effective when substituted for cornstarch.
A little goes a long way, so start with a small quantity, such as 1/4 teaspoon, and add more as needed. Slowly add additional as needed to watch how your recipe thickens.
Guar gum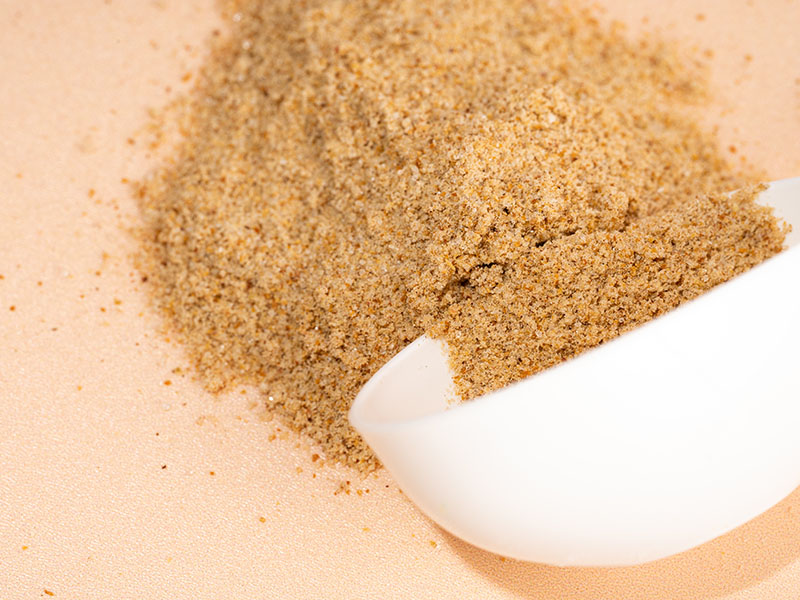 Guar gum is derived from the endosperm, the same as cornstarch. However, it is bean-based rather than corn-based. As a cornstarch substitute, it is physically and functionally equivalent to xanthan gum, and it, too, must be employed gradually to avoid over-thickening your recipe.
You can use one-eighth the amount of guar gum as cornstarch.
There is usually a valid reason why a recipe asks for cornstarch. If you have gluten-free cornstarch on hand, it should be used. If you don't, the options indicated above can be used as a substitute, but the final output may differ.
Homemade Gluten-Free Cornstarch Recipe
You can easily make cornstarch by yourself. Here is a simple recipe for making cornstarch at home:
Step 1: Corn Kernels Softening
Combine dry corn with cold or warm water. Allow the corn to soak up water and soften on the counter for 12 hours or overnight. When your corn is soft, take it from the water and thoroughly rinse it until the water is clear.
Step 2: The Blending Procedure
Blend the corn until it is smooth and runny; this will speed up the sifting process. The finer the pores of the sieve, the finer and smoother the cornstarch or cornflour. Allow it to sit for 2–4 hours to allow the starch to separate from the water.
Step 3: The drying procedure
When properly dried, corn flour can be stored for up to 6 months. You can quickly dry it if you have a dehydrator. After it has dried, break it up or crush it in a dry mill to get a smooth and fine powder. Keep it in an airtight container.
How you can make cornstarch at home – Gluten-free without a doubt.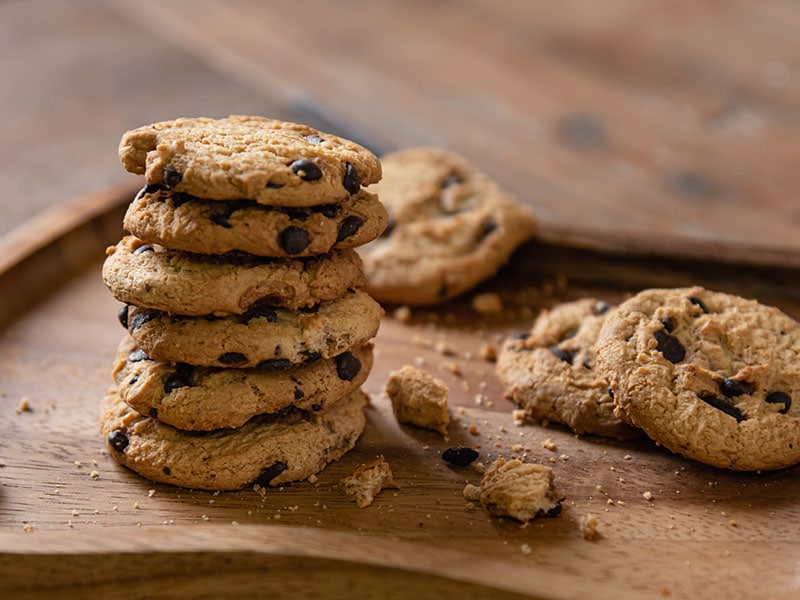 Let's cook together with this recipe to make these gluten-free chocolate chip cookies which are incredibly smooth, moist, chewy, and delectable.
Of course, now you can bake soft and chewy chocolate chip cookies without gluten, and they are delicious. You can also add a unique ingredient (cornstarch) to make them chewier. So now there is the recipe:
Ingredients
8 tablespoons of salted butter, melted
1/2 cup white sugar
1/4 cup packed dark brown sugar
1 egg at room temperature
1 teaspoon vanilla
1 1/2 cups Bob's Red Mill 1:1 Gluten Free Flour
1/2 teaspoon Bob's Red Mill Corn Starch (Gluten-Free)
1/2 teaspoon baking soda
1/4 teaspoon coarse kosher salt
1 cup milk chocolate chips
Instructions
Step 1: Preheat the oven to 350 ° F. Set aside a large baking sheet lined with parchment paper.
Step 2: Using a stand mixer fitted with the beater attachment, cream together the butter and sugars.
Step 3: Stir in the vanilla and egg for 15 seconds on low. It's critical not to overbeat the egg if you want your cookies to stay soft.
Step 4: Combine the flour, corn starch, baking soda, and salt in a mixing bowl. Mix until crumbly (this is more crumbly than regular dough).
Step 5: Mix in the chocolate chunks until almost incorporated. Bring the dough together with your hands to create a big ball.
Step 6: Make 1.5-inch dough balls and place them on the baking sheet, leaving enough space between them to allow for spreading.
Step 7: Remove from the oven after 10-11 minutes. You don't want to overbake, so trust me on the timing. They'll seem fluffy and lightly browned around the edges. Allow them to rest for at least 15 minutes on the heated baking sheet, and they will flatten somewhat and be just right!
Step 8: For soft, chewy, delicious cookies, store them in an airtight container for up to 1 week.
Step 9: Enjoy it!
Secret ingredients that make perfect chocolate chip cookies.
Cooking Techniques Using Cornstarch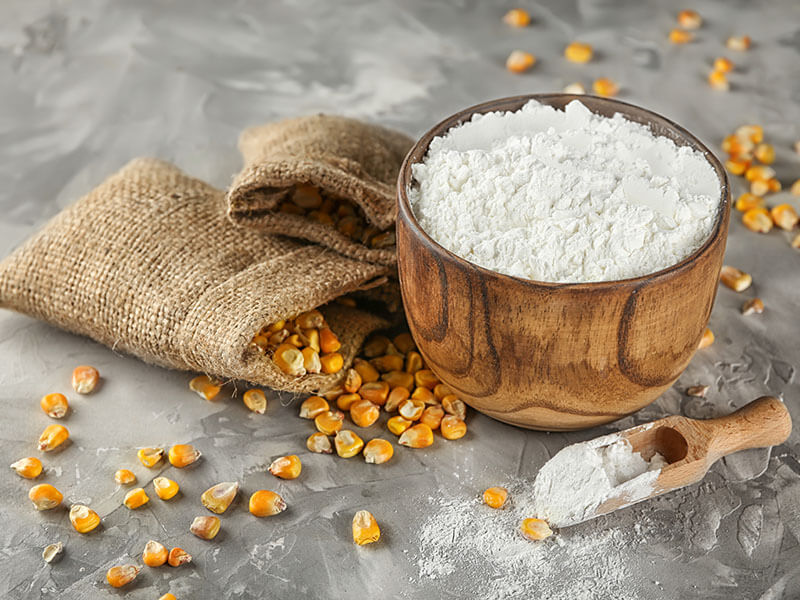 Cornstarch may be hard to use. So I promise to give you techniques to make it easy when using.
Before you begin cooking using cornstarch, be sure it is gluten-free. If it isn't stated on the label, you should investigate the brand to determine if they also produce gluten-containing baking ingredients.
Here are some general principles to follow once you've established that the cornstarch you're using is gluten-free:
How much cornstarch should be added to a solution or combination to thicken it? Cornstarch has a greater impact than flour, so use it sparingly, even if you're using it to keep things from sticking together.
To prevent clumping in your dishes, such as soup or cake, combine the cornstarch with some room temperature water before placing it in a pan of hot boiling water.
A quick reminder that cornstarch cannot be used in the replacement of flour in some recipes because it lacks the protein required to give the baked product structure and volume. This will prevent your cake from being both delicious and gorgeous.
Cornstarch may be preserved for an extended period of time since it includes only starch and no protein or fat. This prevents the dough from degrading or becoming rancid even if kept for an extended time.
However, because cornstarch is a powder, it is particularly sensitive to moisture and can melt at high temperatures, so it must be stored with caution.
Enjoy A Gluten-Free Diet – Cornstarch No Gluten In Your Meals
Here's some additional information about gluten-free cornstarch so you can get all of its benefits. In addition, I will list some of its restrictions so that you may use it carefully.
Cornstarch's Usage And Benefit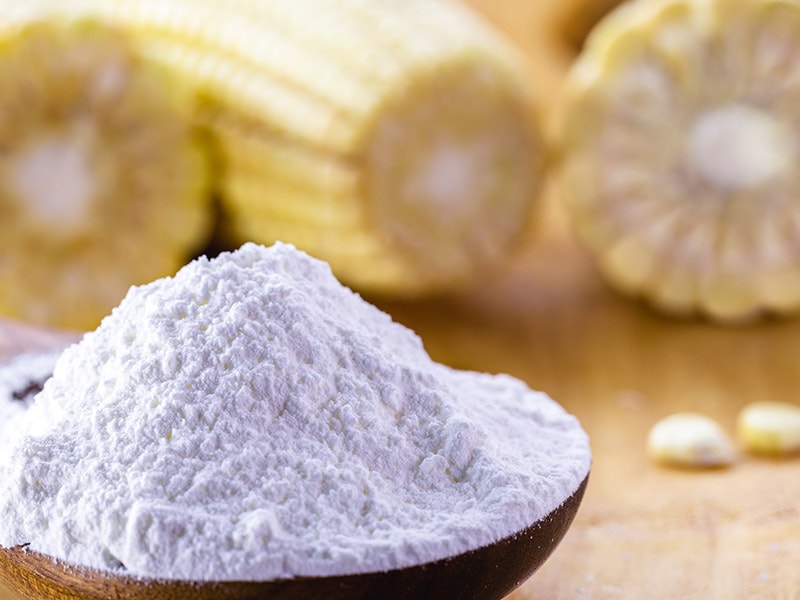 Do you know the benefit of using cornstarch? I will provide you with evidence that cornstarch is quite useful in our daily lives.
Corn starch is commonly utilized in the preparation of a broad range of meals, including soups, sauces, tortillas, bread, pancakes, muffins, and batter. When baking, it can be used in place of wheat flour. However, the overall amount of starch should not exceed half.
Corn starch compares well to flour as a thickener in that it seldom affects the taste of the finished dish, does not include gluten, operates more effectively, and makes the dish translucent and sparkly.
It is used not only in cooking but also in the pharmaceutical sector to make powders, ointments, and combinations and cosmetics to make pastes and powders.
There is a dispute over the utility of cornstarch. Because it is a complex carbohydrate, it degrades slowly and does not cause blood sugar spikes. Furthermore, starch aids in the maintenance of immune system function, contributes to the creation of organic acids and muscle mass, prevents the emergence of inflammatory processes, and nourishes nerve cells.
Gluten-Free – One Of The Most Significant Advantages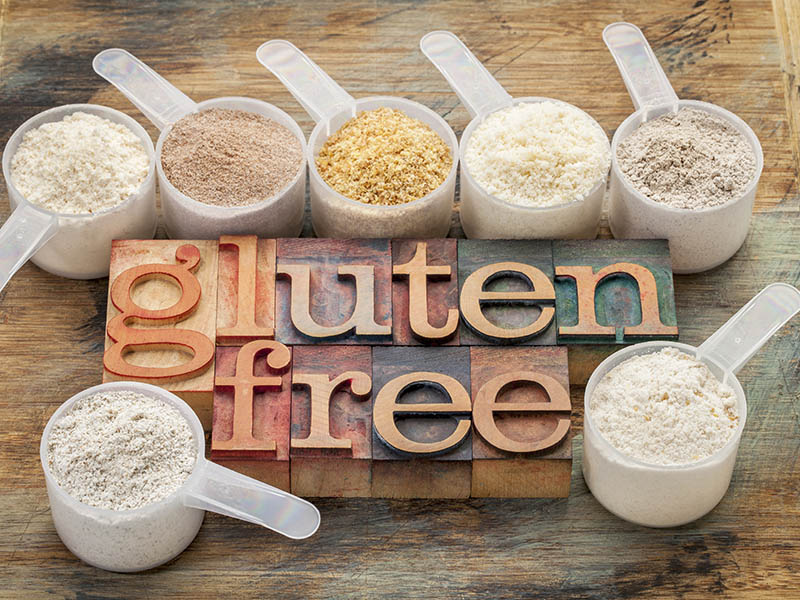 Everyone has heard of gluten-free. I can say it's essential, but how? I will be explicit now.
Those who are allergic to wheat, have celiac disease, non-celiac gluten sensitivity, or follow a gluten-free diet for other reasons can replace flour in recipes with cornstarch.
For example, in recipes that call for you to cover foods before frying or to thicken sauces or gravy using flour, you may easily substitute most types of cornstarch.
Following a gluten-free diet has various advantages. Gluten intolerance is usually connected with persistent weariness. This is because gluten-free foods are harmful to their intestines. A gluten-free diet can help your intestines heal and re-establish vitamin absorption.
Eating gluten-free allows you to avoid gastrointestinal ailments while also losing weight by restricting carbohydrates and fats. At the same time, eating gluten-free strengthens your joints.
Restrictions On The Usage Of Gluten-Free Cornstarch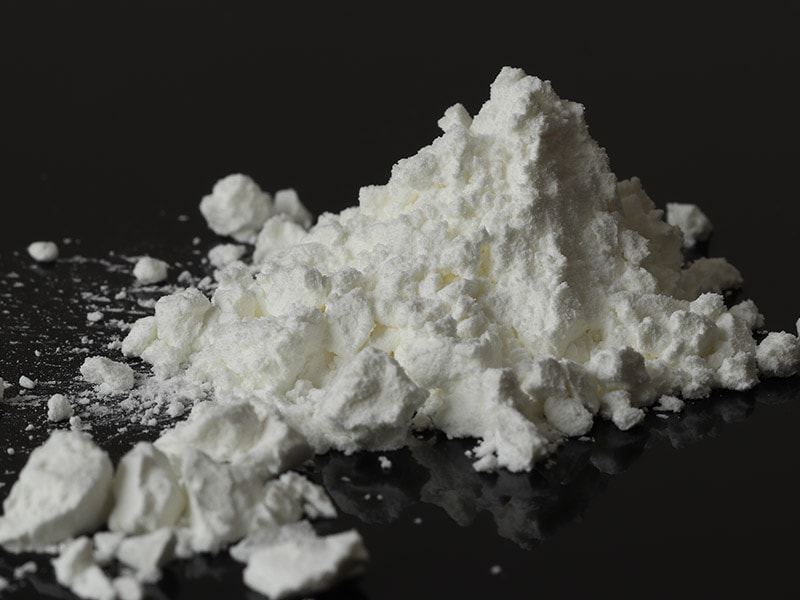 Aside from the benefits it provides, gluten-free cornstarch has limitations on use. I'll explain what they are so you can consider them when using gluten-free cornstarch.
Cornstarch contains both glucose and sugar, which might lead to weight gain. To do so, it must be consumed on a regular and massive scale.
Other drawbacks of gluten-free include a lack of fiber, nutritional deficiencies, and the health halo associated with gluten-free packaged foods. You will be low in fiber if you eat cornstarch instead of flour on a gluten-free diet.
Many fiber-rich foods accessible in the American diet, such as whole-wheat bread and barley, contain gluten, making the gluten-free diet more difficult.
Gluten-free diets may be low in other nutrients in addition to fiber. This is because wheat-based products, such as cereal and bread, are often fortified with essential vitamins and minerals, but gluten-free alternatives are not usually.
Furthermore, gluten-free diets are popular, and many packaged foods on supermarket shelves are labeled or certified as "gluten-free." However, just because something is gluten-free does not imply it is healthy. In many cases, they aren't.
FAQs
Do you still have questions about gluten-free cornstarch? Relax, I will assist you in answering this section of the article.
Cornstarch And Gluten-Free – Special Connection, Special Arguments
With all I've discussed thus far, one thing is clear is that there's more to the question "is cornstarch gluten-free?" than a simple yes or no. While it may be used for various purposes, it is best known as a baking and culinary component.
As a result, you'll need to know which brands to search for and which gluten-free alternatives to cornstarch to consider. Nonetheless, given what cornstarch is composed of, it is safe to say that cornstarch is gluten-free.
Before you leave, don't forget to like the post and share it with everyone. Let the question of whether cornstarch is gluten-free no longer be a problem for you and everyone.
If you have no comment, spread the word so that everyone who needs it knows and receives it. Thank you for reading, and have a good meal with gluten-free cornstarch.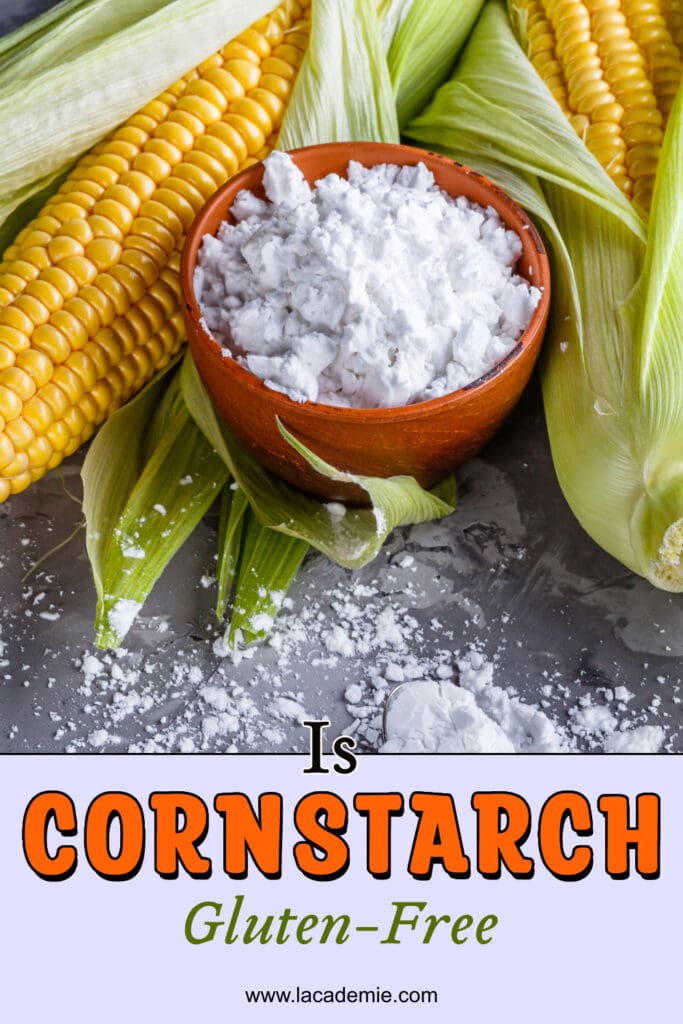 References
El Khoury, D., Balfour-Ducharme, S. and Joye, I., 2022. A Review on the Gluten-Free Diet: Technological and Nutritional Challenges.
Rai, S., Kaur, A. and Chopra, C., 2022. Gluten-Free Products for Celiac Susceptible People.
Wieser, H., Segura, V., Ruiz-Carnicer, Á., Sousa, C. and Comino, I., 2022. Food Safety and Cross-Contamination of Gluten-Free Products: A Narrative Review.
U.S. Food and Drug Administration. 2022. What does the FDA regulate?
U.S. Food and Drug Administration. 2022. Gluten-Free Labeling of Foods.