This post is a rich source of the best Malibu cocktails you have to try making to treat your loved ones and guests at the parties right now. They are the incredible choices to diversify your drinks menu.
Drinks are crucial parts of many special events, so you need to pay attention to preparing these cocktails with Malibu rum to bring the best experiences to your guests. So, let's read this article carefully to know how to make these liquid treats properly.
A Short Brief About Malibu Rum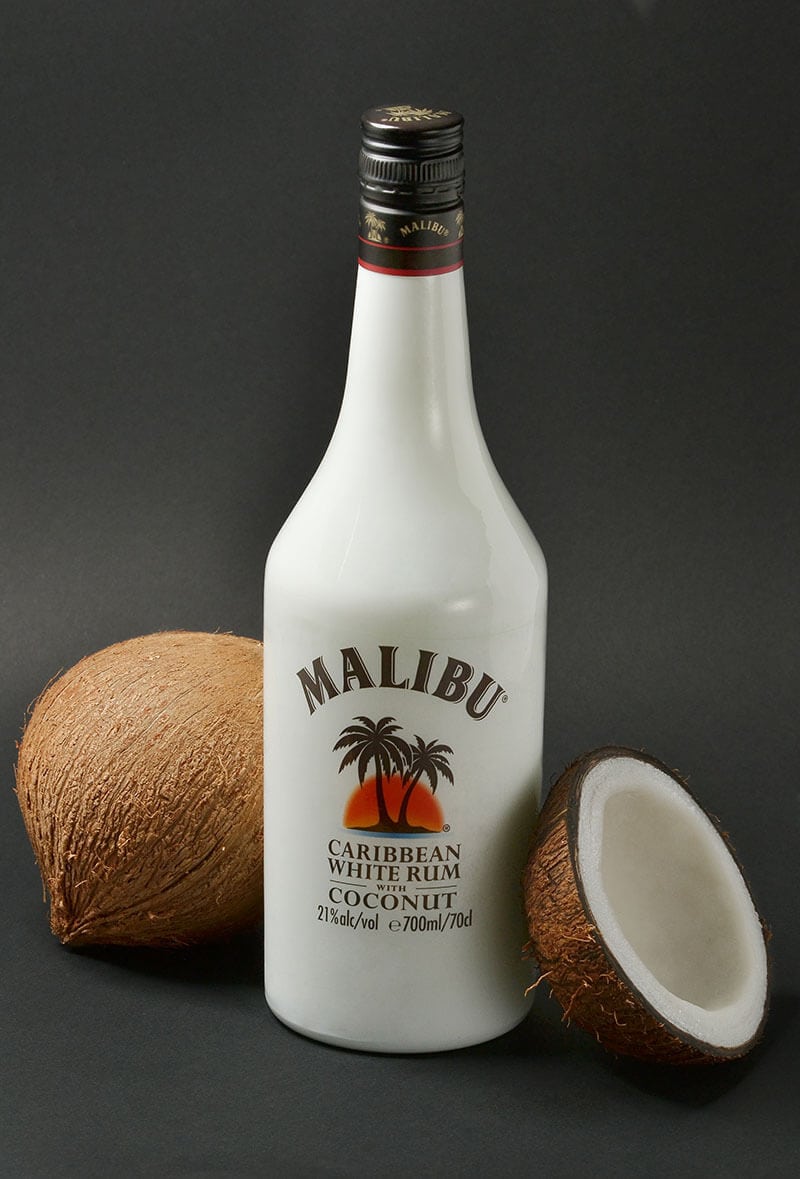 Malibu rum or coconut rum is a well-known alcoholic beverage. Tom Jago, the inventor of Baileys Irish cream, invented this fantastic rum. Originally, fruit spirits were the main ingredient of Malibu. Also, it was flavored with coconut and rum.
Besides the original Malibu rum, many other variations are flavored by various tropical fruits like banana, passion fruit, mango, or pineapple. If you want to taste tequila in Malibu, you can try Malibu Red.
Malibu Black is the double-strength variant with about 35 percent of alcohol content, which is the combination of authentic coconut-flavored liqueur and dark rum. Furthermore, Malibu Fresh is another version blended with mint.
Commonly, regular Malibu rums contain about 21% alcohol by volume. There are many famous Malibu brands globally like Cruzcan, Capital Morgan, and Bacardi.
Malibu is diverse in flavor. It is simple to feel the exquisite sweet taste when tasting this authentic Malibu. Furthermore, you can find fruity rum, almond, and coconut hints in this liqueur.
Listen to some reviews after tasting delicious Malibu rum.
Do you know the ways to make excellent cocktails with Malibu rum? Do not worry about that since this section will give you the answers with the list of incredible cocktails made from Malibu liqueur.
Total time: About 5 minutes
There are many delicious Malibu cocktails, and Malibu Summer Rose is one. This alcohol mixed drink with orange juice is a common choice on summer days. It is effortless to make this cocktail as the operations are manageable.
Coconut Malibu, pineapple, orange juices, peach schnapps, and grenadine are ingredients that appear commonly in most households. So, let's do it whenever you want. It will be better when enjoyed with ice, so please prepare a glass filled with ice.
You will start with the combination of Malibu rum and peach schnapps. Next, it is necessary to dissolve pineapple and orange juices in an equal ratio into the mixture.
Do not forget to add grenadine to sweeten this drink. Also, it looks more professional when decorated with pineapple, orange slices, and cherries.
Let's check the ways to make delicious Malibu Summer Rose.
Total time: About 3 minutes
If Malibu rum is available on your hand, it is good to try making Malibu Sunset. This fruity alcoholic beverage will steal your soul on the first try. Malibu rum is the main ingredient of this drink.
If you have never tried drinks with a typical coconut flavor, it is time to change your palate. Malibu rum tastes outstanding with hints of coconut, almond, and fruity rum. You can think of relaxing in the tropics while enjoying this drink.
The sweet and fruity taste of this drink is enhanced with the addition of pineapple juice and cherries. The grenadine syrup will make the taste of this dessert fully explode. You should serve it with ice cubes to have the best experience.
Total time: About 5 minutes
Making Electric Smurf is an excellent way to impress your friends and diners. It looks beautiful in light blue and white shades. Besides the superb coconut touch of Malibu rum, the tropical taste of pineapple rum and juice will make you flutter.
Blue curacao is the crucial component that creates an eye-catching blue shade for this treat. It has a sweet taste of orange peel and a slightly bitter flavor. Furthermore, lemon-lime soda makes this cocktail more appealing with a citrus touch.
Total time: About 10 minutes
In case you cannot enjoy a vacation at a tropical beach, a glass of Rainbow Paradise will bring the tropical breeze to you. This simple mixed drink looks sexy and luxurious when served in a long or hurricane glass.
Its name shows a colorful cocktail. Indeed, you can find many separated colors in this cocktail, including red, orange, yellow, green, and blue. It is straightforward to create these shades for this Rainbow Paradise cocktail.
Let's start filling the cocktail glass with grenadine syrup. Do not forget to add ice cubes or crushed ice. Mix pineapple juice and Malibu rum and pour into the glass. It is necessary to stir the mix to get the orange layer.
It is more difficult to create the blue layer. You have to combine blue curacao with water and add it to the glass. You will get the green layer from the combination of blue and yellow. And this cocktail finishes with a blue layer on top.
It is time to find the methods to create an incredible Rainbow Paradise with Malibu.
Total time: About 5 minutes
If you love the taste of coconut in cocktails, it is a pity not to try Malibu Mojito. Mojito is a famous cocktail that originated in Havana, Cuba. Originally, Mojito was the melodic mixture of rum, lime juice, soda water, mint, and sugar.
The simple recipe I want to share contains coconut rum or Malibu rum. Furthermore, the appearance of Stevia will diversify the taste of this cocktail. It tastes fresh, fruity, and cool with mint leaves and blackberries.
Total time: Around 5 minutes
The best way to relieve stress after a long working day is to sip a creamy Malibu Pina Colada. It is not difficult to make this delicious cocktail with a few simple steps in a short time.
I love the natural coconut taste and the aroma of Malibu coconut rum, so I choose it for this cocktail. In particular, the rich flavor and smooth texture of coconut milk are an excellent addition to this alcoholic dessert.
However, do not forget to shake the coconut milk can before using it to mix the elements in coconut milk into a consistent mixture. After blending all ingredients in a blender, you will get a fabulous cocktail to enjoy on holidays.
Canned coconut milk will be better than coconut milk in cartons because it is creamier and thicker. But, if you have to use the drinking version, you need to add a bit of heavy cream. Furthermore, it is possible to replace pineapple juice with fresh pineapple.
Total time: About 5 minutes
The sweet Malibu Bay Breeze will be a highlight at your party. However, it is not too sweet. Its flavor is a balance between tartness and sweetness. Its delicate flavor comprises coconut rum (Malibu), cranberry juice, and pineapple juice.
Perhaps, you can confuse it with Sea Breeze, but they are 2 different types. Sea Breeze is a mixture of grapefruit juice, vodka, and cranberry juice. However, you need to use pineapple juice and Malibu rum instead of grapefruit juice and vodka in Bay Breeze.
There are 2 options to serve it. If you love the coolness, you should combine it with ice. Meanwhile, it is possible to serve it with no ice if you have a sore throat. To raise the aesthetic, let's adorn it with pineapple slices and lime wedge.
These directions will help you make the tasty Malibu Bay Breeze.
Total time: About 6 minutes
If you are having a vacation at a tropical beach, a Malibu Rum Punch is an incredible suggestion. The orange juice and pineapple juice fusion will pair well with the Malibu rum to make a masterpiece. The subtle drink is good for summer evening and afternoon parties.
Grenadine is an indispensable ingredient to create a sweet hint for this fruity treat. It is difficult to resist ginger ale's warmth and peppery flavor when tasting this drink. If you want to make it more beautiful, let's garnish it with maraschino cherries and orange slices.
Total time: About 5 minutes
Until now, I still remember the fresh and pleasant feeling when enjoying a glass of delicious Malibu Mistress. At first sight, the light green hue and its impressive appearance will stimulate your desire to taste it immediately.
When enjoying it, the coconut hint and the characteristic sweetness of Malibu coconut rum will conquer you from the first taste. In addition, a bit of liqueur touch is added from the melon liqueur.
This cocktail will become festive and refreshing with pineapple juice. You will think of a snowy mountain with whipped cream on top in terms of garnish. Moreover, a cherry will increase the value of this drink.
Total time: Around 5 minutes
It takes about 5 minutes to get the eye-catching and fresh Lava Flow cocktail. Because of the similar orange shade to volcanic lava, this excellent frozen cocktail gets the characteristic name.
To create Lava Flow with these 2 separated beautiful white and orange colors, you need to create a smooth mixture by blending light rum, Malibu rum, and strawberries. You must fill the hurricane glass with this paste first.
To get a white layer, you will put coconut cream, pineapple juice, ice, and banana in the blender and blend until the mixture becomes smooth. After pouring the mix and red rum into the glass, you will have a cocktail with attractive colors.
Learn how to make mouthwatering Lava Flow with Malibu rum.
Total time: About 3 minutes
If you have a huge passion for rum-based cocktails, Rum Runner is an ideal option for your party. The fruity and tropical drink comprises 3 types of rum, including Spiced rum, Malibu rum, and Light rum.
In addition, this delicious cocktail using Amaretto has a diversive flavor. Besides serving Rum Runner in a glass, you can make this drink in a large pitcher for a huge party.
However, it is better to add ice as soon as your guests have just arrived to avoid reducing the flavor of drinks due to the ice melting. You can use mango or orange juice to replace pineapple juice to diversify the taste.
You need to test the drink's flavor while adding grenadine to avoid being too sweet. Let's decorate this cocktail with maraschino cherries and an orange wedge.
Total time: Around 5 minutes
Among many tasty cocktail recipes, Bikini Martini is one of my favorite cocktails. It is an iconic representative of the tropical and fruity cocktails group. This recipe is a harmonious combination of Malibu coconut rum, blue Curacao, and pineapple juice.
You will be surprised by the simplicity and quickness when processing it. Your task is to combine all ingredients with ice cubes in a shaker and shake until you feel the cold of the shaker. Let's pour this mixture after you fill the glass with blue Curacao.
Total time: Around 5 minutes
Mai Tai is a long-standing cocktail; you have to give it a shot. Malibu Mai Tai is a popular variant of Milan Mai Tai. This yummy drink is a collection of almond, coconut, and pineapple hints. I love the charming red color of this treat.
My heart is entirely conquered when sipping this cocktail on the first try. The appearance of Amaretto adds sweet and rich touches to this cocktail. In particular, you should not drive after enjoying this drink because it is strong.
Total time: About 5 minutes
It is time to fall in love with the incredible flavor of Tropical Peach Pineapple Slushies. Thanks to the perfect mixture of Malibu rum, pineapple vodka, and tropical fruits, the cool and refreshing cocktail will make you flutter right away. It is not complicated to create this excellent cocktail with simple instructions.
You just need to prepare all the essential ingredients and a blender. It takes about 5 minutes to get the excellent cocktail by blending all components until you get the smooth mixture. Let's sweeten this drink with grenadine and decorate it with cherries.
Total time: About 5 minutes
I have to talk about Bahama Mama when it comes to outstanding tropical cocktails. The combination of orange juice and pineapple juice never lets you down. In addition, Malibu coconut rum enhances the flavor of this cocktail.
Besides Malibu coconut rum, the earthy and grassy hint of rum will wake up the taste buds of your guests. In particular, I am pretty impressed with the decoration of this cocktail with cherry and a pineapple wedge. It brings dynamism and modernity.
Follow these instructions to make yummy Bahama Mama with Malibu coconut rum.
Total time: Around 4 minutes
Have you ever tried Sex On The Beach? If not, let's try it right away. It is a classic alcoholic drink loved by many people. This classically yummy and fruity cocktail comprises vodka, cranberry juice, orange juice, and peach schnapps.
However, the particular version I introduce will have the addition of Malibu rum. So, besides the reasonable sweet taste and tartness, you can feel the distinctive coconut aroma and the hint of almond from this cocktail.
Total time: About 10 minutes
If you have 10 minutes to prepare a tropical cocktail for the party, I recommend making Tropical Sangria. It is a fantastic summer cocktail. Tropical Sangria is a suitable option for those who love fruity touch.
Malibu rum's coconut and sweet taste blend perfectly with white wine, orange juice, and pineapple juices. Significantly, the flavor of various tropical fruits like kiwi, oranges, and strawberries will captivate you right away.
Typically, it is perfect to accompany tropical foods, such as tropical fruit salsa or coconut shrimp with mango dipping sauce.
Total time: About 5 minutes
You will think of a summer vacation on the island of Hawaii while enjoying this beautiful blue cocktail. Its blue color looks similar to the shade of the ocean. Blue Curacao creates this characteristic color.
In addition, pineapple juice, sour mix, and Malibu rum will bring a fresh and tropical breeze to you. You will be impressed with its appearance because it is decorated with a pineapple wedge.
If you want a delicious Hawaiian cocktail, you should give it a perfect shake for 10 seconds before serving. A frozen version by blending all elements with ice cubes will be an ideal option for dessert. You can replace half of the sour mix with coconut milk to reduce acidity.
Total time: About 3 minutes
Malibu sunrise is a great drink to enjoy with Southwest Chicken Salad. White rum, grenadine, and pineapple juice are my favorite ingredients when preparing this cocktail to bring eye-catching sunrise color.
When everything is ready, ice cubes will be the first inhabitants of the glass. It will become steamy when bathed in pineapple juice and rum. Let's layer the cocktail by adding grenadine. It looks so fresh and nice with maraschino cherries.
Total time: Around 5 minutes
If you blend Malibu rum, vodka, cranberry juice, and pineapple juice, you will have a perfect drink for the summer. And its name is Malibu Paradise cocktail. It is simple as you only have to stir the elements and serve it with ice.
Do not rush to serve it! Make it more prominent with fresh cherry or lime wedge. If the kids want to drink it, you can mix non-alcoholic components with ginger ale. Serving it with some chicken salad will be a great fast meal for your kids.
Do You Love These Malibu Cocktails?
Which is your favorite Malibu cocktail on this list? These tasty drinks play a crucial role in bringing a happy ending to your vacation. Therefore, do not forget to make them during your upcoming holidays.
The best and most effective way to introduce these excellent recipes to many other people around you is to share this post. In addition, you can leave your problems or contributions in the comment section. Thanks a lot!
Nutrition Facts
1 servings per container
---
Amount Per ServingCalories207
% Daily Value *
Total Fat 0.2g

1

%
Sodium 31mg

2

%
Potassium 205mg

6

%
Total Carbohydrate 36.5g

13

%

Dietary Fiber 0.3g

2

%
Sugars 18.9g

Protein 0.7g

2

%
---
* The % Daily Value tells you how much a nutrient in a serving of food contributes to a daily diet. 2,000 calories a day is used for general nutrition advice.