It's time to introduce you to some of the best Rum cocktails that this planet has to offer. Not only are they simple to make with the ingredients you can find in the nearest store, but these fantastic drinks also allow you to unwind after a hard day of work.
As you can expect, this is going to be another fun ride. That means you can just sit back, put on your most comfortable outfit, and enjoy this quick rundown on Rum as well as its cocktails. Let's get straight into the article!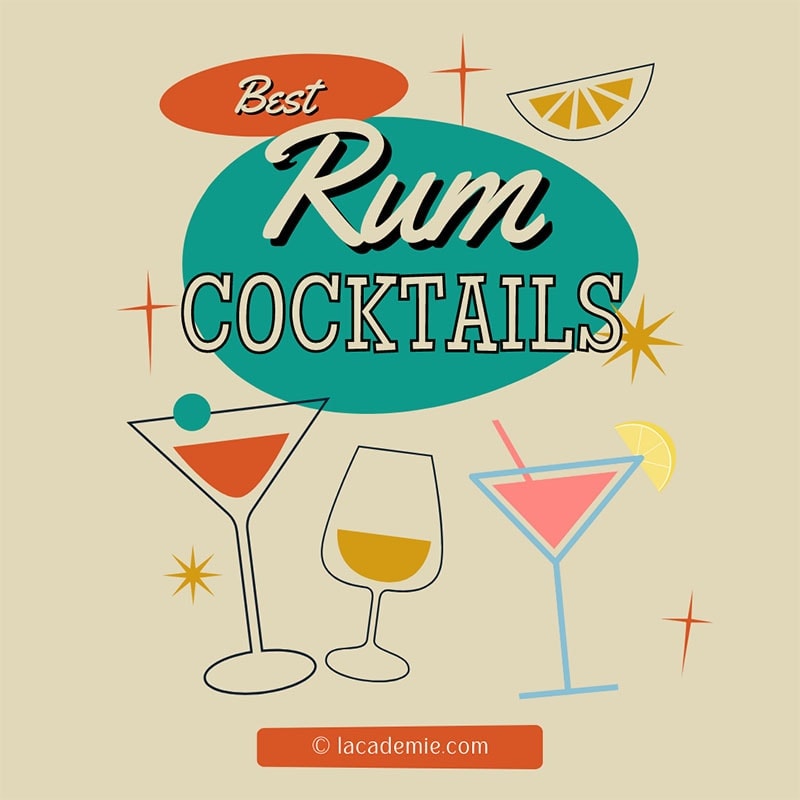 What Is Rum?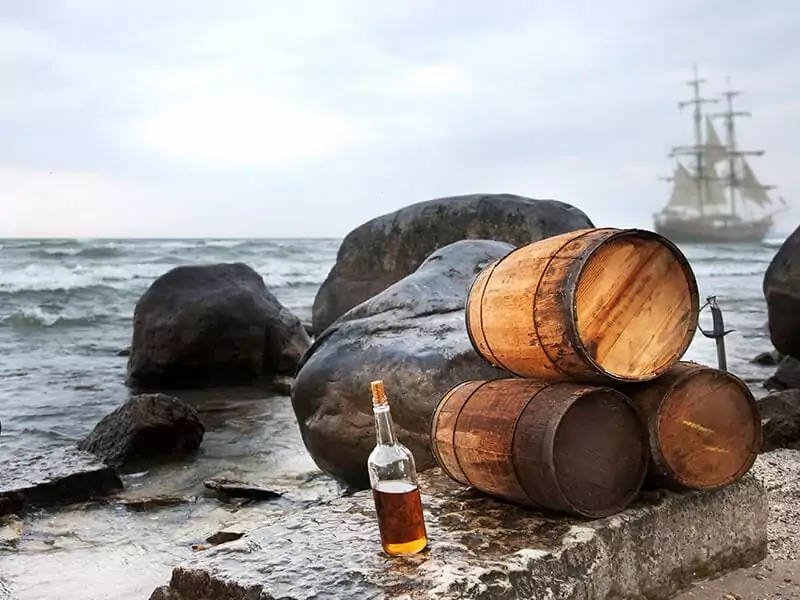 Rum is a type of alcohol that comes from distilling either sugarcane or molasses. After the initial distillation process, the liquid comes out colorless. If the brewers want Rum to take on its signature brownish hue, they have to age it in an oak barrel for at least over a year.
Historically speaking, there were various versions of early "Rum-like" beverages around the world, including Sidhu from South Asia and Brum from the Malay Peninsula. However, the first true distillery was created in the Caribbean in the 17th century.
Due to a large number of sugarcane plantations across many Caribbean nations, Rum has a significant cultural impact in the area. The spirit is often associated with the infamous "Golden Age of Piracy", between the 17th and 18th century A.D.
How Do You Drink Rum?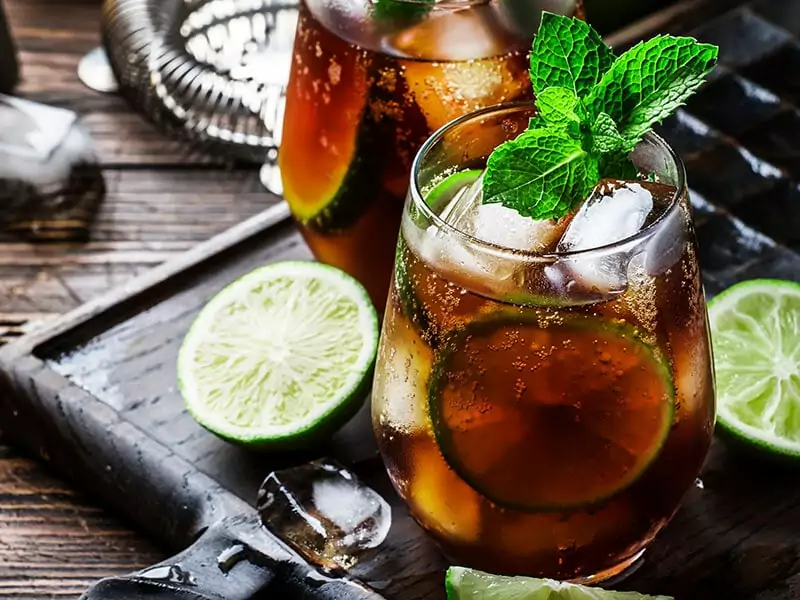 Based on the locations and the aging time, there can be several different types of Rum with their own characteristics. It depends on how pure you want the overall flavor to be, or how strong you are against alcoholic beverages.
If you're someone who prefers a more unadulterated side of Rum, I would suggest White Rum. It's quite dry, but there's a slight sweetness underneath. But if you want to have a spunky, fun-filled moment, let the Dark Rum be your companion with its stronger oaky essence.
But for those who can't drink straight, Rum is also great with many types of accompaniment. The simplest way is to add a squeeze of lime and a dash of Coke to highlight the sweetness with acidity. Or you can replace the lime with orange juice for that extra freshness.
Now that you have understood some general information about Rum, let's move on to the key part of today's topic and open you up to a universe full of incredibly delightful Rum-based beverages that you can enjoy alone or with some company.
Some Of The Best Rum Cocktail Recipes For You
It's time to get rid of that misconception that cocktails are something only professionals can make. These easy recipes for cocktails below don't require too much effort. And at the end of the day, you can still get a delicious and icy glass of cocktail.
Total time: 5 minutes
When it comes to iconic Rum-based cocktail recipes, one must always mention Pina Colada. The history of this beverage dates back to the 19th century when a pirate named Roberto Cofresi created a combination of coconut, pineapple, and white rum for his crew.
Since then, the general recipe for this mixed alcoholic drink with pineapple hasn't changed much, only adding a few more components to the existing trinity. For this version, the additional stuff includes Angostura bitters (a type of bitter alcohol), heavy cream, and dark rum.
As a very Rum-forward beverage, Pina Colada has a pleasant sharpness, with a mild bitterness underneath. You can also pick out the tang of Pina Colada due to the appearance of pineapple. The dash of dark rum top the drink off with an oaky aroma.
When you're thirsty, you can make this beautiful drink called Pina Colada.
Total time: 5 minutes
If you're looking to make a special drink for a festive winter holiday, you can try this recipe called the Coquito cocktail. It is basically a spiked-up version of traditional eggnog, but there is no egg yolk here. This drink has its origin in Puerto Rico, but you can find variants of it around the Caribbean.
To make this Christmas-appropriate mixed alcoholic drink, you're going to need a few ingredients, such as dark rum, vanilla extract, and condensed milk. And like eggnog, spices (cinnamon and nutmeg) are also necessary to create that flavorful fragrance.
The first you're going to taste is that creamy base of the condensed milk. And when you think it's over, the oaky and piquant notes of the dark rum smack you straight in the face. The complex layers of essences offer such an interesting experience.
Total time: 5 minutes
Despite its name, the Old Cuban cocktail was an entirely American creation when a bartender named Audrey Saunders first showed off the drink in New York in 2001. The Old Cuban is very beginner-friendly, so if you're new to Rum, this is a good concoction to make.
There are three main factors that you should always prepare to make a delectable Old Cuban. The first is the aged rum, which has a lot more of a punch compared to the white rum. The oak-like fragrance boosts the taste to an even higher level.
The second part is the Angostura bitters, where you can use the bitterness from this alcohol to enhance the overall flavor. And the final factor to consider is the combination of lime juice and syrup. Both the acidity and sweetness can reduce the intensity.
Total time: 5 minutes
When the summer comes, you know it's a perfect time to whip out a cocktail shaker to make a glass of Dark And Stormy. It's cool, refreshing, and tasty. And if you're holding a pool party, this drink is going to attract a lot of attention from your guests.
The simplicity of this ginger beer-flavored cocktail is why it's so beloved everywhere. The two most obvious flavors you can feel in this cocktail are the heavy oakiness and the pepperiness of the ginger beer. The lime juice is there as a way to improve your appetite.
The specialty is super easy and doesn't require a lot of ingredients to make. All you have is to mix Dark Rum, Ginger Beer, and some lime juice in a highball glass (a type of tall glass for cocktails). Stir thoroughly before you can serve.
This tutorial for Dark And Stormy is going to conquer your taste buds.
Total time: 2 minutes
The El Presidente, or The President in English, is a type of cocktail originating from Cuba around the early 20th. The name might be a reference to Mario Garcia Menocal, who ruled Cuba from 1913 to 1921.
Whenever you feel like going back in time, this beverage is quite the suitable choice. The main ingredients include White Rum, Dry Vermouth, and Orange Curacao. Unlike overly complicated recipes of the modern time, this cocktail with Vermouth feels rather rustic in its approach.
El Presidente leans more on the dryer and more zingy side. The inclusion of Orange Curacao offers a tangy aftertaste. But if this is too rough for your taste buds, you can add a dash of Grenadine, which is a type of pomegranate syrup for some sweetness.
Total time: 5 minutes
When the summer starts to last a little longer, it's not always easy to choose one type of drink to cool off. Actually, the options are quite endless out there to relieve the scorching heat, so let me introduce you to another option called Jamaican Rum Punch.
This drink is going to fill you with that comfortable and relaxing tropical breeze. The main components for this recipe are Rum (white and coconut), pineapple juice, and orange juice. You're going to need a pitcher, not a tiny glass for this cocktail.
Get a pitcher, pour the liquid in, and add the crushed ice to this aromatic orange juice-infused cocktail. Both of the rum will create a very fantastic base for this beverage. The juice and orange juice offer some tangy and refreshing flavors.
Total time: 5 minutes
For such a small island nation, Cuba has had such a huge impact on the global cocktail industry. Many of the world's most popular mixed alcoholic beverages come from this country, which includes this entry here called Fresh Rum Mojitos.
This Cuban alcoholic mixed beverage is another way for you to make it in the summer. The refreshing set of ingredients is going to boost you up for so many exciting activities. Firstly, White Rum is going to bring a very familiar tingling sensation that unshackles your mind from everyday stresses.
Secondly, the mixture of sugar, lime juice, and club soda hides any sort of piquancy to make this drink more palatable to your taste buds. This means drinking more Mojitos is not going to be uncomfortable. But please remember to drink responsibly.
Total time: 5 minutes
Dark Rum Mojito, otherwise known as the Dirty Mojito, offers a pleasant variation from your traditional clean Mojito. Instead of using the White Rum, a dark version is necessary to create a stronger base for this cocktail.
Aside from the difference in Rum choice, everything else stays almost the same. You still have sugar, lime, and club soda as the other essential ingredients. First, combine the lime wedges with sugar in a highball glass. Use a muddler (or mortar and pestle) to press them together.
The final steps include rubbing mint leaves around the glass and adding Dark Rum and ice. The club soda acts as a perfect topper to create a special fizziness. This cocktail has a clear emphasis on smokiness. It's strong but not overwhelming.
You can also feel a hint of zestiness underneath; it blends almost perfectly with the pepperiness from the mint.
Do you want to quench your thirst? You can try this Dark Rum Mojito recipe.
Total time: Around 5 minutes
Whenever you see a cocktail with a special name like this Jungle Bird Cocktail, you know you're in for a real treat that's full of aromatic bliss. This unique cocktail was created at the Hilton Hotel branch in Kuala Lumpur (Malaysia) in 1978.
To recreate this, you're going to have to get the following ingredients, including Dark Rum, Campari (a type of Italian liqueur), and lime juice. And this cocktail recipe that has Campari is full of that tropical goodness; a taste of it reminds you of a sunny seaside resort.
The Jungle Bird offers a unique twist to the overall taste. The bitter and zesty essence of Campari fully complements the oaky fragrance of the Dark Rum. Aside from that, the acidity from the lime juice binds everything together quite nicely.
Total time: 5 minutes
Just like the name suggests, the Hurricane Cocktail is going to come in, knock down your door and blow you away from your daily struggles. So why don't you just forget about whatever is fogging your mind and live in the moment with this fantastic beverage?
One of the best things about this recipe is the generous use of many different juices. You have the sweet passion fruit juice, the more tangy orange juice, and the zesty lime juice. The amount of vitamin C you're going to get from this drink is enough to energize you for months.
Not only that, but the combination of White and Dark Rum is going to be the boost you need to unwind. The sharp aftertaste of this passion fruit-included cocktail will spread all over your taste buds. However, the syrup keeps the intensity to a more manageable level.
Total time: 5 minutes
If you ask someone what they know about Bermuda, they would probably answer the Bermuda Triangle. However, if you ask a cocktail fan what they think of Bermuda, they would thank the island for coming up with the Rum Swizzle.
The origin of the Swizzle dates back to around the 17th-18th century A.D when there were many versions popping up around the U.S, the Caribbean, and even Great Britain. The cocktail is very Rum forward with other less prominent accompaniments.
In this version, you combine both White Rum and Dark Rum with something called Falernum (syrup liqueur from the Caribbean consisting of ginger, lime, and almond). If you want to increase the tanginess, there are options for citrus juice like orange and lime.
This refreshing tropical drink is what you need on a hot summer day. Both types of Rum do a great job of keeping this cocktail very exciting. The Falernum provides a unique peppery flavor to the Swizzle.
Total time: 4 minutes
For those who love desserts, I have this special treat for you called Bushwacker Cocktail. This certain beverage straddles a fine line between being a cocktail and a smoothie. Once you get a taste, a wave of creaminess is going to make you crash hard.
To recreate this sugary delight from heaven, you'll have to get Rum, Baileys Irish Cream, and a good dose of chocolate liqueur. The simple thing to do is to pour most of the ingredients into a blender with ice and let that device do its magic.
When the consistency comes to your liking, it's time to enjoy this cocktail including Baileys. Thanks to the use of so many sweet-flavored liqueurs, you can barely feel the dryness and that kick in most alcohol. The smell of chocolate and coffee masks out any intense aroma.
But remember to be moderate since the beverage still contains a good amount of alcohol. If you drink too much, you will faceplant, or as locals like to call it, "getting bushwacked".
Total time: 5 minutes
Mai Tai Cocktail is a type of beverage that friends warn you not to have too much, but it's so irresistible that you can't stop yourself. Jokes aside, the Mai Tai is such a good way to help you enjoy the summer.
The ingredients are obviously the best part about Mai Tai. First, there is the amazing combination of both Dark Rum and White Rum.
There is also the inclusion of a special component called Pom Wonderful. It essentially infuses the cocktail with pomegranate essence, providing a lot of sweetness and tanginess.
To cap things off, add a dash of pineapple juice for that extra tropical sensation. You can also feel that smooth and spicy kick from the alcohol, with a fragrant smoky aftertaste after the initial effect subsides.
This tutorial can show you many ways to recreate Mai Tai Cocktail at home.
Total time: 5 minutes
There was once a wise man who said that there were only three certain things in life: Birth, death, and taxes. However, that man didn't know there was a fourth certain thing, and that is every alcoholic drink will have its own Sour-styled cocktail.
From Vodka to Tequila and Bourbon, each of them has its own Sour Cocktail. Of course, Rum is not an exception, thanks to today's entry called Rum Sour. So, what does this recipe consist of? The main components are Dark Rum, lemon juice, and syrup.
The name of this beverage truly describes its taste. It's sour with a generous helping of lemon juice. However, it is not enough to mask the very intense Dark Rum aroma. The oaky fragrance gives a very sophisticated feel.
Not only just that, but this cocktail also has a creamy undertone to it with the help of the rich egg whites.
Total time:10 minutes
Despite the heat from the summer, one of the best things about this season is the fact that you can finally get to enjoy a relaxing glass of icy Rum Runner. A bit of alcoholic drink always makes life a bit more fun.
This cocktail first made its debut in the state of Florida during the 1950s. It's quite easy to make with ingredients you can find in the nearest stores. First, there is the White Rum which gives a pleasant dryness.
This recipe also requires you to get a variety of juices, including pineapple and orange juice. The vitamin C from them can surely give a good boost to your immune system. After you're done with the mixing, pour a dash of Dark Rum on top to improve the aesthetic of this cocktail.
Total time: 5 minutes
Painkiller is the name of a cocktail that came from the British Virgin Islands in the Caribbean around the 1970s. This beverage is usually available in many Tiki bars, a type of establishment that serves cocktails and other Rum-based drinks.
One of the most notable things about the Painkiller is its vibrant fruitiness. The main ingredients that contribute the most to this side of Painkiller are orange juice, pineapple, and a special thing called orange flower water.
When you first take a sip, the first thing you notice is the heavy orange fragrance. It's zesty, with a bit of bitterness due to the orange flower water. The Rum provides a nice spicy undertone, along with its signature dryness.
Total time: 5 minutes
Don't you ever want to feel the cool seaside wind whenever you're stuck at home during a very hot summer period? Well, if that's your worry, then I think I might have the right solution for you. Introducing the Planter's Punch, a quite refreshing tropical drink to wash away the heat.
Planter's Punch is for when you want to cool off on your own or when you're holding a pool party with many guests. To recreate this concoction, you'll have to get Dark Rum, citrus juice, and a good dose of sparkling water (or club soda).
Start with pouring most of the liquid into a cocktail shaker and shaking. When you're done, just pour the mixture out into a glass or a pitcher. The sparkling soda acts as a fizzy topper. This drink is tangy, sweet, and zingy at the same time.
Total time: 5 minutes
For a little history lesson about the Daiquiri, according to a popular theory, the cocktail might have been invented by an American engineer named Jennings Cox during his stay in Cuba during the Spanish-American War in the late 19th century A.D.
This is one summer drink that you cannot miss out on due to its special qualities. This classic recipe does not even have an elaborate set of ingredients since you'll need only lime juice, rum, and sugar as the base.
The mixing process is even easy with just three steps: Add all of the components in a shaker, shake until everything is incorporated, and strain into a glass. This sour and sweet beverage is sure going to make your summer more bearable.
The Daiquiri is not too difficult to make with this recipe.
Total time: 5 minutes
If you're a fan of literature, you're probably familiar with the name Ernest Hemingway, the author of classics such as "The Old Man And The Sea" and "For Whom The Bell Tolls". However, did you know that he was also an avid fan of the Daiquiri?
That's right. He loved the mixed drink so much that he even created his version called Papa Doble. And what makes it different from the traditional Daiquiri? Hemingway chose to add a dash of grapefruit juice, so the drink had a more puckery aftertaste.
Aside from the additional ingredient, Hemingway also used a minimal amount of sugar in his drink. Instead, he used this seasoning to coat the rim of his glass. This would keep the sweetness from overwhelming the overall flavor too much.
Total time: 5 minutes
Even if you can't visit the Bahamas to feel its relaxing tropical weather, it doesn't mean you can't replicate that entire scenario at home. With the help of this cocktail called Bahama Mama, you can turn your home into a mini seaside paradise.
Sounds captivating, right? Let me show you how you can make it. The ingredient list comes in two parts, the first part is the Rum, and the second part is a collection of different fruit juices.
For the Rum, you will need normal Rum and a special Rum called Malibu, which has a stronger sweetness compared to the normal one. The Malibu is also popular due to its coconut-flavored aroma. With both types of Rum, you can expect the taste of this wonderful Malibu cocktail to be very complex.
As for the juices, there are orange juice, pineapple juice, and cherry juice. With fruits like these, you can feel your mouth start to water because the cocktail's going to be quite sour.
Total time: 4 minutes
I know, the name can cause some people to giggle because of the implication. But don't let the name fool you, because once you get a taste of this Rum-based cocktail, you will never want to go back to whatever you were drinking before.
The best thing about Between The Sheets is how easy it is to make this drink. You only have to get a few essential ingredients like Brandy (a type of after-dinner wine), White Rum, and Triple Sec (an orange liqueur). Lemon is recommended if you like the drink to have that extra tang.
Since the Triple Sec-flavored cocktail is very intense, it is more suitable for the more veteran drinkers. The Brandy provides a subtle hint of fruitiness, as well as adds a pleasant sweetness to complement the White Rum. The Triple Sec still offers that intense citrusy aroma.
Total time: 2 hours 20 minutes (including boiling time)
While Rum-based cocktails are mostly prepared cold for the summer, it doesn't mean you can't find an option for the winter. And I am here to help you with that by bringing you this delectable recipe called Hot Buttered Rum.
If you are a fan of the Harry Potter franchise, you've probably heard of Butter Beer. The Hot Buttered Rum – a delightful hot cocktail, is basically a much stronger and more alcoholic version of the Butter Beer. The Rum really provides a good tingling feeling to the taste buds.
And when you combine butter, cinnamon, and brown sugar in this drink, the richness gets to a whole new level. When you get a taste of the drink, it almost feels like you're floating in a sea of cream and cinnamon.
You can make a warm Hot Buttered Rum with the help of this recipe.
How Potent Is Rum Compared To Other Alcohol?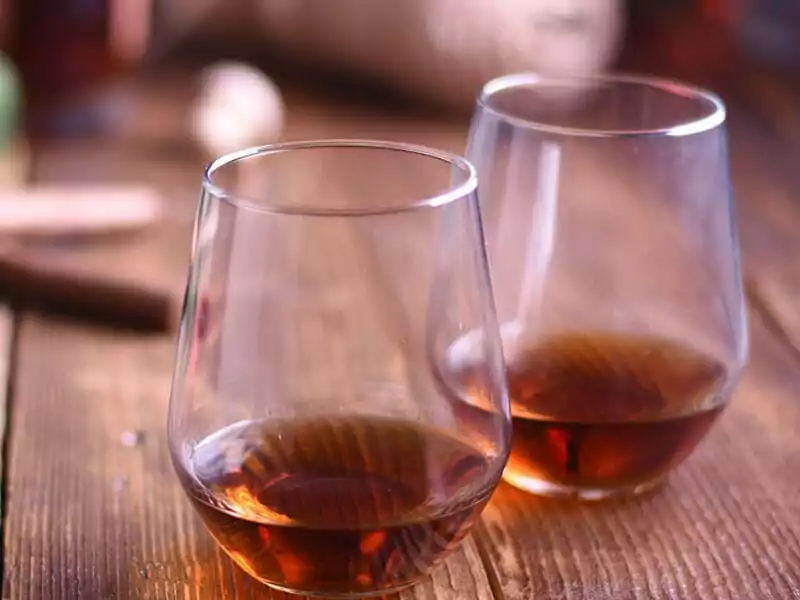 When it comes to measurement in spirit production, people often use ABV as their preferred unit. The term stands for "Alcohol By Volume", which measures the percentage of ethanol in 100 millimeters of an alcoholic beverage.
For Rum, the average ABV is around 40%. This rate is quite similar to other popular drinks like Whiskey (40%-50%), Vodka (40%), and Tequila (40%). However, there are other breweries that make enhanced versions of Rum with an ABV of around 57-75%.
Where Is Rum Available?
As one of the most widespread spirits around the world, you won't have any trouble finding a place selling Rum. It's available in many supermarkets and liquor stores. All you have to do is ask the clerk for the right one.
Rum Cocktails Always Make The Night More Fun
Sometimes, life can be a little too tough on you. But there are multiple ways to relieve some stress, including making your favorite drinks at home. But even if you're not a drinker, it doesn't mean you can't enjoy a glass of alcoholic delight once in a while.
I hope the series of tasty Rum-based cocktails above can inspire you to create more outstanding recipes for yourself and your family. I mean, a drink is always better if you share it with your loved ones, right?
And that's the end of this journey. If you like the article, show some love by clicking that thumbs-up button and sharing this post on your social media. You can always comment down below on which drink you would like to try. Thank you, and have a nice time!
Nutrition Facts
2 servings per container
---
Amount Per ServingCalories158
% Daily Value *
Total Fat 7.5g

12

%
Cholesterol 20mg

7

%
Sodium 9mg

1

%
Potassium 31mg

1

%
Total Carbohydrate 11.2g

4

%

Dietary Fiber 0.5g

2

%
Sugars 10.7g

Protein 0.2g

1

%
---
* The % Daily Value tells you how much a nutrient in a serving of food contributes to a daily diet. 2,000 calories a day is used for general nutrition advice.