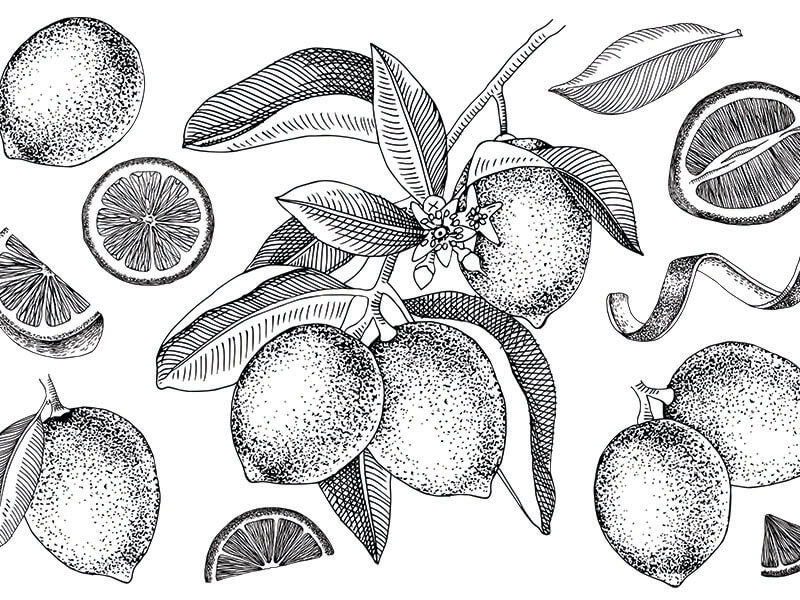 If you are interested in citrus fruits, you may know about limes and different types of limes. You should be aware that limes and lemons are very different since there's been a massive misconception between these two. Stay here for more exciting facts about limes!
Also, there will be a complete list of many varieties of lime for you to tell them apart quickly! I'm pretty sure that there will be everything that you want to know about this sour fruit! Let's get started right now!
What Exactly Is Lime?
Most types of limes are citrus fruits. They are typically round, green in the shade, and have a mostly sour and sweet tangy flavor. Limes consist of more sugar content than most varieties of lemons, so it is used to enhance the taste of dishes in many different cuisines.
Limes usually have thin to medium thin zest, and their zests are not as bitter as that of other citrus types like oranges or lemons. Their rinds are even sweet and aromatic, so they are used a lot in cooking, especially Thai, Vietnamese and Mexican dishes.
The juice of limes is often thought to be less than that of lemons, but the amount of lime water inside a lime depends a lot on its variety! Some types of limes are larger than an ordinary lemon and have more juice.
Limes are packed with vitamin C, like most other citrus fruits, as you may already know. It includes five times more citric acid than orange juice! It also consists of 88% water and 10% carbohydrates. Therefore, having a squeeze of limes in dishes is good for your health!
Most Typical Types Of Limes That Everyone Should Know
Are there many varieties of limes in the world? Millions, for sure! But there will be some of the most popular limes that you may use for culinary or other purposes in daily life. Below is a list of this citrus fruit's types, names, and pictures. Check out this ultimate list for more information!
1. Kaffir Lime (Citrus Hystrix/ Makrut Lime)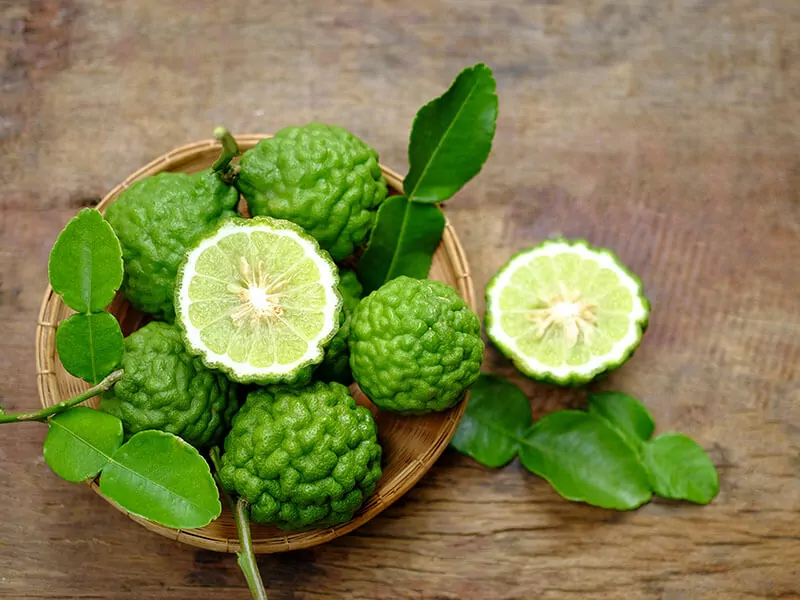 Kaffir Lime does not have a smooth surface like most other types of limes; it has a bumpy and warty appearance with really little bitter juice inside. People usually use the zest of Kaffir Lime for some dishes of Southeast Asia cuisine.
Kaffir Lime leaves come in pairs and are famous for their aromatic oils. You can add some fresh leaves to your rice, soup, or curry to get the fragrance, but remember to remove it after the cooking process.
If you want to add a twist of lime to your dish, you should avoid Kaffir Lime since it almost has no water inside. Be careful when collecting these limes directly from the Makrut tree since the whole tree is covered with sharp thorns!
Learn how to prepare and use the Kaffir Lime that you have on hand!
2. Blood Lime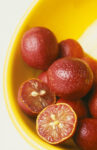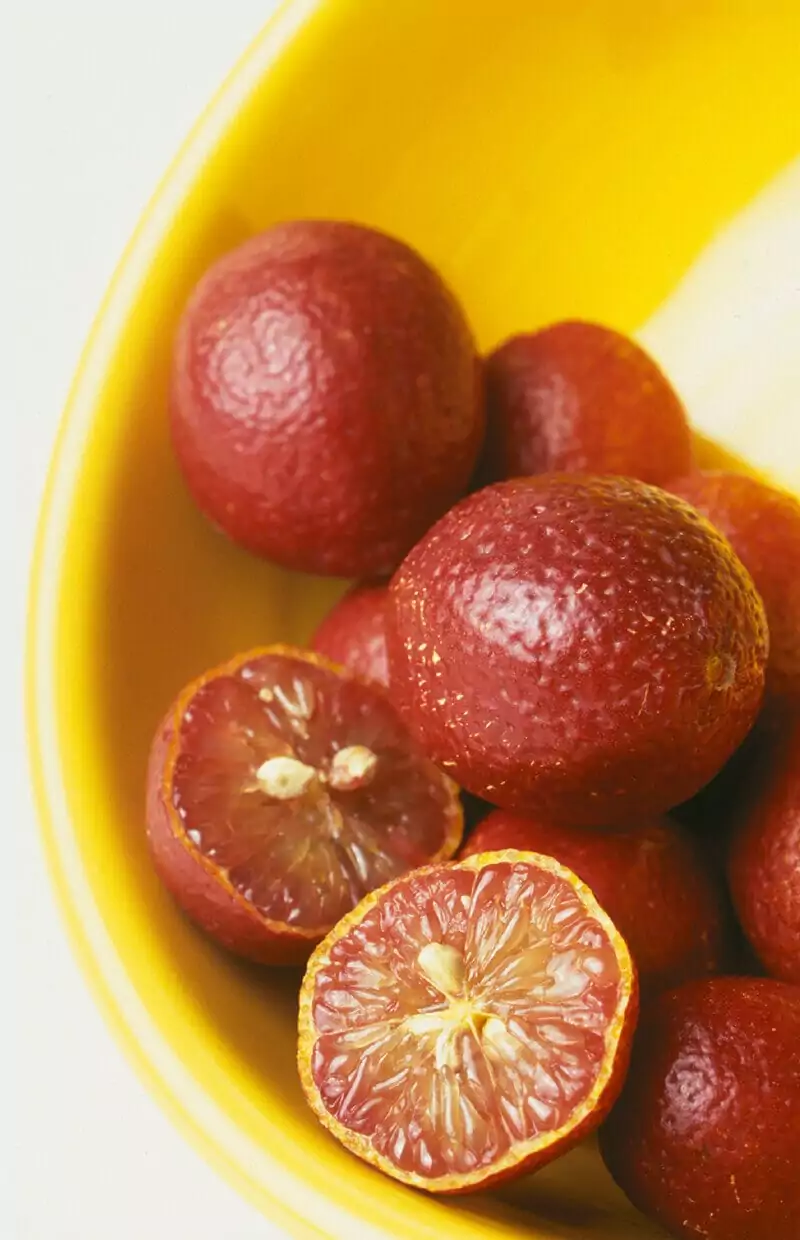 People call these limes Blood Lime since it has a blood-red shade in color both inside and outside. It is smaller than most lime types, and it is in egg shape, not round as usual. Its juice consists of a distinctively sweet, tangy flavor. You can eat both of its skin and flesh!
Blood Lime is actually a hybrid of red finger lime and Ellendale mandarin that was developed in some areas of Australia.
3. Key Lime (Mexican Lime)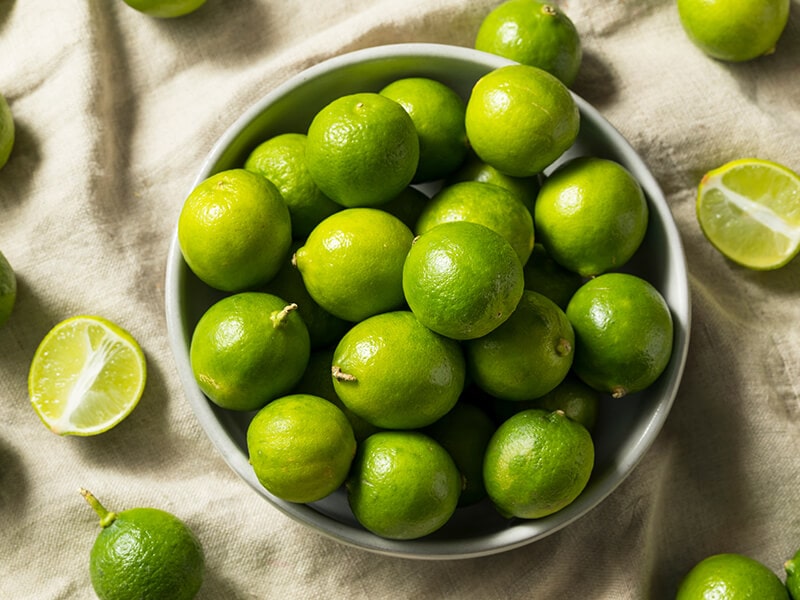 Key Lime is one of the most typical varieties of limes. It has a more yellow shade on the skin than most other limes, and its acidic juice is high quality with a sweet and sour flavor. Therefore, people like to use Key Lime in cooking, especially baking Key Lime pie.
These Key Limes produce up to 40% juice, so you can use them to make lime juice, marinades, dressing, or an acidic cure for seafood. Before using the juice, remember to eliminate the seeds by getting the lime water through a sieve.
If you want to know how different Key Lime juice is from ordinary lime juice, just try both of them on one specific dish! I'm sure you'll be surprised by the exploding feeling Key Lime juice leaves on your tongue.
Let's learn to make the best desserts with Lime Juice!
4. Mandarin Lime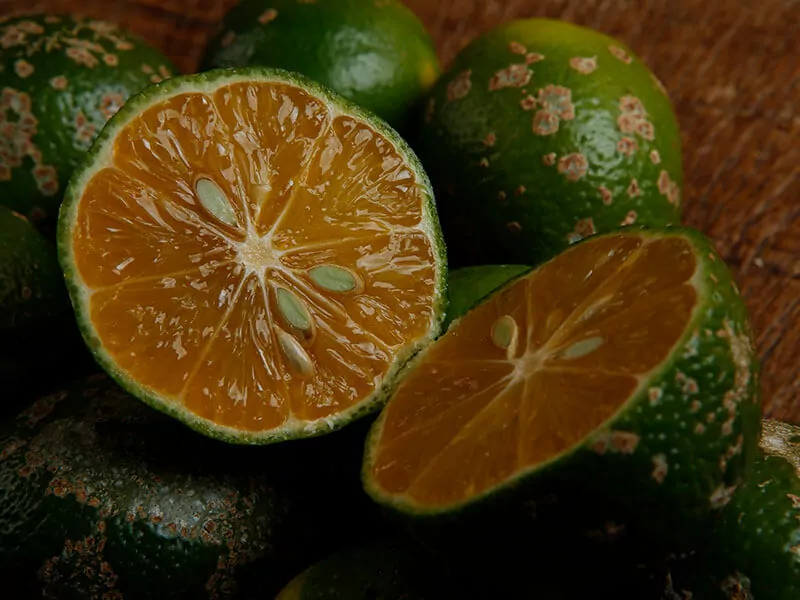 Mandarin Lime is actually a group of three common limes: Rangpur Lime, Kusaie Lime, and Otaheite Lime. People from different countries and regions grow Mandarin Lime for decorative purposes. They usually have reddish and orange in shade.
Mandarin Lime is a hybrid of Lemons and Tangerines, so it includes a unique taste with sour and tart flavors. You can always make it into a marmalade to enjoy with some bread!
5. Desert Lime (Citrus Glauca)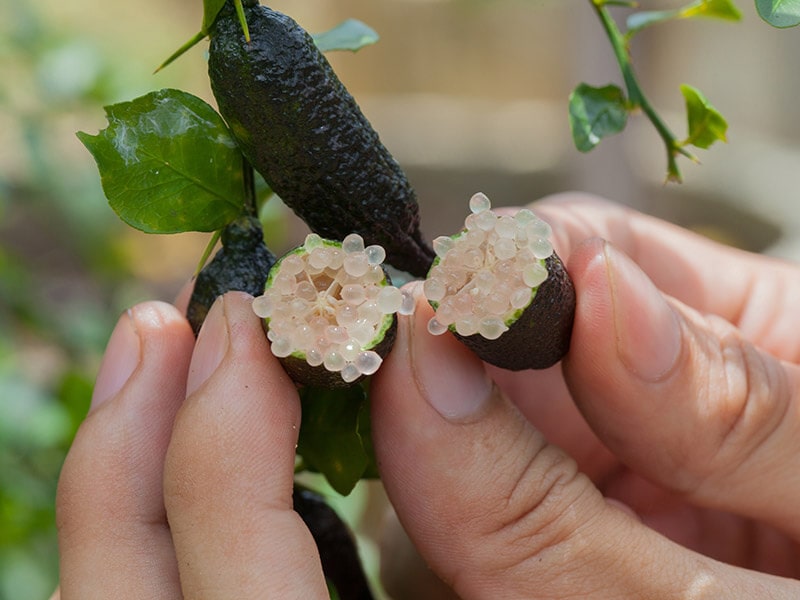 This lime is named Desert Lime because it can withstand any temperature and conditions like drought, frost, salinity, etc. Its size may be the smallest in most types of limes. It is as tiny as a marble! When it is ripe, it will have light shades of green and yellow.
Desert Lime has a round to oblong shape with a uniquely refreshing flavor. People usually use it to make jellies, jams, and tarts. It is also called "bush food" and often appears in commercial products such as marmalade and glazed fruits.
6. Finger Lime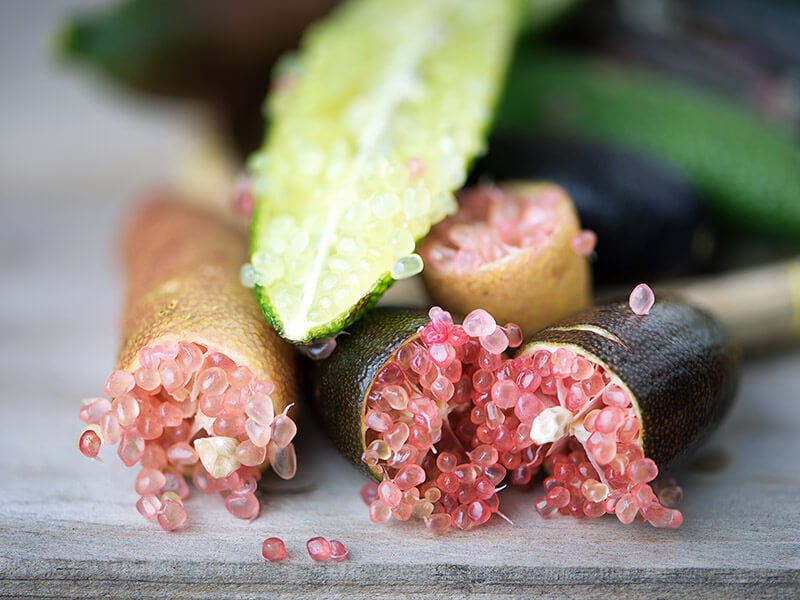 Finger Lime may be the most versatile variety of lime since it has a lot of colors (greenish, lime-green, pinkish, etc.), sizes, and shapes. Most Finger Limes will be the size of a thumb that can grow to 3 inches. It has a bumpy cover with no seed inside and it tastes great!
Finger Lime flesh is like tiny caviar pearls that will give you a refreshing and robust lemon-lime taste when biting. With the herbaceous undertones, it does well in both savory and sweet dishes. It can be served with dry crackers and wine on a dinner table.
You can decorate many savory dishes such as chicken, seafood, sushi, oysters, scallops, etc. with these "pearls." It can also be a wonderful garnish for desserts like cheesecake or pavlova. Mix it with some gin and tonic to get an exploding cocktail!
If you are curious about Finger Lime's taste, see how this woman gives it a taste test!
7. Kusaie Lime
Kusaie Lime comes from India and grows better in cool conditions. It exists in an oval shape and dives in yellow. You can easily peel off the skin of Kusaie Lime since it is really thick. It doesn't taste so good because it is not really acidic like other types of lime.
8. Mary Ellen Sweet Lime
Mary Ellen Sweet Lime originates from Mexico. Its size is medium compared to other typical types of lime with a round or oval shape. Its color changes along with the mature process, from pale green to pale yellow.
Mary Ellen Sweet Lime juice doesn't taste sour and bad at all; it tastes delicious and sweet! You should totally use this juice for some of your favorite recipes calling for lime juice! And I'm sure that you'll be super impressed!
9. Wild Lime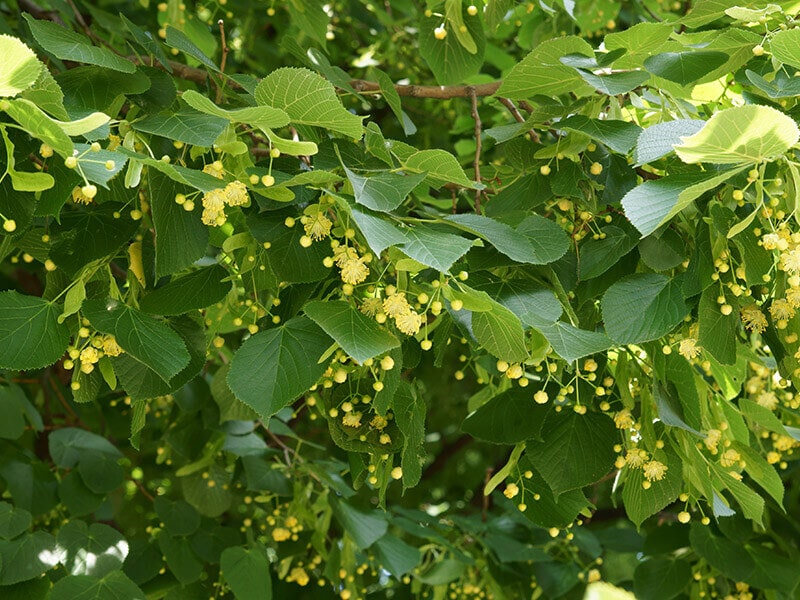 Wild Lime is not actually a fruit that you can use in cooking because it is an evergreen shrub to a small tree. The flowers appear all time of the year, especially from winter to spring. Its fruit is usually the food of birds and wild animals.
You may find this unique fruit starting with the letter W in regions of Florida. People usually make its zest and leaves into powdered form and use it as a spice in cooking. These powders smell like the aroma of limes.
10. Limequat (Citrus Floridana)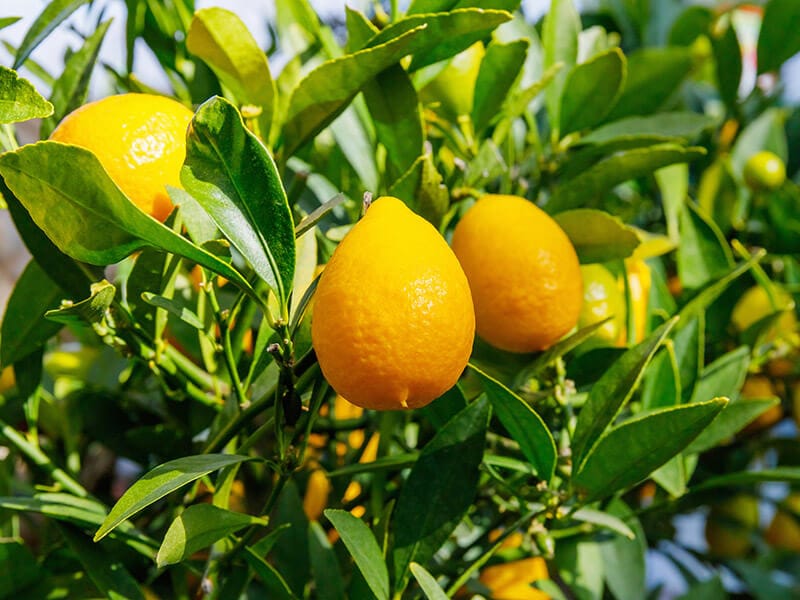 Limequat is a combination of Key Lime and Kumquat. It is green when it's young and yellow when it's mature. Its zest actually tastes sweeter than the flesh. The flesh is tangy with an acidic and bitter-sweet flavor. You can actually eat the whole limequat like an orange!
People often use Limequat's skin and juice to enhance their dishes and beverages for culinary purposes. Fruit salads and cocktails are some common examples. Every part of Limequat tastes awesome, so you can candy it to make jams. Don't forget to remove seeds!
It's fascinating to have Limequat trees right in your little garden!
11. Castelo Lime
Castelo Lime is larger than most classic types of limes! You will know when it is about to ripen because it has a signature pale yellow that only appears on the mature Castelo Lime.
You may find this lime from fall to winter, and it can be an excellent lime water replacement for Key Lime in key lime pie at this time of the year! What's more convenient than that?
12. Rangpur Lime (Citrus Jambhiri Lush)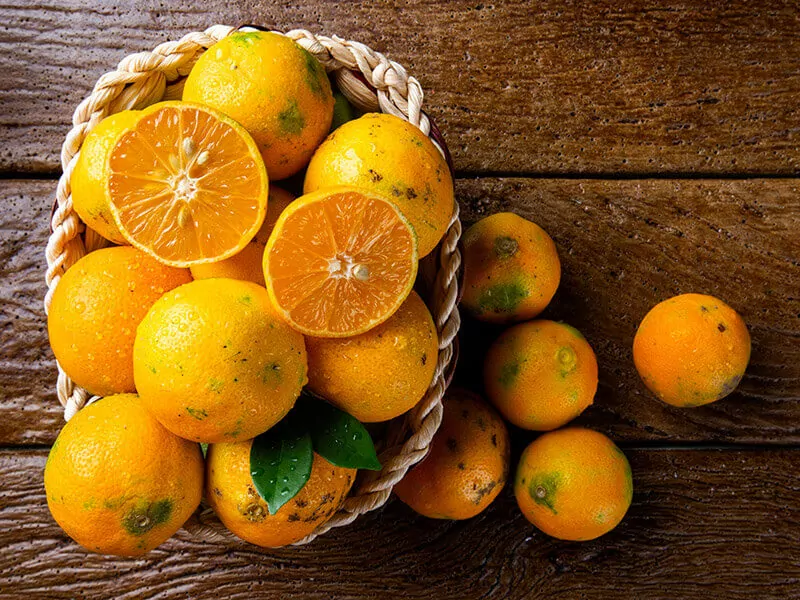 Rangpur Lime is named after a district of Bangladesh, but its name origin is still a big mystery. It is actually a cross between Mandarin Orange and Citron Fruit. It has an orange-yellow color that may remind you of tangerines. It tastes like ordinary lime.
Rangpur Lime is a popular type of lime to pickle, candy, or make marmalade. People would choose it instead of Seville oranges for marmalade. Its juice is so acidic that it can be a great replacement for ordinary lime juice.
You can also make this fruit with high juice content into syrup and add it to sparkling water and iced tea. Soaking your meat (pork, chicken, fish) in marinade including this lime juice is not a bad idea! In Indian cuisine, it is also used to decorate dishes.
13. Tahiti Lime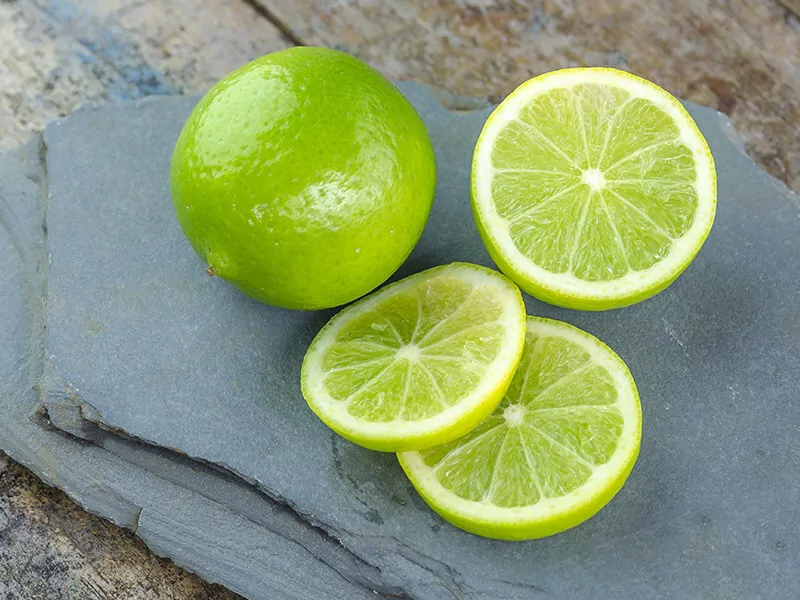 Tahiti Lime includes two other varieties of limes: Persian Lime and Bearss Lime. Both of them are bigger than Mexican Limes. Their flesh is very juicy, seedless, and less acidic; therefore, they are usually used as a mixer for beverages.
People usually purchase both of them when they are still in dark green because their flavors are better than when they are fully ripe and bathed in yellow-green shade. You should submerge them in hot water before using them to make them more aromatic.
You can use Persian Lime to season or marinate your fish, meat, and poultry in cooking. Drinking its juice will help a lot for your health and weight loss process. Bartenders usually use slices of this lime to garnish the alcoholic drinks.
Let's see what's inside Tahiti Lime and how it tastes!
14. Millsweet Limetta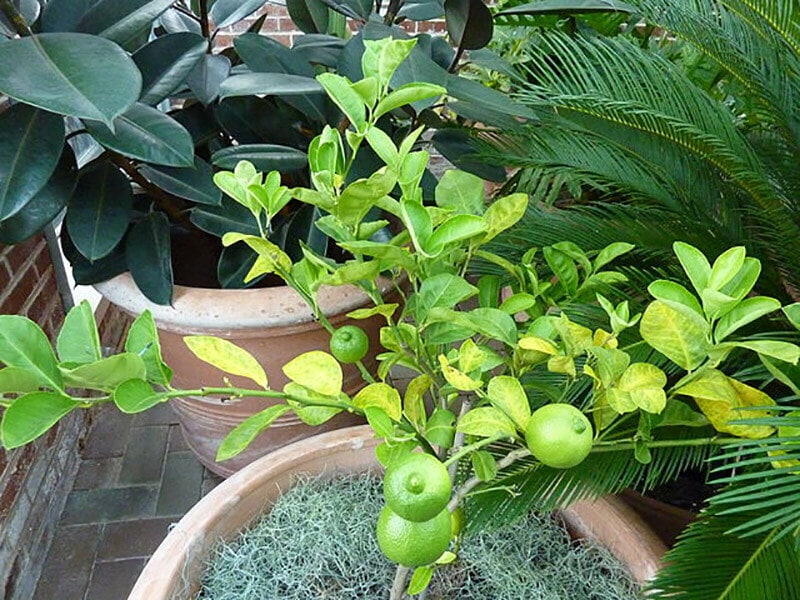 Millsweet Limetta has the main taste in its name. The juice is delightful with a low content of acidity, so the flavor is flatter. The tree will give you fruits any time of the year, with the peak blossom season in spring. Its fruit is medium size with bumpy and pitted skin.
Millsweet Limetta juice is famous in the Indian subcontinent and is sold everywhere at mobile stalls. After some minutes of contacting the air, the juice will turn bitter, so you should drink it quickly to feel the sweet flavor. You can also mix it with vodka for a unique drink!
15. Spanish Lime (Quenepa/ Mamoncillo Fruit)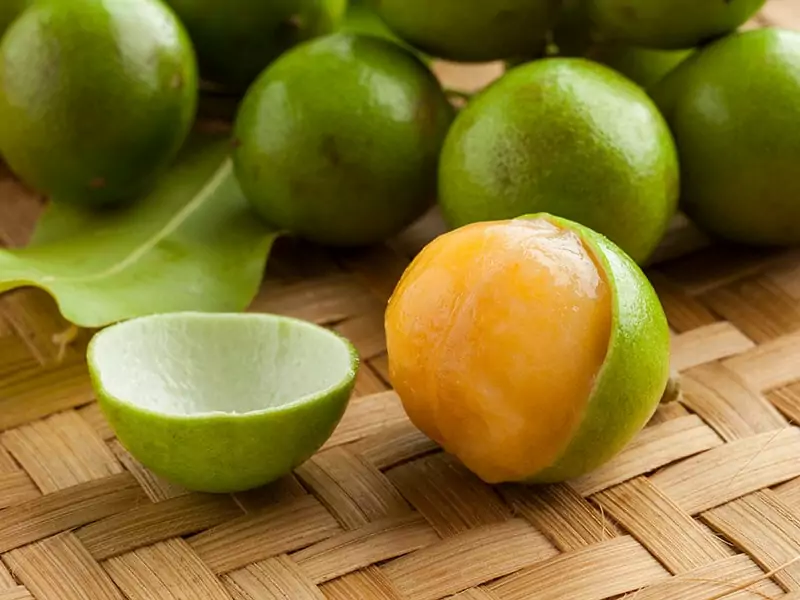 Spanish Lime is actually in the Soapberry family, so it is not a Citrus fruit. Its flesh contains a wide range of colors, from light yellow to pinkish-orange. It also has one or two big seeds inside, resembling lychee. The juice is both sweet and sour when mature.
Spanish Lime can be consumed both fresh and canned, mostly in alcoholic and soft drinks. You can actually roast and eat its pit. It'll be delicious with cashew nut flavor. These limes can also be made into a dye in a yellow shade.
The natives of the Orinoco river use Spanish Lime as a replacement for cassava. In Nicaragua, it is grounded and used as a traditional cure for parasites.
16. Ginger Lime
Ginger Lime has a smoother and shinier skin than other limes varieties that look more like lemon. It has a lot of seeds inside. The juice has an aroma that reminds you of the strong smell of ginger; that's why it is called the Ginger Lime!
17. Limetta (Palestinian Sweet Lime)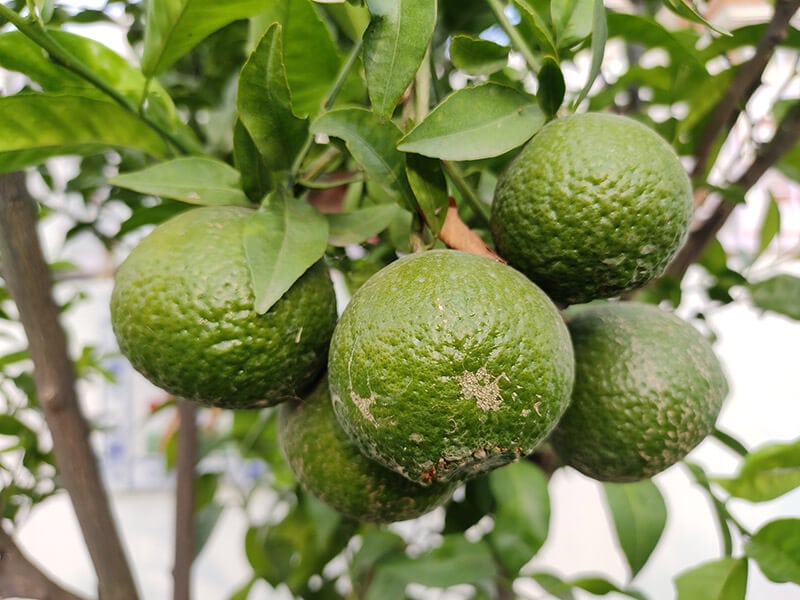 According to its name, Limetta may be from India. It is more like the hybrid of Sweet Lemon and Key Lime. It has a very little acidic element in the juice, so you may find it sweeter than others. It appears in the U.S, Egypt, Mediterranean coast, northern Vietnam, etc.
Explore more about Limetta if you're interested in it!
18. Merdeka Lime
Merdeka Lime is another combination between Kaffir Lime and Kalamansi Lime. It smells really pleasant with a pungent citrus aroma. It has almost no seeds or really few seeds. It also includes the highest antioxidant content in most lime varieties.
Like Kaffir Lime, the leaves of Merdeka Lime are also popular in cooking. A lot of people love to make tea from them for the citrusy scent and high antioxidant profile!
19. Omani Dried Lime (Noomi Basra)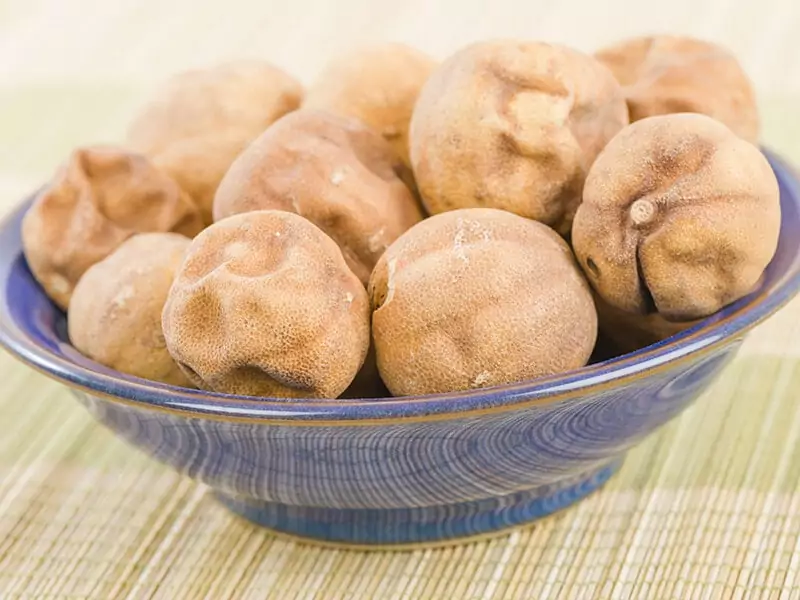 Omani Dried Lime, or Black Lime, is unique because it dries under the sun while still hanging on the tree. Its dried peel can add a pungent citrus taste to many dishes such as stews, poultry, meat, soups, etc.
Omani Dried Lime has a very distinctive taste with smokiness and earthiness. You can even brew it to make tea! The tea smells really good and is sharp in taste. In Persian and Middle Eastern cuisines, they often boil the whole lime and dry to make it into a spice.
20. Winged Lime
Winged Lime contains a lot of natural sugar, so it has a sweet yet acrid taste. Its size is as tiny as a mandarine with a bright yellow shade. Its rind is medium-thin, and it has many seeds inside. You can easily eat Winged Lime fresh!
21. Calamansi Lime (Philippine Lime)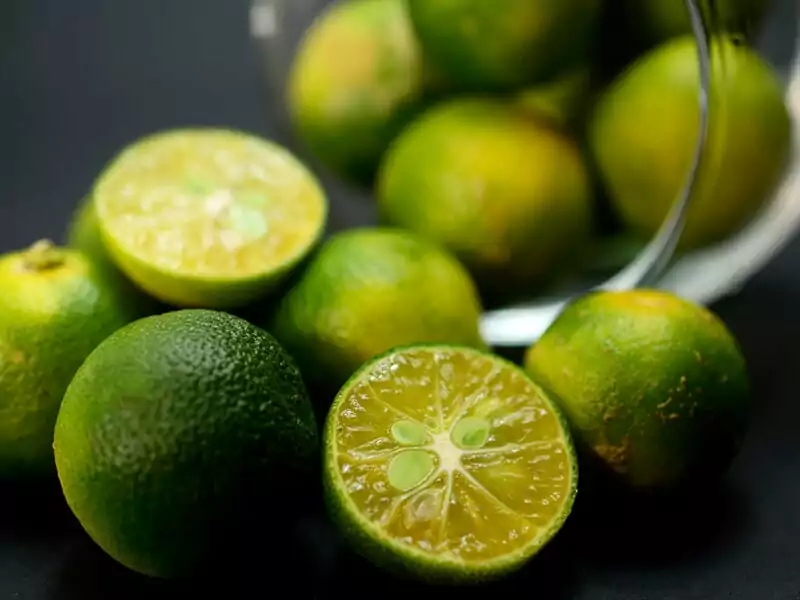 You may be surprised to know that Calamansi Lime looks like a tiny version of tangerine when it's mature! It has a thin green rind and orange flesh inside. The special thing is that its flesh tastes acidic but the zest is really sweet!
Calamansi Lime is used a lot in Asian cuisine, especially for flavoring foods, drinks and making them into marmalade. Besides its original juice, you can make the whole fruit into an alcoholic drink with vodka and sugar. You may also freeze it and use it as ice cubes.
22. Lemon-Lime Tree
You have to "wow" with this fact: There is actually a tree growing both lemon and lime! How cool is that? The Lemon-Lime Tree is a mixed breed between Key Lime tree and Meyer lemon trees. The truth is the farmers want to grow this tree to minimize their gardens.
Have You Known Everything About These Amazing Types Of Limes?
Like any other citrus fruits, limes include tons of different versions worldwide! After reading this post, I hope you have somehow learned about some of the most regular limes that you may bump into in your daily life!
Don't hesitate to like, share this article and subscribe to the newsletter if you want to explore more about the list or information of everything! And don't be shy to ask me anything about this topic; I promise to answer you as soon as possible! See you later, pal!