Key lime juice vs. lime juice, are they really dissimilar? I used to think about that, and I am sure that some of you are wondering about this question, too. That's the reason the article was born.
Key lime and lime possess their own characteristics. Both of them are icons of summer, and just a splash of them will elevate your dishes. Don't waste any valuable second, let's dive into the precious information.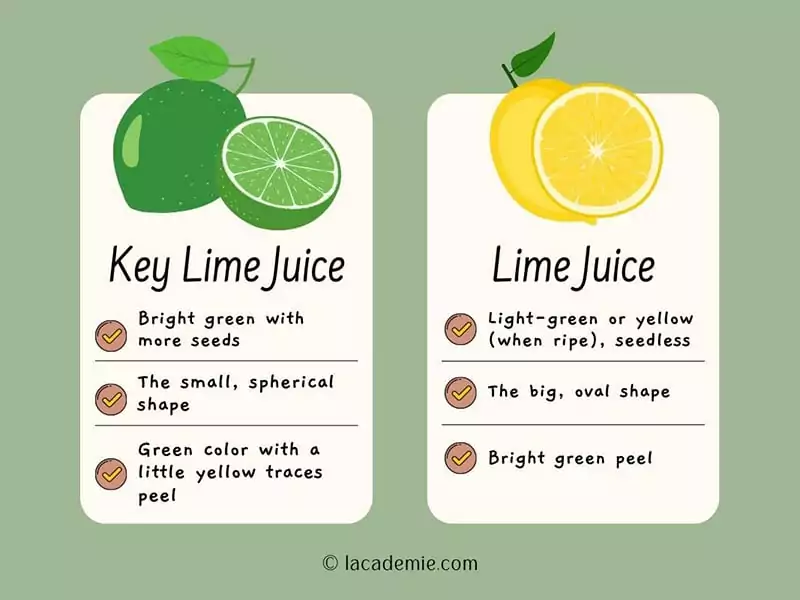 Overview Of Key Lime Juice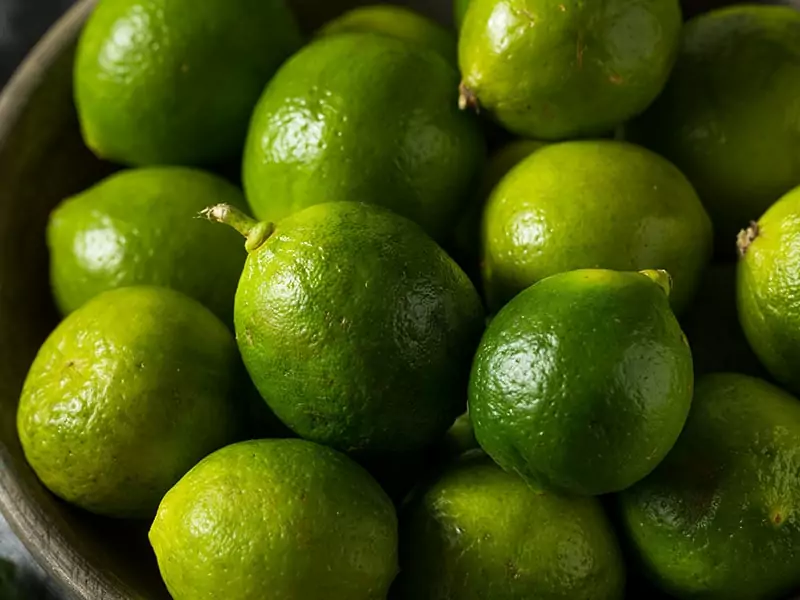 Key lime is a marriage between citrus micrantha and citrus medica(1), and it seems to be the most successful combination. No one knows who the parents of key lime are, but I know Henry Perrine is the first person to introduce key lime to Florida.
Although this fruit beginning with "K" is hunted vigorously nowadays, it was different in the late 19th century. These limes were highly valued than lemons in California, yet they were considered weeds in Florida. It is funny, huh?
Many chefs appreciate key limes due to their unique flavors and impressive aroma. They are the key ingredient in key lime pies, and you shouldn't substitute any lime juice for it. Just some words, you know how flavorful they are. It is the lime juice's turn. Are you curious about what I am going to say about it?
The Truth About Lime Juice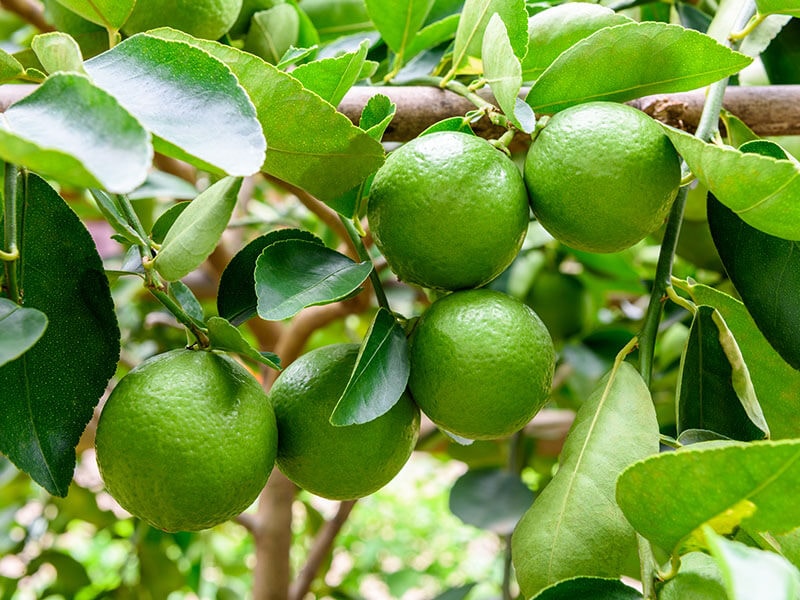 Lime is a general category of small and green citrus fruits. You will easily differentiate limes and lemons through their colorful skins. As you might not know, the lime juice you use regularly is extracted from Persian limes.
Due to its economic efficiency, the Mexicans have grown lime trees since time immemorial. This country also consumes most limes they grow. Not only is it limited in one area, but lime juice has also become an indispensable ingredient in various cuisines, including Thai, Latin-American, Southeast Asian, and more.
You don't need to worry about Persian limes being hard to find since they are available year-round. To experience the most flavor of lime juice, you should try freshly squeezed lime instead of the bottled one. You should choose a versatile and convenient lemon squeezer to get lime juice or press it with your bare hands.
It is one of few fruits that you can use both skin and juice for savory and sweet recipes. Unlike key lime juice, it is hard to find alternatives. You can simply find best-match replacements for lime juice in your refrigerator.
If your garden is spacious, you can learn how to cultivate a lime tree as the fruit ripens on the tree providing more juice than the green one.
Dissimilarities Between Key Lime Juice And Lime Juice
You have just sightseeing the exterior of the lime castle. It's time to explore the details of what is hidden behind their leathery skin. Don't be fooled by their pretty identical appearance!
Criteria
Key Lime Juice
Lime Juice
Origin
Southeast Asia
Unknown
Other Names
Mexican lime, West Indies lime
Tahiti lime
Flesh
Bright green with more seeds
Light-green or yellow (when ripe), seedless
Flavor
Sourer, more intense, tangier, bitter, quite sweeter than regular lime juice
Less tart and bitter than key lime juice
Aroma
Slightly herbal-floral scent
No floral scent
Tree Features

Pretty small and stout, have thorns
6-13 feet, look like a shrub, branch out laterally
Leaves are small, rounded edges and dark color

Thin with needle-like spines, don't have thorns
15-20 feet, branch out vertically
Leaves are small, oval-shaped with bright color

Appearance

The small, spherical shape
Green color with a little yellow traces peel
Thin, leathery, and smooth skin

The big, oval shape
Bright green peel
Thick, and more mottled skin

Juice In One Lime
Less juice than regular limes
More juice than key limes
Popularity
Difficult to find
Easy to find
Price
Higher 2-3 times than regular limes
Affordable price
Health Benefits
Provide a lot of antioxidants, vitamin C, and more
The same as key lime juices
Uses
Only have culinary purposes
Both culinary and cleaning purposes
Origin And Other Name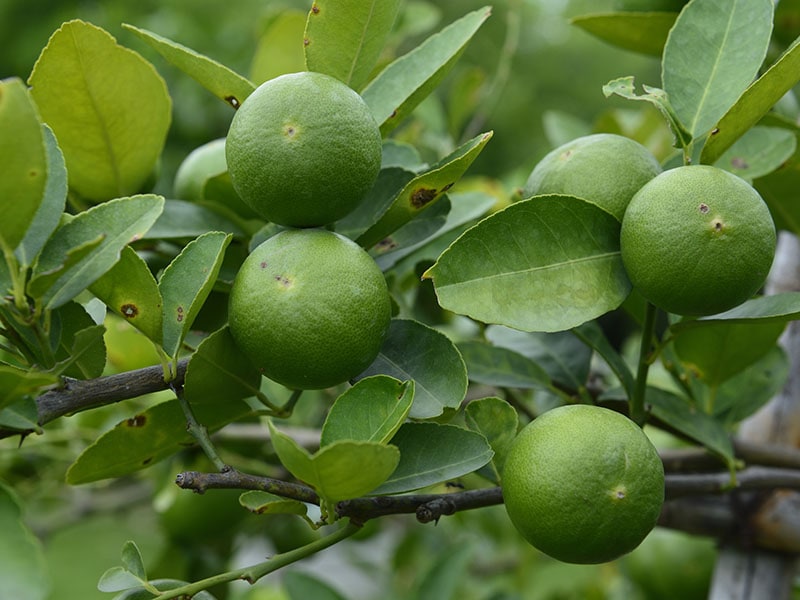 The hometown of Key lime is tropical Southeast Asia, but it has been a symbol of Florida. Do you find it strange? In the 1500s, when the Spanish migrated to Florida, they brought along key lime trees.
The "Key" in Key limes is associated with Florida Key, which is well-known with key lime pies also made from this fruit. Besides this official name, you can catch the lime with other names: Mexican lime or West Indies lime.
The Caribbean, California, and Mexico are also ideal places to plant key lime trees. The origin of Persian lime or regular lime is still a big secret; however, this lime is a result of the Key lime and citron hybrid.
Do you wonder why people created more limes while key lime is outstanding? In 1926, a hurricane destroyed all the lime plants in Florida, and planters cross-breed a few remaining key limes with lemon to produce Persian lime.
This new generation is easy to grow, harvest and transport. Almost all Persian lime is cultivated in Florida that makes up 90% of the output of all America. In addition, this type is also farmed in Asian countries, including India, China, some areas of South America like Argentina, Brazil, and more.
If you cannot find the fruits in Persian names, you can catch them in Tahiti limes in some supermarkets.(2)
If you plan to grow a key lime tree in your garden, you can refer to these useful tips to ensure your tree will develop lushly.
Flesh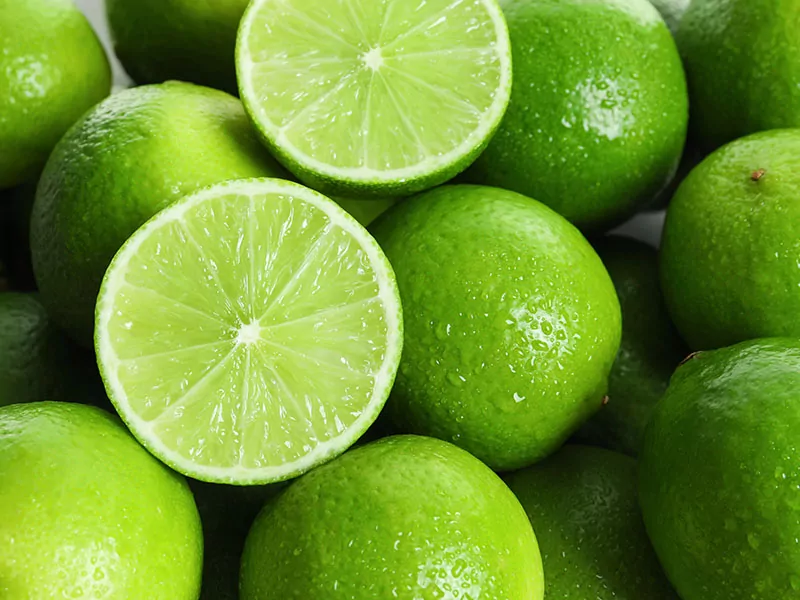 When coming to juice, you certainly care about the flesh of each type. The key limes' pulp has a bright green color with more seeds. You should be careful when squeezing them since eating seeds is not a pleasant experience.
On the contrary, the flesh of Persian lime will have a light-green or yellow color when they are ripe, and it is usually seedless. You can juice them freely without eliminating seeds before serving them.
Flavor And Aroma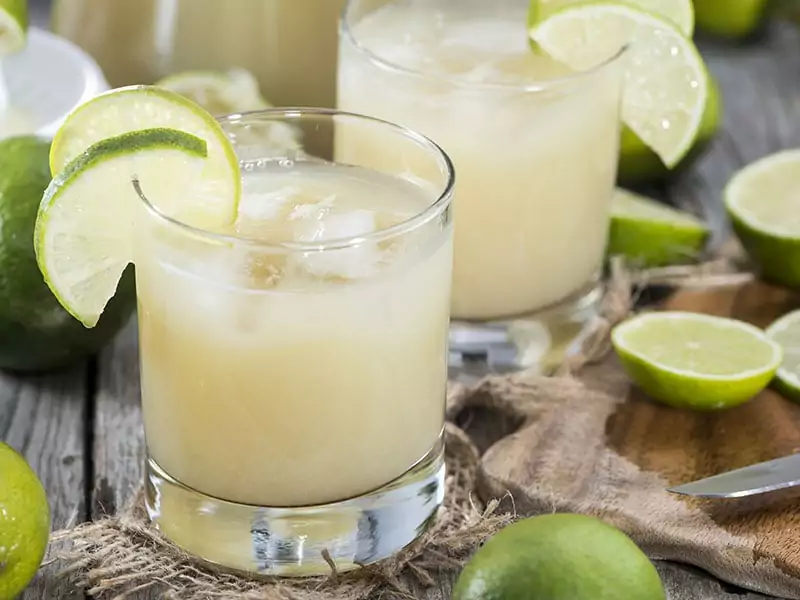 Key limes are loved for their exceptional flavor. This lime has a higher acidic level, is more intense, and tangier, with somewhat a little bit bitter compared to its counterpart. Believe it or not, if you have sensitive senses, you can find key lime juice quite sweeter than regular lime juice.
Therefore, they are commonly used in easy-to-make fancy desserts since the sugars will neutralize the strong flavor in the fruit. Inside the small green ball, you will sniff a slightly herbal-floral scent. It is one of the most distinctive aromas I have ever felt.
Persian lime juice is less tart and bitter than key lime juice; however, you cannot own the floral scent like key lime.
Tree Features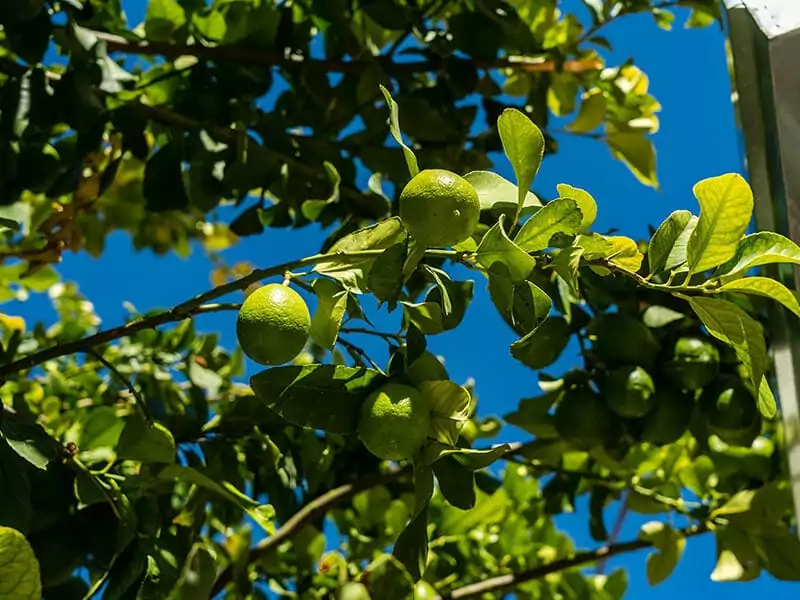 If you have a chance to see a real key lime tree, let's note down these characteristics and never mistake it with a high shrub. The trees are pretty small and stout. It is rare to catch key lime trees higher than 13 feet, and the average height is from 6-13 feet.
Thus, it tends to branch out laterally instead of vertically. The key lime leaves are also small with rounded edges and a little bit dark color. Unlike key lime trees, the branches of regular lime are thin with tiny needle-like spines.
They will grow in height instead of width, reaching more than 20 feet. However, almost all the trees I have seen are 15-20 feet. The leaves are pretty small but oval with brighter color compared to the key lime counterpart.
If you are still confused between them, let's look for thorns. The trees having thorns are key lime trees; otherwise, they are regular lime trees. Until now, have you understood why I said the Persian lime is simple to harvest yet? The thorns are always a nightmare for farmers.
Appearance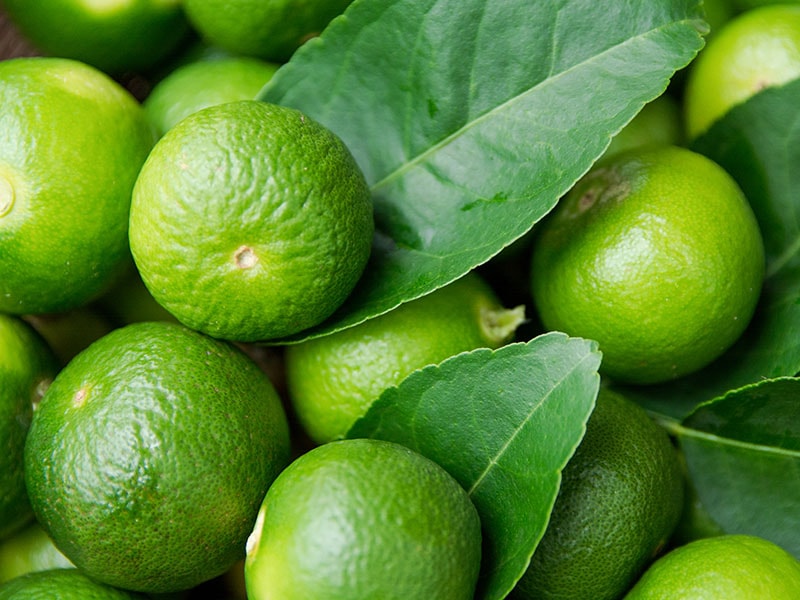 I know it is quite tricky to see a real lime tree in these crowded and cramped cities; thus, you need to know the exterior features to pick the right limes you want. The key limes are smaller than the Persian limes in terms of size. The former's shape is spherical, while the latter is oval.
The measurement of key limes ranges from 1-2 inches across (like a golf ball), and they are picked when still green. The average weight is 1 ounce. If you want to find a large lime, Persian ones are perfect selections with a double in size than key ones and weigh around 3 ounces.
The key limes are raw, having green color with a few traces of yellow, and they will turn gradually into yellow when ripe. Their skin is thin and has more leathery smooth feelings. You can find the ripe key lime quite heavy compared to its size when holding.
Are you curious about Persian limes? They have bright green and thick skin with more mottled; thereby, you can keep it for longer than other limes. Like other fruits, their yellow skin is also a sign of ripe lime.
Juice In One Lime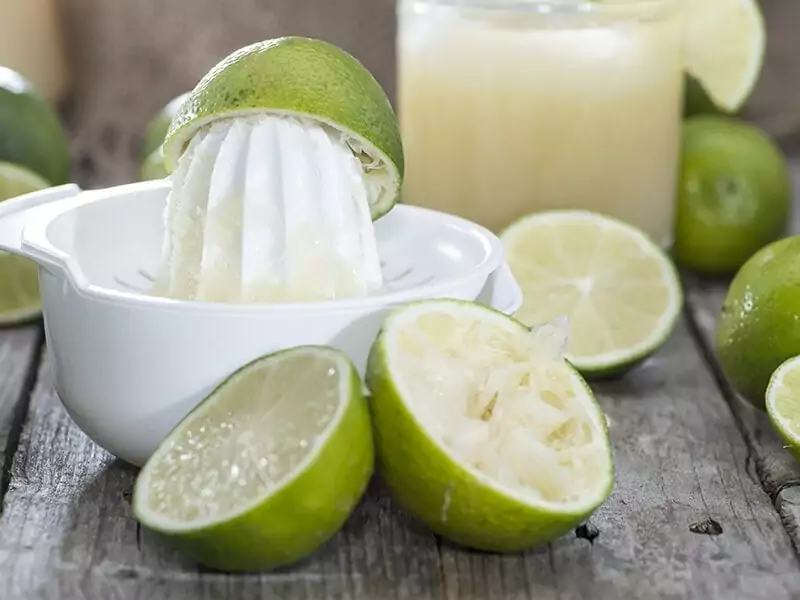 You can take more juice from Persian lime thanks to the larger size. In case the lime is pretty large, you can get the juice by using different kinds of powerful juicers fitting the lime sizes.
The fresh juice always brings an obvious and impressive flavor to your dishes rather than a pre-packed one.
However, the sizes of limes are not identical, and to help you meet the perfect taste, you should measure the juice with some common calculations. What are you waiting for? Bring your juicer or squeezer to get the juice.
| Type Of Lime | Amount Of Lime | Amount Of Juice |
| --- | --- | --- |
| Key Lime | 1 medium lime | 2-3 teaspoons |
| Key Lime | 6 limes | ¼ cup |
| Key Lime | 8 limes | ⅓ cup |
| Key Lime | 12 lime | ½ cup |
| Key Lime | 1 pound = 12-16 limes | ½ - ⅔ cup |
| Key Lime | 24 limes | 1 cup |
| Persian Lime | 1 small lime | 1 - 1 ½ tablespoons |
| Persian Lime | 1 medium lime | 2 tablespoons (sometimes 2 ½ tablespoons) |
| Persian Lime | 1 large lime | 3 tablespoons |
| Persian Lime | 2 limes | ¼ cup |
| Persian Lime | 3 limes | ⅓ cup |
| Persian Lime | 4 limes | ½ cup |
| Persian Lime | 6 limes | ¾ cup |
| Persian Lime | 8 limes | 1 cup |
| Persian Lime | 1 pound = 6-8 medium limes | ½ - ⅔ cup |
Popularity And Price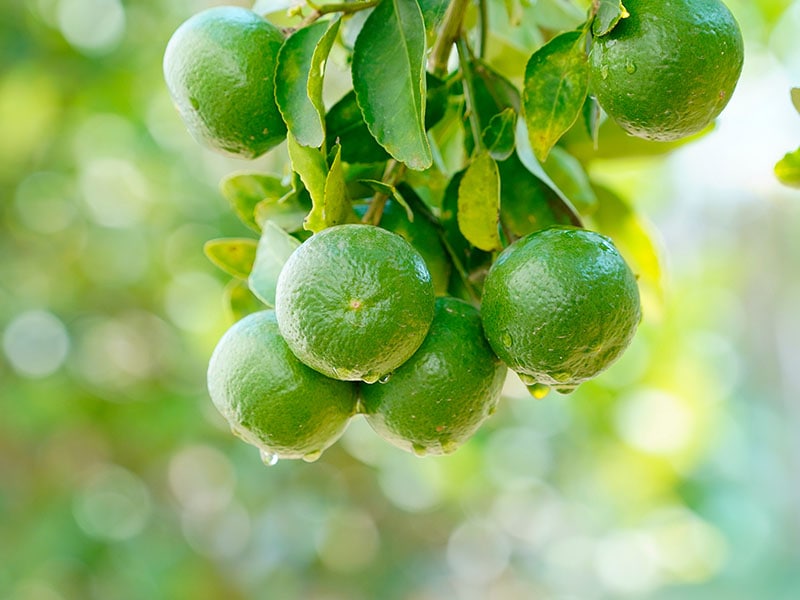 Key limes are planted in various places, and each area offers you different peak seasons. You can find abundant key limes in the US from June to September. Therefore, if you are a key lime lover, you usually have to go to the supermarket and stock a large batch in your fridge.
It is a wise choice if you squeeze key lime juice in advance, learn how to maximize its shelf life, and recognize several signs to know whether your lime juice is spoiled. You don't need to worry about the shortage of this interesting juice from that moment.
Thank God when you live in Mexico or travel to Mexico anytime in a year since key limes are a year-round fruit in this country. That's why key limes always have a seat on numerous trouble-free Mexican appetizer recipes.
However, due to their thin skin, transporting them from Mexico to the US without hurting them is still a big question. It is not strange why key limes are higher than regular limes. Sometimes, you need to pay 2 or 3 times more than its counterpart.
For Persian lime, it is a totally different theory. Although they are farmed in several countries, you can get them whenever you go to the supermarket. The thick skins will protect the fruit while shipping. When you hold a lime, its quality is still guaranteed.
The Persian limes are easy to get; thus, they are affordable to buy.
Health Benefits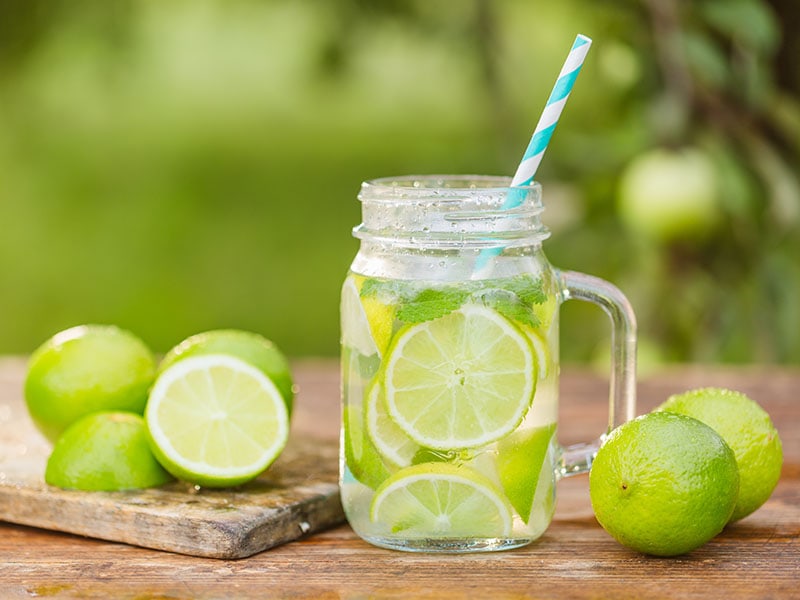 Let's see specific nutritional value in key lime juice and Persian lime juice! Don't forget to compare these figures and choose the most suitable for you.
| Nutrition Values (100g) | Key Lime Juice | Lime Juice |
| --- | --- | --- |
| Calories | 30 | 25 |
| Total fat | 0.2 g | 0.1 |
| Cholesterol | 0mg | 0mg |
| Sodium | 2mg | 2mg |
| Carbohydrate | 10.5g | 8.4g |
| Protein | 0.7g | 0.4g |
As you can see, almost all the nutrition values of key lime juice are higher than regular lime juice. However, the differences are not significant, you don't need to focus on them too carefully since both of them offer you the same health benefits.
You can get many antioxidants by drinking lime water or enjoying any dishes with lime frequently. These substances will help you fight against free radicals relating to heart problems, cancer, and diabetes.
The vitamin C in the lime juice will improve your immune system and promote your bright and smooth skin. Thanks to the citric acid content, consuming lime juice can help you prevent your kidneys from forming stones by increasing citrate levels.
Let's see what health benefits lime juice brings to you.
Uses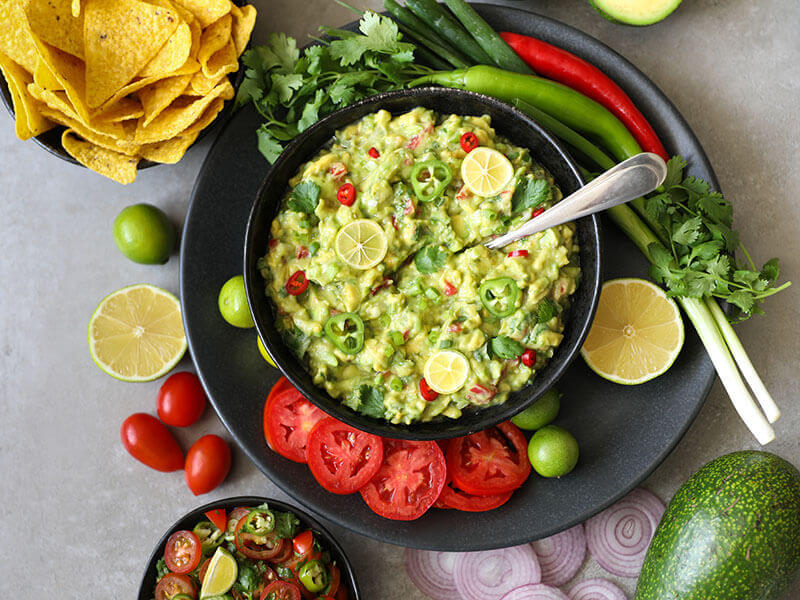 As I mentioned, you can use both skin and juice of key lime or Persian lime for cooking. Fresh key lime juice is an indispensable ingredient in marinades, limeade, syrups, and especially key lime pies.
Although you can use something else to replace lime juice in many recipes, you'll find that the results might not be as satisfactory as when you use real lime juice. So if possible, you should stock up some in your pantry, just look for signs to tell whether lime juice goes bad.
Moreover, you can use key lime wedges or slices to make up your beverages. Because of its high cost, it will be insane if you use this juice to clean your house.
Unlike key lime juice, regular lime juice promotes its strengths in both culinary and cleaning aspects. This juice will elevate the taste of sauces, fish, and poultry to a new level. You can make use of its zest and juice in a salad, fruits, and other recipes without adding calories to them.
You can complement it with baked goods and desserts to help your recipes have light and fresh flavor. It is also a perfect marriage between lime juice and alcoholic drinks, including margaritas and daiquiris—an authentic recipe from Cuba. It can also be found in mojitos.
In terms of cleaning, the citric acid content in lime juice can remove lime deposits from the inside of tea kettles and coffee pots.
Lime Juice Will Upgrade Your Recipes – Try Now!
It is such a pity if I tell you much about how flavorful dishes with lime juice are without recommending outstanding dishes. I will introduce to you my priority list whenever I hold a party.
The combination of shrimp and lime juice is never out-of-date. The acidic acid in the lime juice will help this seafood chewier and add a tangy flavor to your dish. Don't forget to sprinkle chopped cilantro or parsley before serving.
Why don't you learn how to make lime shrimp feast for your family?
Bring a little bit of Thai vibe to your table with Thai chicken stir-fry with lime. Lime juice will elevate the regular chicken to a new level with a moderate sour taste. Coconut milk will complement the tropical feeling when enjoying this delicious recipe.
The meal cannot be completed without rice. Normal rice is quite boring, let's garnish it with freshly chopped cilantro, lime juice, and zest. I recommend you use long-grain jasmine rice to have a fluffy texture and attractive aroma.
Another fantastic thing about cilantro lime rice is that you can prepare this dish from leftover rice. With only a few simple ingredients: cilantro, lime juice, and a pinch of salt, you can turn the unfinished rice into a hot, steamy dish that everyone will love.
I'm sure no one can refuse to enjoy steaming cilantro rice.
Keep in mind serving lime rickey with other savory dishes to balance the meal. You can make the drink as a cocktail or mocktail according to your preferences. Use naturally squeezed lime juice to get the full flavor.
Finishing your meal with key lime pie is a perfect choice, especially if you need a sweet dessert to end your BBQ party. You should use key lime juice to get an authentic taste. The velvet-like filling and crispy crust will captivate any heart.
FAQs
If the above information cannot satisfy your curiosity, this section will fill it. I hope you will find your questions in this part, you can comment below if it doesn't cover them.
Can You Differentiate Key Lime Juice And Lime Juice?
You can mistake key lime juice and lime juice if you have never learned about their differences. However, after reading my post, I'm sure you will not face confusing circumstances, right?
Don't forget to like and share my post with your friends to motivate me to produce more high-quality content. Thank you for your following.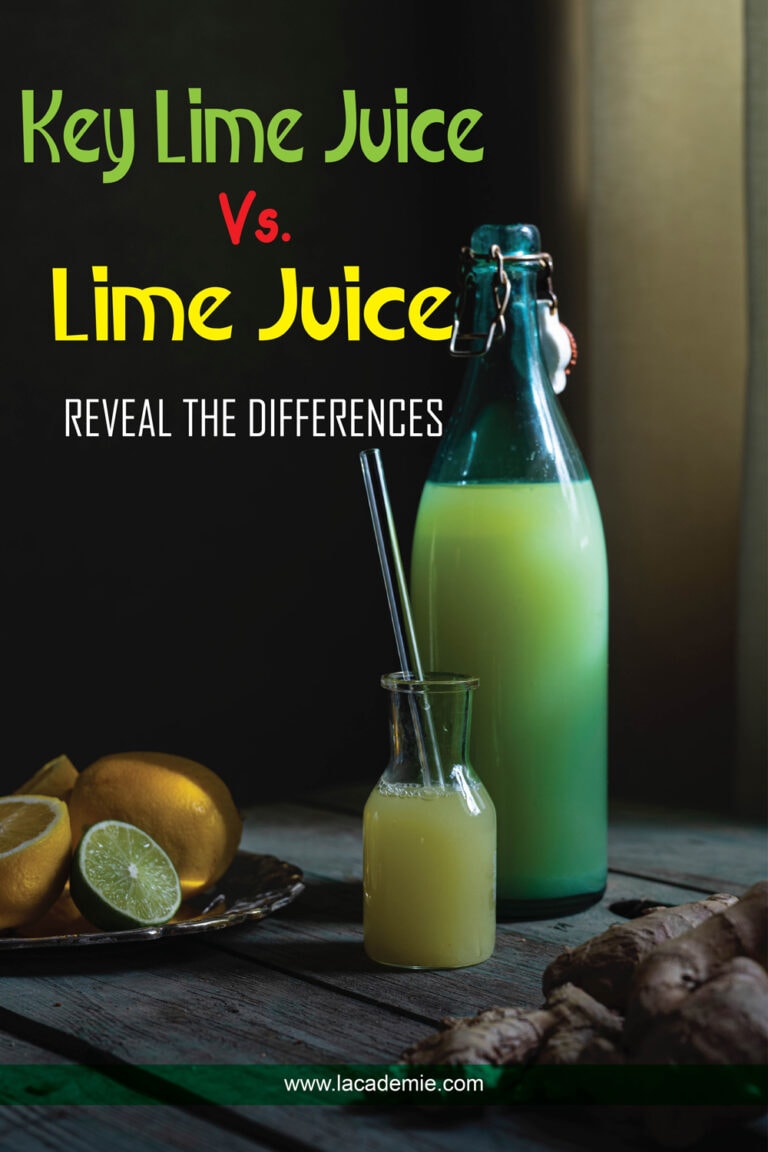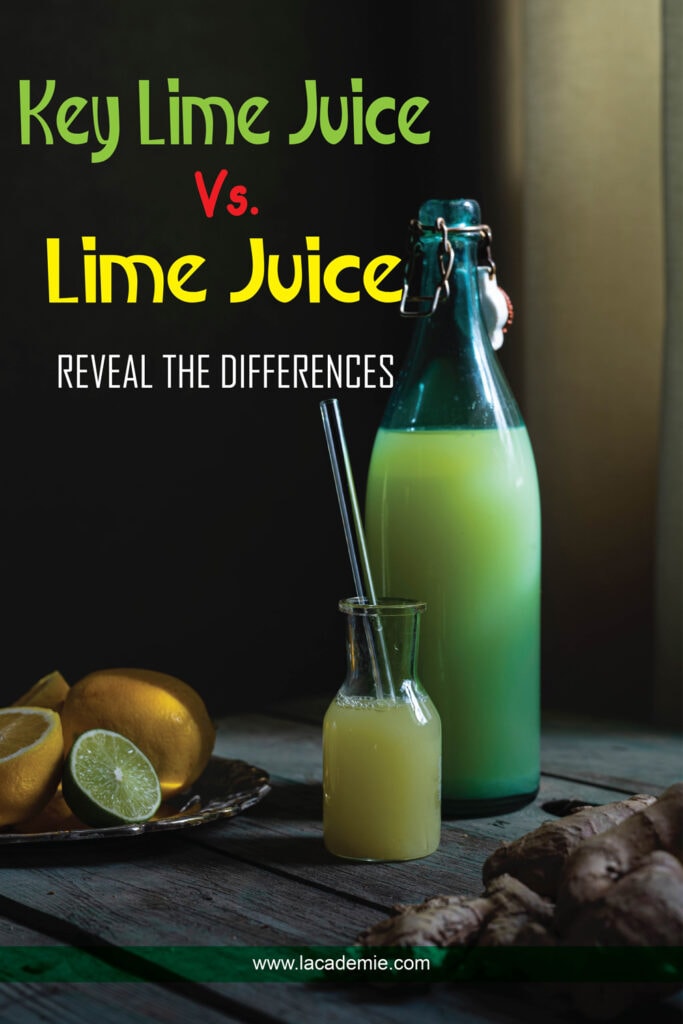 References:
En.wikipedia.org. 2021. Key lime – Wikipedia.
En.wikipedia.org. 2021. Lime (fruit) – Wikipedia.