Lime juice substitutes can save your day. When you are cooking and realize, "Oh, no. I don't have any lime juice." It's such a frustrating story. However, I will help you to change the ending of this story if you read my post.
You not only know more about replacements but also get more knowledge about the health benefits of lime juice. Everyone needs to learn something new every day. Therefore, don't waste any precious seconds; let's get started right now.
Lime Juice – Sour But Impressive
What is there in these small green citrus fruits? Yes, of course. Before I reveal these mysteries, I want to introduce to you several fun facts about lime. The hometown of lime is India, which is well-known for its curries.
Christopher Columbus is the first person to bring lime to the New World since the late 15th century. You can use any part of lime from the flesh to peel and create various fresh and tasty dishes with a unique flavor.
As you might not know, when you drop lemon and lime into the water, the lemon will float while the other will sink. The typical taste of lime juice is tart. However, you can taste a hint of sweetness with a distinct zesty flavor and feel your mouth puckering when you bite or drink the pure lime juice.
In general, I find it bright and vibrant that can make you cool. Lime juice is a rich source of vitamin C, antioxidants, and more nutrients; thus, enjoying lime juice or lime frequently will help you improve the immune system, lower the risks of heart diseases, kidney stones and promote your smooth skin.(1)
Although you can get a lot of benefits from lime juice, you shouldn't overuse it. You have to know the amount of juice in each lime to make sure you intake enough substances for a day.
Don't be overwhelmed by its nutritional value; it can offer you more than that if you combine it with other ingredients like salmon, meat, and vegetables. Thanks to its versatile purpose, you usually stock a lot of lime juice at home, and you wonder if lime juice has gone off? The right answer depends on different factors, from the type of lime juice to the storing condition.
Are you happy with the information? If you say yes, close the first door. You and I will move to another room to explore lime juice alternatives inside it. I'm sure you will be impressed with the 17 brightest faces.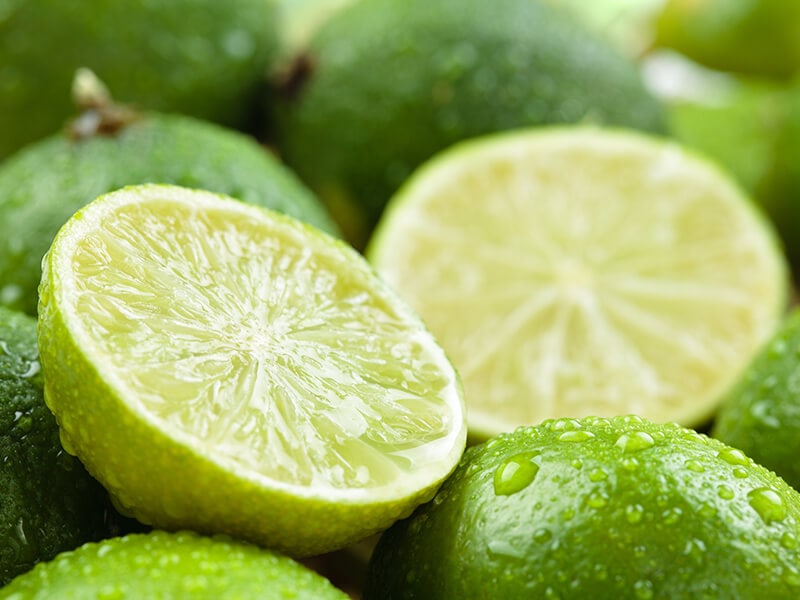 Listen about the health benefits of lime juice from a well-known doctor.
Lime Juice Alternatives – Ratio Chart For Busy Moments
If you are on the job, you can take a quick look at this table to know what you need to do for substituting lime juice. It will provide you with perfect ratios and save you from headaches.
Best Substitutes
Ratio
Lemon Juice
1 tbsp of lemon juice = 1 tbsp of lime juice
Bottled Lime Juice
3 tbsp of bottled lime juice = 1 tbsp of lime juice
Orange Juice
1 tbsp of orange juice = 1 tbsp of lime juice
Lime Extract
½ tbsp of lime extract = 1 tbsp of lime juice
Key Limes
2-3 tbsp of key lime juice = 1 tbsp of lime juice
Sour Orange
1 tbsp of sour orange juice = 1 tbsp of lime juice
Grapefruit Juice
1 tbsp of grapefruit juice = 1 tbsp of lime juice
Other Citrus Juices
1 tbsp of citrus juice = 1 tbsp of lime juice
1 tbsp of concentrated citrus juice = 2 tbsps of lime juice
Lime Juice Powder
1 tsp of powder + 2 tbsps of water = 2 tbsps of lime juice
Lime Oil
1 drop of lime oil = 1 tsp of lime juice
Crushed Vitamin C
1 tbsp of Vitamin C liquid = 1 tbsp of lime juice
Black Lime
1 tbsp of black lime = 1 tbsp of lime juice
Citrus Zest
1 tsp of citrus zest = 2 tsp of lime juice
Vinegar
½ tbsp of vinegar = 1 tbsp of lime juice
White Wine Vinegar
½ tbsp of white wine vinegar = 1 tbsp of lime juice
Tamarind Paste
1 tbsp of tamarind paste = 2 tbsps of lime juice
White Wine
1 tbsp of white wine = 1 tbsp of lime juice
Excellent Lime Juice Replacements Are Right In Your Pantry
When the amount of juice one lime can produce is nowhere near enough, or when you've run out of limes in your pantry, don't despair. There are many substitutes for lime juice that you can use in different recipes and scenarios. Don't believe me? Let's check out the section below.
Lemon Juice – Your Best Bet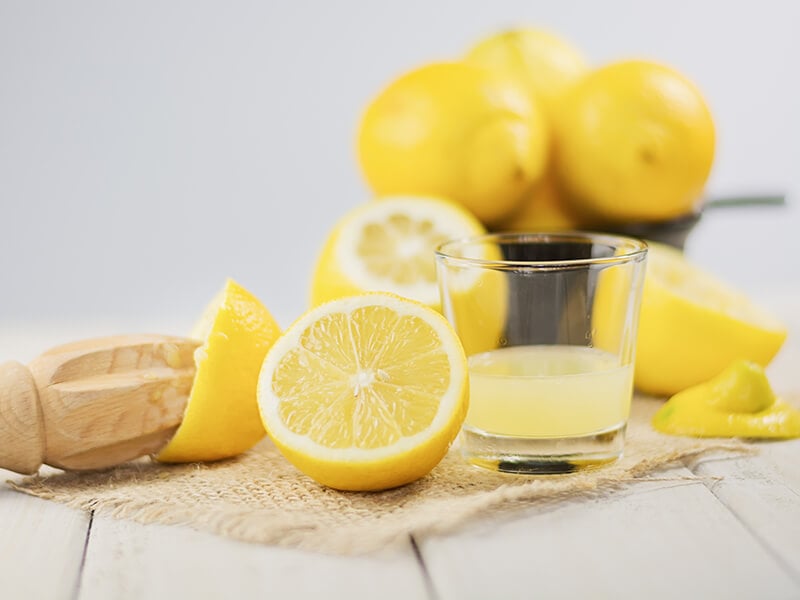 As I mentioned, lemon juice is the safest and most suitable for you to replace lime juice. Lemon juice contains citric acid (2), and the pH level is 2.2. The two reasons explain why the juice is sour.
Moreover, it also has a slightly sweet taste coming along with the natural bitterness. The flavor of lemon juice can be one of the stand-in flavors for the citrus family. The similarity in its taste can make you confused about the differences between lime and lemon. Besides, the moderate acidic taste makes it perfect for baking goods, savory recipes, and beverages.
You surely cannot forget the wonderful feeling when drinking a margarita; this cocktail contains lemon juice too. However, it will be a big mistake if you add lemon juice to key lime pies instead of key lime juice. Please remember that!
For heavenly experiences, you should replace 1 tablespoon of lemon juice with 1 tablespoon of lime juice. In all cases, I highly recommend you use an excellent lemon squeezer to get as much juice as possible.
Bottled Lime Juice – Best Convenient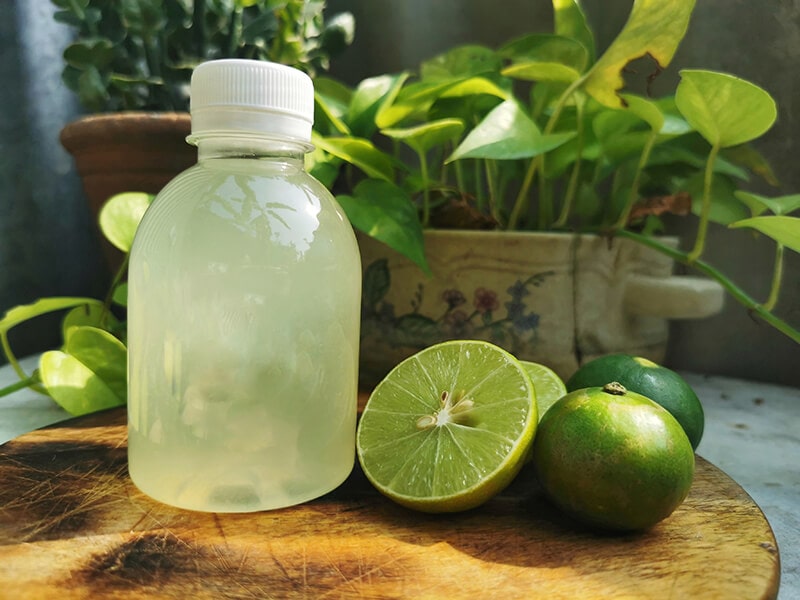 Don't worry when you are busy; let's make use of the bottled lime juice in your fridge to implement the mission of lime juice. This drink is pasteurized, so it lacks a zesty scent. In terms of flavor, it certainly doesn't meet the sour level and complex taste.
Therefore, you can swap 3 tablespoons of bottled juice for 1 tablespoon of natural juice. Keep in mind not to add the commercial product in several recipes where the appearance of fresh lime juice is too important. You should choose the products made from 100% and undiluted lime juice.
Orange Juice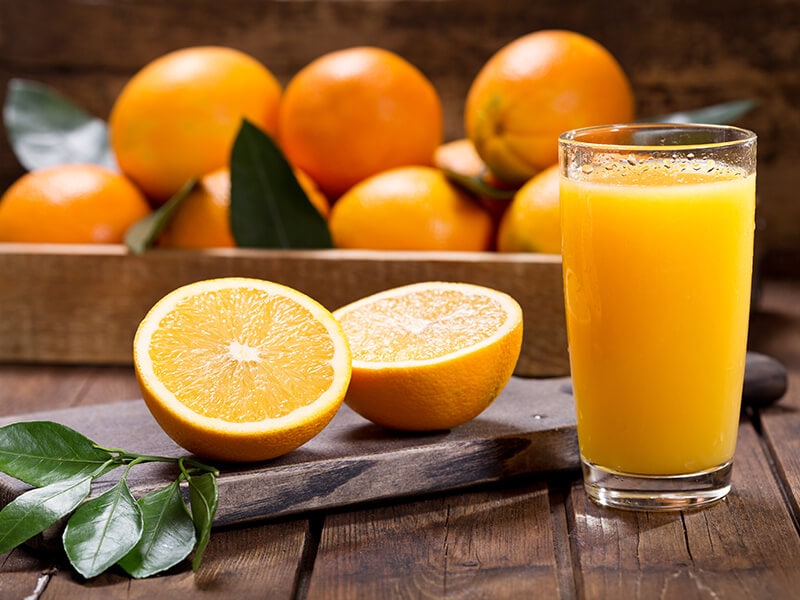 Lemon or bottled lime juice is too sour that you cannot feel all flavors. I will bring you an appropriate alternative that is orange juice. Orange juice will provide you with a lot of vitamin C, drinking orange juice daily can maintain bright and smooth skin.
You need to choose the suitable orange for juicing to ensure the flavor of this juice is balanced between sourness and sweetness; you can also feel a shadow of bitterness. All factors are combined with zesty, sharp flavor to create a fresh, natural taste in various recipes: baked goods or savory dishes (pan-sear chicken, seafood, steak, and more).
You cannot find all the unique flavors of lime juice in orange juice, yet several features can appear in both. This juice will make your recipes sweeter; thus, you should adapt other ingredients to meet demand.
If slight changes don't bother you, don't hesitate to substitute them with a 1:1 ratio in most recipes. If you have orange juice available in your kitchen, you should check whether orange juice can be spoiled to protect yourself from consuming the expired liquid.
Are you sure you are juicing orange properly? Let's explore the right answer.
Pure Lime Extract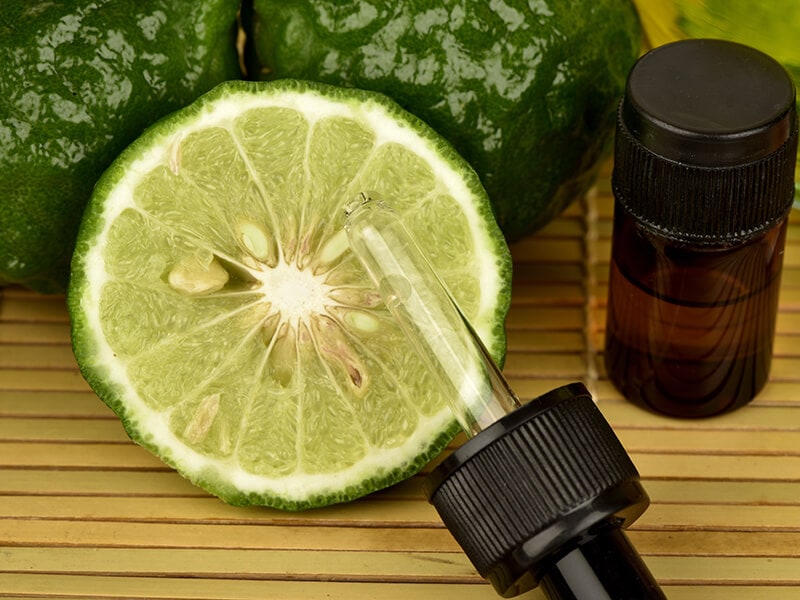 The lime extract is made from diluted oil; therefore, its taste is nothing but strong and pure zesty flavor. You shouldn't expect to find a tangy taste when using this substitute. The advantage of it is that it provides you with a prominent and complex aroma.
Therefore, you just need to use ½ tablespoons of lime extract to replace it with 1 tablespoon of lime juice. This liquid is added to baking and drinks to boost overall flavor. Make sure to pick pure extract instead of imitation products as they can contain artificial flavor and change your dishes dramatically.
Key Limes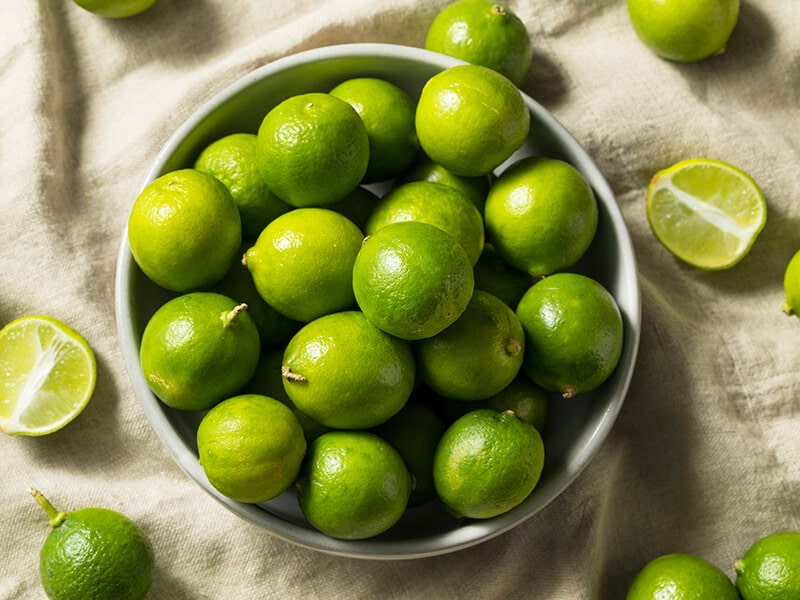 I'm sure there are some people out there wondering if key limes are not conventional lime juice? My answer is no. The lime juice you use is mainly Persian lime, not key lime.
Many people wonder about the differences between key lime juice and lime juice because of the similarities in appearance and flavor of key limes and Persian lime. However, these two are definitely not the same, and it's important that you know how to distinguish them.
Although this lime is quite difficult to purchase, you still swap it for lime juice with a 1: 2-3 ratio. That means you can substitute 1 tablespoon of lime juice with 2-3 tablespoons of key limes.
In terms of flavor, you will find it tangier and quite bitter than the Persian lime, but the bitterness can be neutralized with sugar. Thus, you will taste its flavor in desserts, mostly in Key Lime Pies.
Learn more about key limes and what advantages they bring to you. Watch this video:
Sour Orange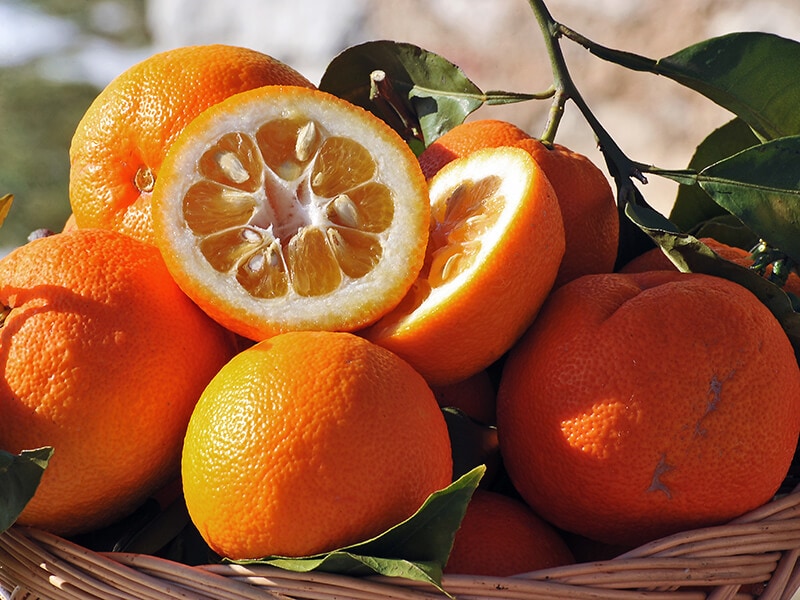 When talking about other orange varieties, you can't forget about sour oranges or bitter oranges. They are the same variety. As their name implies, the outstanding flavor is sourness.
Besides, you can find an astringent or bitter flavor when tasting them. They cannot stand in for lime juice flavor, yet these oranges can be used to replace the lime juice with the same amount.
Though this orange lacks sweetness, it is added to complement medicine, helps you lose weight, and cooks some dishes, especially marmalade and other flavorful orange desserts.
Grapefruit Juice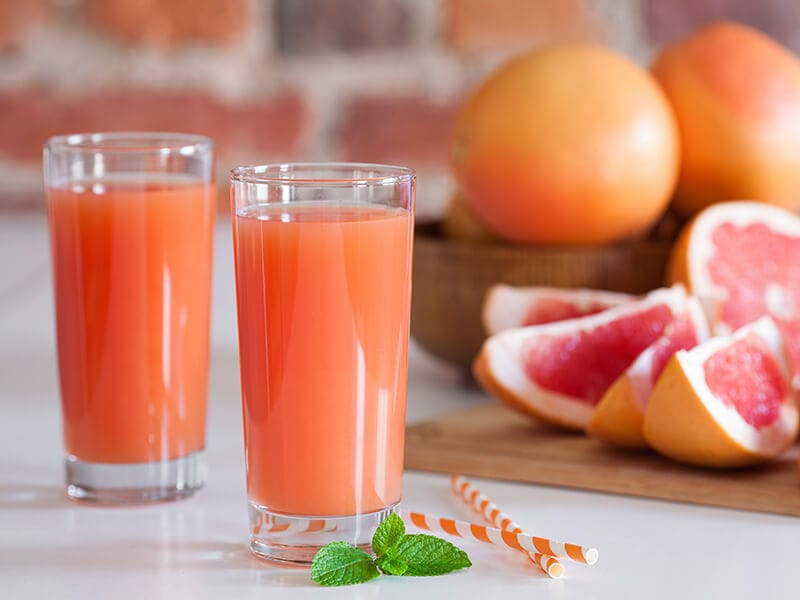 Grapefruit is also a member of the citrus family and an ideal replacement for lime juice. Like orange juice, this liquid is sweeter and less sour than lime juice, and you can add it to marinades and dressing to promote the dishes' flavor.
Besides enjoying grapefruits alone, it is a wise choice when combining apple cider vinegar with grapefruit juice for mouth-watering drinks.
You can adjust the suitable amount to suit your wish; however, don't forget to reduce the sugar amount since it is more sugary than lime. If you want to change a little bit of taste, you can try applying an equal amount.
In case you cannot find fresh grapefruit, bottled juice is also an acceptable option. For an exact measurement, I suggest you use specific units, such as teaspoon, tablespoon, milliliter, and more, as the size of grapefruit is as many times as lime.
Other Citrus Juices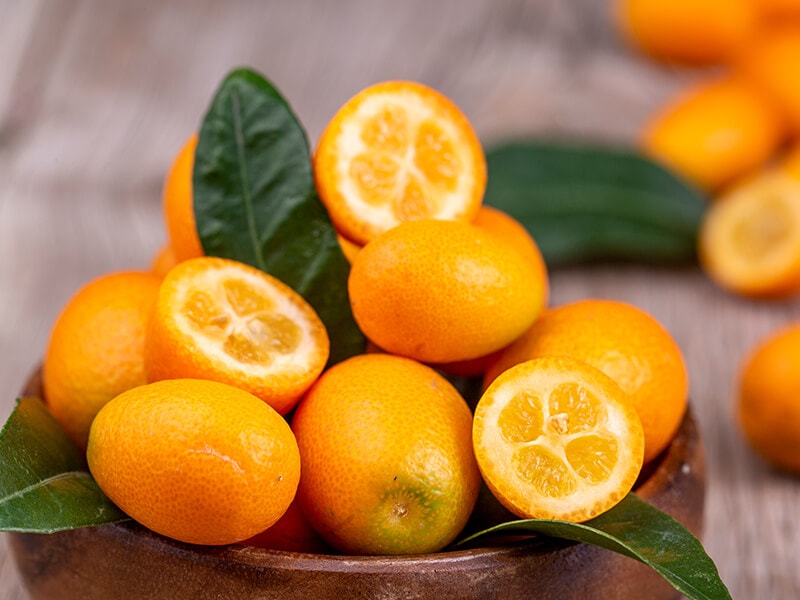 Don't worry if you don't have any orange, key limes, or grapefruit available. You can use any type of citrus fruit as long as it contains citric acids to replace lime juice in savory and sweet dishes. Citric acids are the main substance creating a sour taste in fruits.
Kumquat and kalamansi are appropriate selections when you are short of lime juice. They can fill the absences of lime juice in almost all of the recipes when you replace 1 tablespoon of these juices with 1 tablespoon of lime juice.
I always recommend you to use freshly squeezed juice instead of a pre-packed one and apply the natural, pure juice without adding sugar, water, or additives. Don't forget to test the sour level and change some features in your recipes to avoid damaging the final results.
However, if you choose fresh juice, it's important to remember that the average time fresh juice can last is usually not that long. So you need to store the juice properly, or only squeeze fresh juice when you're about to use it.
In case you don't have juice, concentrated juice can work well. You need to use half the amount of lime juice that your recipes require and cook as usual. For example, if the dish needs 2 tablespoons of lime juice, you just add 1 tablespoon of concentrates.
And although star fruit technically doesn't belong to the citrus family, many have pointed out the tart flavor you can get from star fruit can definitely rival limes. So if you're seeking to replace the pleasant sourness from lime juice, star fruits are not a bad option.
Lime Juice Powder
If you can't find any fresh lime to follow the instructions for lime water drinks, you can tweak the recipes a bit by using lime juice powder instead. Actually, it is simpler to store than fresh juice and comes at a more affordable price.
The powder is made from lime juice, maltodextrin, and lime oil; however, it just can fill the tart flavor that the dishes are absent without sweetness. You can get the intense tart and lime flavor when adding it to beverages, marinades, baked goods, and more recipes.
To replace 2 tablespoons of lime juice, you just need to whisk 1 teaspoon of the powder with 2 tablespoons of water. That's such a cost-efficient choice, right?
Lime Oil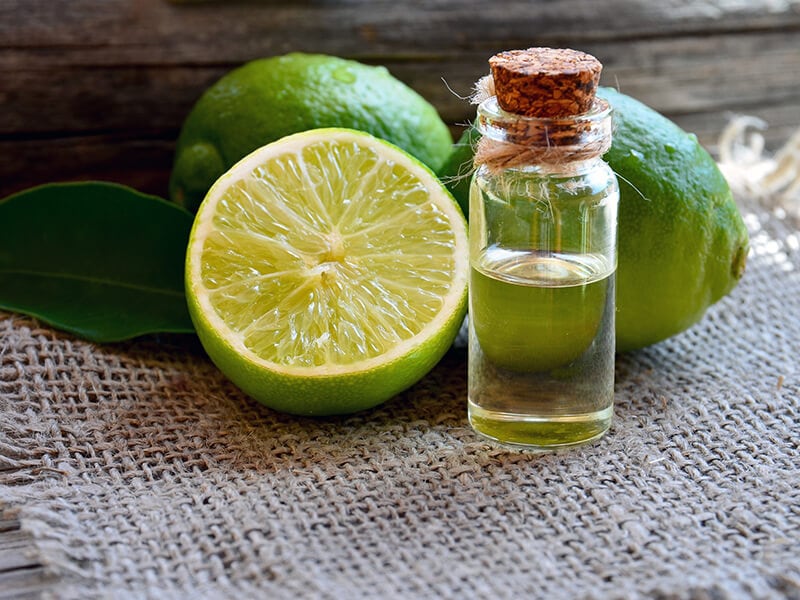 Don't confuse between lime oil and lime extract I mentioned. The extract is diluted in the water while the oil is natural and 100% percent pure oil. Thus, its flavor is more overwhelming than lime juice and also has a bold herbal taste.
You only need 1 drop of lime oil to replace 1 teaspoon of lime juice to avoid overpowering the results. Do you know what this oil is best for? That is for cooked seafood and vinaigrettes. The intense lime scent can help you reduce the fishy smell of seafood and add more colors to your recipes.
If you don't believe what I said, let's try applying these words to your dinner today. Your family will admire your cooking talent.
Crushed Vitamin C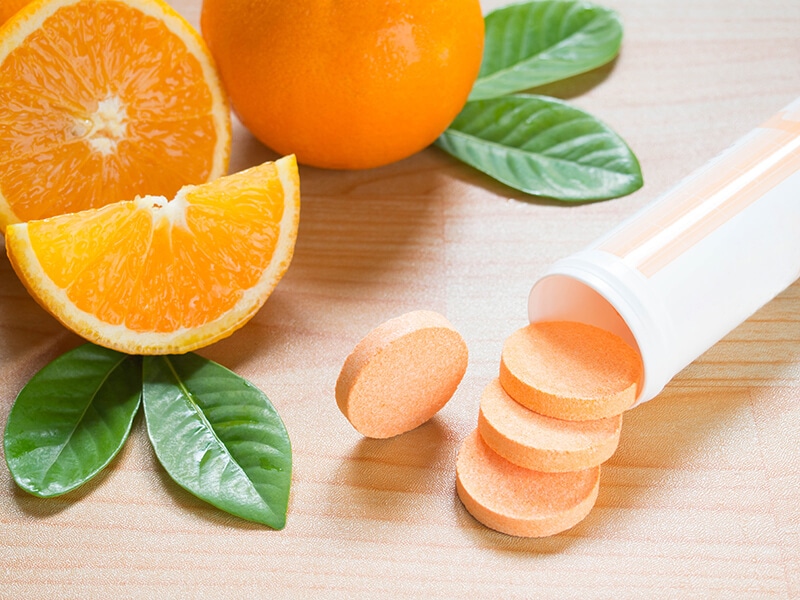 Help me, help me! What can I do if I lack the above suggestions? It's time crushed vitamin C appears to save your day. Keep in mind that its flavor can be lime or orange, so choosing the right type will maintain the overall taste as the original.
The most appropriate use of vitamin C is to sprinkle on salad or food to protect it from discoloration. For substituting lime juice, you can mix vitamin C with water as long as the liquid is equal to the lime juice that recipes call for.
Black Lime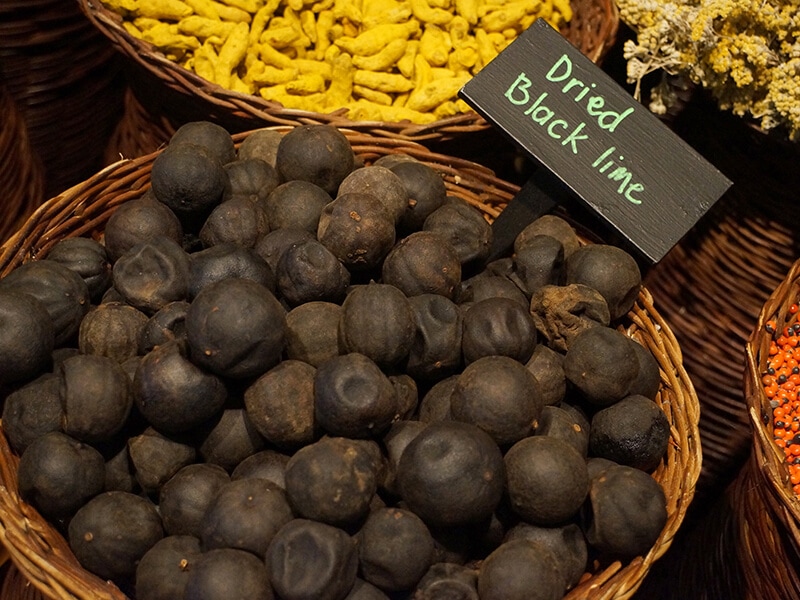 Black lime is another name for dried lime or loomi. It is usually sold in ground form, and you can add it to delightful Middle Eastern recipes to promote their flavor. You can imagine its appearance as it has brown-black color with a flaky and brittle texture.
Although it can replicate all the flavors of lime juice, it offers you an acidic and aromatic flavor like when you taste concentrated fresh limes. Not only that, but you can also experience hints of fermented and umami taste that are beyond other citrus varieties.
Do you know what does black lime lacks? Yeah, you are right; that's the shortage of sweetness. Therefore, you only use it for cooking soup, stew, and meats to stand out the smoky feature with the 1:1 ratio.
If you don't want to obey this strict rule, you can increase or decrease according to your recipes.
Are you a big fan of Middle Eastern cuisine? You shouldn't skip this instruction about making black lime.
Citrus Zest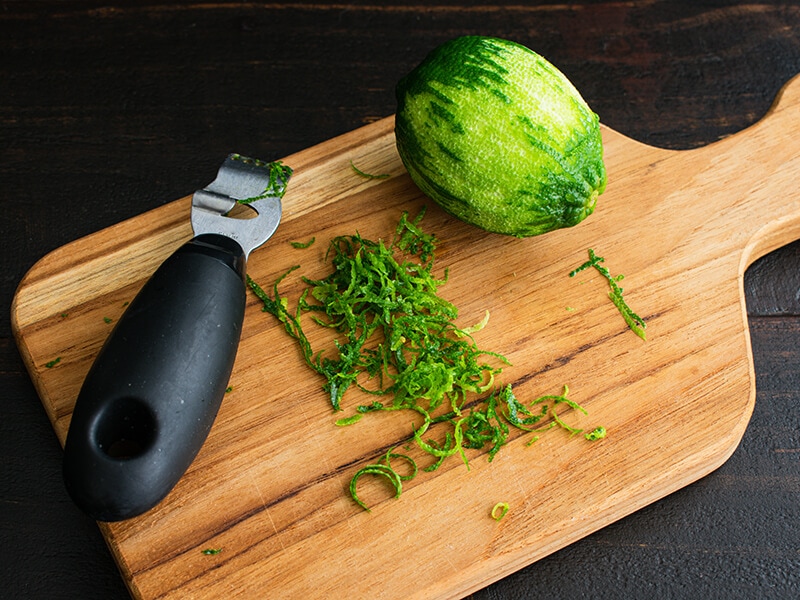 Not only can lime zest replace lime juice, but you can also use various citrus zest to fill the space that the juice leaves. The replacements can be lime zest, lemon zest, or orange zest since they possess a bold citrus flavor with a faint note of bitterness and can add more fresh tastes to your dishes.
However, you should substitute 1 teaspoon of zest for 2 teaspoons of lime juice to avoid overwhelming other ingredients. The best recipes for these alternatives are baked goods and lime rice, as they don't require sour flavor.
Vinegar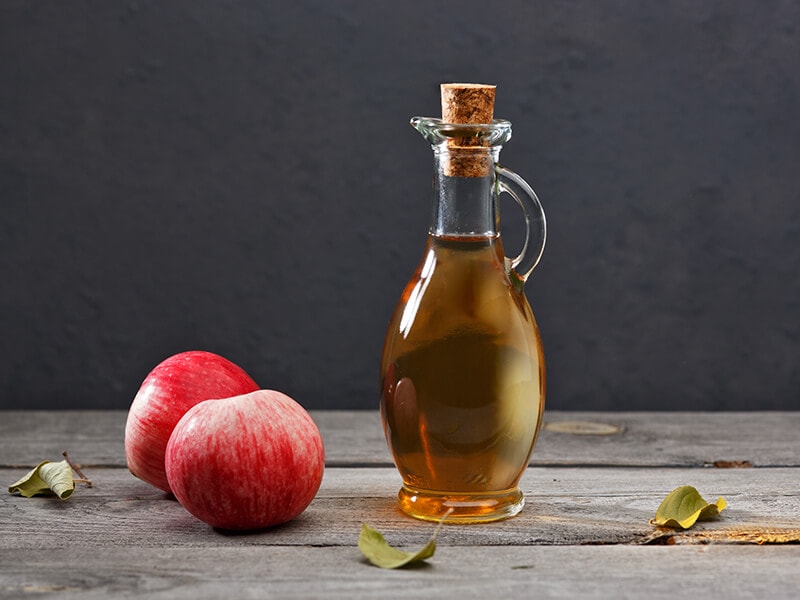 If you are finding a non-citrus replacement for lime juice, you surely shouldn't skip the vinegar. The best suitable vinegar is apple cider vinegar. The main ingredient in vinegar is acetic acid, that's why it has a tangy and pungent flavor.
Apple cider vinegar also features a strong smell of fermented apple juice with some slight sweetness. You should start with ½ the amount of vinegar that the recipe requires for lime juice and add slowly if you want.
Vinegar cannot replace the juice in all dishes, but it can complement the flavor perfectly in salad dressing, ceviche, guacamole, and salsa. Why don't you make several guacamoles to impress your friends? Share with me if you get big applause.
White Wine Vinegar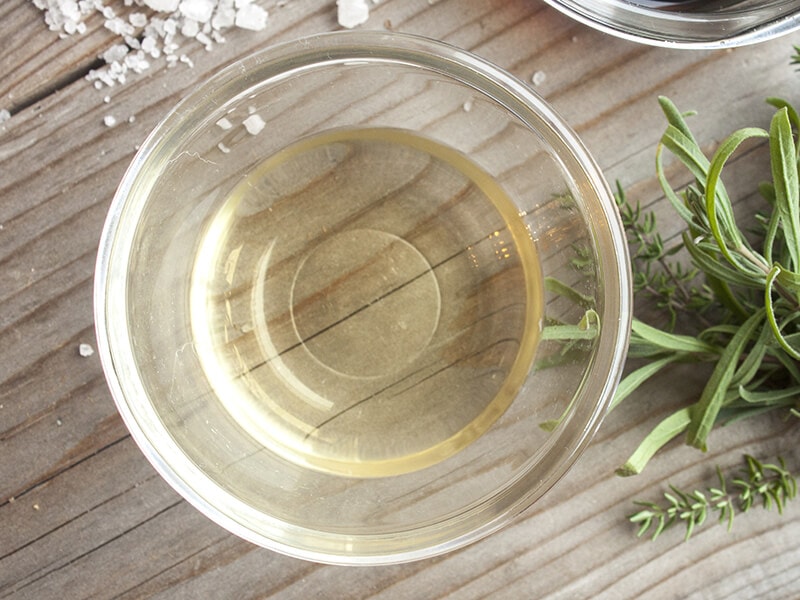 White wine vinegar is vinegar or white wine? The answer is a combination of them. This vinegar is blended with white wine instead of grain alcohol; therefore, the flavor is more subtle, less sour, and smoother than the original one.
In addition, the wine will make this substitute exceptional with a fruity, rounded, and nuanced flavor. It will serve best for salad dressing and savory recipes without overpowering dishes with citrusy scent, yet it can damage your baked goods.
The reason is this vinegar can react with baking soda in baking and change the taste dramatically. To ensure the final results, I recommend you add ½ tablespoon to alter 1 tablespoon of lime juice at first and add more if needed.
Besides replacing lime juice substitutes, white wine vinegar is also the best-match alternative for red wine vinegar. Their flavor is somewhat the same, but the color is totally different.
Tamarind Paste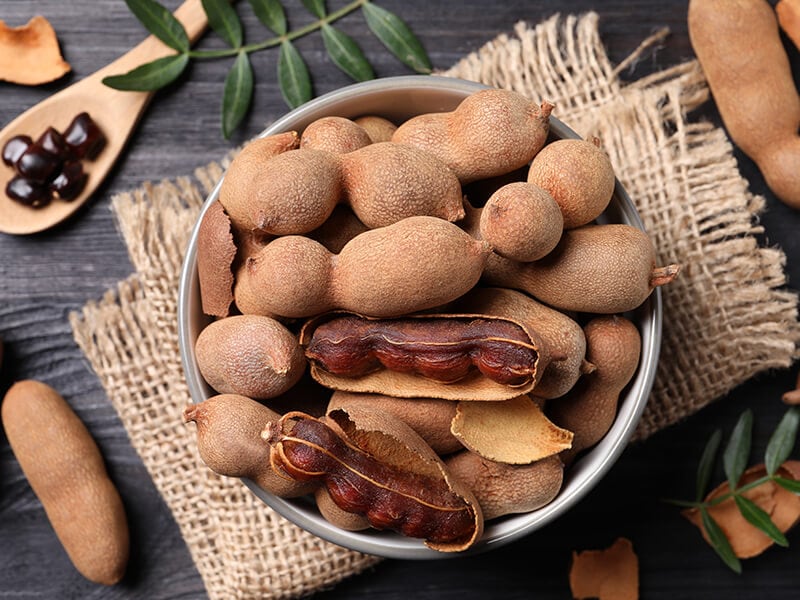 Just like how lime juice can be a great replacement for tamarind paste, tamarind paste can also substitute lime juice in many recipes. From lip-smacking beverages to scrumptious dishes, there are many things tamarind paste can do.
Tamarind is a familiar face in Thai cooking, especially in appetizers from Thailand, and it can be used for cooking more mouth-watering dishes. If you have a chance to taste tamarind, you will certainly obsess over its sweet-tart flavor.
You have to have delicate senses to find the reasons why it can imitate lime juice in salad dressing, marinades, and beverages. The tangy flavor is a key to this doo; however, the main component in tamarind is tartaric acid instead of citric acids like the citrus fruits.
The best method to get a whole flavor of tamarind pulp is to dilute it with water. This way, you can control the sourness level to satisfy the dishes' flavor. If you use tamarind paste, let's swap 1 tablespoon of tamarind paste for 2 tablespoons of lime juice to find the same experience.
White Wine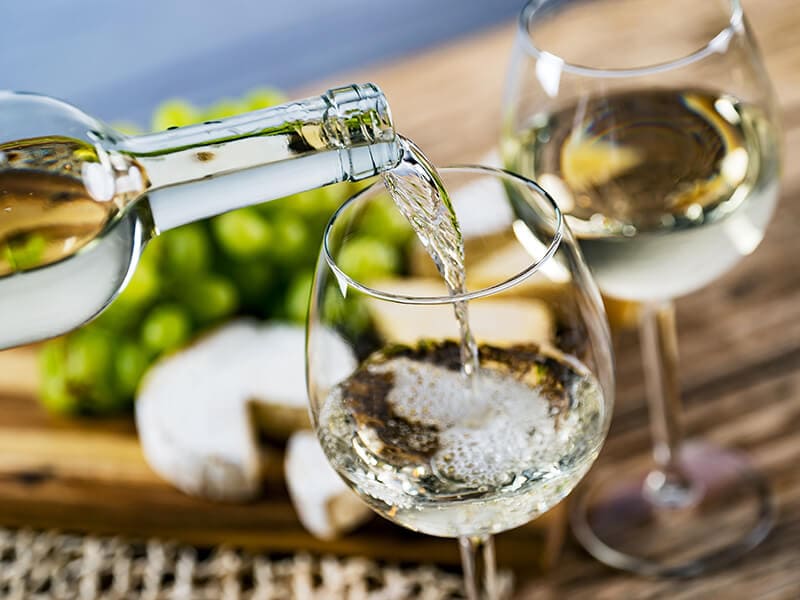 White wine is a part of white wine vinegar; can I use it to replace lime juice? Yes, of course. It is such a potential choice. White wine is made from the flesh of white grapes, remember not to use their skin to process since it can change the clear color of the fluid.
Therefore, it has a fruity and light taste with a moderate sourness that is less than lime juice. Its flavor fits perfectly with marinades and dressing dishes. To match the closest flavor, you can apply a 1:1 ratio.
If your recipes require a lot of lime juice, use this substitute cautiously. It should be the last option when you cannot find the others.
3 Factors To Consider When Choosing The Best Lime Juice Substitute
What should you choose for your recipes among numerous possible lime juice substitutes? Don't worry; I will show you 3 factors you can think about for these awkward situations.
You need to determine apparent objects of using lime juice in specific recipes. If the liquid plays an essential role in the dishes, you have to use the closest flavor alternatives. Otherwise, adding the available one is more convenient.
However, not all folks can do those tasks. It's time you should refer to chefs, and they will answer you with the most suitable replacement for each recipe as some were born for desserts while the others are for savory dishes.
Lime juice will complement sourness to your recipes; that's why you should check the acidic level of alternatives to decide which one can be added so that your dishes can keep their original flavor.
FAQs
Have you found your favorite alternatives on this list? Let's start cooking with them, the ending will impress everybody and encourage their appetites. If you still have wondered, don't forget to check them out below. The answers will satisfy you.
Cooking Is Not Tricky Anymore With Lime Juice Substitutes
I always want to cook full-flavor dishes with perfect ingredients; nevertheless, something may not happen like my wishes, and lime juice substitutes come to save my day.
If you are in the same situation, don't panic, as you will find an optimal solution. Let's consider the role of lime juice in your recipes and replace it with the equivalent options. Do you find this post is useful?
Don't forget to give me a thumbs up and share it with your beloved people. Your support will encourage me a lot. Thank you for your following!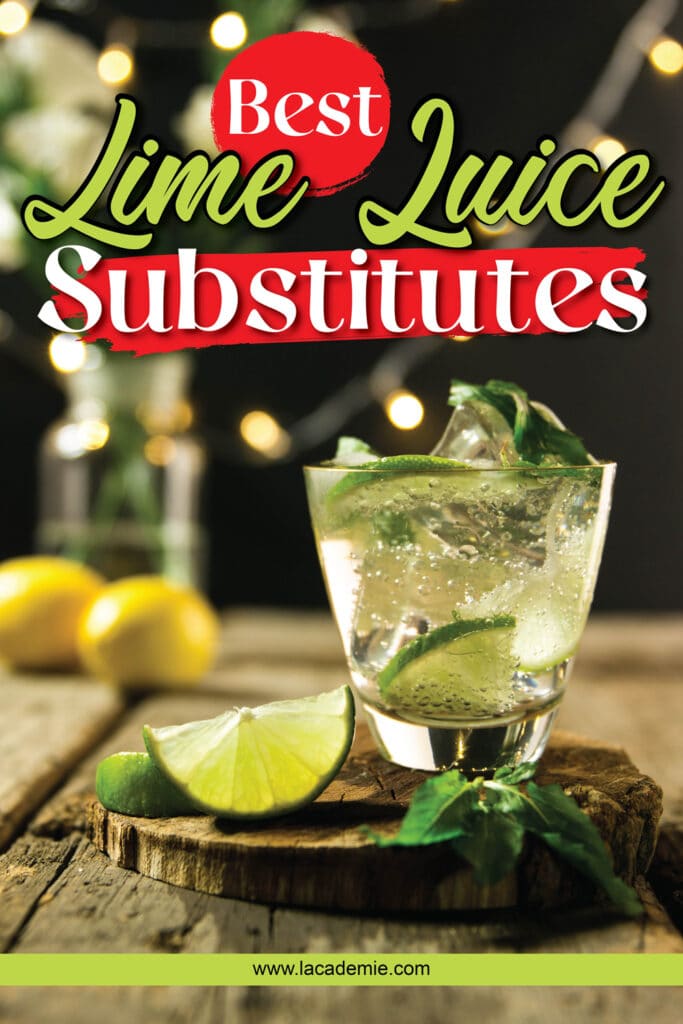 References:
​​Healthline. 2021. Limes: Nutrition, Benefits, Uses, and Side Effects. [online] Available at: <https://www.healthline.com/nutrition/limes>
Penniston, K., Nakada, S., Holmes, R., and Assimos, D., 2021.