You should know how much juice in one lime since you have to measure the exact amount of each ingredient to ensure the perfect flavor. However, not all limes are the same, and I will reveal the difference between them in the following sections.
To save your precious time, let's dive into the article immediately.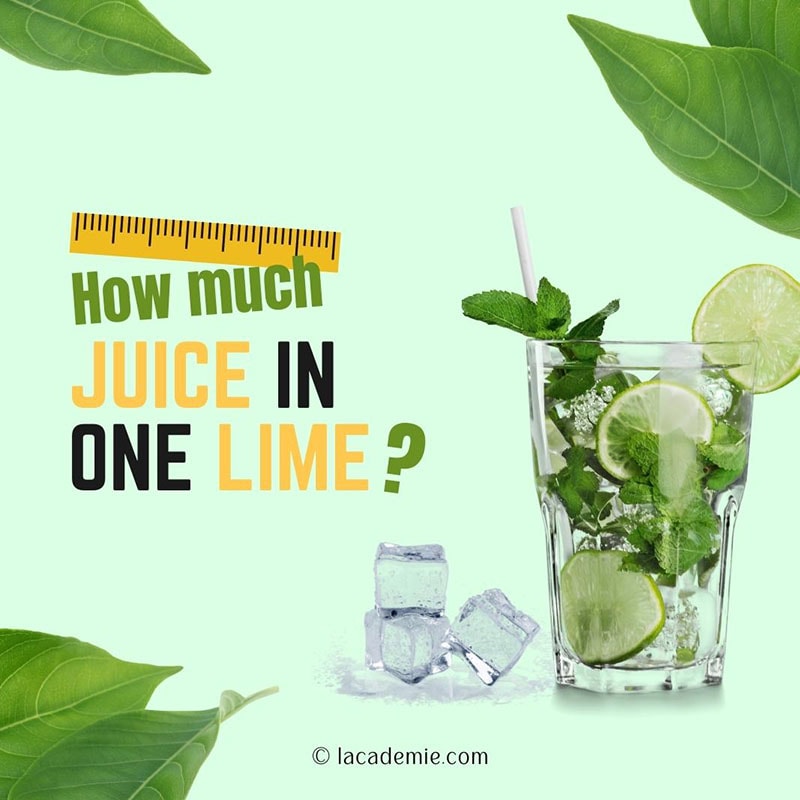 Types Of Lime – What Are The Differences?
There are 2 types of the most common lime: Persian limes and Key limes. Although they are members of the same citrus family, you can still realize different features between Persian limes and Key limes. Let's find out what makes these 2 lime varieties so vastly different.
Types Of Lime
Persian Limes
Key Limes
Appearance

Oval-shaped
Larger than key limes
Thick, smooth grind and shiny green skin

Spherical-shaped
Smaller than Persian limes
Thin, leathery rind and have yellow traces with green color

Flavor

Compared to key limes, it is less sour with a little bit of bitterness
Seedless flesh
Juicy texture

A distinctive flavor with moderate acidic (sourer than Persian) and impressive aroma
Contain a lot of seeds
Juicy flesh

Application
Go well with both sweet and savory recipes
Perfect for sweet desserts, especially baked goods. The most popular is key lime pies
Popularity
Easy to pick at groceries
More difficult to get than Persian limes
As you might know, almost all the limes you pick in the supermarkets are Persian limes. This type has different names: Tahiti or Bearss limes (1). The size is not the biggest among limes, but it is larger than key limes.
They are cultivated mainly in Florida, making up 90% of the US market. The special feature of this tree is that it doesn't have thorns. Their skin is quite thick with smooth rind and vivid green color; thus, it can keep longer.
When they are ripe, the skin will turn yellow. The flavor of Persian lime is less tart than key limes with a hint of bitterness. Their seedless flesh is super juicy with a light-green or yellow color that can make you enchanted.
It will be a perfect puzzle for sweet and savory recipes that call for sour taste without overpowering other ingredients. My favorite drinks for summertime are delightful lime water recipes; they are cool and fresh to boost my mind when the temperature is rising.
In case you don't have Persian limes on your hands, you can replace them with key limes. They are known with other names, including Mexican or West Indies limes (2). Their hometown is in the Indo-Malayan region.
Because key limes are somewhat tricky to purchase, you should buy a large batch if you catch them in the supermarket. You can squeeze them in advance for the next uses; however, you need to be aware of whether lime juice has gone bad to use it in time and avoid wasting money.
You can easily differentiate Persian from key limes since the latter has a spherical shape with thin skin, leathery rind, and some traces of yellow mixed green color. In terms of size, they are smaller than the Persian, particularly from 1-2 inches.
Like the former, this type will turn yellow when ripe, and you may feel heavy. They seem to be more acidic than Persian and have an impressive scent. You will find it strong citrus with a slightly herbal-floral aroma.
You need to remove more seeds in its flesh. The key limes are an indispensable ingredient in sweet desserts, especially baked goods. You have to use them for key lime pies to reach a rounded flavor. In addition, they will brighten other recipes: marinades, limeade, and more.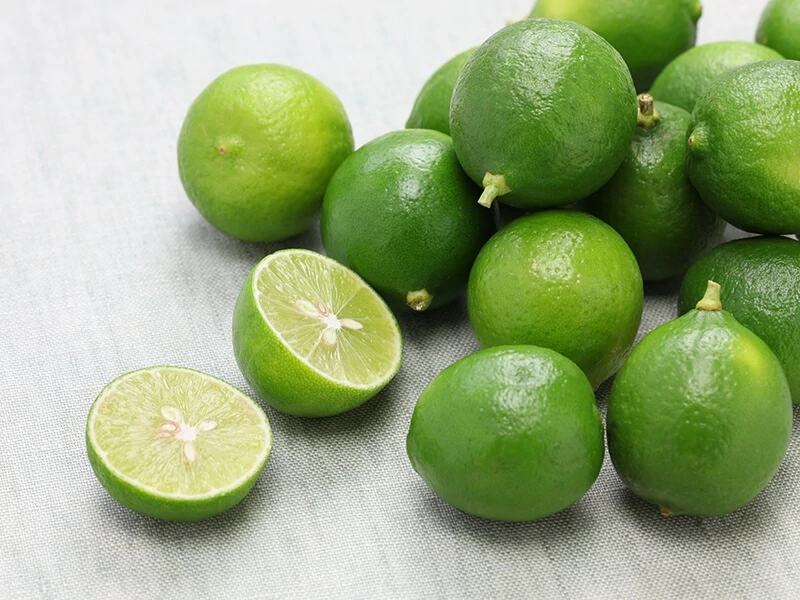 Let's take a closer look at Persian lime – one of the most popular limes. Watch this video:
How Much Juice Can I Get In One Lime? The Answer Replies On You
Can you guess what I mean? The juice in one lime will depend on what kind of limes you choose: Persian, key limes, or other limes. Since key limes are smaller than Persian ones, you need to squeeze more to reach the juice of Persian. To know the specific amount, let's reference my charts.
The recipes usually require lime juice, but their measurement will be ounces, tablespoons, or cups instead of the number of fruits. Therefore, you need to apply the right unit to ensure you can get a perfect flavor. Check it out!
Type of Limes
Number of limes
Juice in limes
Persian limes (1 pound = 6-8 medium limes)
1 pound
½ - ⅔ cup
Persian limes (1 pound = 6-8 medium limes)
1 medium lime
1-3 tablespoons (1 ½ teaspoons of zest)
0.6-1.2 fluid oz
Key limes ( 1 pound = 12-16 limes)
1 pound
½ - ⅔ cup
Key limes ( 1 pound = 12-16 limes)
1 medium lime
2-3 teaspoons
0.33 fluid oz
Other limes (Average measurement)
A half of lime
1 tablespoon
½ fluid oz
Other limes (Average measurement)
1 lime
2 tablespoons = 6 teaspoons (2 teaspoons of zest)
1 fluid oz
Other limes (Average measurement)
2 limes
¼ cup
2 fluid oz
Other limes (Average measurement)
3 limes
⅓ cup
Other limes (Average measurement)
4 limes
½ cup
Other limes (Average measurement)
6 limes
¾ cup
Other limes (Average measurement)
8 limes
1 cup
These calculations above are for medium-sized lime; thus, the results also change if you purchase larger or smaller sizes. A large lime will produce about 3 tablespoons of juice, and you can juice ½ – 1 tablespoon of fluid from a small lime.
If you want 1 cup (8 fluid oz) of key lime juice, you will need approximately 2 pounds of limes or 24 limes.
In case your recipes only require ⅓ cup of key lime juice, use 8 limes. For the different amounts, you can divide the measurement for 1 cup into smaller parts. That means 12 key limes can give you ½ cup juice, and 6 key lime is equal to ¼ cup of juice.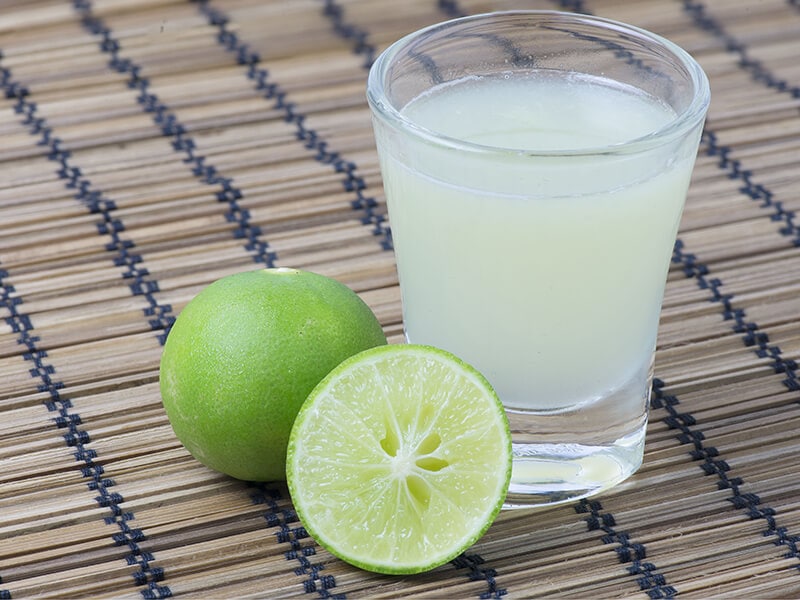 If you don't believe in these figures, refer to this visual measurement. Watch this video to know:
Essential Buying Guide For The Juiciest Limes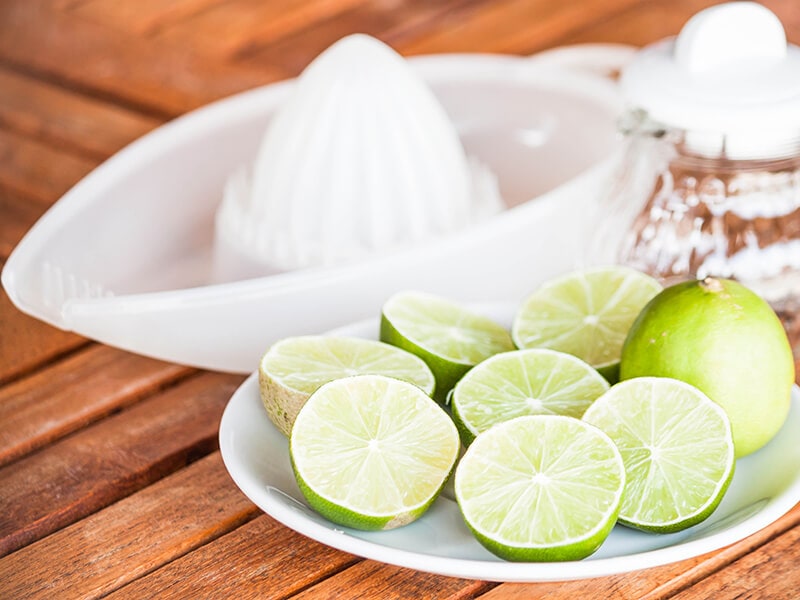 Not all limes can give you the most juice you want; therefore, choosing the best limes is a foundation for that. Here are several factors you need to focus on:
Texture: You need to pick the limes having a firm and tight feeling. The soft limes can be a sign of less liquid inside them.
Appearance: As you know, they are full of juice when you squeeze limes; therefore, the smoother the limes are, the juicier you get. The stretched lime skin can ensure you opt for the juiciest ones.
Green Color: The basic principle is the riper the fruits are, the juicer they offer. However, this cannot apply to limes. Thus, you need to choose the bright green limes and stay away from the yellow and dark green limes.
Weight: You can pick 2 limes and measure their weight when holding. The heavier will provide you with more juice than the lighter one.
Ripeness: Choosing limes when they are sufficiently ripe will give you the optimal flavor. You can smell the lime scent when sniffing. The underripe cannot offer a strong aroma. You can scratch their skin a little to make sure your selection is right.
Avoid Nipples: You should not pick the limes with nipples since they produce less juice compared to the non-nipple limes.
Press Limes: You should opt for limes that can yield the pressure when you squeeze their skin. Remember just to press a little to avoid damage to the flesh inside.
Let's learn how to choose the best lime through a professional. Watch this video:
The Best Way To Get Most Juice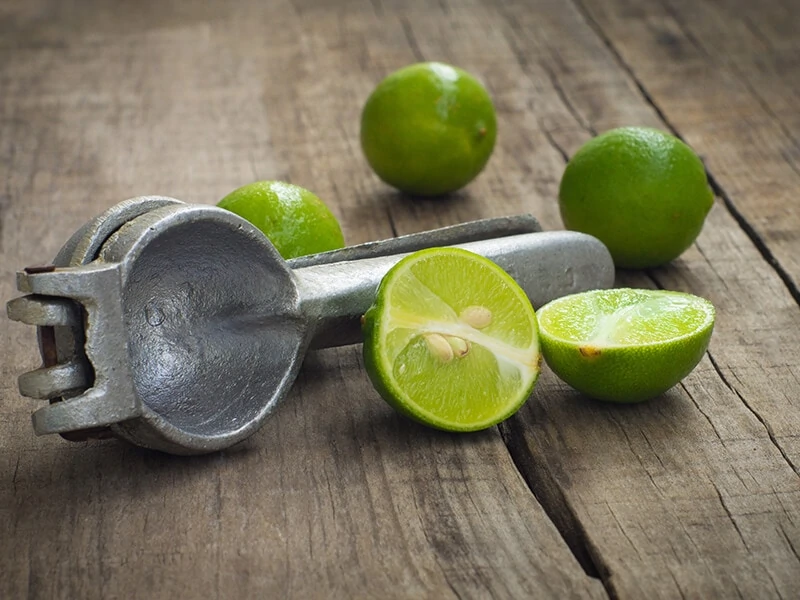 Picking the right limes is not enough; you need to learn how to juice lime as well. Don't worry since I am here to erase all your concerns. Note know these steps and practice right later, then compare the result to your conventional skills.
What You Need:
Knife
A bowl
A handheld juicer
How To Do:
Step 1: Massage your lime to soften it. You can roll it on any flat surface near you, such as a countertop or a cutting board. This way will help you divide the segments and produce more juice when squeezing.
Step 2: Cut the lime into 2 halves. Remember to separate it in half crosswise.
Step 3: Place the half into the juicer bowl; arranging the cut surface facing down is recommended. You should choose the appropriate compact juicers to make this step easier to ensure your hands will not hurt.
Step 4: Slowly press the handles of the juicier. Place the bowl under the flow of juice to get the liquid.
Step 5 (Optional): You can use a spoon or a strainer to remove all the seeds and estimate the results with a tablespoon, a teaspoon, or a measuring cup.
If you don't plan to use fresh juice at the moment, you can store it in the fridge for 2-3 days. To extend the timespan fresh juice may last, store it inside a covered plastic container or a glass. Put the juice in the coldest part of the fridge for better results.
Tips
Using a juicer, citrus reamer, or other citrus squeezers will help you get more fluid than your hands.
You can microwave limes for 10 seconds. This short time can hit the membranes of the limes.
If you need a large amount of lime juice, I suggest you invest in excellent kinds of juicers. They will support your work efficiently.
If you still want to squeeze lime juice by hand, you should know how to cut limes properly.
How To Cut Limes For Decorating Beverages?
There are various ways to cut lime for drinks. The most common methods are to cut lime wedges and lime slices. Let's see!
What You Need:
A knife
A cutting board
Limes
Option 1: Lime Wedges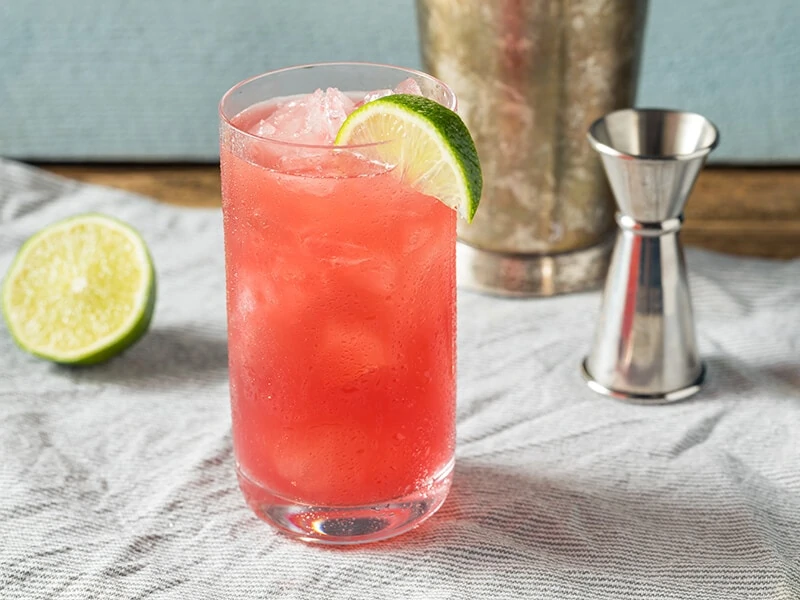 Lime wedges are the most common shape used to place over beverages. Let's explore how to cut them!
Step 1: Use the knife to cut ¼ inches off each end of your lime.
Step 2: Place the lime on the board and cut along lengthwise. You will separate the lime into 2 halves.
Step 3: Place the cut side of your lime down the board and cut it at an angle. You can divide it into the number of wedges you want.
Step 4: Continue doing the same steps for the others. You can arrange the flesh side of the wedge over the edge of your glass.
Option 2: Lime Slice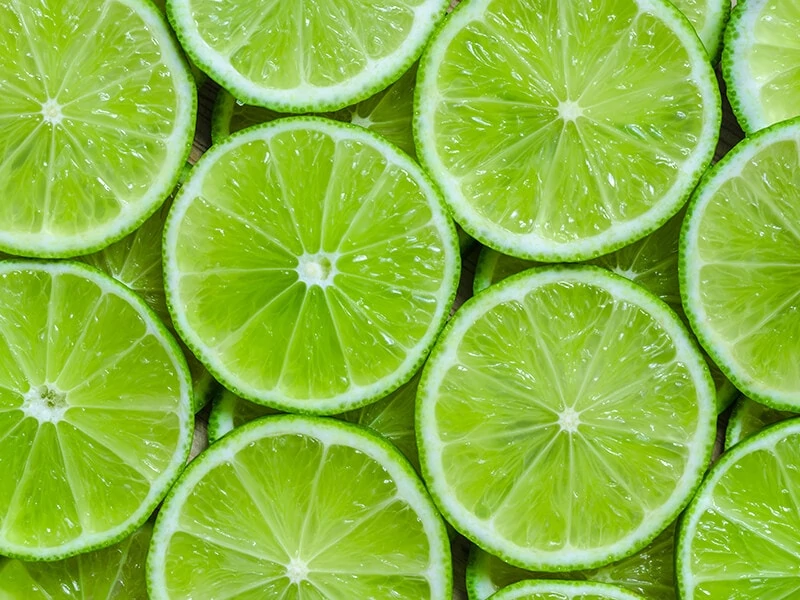 The wheels on the bus go round and round. Stop! It is not a real thing; it is lime wheels. You should cut the lime consistently to create perfect slices.
Step 1: Divide the lime into 2 parts crosswise.
Step 2: You can adapt the thickness of slices to meet your wishes.
Step 3: Carry on with slicing the lime parallelly like the first piece.
Step 4: To help the lime keep in place on a glass, you can cut a little from the center to the peel.
Step 5: Put the slitted side on the rim of your glass.
Potential Lime Juice Substitutes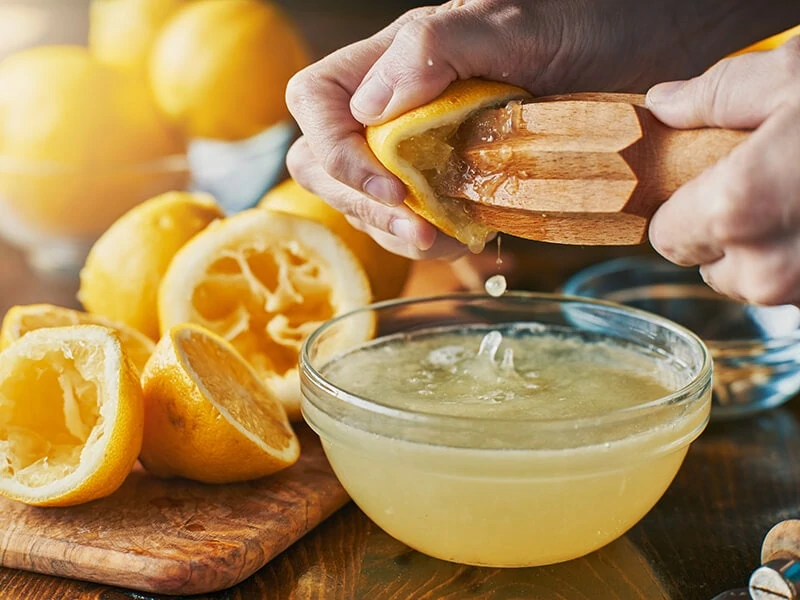 When you are short of lime juice, let's consider using suitable lime juice substitutes to save you a trip to the supermarket.
If bottled lime juice is available in your pantry, you can swap 1 cup of fresh lime juice for 1 cup of the bottled one. Make sure you use the commercial lime juice that is pure, 100% lime juice, and undiluted.
When there is nothing but lemons in your fridge, they will be a perfect substitute as well. You need to replace 1 tablespoon of lime juice with 1 tablespoon of lemon juice. Never mistake between lemon juice and lemon extract to avoid damaging your dishes. Read the label before putting the items in the cart.
Don't forget to choose effective lemon squeezers to get as much juice as possible; as you know, the price of lemon is not low.
Key limes are quite difficult to get, yet you can substitute them by mixing common fresh lime with fresh lemon juice at a 1:1 ratio. After combining the juice, you will swap 1-2 tablespoons of mixed liquid for 3 tablespoons of key lime juice.
Wonderful And Tasty Dishes With Lime Juice
What are some citrus desserts that taste just as amazing as desserts from juicy lemons? That's right, it's lime juice desserts! Now, I will prove lime juices are a versatile ingredient and cannot be indispensable in fresh and cool desserts. Let's see!
Limeade is an excellent puzzle in the summer. It can be made from 3 ingredients, and you will taste a sweet-sour beverage in a blink. The freshly squeezed lime juice is better than the bottled one. Don't forget to sprinkle your glass with a bit of lime zest to boost the citrusy flavor.
If you are a big fan of salad, you should not miss this honey-lime dressing. You just need to prepare several simple ingredients, and after a few minutes, the dressing is ready to use. The moderate sour and sweet lime juice and honey will brighten both sweet and savory salads.
Not only is lemon curd good, but lime curd is also even more wonderful. You will impress with a smooth and velvet-like texture with a sugary, tangy, and rich flavor. You can serve it with cookies, cupcakes, yogurt, and more.
You can keep it in your fridge for up to 2 weeks, and don't worry that the shortage of lime curd will interrupt your meals.
It is hard to resist a piece of key lime pie after a savory meal, right? The pie is a harmonious symphony between various ingredients, especially key lime. I recommend you just use key lime for this dessert to keep the original taste.
With the crispy crust combined with smooth cream and sweet-tart, the citrusy flavor will be a spotlight. Don't hesitate to show off your talent right at the weekend.
The best key lime pies will appear on your table after you reference this instruction:
This is also a classic drink for summertime margaritas. It is a simple mixture of tequila, freshly-squeezed lime juice, orange liqueur with optional sweetener, yet it makes you irresistible.
You will taste a tart, sweet with a little bit of salty flavor when sipping it. This margarita is simple and fast to make. You can also make a large batch to serve a crowd.
FAQs
After reading all the information, you probably have several questions. Let's check this section to know whether your problems are similar to others.
Measure Right For A Rounded Flavor
As I mentioned, the right measurement is the base for excellent taste; therefore, make sure you follow the instructions strictly. You can know how much juice is in one lime; you can start making various dishes from lime juice to hide the heat of summer.
Don't forget to leave your cooking results in the comment box; I am excited to see mouth-watering homemade desserts. Suppose you find this post useful, like and share it with other people. Your support will encourage me to produce better content.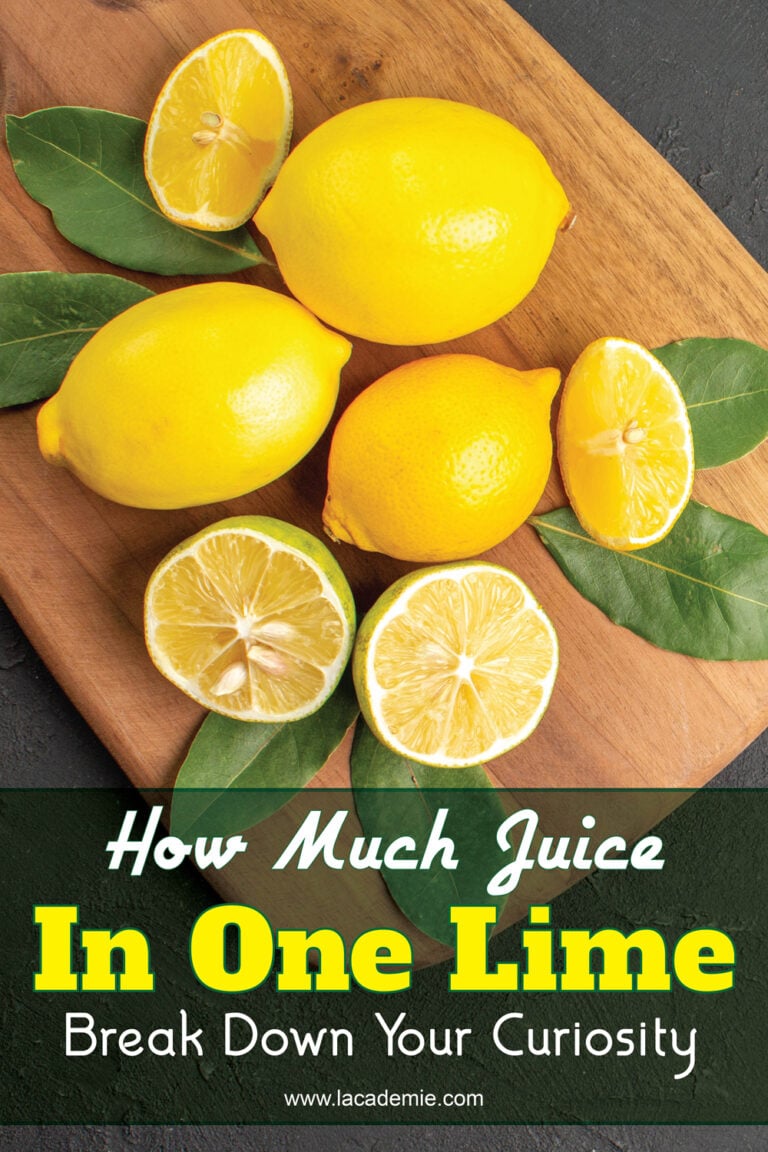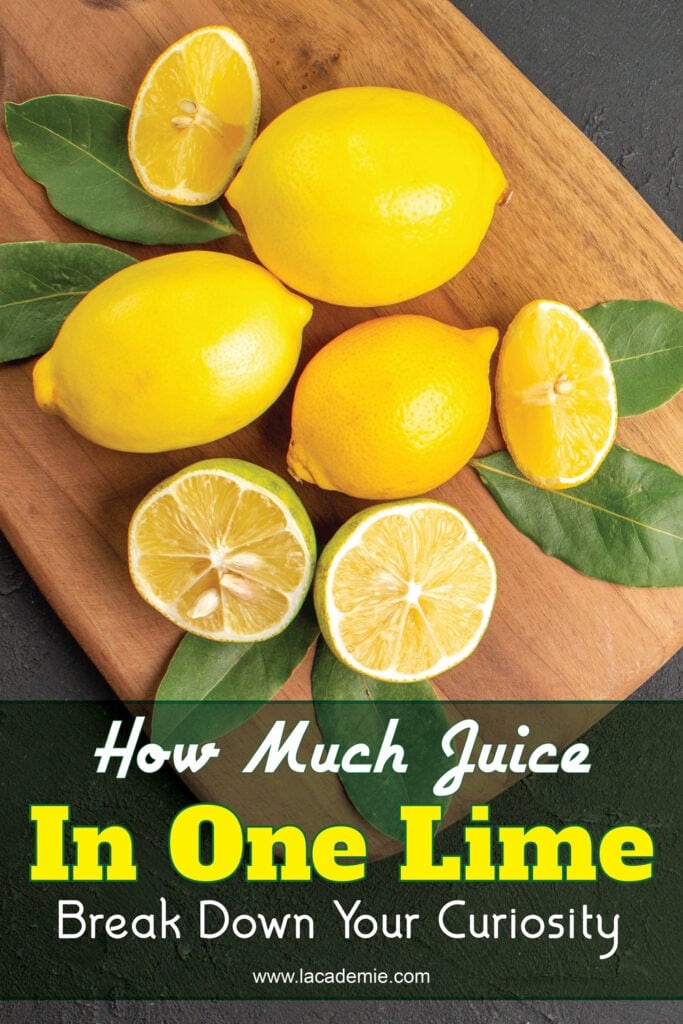 References:
En.wikipedia.org. 2021. Persian lime – Wikipedia.
En.wikipedia.org. 2021. Key lime – Wikipedia.