Were you ever interested in learning more about the parts of a knife? If yes, this article is made for you.
Honestly, I barely cared about their construction as long as they could cut my food well, regardless of an excellent knife for boning, paring knife, or Chinese cleaver. However, I recently found out that learning about their parts and the purpose of their parts are interesting.
That's why I have created this article, which will help you identify the different parts of a knife. I also talk about their uses and share everything I've learned about them so far, including various types of knives.
That being said, let's "dissect" your knife and learn more about knives.
What Are The 10 Parts Of A Knife?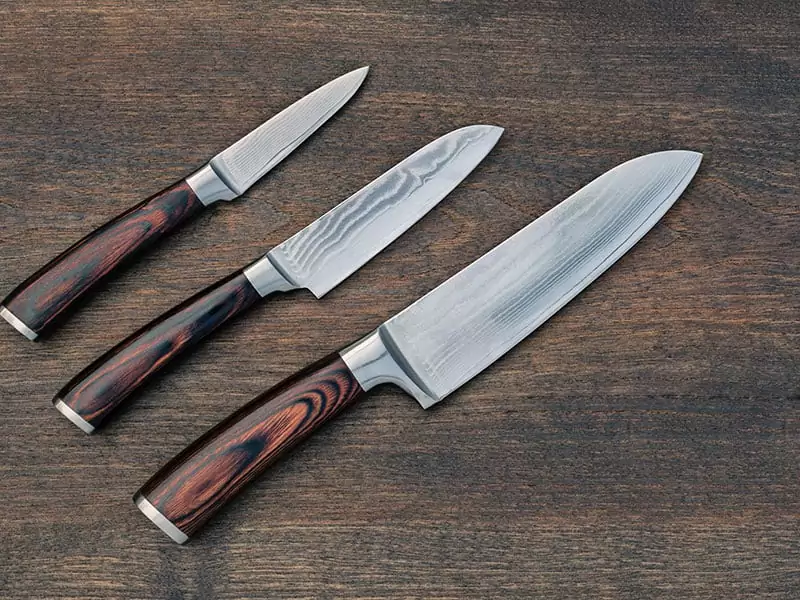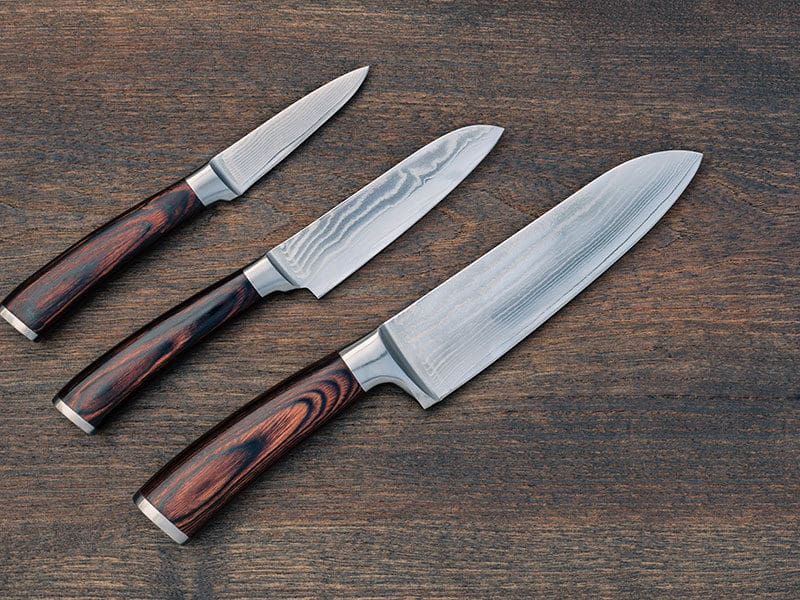 At first sight, a knife seems like a relatively simple tool. However, it's deceptively complex.
Even standard chef's knives feature up to 10 parts to it. Their design has a big effect on what the blade is used for and how it works. Without further ado, let's learn about the different parts of a knife.
1. Point
The point is the component of the knife where the spine and edge come together. It's usually utilized for piercing. And it's the furthest point from the pommel of the knife.
2. Tip
The tip is the smallest part of the blade that sits just before the point. It's utilized for delicate or detailed cutting. Knives utilized for making holes in things feature symmetrical spear-point. So if you have used some finest oyster knives, you will understand how important this part is.
On the other hand, hawksbill-tip increases the cutting power of tiny knives due to its curve while bowie-style knives feature a swept-back tail-point for skinning. However, most kitchen knives feature a drop-tip.
3. Edge
The edge represents the cutting component of the knife that goes from the point to the heel. How the edge is made is known as the "grind". Each one works differently.
For instance, a hollow grind blade has a super thin cutting edge. It's great for making smooth and clean cuts. It's often found on chef's knives and filleting knives. The downside of a hollow-ground edge is that it's quite fragile and will eventually break if you utilize it for heavy chopping.
There's also a flat grind. These knives aren't super sharp. However, they're stronger than hollow-ground blades. Meaning, they can cut through stubborn things like bone or cartilage.
Last but not least, there are serrated blades. They're made to cut through strong materials thanks to the teeth built into the blade. These teeth provide additional shearing power.
4. Heel
The heel represents the rear component of the edge, opposite the point. It's the widest part of the spine that often sits just in front of the handle of the knife.
5. Spine
The spine is the surface of the blade, opposite the edge. It's the unsharpened back of the blade. And it's what separates knives from daggers.
The weight of this part adds to how delicately you can utilize the knife. If there's a heavy blade, it's best suited for hard chopping. Knives with the weight focused in the handle, on the other hand, are easier to make thin cuts with.
6. Bolster
The bolster is the part that brings together the handle and blade. It provides balance for the cutting tool and helps to prevent the hand from obstructing the way of the knife edge.
This part has a dual purpose of providing a guard that prevents your hand from moving forward onto the edge. It also strengthens the part of the knife where the handle meets the blade.
The bolster is a very important part utilized for filleting fish or chopping meat as it can be pressed down on for additional leverage. It also helps to prevent the blade from slipping.
7. Tang
The tang represents the section of the blade that extends into the handle of your knife. It's the spot that the handle attaches to the blade. There are three common tang styles including a full tang, a false or rat-trail tang, and a partial tang.
The full tang extends the whole length of the handle and often extends beyond the end in what's known as a pommel. The handle is then fixed in two scales or pieces, utilizing rivets or screws. This type of knife has the most durable and strongest blade design.
Partial tang, on the other hand, extends the partial length of the handle. It's not as durable as a full tang. These tangs are usually parts of very delicate knives.
Last but not least, false or rat-trail tang is utilized in cheaper knives. It only extends into the handle a tiny amount. Tangs known as rat-rail tangs do extend the entire length of the handle. But since they're super thin, they don't add any durability.
8. Scales
The scales create the handle. They're a very important part of a knife that's usually made from synthetic material or wood. Two scales are usually fixed to the tang with rivets.
9. Handle Fasteners
The handle fasteners can be either screws or rivets. Rivets are cost-effective. And they don't come loose during use as screws do. However, they make replacing a handle harder.
Screws, on the other hand, need to be inspected and tightened occasionally, as they come loose during use. However, they make replacing a handle easier, so that's their benefit.
10. Butt
The butt represents the end of the handle. It's usually curved, so you know the orientation of the blade by feel. If the tang shows from the back of the handle, this is known as a pommel.
Watch a video below to see the review:
Fixed Blade Vs. Folding Blade
Knives either feature a folding or fixed blade.
However, almost all kitchen knives feature a fixed blade. Folding knives are usually utilized when there are problems with the transport, storage, and concealment of a fixed blade knife.
For instance, they're easy to store for camping.
They're also safer to carry. However, they're not as powerful as fixed blades. Therefore, if storage isn't a problem for you, then fixed blade knives make a better choice for food preparation.
Also, a full-tang fixed blade knife is much better than a folding knife. It's built better and doesn't feature a partial tang. Or no tang at all.
Thus, fixed blades are long-lasting and more durable.
Watch a video below to see the review:
10 Different Types Of Knives And Their Uses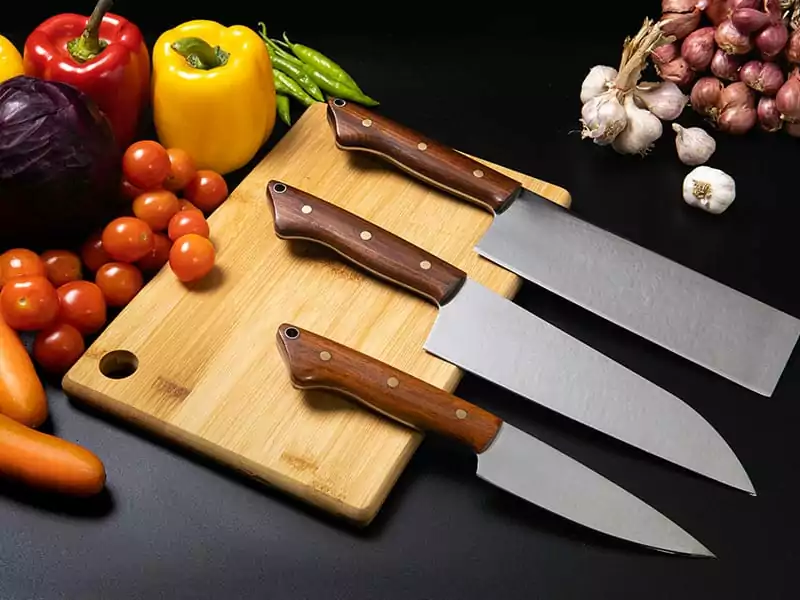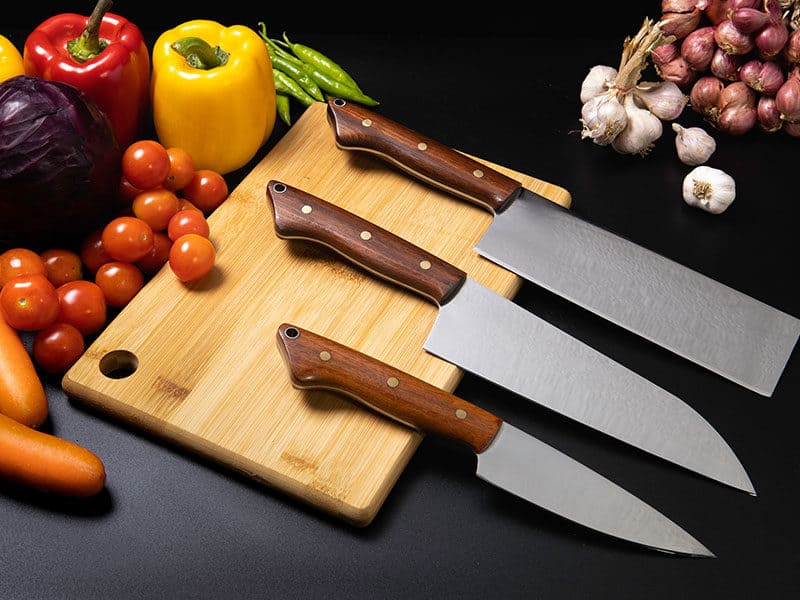 If you've just bought a brand-new superior knife block and a set of knives and realized you don't know what each knife is meant for, this part of the article is for you. Understanding different types of knives can enhance your cooking skills.
1. Chef's Knife
This is one of the most popular and super-versatile cutting tools out there. Any experienced pro chef will confirm that this knife is a must-have in the kitchen.
It's perfect for dicing and chopping veggies, herbs, and fruit. However, you can also cut other ingredients like poultry, fish, and meat. This knife is usually 8-10 inches long.
Also, the blade rounds at the tip. Meaning, it's not suitable for peeling small things since it's too large to be precise. Therefore, avoid utilizing it to carve cooked meats.
2. Santoku Knife
Santoku knife is another popular type of knife. This knife features a straight blade and small indentations that make it simpler for ingredients to slide off.
It's also super-versatile and perfect for dicing, mincing, and dicing food, or cutting cheese. You can use it for almost anything you'd use a chef's knife for.
3. Carving Knife
After preparing a large slice of meat like pork, beef, or roasted turkey, a carving knife can be very useful. It's more narrow for extra precision and can be longer for cutting through broader pieces. Some carving knives feature indentations for effortless slicing.
4. Bread Knife
This knife is the most commonly used tool in the kitchen. It's a long knife with serrated edges. I like this type of knife because they easily slice through both crusty and softer bread without ruining the shape of the bread or making crumbles. When utilizing, move it more as you would sew.
Additionally, this type of knife can be utilized with baked goods such as cakes. You can also utilize it for handling melons, slicing tomatoes, and breaking a bar of chocolate into pieces.
5. Utility Knife
This knife is smaller than a chef's knife. However, it's not as petite as a paring knife. What to do with a utility knife, you ask? It's ideal for cutting or chipping small to medium veggies and pieces of meat.
A serrated utility knife works for cutting sandwiches too, while a straight-edge utility knife is perfect for peeling though at times that's better left to paring knives.
6. Boning Knife
A versatile boning knife features a flexible, narrow blade that thins out to a pointed tip. It's often utilized to debone pieces of meat better and lower the waste in the process.
It can easily cut through the connective joints and tissues that other knives can't handle. Just remember, slice around the bones instead of through them for better results.
7. Paring Knife
This knife is proof that you shouldn't always judge a tool by its size. This small piece of cutlery has a very sharp and super thin blade. And if you are unfamiliar with what a paring knife can do, it is quite versatile for various purposes, like peeling, chopping, slicing, mincing, and removing seeds.
It's the perfect knife for cutting up hot peppers or slicing fruit. However, it's not suitable for cutting large products or pieces of meat with it. A paring knife either has a serrated or straight edge.
8. Steak Knife
Steak knives aren't utilized for cooking. They're often utilized for eating so the next time you serve steak dinner, make sure there's a steak knife set at the table.
These knives are sharp and durable so that you can enjoy your steaks with ease, slicing them like butter. They usually come in sets with a serrated or straight edge.
9. Tourné Knife
This type of paring knife features a short and curved blade. It looks like a bird's beak. The shape of this knife is perfect for round ingredients and making round shapes.
I usually utilize this type of knife to make small football-shaped potatoes. I boil the potatoes, then saute in hot fat to get the surface crisp and browned. They look quite fancy.
I also utilize it to take off the peel from citrus for drinks/desserts. It's also suitable for taking off the skin from ginger root and onions. It's also known as a "peeling knife".
10. Chinese Cleaver
The Chinese cleaver is a large knife with a rectangular-shaped blade. You can find various outstanding options for a Chinese cleaver at many stores. And it has various functions. However, it's commonly utilized to chop through bones.
The flat side can be utilized to crush garlic to make it simpler to take off its peel before mincing. It's also great for chopping veggies and slicing meat for stir-fries.
This knife is available in different sizes and weights, so you can buy a size that meets your needs. The big blade can be dangerous if not utilized properly.
Watch a video below to see the review:
Slice It Up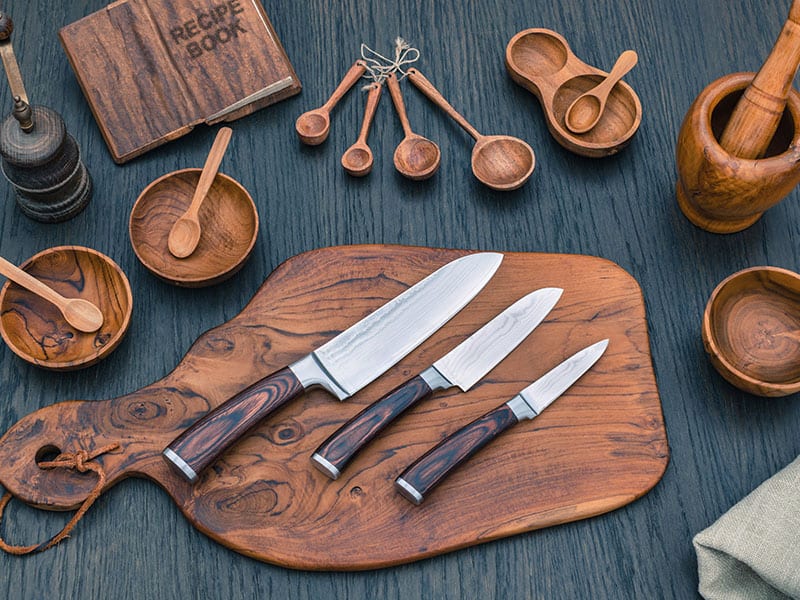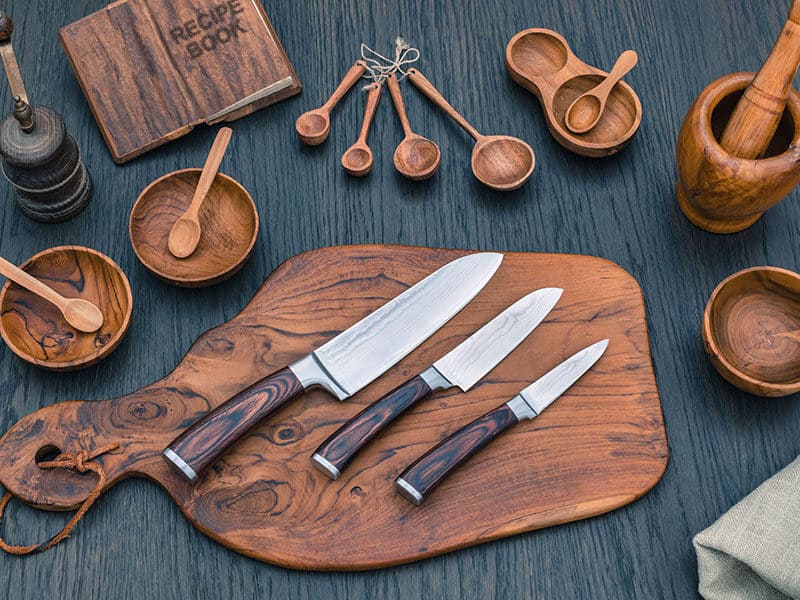 Whether you're a professional chef, new to cooking, or just a foodie, you need a set of knives to prepare your food. They're essential gear for anyone who loves to cook.
Learning the parts of a knife is also important. They all share similar features but not all knives are made equal. Hopefully, today's article has helped you learn more about knives.
The next time you're purchasing a knife, you will know the different parts along with the different types of knives. And what each knife is good for so you can cook your food better.
Do you have some questions about knives? If so, share your thoughts in the comments. Also, share this article with your online friends to sharpen their knowledge of knives.