Both Hoisin Sauce and Oyster Sauce are from China and are used in Cantonese cuisine. Most of you can hardly differentiate between them, especially those who do not usually cook Asian or Chinese dishes.
To know more about these two sauces so that you can use them correctly in typical dishes, I introduce this "battle" between Hoisin Sauce and Oyster Sauce. I will tell you all about the similarities and differences between these sauces in this post. Are you ready?
But first, let's answer the big question: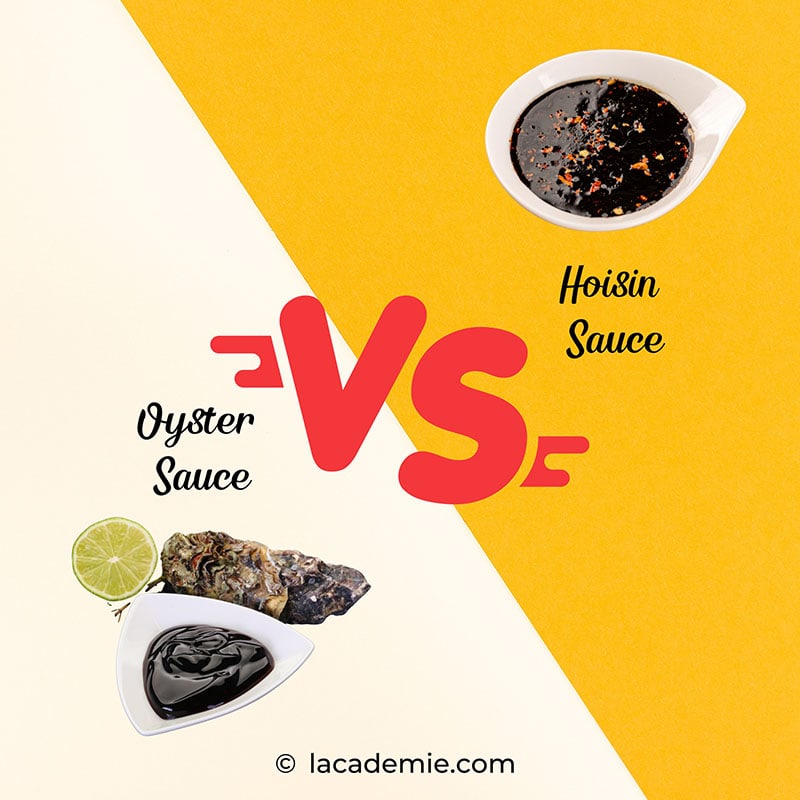 How To Distinguish Between Hoisin Sauce And Oyster Sauce?
You can differentiate between two Chinese kinds of sauces through these signs:
Ingredients: In Hoisin Sauce, the must-have component is fermented soybean paste, while in Oyster Sauce, it is oyster extract.
Texture and Taste: Most Hoisin Sauces are slightly thicker in consistency than most Oyster Sauces. Oyster Sauce is saltier than Hoisin Sauce.
Smell: Oyster Sauce smells fresher and sweeter. Hoisin Sauce smells fishy and like the ocean.
Nutrition: Oyster Sauce has sugar and a lower amount of salt, while Hoisin Sauce omits sugar.
Usage in cooking: Oyster Sauce is famous for glazing Peking duck; Hoisin Sauce is well-known for seasoning pad thai.
Shelf life: With the unsealed condition, Oyster Sauce lasts for around 3 years, while Hoisin Sauce can last for 2 years.
Learn more about the differences between these two amazing sauces! the video below should be able to help you:
What Is Hoisin Sauce?
Hoisin Sauce is a thick, savory, red-brown sauce commonly appearing in classic Chinese culinary books as a coating for meat, an ingredient in stir-fries, or a condiment. It has a dark-colored look with a sweet and salty flavor.
The taste of Hoisin Sauce may differ due to the regions where it is made. That many local extra ingredients are added while making Hoisin Sauce makes it unique in diverse tastes.
There is a fun fact that even though the sauce does not include any seafood components and is not usually eaten with seafood, the name Hoisin came from a shortening of the Chinese terms for "Seafood Sauce."
Learn how to make Hoisin Sauce to impress your family members!
What Is Oyster Sauce?
Oyster Sauce is one of the most famous savory sauces in authentic Chinese cooking. It has a dark-brown shade and substantial thickness in texture, with a consistency comparable to ketchup or barbecue sauce, and it is truly an all-purpose spice sauce.
As far as the distinct flavor of Oyster Sauce is concerned, it does not resemble oysters that much, but it still has the same umami undertones as oysters. You may suppose it tastes like the ocean based on the name, but actually, it doesn't taste like fish or fish sauce.
Oyster Sauce is salty, sweet, and savory at the same time. It is a must-have pantry ingredient in any Asian kitchen to improve the taste and look of almost any meal.
Want to make some homemade Oyster Sauce? These are the tips!
How Similar Are Hoisin Sauce And Oyster Sauce?
Both Hoisin and Oyster Sauces are traditional sauces from China. They are silky, brown sauces that boost a more wonderful taste to Asian or Cantonese dishes.
Color And Texture
They are both dark-colored sauces. When you take a closer look, the Hoisin Sauce seems to have a reddish shade in color, while the Oyster Sauce is dark-brown. But we can hardly differentiate between the colors because they look the same at first glance.
About the texture, they are both silky and thick sauces that add thickness to dishes.
Taste
Both Hoisin Sauce and Oyster Sauce taste savory. Although they have different salt levels in their ingredients, they are both used to add salty flavor to the meals.
This is why, more often than not, you can use hoisin sauce as something to replace oyster sauce, especially in stir-fried dishes. So next time you run out of oyster sauce, grab that hoisin sauce bottle and substitute it with a 1:1 ratio.
Nutrients
They both contain a minimal amount of protein (under 1g) and fat in the ingredients. Therefore, it is safe for you to use these sauces in your dietary meals.
Usage
Hoisin Sauce and Oyster Sauce can be both used as a condiment on an Asian meal table. They are also added to cooked noodles and stir-fries to enhance a more salty flavor.
Storage
Hoisin Sauce and Oyster Sauce all need to be stored in the refrigerator with the lid put on carefully so that they can last for a long time and keep the same taste as before.
The Main Differences Between Hoisin Sauce And Oyster Sauce
Although Hoisin Sauce and Oyster Sauce have many similarities, they are very different from each other with a lot of significant differences. Here is the table comparing these two sauces.
| | Hoisin Sauce | Oyster Sauce |
| --- | --- | --- |
| Ingredients | Fermented soybeans and other additives | Oyster extract and other additives |
| Ingredients | Can be used by vegetarians. | Can't be used by vegetarians. |
| Texture and taste | Smooth, glossy | Very dense |
| Texture and taste | Spicy, sweeter than Oyster Sauce | Savory, umami taste, slight oyster undertone |
| Smell | Sweet, tangy, with a hint of fruit, no fishy smell | Mild ocean-like smell |
| Nutritions | Sodium 1615mg/100g | Sodium 2733mg/100g |
| Nutritions | Sugar 27g/100g | No sugar included |
| Usages in cooking | Cantonese cuisine (seasoning and glazing for meat). | Chinese cuisine (seasoning for stir-fried dishes). |
| Usages in cooking | Vietnamese cuisine (condiment for phở, dipping sauce). Other cuisines (dipping sauce). | Asian cuisine (seasoning sauce). |
| Shelf life | ~3 years in sealed condition | ~2 years in sealed condition |
Ingredients
Besides the similar components like salt, starches, and water, the two sauces have many other ingredients and are very distinctive from each other.
Hoisin Sauce
The main components are soybeans, fennel, sesame seeds, red chili pepper, garlic, vinegar, sugar, and spices. (1) Fermented soybean paste is the most essential ingredient in the manufacturing process.
Hoisin Sauce is a pure vegan sauce, which is safe for vegetarians. This is a surprising fact because most Asian sauces include seafood, but not this one.
Oyster Sauce
Oyster Sauce mainly includes oyster extract, thickeners, flavors. In this sauce, the most crucial element is the oyster extract, which is clearly stated in its name. Therefore, this sauce is not friendly with vegetarians like Hoisin Sauce is.
Texture, And Taste
Hoisin Sauce mixes sweet, tangy, and savory tastes; but the sweetness dominates the salty flavor. It consists of a smooth, glossy texture. It has a lower salt level than Oyster Sauce, so it is milder.
Oyster Sauce also has a salty, sweet taste, including an umami flavor with a slight oyster aftertaste. This sauce has a smooth and very dense texture. Oyster Sauce is also saltier than Hoisin Sauce. It doesn't taste fishy but it does taste somewhat like the ocean.
Talking about the consistency in texture, despite both of them being added additives and thickeners, Hoisin Sauce is slightly thicker than Oyster Sauce.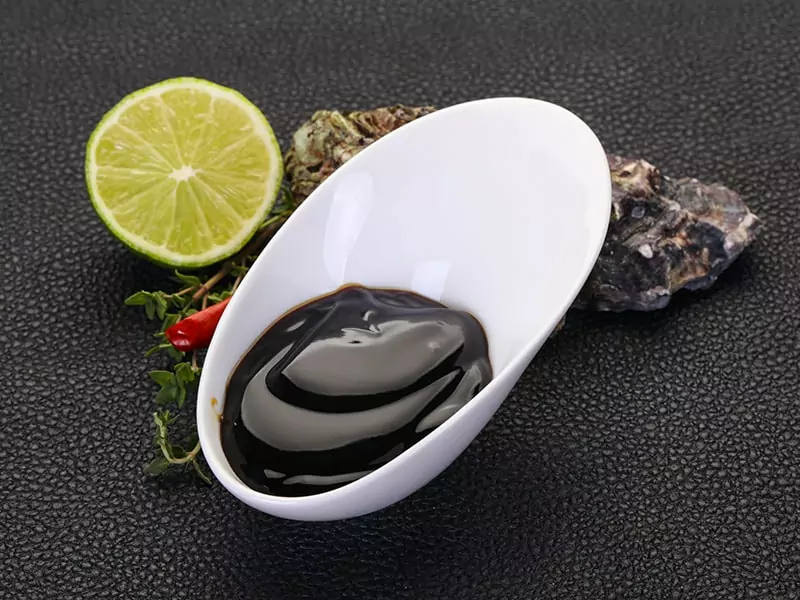 Smell
Because of the variations in components, the fragrances of Oyster Sauce and Hoisin Sauce are totally different.
Hoisin Sauce
Hoisin Sauce tastes sweeter than Oyster Sauce since it has sugar in it; therefore its smell can be affected and tend to be sweet at first. It will smell somehow salty but not fishy because there is no seafood-related component inside.
Also, with the fermented soybeans, Hoisin Sauce can give out a hint of natural paste beans' smell: fruity and sweet. However, some people find Hoisin Sauce to have an unpleasant smell.
Oyster Sauce
If you smell Oyster Sauce, the first thought that comes to your mind is that it has a comfortable smell of the ocean and seafood. This happens because the main ingredient of Oyster Sauce is oyster extract, this aroma may be the first thing you acknowledge when opening a bottle of oyster sauce..
Nutritions
Both Hoisin Sauce and Oyster Sauce contain a lot of sodium. However, I found out that the common salt levels in these two sauces are 1615mg/100g for Hoisin Sauce and 2733mg/100g for Oyster Sauce.
The sugar level in Hoisin Sauce is about 27 grams per 100 grams serving. Meanwhile, the Oyster Sauce has no sugar in its component list.
Popular Usages In Cooking
Both sauces can be used as a condiment on the table, but they have different features that can go well with other dishes.
Hoisin Sauce
Hoisin Sauce is usually used in stir-fries and noodles, covering and seasoning fish or meat, marinades, and condiments.
In Cantonese cuisine, Hoisin Sauce is commonly used in seasoning or glazing meat and fish. It is super famous to go with Peking duck as an eye-catching and delicious glaze outside. Other items to glaze on are beef, chicken, and many kinds of vegetables.
In Vietnamese cuisine, Hoisin Sauce is used as a condiment for a popular Vietnamese dish called "phở." Also, It is frequently used as a dipping sauce for spring rolls, "gỏi cuốn" and similar Vietnamese dishes.
Moreover, as a dipping sauce, Hoisin Sauce can go really well with a lot of dishes from diverse cuisine cultures, such as dumplings, duck pancakes, lettuce wraps, rice noodle rolls, moo shu pork, etc.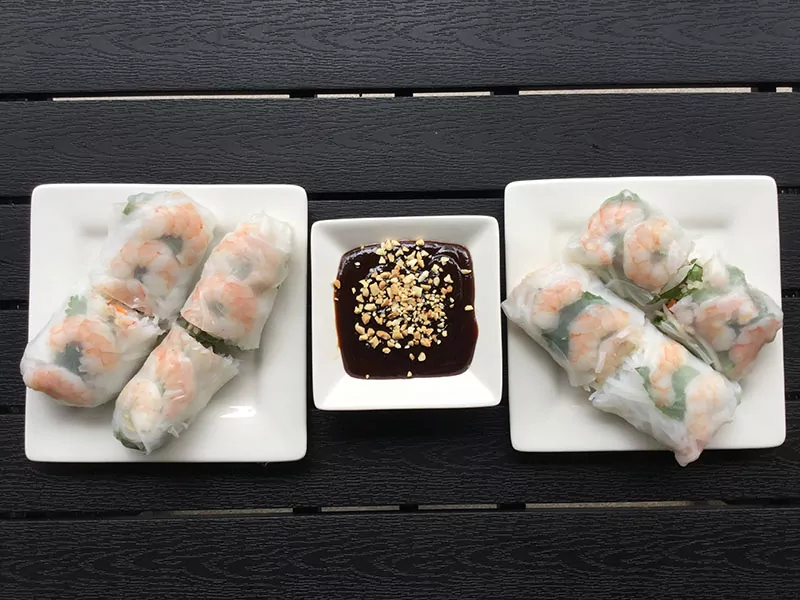 Oyster Sauce
Oyster Sauce may effectively be used to season tofu, meat, vegetables, and seafood, while Hoisin Sauce is not often served with seafood.
Oyster Sauce, especially Oyster Sauce of high quality from good brands, is well-known for its umami taste and is often used to season "chow mein" (stir-fried noodles) and vegetables in Cantonese cuisine.
The usage of Oyster Sauce doesn't stop at Cantonese cuisine alone. You can also see Hoisin Sauce's prevalent use also spreading to Shandong, Jiangsu, and Zhejiang cuisines.
In Asian cuisine, one popular street food that includes Oyster Sauce as a key ingredient is "pad thai" from Thailand. This is a worldwide-known dish and is highly recommended whenever you travel to Thailand.
Want to make "pad thai" sauce from Oyster Sauce? This video is for you!
Shelf Life
The expiration date of Hoisin Sauce and Oyster Sauce vary somewhat, as shown below:
Hoisin Sauce
Hoisin Sauce can last from 3 years or more in unopened condition. Once you open the seal, it can last up to 18 months (12-18 months) if you store it properly.
Oyster Sauce
When buying Oyster Sauce, perhaps one of your main concerns is the time frame Oyster Sauce can stay fresh, or how to store Oyster Sauce properly. And it's completely understandable, who wants to eat expired food?
Generally, Oyster Sauce may last up to 2 years (18-24 months) if you do not tend to unseal its container. Once you break the seal, it can survive from 6 months to 1 year; after this time, when its original taste and texture change, it can be stale and rotten.
Be careful! You should store both sauces properly once they are opened and check them regularly to observe their changes. If they have any suspicious signs like a strange odor, toss them as soon as possible. Consuming expired sauces may cause food poisoning. (2)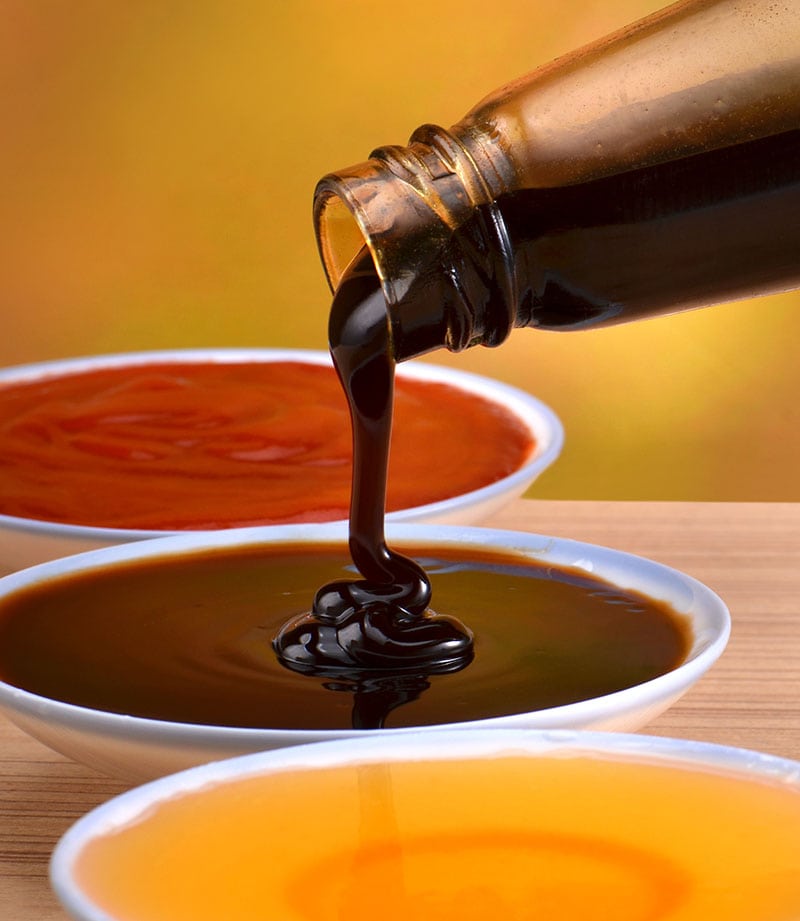 What Are Some Alternatives To Hoisin Sauce And Oyster Sauce?
There are several alternatives that you may use as Hoisin Sauce and Oyster Sauce substitutes. Here is a list of five replacements that you can find right in your kitchen to replace Hoisin Sauce or Oyster Sauce if you do not own them in hand.
To Substitute Hoisin Sauce:
BBQ Sauce: BBQ Sauce may be a great substitute if you want a genuine and rich taste, just like Hoisin Sauce.
Miso Paste: Instead of Hoisin Sauce, try using Miso Paste. It has a savory and sweet taste as well. However, the sugar level is much lower, so you can add some sugar or honey for the best result.
Black Bean Sauce: Because Black Bean Sauce has a wonderful savory taste, you may utilize it by combining it with some sugar. It may be one of the most pleasant Hoisin Sauce replacements.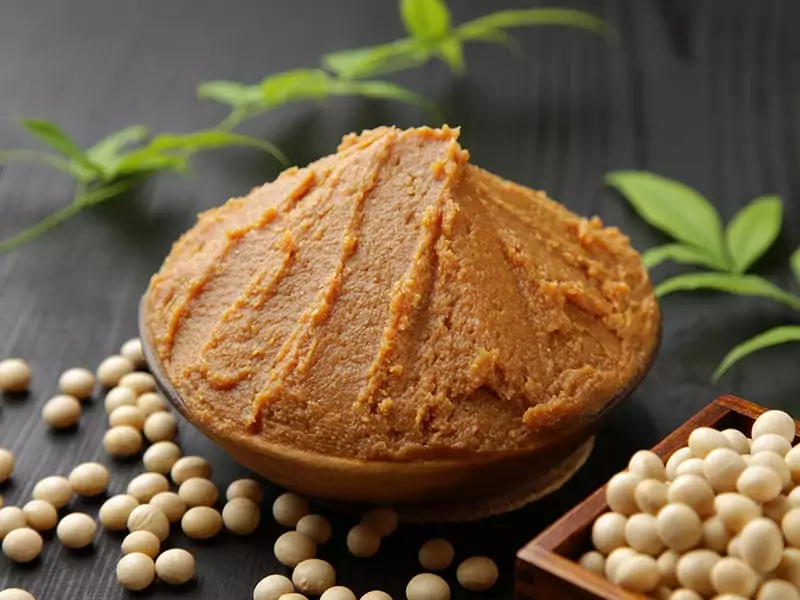 To Replace Oyster Sauce:
When you're not completely sure if oyster sauce is vegan, or if you can't tell for certain if oyster sauce is safe for gluten-free diets, you might want to opt for an alternative. Below, I will suggest two fantastic oyster sauce substitutes for when you're in need of one.
Soy Sauce: This sauce has a salty flavor rather than a sweet one. As a result, it makes an excellent Oyster Sauce replacement. Soy Sauce has more salt and is thinner than Oyster Sauce, so use less and add some more sweeteners.
Fish Sauce: This sauce is salty with no sweetness, making it suitable to substitute Oyster Sauce. Fish Sauce has a strong fish taste, so be careful to use it to replace Oyster Sauce. Use a minimal amount of it!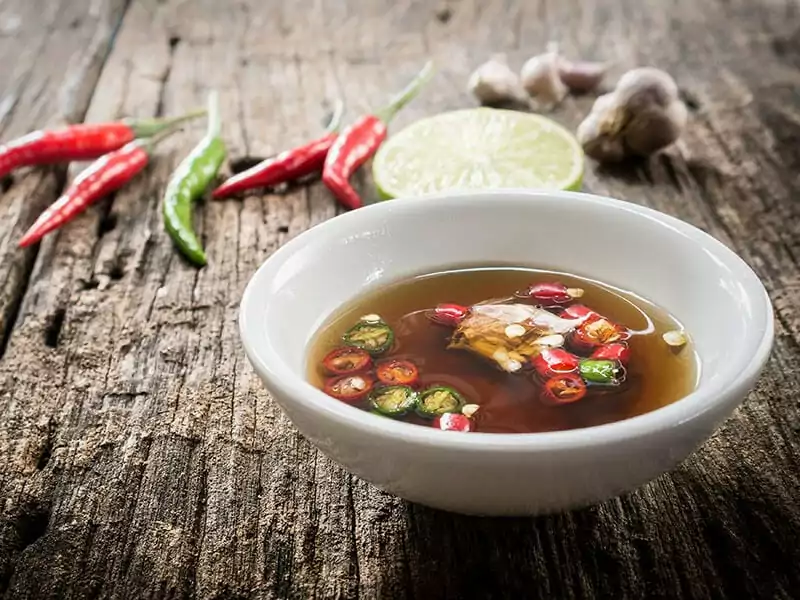 FAQs
Now you have already known about the similarities and differences between these two sauces. I will go deeper into the usage of Hoisin Sauce and Oyster Sauce with some frequently asked questions on these two sauces.
So Now, Will You Choose Hoisin Sauce Or Oyster Sauce?
Both sauces hold an important place in your kitchen with unique tastes and functions. I hope this post has provided you with a deeper look at the two traditional Chinese sauces so that you can easily differentiate them and know which is the best for your next Asian dish.
Small reminder, wheat may be used as a thickening component in these two sauces depending on the manufacturer or the brand. Therefore, if you are gluten allergic, avoid both of them.
If you have any experiences with one of these two sauces or both of them, share with me in the comment section below! Love to hear your stories!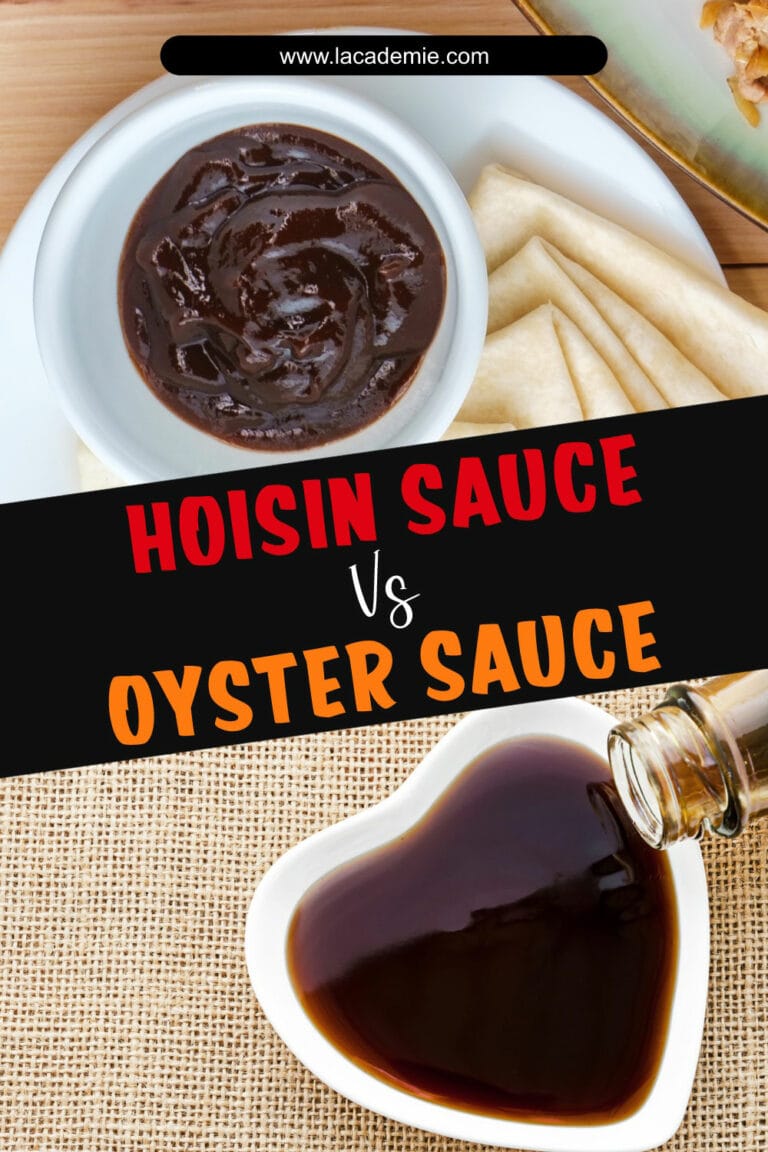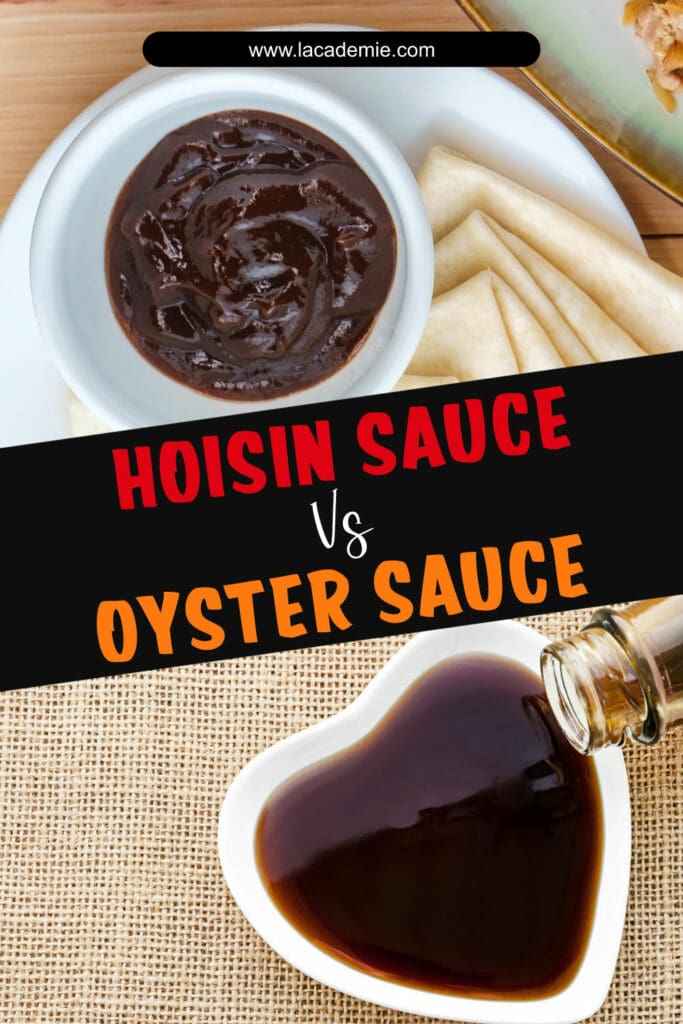 References
En.wikipedia.org. 2021. Hoisin sauce – Wikipedia.
Healthline. 2021. Food Poisoning: Types, Symptoms, & Treatment.
LIVESTRONG.COM. 2021. Hoisin Sauce Nutrition Information | Livestrong.com.