Can you put aluminum foil in a toaster oven? Since the manual instruction of each toaster oven brand is different, people are struggling to tell if a utensil is safe in it or not. Some even skip the "boring" instructions and get harmful consequences.
Whether you are a handful with the toaster oven or just bought a brand new one, the question about the use of aluminum foil may bother you. Allow me to walk you through this article for a better understanding!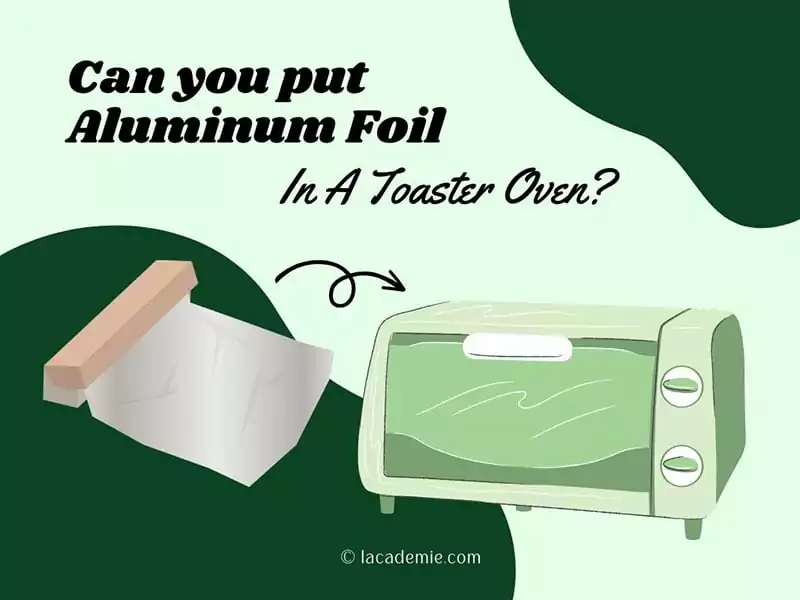 Aluminum Foil Can Go In The Toaster Oven!
As the name has suggested, this device makes the best toasts. Toaster ovens are also a competitor of convection ovens.
In case your kitchen has no room left for a proper gas oven; or you just want to bake a croissant but stress out to operate an oven, the toaster oven is the solution; it's a countertop oven that doesn't take you much time to heat. But is it safe to use with aluminum foil?
The answer is yes, but it's somehow relying on the brand that you've chosen. Here are some of the toaster oven brands that include the use of foil in their manual: Breville, KitchenAid, Hamilton Beach, Cuisinart, Black&Decker, and Oster with an instruction video.
I'm not convincing you to skip the usage instructions for your toaster oven, but you might need more information to become an expert in your own kitchen. In this article, I'll show you how a toaster oven can work with aluminum foil.
Watch this video to know more:
Things You May Haven't Know About Aluminum Foil
Before getting to know what you can do with aluminum foil in a toaster oven, let's take a deep look into this handy kitchen tool. You must be wondering if aluminum foil is suitable for recycling, what this product is made from, what purposes you can use it for, etc. Let's read on!
There are uncountable features of aluminum foil that make it a widely used utensil nowadays. However, in this article, I'm just going to list out the features that are notable for using aluminum foil with a toaster oven.
The Thickness Of Aluminum Foil
Though the thickness of aluminum foil has a wide range, most of the standard foil that can be found in your grocery store is no thinner than 0.016mm (0,63 mils) and no thicker than 0,024mm (0,95 mils) if it is the heavy-duty ones (1) .
Therefore, due to your needs, you can choose the right roll to purchase; however, I'll cover further down which thickness of the aluminum foil is appropriate for the toaster oven.
Aluminum Foil Is Actually Flammable
Aluminum foil is famous for its heat conductivity, making it a suitable companion in grilling and baking – a great combination for yummy grilled sweet treats. Since it's extremely thin, aluminum foil will radiate the heat quickly as well, making it cool down faster than any things in your oven.
However, though aluminum foil can withstand a temperature up to 1220oF and you can barely burn or melt it in your kitchen, you might want to keep an eye on your foil while using it in a toaster oven – I'll cover the reason below (2) .
Aluminum Has A High Conductivity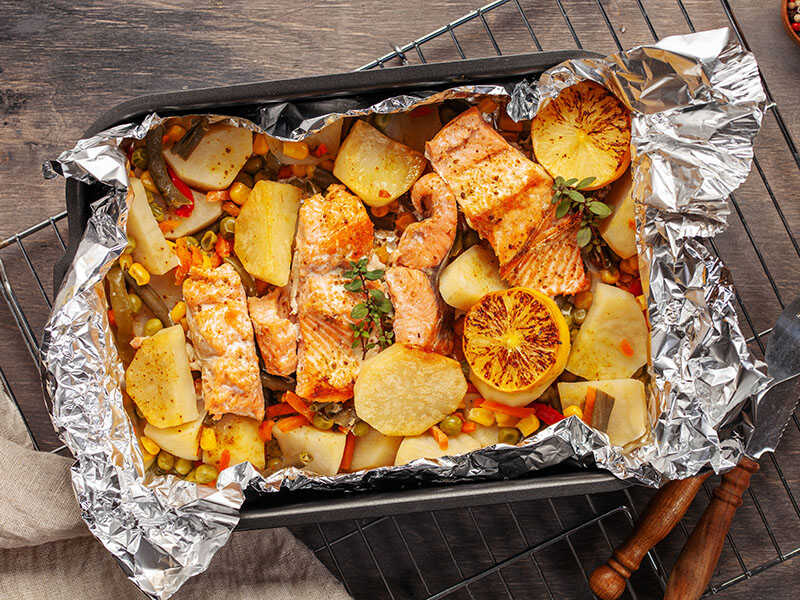 Besides heat conductivity, aluminum foil is also an excellent electric conductor. You may be surprised to know that aluminum is the third high conductive metal, just below copper and silver.
That's why aluminum is used in the kitchen more than any kind of metal, especially with electrical kitchen tools. But due to this feature, you'll have to be more careful with aluminum foil in the toaster oven since it also uses electricity to form heat.
There Are Rules With Aluminum Foil In The Toaster Oven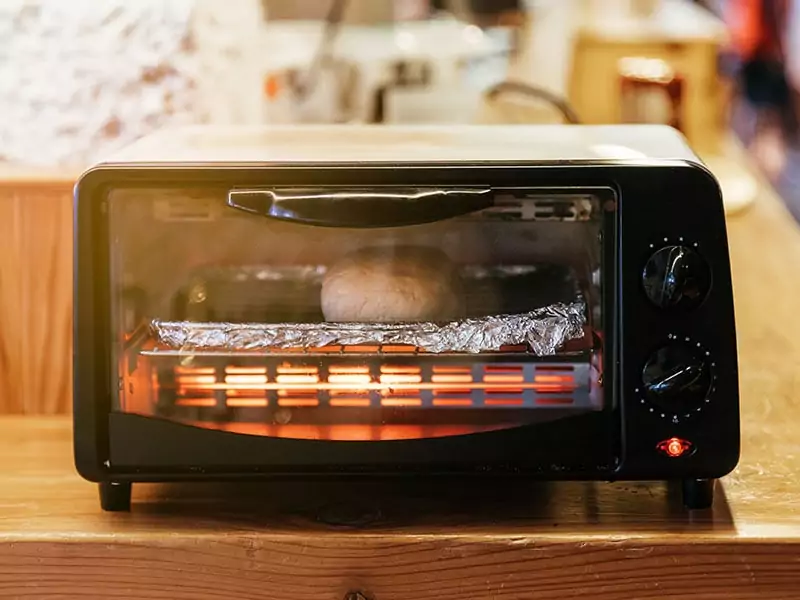 One of the most major differences between toaster ovens and microwaves is that you can put aluminum foil in toaster ovens. However, there are still rules that if you break, you're putting yourself in a risky situation.
Thanks to the high heat resistance, aluminum foil is a handy utensil to use in the oven for multiple purposes, such as wrapping, lining, or covering as a lid to maintain the tenderness and juice of food.
Although toaster ovens work and look pretty like thermal ovens, aluminum foil usages in them may be trickier, and incorrect toasting can lead to burning or even explosion.
But don't worry! At least, the risk of using aluminum foil in the toaster oven is far less than in the microwave. So if you're worried about the compatibility between microwave and aluminum foil, switch to a toaster oven instead. I'll show you how to avoid all the risks in the next sections.
Things You Can Do With Aluminum Foil To Minimize The Risk
After reading the wrong ways to use aluminum foil in the toaster oven, you now know why the manufacturers usually include it in things to avoid in their manual instructions.
However, you can still use it to make delicious dishes as long as you're careful enough. Here are some notes in order to make the cooking safer.
Use The Heavy Duty And Nonstick Aluminum Foil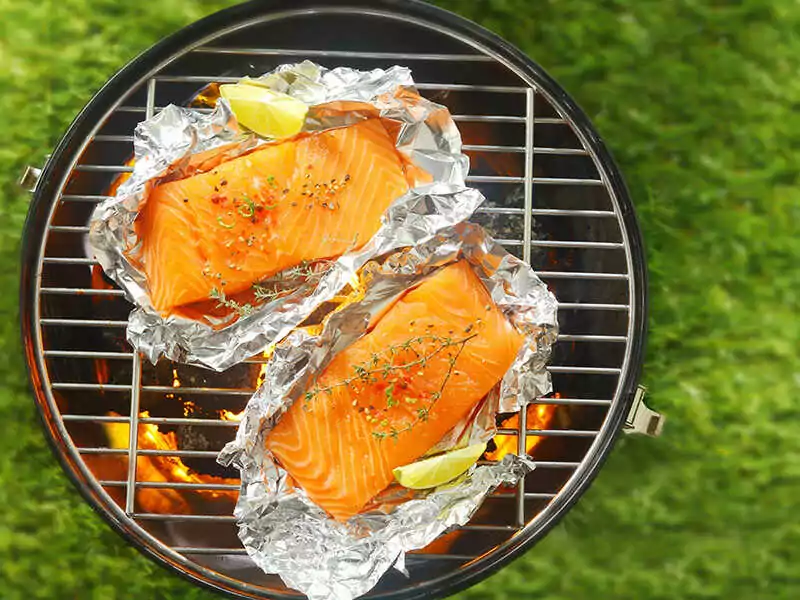 With the disparities between heavy-duty and regular aluminum foil taken in mind, it's best that you stick with the heavy-duty one if you plan to use it in a toaster oven.
With a thickness of around 0,024mm (0,95 mils), heavy-duty foil is harder to be torn and more sturdy so that it can crutch your foods better in the oven.
Some of the toaster ovens function as convection ovens, and those ones come with a built-in fan to distribute airflow and heat more effectively. Thin aluminum foil with lightweight may be blown up, stuck on a random interior then starts a fire hazard.
In addition, you should also prefer the non-stick aluminum foil. To use foil as a crumb tray, you wouldn't want to use the thin sticky ones and then end up wasting more time removing the stuck pieces.
If you insist on using thin aluminum foil to wrap your food easier, you should apply a cooking spray layer or smear olive oil on the inside surface so that the foil will be less sticky as a result.
Wrap The Bottom Rack
You can use aluminum foil as a crumb tray in the toaster oven, as long as you don't lay it at the bottom of the oven or too close to the heating element.
This could be a useful way to catch any food crumb or spillage, and you'll just have to toss the foil tray away after using instead of cleaning it like baking trays. However, you should keep in mind that the foil needs to be separated at least 2 inches from the oven walls.
Another note while using this method is don't let the greases build upon the aluminum foil tray. Since greases can catch on fire if the temperature is too high and aluminum is an excellent heat mirror, you would want to only use new foil in the toaster oven.
Even when you wrapped the bottom rack, some greases may not drop into your foil but pump in the oven walls instead. So you will have to clean your toaster oven often to prevent the risk; not to worry, as it is super effortless.
Check out a time-saving and easy way to clean your toaster oven!
Wrap The Food Neatly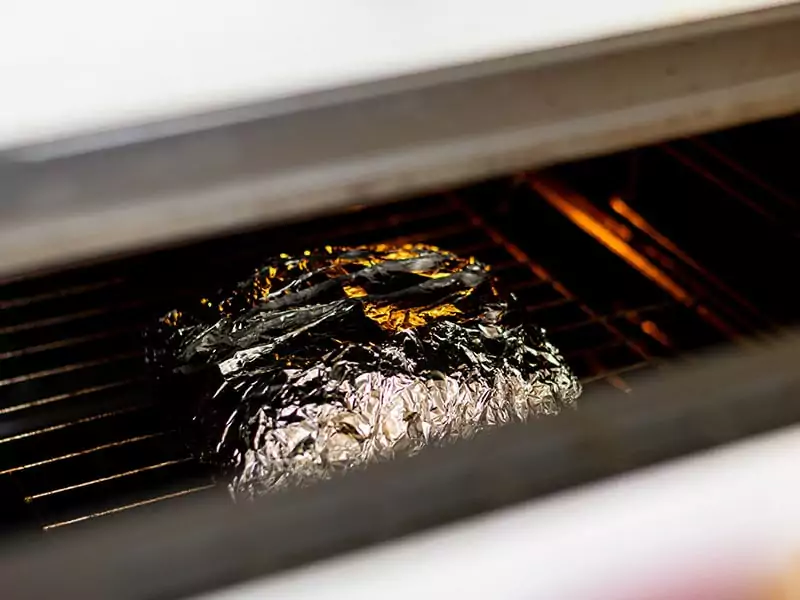 Wrapping is the best method to maintain the moisture and juice of foods, and aluminum foil is the best option for wrapping thanks to its waterproofness and grease resistance.
Since aluminum foil should not touch or be close to almost any interiors of the toaster oven – which will be discussed below; the best way to avoid that is to wrap your food neatly and cut the excess parts of the foil.
However, for the best cooking result, you shouldn't wrap your food completely or too tight with aluminum foil. As aluminum foil is heat resistant, it can somehow work as a shield to your food, therefore, the wrapped part will be cooked slower.
If your food is fully and tightly wrapped, you'll increase either the cooking time or the risk to your toaster oven. In this case, the aluminum foil will reflect the heat instead of just conducting the heat into your food, and the toaster oven interiors may be "cooked" before it.
Bake In Small Batch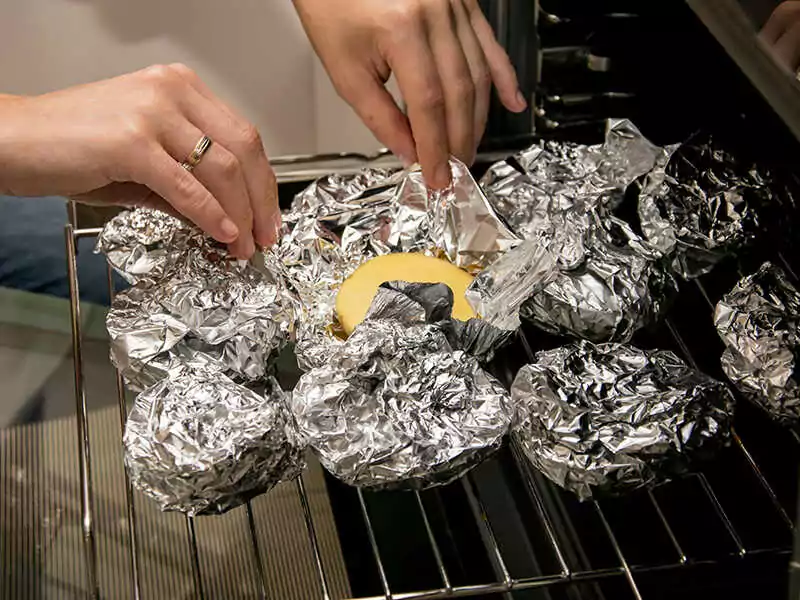 Last but not least, this method is to utilizes the space in your toaster oven. If you plan to bake more than one type of food in your toaster oven, you can wrap them in separate batches then bake them all together.
This method usually comes with parchment paper, but it's not safe to use this utensil in the toaster oven due to its flammability. Aluminum foil would also conduct heat better but safer in this case since the airflow is not blocked.
You can consider this as the best way to avoid the risk of aluminum foil in the toaster oven as well since it can prevent you from almost all the problems that will be listed in the next section.
The Wrong Ways To Use Aluminum Foil In Toaster Oven
Though each toaster oven manufacturer will give a different manual instruction, it can be hard to follow and you may need some more information. Here are the things that you should avoid when using aluminum foil in the toaster oven.
Lining The Bottom
You may have known that lining the bottom with aluminum foil is a harmful method to ovens. Well, the danger is not less when you use it with your toaster oven. In fact, many brands may reject your toaster oven warranty if you line the crumb tray or the bottom of it with foil.
Many people use aluminum foil as a crumb tray at the bottom of the toaster oven in order to make the cleaning job easier, which is not right since most toaster ovens have a heating element at the bottom.
Aluminum foil can reflect heat, so that having them too close to the heat source can create a massive heat that neither the foil nor the heating element can tolerate. The first problem is that it gets harder to monitor the oven's heat, and your food will be toasted unevenly.
If you use this method repeatedly, the heating element of your toaster oven will fail sooner or later. In the worst scenario, aluminum foil can start a fire hazard, and you might want to reach out to the fire extinguisher.
Another drawback of this method is when you use aluminum foil to cover the drip tray of the oven, it can end up melted and then stuck on the tray – which is even harder to clean than burned grease.
In case you accidentally melt foil on the drip tray, here's how to clean it.
Let The Foil Touch The Interior Of The Toaster Oven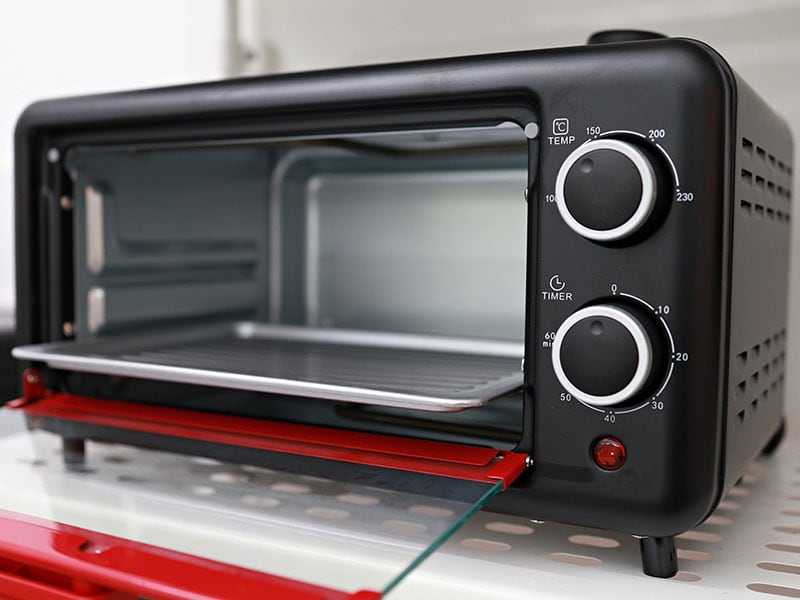 If you let the foil touch the walls of the ceiling of the toaster oven, you're facing an even more dangerous risk than burning: explosion.
As mentioned above, aluminum is a highly conductive material, but there is no problem with it in the thermal oven. Toaster ovens, on the other hand, use electricity to inform heat (2) .
Therefore, if aluminum foil touches or is too near the oven's walls, they can accidentally call for a short out. Since the ceiling of toaster ovens is usually made of metal, it can be shorted out by foils as well.
Set An Extreme Heat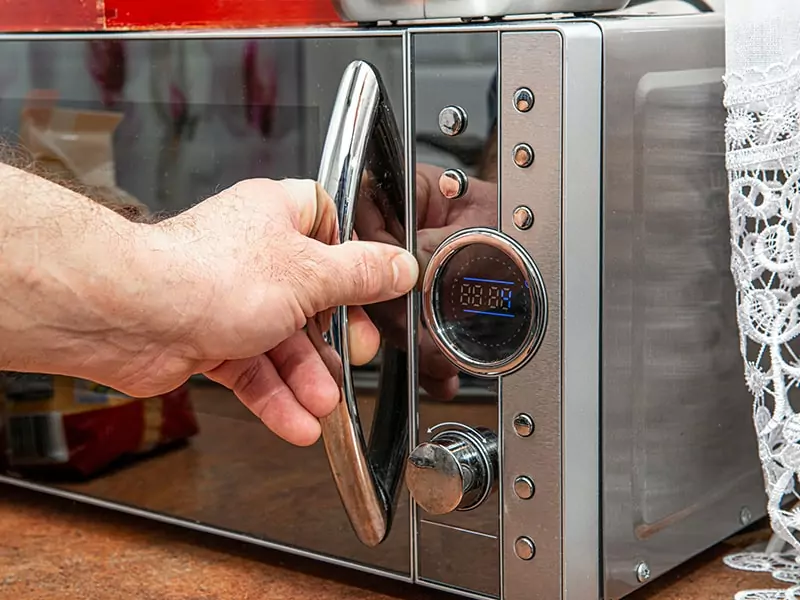 The temperature inside the oven won't go any further than 500oF; however, the heating element can actually reach up to 1200oF, approximately to the melting or burning temperature of aluminum foil.
Therefore, aluminum foil will pretty much catch on fire if it touches the heating element. Moreover, even when the foil doesn't touch the heat source, it can reflect the heat and the temperature inside the toaster oven will rise higher than it can tolerate.
Suppose you're not a cautious person, better stick with other kitchen tools than using aluminum foil in the toaster oven.
Cooking With Acidic Food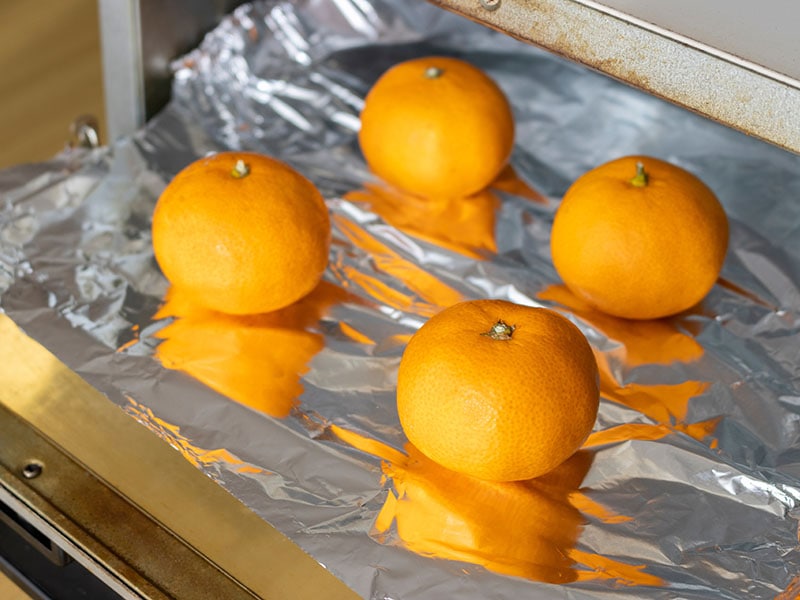 Though aluminum is already present in the human body, overconsuming it can cause some symptoms such as muscle or bone aches. Due to the thin construction of aluminum foil, it can contaminate your food, especially if you use it with acidic foods in the toaster oven.
Acidic nutriments such as tomato or lemons when heated with aluminum foil will cause a chemical reaction in which the aluminum leach into your food is higher than it normally does.
Furthermore, this chemical reaction will also alternate the taste of your foods, which makes you sometimes feel the taste of metal when cooking acidic food with aluminum foil.
This problem does not only arise when you use the oven toaster but also with other cooking methods; even though, since the toaster oven often informs high heat for better toasts, the chemical reaction may occur faster and stronger.
Substitutes For Aluminum Foil In The Toaster Oven
The above methods have shown you how to avoid the risk while cooking with aluminum foil in the toaster oven. But If you're a cautious person and want to completely avoid those risks, here are the substitutes that you can choose.
Toaster Oven Sheet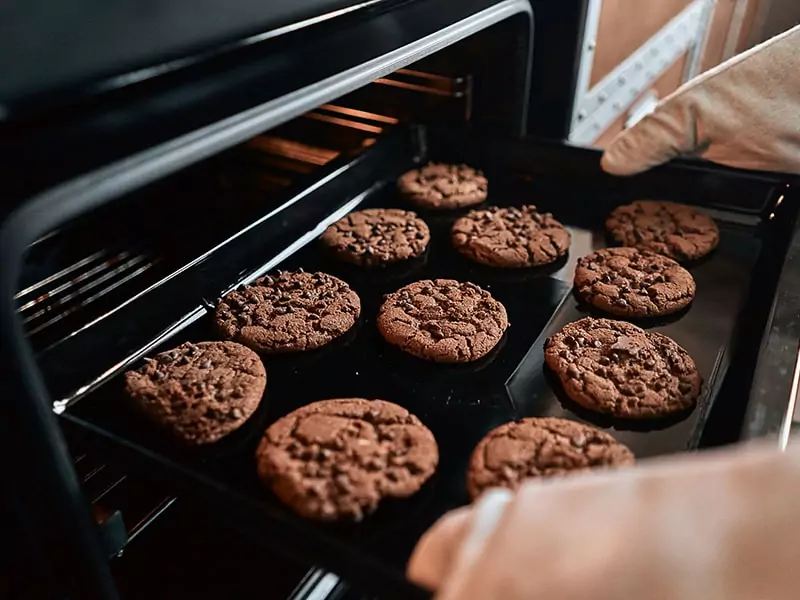 For lining or to carry food in the toaster oven, you can find the specific type of baking sheet for your oven instead of using aluminum foil. Toaster oven mats are also available if you want to catch the leakages and food crumbs, and they are easy to clean as well.
In order to reduce the wasting of aluminum foil, I also recommend these utensils if you don't mind the cleaning
Silicone Baking Sheet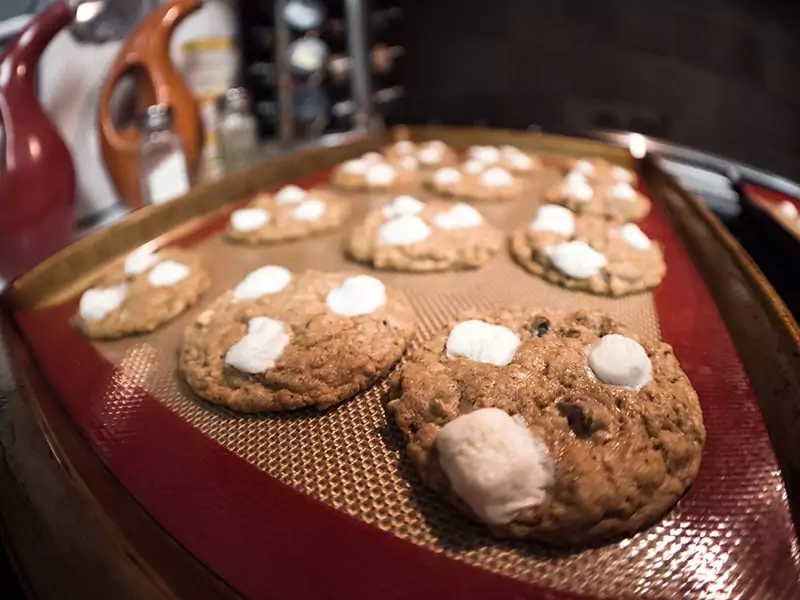 Silicone baking sheets are useful in any oven and can easily be found nowadays. Especially if you want to bake cookies in your toaster oven, silicone baking sheets will give you a better result than aluminum foil can.
Should you still have any qualms about whether silicone bakewares will ruin if put on oven racks, you can check the products' description to know if they're oven-safe. In most cases, they are.
Baking Tray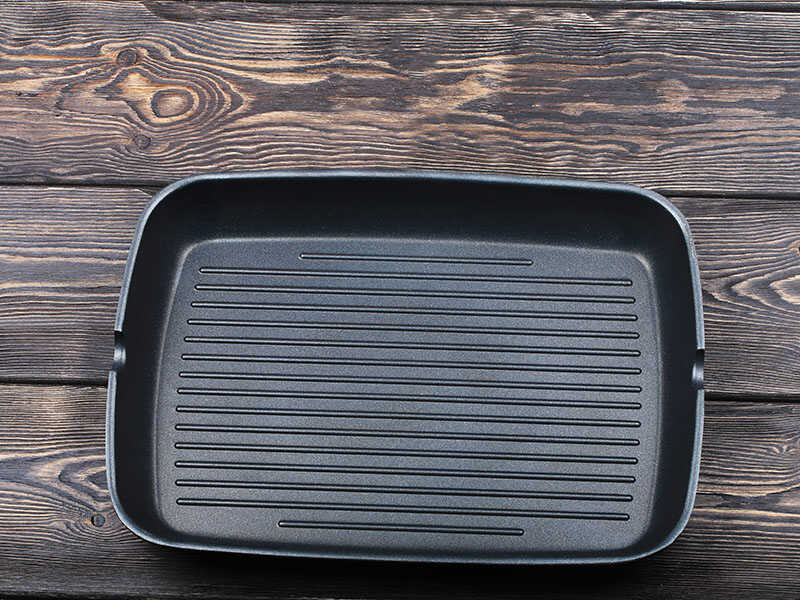 If you don't mind the cleaning job, you can use the baking tray to catch the food spillages while maintaining the heat distribution of the toaster oven; they are also available in many types for you to choose from.
Another viable option other than baking trays is a sizeable and non-stick baking pan, which can effectively catch all food spillage and reduce the cleaning efforts.
FAQs
After reading the previous sections, you can tell that aluminum foil can go in the toaster oven. If you still hesitate to use it, here are some of the most asked questions that will surely erase your hesitation.
You Can Put Aluminum Foil In Toaster Ovens If You Follow The Rules
Toaster ovens are a convenient kitchen tool if you don't have room for a conventional oven, and they give the best toast as well. However, you can't do everything with them without receiving any risk.
After reading this article, you can tell that there are good reasons for the warning from manufacturers. Using aluminum foil the wrong way with a toaster oven can cause you harmful consequences, but I'm positive that now you can avoid such ways.
Share this information with your beloved ones so that they can create delicious meals with aluminum foil in a toaster oven without any wonder.
Don't forget to let me and other readers know about your experiences in the comment section! I'm sure that you can find more helpful information there. Now, you can confidently prepare and enjoy your meal with the toaster oven!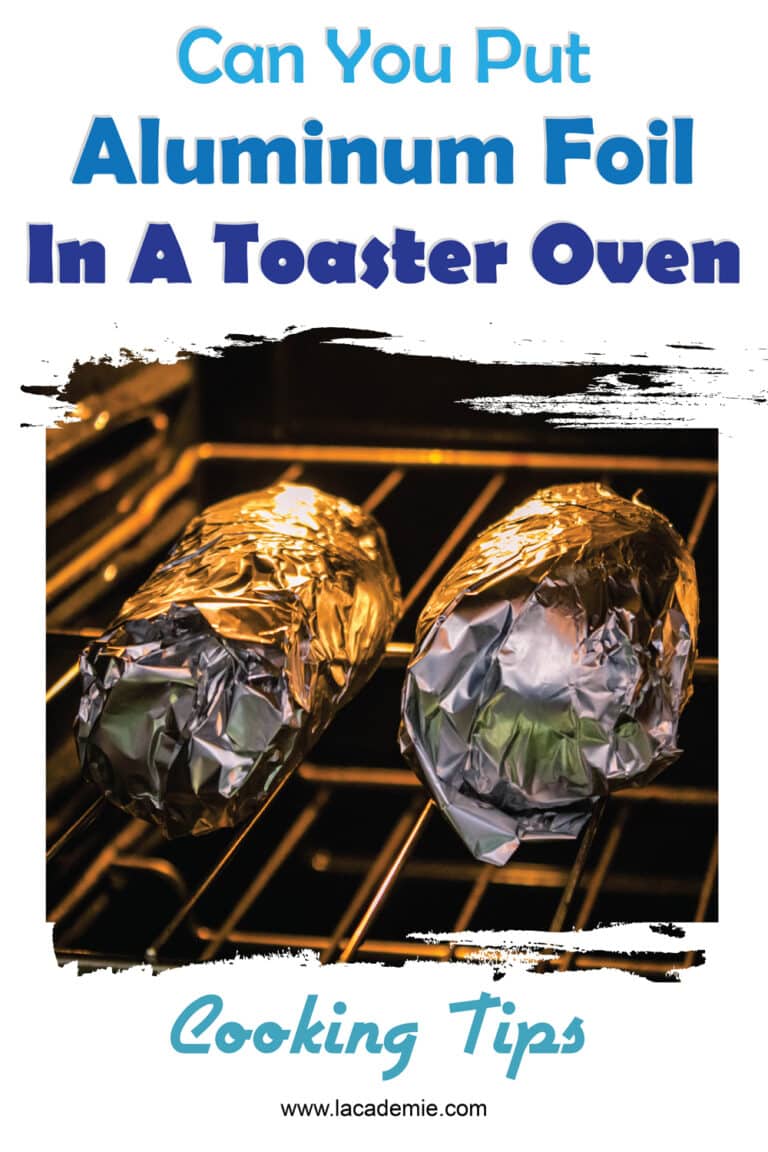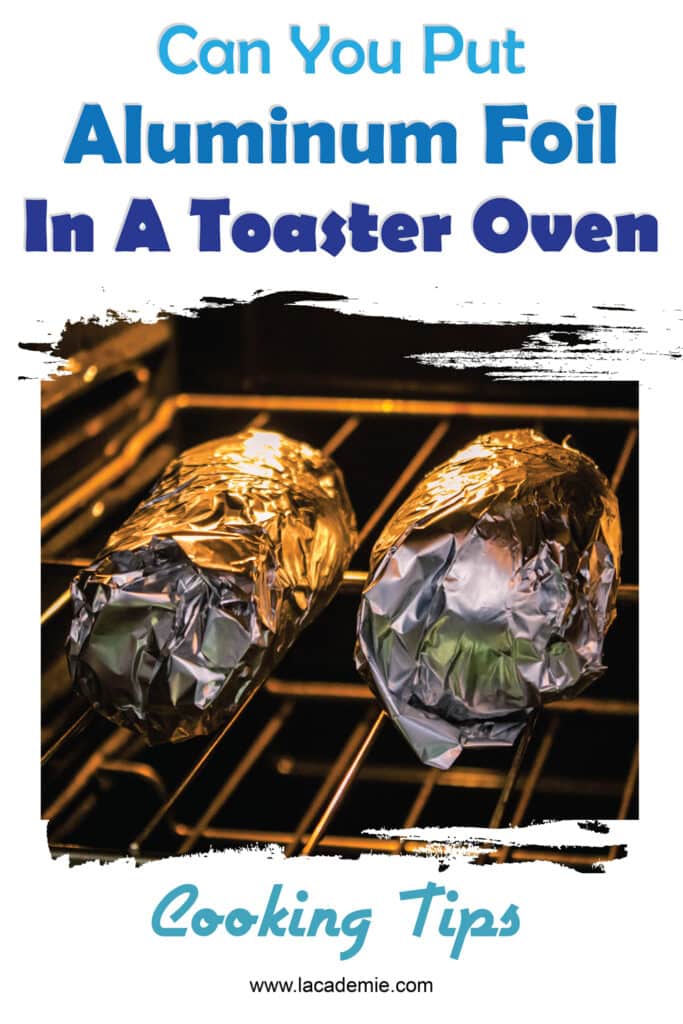 References
En.wikipedia.org. 2021. Aluminium foil – Wikipedia.
Jean Tiberghien, G., 2021. TIBTECH innovations.