Have you ever wondered, "can aluminum foil go in the microwave?". First, you're not alone since many people also have that pondering. This question is as popular as the problem of whether microwaving plates is possible.
Back to the topic, do you know that the walls inside the microwave are made of metal? So if those walls don't cause any fire or explosion, how can aluminum foil be a problem? Let's skip the talking and get into the information that surely will delight you!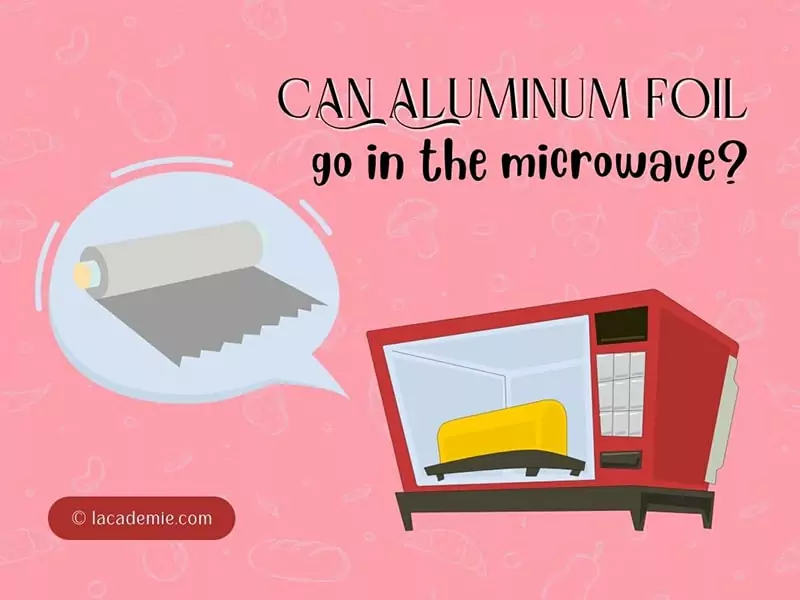 How The Microwave Actually Works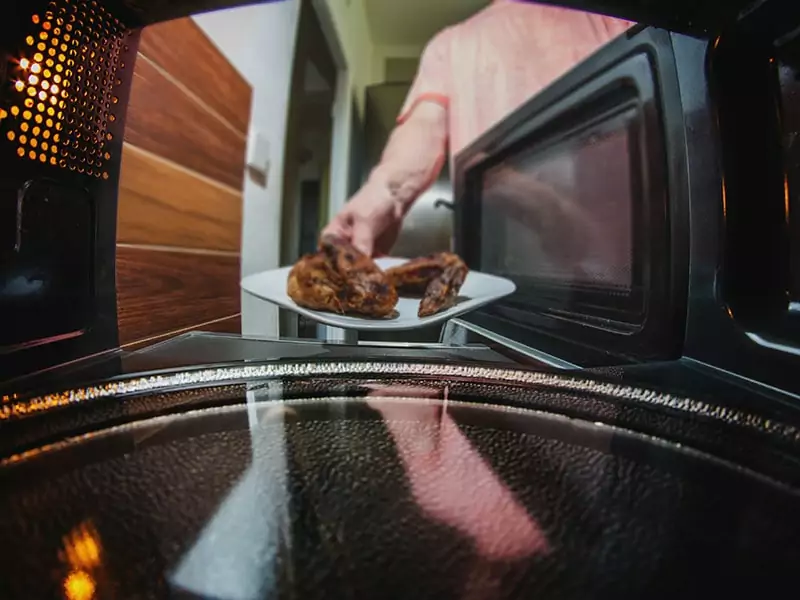 Before getting to know if you can use aluminum foil in the microwave or not, let's see how it works. Many people have trouble distinguishing between microwaves and toaster ovens and think these two share the same mechanism due to their somewhat similar appearance.
Another common misconception about microwaves is that these kitchen appliances heat the food from the inside out. Some even chalk up microwaves' heating efficiency due to their heating mechanism as well.
In fact, microwaves only go only around 0.55 – 1,5 inches deep into the food, therefore, thick or large food will be cooked outside in (1) .
The heating process has 3 steps. First, the magnetron tube inside the oven produces microwaves, which will be wiggling and be reflected by the metal walls until absorbed by the foods.
Then, these microwaves will keep wiggling in the right frequency to vibrate and rotate the water molecules in your food. As a result, those water molecules bounce to each other and create heat.
Therefore, since any food you consume contains water, the microwave is an efficient method to heat them, though it may take a little bit longer with dry foods. At this point, I can tell that you have a forecast about aluminum foil in the microwave.
What Happens To Aluminum Foil In The Microwave
What happens with food in the microwave may not be the same with metal, especially aluminum foil. The problem doesn't lie in the typical thickness of aluminum foil, but it's rather because metal is like a mirror in the microwave, which prevents your food from absorbing the microwaves.
Therefore, since they're getting no heat at all, foods that are completely covered in aluminum foil should not be put in the microwave. But that's not the reason why we are told that it's dangerous to use the microwave with aluminum foil.
Putting aluminum foil in the microwave will create an electric field that neither the internal microwave circuits nor the foil can tolerate. When your food is fully wrapped with aluminum foil, the currents of electricity that the microwave produces can't be absorbed.
Those electricity currents will keep bouncing to each other and create massive heat that can burn the foil or the internal circuits of the microwave. However, there's an even higher risk of putting aluminum foil in the microwave, especially the wrinkled foils.
Actually, some of the electric currents won't get reflected but stay wiggling around the foil. At the corners or sharp edges of the foil, these electrons gather to an extreme amount, bounced by their neighbors, then start arcing.
Although aluminum foil is notable for its magnificent heat resistance, if those arcing hit something else that is flammable, you're facing a high risk of explosion.
So, long story short, I'd say that you should opt for other appliances when using aluminum foil. Of course, you still need to check if aluminum foil is suitable for toaster ovens, ovens, toasters, or air fryers for safety reasons. However, I'd say that they're a better match than microwave.
With that being said, I know that you already understand aluminum foil thoroughly by now. So you probably know whether it's wise to put foil in crockpots and other common kitchen appliances. Am I right?
Aluminum foil can create archings and even explosions in the microwave.
How To Avoid The Risk Of Using Aluminum Foil In The Microwave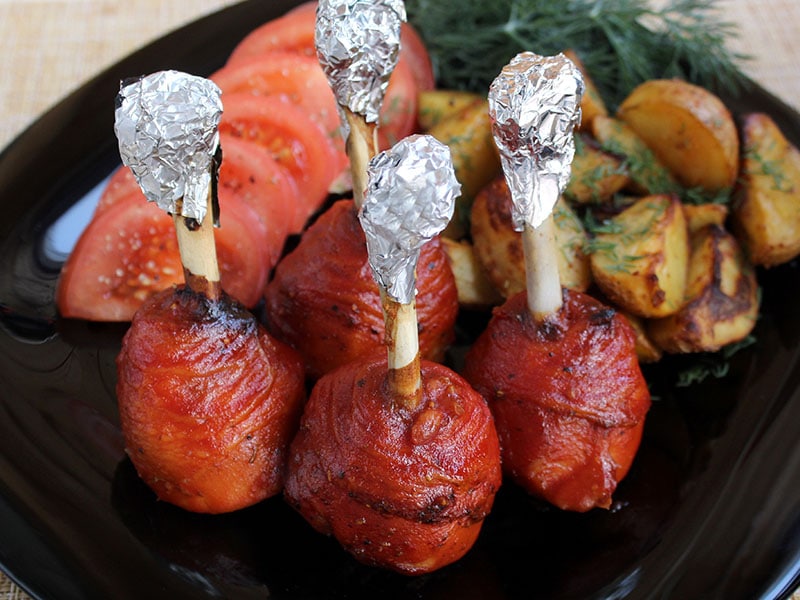 So the previous section is the theory, but you can still find recipes from professional chefs calling for aluminum foil and can be cooked in the microwave. I bet the information will confuse you.
In fact, you can still use aluminum foil in the microwave, but with some unskippable notes. Since aluminum works as a mirror to microwaves, a small piece of aluminum foil can be used as a "shield" in the microwave oven (2) .
Just like when you wrap the tops of poultry drumsticks to prevent them from overcooking or being burned, aluminum foil can be the same solution, even with better results in the microwave.
However, bear in mind that this might affect whether aluminum foil can go through the recycling process, especially if there's too much food and grease sticking to the foil afterward.
In order to use that trick, as well as other cooking methods with aluminum foil in the microwave, here are some notes that you wouldn't want to miss.
Only Use New And Smooth Foils For The Microwave
As mentioned above, wrinkled aluminum foil can cause arcing or sparkling in the microwave. Therefore, make sure you're only using the new and smooth foil, and try not to crumple them during the preparation.
Never Place The Foil Near To The Walls Of Microwave
Since the walls of the microwave are also metal, make sure that the aluminum foil which you applied to your food is at least 2 inches away from the walls.
You may haven't noticed, but the mesh on the microwave door is made of metal as well, so count it as a wall in this case too.
Make Sure That There Are No Edges
Here's why aluminum foil can not be used as a lining for the microwave. Some of the electrons that haven't found their way to the food can stick around the edges of the foil; therefore, your foil can catch on fire.
Should Not Apply With Noodles Or Large-Size Food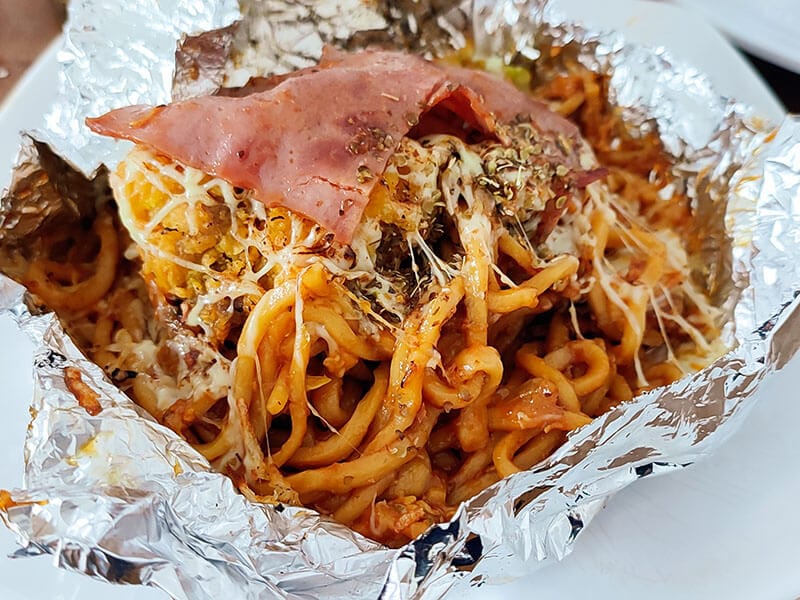 Regardless of what sets heavy-duty and regular aluminum foil apart, they both will prevent your food from absorbing the microwave. This means the noodles covered in aluminum foil won't get heat at all. The same applies to other foods that need to be carried, like soup or lasagna.
Some might say that tin foil might work since tin foil is slightly thinner than aluminum foil. While that's certainly one of the major distinctions between tin foil and aluminum foil, the difference in thickness doesn't mean it's suitable for microwave use.
Large-sized foods like a whole turkey should only be covered by no more than a quarter of it; otherwise, the aluminum foil will keep the wrapped parts from being heated while other parts tend to be overcooked.
Using With Other Materials
Some microwave ovens include metal racks or metal turntables; in these cases, make sure that your aluminum foil won't make any contact with them. If those interiors of the microwave are near the aluminum foil, they can also create sparkling just like the foil goes on itself.
Other utensils can be considered safe in the microwave, but not to go with aluminum foil, such as parchment paper. They will catch on fire as soon as any arcing of aluminum foil gives a touch.
With metals, you can minimize the risk by placing aluminum foil distance from them for at least 2 inches. But with paper utensils, there's no better way than just avoiding it.
Immediate Removing If You See Any Sparkling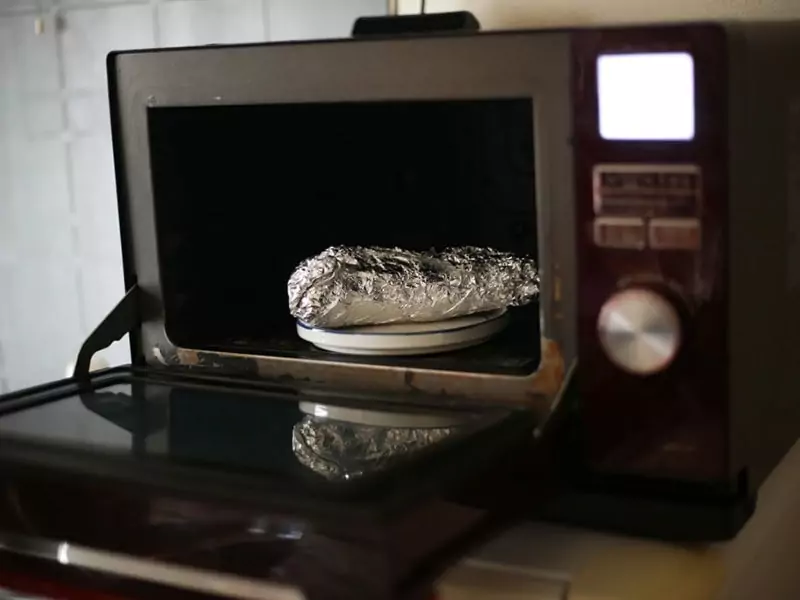 Last but not least, remove your meals from the microwave immediately if you see any sparkling or arcing of the aluminum foil. Then, due to your needs, find another utensil instead – which I'll cover further down.
Substitutes For Aluminum Foil In The Microwave
To avoid the risk of aluminum foil in the microwave, you can just pick another utensil instead of trying to remember all the complex notes above.
Silicone Baking Sheet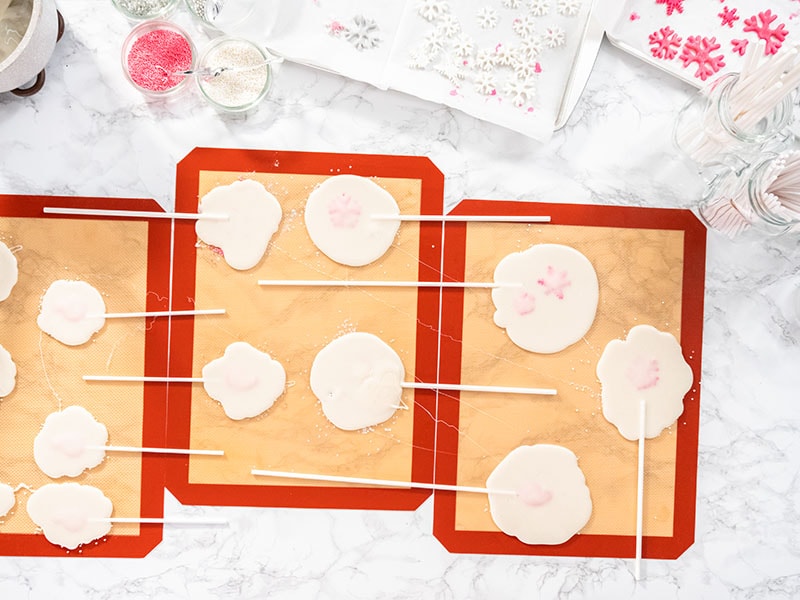 As all kitchen tools are made of silicone, these baking sheets are safe in the microwave. Thus if you mind the cleaning, silicone baking sheets are nonstick and waterproof so that you can easily clean them after using them.
Baking Tray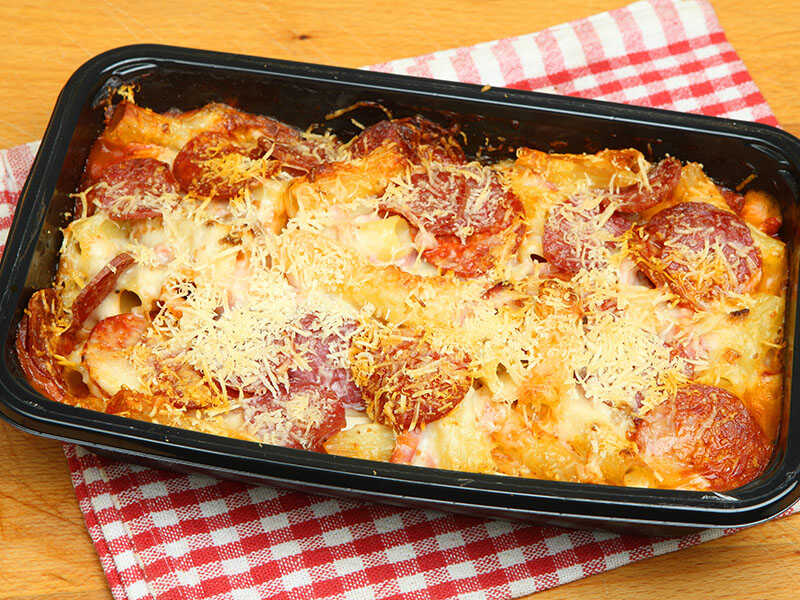 There are many microwave-safe trays for you to choose from. However, I want to mention another thing about the microwave here.
Actually, thick metal sheets can tolerate the electric fields in the microwave, such as the microwave walls themselves. So that you can use metal trays if you're not in hand with any other substitutes, as long as you follow the rules and don't cook them for too long.
Plastic Wrap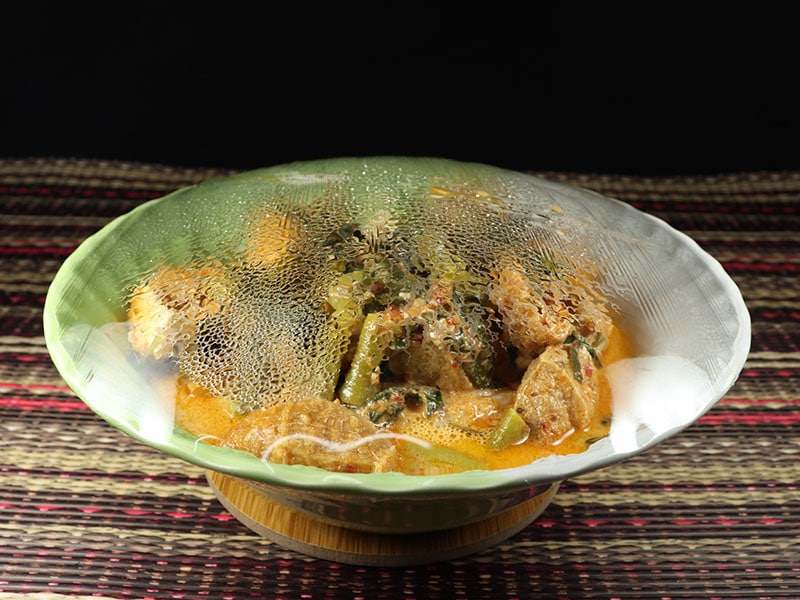 Plastic wraps are usually labeled microwave safe. Therefore, if you want to wrap your foods in order to lock the moisture in microwaving, it's best to stick with plastic wrap rather than aluminum foil.
However, since the water in food will create hot steam during microwaving, you should poke some holes so you wouldn't get burned by the steam when you release the package.
Parchment Paper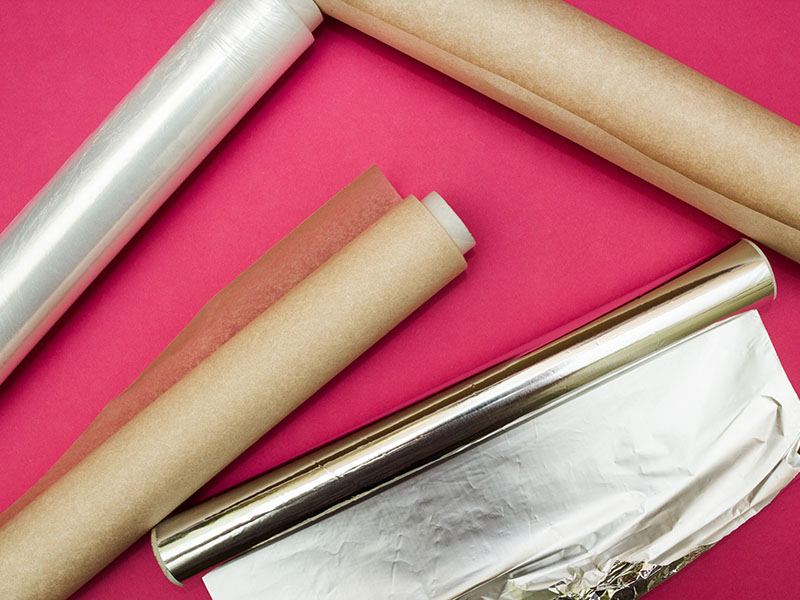 Though papers are not recommended to be used in the microwave, parchment paper is an exception. Since parchment paper has high density and heat resistance, it is completely safe in the microwave.
Some might say that butcher paper can also substitute parchment paper as well. However, one key distinction between butcher paper and parchment paper is that the former cannot go into the microwaves whereas the latter can.
You Can Use Aluminum Foil In The Convection Microwave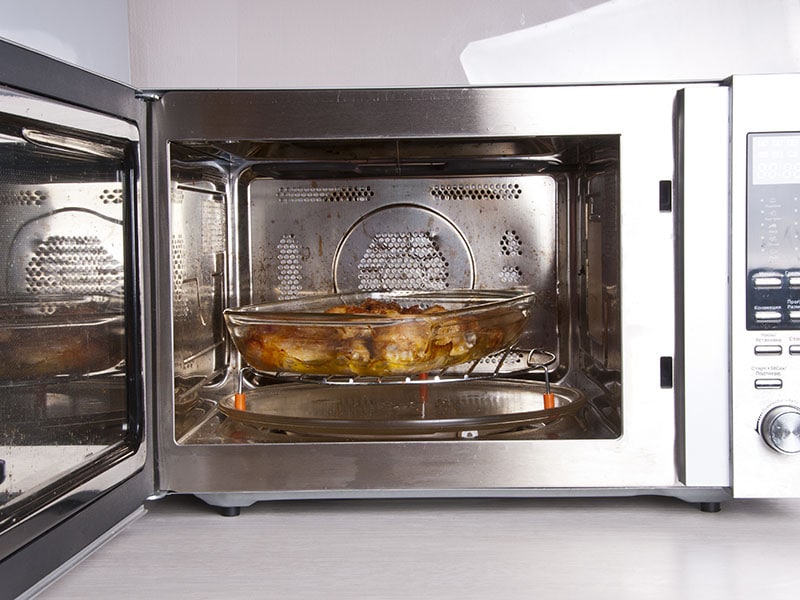 There are many things to note when using aluminum foil in the microwave. But with a convection microwave, you may don't have to remember all those complexities as long as you use them in the grilling mode.
Since these microwaves have grilling or toasting functions, they can work just like the thermal ovens in those modes. But is aluminum foil compatible with the ovens? Well, I'd say that you can use aluminum foil in conventional microwaves and thermal ovens just fine.
How Can You Determine If An Utensil Can Go In The Microwave
Besides aluminum foil, you must wonder with many other utensils whether they can go in the microwave or not. Here's an easy method that you can try to see if those utensils are microwave safe.
Step 1: Clean The Utensils That You're Going To Test
Make sure that there are no leftovers or liquids stay on the utensils.
Step 2: Prepare A Cup Of Water Into The Microwave
Remember to use a glass cup or other microwave-safe cup. This will help to minimize the risk of explosion.
Step 3: Microwaving Them Along
Place the cup of water and the utensils into the microwave, but not too close, then set them on high heat for 1 minute.
Step 4: Check The Utensils
If they're warm or hot, they have either absorbed the electrons or contain metal and should not be used again in the microwave.
If the utensils are fine, with no heat at all, you can tell that they're probably microwave safe.
How to check if a utensil is safe to be used in the microwave or not.
FAQs
Warnings of people about the microwave are not superfluous, you shouldn't use aluminum foil in it unless you know the right ways. If something is still stuck in your mind, here are some answers to the most questionable things about using aluminum foil in the microwave.
Is Aluminum Foil Safe In The Microwave?
The answer is yes, only when you use it right. I recommend using other utensils in place of aluminum foil in the microwave to avoid the risk. But If you insist on using aluminum foil or can't find any other substitutes, make sure that you'll follow the rules.
Through this article, you can now identify the leading causes of why aluminum foil is dangerous in the microwave and how to avoid them. Share this article with your beloved people so they can clear their confusion.
If you have any other tips with aluminum foil or microwave, let me and other readers know in the comment section. I believe that you can find some of my missed information there as well. Now, you can safely prepare your meals.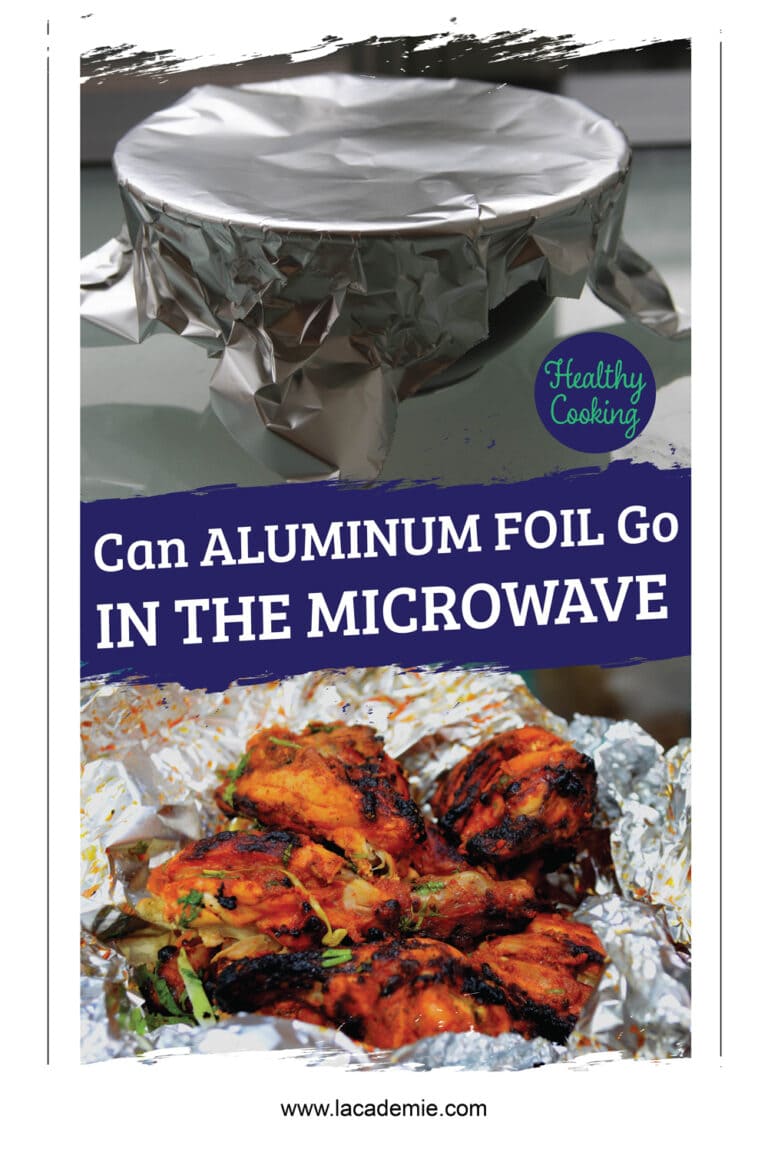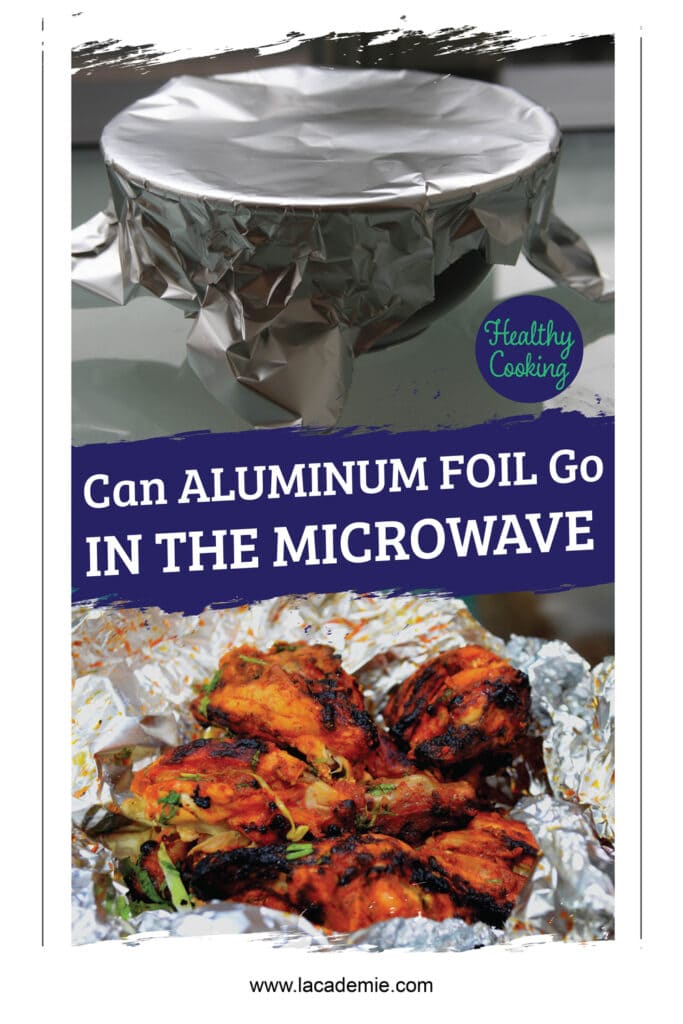 References
Madsci.org.
fsis.usda.gov