Can you microwave cup noodles? You will know the feasibility of microwaving cup noodles after reading this article. Therefore, make sure you stick to the end to increase your knowledge.
Nowadays, cup noodles are a popular food associated with fast meals for busy people or college students because of their convenience and reasonable prices. You can enjoy warm and yummy noodles with boiling water and toppings for a few minutes.
Besides the answer to the question: "Can you microwave cup noodles", this post will let you in on how to cook cup noodles in the microwave appropriately and some tips to get delicious noodles.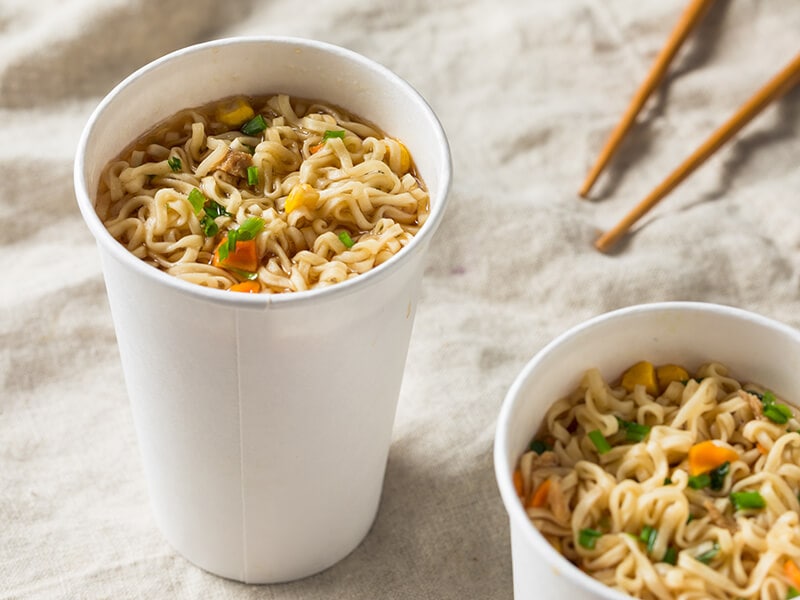 A Few Words About Cup Noodles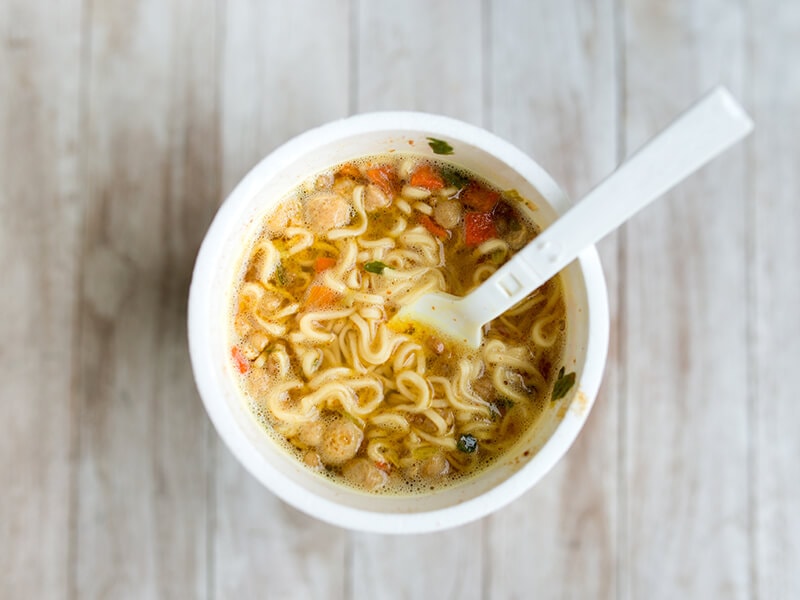 Cup noodles are instant ramen served in plastic, foam, or paper cups. It has been a long-standing item since instant noodles appeared in 1958, with Momofuku Ando, the founder of Nissin Foods company, being the inventor of instant noodles (1).
Instant ramen packaged in foam or plastic cups came into existence in 1971. Initially, beef, shrimp, and chicken were the three main flavors of cup noodles; then, the pork flavor debuted in 1976.
Nowadays, cup noodles are famous in many countries for their convenience and reasonable prices. Its taste is diverse in different regions, such as curry noodles in Japan, tom yum version in Thailand, and crab taste in Hong Kong.
Interestingly, there was a Nissin Cup Noodle sign in Times Square of New York City from 1996 to 2006. Also, it appeared in the famous video game Binary Domain, Final Fantasy XV, advertisements, and billboards.
Listen to the amazing history of cup noodles to understand more about them.
Top Cup Noodles Brands
Aside from the Nissin Cup Noodles brand, many other famous brands are selling high-quality and delicious cup noodles, such as Maruchan, Nissin, and Sapporo Ichiban. Let's explore more about them right away.
When talking about the famous cup noodles brand worldwide, Maruchan is an indispensable name. The Maruchan price is higher than the Nissin Cup Noodles, with the taste living up to your expectations.
Maruchan is microwavable cup noodles without original packaging, and it takes about 3 minutes to cook in this appliance. There are 4 tastes for you, including shrimp, chicken, veggies, and beef.
Nissin is the most famous cup noodles brand. This company was born in 1958 in Japan. Monokufu Ando, who invented instant ramen, was the founder of this notable food company.
Like Maruchan Cup Noodles, delicious items of the Nissin brand are also microwavable, and you can finish them in a short time (about 3 minutes). However, cup noodles are cheaper than Maruchan products.
Let's try Nissin cup noodles to explore the secrets in their taste.
When it comes to the famous Japanese cup noodles brands, I have to mention Sapporo Ichiban made by Sanyo Foods. These microwavable cup noodles offer some flavors for you, like shrimp, veggies, beef, and chicken.
Sapporo Ichiban is not the best budget option because you need to pay more money to purchase Sapporo Ichiban cup noodles compared to Maruchan and Nissan.
Is It Possible To Microwave Cup Noodles?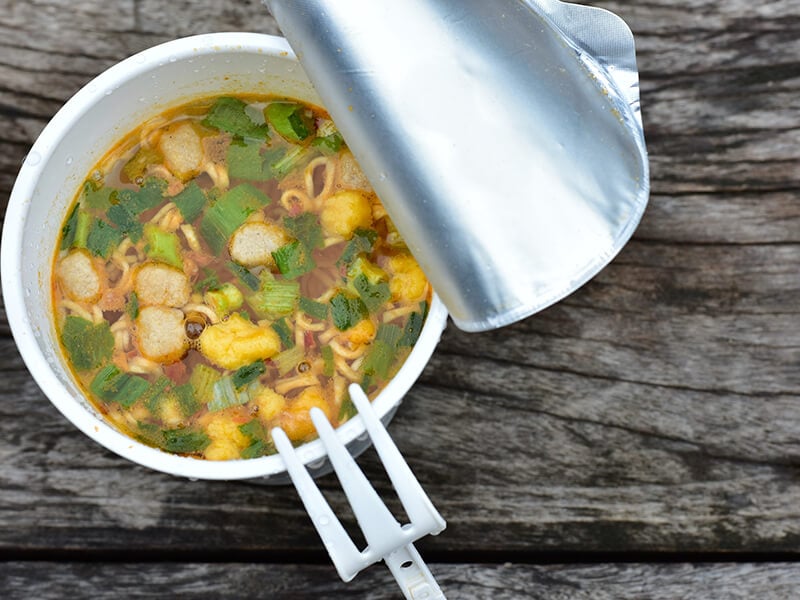 Cup noodles are the best-loved food of many people because they are pretty simple to prepare and cook. However, regarding microwaving cup noodles, here are a couple of things you should know.
Normally, cup noodles are packaged in paper or styrofoam cups. You can microwave paper cups if you find the "microwave safe" symbol on them. Meanwhile, microwaving styrofoam cup noodles can pose some health hazards.
For more information, styrofoam is a product of expanded polystyrene or type 6 plastic. This material is non-microwavable because only type 5 plastic (polypropylene) can withstand high temperatures inside the microwave and is safe in this appliance.
As a result, microwaving cup noodles with the original packaging is a bad decision because the high heat can melt the styrofoam cup and release toxic chemicals. Thus, plastic-contaminated noodles are harmful to your health.
Exceptions For Microwaving Cup Noodles
Nevertheless, some cups still allow you to microwave them. The manufacturers will usually print the "microwave safe" symbol on the packaging if they pass the microwave safety test.
If you still want to microwave cup noodles, there is a way you can microwave them. Simply take the noodles from the original cups and put them in microwave-safe containers. Of course, it's better to follow the producers' instructions for microwaving cup noodles.
Another way you can try is to microwave water in advance and pour the water into the cup noodles to consume. In fact, this is a popular method that you commonly see at convenience stores.
Health Risks Of Microwaving Cup Noodles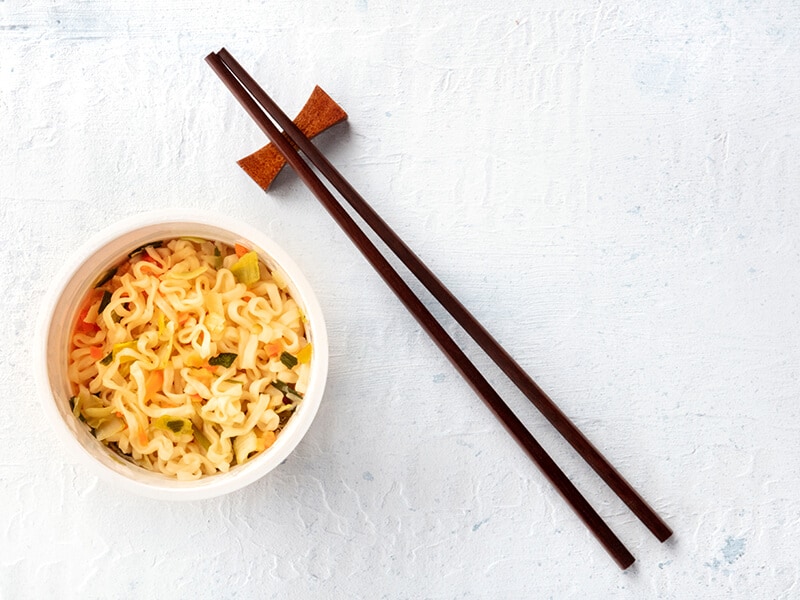 Microwaving cup noodles is unsafe because the chemicals released from styrofoam cups can cause some health risks. If you still want to microwave these noodle cups, this section should help you learn more about the risks!
High temperatures can cause styrofoam to melt, damage, and release the carcinogen styrene. For those not in the know, styrene is a popular material in making synthetic plastics, resins, or rubber.
Although there is no evidence that this chemical causes cancer in humans, this toxic chemical is not good for your health if you ingest it for a long time.
The higher the temperature of styrofoam cups, the more styrene cups emit. The table below will show you the correlation between temperature and styrene leaching.
| | |
| --- | --- |
| Temperature (ºC) | Styrene (µg/L) |
| Ambient | 0 |
| 50ºC (122 °F) | 0 |
| 70ºC (158 °F) | 1.16 |
| 90ºC (194 °F) | 9.35 |
| 100ºC (212 °F) | 17.37 |
In addition, you should not place plastic noodle cups in high-temperature places because they will release estrogenic compounds into your noodles. The chemicals are the main cause of breast cancer(2).
Therefore, it is best not to microwave cup noodles because toxic chemicals emitted from the cups affect the noodles and cause some negative health problems.
How To Microwave Cup Noodles Safely?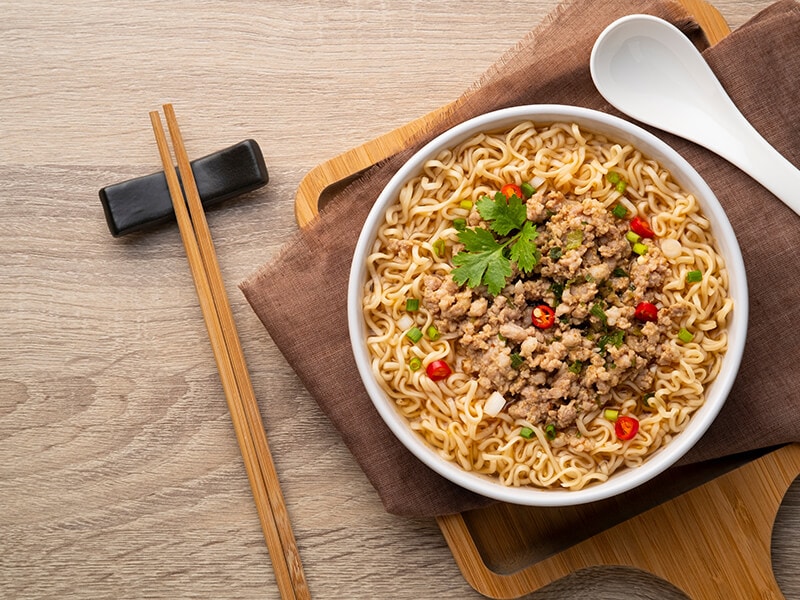 How do you microwave cup noodles without causing any damage? This section will give you some amazing methods. Keep reading and check it out!
Method 1: Using Microwave-Safe Containers
One of the great solutions you can apply to cook cup noodles in the microwave is to use microwave-safe containers. Follow these steps to get an amazing performance.
Step 1: Take the noodles out of the cups.
Step 2: Put them in a microwave-safe container and fill them with water or broth. The amount of water and broth depends on the bowl size and the number of noodles.
Step 3: Use a lid or a piece of paper kitchen towel to cover the container to prevent overflowing.
Step 4: Place the container in the microwave for about 3 to 4 minutes (depending on the temperatures you set).
Step 5: After about 2 minutes, stir the noodles with a fork.
Step 6: After 3 to 4 minutes, let's wear oven gloves, take the container out of the microwave, and let the noodles sit for about 3 minutes.
Step 7: Season your noodles with compliments to enhance the flavor of the noodles.
Step 8: Pour the noodles into a dish and enjoy your meal.
Method 2: Boiling Water In Advance
Another helpful solution is to boil water separately in a microwave-safe container beforehand. Here is the detailed direction:
Step 1: Prepare a microwave-safe container and fill it with water.
Step 2: Put the container in the microwave to boil water. You should normally wait about 2 to 3 minutes to get boiling water.
Step 3: Prepare a bowl and put the noodles into it.
Step 4: Add seasonings to the noodles to flavor your food. But you can season the noodles after cooking, depending on your preference.
Step 5: When the water boils, let's pour it into the bowl.
Step 6: Use a lid or a paper kitchen towel to cover the bowl and let it sit for about 3 to 5 minutes.
Step 7: Enjoy the soft noodles.
NOTE:
Besides the seasonings in the cups, you can add other amazing condiments to make your noodles more flavorful, such as basil, green onions, miso paste, or hoisin sauce.
Your cup noodles will be more delicious with some delicate veggies, so add chopped spinach, carrots, onions, and peas to your noodles.
Normally, people often consume noodles with eggs and chopped hard-boiled eggs. You can try it if you want to make the noodles tastier.
Amazing Tips To Microwave Cup Noodles Easier And Enhance The Taste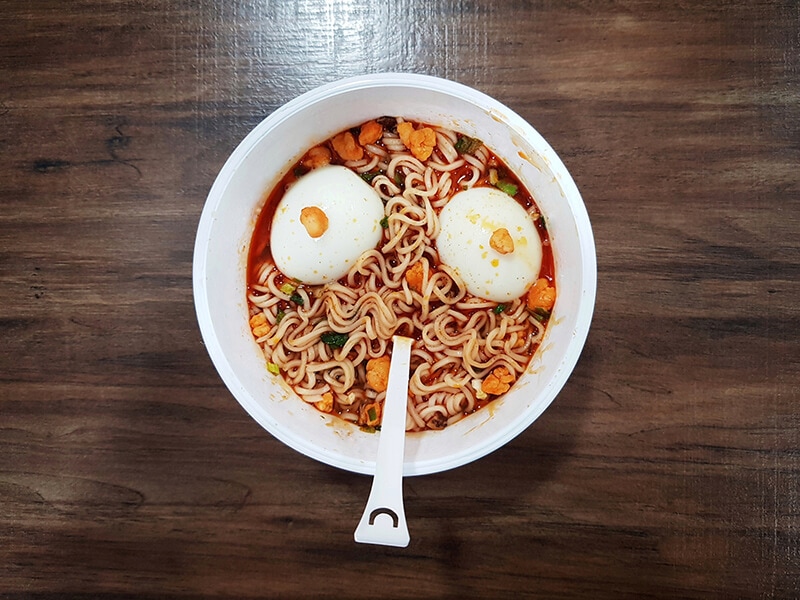 You should use these helpful tips for preparing cup noodles to enhance their flavor and ensure safety.
If you want to consume cup noodles with a deeper flavor, you should use chicken broth instead of water.
After cooking for 2 minutes, it's better to enjoy the noodles immediately because they can be soft quickly.
To cook the noodles easier, I recommend breaking them into halves before cooking them in the microwave.
Asides from cooking the noodles with hot water or broth, you may break them into small pieces and add them to the salad to make the dish crispier.
Bacon bits, ranch dressing, hot sauce, and beef or bacon stock cubes are wonderful additions you should add to the noodles to enhance their taste.
The taste of the cup noodles will be more diverse when you adjust it with available condiments at home.
If you add the condiments, sauces, and additional ingredients before microwaving the noodles, they will blend better.
FAQs
Keep reading this section that shows the answers to commonly asked questions about microwaving cup noodles. I hope you can find other helpful information from them.
Cooking Cup Noodles In Microwaves Is An Unsafe Choice!
Finally, I don't recommend microwaving cup noodles because the cups can emit toxic substances that directly affect your health. Cooking noodles in a microwave-safe container or bowl is a better choice.
Please follow the instructions and methods I mentioned above to microwave cup noodles properly and safely. Let's show me the results in the comment section. Plus, don't forget to share this post on your social media accounts before leaving this page. Thanks a lot!
Paragraph
"Nissin Foods."
"Exposure to Chemicals in Plastic."