Can you microwave cardboard safely? Is there any cardboard you should not microwave to avoid explosions or other hazardous accidents? This article is a must to read if you are looking for the answers.
Microwave is probably one of the kitchen necessities providing multi-tasking functions. At the same time, you need to carefully follow its manual guide for microwave safety. It is wise to be cautious as unexpected accidents have happened by dangerous acts.
Is Cardboard Microwave Safe?
Cardboard is essentially made from fibers of trees. Thick corrugated fiberboards are useful for packaging shipping boxes, while thin paperboards are so popular for wrapping paper or food boxes such as cereal boxes, pizza boxes, take-out containers, coffee cups, or milk cartons.
So, is it safe to microwave cardboard? Though cardboard and paper are likely to start fires, cardboard is considered a safe material in the microwave. I will mention further instructions to microwave cardboard safely later on in this article.
Now, I would like to explain why cardboard is microwavable. The following sections will help you to understand this matter better. So, stay tuned and find out more interesting information about microwaving cardboard.
How Does Microwave Operate To Heat Up Cardboard?
To understand how the microwave heats up cardboard, you need to know how it operates. What makes things inside the microwave hot is microwaves, which are electrical and magnetic-formed radiation. These waves move through space.(1)
The internal metal inside the microwave is used to reflect these waves. While microwaves pass through the glass, plastic, paper, and likewise materials such as cardboard, the foods would absorb energy and thus get heated faster.
When water, fat, and other substances in food absorb microwaves, their molecules start rotating and hitting other molecules. These molecular rotations warm up food, drink, and, of course, their cardboard containers.
What Is The Interaction Of Cardboard To Microwaves?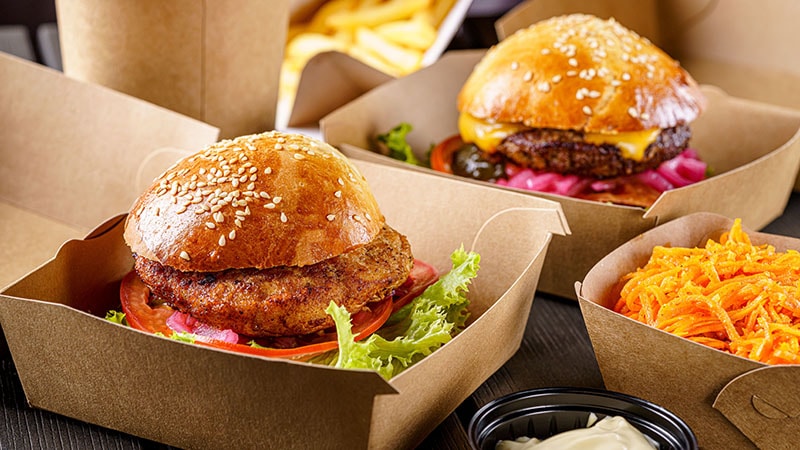 Water molecules are electric dipoles that make them rotate when encountering microwaves resulting in heating water-contained items. When it comes to cardboard, it has a low moisture content of 9 – 12%, so it is heated slower than food.
However, when microwaving, the cardboard's moisture will drop, and if you keep it in the microwave for a long time, it will dry up, especially when it is without food or drink. Adding to its flammable nature, this prolonged process can lead to a fire.
What Kinds Of Cardboard Can Not Be Microwaved?
Most carton boxes are designed for microwave safety, but some kinds of cardboard should never be put in your microwave. Here are what you need to avoid.
With Printed Ink
Be careful with containers carrying ink or print because when heating it in the microwave can melt the ink into your food or have toxic fumes. If some cardboard with printed ink is microwave safe, they will tell you on their label.
With Glue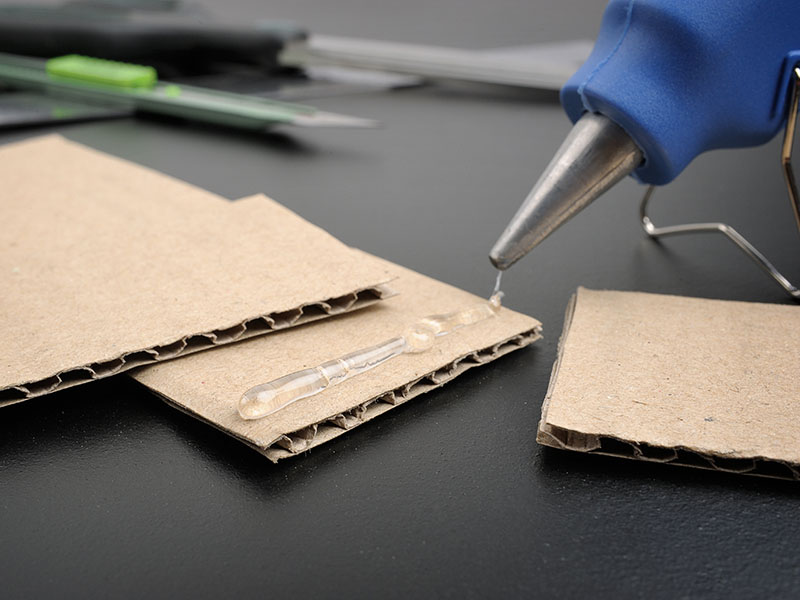 Sometimes cardboard boxes contain glue to hold them together. When heated, glue leaches to your foodstuffs and damages them with terrible taste and smell. Superglue deposits toxins in high heat and thus is even more hazardous.
Containing Wax
Some kinds of cardboard have a waxy coating that you can notice by its smooth and shiny surface. Wax helps waterproof liquid contained inside the cardboard but releases chemicals contaminating your food when heating up.
Having Metal Handles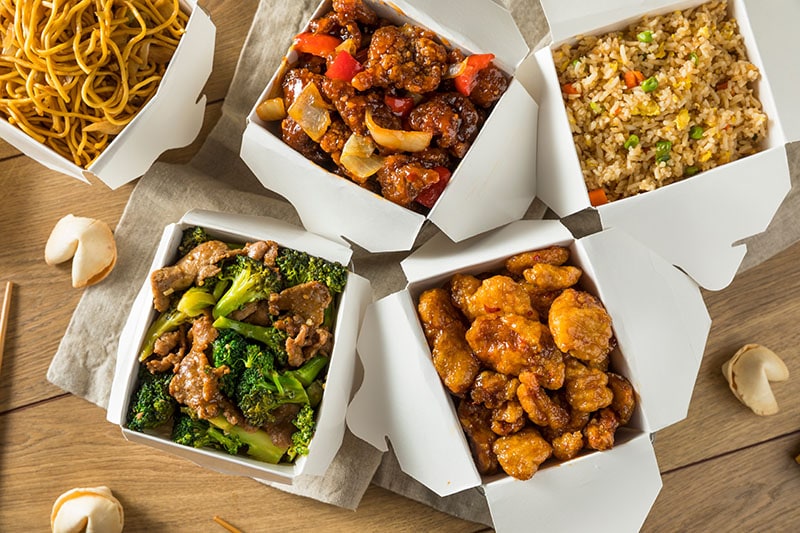 Chinese take-outs usually come with metal handles that are definitely dangerous to put in the microwave. In this case, you must remove the metal from the boxes, or transfer your food to a microwave-safe container/dish to reheat.
Safety Tips For Microwaving Cardboard
Using the microwave improperly can lead to unwanted accidents in your kitchen. You would surely want to avoid getting burned foods, a damaged microwave, or even worse, a house on fire. So, what do you need to pay attention to?
Microwave-Safe Label
The first and foremost thing to do is to check whether there is a microwave-safe statement!
Pure cardboard made of wood fiber is generally safe to microwave, while other types of cardboard can be made of recycled materials and contain non-microwavable materials.
So, check out these logos or labels picturing some wavy lines representing microwave-safe on the cardboard. If you cannot find these indications, then avoid putting it in the microwave.
Time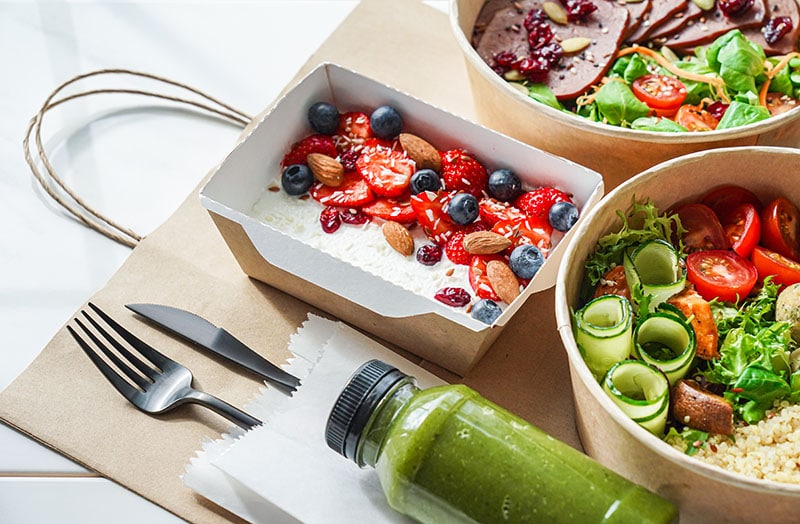 Are you surprised by how fast things are heated up in the microwave? Even though cardboard takes a longer time to heat up, it is still much faster compared to other kitchenware. A few-minute difference in microwave power can result in unexpected outcomes.
So, microwave cardboard for 1 to 2 minutes should be enough, and it is advisable to check it from time to time. If you need to reheat a large amount of food, you can add 30 seconds to 1 minute more at a time.
Temperature
Setting low power for microwaving cardboard is a wise thing to do. Since cardboard does not contain much moisture, a short amount of time can dry it up quickly. Heating cardboard at 400 F or above for a long time may cause it to burn.
This is especially true when you microwave cardboard alone. Without any substance like food or drink to absorb microwave energy, it can start to ignite at a high temperature.
Cardboard Contents
Microwave cardboard by itself is something that you should not risk doing. There must always be some kind of food or drink on cardboard because this food or drink will absorb the microwave's energy and heat so that the cardboard won't dry out.
If the moisture in the cardboard is gone and you continue to heat it up further, an explosion may happen. So, remember to include those contents when microwaving cardboard, and you can rest assured of its safety.
Check out what happens when you microwave cardboard alone in this experiment!
Avoid Heating Liquid
Liquid can get hot quickly and create very high pressure inside a closed cardboard container. Prolonging heating of the liquid in the microwave causes excessive heated liquid.
The danger is when you open the box, and the super hot steam might lead to an accident. Instead, cardboard boxes with wide-opened mouths will be safer for preheating liquid in a short time.
Learn more about safety tips when using a microwave to ensure safety all the time.
Are Paper Plates Microwavable?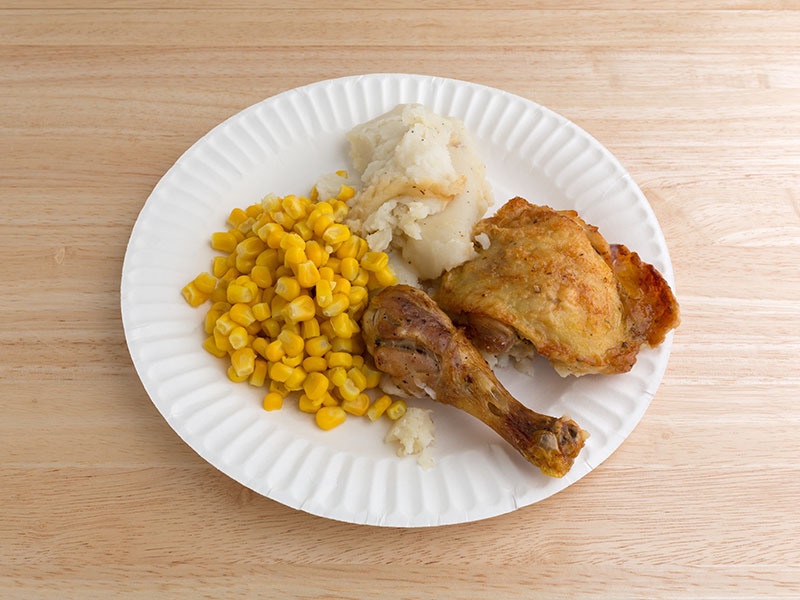 Technically, many paper plates are acceptable to use in the microwave, though not all (2). You can undoubtedly reheat those that have a microwave-safe label. However, some disposable plates are coated with a thin layer of plastic that might not be good to use.
For safety concerns, you should neither heat up oily food on these thin paper plates nor microwave it for too long. Besides plain paper plates, napkins, paper towels, or parchment paper are also acceptable for microwave uses.
What About A Box Of Pizza?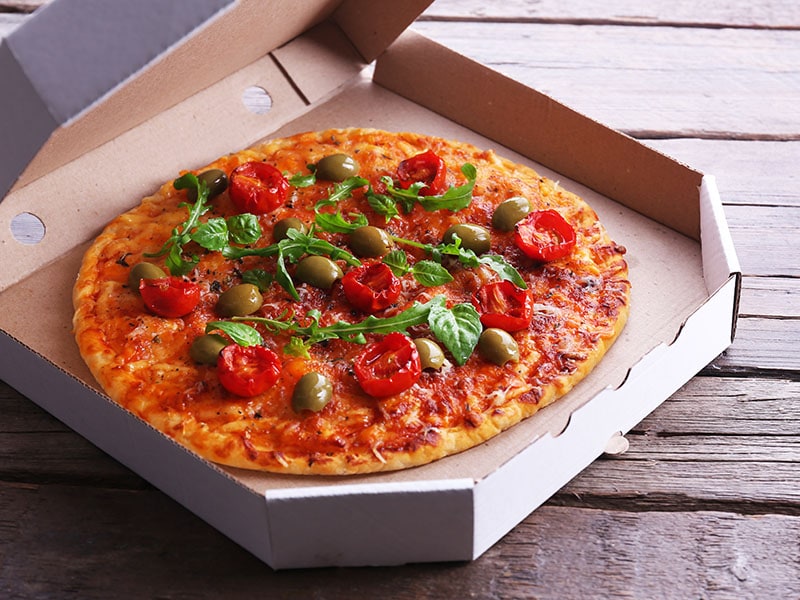 You may sometimes have a box of pizza delivered to your house, and it would be definitely convenient to preheat leftover pizza in its box. The question to ask here is whether it is safe to microwave pizza boxes.
As you may know, a pizza box is made of cardboard, a safe material for microwaving. Manufacturers design pizza boxes to be durable packing with warm retaining and heat resistant ability.
Nonetheless, to exercise proper caution, you need to check several things before microwaving it. Does it contain metal pieces, plastic, wax, or aluminum foil coating? If it does, why don't you preheat the pizza on a plate or other microwave-safe containers?
One more thing regarding this question, all the cautions when microwaving cardboard are applicable to pizza boxes.
Other Material Cautions In Using The Microwave
Though many materials are acceptable in the microwave, there are other materials that you need to check carefully in advance. So, here are some cautions to ensure safety in using your microwave.
Plastic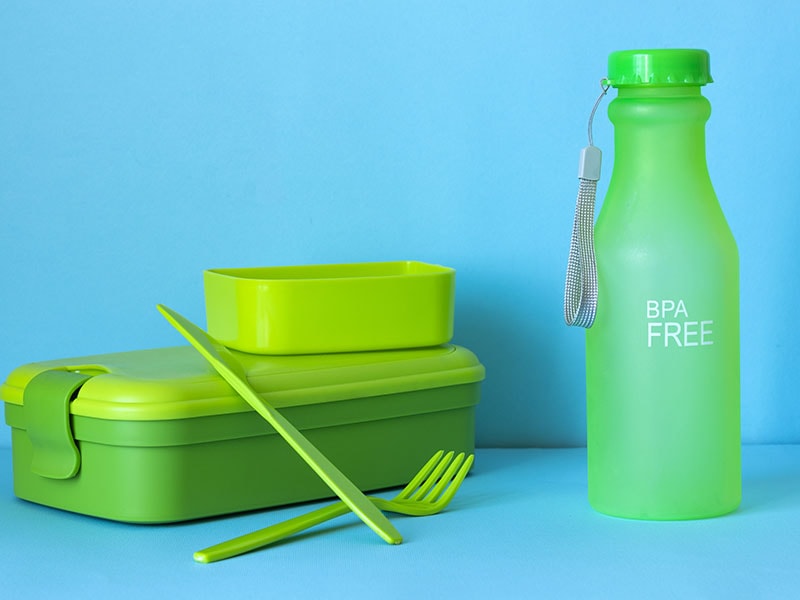 It is so obvious that many things in your home are made out of plastic. Some of the reasons for its popularity are that plastic containers are cheap, lightweight, and not easily broken. However, plastic food containers are not the best choice for your health.
Phthalates and BPA are chemicals used in several kinds of plastic containers. So, when you heat these in the microwave, there is a possibility of harmful chemicals leaching into your food.
If the products have microwave-safe labels, they are good to go. This label is mostly found in reusable plastic storage containers (3). If you can't find one, then avoid trying them at all times. I recommend heating food in glass or ceramic containers instead.
Styrofoam
Styrofoam is expanded polystyrene used in containers to keep food and drink warm. Expanded polystyrene foam-making disposable take-out containers with microwave-safe labels on them should be safe for use in the microwave.
However, not all kinds of styrofoam are microwavable. Some melt at high heat and produce harmful chemicals that can hurt your health.
Paper
You can put paper, including plain paper plates, paper towels, napkins, and parchment paper, in the microwave. But newspapers and brown paper bags can't go in it.
Metal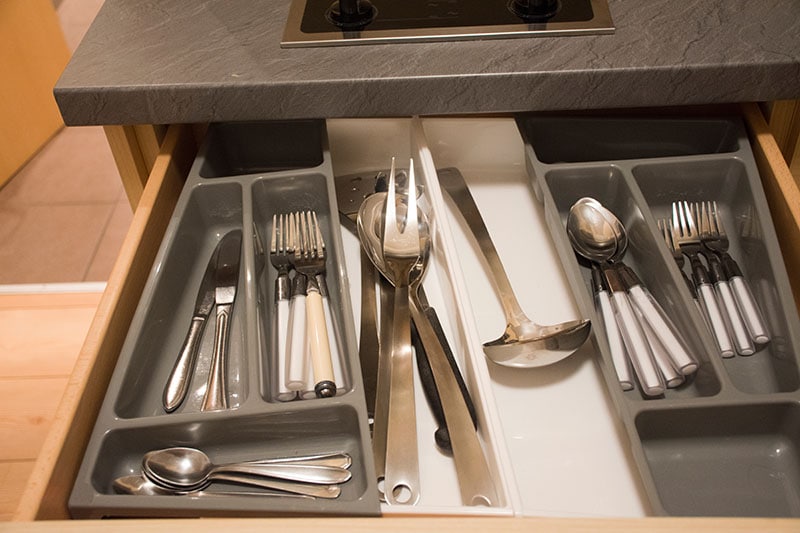 Microwave metals can cause sparks due to built-up electromagnetic energy. Not all metals cause a microwave explosion or fire, yet, you should take serious caution for those that have thin and sharp edges.
So, always read and follow the manual's guide for microwave-safe uses. In case you are not sure about whether a metal item can be put in the microwave, my advice is that you should not.
Glass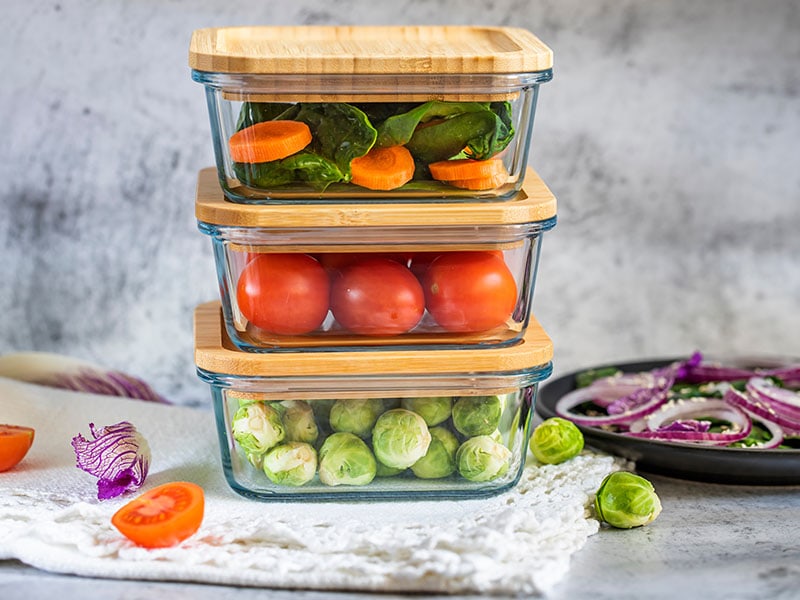 Glass containers are one of the best choices for storing food or beverages because of their non-reactive characteristics. Moreover, glass does not release toxins when heated, which would make you sick. Most glassware should have a microwave-safe label.
However, heating glassware without this label can cause it to crack or shatter. It is also good to be aware that glass can't withstand abrupt temperature changes well. That means putting a cold glass in the microwave can break it.
Ceramic
Formed from clay at high temperatures, ceramic items are microwave safe as long as they don't contain gold or metal decorations. Keep in mind that ceramic becomes very hot when microwaving, so handle them carefully.
Aluminum
Aluminum is not an advisable material to use in the microwave. While it may be fine to partly shield your food with a small amount of aluminum foil, improper microwaving of this thin metal can lead to damage or fire.
The table below summarizes safe and unsafe things to put in the microwave.
| | |
| --- | --- |
| Microwavable | Not microwavable |
| Plastic with microwave-safe label | Metal with thin and jagged edges |
| Paper: plates, towels, napkins, parchment | Plastic foam |
| Ceramic without gold or metal | Aluminum tray |
Learn 10 things that you should avoid putting in the microwave through this guide.
FAQs
Most products come with a user's guideline, which can be a label, symbol, or manual. Some items are easier to recognize whether they are microwave safe or not, while others aren't. So, I have answered several related questions to clarify other matters.
Prioritize Microwave Safety
Not all food or drink containers can bear powerful microwaves, so only heat those that you can see microwave-safe signs. In case you can't find any symbol indicating that it is safe in the microwave, I would advise that you shouldn't use it.
Generally, microwaving cardboard is safe, but be mindful about how to microwave it safely and what kinds of cardboard cannot go in the microwave.
Should you have more questions, write them down in the comment below, and I will gladly answer those. If this post finds you well, I hope you like or share it with others!
Paragraph
Microwave oven (2022) Wikipedia. Wikimedia Foundation.
Food Safety and Inspection Service (no date) Cooking with Microwave Ovens | Food Safety and Inspection Service.
Admin, J.P.L. (2022) Is it safe to microwave plastic? Answering common safety questions about plastic food packaging, Chemical Safety Facts.