"Can you microwave paper plates?" Maybe this is the question many people wonder about whenever you want to reheat food with paper plates, right?
As you know, paper plates are convenient things that help us to facilitate eating and hygiene. This disposable product always appears at events such as picnics, weddings, and birthday parties.
But have you ever questioned whether putting it in the microwave would be alright?
Even if the answer is yes or no, I believe this article will answer your question and contribute to helping you learn how to use paper plates more safely.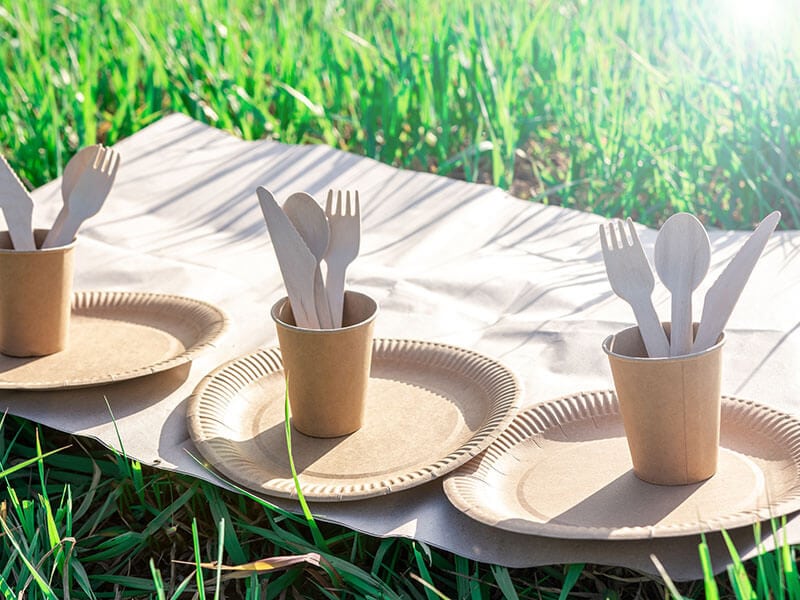 What Is A Paper Plate?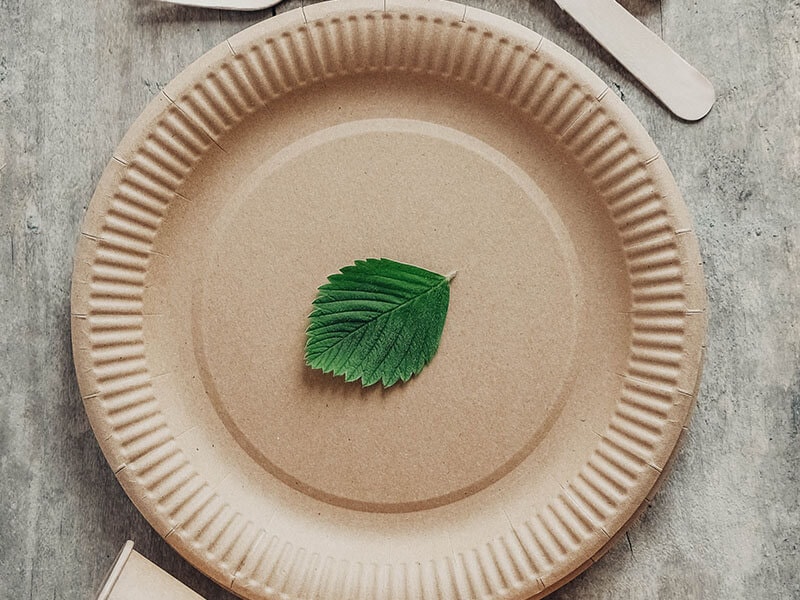 You may acknowledge that paper plates are disposable products that have a shape of a plate and are made mainly from paper. But is it enough about it? To know more, I would like to provide more information for this term.
Usually, manufacturers make paper plates from materials such as PO paper, kraft, and other valuable byproducts. It is used instead of plastic and iron plates in the role of food storage.
People now use the modern paper plate in many settings and places. For many years, they have gained trust from customers by providing satisfaction with low prices and high aesthetics.
Types of Paper Plates
There are various types of paper plates available on the market, hence raising another question about whether it's possible to air fry your plates. To be clear, I will divide this part into three points according to material, color, and criteria.
About Material
As you know, paper plates are made mainly from paper. However, not all of these plates are created equal. Some of these cookware material types are 100% paper or recycled paper, and some will have a protective cover as a plastic coating to be more durable.
Some types will function as heat resistant when they are in the microwave, and some can leak chemicals into your food items if they meet high temperatures.
About The Color
Listening to the customers, brands produce both traditional plain white paper plates and special plates. People usually use them for important events such as Christmas events, parties, New Year parties, and so on.
Besides the plain white paper plates, you will usually notice in the market that patterned, decorated, or colored paper plates can be a choice for those who love the color.
About The Criteria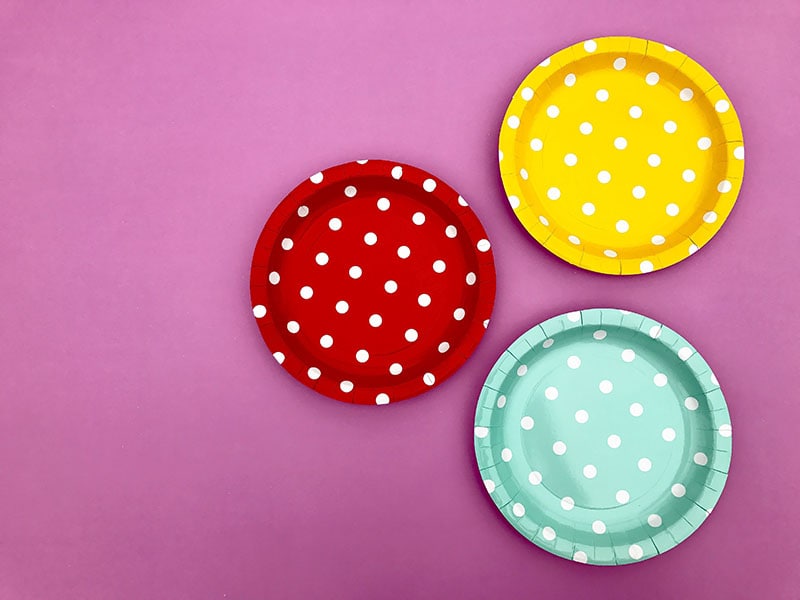 You can choose paper plates according to your needs with some criteria of paper plates you can consider as biodegradable, chemical-free, and durable.
Can You Microwave Paper Plates?
Maybe many of you are waiting for this one. I know, but before I come to the main point, I would like to provide some related information.
What Is a Microwave?
A microwave is a popular and necessary item for state-of-the-art families. Many have compared microwaves with air fryers due to their efficiency.
Basically, a microwave uses electromagnetic waves with super short or super high frequency to heat molecules, thereby warming and cooking the food.
Microwave radiation serves as the foundation for the microwave's working theory. The waveguide transmits the microwave energy from the generator (magnetron) to bring the wave to the cooking cavity.
In the cooking chamber, it is reflected back and forth between the cooking wall as a molecular motion, and the movement generates heat to heat food from the inside.
You should watch this interesting video to understand how the microwave operates.
Why Are Some Materials Dangerous With Microwaves?
What happens to some materials when microwaving and what is the reason? To know further, you need to read the information below. I believe this will help you a lot.
Plastic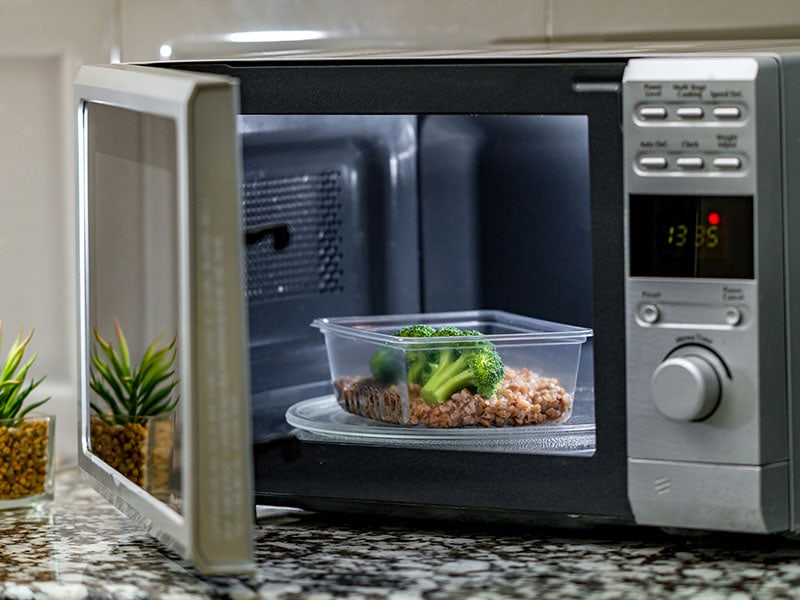 The manufacturer will issue a "Not used in the microwave" warning for some flammable plastic products.
In addition, phthalates and bisphenol A (BPA) exist in many plastic container types. Once microwave waves affect these chemicals, they will permeate food and cause adverse effects on the endocrine system.
Moreover, because disposable plastic or packaging boxes are made of relatively thin material, hot food can easily cause them to flow out or deform.
Metal
You should avoid putting things made of metal out of the microwave. Because the microwave does not penetrate metal, it reflects off the wall and heats the area around, causing a fire that damages the furnace and others nearby.
One thing you need to remember is never microwave kitchenware. The strongest magnetic field, where the spark sparkle can start a fire, is located in the spearhead of the knife, scissors, or fork.
What is the phenomenon you will encounter when putting metal in the microwave?
Can You Microwave Paper Plates?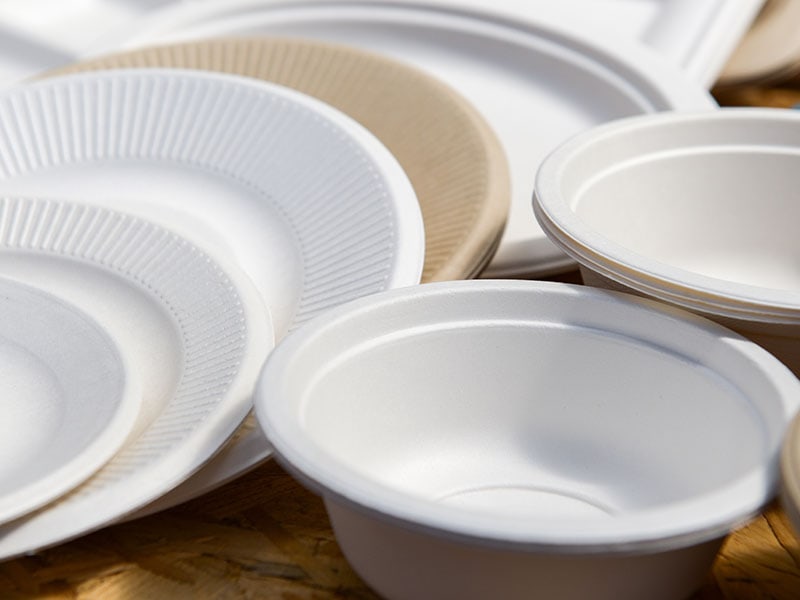 No research says that microwave paper plates will harm people's health until now. And I also have not found any related documents about accidents that happened because of microwaving it.
So, the answer is YES. But to be assured, we should use the one labeled microwave-safe.
As I said before, you should choose white paper plates rather than those printed or decorated with color. These colorful plates can leak ink when they meet high temperatures, which causes a fire. Besides, they also may absorb food and harm your health.
Can Paper Plates Catch Fire In The Microwave?
You can be assured when knowing that paper plates, paper wax, and bowls are alright with a microwave. But it does not mean that all things that come from paper will be safe. Brown paper bags are an example, especially when you crumple them and put them into the microwave.
Another thing I want to remind you to notice is the time and temperature when putting paper plates into the microwave. These things are also factors that make paper plates fire.
No matter how good your paper plate is heat resistant, my recommendation is not to put a paper plate on for more than 2 minutes, and the temperature should not be over 450 degrees Fahrenheit.
Does it set on fire when you microwave paper plates?
Tips To Choose Which Kinds Of Paper Plates Are Safe In Microwave
When putting paper plates in the microwave, you should choose the most appropriate one to protect your safety and health. With this point, I would like to have some recommendations below.
Type Of Paper Plate You Should Use For Microwaving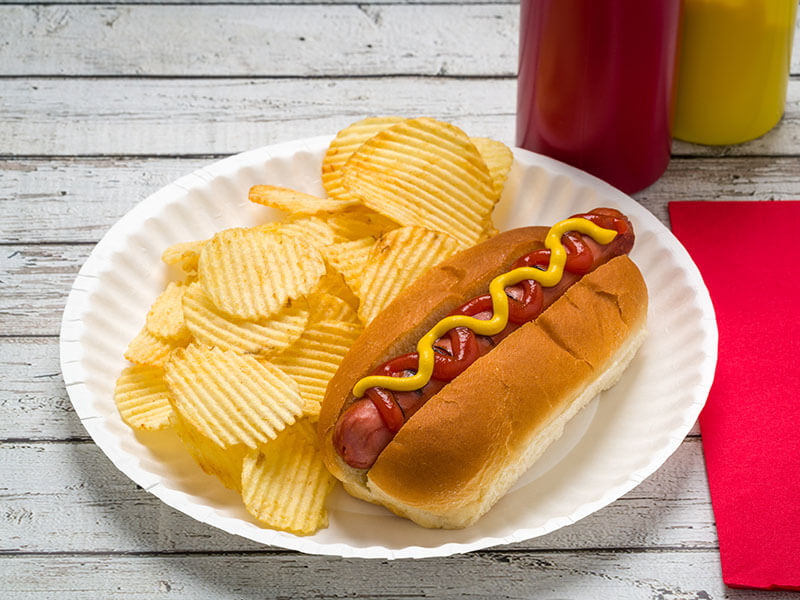 The plain white paper plates are the most popular types people usually use. And they are also considered the safest paper plate.
Besides the color, you should notice the chemical on the paper plates. Some white paper plates use plastic as a protective layer. If these layers are not resistant to high temperatures, they will melt at once. And this is not good for your health when eating food is absorbed with chemicals.
Dyed, patterned paper plates are also bad ideas when you want to put them into the microwave. Those plates contain ink or dyes that may affect your health through chemical color secreted from the plates. So, plain white is much better.
Materials For Microwave-Safe Paper Plates
There are some materials for paper plates I found that are safe in microwaves. You can check whether your kitchen has these for putting in the microwave or not.
Wood
Of course, the manufacturers make paper plates from wood and form them into plate shapes. But it will be better for microwaving if it is 100 percent from pulp and no toxic substances.
However, this kind is only appropriate for dry food. Oily and liquid will leak because this kind does not have wax or plastic coating for layer protection.
Bamboo
The disposable bamboo plate uses a sheath, the protective outer layer of the bamboo culm, to make into the product.
You will be released when you hear that the manufacturer uses no harmful materials or contamination throughout the manufacturing process. For that reason, you can microwave bamboo plates without wondering if they release pollutants or not.
The plates are guaranteed to be 100 percent natural and biodegradable. Additionally, they can be composed in as little as 2 to 6 months.
Leaves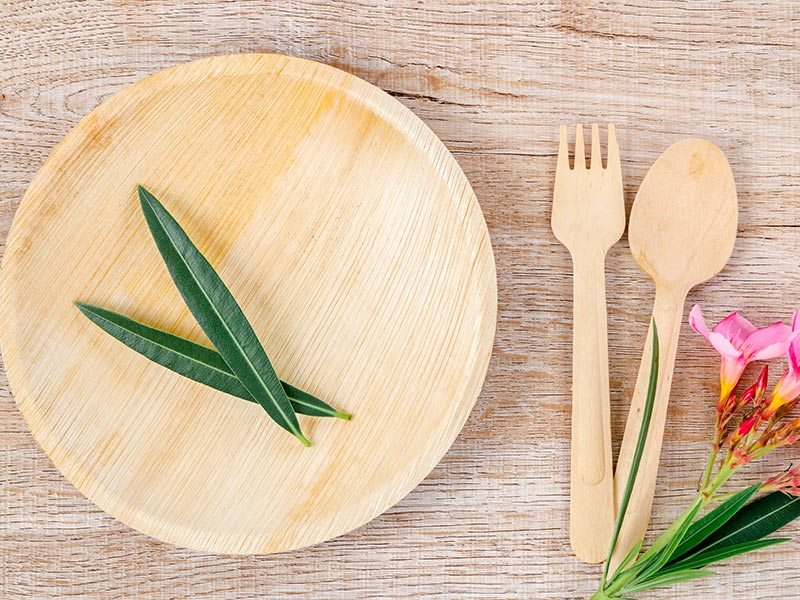 The most popular leaves used in manufacturing paper plates are Areca palm leaves. The products are convenient to use and portable.
If you are wondering about the quality of the plates, you may be surprised when they are highly durable and not easy to leak and crumble when you want to contain food.
One outstanding feature of Areca paper plates is that they contain zero chemicals, no wax, and no plastic coating, which means you can microwave them comfortably without fear of food contaminated with chemicals.
Paper Plates Brands You Can Consider
These are some paper plate brands that you can take as references.
The paper plates of this brand have a variety of sizes and prints. It is microwave-safe, cut-resistant, and thick enough (5 layers) to avoid soaking. The coating is water-based, which is friendly to people's health.
Just like Dixie, Glad has various sizes and colors for paper plates. Paper plates from the brand are sturdy and durable enough to use daily. It is microwave-safe with no harmful chemicals for your health.
The compostable paper plate of Comfy is one of the differences from others. It has a simple plain white with no prints on it.
Sugarcane fibers are the ingredients to make this paper plate. It is eco-friendly, thick, and leak-proof. You can use it for containing hot or cold food, microwave this paper plate is alright too.
How To You Microwave Paper Plate Safely?
Are you still afraid that the products will harm you? Or you do not know what you should do when you want to heat food with them? So, I will be glad to help you.
4 Steps To Microwave Paper Plate
Some steps I list below will instruct you on how to microwave paper plates safely.
Step 1: Choose An Appropriate Paper Plate
Find a sturdy, microwave-friendly paper plate that can be microwaved, and be sure it is clean and dry. You can refer to some of the brands I mentioned above.
Step 2: Choose The Appropriate Food
Place the food on the plate. For liquid food, you should avoid using paper plates to contain it. Besides, you can use one or two layers of paper plates for greasy or oily food to avoid messing with your microwave.
Step 3: Care For The Time And Temperature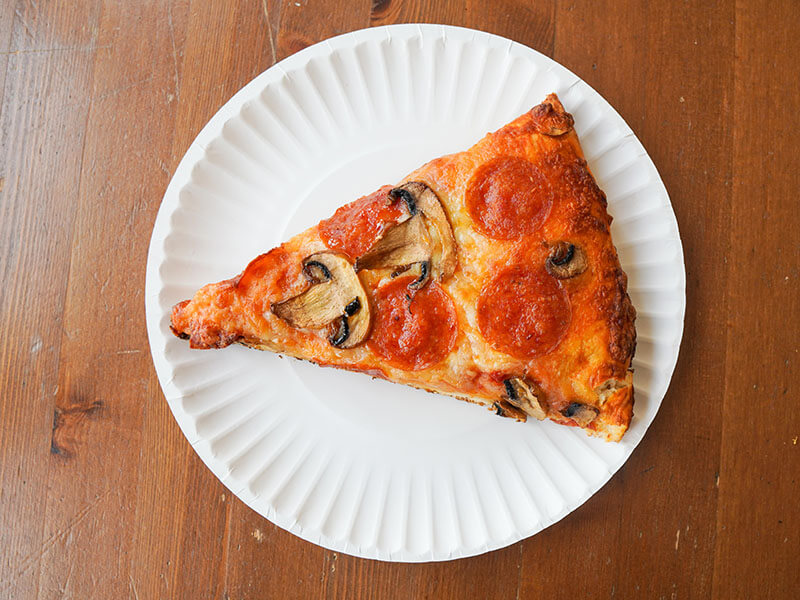 Remember to watch out for the time and temperature. As I reminded you above, no more than 2 minutes and the temperature should be around 450 degrees Fahrenheit.
When taking the food out of the microwave, gloves can be a great assistant that protects your hands from burning.
Tips To Microwave Paper Plate
You may encounter difficulties when microwaving paper plates. Maybe there are ways to instruct you on microwaving a paper plate, but I will recommend some tips to help you microwave it more easily.
Choose The Right Product
As I mentioned before, plain white paper plates are the best choice when you want to microwave them for their safety.
I recommend not using colorful patterns in this case. Because the color, ink, or other chemicals may leak and catch fire easily, or even worse, they also can leach into food and cause health problems.
Avoid Spilling
Paper plates are comparatively thin that may leak when you microwave them. To be sure, placing a glass or ceramic plate below the paper plate could help you to hold it firmly. Doing this also prevents messing up your microwave.
Stack Some Paper Plates
While microwaving with dry food such as vegetables, you do not need to stack plates. However, for oily foods such as fried food and pizza, you should use two layers or more when microwaving, especially for thin paper plates, so the extra will catch the excess oil and minimize your microwave dirt.
Do Not Use Paper Plates For Cooking
I recommend only using paper plates for reheating food. Cooking food with paper plates can burn the plate, and it is super hot for you to touch them.
Besides, toxic substances may be released when meeting high temperatures.
Avoid Anything That Can Cause A Fire
You should check whether your brown paper bags, metallic items, silverware, paper plates, aluminum foil can go into the microwave or not before cooking to avoid heating up and causing a fire.
Extra Precautions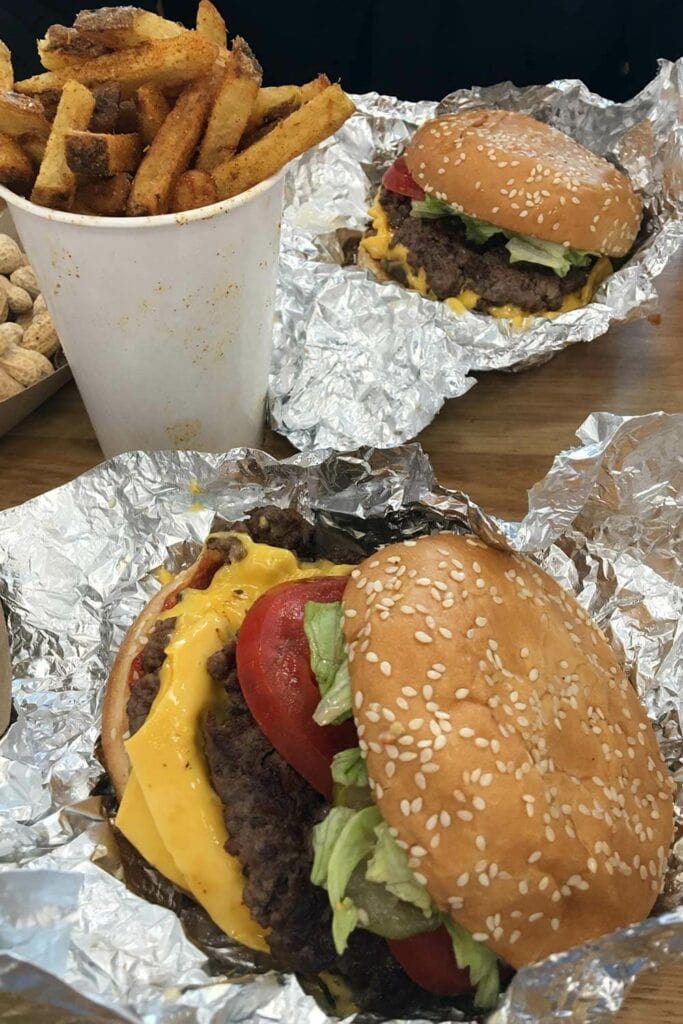 I want to remind you that microwaving paper plates for more than two minutes can damage the integrity structure and your food. The longer you put it in the microwave, the more risk you can take.
You should avoid microwaving an empty paper plate without food in it. The heat can damage the structural integrity and the microwave magnetron.
How To Test a Plate for Microwave Safety?
You can tell whether your paper plates are safe or not just by examining them. Through the three steps below, I will show you how to try it.
Step 1: Prepare Necessary Things
You will need to prepare a bowl of water and an empty paper plate.
As I mentioned, heat-resistant materials are the ingredients used to make paper plates. So in this way, you can know at once how it works.
Step 2: Fine-Tune The Timing And Temperature
You will need to put a water bowl and a paper plate into the microwave. Set the time within 2 minutes and the high temperature.
Step 3: Observe And Check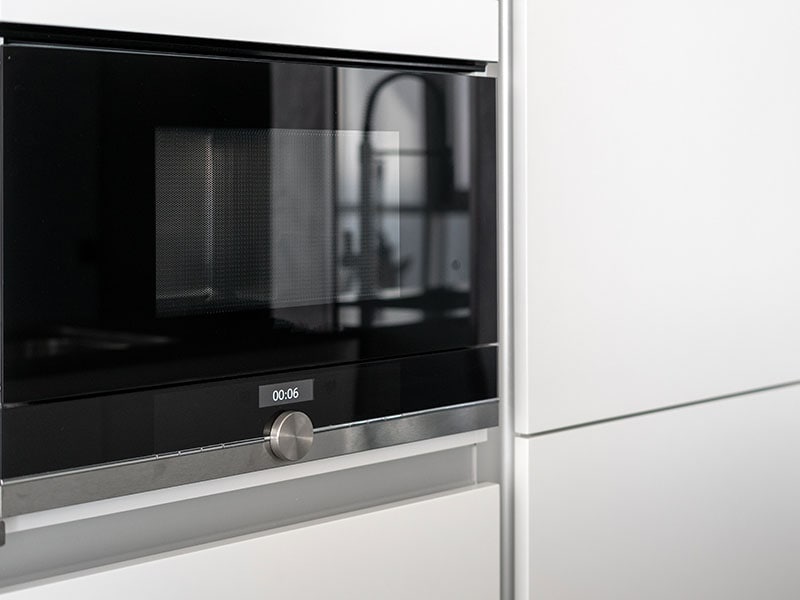 After that, if you see the water bowl is hot and the paper plate is just the same, that paper plate is microwave-safe. Vice versa, if the paper plate is heated up and the water bowl is not, it means the paper plate you are using is not for the microwave.
Why Do People Use Paper Plates To Microwave?
Although you can use other types of plates when microwaving. But paper plates have some advantages that others do not have. What are they? Let's find out those pros.
You Do Not Have To Clean
The paper plate is disposable. You can use it once without washing it. So, it is suitable for those who want a quick meal after microwaving.
More Durable
Paper plates are different from glass plates because you do not have to concern if the temperature will break or even explode the plate in the microwave. With paper plates, you can relax and enjoy food whenever you microwave food with them.
Take Up Less Space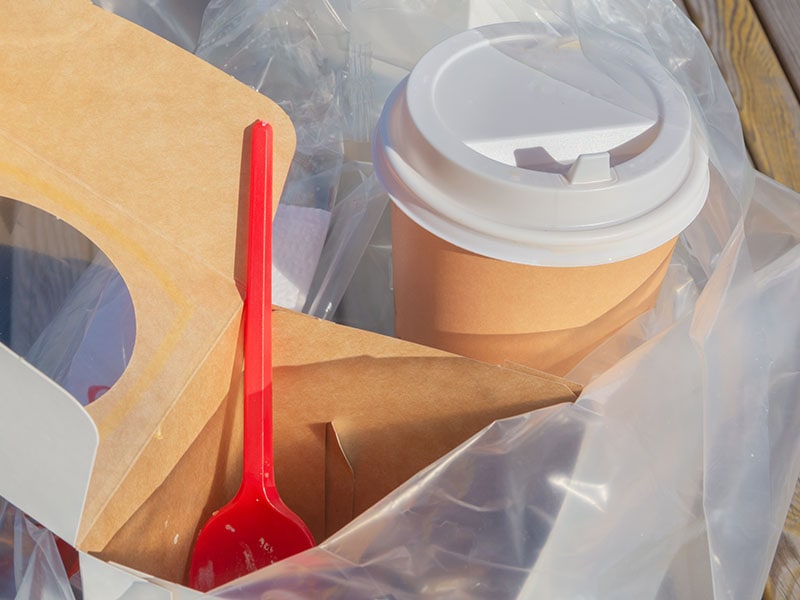 A medium paper plate saves more space and is easier to take out of the microwave. Although different sizes depend on the needs of users, with paper plates, it is more convenient when you can fold them and take them out of the microwave.
And if your paper plates may be slightly larger than the microwave, you can adjust them. The nature of it is paper, so you can fold it and move it quickly.
What Toxins May Paper Plates Produce In The Microwave?
Though I have mentioned there are paper plates that are safe in the microwave, the toxins that may produce through paper plates should be one of the issues you should concern about them.
Below are some toxins you may notice through paper plates.
PFAS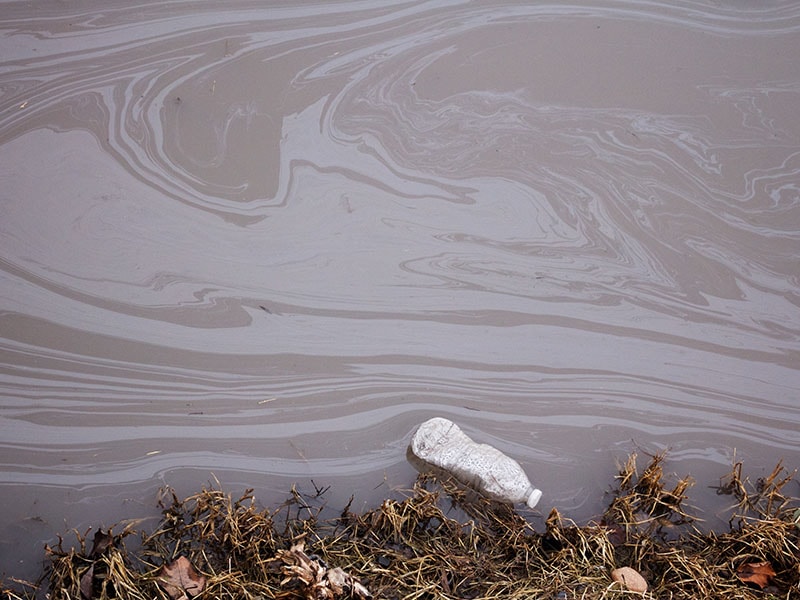 A paper plate can produce PFAS chemicals resistant to water and grease. Besides paper plates, cosmetics, clothes, carpeting, water, and animal bodies can also contain PFAS. (1)
Exposure to PFAS can lead to:
Testicular and kidney cancer are more likely to develop in people exposed to PFAS.
Women can get a lower chance of getting pregnant.
Pregnant women are more likely to develop preeclampsia and give birth to underweight babies.
Risk of obesity.
The capacity of the body's immune system to fight infections is lower, including vaccine responses.(2)
Those exposed to greater PFAS will be less likely to benefit from vaccines, obesity, and diabetes.
VOCs
VOCs are also a toxic substance you can find in paper plates, a hazardous chemical that has shown to have a terrible detrimental impact on your health.
You may get headaches, lack coordination, and harm your liver and kidneys. In addition to being bad for the lungs, VOCs can make you tired and queasy. (3)
BPA (Bisphenol-A)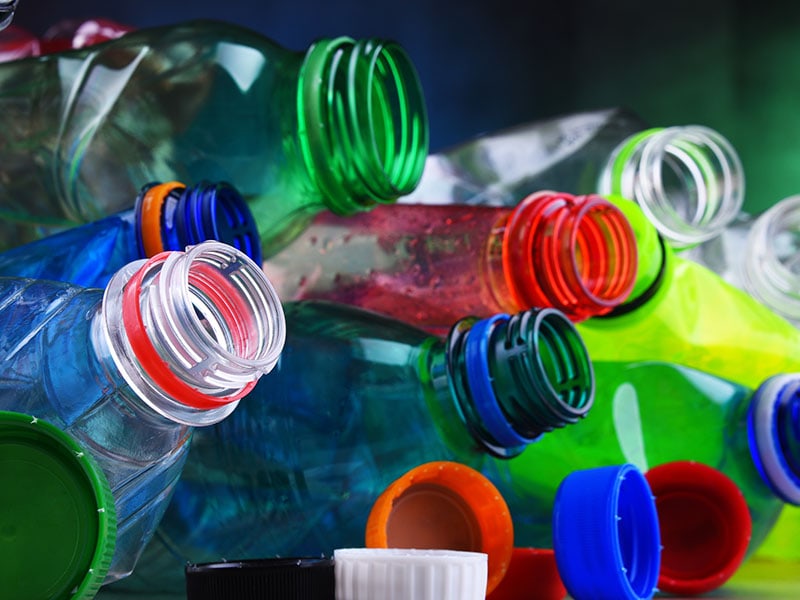 BPA is an industrial chemical that can exist in many products made of plastic, some products such as water bottles and food containers.
Even paper plates and cups contain BPA as well. This chemical harms the child, which causes early puberty and low sperm count. Moreover, BPA can cause breast cancer.
Hot food and beverages contained in these products leak BPA into even more cold food and drinks.
FAQs
You may feel unsafe about using paper plates in heating products and some other products made from paper, and you may also wonder if they are safe or not. I believe some of the FAQs below can answer some of your questions.
No Need To Worry When Microwaving Paper Plates Anymore
And that is all the information I would like to provide you with the questions for this topic.
To conclude, paper plates are safe when microwaving as long as you check carefully and read the cautions on the products. Remember to choose the right paper plate, watch the time and temperature, and follow all the instructions I mentioned to get the best result.
If you have any comments or further information, please leave a comment below. If you find this helpful, please like and share this article. Your contribution will help me a lot. Thank you very much for your support, and have a nice day!
References
epa.gov. 2022. PFAS Explained.
epa.gov. 2022. Our Current Understanding of the Human Health and Environmental Risks of PFAS.
Lafond, A., 2022. Most Dangerous Volatile Organic Compounds (VOCs).