Can you put paper towels in the microwave? Though microwaving food using paper towels seems convenient and quick, many still worry about fire hazards and other potential problems.
Nevertheless, paper towels are prone to heat and fire, making you feel skeptical when putting them in the microwave. I will discuss this practice's risks, benefits, and safety measures to give you a detailed answer.
You can learn more interesting and helpful information about microwaving kitchen utensils based on the information provided. Now, let's dwell on the answer you yearn for so much.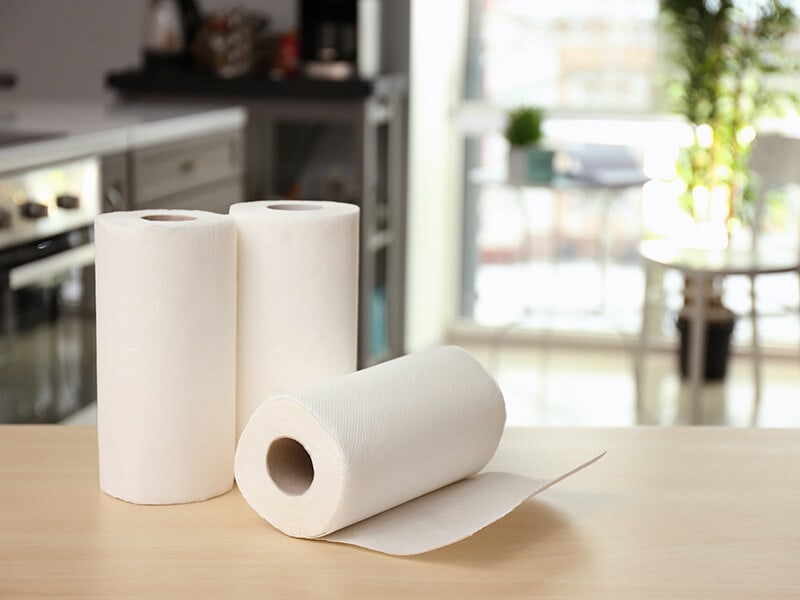 The Components Of A Paper Towel
A paper towel is a combination of numerous cellulose fibers woven together. Meanwhile, cellulose fibers consist of billions of smaller molecules linking to each other. These tiny molecules are sugar molecules, which can absorb liquid and water.
For this reason, paper towels can absorb water and clean spills very efficiently. Though it is made of sugar molecules, a paper towel is neither edible nor contains any nutrients because our digestive system cannot split them.
Is It Safe To Put Paper Towels In The Microwave?
The answer is yes. It is generally safe to microwave paper towels, but you must follow some precautions. When done incorrectly, your paper towel can catch fire and lead to unwanted problems.
The first potential risk you should consider is fire hazards when microwaving the paper towel at high heat (around 451 °F or 232.78 °C). Though most paper towel products are made to withstand high heat from microwaves, they can catch fire when sitting in the microwave for too long.
In the following sections, I will explain why a paper tower can catch fire and provide you with some helpful tips to reduce these risks and microwave the towel safely.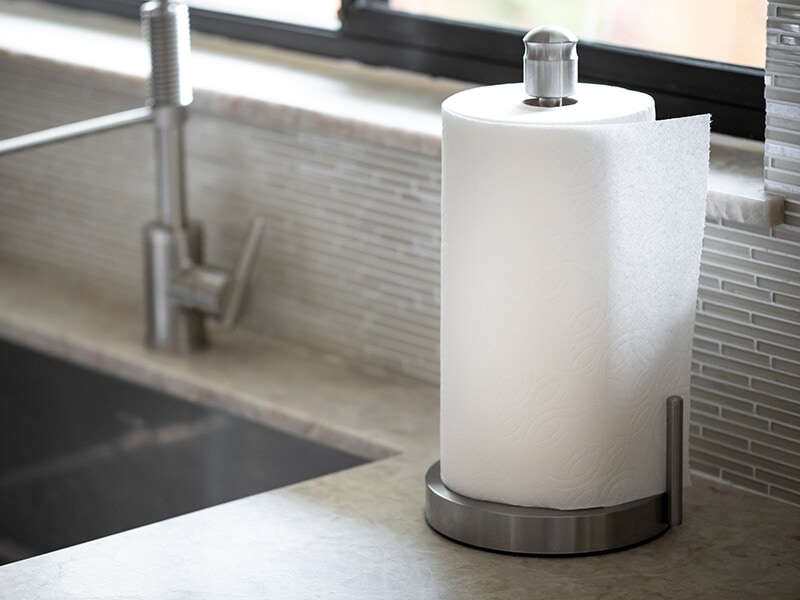 Things You Should Note When Microwaving Paper Towels
As mentioned above, paper towels can catch fire inside the microwave when you overheat them for too long. If you follow the safety tips and notes below, there won't be a problem.
The Paper Towels Can Catch Fire At High Temperatures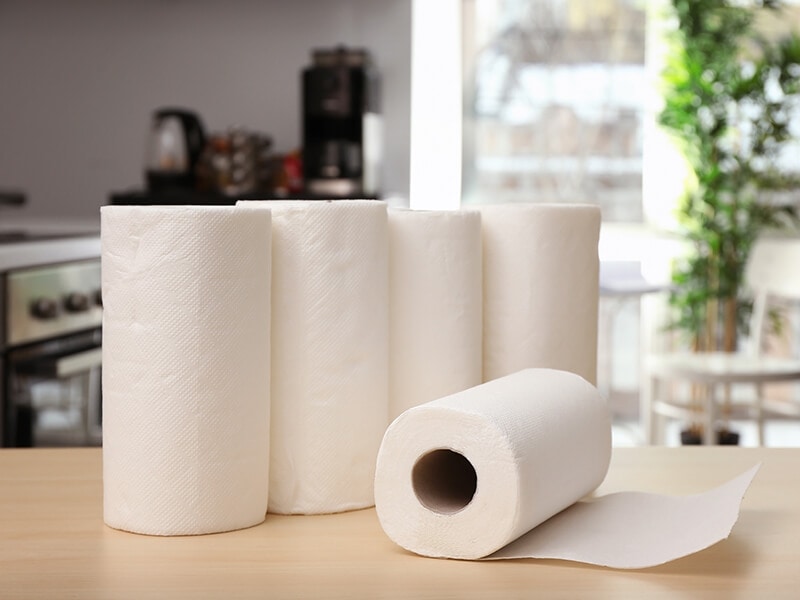 It's safer to microwave paper towels as they don't contain much water content, making their texture less susceptible to burn and fire. Although the chance of paper towels catching fire when heated in a microwave is not high, it's not impossible.
Pure paper towels can catch fire when heated for long enough inside the microwave at high temperatures ( 451°F or 232.78°C). The risks of fire hazards significantly increase when you stack many paper towels inside the microwave at a time (more than four).
In addition, you should not fold the towel or microwave many stacks of towels because the heat cannot circulate evenly and gets trapped in a certain area, thus increasing the risks of burning.
Also, don't microwave your paper towels for too long because the heat will build up and spark a fire.
Here is a detailed explanation for microwaving paper towels!
Pay Attention To The Microving Time
The microwaving time can vary based on the power of your microwave and how many paper towels you put in. However, I recommend you microwave the paper towels for less than five minutes; sometimes, a few seconds are sufficient to heat food.
If you need to cover food with multiple paper towels to microwave for a long time, don't leave the towels unattended. You should check the towels every 15 to 30 seconds to stop the microwave if the towels catch fire.
Please turn off the microwave immediately if you inspect any slight sign of smoke or overheating. Then, wait for the heat to slowly escape and carefully take out the paper towels using a tong or some fire-resistant tools.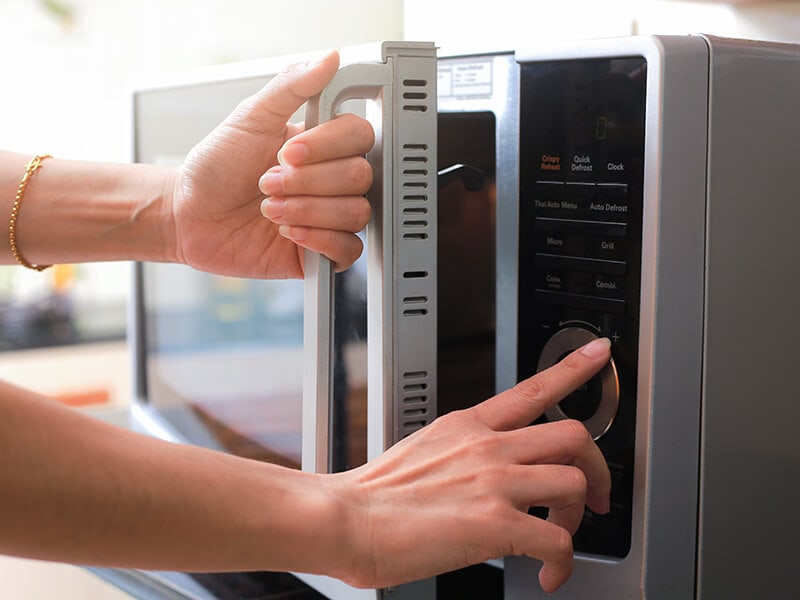 Wet Paper Towels Are Not Fire-Proof
To clarify this statement, you must understand the microwave's mechanisms and how they heat things. In simple words, the microwave heats food by vibrating the water molecules.(1)
When these water molecules vibrate and rub against each other, it will generate friction and lead to heat. For this reason, wet paper towels containing more water molecules are more susceptible to fire than dry ones when put in the microwave.
Furthermore, if your paper towel is only partially wet, the heat won't get distributed evenly, increasing the fire risks. Lastly, microwaving wet paper towels will generate steam and moisture, which can ruin the food wrapped inside the paper towel.
Therefore, I don't recommend microwaving wet paper towels for too long because they can heat up rapidly. To enhance safety, let the paper towels dry before putting them in the microwave.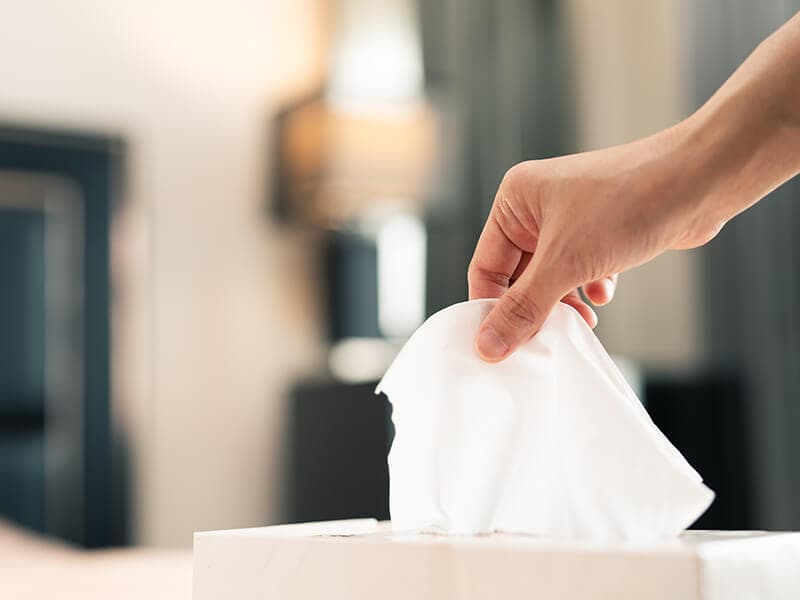 Reason For Microwaving Wet Paper Towels
As mentioned above, you can still microwave wet paper towels, but please don't underestimate fire risks. Meanwhile, microwaving wet paper towels has some advantages compared to dry ones.
Firstly, the steam will increase the paper's weight, preventing them from swirling or falling off the dishes in the microwave. In addition, you can cover food or put them on wet paper towels to retain its moist texture when microwaving.
This is the best way to microwave food using a wet paper towel.
It Is Okay To Microwave Bounty Paper Towels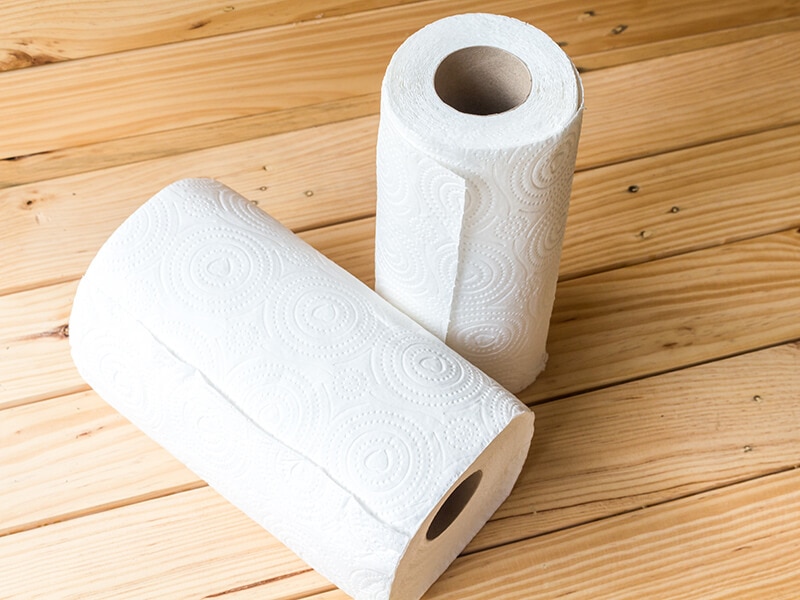 Bounty paper is a popular brand with excellent absorbing capacity and performance. Bounty paper towels are generally safe to put in the microwave, like other paper towel products.
Bounty paper towels are made from wood pulp and contain no water in their texture. Therefore, you are less susceptible to the microwave's heat. However, fire hazard risks are still present, and you should follow the safety tips to microwave them safely.
The mechanism of microwaves is more interesting than you think!
The Benefits Of Microwaving Paper Towels
Why would you want to microwave food covered in paper towels anyway? Paper towels can help you do more things with food than just covering them. Here are some uses of paper towels you will find helpful.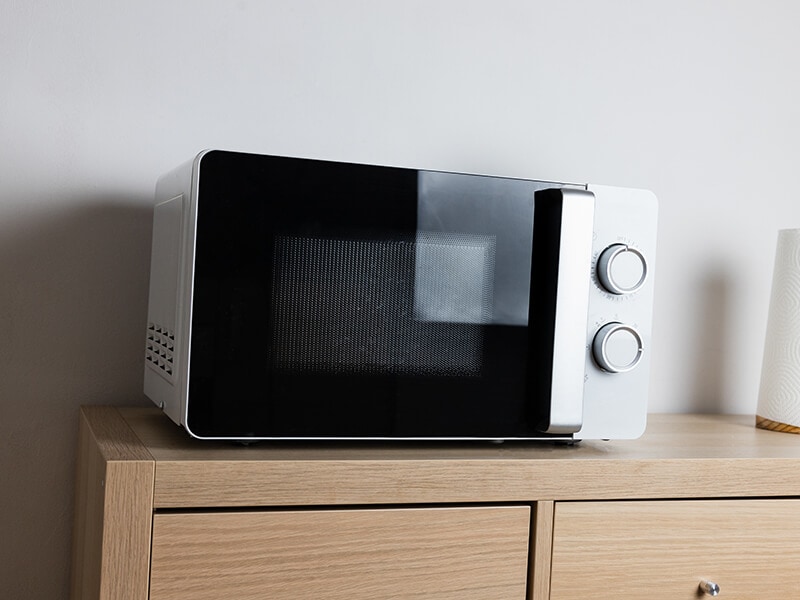 Prevents Food From Splashing
Covering food in paper towels is one of the most convenient ways to prevent it from splashing or dripping all over your microwave. If you microwave food without covering it, it will form moisture bubbles and splash on the oven.
You just need to cover the food container using one or two paper towels. Consider using wet paper towels, which will absorb and distribute the heat evenly to your dish without overcooking it.
If you microwave liquid food like soups or stews, place a paper towel underneath the container to catch the drips. It will save you time and effort cleaning the turntable.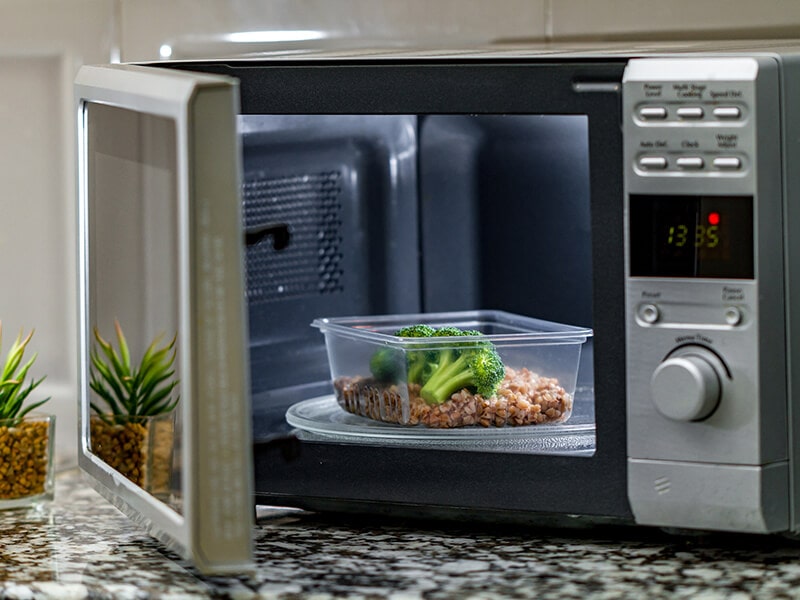 Sterilization And Odors Removal
Not all paper towel products are clean and safe for human use. Research indicates that paper towels can contain harmful bacteria and transfer them to your hand, mouth, and food.(2)
You would want to sanitize the paper towels for cleaning hands or food. To do this, set the microwave to high power and heat the paper towel for one minute. Then, wait another ten minutes for the towels to cool down while the steam cleans the odor.
In addition, you can place a paper towel on the container when microwaving dishes with strong odors like fish and onion. The towel will absorb the odors and make your oven less smelly.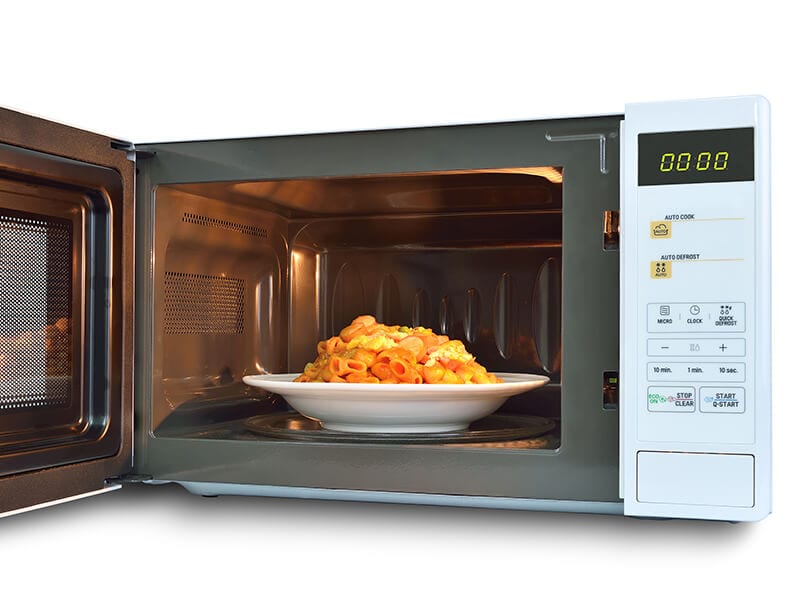 Drying Herbs And Spices
Another great tip is to use paper towels to dry the herbs and spices in the microwave. This method is quicker and more convenient than using a dehydrator.
First, arrange the spices and herbs onto one layer of paper towel and pat them down. Then, transfer the towel to the oven and microwave it for 30 minutes until the spices and herbs slightly shrink in size and get dry.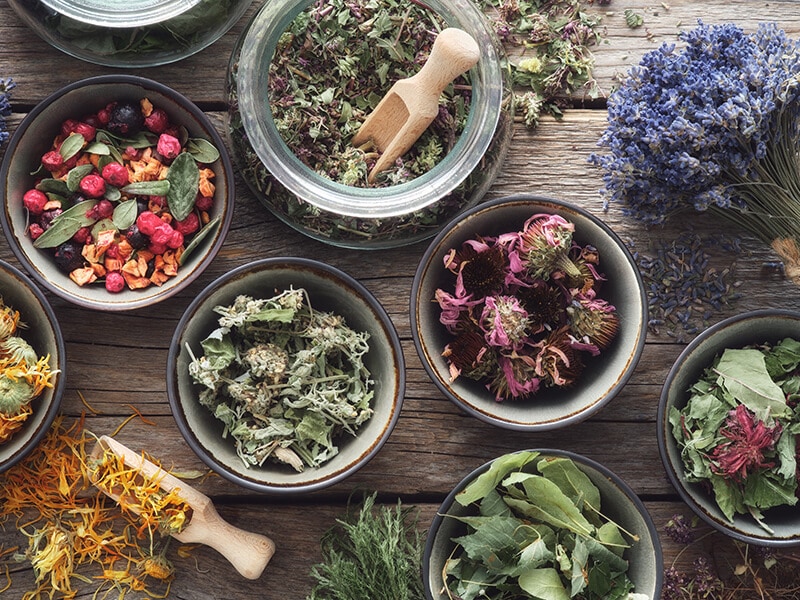 Tips To Microwave Paper Towels Safely
Here is a summary of the safety tips and precautions you should consider before microwaving paper towels.
If possible, please use paper towel products with microwave-safe labels. Also, check the product's description carefully to know if it is safe for the microwave.
Avoid using recycled paper towels as they may contain metal particles, which can spark a fire and ignite.
Don't put many layers of paper towels or fold them in the microwave because the heat cannot distribute and circulate evenly.
Don't use wet paper towels because microwaves can vibrate the water particles and lead to ignition.
The ideal microwaving time for paper towels should not be more than several minutes. You should monitor them occasionally during the process to avoid overheating or unwanted problems.
It's best to avoid using paper towel products with printed patterns because heat can melt the ink and transfer it to food. If you use a printed paper towel, only use its clean side to touch food.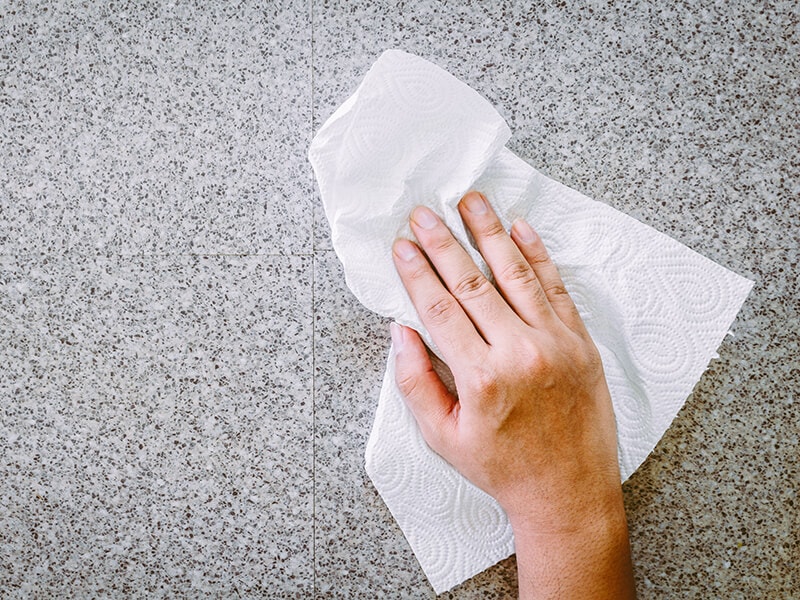 The Best Methods To Microwave Paper Towels
Microwaving paper towels is generally safe and simple, but you should follow the right methods to minimize the risks of fire hazards. Here are some convenient and safe ways to use paper towels in the microwave.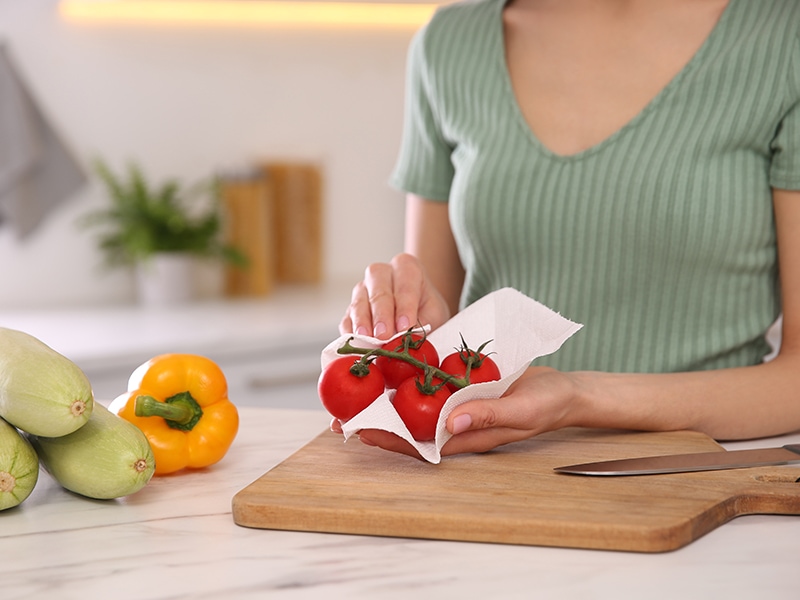 Method 1: Cover The Food's Top With Paper Towels
Microwaving dry and light food can make them spill or splatter off the plate. To prevent this annoyance, you can cover the dishes' tops using paper towels to prevent them from splashing.
In addition, this paper towel layer can prevent the heat and moisture from escaping, thus keeping your food from drying and heating it more evenly. If you microwave dry food like fried potatoes, consider using a wet paper towel to cover it.
When microwaving liquid food like stews or soups that can easily splash out, you can put them on a plate and cover them using a paper towel. This method facilitates heat circulation without overcooking your food.
Method 2: Use Paper Towels As A Food Container
You can wrap paper towels around dry food and microwave them to increase moisture and tenderness. This method works well with dry dishes and snacks like fried potatoes or tortillas.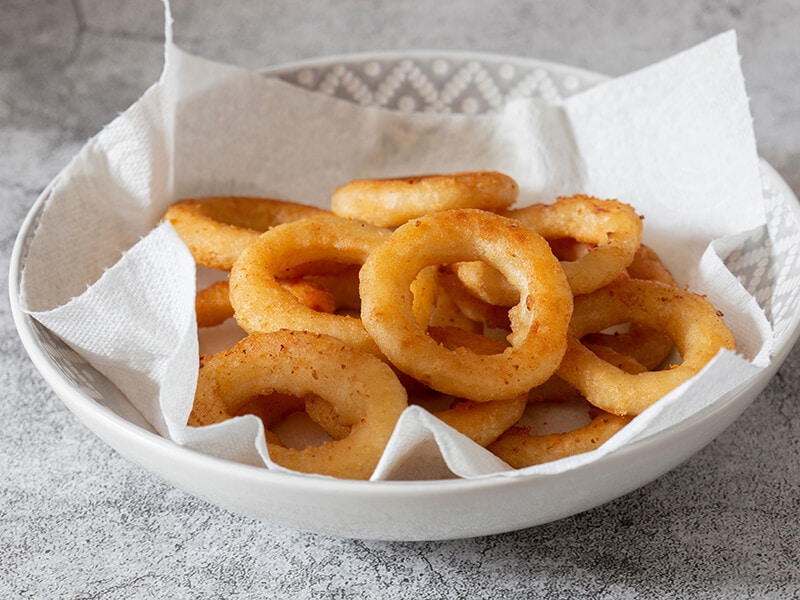 Things You Should Avoid Putting In A Microwave
In general, you should not put anything that contains metallic components like steel, iron, or copper, which can reflect microwaves and generate fire. Here is a list of unsafe objects and materials to put in a microwave.
All metal objects, like metal utensils or aluminum foils, can generate fire and sparks in the oven.
Unopened food cans with a metal container.
Plastic bags (which can ignite or melt under the microwave's heat).
Some food types include whole eggs, uncooked meat with bones, and fruits and vegetables containing seeds or pits.
FAQs
The sections below will give you more interesting facts and tips about the microwave. Check them out to learn more!
It Is Safe To Microwave Paper Towels, But You Have To Be Careful
In summary, it is generally safe to microwave paper towels. However, you should not rule out the risks of fire hazards, which can happen when you microwave wet towels or heat them up for too long.
If possible, you should prioritize microwave-safe paper towels with the official labels from the manufacturer. Also, don't forget to monitor the paper towels carefully when they heat up in the microwave.
When done correctly, microwaving paper towels can help you conveniently reheat food. I hope the answer and information provided can satisfy you. If you enjoy reading this post, please comment and share it with your loved ones. Have a nice day!
Paragraph
Scientificamerican.com. 1999. How Does A Microwave Oven Cook Foods. [online]
Webmd.com. 2011. Bacteria in Unused Paper Towels? [online]