It is more than once that everybody needs to Google, "can you put stainless steel in the microwave". At least among the housewives and househusbands, it scares them when they hear somewhere that the microwave would explode if they put any metals inside.
Stainless steel, or metals in general, has a complicated relationship with microwaves and vice versa. In this article, you will learn how microwaves work and how that process affects metals.
As a result, you can finally learn some basic knowledge of microwaves before determining what you can put in the microwave and what you should not, including the answer for stainless steel.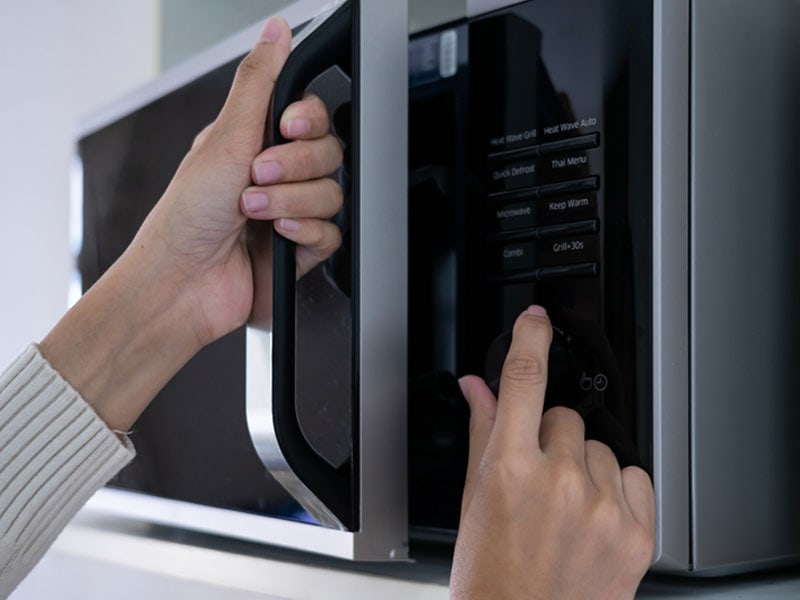 Microwave Mechanism
The microwave is irreplaceable in the kitchen, but most of the time, it doesn't get enough attention to its capabilities. Let's take a look at how it works and the most understandable mechanical features.
How Do Microwaves Cook Your Food?
Microwaves are electromagnetic radiation with two waves of electrical and magnetic energy traveling in space. An electron tube called a magnetron produces microwaves reflected by the metal inside. (1)
From here, the food will absorb those microwaves, where atomic motions generate heat. Yes, you can shortly conclude that your microwave makes molecules in the food vibrate and create thermal energy.
Visualize and explore the science behind the microwave here.
Simple Scientific Features
You can grab some scientific characteristics for a deeper understanding of how your microwave cooks your food. Don't be scared; it is not as academic as the chemistry class:
Electromagnetic spectrum: including an arrangement of various forms of electro spectrum based on their range of wavelengths and frequencies.
High-voltage electric power: The core of the microwave can deliver a voltage of 3000 to 5000 volts.
Characteristics of microwave radiation: This makes your oven interact with food at the molecular level, like visible light.
More important, once you understand the above basic features, you can draw some practical conclusions:
Foods that are higher in water content can be cooked faster than others (vegetables, cheese, etc)
The microwave cooks the food from outside in, not vice versa as many people think
More or less, there is reflection when you put metals into your microwave. In other words, not everything in the microwave can have a good relationship.
Is Stainless Steel And Microwave A Good Match?
Back to the main question here, but before diving into any concept, you need to be aware of the background. This case is about the nature of stainless steel.
Overview Of Stainless Steel
Stainless steel is a metal with a layer of chromium oxide on its surface of at least 10.5% or more. (2) Therefore, it has high corrosion resistance.
Regardless of how polished and superior, stainless steel is not too different from the generic steel family when put into the microwave.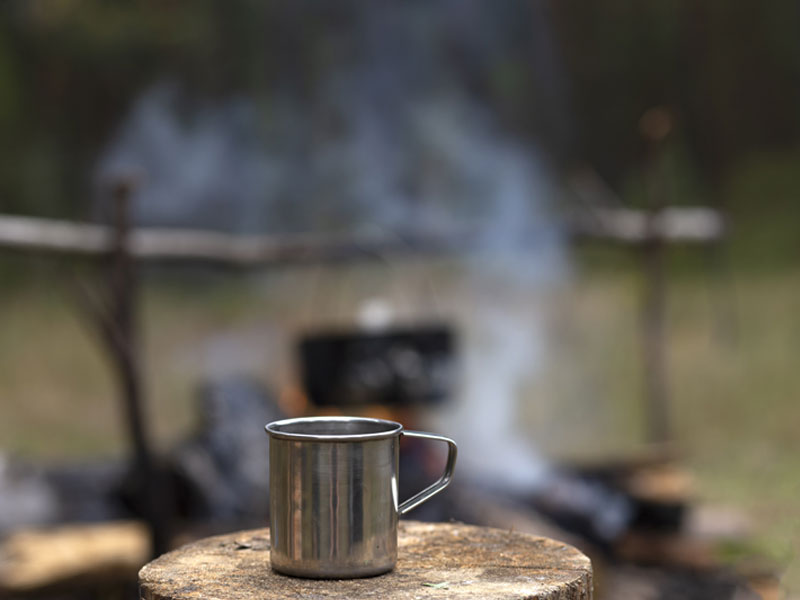 Can You Put Stainless Steel In The Microwave?
After knowing the operating principle of a microwave, I guess you can determine whether you can put stainless steel in it. The best option is: Don't.
You might have a habit of warming up your coffee in a stainless steel cup and see nothing sparks dangerous. Nothing happened doesn't mean it won't be dangerous, just that it hasn't happened yet.
What happens when you put a metal object, especially stainless steel, in the microwave? In general, the electrons from the metal reflect the waves produced from the inside and cause electron cloud clusters.
Those clouds will spark if it is big enough and gathers enough electrons. You can get away with a flat sheet of cup or bowl, but if it is a stainless steel fork or spoon, you will probably hear the crackle and see sparks flying around.
I will explain the reasons later on, but in short, it is a No when it comes to putting stainless steel in the microwave.
Note: there's a myth spreading among each other on the Internet that No.304 stainless steel is an advanced high-quality steel and microwave safe. The truth is it is the most common kind of steel with chromium and nickel, which is widely used in producing many utensils.
So it is the same as normal stainless steel that is good for storing but not microwave-safe.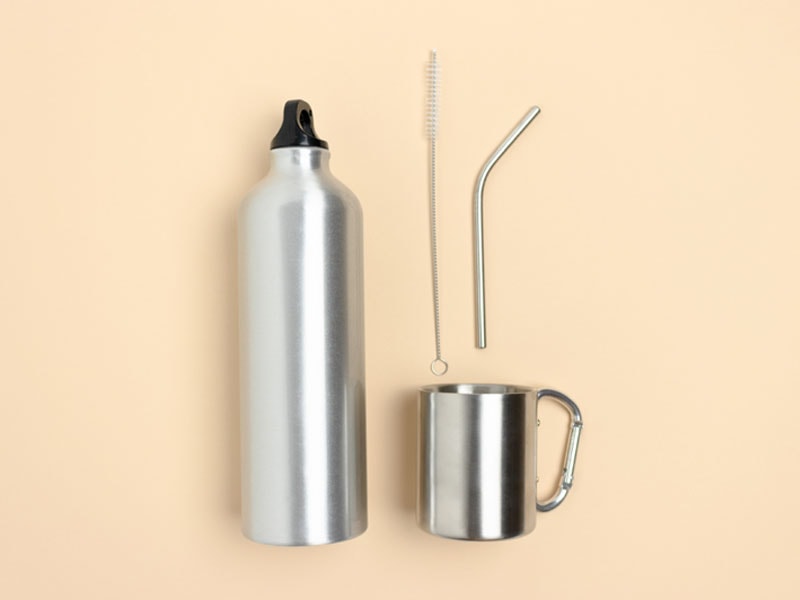 The Factors Affect The Safety Of Metals And Microwaves
In absolute terms, you have to know that metal in the microwave is not a good idea. However, if you want to dig deeper, some factors contribute to safety.
You can shortly remember through this table:
| | |
| --- | --- |
| Criteria | Demand |
| Shape | Flat, smooth |
| Time | For around 30 seconds |
| Label | "Microwave oven safe" |
Shape
All metals have electrons, ranging from gold and silver to aluminum and steel. Therefore, the reactive possibility does not depend on the material but on its shape (flatness, sharpness, and directions).
When your utensils meet the requirements of shape, it is also important not to let the object touch the sides of the microwave.
The safe utensil or "microwave friendly" must have either or both following shape characteristics:
2D Shape Or The High Direction Is Negligible
Microwave approved: flat plate
Not recommended: metal pan, bowl, high cup
Flat Or Round Surface, No Spikes Or Small Grooves
Microwave approved: spoon
Not recommended: fork, chopsticks, serrated meat knife
Is it easy to imagine the two above features? Finally, it prevents electron clouds from clustering at the chop point and creates more connection to the microwave walls, which leads to sparks flying around in the device.
A flat plate in the microwave won't make any contact with waves surrounding the top. Vice versa, a pan with four sides will directly reflect the electrons and cause sparks.
Similarly, a spoon can disperse the electron evenly on its round surface while a fork appears sparkling around its edges and corners.
All these mistakes are not only dangerous for electrical safety but also capable of damaging both your objects and your microwave as well.
So the next time, unless you forget, do not leave folders like a spoon, fork, or knife along with food when you need to heat your meal.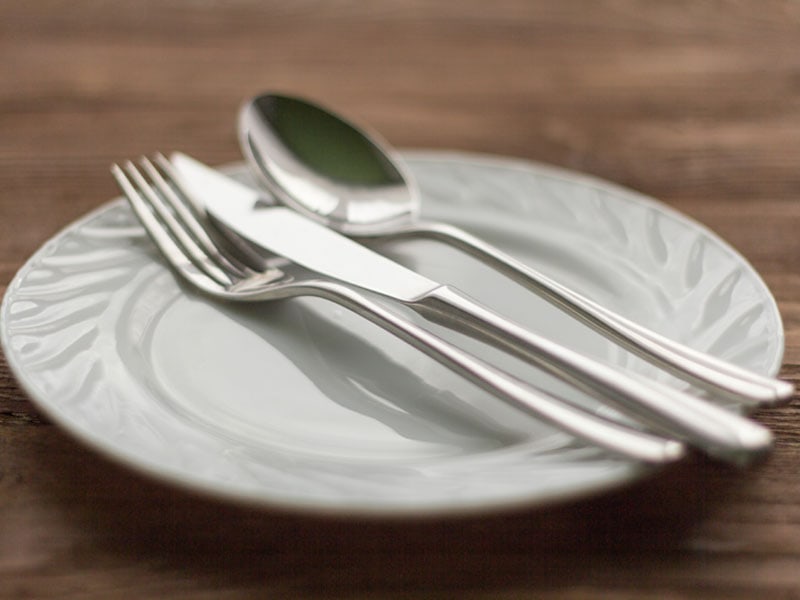 Time
According to most user experience, you can safely reheat your food for around 30 seconds without any dangerous problems. Within that period, it is enough for you to heat up your pasta blister or can of peas with the initial container.
Don't forget that over 30 seconds is not recommended, even if you have done it many times before. You absolutely don't want to set a timebomb in the lovely kitchen, right?
"Microwave Safe" Label
More securely, you need to pay attention to the manufacturer's labels. Nowadays, companies take a lot of containers, cookware, and plates to test for microwave safety.
Typically, the items you can put in the microwave have a microwave symbol indicating safety. This symbol varies in the marketplace, but overall, it has a triangle frame (stand for the machine) and wave shapes.
In some items, it can be written directly on the package with the symbol "microwave oven safe", "microwave safe", or just "oven safe". You should ask the sales staff or read the instructions carefully from the brand to find out more.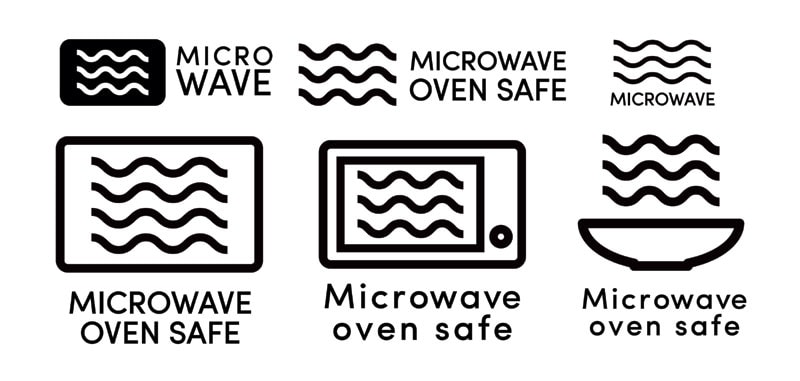 Something More To Take Note About The Microwave
Even when you know clearly about something, mistakes happen all the time. This is a short list of some little notes you may miss so you can continue to use and appreciate the microwave properly.
Small Test For Microwave Safety
You should know that putting stainless steel or metal in the microwave is not wise, even when you panic about all the kitchen cookware you have. Don't worry! Here are easy and safe steps to check out the safety of your microwave.
Step 1: Prepare A Microwave Safe Cup Of Water
When a plate has no label, you can test it by putting it in the microwave with a cup of water (cold water). Be sure that the cup's material has approval for safety, or the test doesn't work. You can find a cup that is glass or has a stamp of microwave safe.
Step 2: Run On High Power For 1 Minute
Put the plate and the microwave-safe water cup side by side in the microwave. In this case, you may put the cup on top of the plate.
Choose the high power (more than 200 Celsius degrees or around 392 Fahrenheit in temperature) and set the time for roughly 1 minute. Then wait and see.
Step 3: Take A Brief Comparison
Take objects out right when the time is up. Now, touch both the cup and plate to feel the difference. The result can fall into the following cases.
If the water cup is cold and the plate is warm, it may not be safe for the microwave.
If the plate temperature is cool and the water cup is warm, it is microwave safe because it doesn't absorb the heat too much.
Uncover The Microwave-Friendly Materials
Of course, you can't have all the experiences as a microwave professional. If they can't tolerate the metals, there are some alternatives.
Theoretically, based on the microwave electromagnetic principle, the most materials you can safely bake cakes, grill chicken, or warm up your food over a long period are
Ceramic
Items made of hardened clay can handle heat relatively well. Noticeably, the enamel of the ceramic coat may wear out over time and not be as beautiful as the original, but the resistance remains the same.
Glass
Most of the glassware is safe for the microwave, but you still need to check the label because some have a low percentage of pure glass and high plastic instead. Furthermore, non-labeled glass items may crack due to the high microwave temperature.
Heatproof Silicone
You can hardly find cookware fully made of silicone. Typically, silicone has a high heat tolerance when it can withstand heat up to 475 Fahrenheit.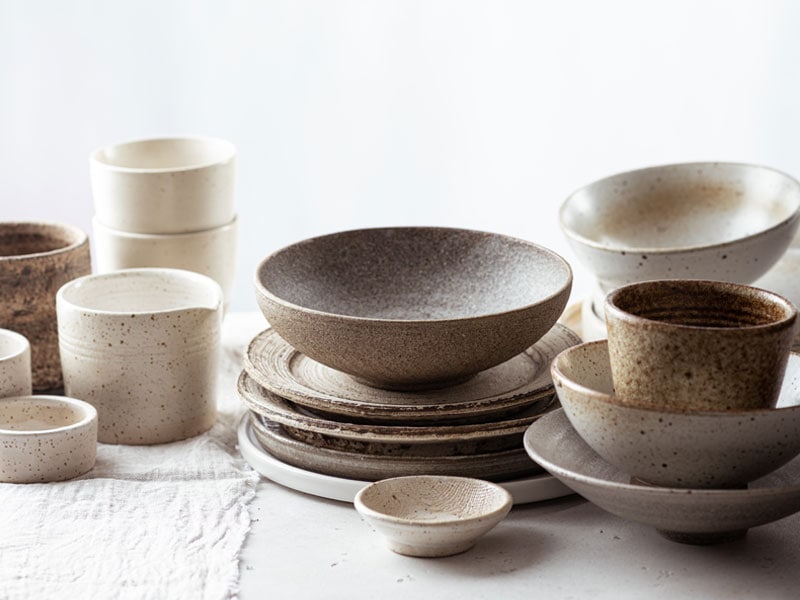 Grill Rack – Matters Than You Think
Whenever you buy a microwave, there is always a metal rack that comes with it. In fact, this is the only metal item that you safely put in your device.
This metal rack itself can take a lot of cooking duties. It helps your bread or hamburger be well baked on both sides of your steak and be grilled more evenly.
The reason for the rack safety is that the manufacturer has adjusted it to the specific frequency of the microwave's metal core. With the same electromagnetic unit, the rack doesn't cause the appearance of sparks or catch fire.
The user often lost the grill rack and found another one to replace it. This is dangerous because the retail rack is not specifically designed for the microwave, and an electricity conflict may happen.
Things You Maybe Missed About Aluminum Foil
Following stainless steel, aluminum foil might be the second most popular metal that everybody puts in the microwave and does not take seriously. I can immediately think about a cheesy Lasagna or Asian grilled fish foil.
In a short period, aluminum foil is in safe mode if it is put flat, straight, and not too large amounts. However, by the end of the day, this is not on the recommended list-to-do for microwave safety.
See what happens when you put different metal things in the microwave.
Here are some of the basic guidelines for the safe use of aluminum foil, according to USDA:
Only use brand-new, flat, smooth foil. The foil might arc if it is wrinkled.
Cover only 1/4 of the food in aluminum foil. (3)
Smoothly mold the foil to the food in order not to let the edges stick out.
It doesn't matter if the matte or the shiny side is facing out.
Do not place it too close to the microwave walls (closer than one inch).
Whenever you see the arcing or sparkling, remove the foil immediately and replace the food container with microwave-safe utensils.
What Else Not To Put In The Microwave?
While several factors can affect microwave safety, I can name some objects that are often underestimated in their potential dangers.
1. Paper
Before putting paper plates in the microwave, be sure that it is labeled as "microwave oven safe". Ordinary paper can release toxins that are not only bad for health when eating and smelling but also can easily catch fire.
2. Plastic
In the same words, carefully find the symbol on the package. Some plastic bowls can melt after a few minutes and poison your meal.
3. Styrofoam
It is very common with noodle bowls and takeaway containers when you buy street food. By nature, styrofoam is a kind of plastic that does not work well in any high-temperature environment.
Being put in high temperature leads styrofoam to melt and break down, which causes the toxic chemical called styrene linked to cancer.
4. Aluminum Foil
An important thing worth repeating. Check your own microwave manual and follow the mentioned guidelines above. Aluminum foil is another metal in addition to stainless steel that you shouldn't feature in the microwave.
5. Berry Fruit
Cherry, blueberry, or some kind of high water content fruit like grapes would explode and mess up your microwave. When you need the flavor, consider their jams instead.
6. Egg
The high extensibility of the egg leads to pressure building up inside, which can explode. In reality, there are some reported cases of face and eye accidents from microwaving eggs. Don't try hard-boiled eggs in the microwave, as the Internet says.
7. Liquid Without A Cover
Liquid can overflow the container and cause a mess in your microwave. The same situation is applied with sauce or dip too.
8. Frozen Meat
Once you forget to take the meat out of the fridge, a microwave isn't a good solution. Microwaving the protein while it's frozen means that you are cooking the meat unevenly, which ruins the overall meat texture.
9. Empty Cavity
Yes! Nothing is also a problem; it's even more serious than other mistakes. It is a dangerous move that shortens the machine's lifespan because the waves can spark fire after bouncing against the walls repeatedly when there is nothing to absorb.
10. Hot Pepper
Besides catching fire, the spicy chemicals the pepper releases while heating can burn your skin and eyes when you open the microwave. The fume is also not a good smell to breathe in.
Sum up a brief list of the names you should be cautious of.
FAQs
Breaking old habits can seem difficult, especially when you get used to it, and many questions are popping up about it. I would briefly answer a few commonly asked questions.
Wrap-Up Here. What Do You Need To Remember?
In conclusion, to the greatest extent, don't put stainless steel or any metals in the microwave to remain the safest guarantee for your kitchen.
Moreover, don't forget about other stuff that is not good for your food and microwave. I hope you have more knowledge and know more clearly about the microwave and, most importantly, how to use it most safely.
If this article reminds you of the neighbor who also has a habit of putting the stainless steel tray to grill the meat, alert them immediately by sharing this. For more questions about the microwave, comment below, and I will be there for a second.
Now it's time to say goodbye. See you soon with other interesting topics that shine your day.
References
Center for Devices and Radiological Health Microwave oven radiation, U.S. Food and Drug Administration. FDA.
What is stainless steel?
Food Safety and Inspection Service | Cooking with Microwave Ovens | Food Safety and Inspection Service.