Can you microwave paper cups? When holding a paper cup of unpalatable cold coffee, you might ask yourself this question. There are better ways to kick-start your morning than drinking coffee without rewarming it.
If there's little you can do instead of throwing it directly into the microwave to reheat the drink, let's wait until this post's end before taking action! You may rethink what you want to do when you realize the truth.
What Are Paper Cups Made Of?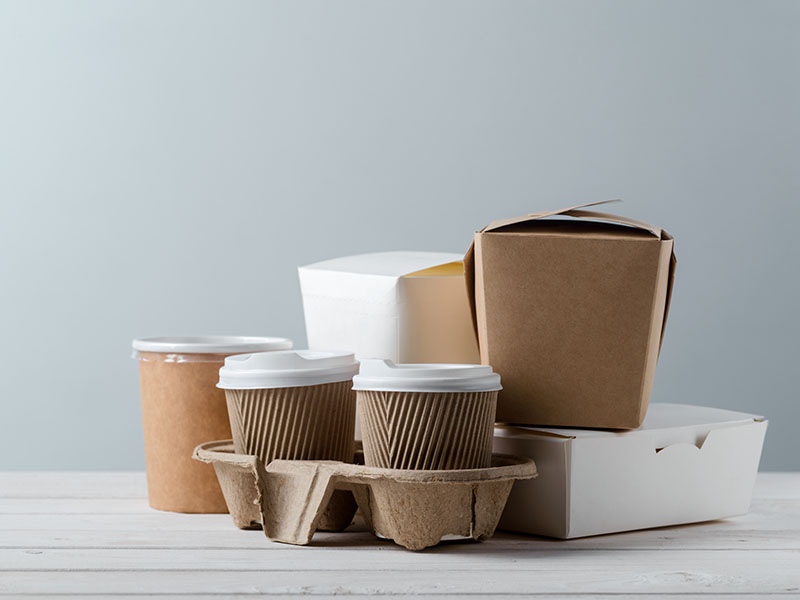 Paper cups have been widely used and accepted around the world for a long time. People are gradually shifting from plastic cups to disposable paper cups since they are safer for health and better for the environment.
Paper cups are disposable paper or recycled paper cups. They frequently need a thin coating made of plastic or wax, preventing water from leaking or soaking into the paper layer.
Pure PO paper coated with a thin sheet of PE (Polyethylene), 1 or 2 layers, is used as a raw material in manufacturing paper cups. Cold food is often served in a single-layer PE-coated cup, whereas hot food is in two-layer PE-coat cups .(1)
PO material is the pure paper that is highly aesthetic and healthy for people's health. It is opaque white since it isn't bleached with chemicals. According to food safety regulations, paper cup manufacturers should use 100% PO paper for their products.
Do you know how paper cups are made? Why not take a look at this interesting process now?
How Does A Microwave Work?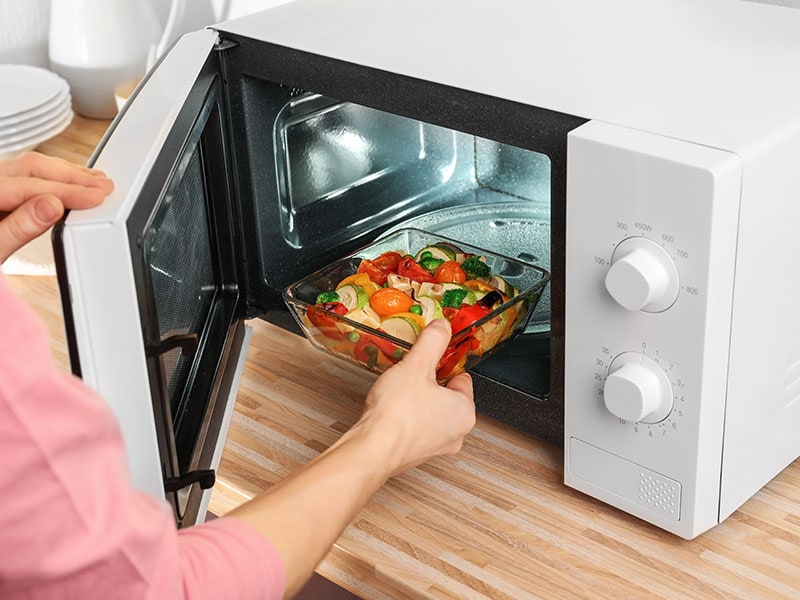 The microwave, which can heat meals fast in just a few minutes, is a valuable tool for busy people. But do you genuinely know how it works?
Microwaves are radio waves. An oven usually blows heated air to cook the food. Meanwhile, the microwave generates radiation waves that heat the food from the inside.
When you push the start button, the microwave usually generates waves that blow into the cooking compartment in less than 2 seconds. Water, lipids, carbohydrates, and organic compounds are easily reactive to microwaves at this frequency.
You can cook anything containing water in a microwave. The appliance will release waves with the appropriate frequency to penetrate deep into the food and transmit energy to the water within the food. It causes friction between the molecules and produces heat (2).
Food cooks faster in the microwave than in many conventional appliances. All molecules are heated simultaneously, which can reduce cooking time by up to 80% compared to other equipment.
As the microwave heats the food efficiently, resulting in significant energy savings. However, the color of the dish will be less appealing than foods prepared directly by heat.
Have you ever wondered how a simple microwave can be so magical? Let's investigate its mechanism!
Can You Put Paper Cups In The Microwave?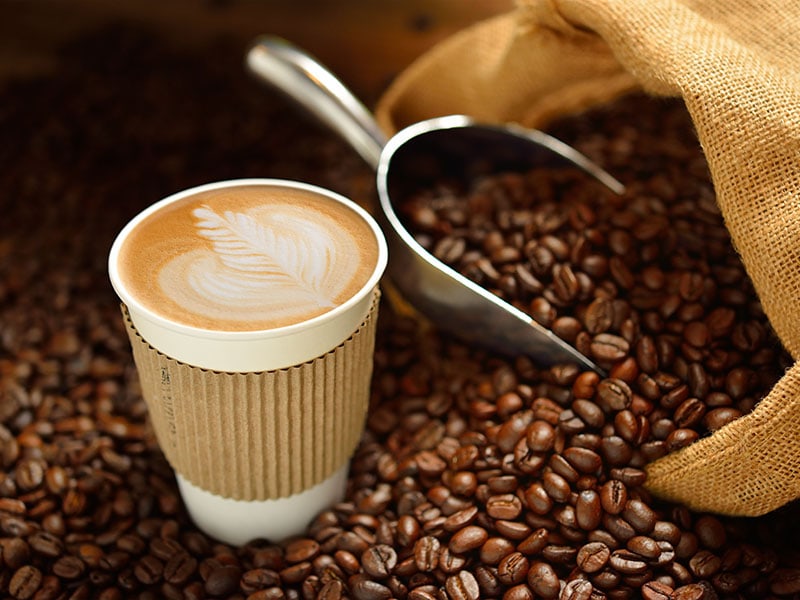 Paper cups are not long-lasting products. They are not heat resistant as well. As a result, I strongly advise you not to microwave paper cups in any way.
Yet, when you are short on time, you have no choice but to microwave your beverage directly from the paper cup. You can still use the microwave if the following conditions are met.
The cup's paper shell can tolerate temperatures up to over 451℉ (233℃) since most of the heat is absorbed by the liquid within the cup (3).
Unfortunately, I do not suggest warming your drink to this temperature since the PE plastic inside would melt at 221℉ (105℃) and mix with the drink. To be safe, heat the cup at a temperature of 167 to 212°F (75 – 100℃) within only 2 to 3 minutes.
Risks And Dangers Of Microwaving Paper Cups
Using a microwave for paper cups is reasonably risky. When you're not careful enough, some consequences are well on their way.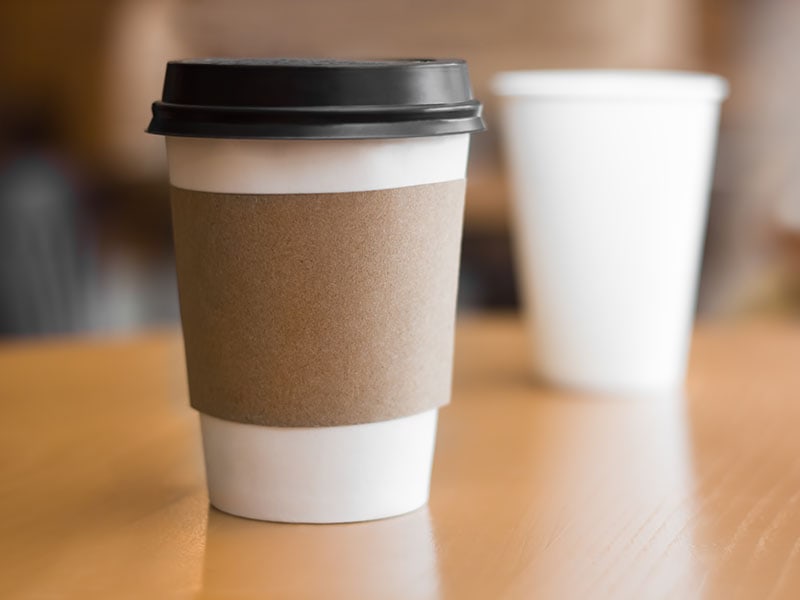 Spilling Issues
The first issue you'll face is a messy microwave. When your paper cup becomes too hot, it softens and collapses. Consequently, you will have to clean a microwave full of spilled coffee or water.
Unpalatable Drinks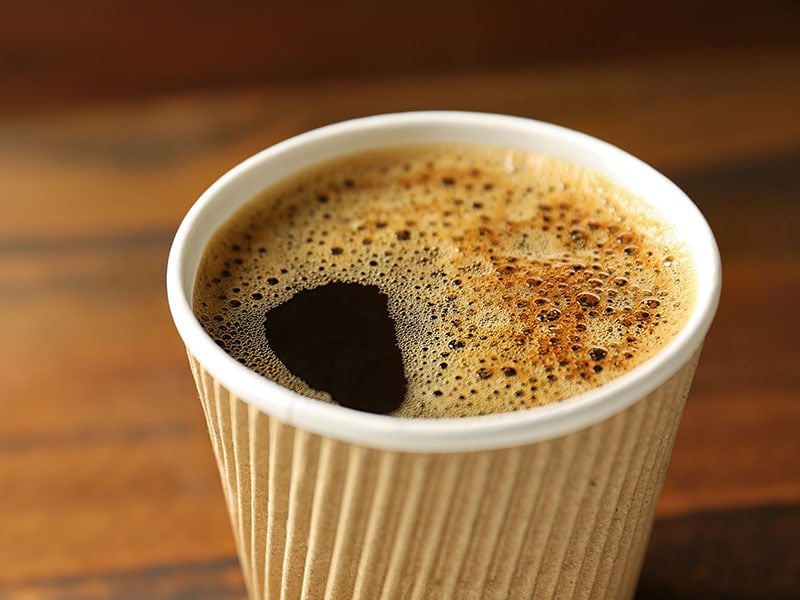 Even when your cup appears fine coming from the microwave, don't rush. Despite its perfect look, the adhesive and thin plastic liners within the cup have most likely melted and blended into your drink. Drinking that combination will be a terrible experience and not safe for health.
Health Issues
As previously stated, the PE within begins to leach when the cup is out to an appropriate temperature. PE plastic is a safe material when it is in a solid state. When it turns liquid, it becomes more toxic than before.
Plastic poisoning is a highly hazardous condition. This can result in significant complications, such as cancer, depending on the circumstances.
Fire Hazards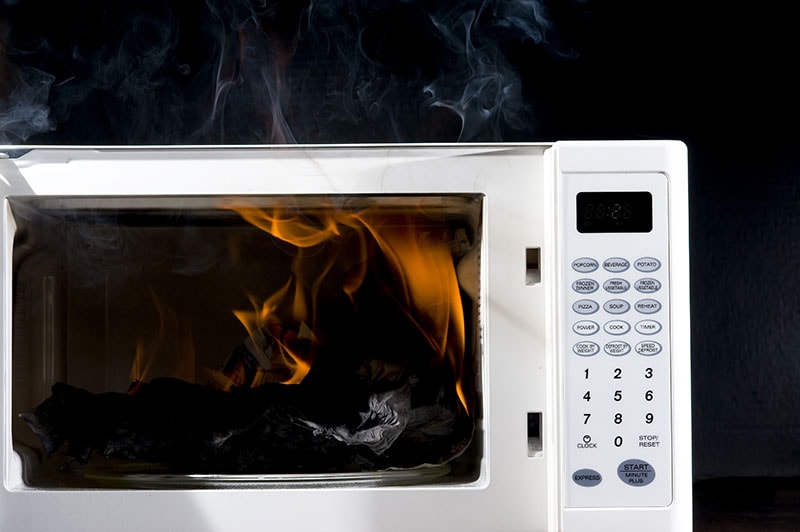 If you leave the paper cup in the microwave too long, the outer paper may catch fire. This will not only harm the microwave, but it could create an electrical short or possibly a fire. When you return home, the last thing you expect to find is a burning house.
What About Microwave Safe Paper Cups?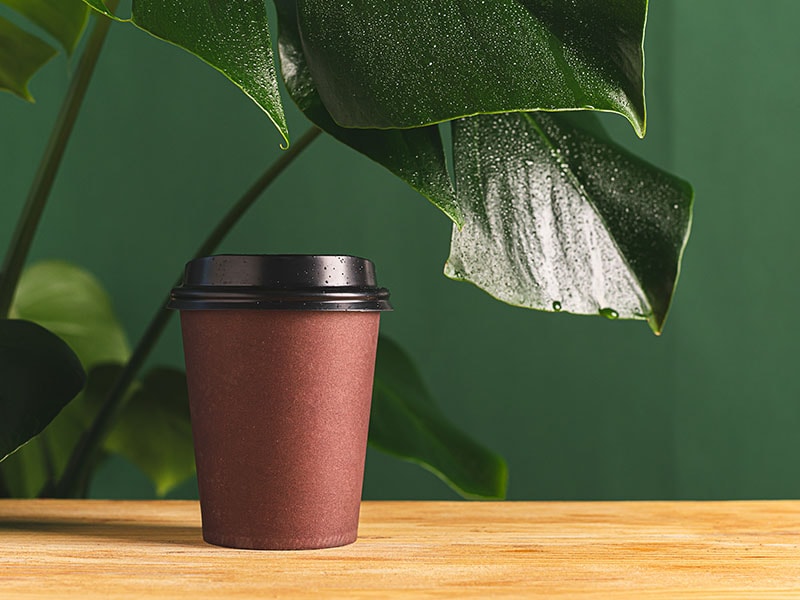 Many firms have manufactured microwave-safe paper cups in response to consumer demand.
The inner PE plastic layer of regular paper cups can melt at high temperatures, which is why they are not appropriate for microwave use. On the other hand, PP plastic (polypropylene) is the primary material used to produce the inner lining of microwave-safe paper cups.
Because this plastic is highly heat resistant, it will not melt in the microwave. This material goes into producing numerous food containers you can find on the market.
How To Microwave Paper Cups That Are Microwave-Safe?
You could microwave the microwave-safe paper cup just like any other regular item. Even so, there are a few things to remember while warming drinks in these paper cups. You can look at the step-by-step instructions below!
Step 1: Check The Product's Description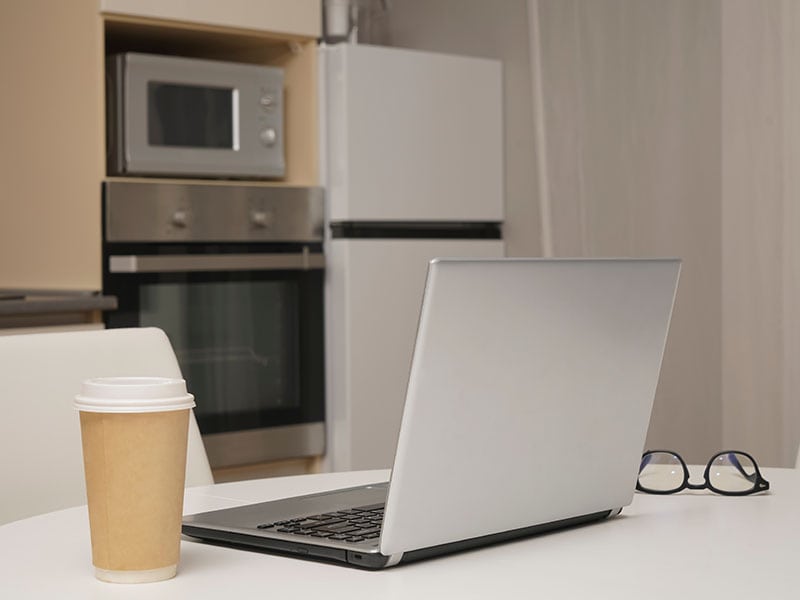 Check to verify whether your paper cup is indeed microwave-safe. The information is usually printed at the bottom of the cup. You can also search for the product description on the manufacturer's sales website.
Step 2: Take Off The Lid
Typically, the microwave-safe paper cup still has a plastic lid. Take off the plastic cover before microwaving the cup. The plastic cap will melt and mix with the drink when you put it with the cup in the microwave.
Step 3: Set The Timer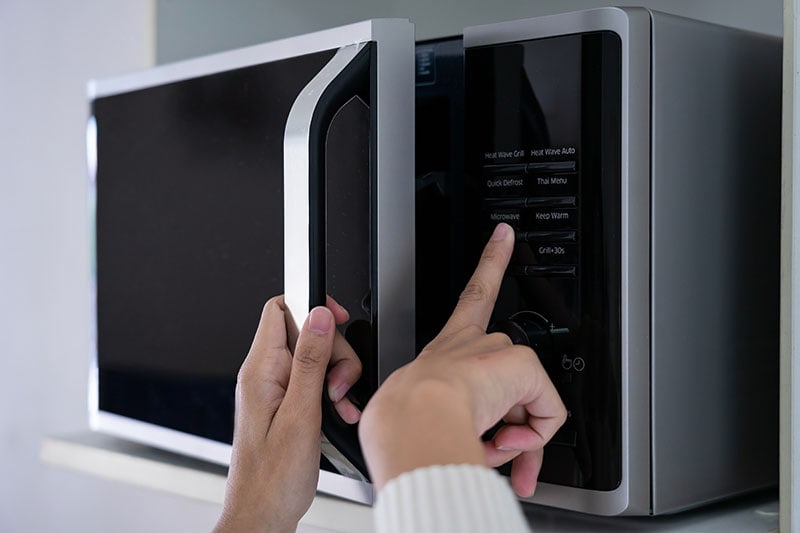 To begin, boil water or other liquids for the maximum time suggested by the manufacturer. The liquid in the cup must be lower than the cup's wall to avoid overflowing into the microwave. The liquid in the cup should ideally reach 2/3 of the way up the wall.
The longer the time, the higher the chance your cups burn. Most manufacturers advise heating paper products within only 2 to 3 minutes. Therefore, you should not leave your paper cups in the microwave for more than this range.
Step 4: Choose The Microwave's Mode
You should use the reheat mode or only 50% power of the microwave. Do not set the temperature above 167℉ (75℃) since the high heat might cause the plastic layers inside to melt.
Otherwise, the cup may distort or catch fire. Also, the liquid will explode all over the microwave at higher temperatures. This causes burns when opening the door and makes cleaning more difficult.
Step 5: Microwave The Cups
Turn on the microwave. You should take a look at the cup during the process. Even though your paper cups are safe for the microwave, they are still paper. Any unexpected change can happen at this moment.
Stir the drink carefully every 30 seconds, especially water. When you heat water in the microwave, the top surface becomes hotter than the bottom. As you take it out, the hot water might shoot out when exposed to air. After 2-3 minutes, turn off the microwave, and your drinks are done.
Alternatives To Paper Cups To Go Into The Microwave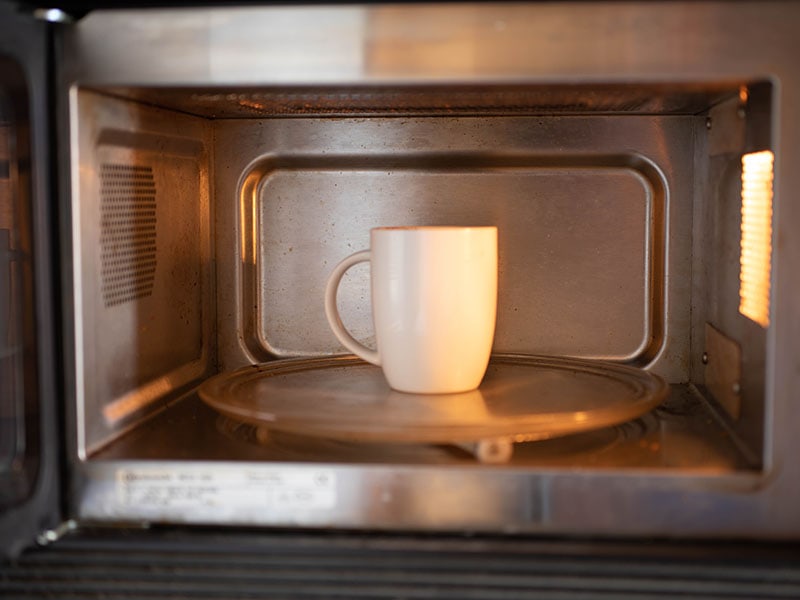 Instead of disposable paper cups, consider using these alternatives that are more microwave-friendly. Ceramic mugs, heat-resistant glass, or microwave-safe plastic cups can all be used.
You may think about using a wooden container, which will not generate an explosion or fire. However, hardwood utensils are prone to splitting in high temperatures, making it an unreasonable choice.
Here are some tips you should know to better reheat your coffee!
How Do You Tell If Something Is Microwave-Safe?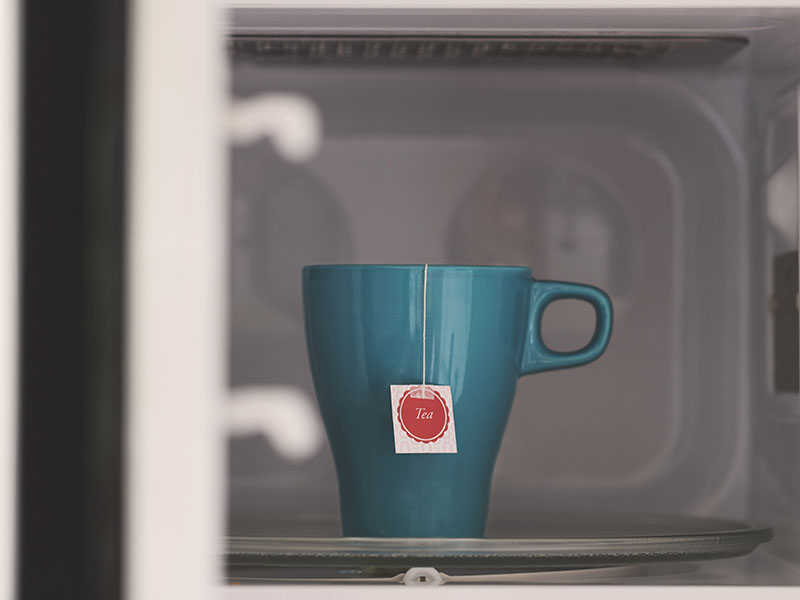 Product features are not always appropriately stated in words but also in symbols. When in doubt, use the suggestions below to determine whether a product is microwave safe.
You must first check the cups, containers, or plates. Turn it over to see the bottom and check the back. Many dishes or containers are labeled as microwave-safe or not for microwave use. The product is microwave-safe if you see a microwave or wavy lines symbols.
If this information isn't specified, you should try the following way. You may dump them in boiling water for 2 or 3 minutes to check if they melt or shrivel. When they do, they would not be microwave-safe.
Or you can fill another cup with water and put them in the microwave for 1 or 2 minutes. It is microwave-safe as the cup or container in question is cooler than the cup of water. If the container is hot after being heated while the cup is not, it may not be microwave-safe.
FAQs
Apart from disposable paper cups, many people still use things that are not microwave-safe without realizing it. Check out the information below to confirm if you're using your microwave appropriately!
Do You Still Want To Microwave Paper Cups?
Even though the microwave provides many benefits, some things should never be microwaved. After reading this post, you should understand the potential dangers of putting paper cups in the microwave and how to avoid them.
You can like and share this critical information with your friends and family, so they may be conscious of these risks and use the appliance more appropriately. Your sharing will be a big help not only for them but also for you. Finally, leave a comment if you still have any concerns!
Paragraph
Paper Cup (2022) Wikipedia. Wikimedia Foundation.
Center for Devices and Radiological Health (2017) Microwave oven radiation, U.S. Food and Drug Administration. FDA.
Education.com (2013) Boiling water in a Paper Cup: Science Project, Science project | Education.com.