How to reheat rice in the microwave is not an unusual question at all. Many people have their cold hard rice in the fridge but don't know how to make it more palatable. They have tried so many ways, but they failed regardless.
Most people believe that newly cooked rice is the only rice worth eating, and rice in the fridge is beyond tolerable. The truth is not as bad as you might think. You can have your rice warm and nice with a microwave at home.
You don't have to throw away your food and can still enjoy a delicious hot bowl of rice; reheating your rice in the microwave is the easiest yet most effective way. With no further ado, let's explore how to warm up your rice in a microwave.
Can You Reheat Cooked Rice In The Microwave?
Yes, you can. Microwave is one of the best ways to reheat cooked rice. Whether it is white rice, brown rice, sushi rice, or fried rice, reheating your rice in the microwave is a fast and effective method to make it warm and moist again.
Since rice mainly contains carbs, it's susceptible to going bad in a very short time. Therefore storing rice in the fridge is the most economical and convenient way to keep it safe and healthy when you can't finish the batch soon.
Reheating refrigerated rice in the microwave doesn't reduce its nutrients but also brings many benefits, such as enriching resistant starch in your rice (1). It's best to microwave only one serving of rice at a time at 165°F (74°C).
Never reheat your rice more than once, as your rice may not be safe to consume anymore. Make sure that reheated rice in the microwave needs to be piping hot before taking it out for optimal safety.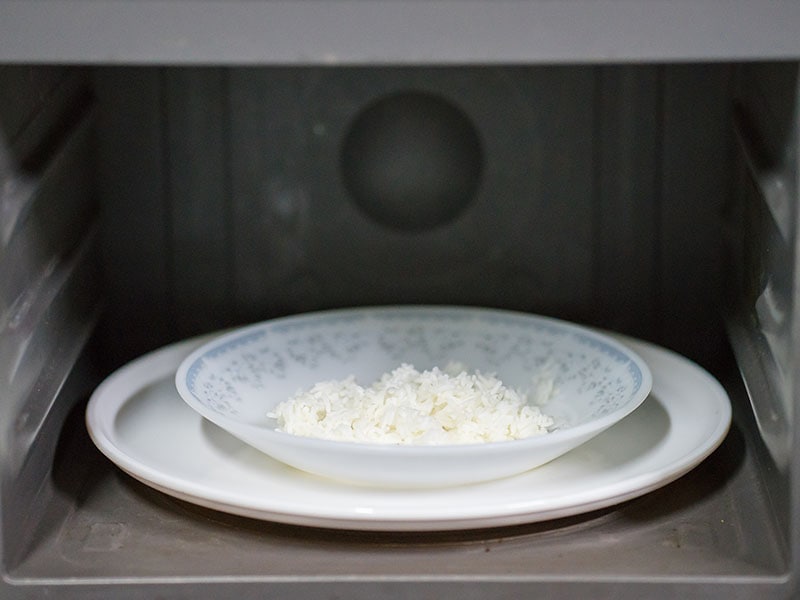 Step-By-Step Guide To Reheat Your Rice In Microwave
Microwave is the fastest and easiest approach to reheating your rice. The ultimate goal of reheating your rice is to make it hot evenly without sacrificing its moisture and texture. There are a few methods that you can try to make the rice warm and delicious again.
Reheat Rice In Microwave With Wraps
You can use some kind of wrapping, such as a damp paper towel or a microwave-safe plastic bag, to cover the container while reheating it.
The wraps help retain the moisture of your rice. Before covering it, use a spoon or a fork to break up any clumps. The cover also traps heat inside to reheat the rice better.
Place the container in the microwave and turn it on medium power for plastic wrap or high power for 2 minutes when using a paper towel. Check the rice occasionally to ensure it is heated evenly and reaches 165°F (74°C) or above.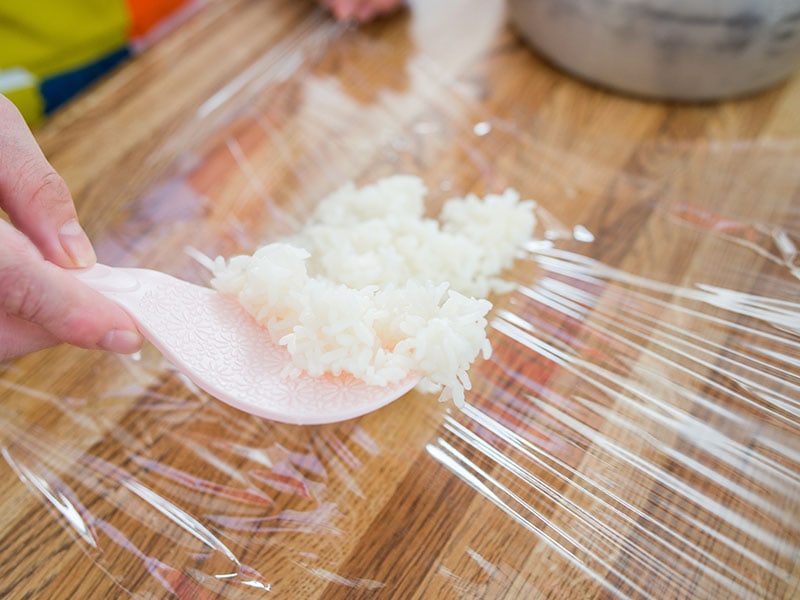 Reheat Your Rice In The Microwave With A Glass Of Water
This method may sound strange to you, but it's very effective. To begin, scoop the amount of rice you want to reheat into a glass or microwave-safe dish. Next to it, put a glass cup with half full of water inside. This separate glass should be microwave-safe, too.
Turn the microwave to high mode and heat until the temperature of the rice reaches 165°F (74°C) or higher. The whole process should take 2 minutes.
The mechanism of the microwave is heating the water content inside the food to cook it, so the food likely turns dry after heating.
Placing a glass of water inside will help retain the moisture in the food. However, you should be careful not to let the water boil as it can spill and mess up your rice dish.
When the rice has yet to reach the desired temperature, it's worth reheating it in the microwave for another 1 or 2 minutes.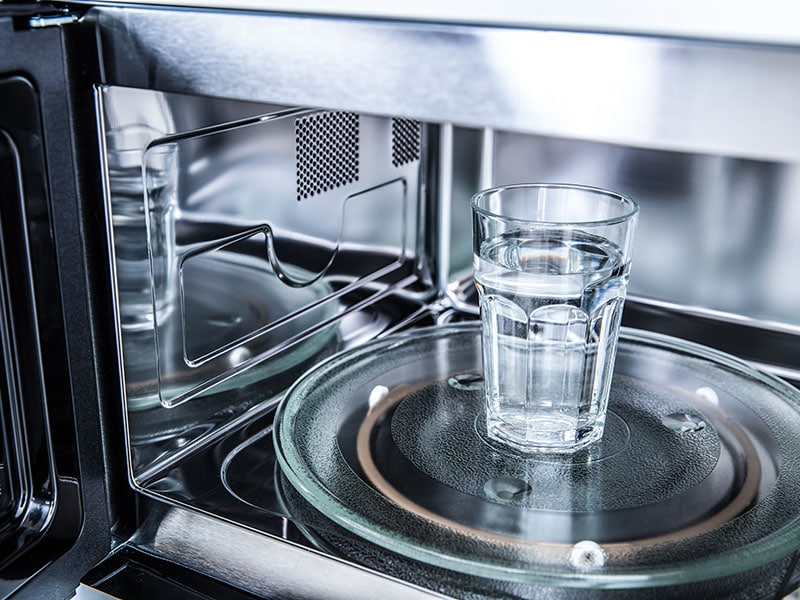 Reheat Your Rice In Microwave With An Ice Cube
With this method, you add 1-2 teaspoons of water to the rice container for each cup of rice. You should cover the rice to let it re-steam. The water will become hot steam and heat the rice. Heat the rice for 3-4 minutes until it reaches 165°F (74°C) or higher.
There is another interesting trick that you can try. Put a small ice cube on your rice and place the container in the microwave. The heat will slightly melt the ice and moisten your rice while heating it.
How To Prepare Rice Properly For Reheating?
If you cook and store rice properly, it's unlikely to get spoiled soon and safer for reheating. Here is a guide for you to achieve that:
Clean Your Pot And Wash Your Hand
Always wash your hands before cooking rice to prevent bacteria from entering your food. Rice cookers or pots can have rice residues stuck from the last batch and should be washed thoroughly to eliminate all unwanted substances.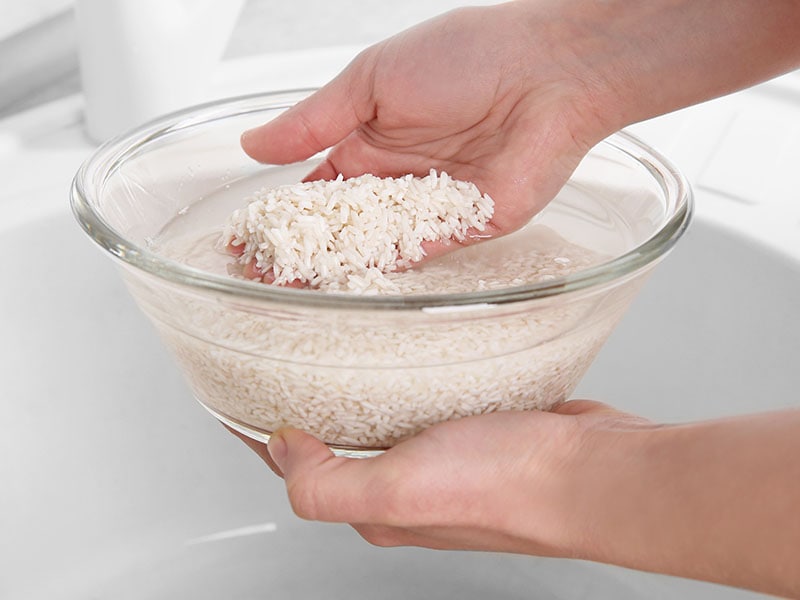 Use The Right Amount Of Water And Cooking Methods
Before cooking, rinse your rice in the water several times to remove excess dirt and some of its starch. This is to keep the rice less sticky when cooked. Plus, avoid washing or rubbing your rice too roughly unless you want it to lose all the nutrients.
The right amount of water depends on the type of rice and can be found in the manufacturer's instructions. If you do not plan to store your rice in the fridge, make sure to cook just enough rice for the meal.
Most importantly, make sure you cook your rice at a high temperature, which is beyond the danger zone between 40°F and 140°F (4°C-60°C), where the bacteria thrive (2). Serve your rice immediately after cooking.
This guideline will show how to cook your rice in the microwave.
Quickly Cool Your Leftovers Before Storing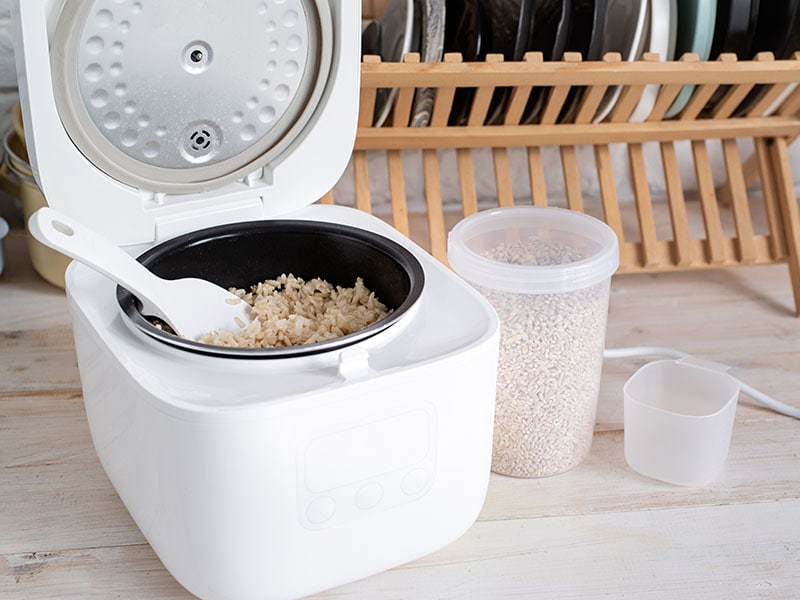 Uncooked rice contains Bacillus cereus spores that can release toxic food poisoning. Unfortunately, these spores can withstand high heat and are still present in cooked rice.
If the rice cools down too slowly and remains in the danger zone (between 40°F and 140°F) for too long, harmful bacteria will thrive from these spores. Even reheating cannot kill them.
Before storing your rice in the fridge, cool it down quickly to avoid it staying too long in said danger zone. Cooling rice down also prevents it from turning sticky and overly soft. Here's how you can do this:
Don't leave your rice at room temperature for more than an hour.
Spread your cooked rice on a tray coated with non-stick cooking spray.
Cover it with aluminum foil or parchment paper, and avoid exposing your rice to the air.
When it has cooled down to room temperature, stuff it into an airtight container for refrigeration or freezing.
Store Your Rice In The Fridge Or Freezer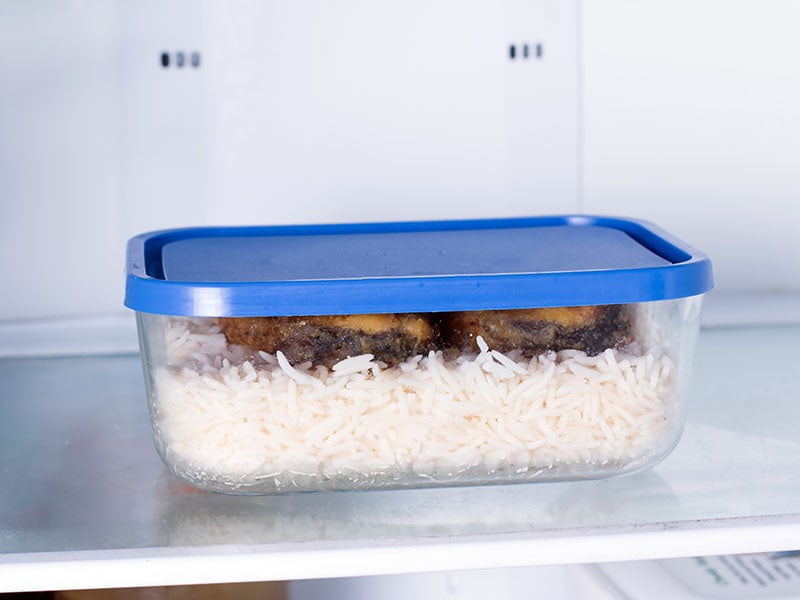 Rice stored in the fridge or freezer also has a shelf life that you should never exceed to keep it safe for eating. Here are some steps you need to do to store your rice:
Store the container with your rice in the innermost area of the fridge where the temperature is stable.
Store it above and far from raw meat or fish to avoid liquid dripping and catching up odors.
The temperature should always be at 40°F or lower.
For the fridge, take out and use your rice within 3 or 4 days in the fridge.
For the freezer, your rice can last up to three to four months.
Learn the best way to freeze brown rice without sacrificing its quality
Alternative Ways To Reheat Rice
Microwaving your rice is a quick and safe method to make it warm and fluffy again, but it's not the only way. There are some other approaches to reheating rice without compromising its quality. For frozen rice, remember to thaw it in the refrigerator before reheating.
Reheat On Stovetop
To start reheating on the stovetop, put a serving of rice into a saucepan and add some teaspoons of water. Break up any clump of rice. Don't add too much water, or you will risk making your rice overly wet. You can even add olive oil or butter for additional flavor.
Cover the saucepan with a lid and cook over on low heat. With stovetop cooking, you will have to watch over the process and stir the rice occasionally.
If you fail to do so, your rice may be burned on the bottom. Cook until you see steam coming out and your rice is piping hot.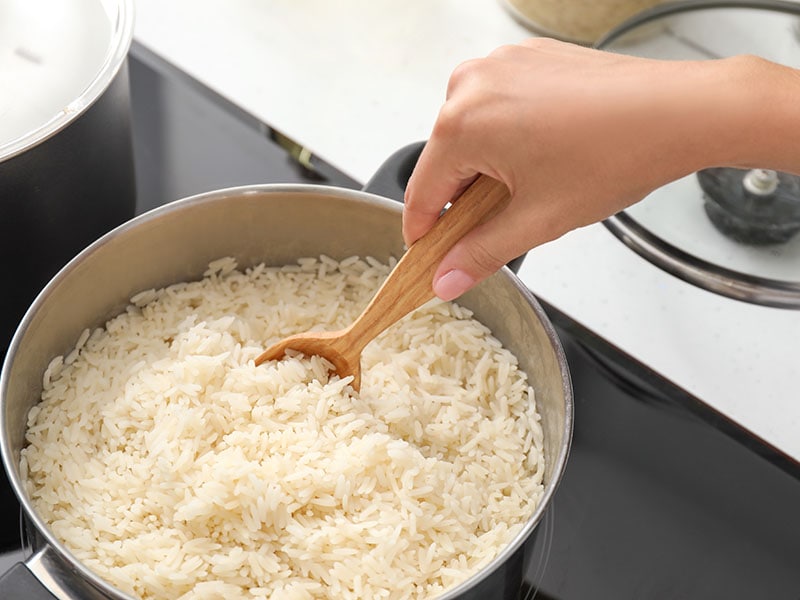 Reheat In The Oven
Reheating with the oven will take longer than other methods. You may want to preheat your oven to 300°F (150°C).
Spread a serving of rice on an oven-safe dish or tray and break any clumps. Add 1 or 2 teaspoons of water for a cup of rice and a few drops of oil or a piece of butter. Use aluminum foil to cover the container and bake at 150°C (302°F) for about 20 minutes.
Check your rice frequently to avoid burning it. Once your rice is piping hot, it's good to take out and serve.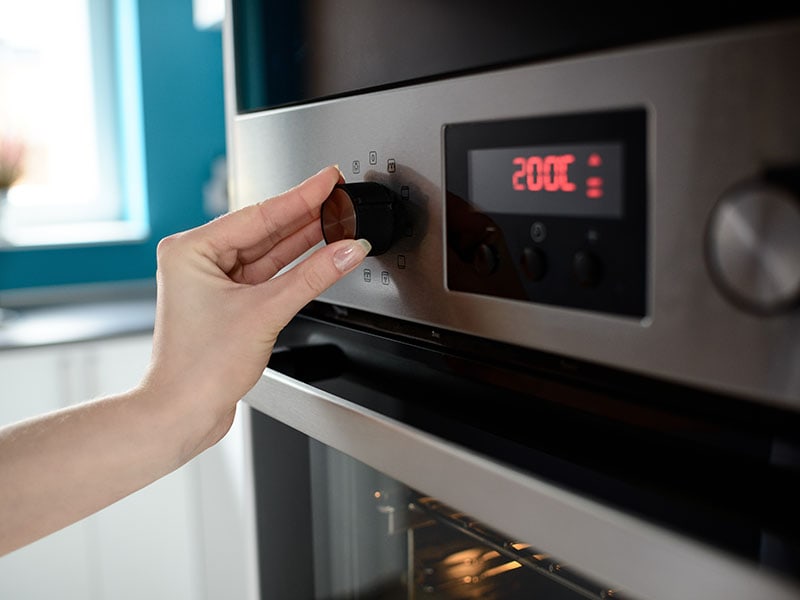 Reheat Rice In A Steamer
You can use an electric steamer to reheat your rice. First, transfer the rice into a dish and add 2 teaspoons of water for a cup of rice. Add some oil and butter like the above methods for extra flavors.
Slow simmer the rice and keep the lid on. Once the temperature inside reaches 165°F, your rice is ready to be served.
Let's discover some great tips for reheating your rice.
Best Ways To Reheat Fried Rice
Reheating fried rice is not very different from white rice. You can use either the stove or microwave to reheat your portion. Microwave is better for a small portion of fried rice.
Add one tablespoon of water for every cup of fried rice, and cover it with a paper towel or lid to promote steaming and prevent your rice from turning dry afterward. Turn on high power for 2 minutes until your rice is piping hot.
For large portions of fried rice, the stove is your go-to. Put the rice into a frying pan, turn on the heat, and occasionally stir to warm up the rice evenly. You don't need to add more oil since it will make your rice greasy.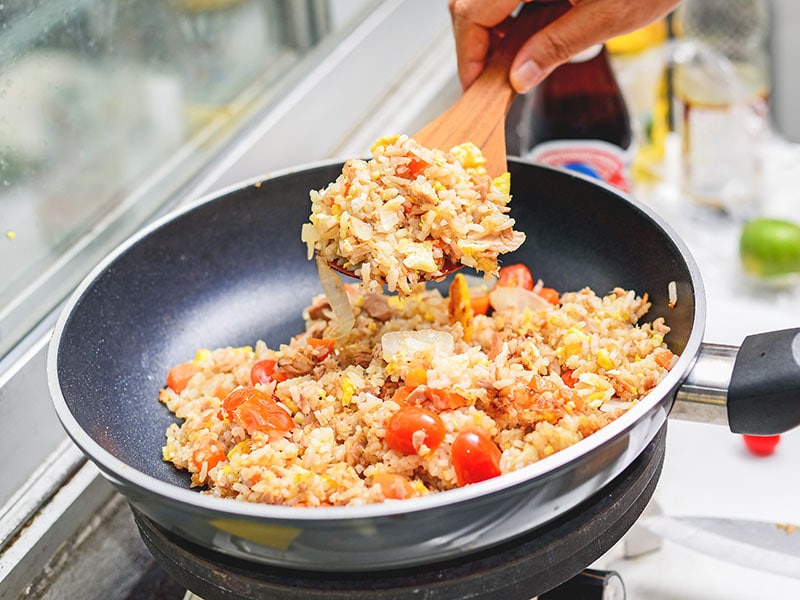 Awesome Leftover Rice Recipes To Try
Besides reheating leftover rice, you can turn it into savory dishes with a few simple steps. Here are some recipes you should try to use up your leftovers:
If you're craving a spicy taste, kimchi fried rice is the recipe for your leftover rice. With just 15 minutes from start to finish, you can turn your cold rice into a savory dish. This Korean staple is best served hot.
A simple dish with sufficient nutrition will keep you functioning for half of the day. It's got protein, carbs, and veggies. Never ignore this simple recipe, as it can be surprisingly delicious and fulfilling if you do it correctly.
This Asian leftover rice and chicken is perfect for your breakfast with flavorful chicken and plenty of veggies. Hibachi-grilled chicken pieces, carrots, and peas add tons of texture to the rice. The best thing is you can toss the frozen veggies straight into the pan without thawing them.
Follow this instruction and make yourself a delectable chicken fried rice!
This traditional Hawaiian dish with raw tuna and tropical fruits is incredibly delicate and delectable. Make sure your tuna is fresh and comes without white streaks, so it won't be chewy.
Cucumber, edamame, and radish offer delightful crunch, but mango and pineapple can make a nice alternative if you crave tropical flavors.
FAQs
Reheating rice is an easy task, but there are many things you should know to do it correctly. In this FAQs section, there are some queries that you may find useful!
Microwave Is The Absolute Best Way For Reheating Rice
Reheating your rice in the microwave is arguably the fastest and most convenient way when you need warm and fluffy rice for a few minutes. This method doesn't compromise the quality and taste of rice if you know how to do it correctly.
If you prefer dry rice for frying, you can also readjust the moisture in your rice while heating it in the microwave by putting in less water.
Congrats! You have passed the crash course on reheating rice in the microwave. Please let me know your preferred methods of reheating rice in the comment. Your likes and shares will be a great motivation for me to create more useful articles in the future.
Paragraph
Cheng Z;Li J;Qiao D;Wang L;Zhao S;Zhang B; (no date) Microwave reheating enriches resistant starch in cold-chain cooked rice: A view of structural alterations during digestion, International journal of biological macromolecules. U.S. National Library of Medicine.
Food Safety and Inspection Service (no date) "Danger Zone" (40 °F – 140 °F) | Food Safety and Inspection Service.