Can you microwave paper plates under any circumstance? You all know the convenience paper plates can give, but you are unsure whether they can be used as containers for reheating food in the microwave.
Paper plates are a great way to save you from cleaning dirty dishes after a party or a family gathering. It's also great if you can use them safely in the microwave without any risk of burning.
Are you ready for a Eureka moment in the kitchen? This article will clear any doubt about using paper plates in a microwave and show you how to do it correctly.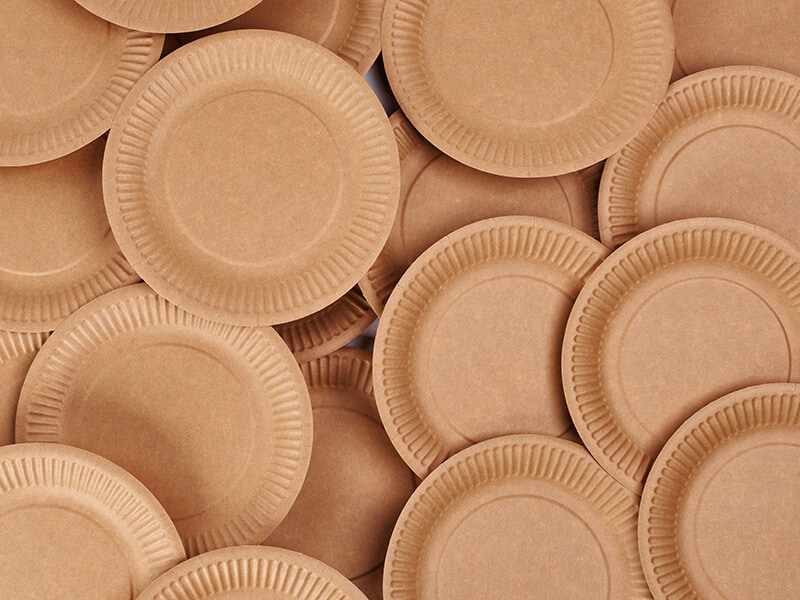 Some Facts About Paper Plates
Everyone thinks of paper plates as their life savers when throwing parties at home and outdoor picnics. This paper-based utensil is cheap, lightweight, and, most importantly, disposable. A small stack of paper plates can save you much cleaning time.
What Is Paper Plate Made Of And Its Function?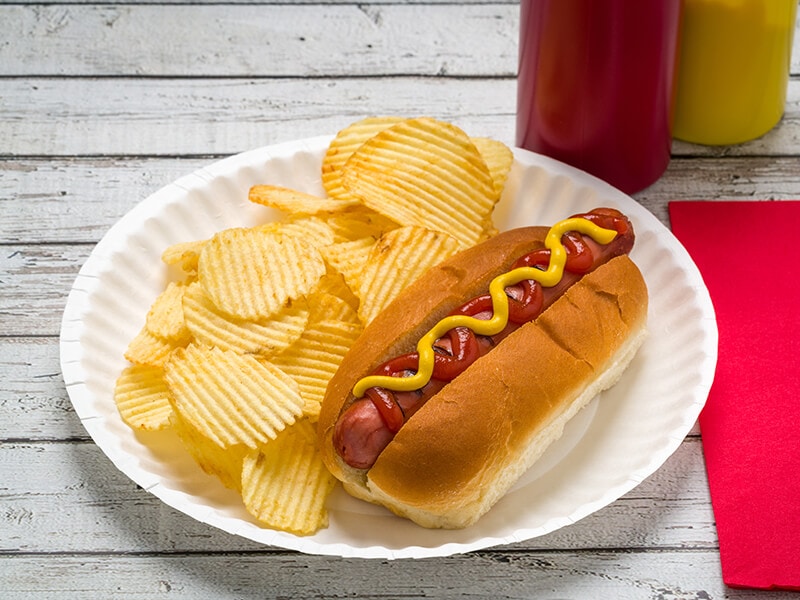 As the name suggests, paper plates are made from wood pulp and various paper-based materials. Most paper plates are coated in a plastic film or wax to be water and oil-resistant. They are not recyclable or compostable.
Paper plates come in many sizes, shapes, and textures to serve different purposes. They are versatile in many cooking and catering scenarios, for example, parties, picnics, casual meals, and food storage.
Discover the procedures to make paper plates in only 1 minute!
Merits Of Paper Plates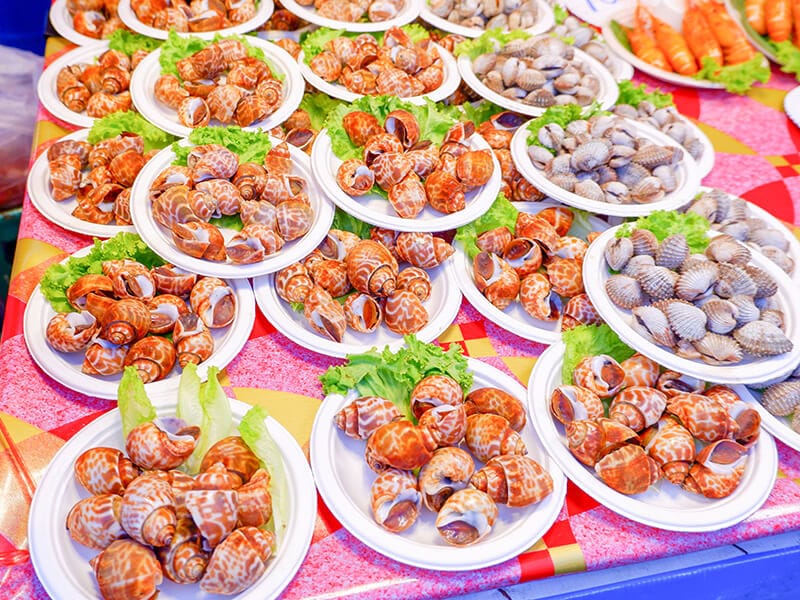 There are many advantages if you choose paper plates as your utensil for crowded home parties and outdoor trips. Here are some of its greatest properties.
Paper plates are eco-friendly and degradable: Made from eco-friendly materials, paper plates will degrade very fast in nature. Products made from 100% paper are easier to degrade than products with plastic or wax coating.
Hygienic and disposable: You don't need to wash paper plates. Just throw them away and get a new one after finishing a dish.
Economical: Paper plates are very cheap. They will also help cut off your water and electricity bills because you don't have to wash them.
Get to know the best paper plate product for your purposes.
Are Paper Plates Microwave-Safe?
Following the direction of the U.S. Department of Agriculture (USDA), most paper plates are microwave-safe in contrast to plastic or polystyrene products. However, there are still some exceptions.
Microwave-safe means a product won't burn, warp, melt, or change its state in the microwave heat. This also means the product will not cause chemical leaching to your food as cooking in the microwave.
Some people may wonder why paper plates do not burn in high-heat conditions like in a microwave while it is made from flammable material. To answer this question, let's go through the basics of how a microwave cooks food.
How Does A Microwave Work?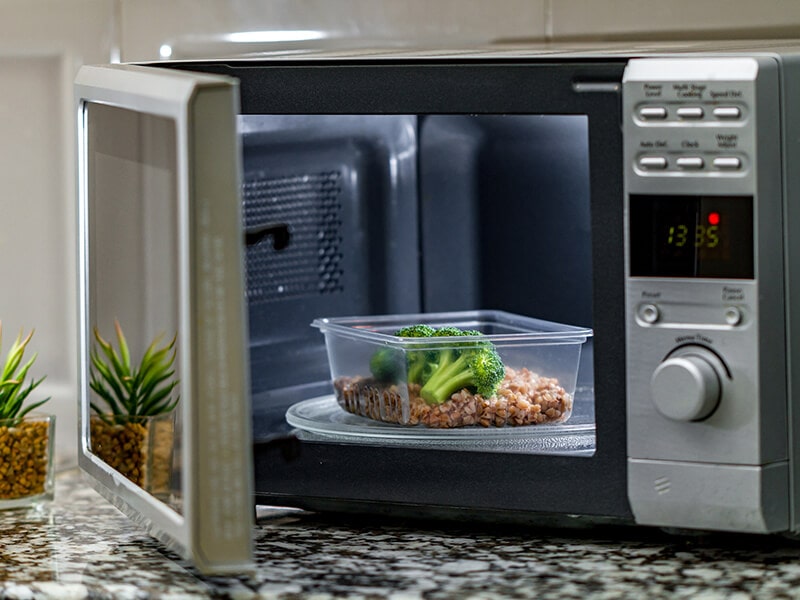 Unlike other cooking appliances, a microwave doesn't directly create heat to cook foods, but it generates short radio waves. These waves go through the foods and vibrate the water molecules, making the foods cooked from the inside out.
Most paper plates are microwave-safe because the waves emitted by the appliance do not heat them.
Some items should never get into a microwave. Let's find out!
What Kinds Of Paper Plates Should Not Be In A Microwave?
If you buy your paper plates online, you should be able to tell if the products are microwave-safe from the product descriptions. Alternatively, you may read the packaging to get more information relating to microwaves.
What if you no longer have the packages? In that case, it's always handy if you understand these materials since you can apply them in other cases of utensils.
So why are some types of paper plates not safe in microwaves? This is attributed to the nature of the materials of those paper plates.
Paper Plates With Microwaves-Absorbing Materials
Microwaves will heat some paper plates made of certain materials. Some of those materials are aluminum or plastic, which give your paper plates a shiny and waxy look. Even if they are not burned in the microwave, you can burn your hands when touching them.
These materials can warp, melt, and even catch fire if microwaved for a prolonged period. For that, you should never leave your paper plates in the microwave without supervision if you're unsure about their materials.
Some paper plates with an aluminum foil cover, metallic trim, or plastic attachments can be a potential fire source. These act like ignition sources if microwaved with paper plates.
Paper Plates That Are Not Food-Safe After Microwaved
Some materials are deemed non-microwave-safe because they release harmful substances when heated. The ink colors and decorations on the paper plates, such as painting and coating, can harm your health when heated under microwaves.
If your plates contain BPA or PFAS, microwaving them is not a safe option, even when the packaging says they're safe. Opt for BPA-free products to be on the safer side.
Some material paper plates, like wax, release toxins or similar unwanted products, such as printing inks, bleaching agents, or surfactants, rendering your food potentially unhealthy to eat (1).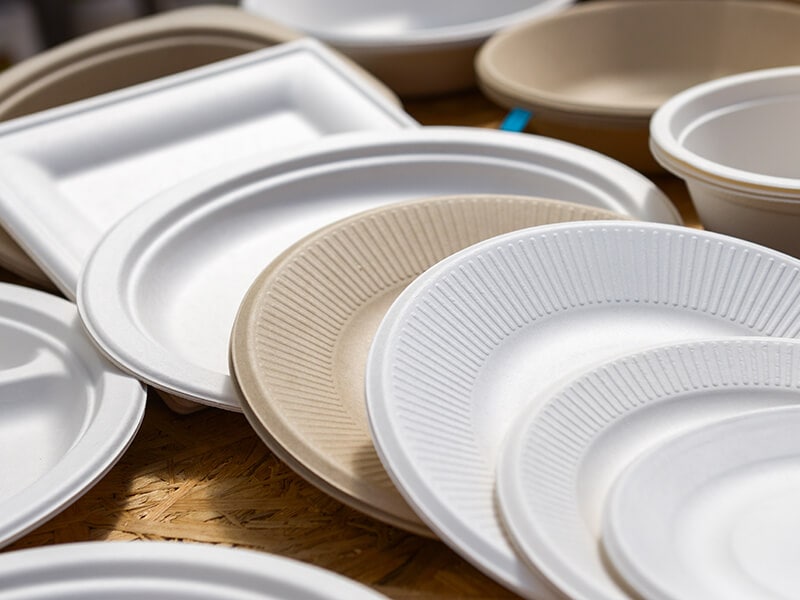 How To Microwave Paper Plates Safely?
Microwaving paper plates is easy and convenient, but you should always tread with extra care if you want to use paper plates as a container to reheat your food. You should watch out for a few things to keep your foods safe and healthy.
Choose The Right Paper Plates
White paper plates without decorations, printed canvas, or dyed colors are more favorable. They should not contain BPA or PFAS, which can cause chemical leaching. Remove any flammables and non-microwave-safe items like foil, metallic trims, or metal utensils.
Especially, PFAS is the agent that causes many disorders like changes in liver enzymes, increased cholesterol levels, Increased risk of kidney or testicular cancer, etc. (2)
If you are unsure about the contents of your disposable paper plates, it's best not to use them in the microwave. Thus, always check the paper plate's packaging before buying.
Let's go green! Learn about biodegradable paper plates in 2 minutes.
Reheating With The Right Method
Paper plates are not suitable for sustaining high heat, so they are not for cooking. The change of foods in the heating process also impacts the plates' integrity. It's best to keep the reheating time short and on medium power.
The ideal amount of time is around 1-2 minutes. You should watch over the whole process and give your food some stirring after every 30 seconds to cook it more evenly.
You can give it a break after 1 minute of heating. There will be no harm in exercising extra caution.
Use Multiple Layers Of Paper Plates To Contain Oily Foods
When reheating greasy foods like pizza, fried foods, or cottage cheese, paper plates mostly absorb the secreted oil, making them soggy and oily. Therefore, stacking up some more layers of plates is the best solution to avoid a greasy mess.
The thinner the plates, the more layers you should stack. Doing that will improve the integrity of the plates while heating, preventing them from disintegrating and mixing with your foods. Alternatively, placing a glass or ceramic dish under them will yield the same effect.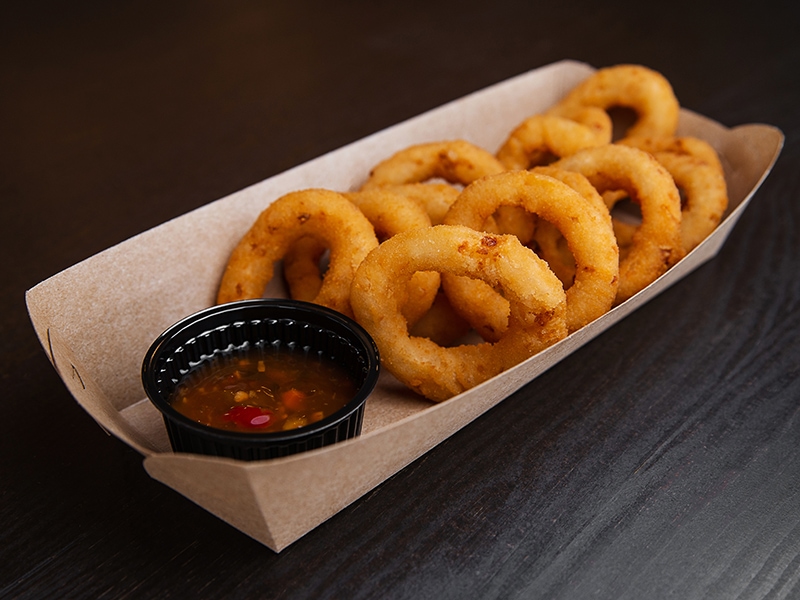 Cover Your Foods To Prevent Splatter
You should expect to splatter when you heat food high in moisture content. To avoid this and keep your microwave clean, you should cover your food with another paper plate or a paper towel.
Never use plastic cover as it can melt and leach harmful chemicals into your food. Do not cover your food too tightly since the trapped steam can explode and spatter the content all over the microwave's inner.
Never Microwave Empty Paper Plates
The excess energy of the microwave that is supposed to cook food can damage the equipment and burn the paper plate. Without the food, the microwave magnetron will heat the plate alone, increasing the chance of fire hazards.
How To Test Your Paper Plates In The Microwave
If you have disposed of all the packaging of your paper plates and can't tell whether your plates are microwave-safe or not, there is still a way to test your plates. Here are some steps you can follow to ensure your plates are safe in the microwave.
Step 1: Place a water bowl next to the paper plate you want to test.
Step 2: Turn the microwave on to high power and microwave them in 1 minute.
Step 3: When it's done, use your fingertip to barely touch the plate to feel its temperature.
Step 4: If the plate feels too hot, it's not microwavable.
You cannot ignore this quick and simple method to test if your paper plates are safe in the microwave. If it heats up, that means your paper plates are reactive with microwaves and prone to burning or melting.
In case you wonder what the bowl of water is for, it's there to provide some steam to prevent your paper plate from catching fire in case it's not microwave-safe.
Keep in mind that the packaging is still your first and foremost indicator. If there is no "Microwave-safe" in the manual, it's not worth a try because they can be susceptible to either fire hazards or chemical leaching.
Any disposable products, such as cups, bowls, wraps, or utensils, with microwave-safe properties will have that printed on their packaging.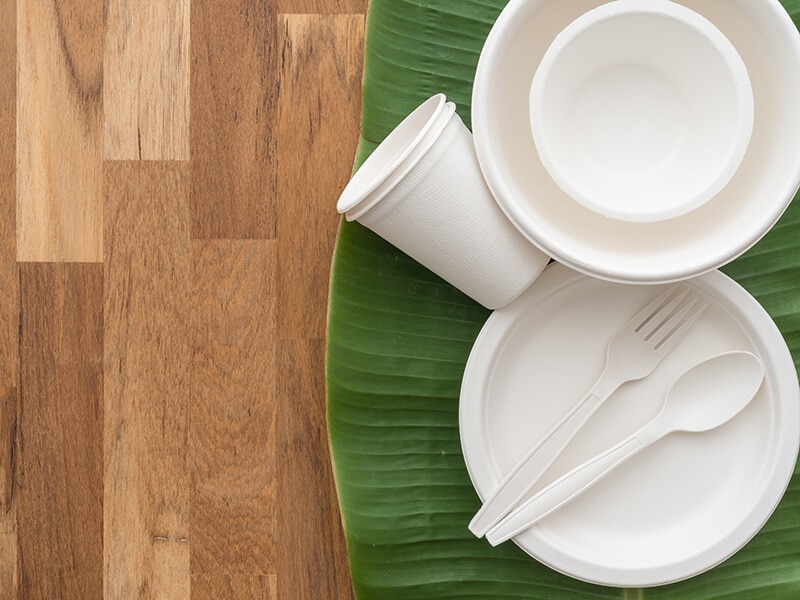 Some Microwave-Safe Paper Plates For Your Choice
There are many microwave-safe paper plates that you can choose from. In this section, I will recommend some trustworthy products that you can buy.
You can never go wrong with Glad's disposable plates. Check out this Glad Round Disposable Paper Plates 10 inches. They have everything you need from a paper plate. They are microwave-safe to reheat your foods on.
The soak-proof feature will save you from greasy hands when holding oily foods. They are also durable and convenient in use, perfect for special occasions and every use.
Dixie is one of the most trustable brands in supplying paper and disposable products. This microwave-safe Dixie Paper Plates, 10 1/16 inches, is good for all purposes, including picnics, daily meals, outdoor campings, and more.
These plates are firm and can handle a large amount of food. The 10-inch plates are wide enough for complex dishes like salads or steaks. The soak-proof property makes it safe for different dishes.
If you are looking for a fiber-based paper plate product, this 100% Compostable Paper Plates Made of Sugar Cane Fiber 10 inch is one of the best environment-friendly products you can find.
Made from 100% wheat straw & sugarcane fibers, these paper plates are biodegradable, renewable, and sustainable. This product is safe in the microwave since it contains no chemicals.
FAQs
That was pretty much everything you needed to know about paper plates and microwaves. However, there is some useful knowledge for you to use these convenient tools best.
Always Exercise Extra Caution With Paper Plates In The Microwave!
Paper plates can be your lifesavers when you have to cater to many people. They are lightweight, safe, and environment-friendly, making them a good choice for long trips and outdoor venturing.
Most paper plates nowadays come with microwave-safe features. However, you should always follow safety instructions to stay on the safe side. Check the packaging for microwave-safe information, and heat the plates on medium power for less than 2 minutes.
It won't take long to reheat your food in the microwave, so keep an eye out for your food. That's the end of the article. Please comment on your tips for using paper plates.
Your thump-ups and shares will motivate me to bring you more insightful articles about cooking. Best of luck!
Paragraph
Deshwal, G.K., Panjagari, N.R. and Alam, T. (2019)
Potential health effects of Pfas Chemicals (2022)