If you are searching for the answer to the question, "Can you microwave ceramic?", let me give you an insightful answer. After reading this post, you'll know if it's safe or unsafe to place your ceramic mugs, dishes, bowls, or similar items in the microwave.
Even better, you can learn how to test the ceramic items and whether they are suitable for microwaving in this article. It also provides some effective precautions when microwaving ceramic to prevent unwanted problems.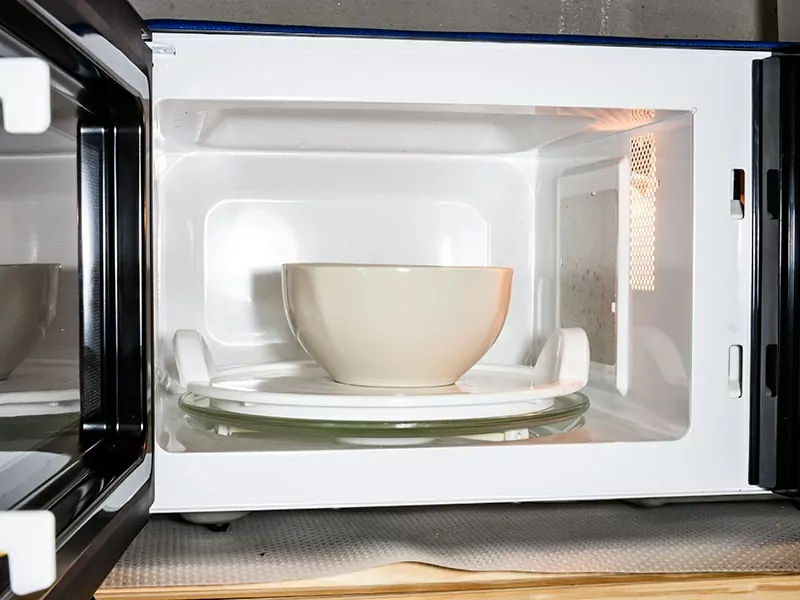 A Short Overview OfCeramic: A Convenient Material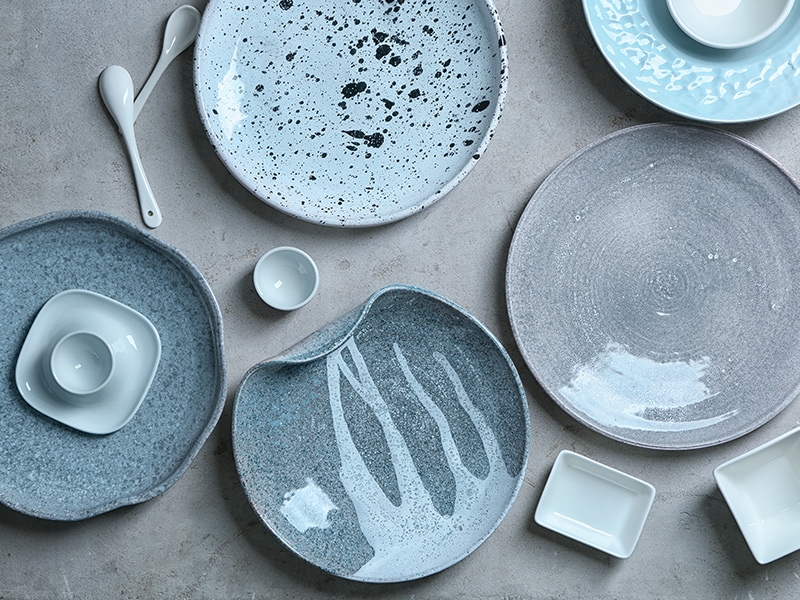 Besides plates or dishes, ceramic items are diverse, with pitchers, pots, vases, or bowls. You can find these amazing items in the kitchen of many households because of their durability and aesthetic values.
People started making ceramic items 26000 years ago. Initially, they shaped the clay and fired it at extremely high temperatures to create ceramic products. Later, humans glazed clay to make the surface smooth and colorful.
Ceramics are classified into 4 main categories: earthenware, stoneware, porcelain, and bone china. Regarding the distinctive material, ceramics have 3 types: oxides, non-oxides, and composite materials (a combination of non-oxides and oxides).
Advantages Of Ceramics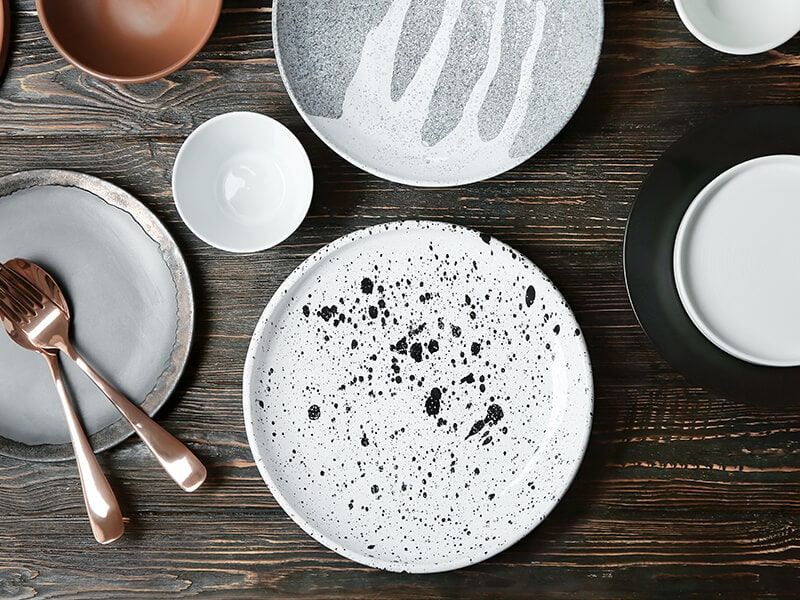 Do you know the pros of using ceramic items? While there are many answers, here are the most popular merits.
They can withstand high temperatures, and their temperature ranges from 1800°F to 3000°F (1000°C to 1600°C).(1)
Normally, ceramic products on the market have low prices, so they can suit your tight budget.
Ceramics that are equipped with glazed coating can prevent stains perfectly.
Disadvantages Of Ceramics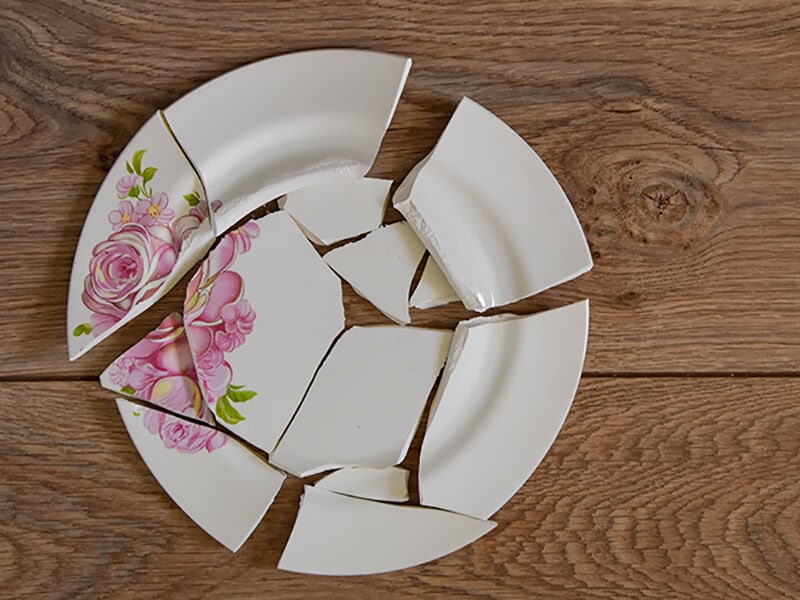 Besides advantages, you can encounter some unexpected problems when using ceramics. Let's explore the most obvious downsides.
Ceramic items are hard and brittle.
The tensile strength of ceramic products is not good, so you should be careful when heating or freezing these items. They can be cracked when the temperatures suddenly change.
You must be careful when moving ceramic dishes, cups, or bowls because they can easily be damaged when they come into contact with heavy objects.
It is hard to shape and machine ceramics because of their hardness.
Explore the care and artistic inspiration behind making beautiful ceramic items.
Popular Types Of Ceramics
There are many types of ceramics, and this part will show you some dominant sorts. Let's find out what they are right now!
Earthenware
Ceramics that are fired under 2190°F are earthenware. You can find glazed or unglazed earthenware ceramics on the market. This type features high plasticity, so you can use a roller head or potter's wheel to shape it easily.
Earthenware is porous ceramics, so it is easy to absorb water. In addition, the mechanical strength of earthenware is not as good as other ceramics, such as bone china or stoneware. This type is commonly used for tiles, ovenware, or flower pots.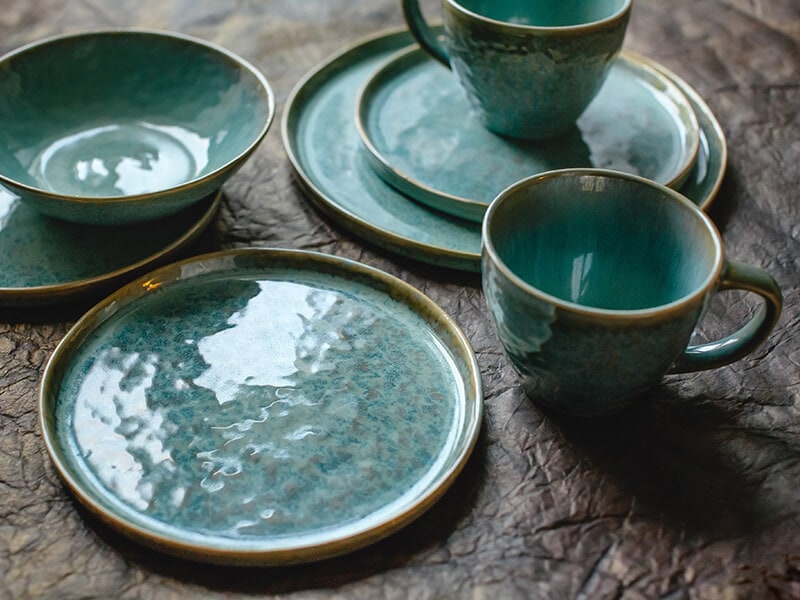 Stoneware
Semi-vitreous ceramic items made up of stoneware clay belong to the stoneware group. People must fire the clay at a super high temperature to get these durable products. They can be glazed or unglazed.
Most stoneware items are non-porous because they don't allow water to absorb them. Another advantage of stoneware is that its dense, hard, and impenetrable structure makes it hard to be scratched by sharp objects.
Porcelain
You will get porcelain ceramics when you fire substances like kaolinite at high temperatures (from 2200°F to 2600°F). Indeed, porcelain includes 3 other types, such as soft-paste, hard-paste, and bone china, depending on the composition of the paste.
Abrasion resistance, simple maintenance, beautiful appearance, and high durability are advantages of porcelain ceramics. However, they are too heavy since they have dense structures, not to mention their high prices.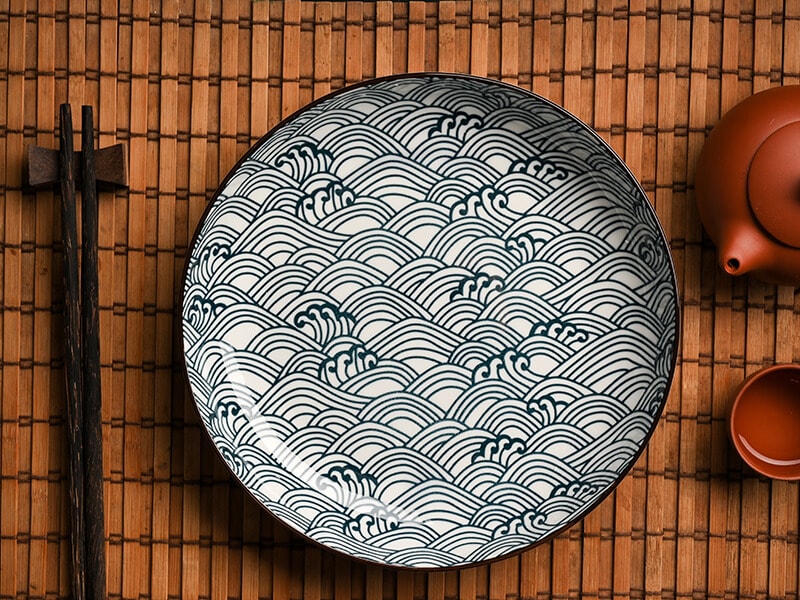 Bone China
Bone china is porcelain that is enhanced with bone ash, kaolin, or feldspathic material. It is considered the strongest and hardest kind of porcelain. Also, this type has chip resistance and high mechanical strength.
Bone china has a beautiful design, resistance to wear and tear, and strong light transmittance. It is also microwave- and dishwasher-safe.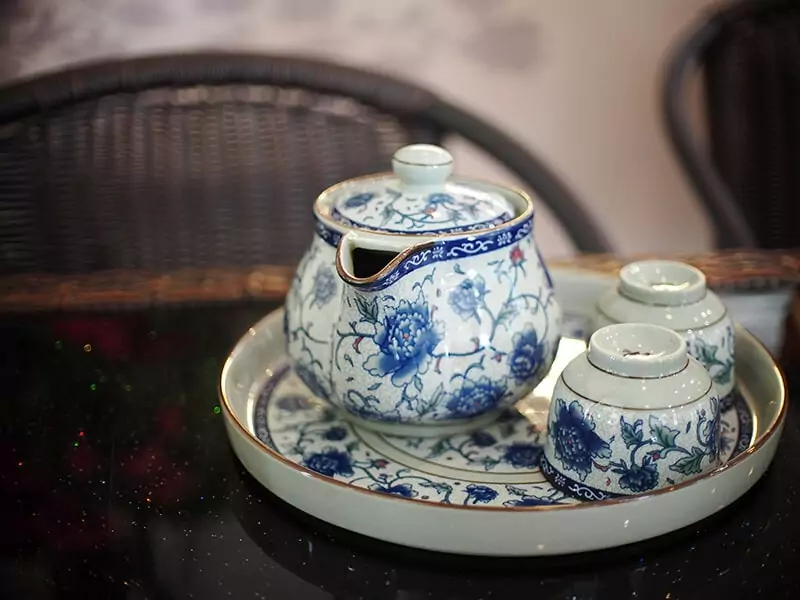 Glass Ceramic
The controlled crystallization of base glass creates polycrystalline materials that are also known as glass ceramic. Glass ceramic includes 95 to 98 percent of crystalline and a small amount of vitreous china.
Normally, glass ceramics have high-impact and thermal-shock resistance, so they are often used as walls of buildings. They are more durable than normal glass and can handle more significant changes in temperature.
Can You Put A Ceramic Dish In The Microwave?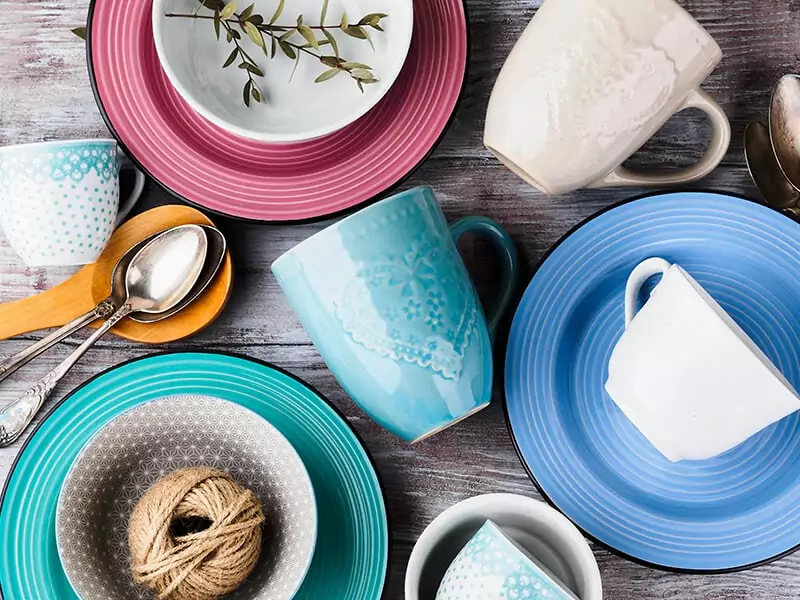 In general, most ceramic items are safe in the microwave because they can withstand high temperature. Normally, less porous and hard ceramics are more suitable to place in the microwave, such as those made of pure clays and baked at high temperatures.
In addition, stoneware, handmade ceramic, and porcelain also are suitable to place in a microwave. Meanwhile, earthenware items are unsafe in the microwave because they absorb too much water and are easy to crack at high temperatures.
Generally, it's unsafe to place ceramics with stainless steel handles, aluminum trim, metallic lids, and certain glazes because the metals can be melted when you microwave them at high temperatures. Of course, it also depends on the temperature inside your microwave and the type of metal.
But how can you tell whether your ceramic mug or precious china dish contains metallic components or not? The answer is to look at the dinnerware. You can recognize microwave-safe ceramics thanks to the symbol or the precise words on the bottom of the products.
When you see the label "Microwave-safe" or a symbol similar to waving lines or a microwave on ceramic items, you can freely place them in a microwave without breaking or damaging them.
In case your ceramic wares have no such symbol or label, there are other methods to test their suitability in the microwave. I'll reveal them in the next section, so keep reading.
How Do You Know Whether Your Ceramic Cookware Is Safe To Microwave?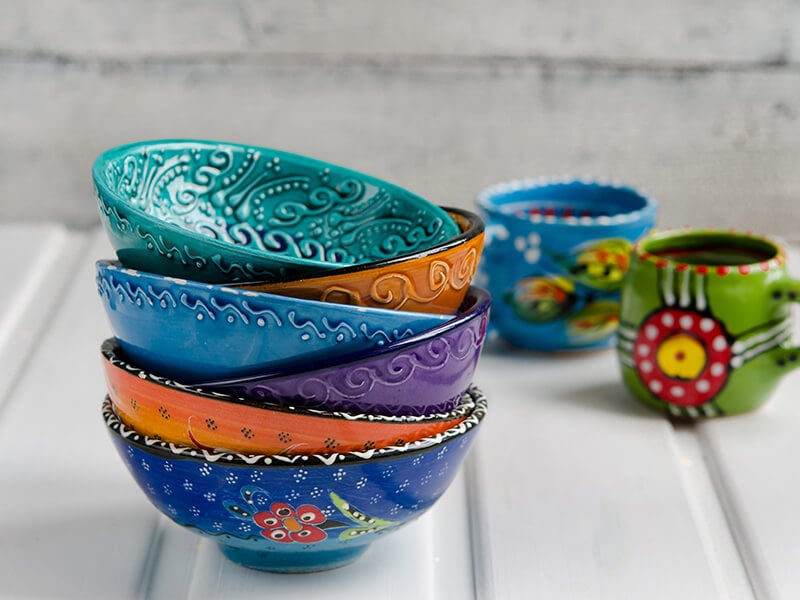 To prevent unwanted problems when placing ceramics in the microwave, it's better to check the quality of your ceramic cookware or drinkware in advance. The absence of microwave-safe labels or symbols doesn't mean the end. Here are some steps you should follow:
Step 1: If you want to test a ceramic cup and dish, fill it with water nearly to the top. As for testing a ceramic dish, put a microwave-safe cup filled with water in it.
Step 2: Place the cup or the cup and the dish in the microwave.
Step 3: Start microwaving at the highest temperature for about 1 minute.
Step 4: After 1 minute, let's take the cup and/ or the dish out of the microwave with oven mitts.
Step 5: Touch the dish and/ or the cup to determine whether it is safe to microwave. If the water is cold while the ceramic is warm, that means the object is unsafe to use in the microwave anymore.
By contrast, the dinnerware in question is microwaveable when it is cool and the water is warm.
What Are Ceramic Things That You Shouldn't Microwave?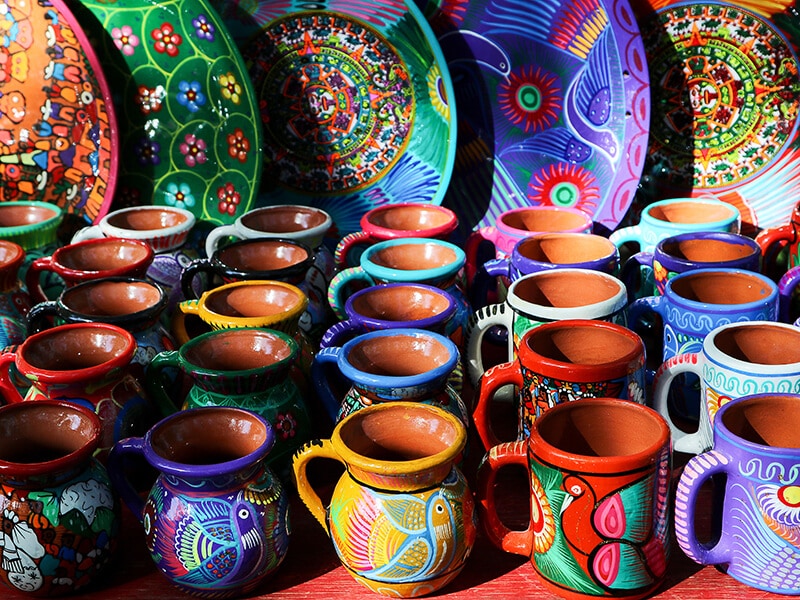 Besides microwave-safe ceramics, there are some wrong types to put inside the microwave.
Products With Unsuitable Materials Or Flaws In Designs
Among the various types of ceramic, earthenware ceramic is the wrong choice for microwaving because it is porous and fired at low heat. In addition, mid-fire stoneware is another unsafe ceramic in the microwave.
In addition, products with uneven thickness can cause problems when microwaved, such as cracking and uneven heating. Therefore, it's better to keep them away from your microwave.
Remember not to place ceramic cookware or drinkware designed with delicate seams and joins in the microwave because they are easy to crack when you turn on the microwave.
Do not place ceramics with high water absorption rates (such as earthenware) in the microwave because the water in them absorbs heat faster than they give off heat, making ceramics break easily.
Also, do not microwave items made from toxic materials since these toxic substances will leach into your food and cause adverse risks to your health later.
Products With Metallic Components
Some ceramic items are designed with eye-catching metal rings on the surface or around the edges to enhance their aesthetic, but these rings make your item unsuitable for placing in the microwave, as the reaction of microwave and metal can create sparks or fires.
The same thing goes for ceramic dinnerware with beautiful yet metal-filled glaze. Plus, this can release toxic chemicals into your food and affects your health.
Older ceramic dishes or mugs are also not microwaveable since they have toxic chemicals, like lead, that can emit into your food when you heat them at high temperatures.
Amazing Tips To Microwave Ceramic Effectively And Safely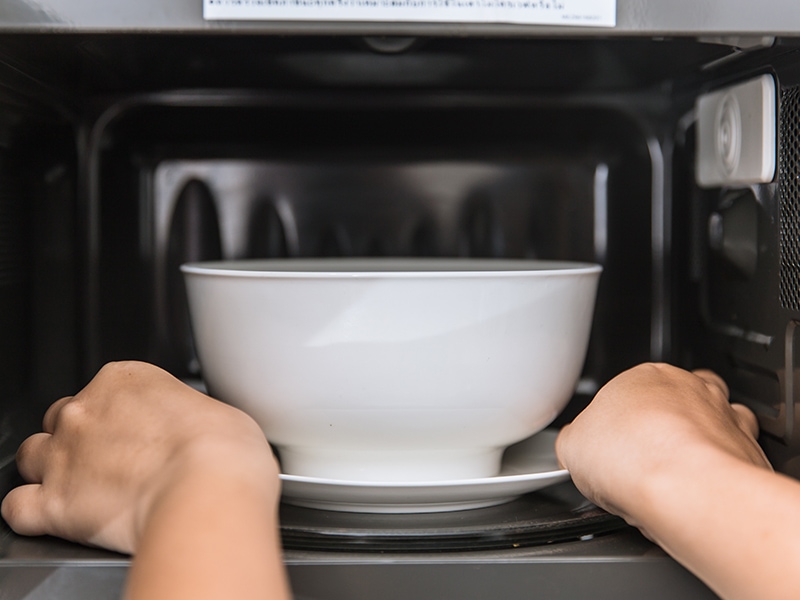 In short, ceramics are great options for microwaving food, but you need to pay attention to the precautions below to get the best results.
Always test your ceramic items to determine whether they are suitable for the microwave or not before using them.
Don't put cold ceramic in the microwave because it will crack due to the high temperature inside the appliance. To avoid it, let the cold ceramic at room temperature before microwaving it.
To save time and make your food more delicious, microwave your food at intervals and stir it regularly in between to distribute the heat more evenly.
Purchase high-quality ceramic items from reliable brands. Also, I highly recommend products with microwave-safe labels or symbols.
Set the microwave at the proper temperature when you want to reheat food with ceramic items. Normally, 165°F or 74°C is the perfect temperature and 2 minutes is a great amount of time (2).
FAQs
It's time to discover more about this topic through these frequently asked questions in this section. Read carefully before turning off your phone!
You Can Microwave Ceramics, But Not All!
In short, it is possible to microwave ceramics, but you need to check their quality carefully before putting them in the microwave since some types are unsafe. You can rely on the information I mentioned above to identify the suitable ones.
If you find the information and tips I recommended in this article helpful, let's convey them to your relatives and friends. Besides, don't forget to share your thoughts about this topic: I'm all ears to your useful suggestions. Thanks for your time!
Paragraph
Ceramic (2022) Wikipedia. Wikimedia Foundation.
SCDHEC (no date) Food Safety – Proper Cooking & Reheating Temperatures.