The fact is that a toaster and a toaster oven are different from each other when it comes to shape, use instructions, and sometimes benefits.
In the post here, I'll analyze the toaster and toaster oven and give you a lot of helpful information in which you can easily decide between these two machines, which one you should have for your family kitchen to reduce cooking time.
The presence of a toaster or toaster oven will help you save time in the kitchen and finish a lot of recipes with ease and convenience.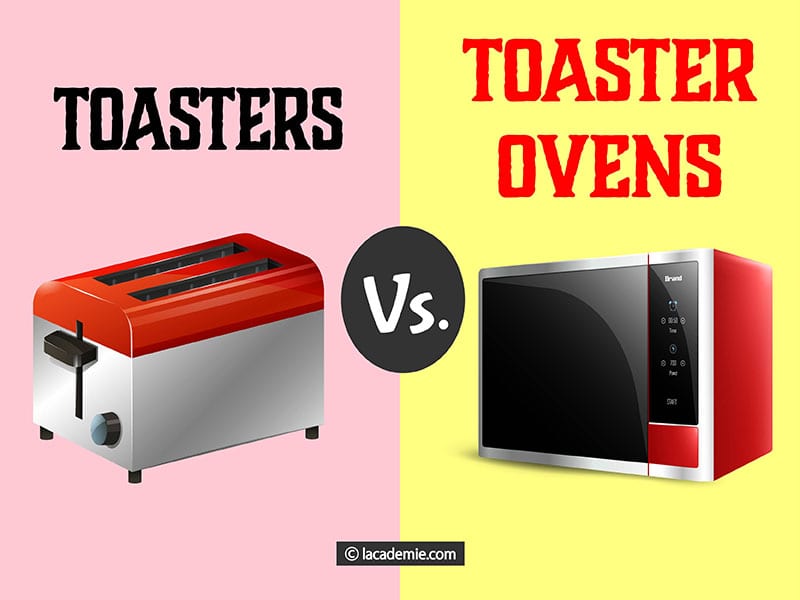 Toaster Vs. Toaster Oven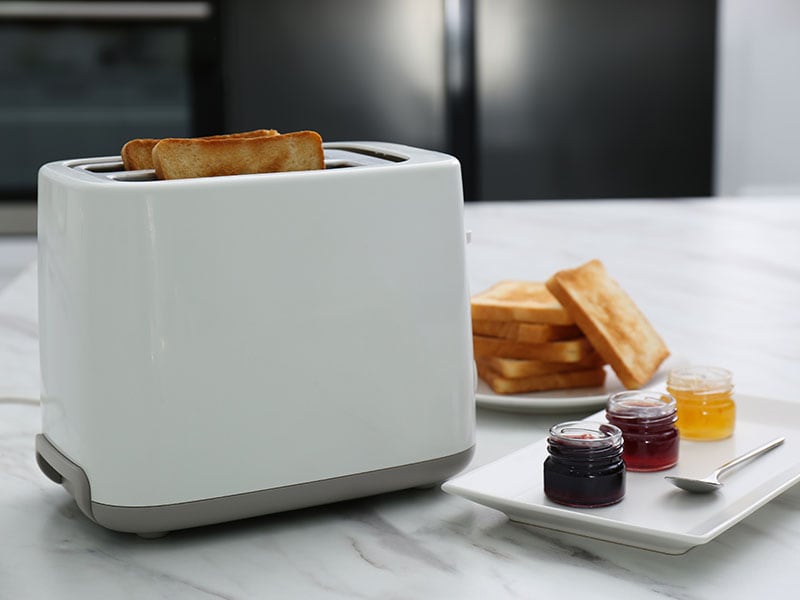 Toasters and toaster ovens might contain features that make you confused about identifying them, but they must be two separate devices in your kitchen.
The only similarity is that both of them can roast your bread to get crispiness and delight, whereas a toaster oven will benefit you with many other advantages from toasting, baking, defrosting, toasting, and reheating.
However, toasters and toaster ovens have many differences in size, capacity, appearance, usage, operation, heat, and even speed to cook your food.
What Is A Toaster?
A toaster is an electric small kitchen appliance created to expose many types of bread slices to radiant heat so that it can make the bread more mesmerizing and delightful.
The toaster was first introduced in the late 19th century in Scotland and became one of the oldest and greatest kitchen appliances. After being created, the toaster rapidly got popular across Britain and around the world. (1)
In the early days, the first design of the toaster can toast only one side, which means you need to flip these slices to get them cooked on both sides. Then, a toaster with the ability to cook both sides of bread simultaneously.
Two models of toasters are designed to cook two or four slices at the same time. Importantly, this cooking device will offer you five levels to toast, with level number one as the hottest or vice versa depending on manufacturers.
When it comes to materials to make a toaster, Nichrome, the mixture of Nickel, Chromium, and iron is considered the best choice as it has the ability to resist high-temperature oxidation.
Regarding toaster variations, the toasters are produced with various options to buy, from traditional bread toasters, tin toasters, horizontal toasters, and toaster ovens are some of the common types of toasters.
How Toasters Benefit Your Cooking?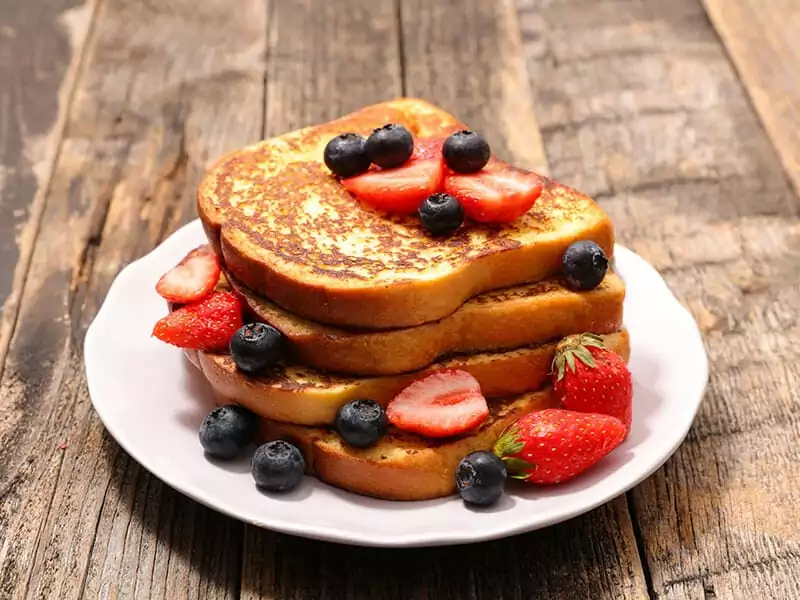 Toasters can help you toast bread slices at high speed and with better results. I mean that when considering using other devices to grill bread, these classic toasters will offer you a beautiful texture and an appealing appearance.
The second benefit of using toasters is to save on energy. Although there are various ways to toast bread in ovens or even saucepans, it's much more time-efficient to utilize the toasters. These kitchen appliances can also ensure much better heat distribution than the other two.
One more benefit of toasters is related to the effort to cook. Just put bread slices into the toasters, let them cook, and then the toaster will pop the bread slices up to get ready for your meals.
Using toasters to give your family members delicious pizza bread. The video below should be able to help you:
Do You Have A Toaster Oven At Home?
Have you ever wondered how and why the toaster ovens were produced? This section will reveal secrets about toaster ovens you might not know before.
The toaster ovens are also small electric ovens that provide you with toasting capacity and even for baking, defrosting, browning, reheating, and broiling ability.
These toaster ovens are considered a product developed from the traditional toaster with more usages for making many recipes to serve your family members. And the first time this device came to the public was in 1910, 23 years after the first toaster introduction. (2)
Unlike the simple toasters, these toaster ovens are invented with two variations, such as countertop and mounted toaster ovens.
As the names suggest, with the countertop toaster ovens, you can take the toasted bread from the top of the kitchen counters; whereas, the mounted toaster ovens will offer you cabinets to put the food in and move them out.
Additionally, toaster ovens are often made of a wide range of metals and molded plastics that can suffer high temperatures.
Thanks to the addition of some features, toaster ovens are now one of the must-have kitchen appliances.
Watch this video to know more:
Do Toaster Ovens Benefit You As Toasters And Ovens?
Like toasters, toaster ovens are multitasking devices in which you can benefit you in many aspects when you finish your dishes with them.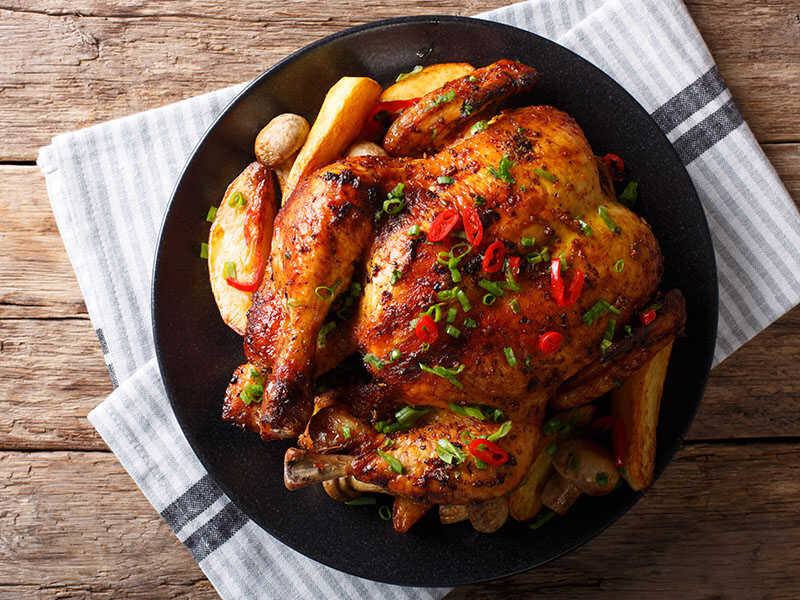 One of its remarkable benefits is there are many ways to use your toaster oven besides toasting bread. With a toaster oven, you can defrost frozen cooking ingredients, reheat leftover food, bake, toast, and broil.
For instance, next time when you have a BBQ party and need to quickly whip up some hot dogs, you can fall back on toaster ovens. With the proper toaster oven cooking method for hot dogs, you'll surprise everyone on the dinner table with the heavenly-tasting sausages.
The toaster oven is also highly efficient at reheating food, including particularly complex dishes. For instance, one of the most effective ways to rewarm lasagna is actually the toaster oven, as this method is a lot more straightforward and time-saving than reheating with ovens or skillets.
Some may think toaster ovens share some resemblances with convection ovens, regular toasters, or other ovens. To some extent, I think it's right.
However, compared to traditional ovens, these toaster ovens are smaller, making them a versatile appliance to save space and energy, but they are bigger than traditional toasters.
Notably, the main reason toaster ovens are popular among big families or those who are busy is that they can cut down a lot of cooking time and effort to flip food when you cook.
How to use toaster ovens to finish your many recipes for your meals? Watch this video to know more:
Do Toaster And Toaster Oven Have Anything In Common?
In some aspects, toaster and toaster ovens have similarities where sometimes you find it difficult to distinguish or choose the better choice for your home.
At first glance, you can notice that these two toasting machines are space-saving, although toaster ovens are somehow more giant.
Being a type of toaster, toaster ovens must have in common on purposes to use. Like toasters, you can use toaster ovens for baking bread, but a lot of bread slices at the same time.
How Are Toasters Different From Toaster Ovens?
This table here will show you the similar and different features of these two cooking devices, and definitely, it's useful to you.
| Characteristics | Toasters | Toaster Ovens |
| --- | --- | --- |
| Appearance | Various colors and shapes to choose | Get many choices related to color and shape that fit your preference. |
| Size | Smaller | Bigger |
| Operation | Easy settings | More complicated |
| Speed | Fast | Slow |
| Capacity | Two or four toaster slices | Four to six slices |
| Price | Cheaper | More expensive |
There are four different main features where you can define toasters and toaster ovens, which one must be in your kitchen to help you finish fabulous dishes in no time.
Appearance And Size
The most different point between toaster and toaster ovens is about their appearance when a toaster is a small appliance designed with various types and colors. Toaster takes the use of radiant heat to make your bread brown.
Whereas toaster ovens have the same shape as microwaves but get smaller. They're countertop ovens that are used to prepare a wide range of foods and have many functions.
However, don't think that toaster ovens and microwaves are the same. There are many elements that set toaster ovens and microwaves apart, including the underlying heating mechanism. So, please keep in mind that these two kitchen appliances are two entirely different things.
Thus, you can easily realize that toaster ovens are larger than traditional toasters. The main reason is toasters are just for toasting, but toaster ovens can do many other things besides toasting.
Operation
The second different characteristic is related to how to operate the machines. Setting the temperature and time of standard toasters is much easier as they just offer you one function while operating toaster ovens are more specific.
Setting the temperature in toasters is easier but not specific. No matter what types of toasters, they don't give you a specific temperature for cooking anything. What you need is to alter the numbers with the smallest one as the quickest mode or vice versa.
On the contrary, with a toaster oven, you can control cooking time and temperature for each food type, making it convenient and functional to cook many kinds of food.
Speed
Regarding temperature and speed to reach the highest points, although toaster ovens provide many benefits, toasters can toast faster when it comes to toasting ability and results.
Capacity And Price
Toaster and toaster ovens also offer you different capacities for each time they work. While you can toast four to six slices, a toaster can just help you to heat two to four sliced bread.
For this reason, it's easily understandable that toaster ovens are much more expensive than the toaster with the same capacity. The addition of many other functions is one of the significant factors to make toaster ovens more costly than single-function toasters.
What Are Pros And Cons Of Toasters And Toaster Ovens?
When you want to buy a toasting machine, you must consider its merits and demerits. And these are some advantages and disadvantages of owning toaster or toaster ovens you should know.
| Types | Toasters | Toaster Ovens |
| --- | --- | --- |
| Advantages | Toast waffles, bread, and bagels quickly | Include many cooking functions from reheating, baking, broiling, browning, and defrosting |
| Advantages | Space-saving | Easy To Clean |
| Advantages | Energy-efficiency | Light and portable |
| Advantages | Effortless | High productivity |
| Advantages | Convenient to clean | |
| Advantages | Preheat quickly | |
| Disadvantages | Only toasting and nothing else | Take longer time to preheat |
| Disadvantages | Don't offer specific temperature and time. Low productivity | Some toaster ovens are not movable when installed |
As mentioned before, toaster ovens are more functional than normal toasters. Possessing a toaster oven, you can do many things such as reheating, defrosting, baking, and broiling, while the normal toasters are just for toasting.
However, the toasters will create better toasts for your meals and save more time when they can toast more quickly than the toaster ovens.
With a big-sized family, the priority choice is toaster ovens as they work more productively with about four to six slices one, but actually, they're more time-costing.
Toasters are generally easy to clean, and as long as you know the appropriate ways to clean toaster ovens, keeping these two in pristine shape is effortless. User-friendly and energy-saving, they'll help you cook with no effort.
Baking cakes for your meals becomes effortless with a toaster oven. Watch this video to know more:
FAQs
If you have something to ask, just read this section first, because maybe your questions are explained here. Or just read these frequently asked questions related to toasters and toaster ovens to get more details.
Tips For Increasing Toaster And Toaster Oven Longevity
To make your toasters or toaster ovens last longer, these are some tips you should remember and consider doing while using these two devices.
Notice appropriate settings and use instructions if you don't know how to use toasters and toaster ovens properly.
Make sure that there is enough space between racks so that you can ensure your food will cook without any cold spots, especially with frozen food.
Remove crumbs and grease. When cooking, some crumbs and some liquid substance will accumulate inside toasters and toaster ovens; thus, remember to clean them.
Check for the safety of cords and power sources. You need to make sure that cords don't bump, hence, take care to put the wires.
If you think the mentioned information about toasters and toaster ovens here is good for your cooking, help me share the post with your relatives. And if you have any questions, comment below to ask; I will be happy to share my experiences.
Rememberable tips to use toaster ovens with cleanness and safety. Let's have a look at the following video!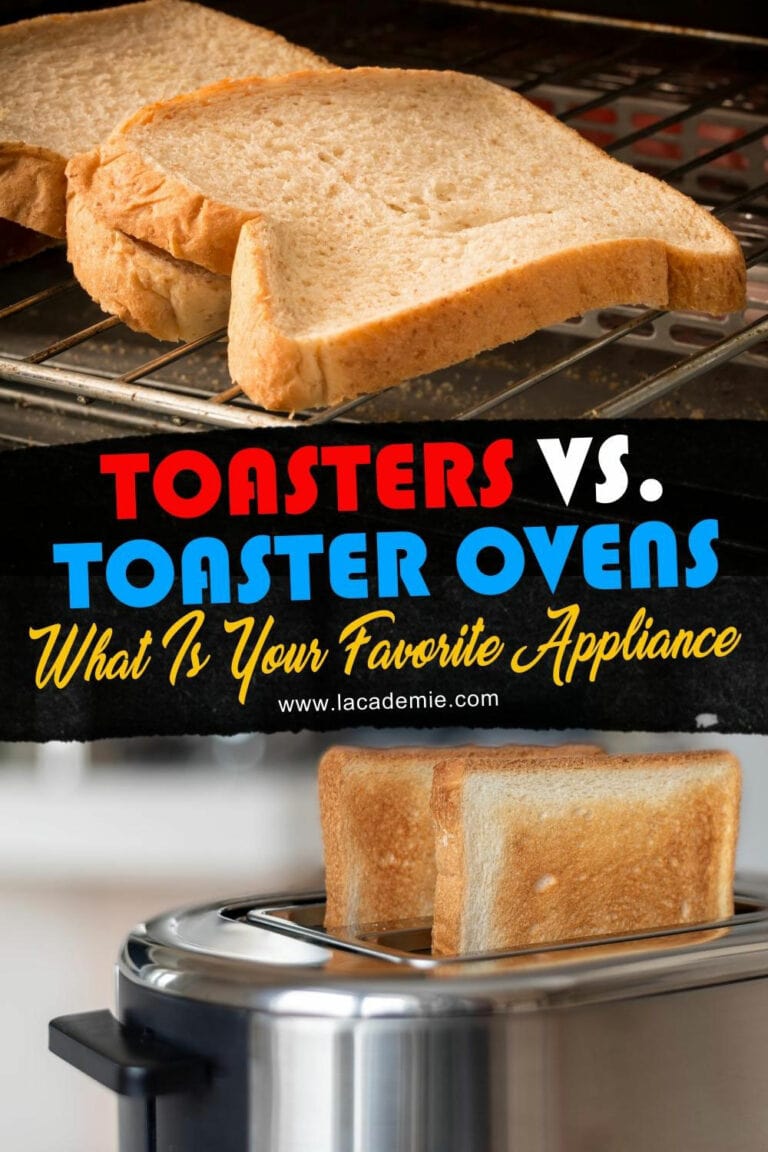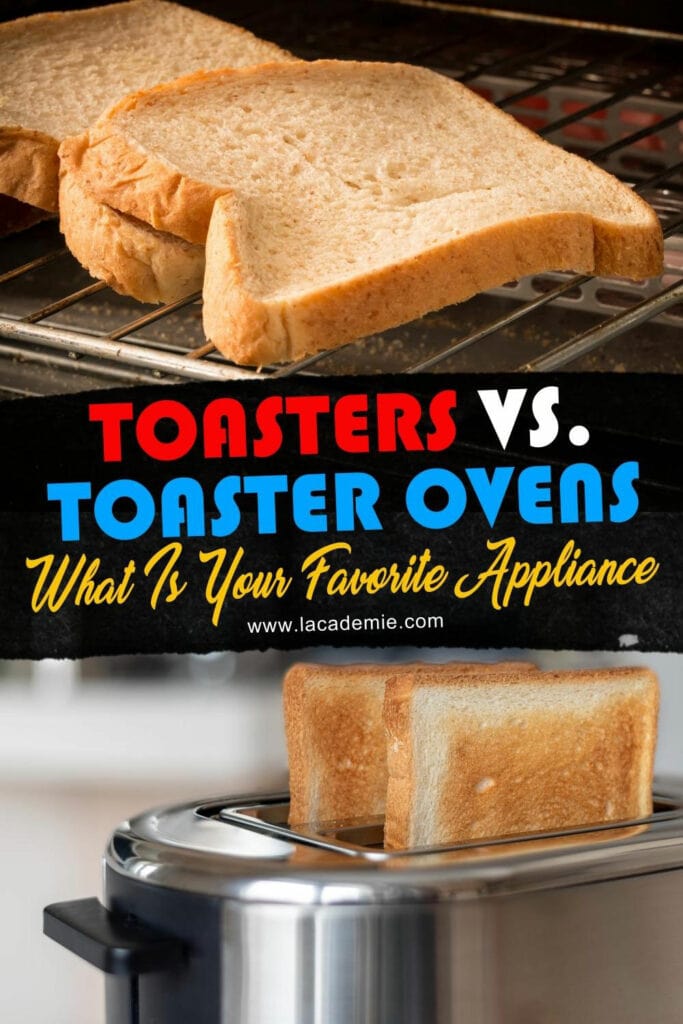 References
Hagley. 2021. The History of Making Toast. [online] Available at: <https://www.hagley.org/librarynews/history-making-toast>
Cooper, E., 2021. Toaster Oven: An Energy-Efficient Appliance for Any Kitchen | Food & Nutrition Magazine | January/February 2019. [online] Food & Nutrition Magazine. Available at: <https://foodandnutrition.org/from-the-magazine/toaster-oven-an-energy-efficient-appliance-for-any-kitchen/