It's not hard to learn how to cook hot dogs in a toaster oven as long as you are acquainted with proper guidance about using your toaster oven.
Once you have all the help you need after reading this article, you will be able to wow your guests with some incredibly juicy and crispy hot dogs. So roll up your sleeves, and let's get cooking!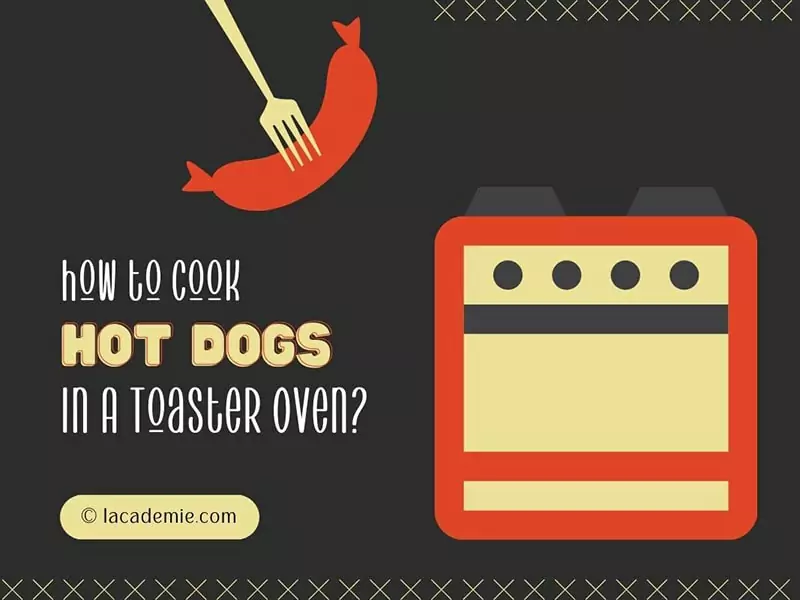 Before You Bake The Hot Dogs, Do This First!
There're a few things you must do before the cooking process begins. So give this section a read and prepare your hot dogs carefully for the best results.
1. Thaw The Hot Dogs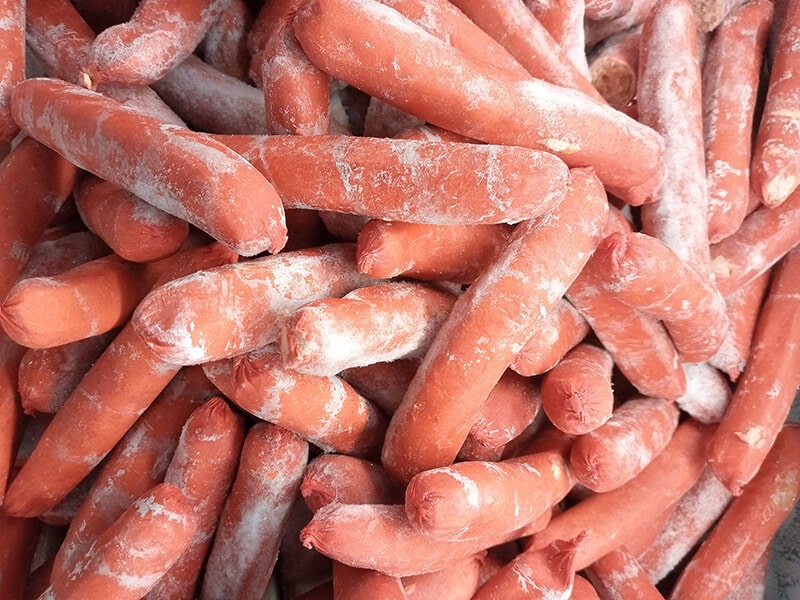 If you are using frozen hot dogs, you need to fully thaw them before placing them in the toaster oven. Baking frozen hot dogs is not recommended since they will come out hot on the outside and ice cold on the inside.
There are many effective methods to defrost your hot dogs, but the safest way is putting them in the refrigerator and letting them thaw slowly for 24 hours. Defrosting methods will also affect whether you can refreeze your hot dogs, so consider and choose wisely.
If you need to make things quicker, you can also put them in the microwave. The time it takes to microwave hot dogs may vary, depending on the thickness of your hot dogs and the wattage of your microwave.
2. Pre-Slice The Hot Dogs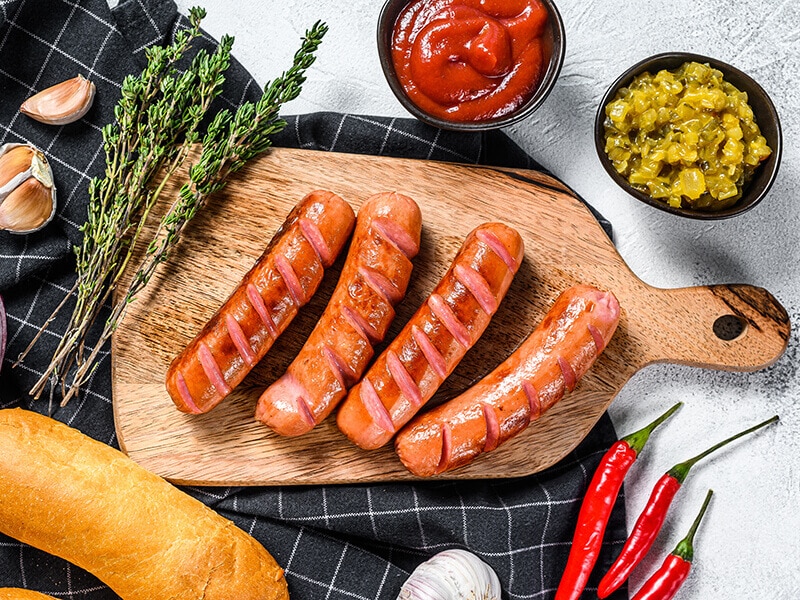 Use a sharp knife or scissor to make small diagonal cuts on your hot dog. They should be about ¼" deep and 1 ½" apart from each other. If you want to stuff your hot dogs, just cut a long straight line lengthwise about half way down instead.
This will allow the steam inside the hot dogs to escape and prevent bursting. Plus, this will help the hot dogs cook evenly, improving their texture, taste, and appearance.
The Best Way To Cook Hot Dogs Using A Toaster Oven
Don't think that you can apply the same methods to cook hot dogs in a microwave to prepare hot dogs in toaster ovens. There are many aspects that distinguish microwaves from toaster ovens, so it's best that you check out these 2 comprehensive step-by-step instructions.
1. Baking Hot Dogs In The Toaster Oven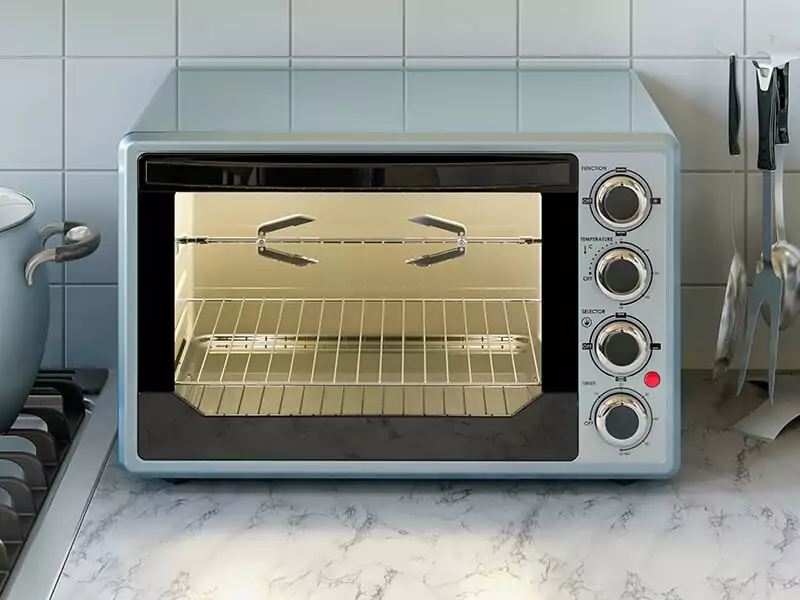 There are several similarities between a toaster oven and your convection oven. But when you bake hot dogs in the toaster oven, they will brown faster and become more crispy and appetizing. Follow the steps below and learn how to bake the perfect hot dog.
Step 1: Preheat The Oven
First of all, preheat your toaster oven to 350°F. While the toaster oven is heating up, you can prepare the ingredients or the baking tray.
Step 2: Prepare The Tray
Now take your toaster oven tray and line it with aluminum foil. This step is rather important since it can make your toaster oven cleaning process easier. The tray will catch the liquid and fat dripping from hot dogs, preventing the grease.
Alternatively, you can use a metal cooking pan with raised edges if you can't find your toaster oven tray. Don't use plastic or glass because they will make a mess in your oven.
Step 3: Put The Hot Dogs In
Once your toaster oven reaches the desired temperature, place the tray of hot dogs in the oven. Remember to leave space between them.
Step 4: Cook Them
Cook the hot dogs on medium-high heat for 3-4 minutes. Afterward, use a pair of tongs to flip the sausages and let them sit for another 3-4 minutes. Don't use a fork since that will damage the casings.
Remember to check your hot dogs regularly since the cooking time may vary depending on the size of your hot dogs and the power of your toaster oven.
Step 5: Enjoy!
Once the dogs turn golden brown and crispy, take them out of the oven. You can eat them right away or put them on a bun with your favorite condiments. Either way, they will be delicious!
Use a thermometer to check their internal temperature if you want to be more precise. Hot dogs should be cooked to a safe temperature of roughly 160°F~165°F(1).
2. Broiling Hot Dogs In The Toaster Oven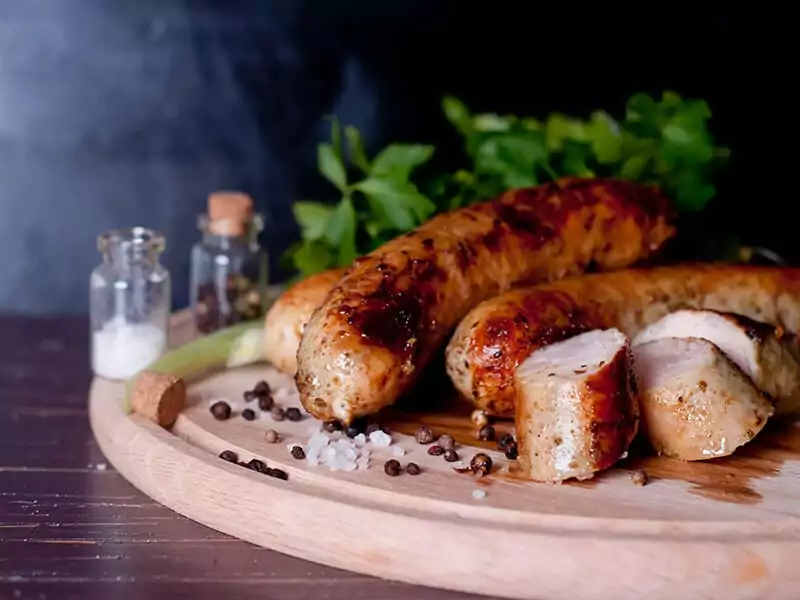 If you want your hot dogs to be extra crunchy and snappy, try broiling your dogs instead of baking them. Here's how you can do it:
Step 1: Prepare Everything
Set your toaster oven to broil. While the oven is slowly heating up, line your baking tray with some aluminum foil. Place the hot dogs on the tray, make sure that they don't touch each other.
If you don't want your hot dogs to dry out, you can wrap them with aluminum foil. The foil will prevent the moisture from escaping, making the hot dogs juicy and tender.
Step 2: Broil Them
Place your baking tray on the top rack of your toaster oven and allow them to broil for 10 minutes. Don't forget to flip them midway so all the sides are evenly cooked.
Step 3: Enjoy!
When the hot dogs start browning, and the skin becomes crispy, it is time to take them out. Again, you should check their internal temperature with a meat thermometer to be 100% sure that they are cooked through.
Note: If you plan on having buns with your hot dogs, you should warm them up while the hot dogs are cooking. In this case, you might want to learn the methods to steam hot dog buns.
5 Mind-Blowing Topping Ideas For Your Hot Dogs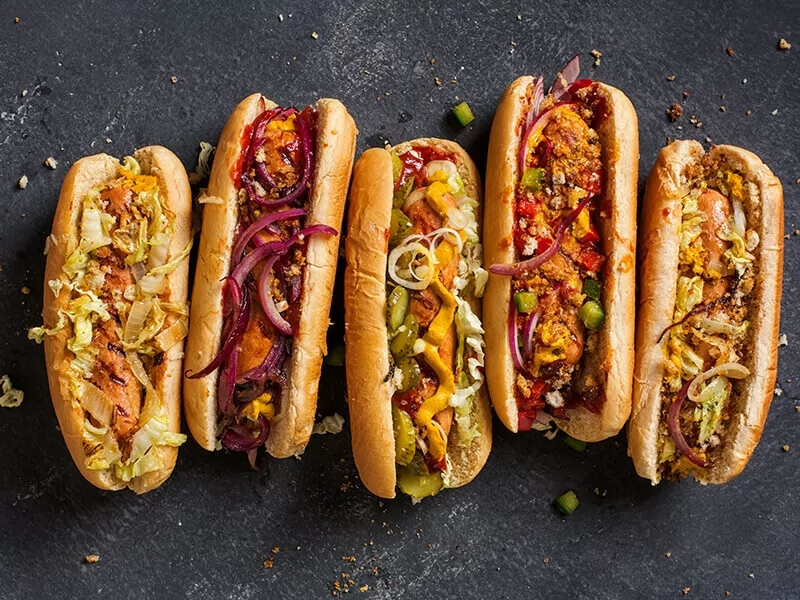 Now that you know how to make the perfect sausage, it is time to assemble your hot dog! Sure, you can't go wrong with ketchup and mustard, but that is just too basic. If you want to impress your family members or guests, try these combinations below:
Who said avocado only belongs on toast? The creamy avocado pairs amazingly well with the crunchy sausage and chewy bun. Add some diced tomatoes, some onions, and maybe some cilantro on top and you will have a fun, colorful and delicious hot dog.
If you love the taste of loaded nachos, you will enjoy this combination. With some crushed up tortilla chips, cheese sauce and chopped jalapeños, you will have yourself a nacho hot dog.
The sauce is rich and creamy, the chips are crunchy, the jalapeños are slightly sour, their flavor and texture are different yet so balanced and satisfying.
Mac and cheese with hot dogs? What's not to like? The cheesy, saucy macaroni adds a ton of flavor to your classic hot dog. And if you add some crunchy and salty bacon bits on top, you will know for sure that your guests will come back for seconds.
For the ones who are in love with this fantastic type of fries from Canada, this recipe is for you.
French fries, cheese curds and brown gravy already taste great by themselves. But once you add them to your hot dogs, you will see why I use the word "mind-blowing" to describe this combination.
Just by adding sauteed green peppers, onions and melted cheese, you can give yourself an authentic Philly experience with your hot dog. In my opinion, this is one of the best ways to enjoy a hot dog.
Here are some more next-level hot dog toppings ideas that you can try!
Bonus Tips: How To Properly Store Cooked Hot Dogs
So, can hot dogs spoil? You might think that "Oh, now that I have cooked the hot dogs, I no longer need to worry about them going bad!".
Although cooking them to 160°F~165°F will indeed kill the listeria bacteria inside the hot dogs(2), that won't stop the hot dogs from going bad. You still have to treat them the same way you treat freshly-bought hot dogs and store them well.
1. Storing Them In The Fridge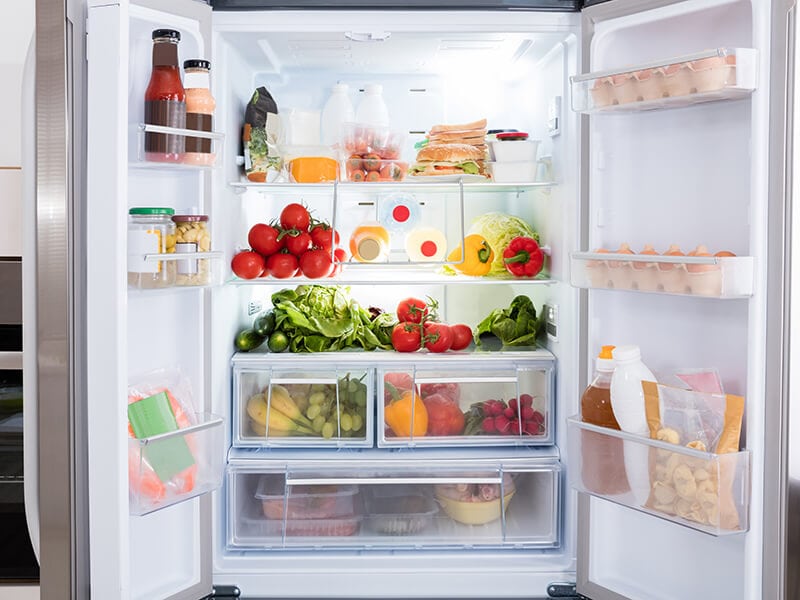 It's important to refrigerate the hot dogs within 2 hours of cooking. Leaving them at room temperature for longer will make them go bad.(3)
All you have to do is put the cooked hot dogs in an airtight container or wrap them in aluminum foil. Be careful, don't mistake tin foil with aluminum foil, as they are completely different. Afterward, place them in the fridge. The hot dogs will be safe to eat for about 4 days.
2. Storing Them In The Freezer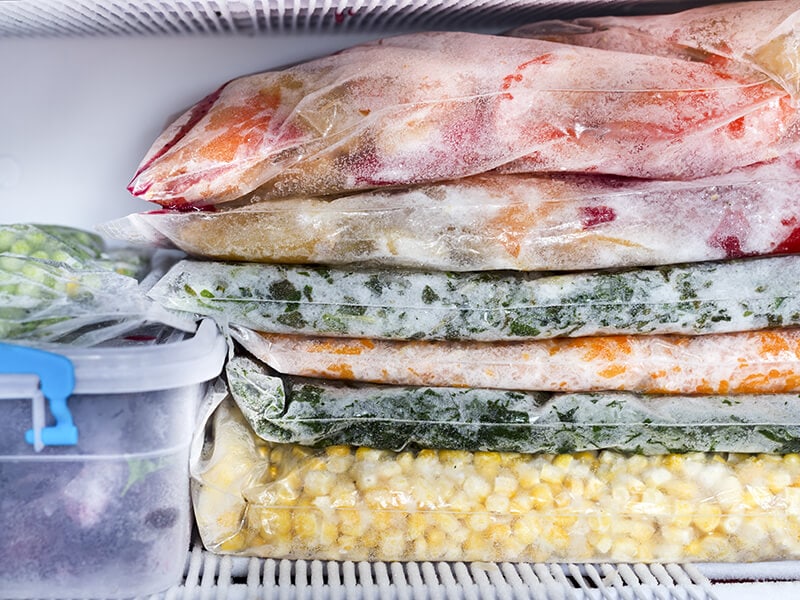 If you want to make them last longer, you might be wondering whether it is possible to freeze hot dogs. It can be risky to store them this way since freezing hot dogs incorrectly will make them have freezer burns.
However, if you know the proper way to store them, they will last for 4 months in the freezer. Put them in an airtight container designed for freezers or sealable freezer bag. You can also wrap them very tightly in aluminum foil. Make sure that the cold air can't make contact with hot dogs.
Remember to write the freezing date on the container/ freezer bag so you can eat them before they start to go bad. It's also not a bad idea to consider some recipes featuring leftover hot dogs to utilize the unfinished hot dogs in your fridge/freezer before they show signs of spoilage.
FAQs
Need more information about cooking hot dogs in a toaster oven? Have a look at these FAQs to see if you can find the answers you're looking for.
Nutrition Facts
4 servings per container
---
Amount Per ServingCalories210
% Daily Value *
Total Fat 17g

27

%
Protein 9.4g

19

%
---
* The % Daily Value tells you how much a nutrient in a serving of food contributes to a daily diet. 2,000 calories a day is used for general nutrition advice.
Cooking Hot Dogs In A Toaster Oven – It's As Easy As Pie!
Baking or broiling hot dogs in the toaster oven is the easiest, most convenient way to cook a perfect hot dog. It's hard to believe you can build so much flavor in just under 10 minutes!
Now that you've reached the end of this article, I hope you have learned all the tips and tricks about this cooking method. What do you think about this post? I'd love to hear them in the comment section below.
Also, remember to leave a like and share this post with everyone you know. After all, sharing is caring!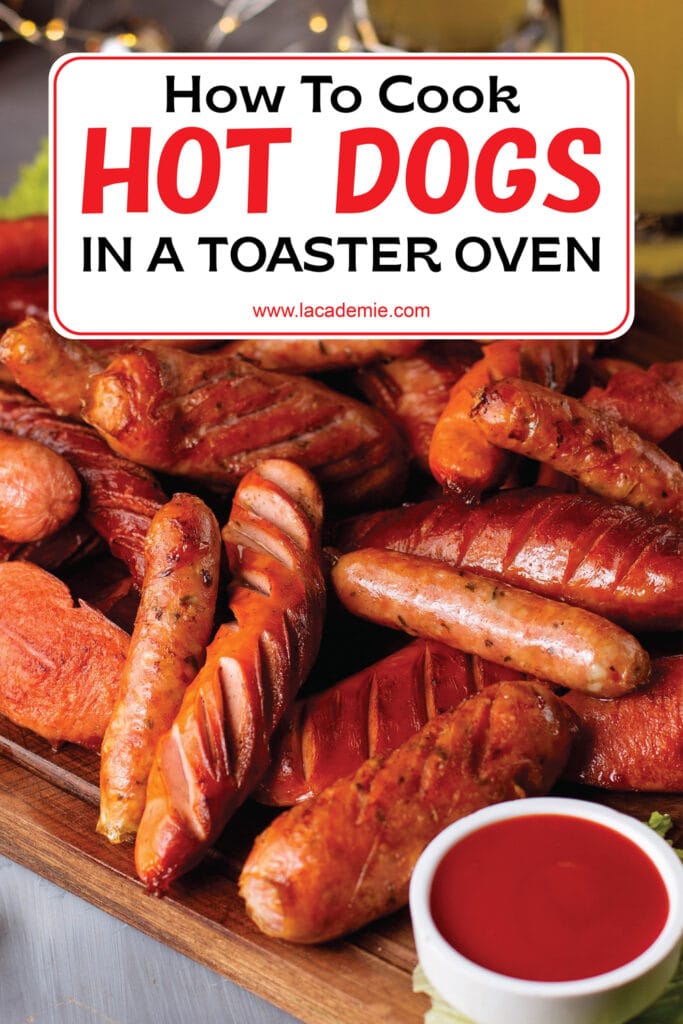 Reference
Foodsafety.gov, 2019. Safe Minimum Cooking Temperatures Chart [Online].
CDC, 2019. Listeria (Listeriosis).
USDA, 2013. Hot Dogs & Food Safety.