Knowing some effortless leftover hot dog recipes might come in handy. If you adore hot dogs and tend to go overboard with buying them, don't fret. While you can consider if you can store hot dogs in freezers, you can also consider other amazing ways to eat them.
Hot dogs don't get enough recognition for how versatile they are, mainly because they are usually eaten with the same buns. Get creative with your leftover hot dogs and explore their full potentials with the recipes from this list.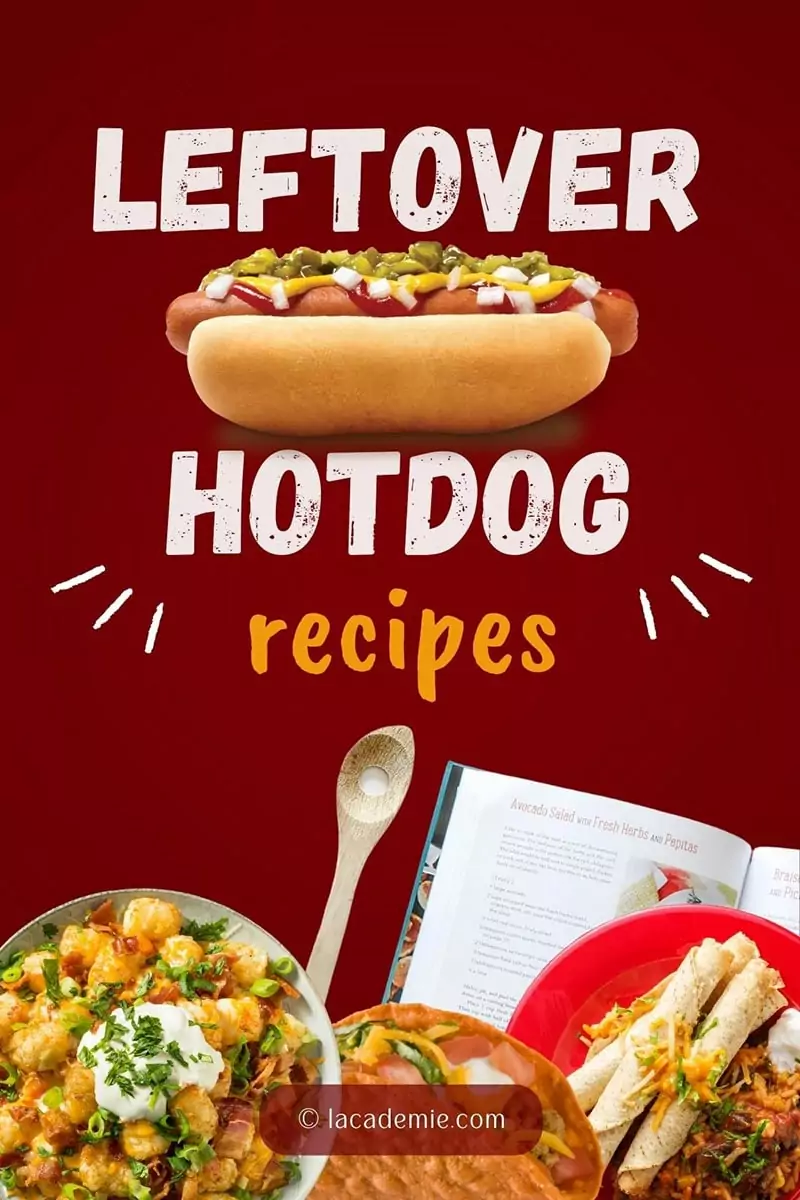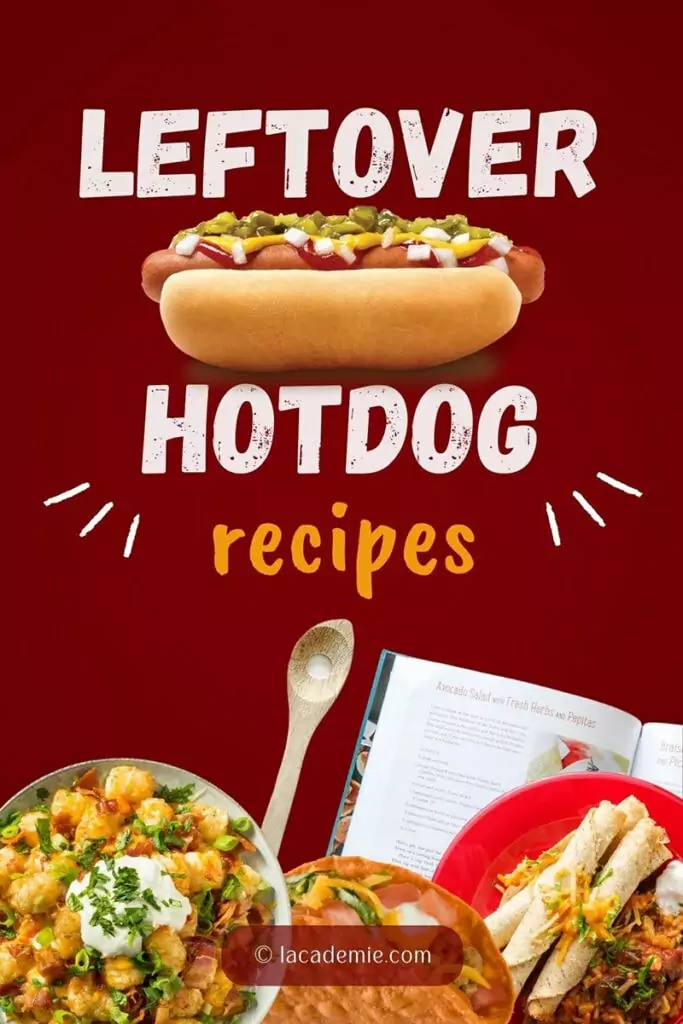 20 Leftover Hot Dog Recipes You Can Make Anytime
Why worry about the possibility of hot dogs spoiling when there are so many exciting ways to eat leftover hot dogs. There are three main things I believe you can use to create a fantastic meal with them: cheese, vegetables, and wheat products.
Leftover Hot Dog Recipes With Cheese
Cheesy Hot Dog Tater Tot Casserole
Chili Cheese Dog Pizza
Hot Dog Taquitos
Chili Cheese Dog Crescent Ring
Chili Dog Mac and Cheese
Crunchy Nacho Crescent Dogs
Chili Cheese Dog Pockets
Cheesy Chili Dog Tacos
Leftover Hot Dog Recipes With Vegetables
Roasted Veggie Hot Dog Hash
Hot Dog Fried Rice
Penny Casserole
Franks and Beans
Chicago-Style Hot Dog Salad
Polynesian Hot Dogs with Rice
Leftover Hot Dog Recipes With Wheat Products
Hot Dog Spaghetti
Pigs In A Blanket
Mini Corn Dog Muffins
Chicago-Style Hot Dog Cups
Corn Dog Waffles
Corn Muffin Hot Dog Sliders
8 Cheesy Leftover Hot Dog Recipes That Will Melt Your Heart
Cheese and hot dogs are a beloved couple at this point. They just complement each other in the best ways possible. Discover all the ways you can have cheese in your hot dogs as more than just simple toppings.
Casserole is always a great source of comfort, no matter the time or the weather. This recipe is a heart-warming combination of chopped hot dogs, chili, tater tots, and cheese. It will help you fully utilize all your leftover hot dogs and create a great meal at the same time.
This dish may seem overwhelming at first, but don't worry, it's a lot more simple to make than it looks. Just toss all the ingredients into a large pan and let it heat up in the oven. In no more than an hour, you can have a massive and flavorful dish to share with your loved ones.
You can hardly ever go wrong with chili, cheese, and hot dogs. If you love the classic chili cheese dog recipe and are looking for a new way to eat it, give this one a try. It will still have the same addicting spiciness and gooey cheese taste, only much more fulfilling this time.
The beauty of this dish is that if you have frozen hot dogs, there's no need for you to rack your brain over what you need to do to defrost hot dogs. The cooking process will take care of this tiresome task for you.
This recipe is incredibly versatile. Having a pizza as a base for the ingredients allows you to use whatever toppings you like. You can go for the familiar route with some onions and jalapenos or add mushrooms, herbs, and even extra meat if you'd like.
This Mexican-inspired recipe for appetizers is the perfect choice for all your parties. The crunchy tortillas make the ideal wrappers for all your leftover hot dogs. The crispy exterior combined with the firm and cheesy insides will have your mouth bursting with flavors when you eat it.
If you've already spent the standard time needed to smoke hot dogs, you'll find that your efforts have been repaid with this recipe. Why? Because this will taste a thousand times better with smoked hot dogs. I swear that I'm not exaggerating.
You can enjoy this dish in so many different ways as well. You can bring some more flavors to it by dipping it in your favorite salsa or simply top it off with guacamole, sour cream, or some herbs to bring everything together.
Here is another fun take on the chili cheese dog recipe. This time, it's something you can make for any occasion, from snacks for game nights, main courses for casual dinners, to appetizers for a summer feast.
Grab your leftover hot dogs, cover them in irresistible cheddar cheese, and wrap them in crescent roll dough to make the perfect bite-size comfort food that your loved ones will obsess over. After all, who doesn't love soft bread filled with nothing but cheese, meat, and chili?
Quick and easy tutorial on how to make this delectable cheesy dish:
Anyone who has mastered the arts of making boiled hot dogs will find this recipe easy as pie. Although it takes slightly longer than the average requisite time for boiling hot dogs, the end results are certainly worth it.
Why? Because this insanely easy and budget-friendly dish is something you can whip up with everything available in your pantry. It brings an impressive flavor twist to your regular Mac & Cheese without altering the recipe too much, just enough to keep you satisfied.
On its own, this dish is already good enough with its creamy cheese and savory hot dogs combination. However, if you want to experiment some more, top it off with some sour cream, onion, pepper, bacon, or chives.
Can't choose between hot dogs and nachos for snacks? Now you don't have to. This recipe combines the cheesy goodness of the Mexican dish and the signature savory hot dog taste. Texture-wise, it's everything you could want in snacks, crunchy, meaty, and melt-in-your-mouth gooey.
These nacho dogs also work as a side dish to eat with other foods. You could slice them into smaller bits and pair them with other main courses. You can make your own dips or just eat them with salsa, sour cream, or ketchup.
This toasty snack is something you won't want to miss out on. The recipe is simple enough to make in less than an hour, especially if you start with some delectable canned chili. The end results are tender hot dogs with crispy skin, a delightful contrast that will make you come back for more.
You can make these as a game night snack or a dinner appetizer for yourself and the kids to enjoy. Not only that, but they also freeze nicely, so you can make some in advance or simply save what's left for another day.
It's impossible to talk about cheese recipes without including tacos. This recipe gives you both an excellent option for making leftover hot dogs and an alternative for the regular buns you always use.
When hot dogs meet tacos, it's safe to assume that you're going to have an incredible meal ahead. The way the crunchy tortillas hug your cheese and onion-covered hot dogs is something you won't be able to get enough of. Add some salsa sauce to the mix if you need a flavor boost.
6 Creative Ways To Use Your Leftover Hot Dogs With Vegetables
Bring some healthiness back into your hot dog dishes by pairing them with loads and loads of veggies. These recipes are the most amazing ways to introduce your kids to the wonderful world of vegetables.
Balance out your meaty meal with this marvelous mixture of vegetables. This recipe can work well with just about any vegetable combination that you like. The most common ones used are potatoes, carrots, onion, and peppers.
Fulfilling, savory, and colorful, this nutritious dish is the perfect main course for all your dinners. You can have it alongside some pasta, fried rice, or fried eggs to complete the meal.
Asian recipes always have so much to offer because of how diverse they are. There are a million ways you can make fried rice, and adding hot dogs is one of them. This way, you can both test out something new and take full advantage of all the leftover food in your fridge.
This recipe is very flexible and customizable. You can freely adjust it to your personal preference, like using different veggies or rice, gluten-free soy sauce, or more keto-friendly ingredients. This is a quick, easy, and fantastically healthy meal to eat at any time.
True to its name, this casserole is very economical to make. Most of the ingredients are things you can readily find in your pantry, or hop to the store and get right away. Uncomplicated and easy to prepare, this can be your go-to recipe for a heart-warming dinner night.
Don't be fooled by its simplicity, though. You will be amazed by how good tomatoes and green peas are when paired with hot dogs. Everything you love about homemade meals, you can find right here within this dish.
When you've taken the hot dogs out of the freezer for too long, and now you're not sure if it's wise to freeze hog dogs again, this dish will be your savior. Get ready to be blown away by how delicious this classic Franks and beans casserole tastes.
Franks and beans is a nostalgic and comforting food for many. The original recipe only requires some canned baked beans and sliced hot dogs. Of course, you can always find new ways to eat it, like making it into casseroles or adding some extra seasonings for brand new flavors.
This dish is all about the toasty feeling of having hot and soul-warming food on a cold night with your family. Have some pleasant bonding conversations over this lovely sweet and savory plate. Use some biscuits, cornbread, or salad as side dishes to complete your meal.
Detailed instructions on the best way to make this hot dog and bean stew:
If you want a light meal that still features hot dogs, take a look at this salad. Much like the traditional Chicago-style hot dog, it still carries that burst of various flavors, from sweet, sour, bitter, to savory. However, with this recipe, you can stay healthy and still have a delightful treat.
This salad is simplicity at its finest. The honey mustard dressing, crunchy veggies, and savory hot dog combo makes it the ideal food to bring along on all your summer adventures. It only takes around 30 minutes to prepare but the dish that you get is beyond wonderful.
Looking for some brand new ways to eat leftover hot dogs? Give this incredible recipe a try, then. It features a lot of veggies, pineapples, soy sauce, rice, and some mouth-watering Polynesian sauce to bring everything together.
This sweet and sour dish is proof that you can eat hot dogs in any way you like. You wouldn't expect hot dogs and pineapple to mesh well, but they do. In fact, this dish gives you nothing but flavorful explosions because of all the various ingredients. It's cheap, fast, and utterly good.
6 Leftover Hot Dog Recipes With Wheat Products To Satisfy Your Snack Cravings
There are more ways to incorporate wheat products into your hot dog dishes than you think. Pigs in a blanket is the most popular recipe, but see what other fun recipes you can make with this versatile ingredient.
Hot dogs and spaghetti may sound like a strange combo at first, but in the Philippines, it is a very common dish, especially for children. They usually have it as a main dish at birthday parties or other festive celebrations.
Besides the two basic ingredients, you can either make it with tomato sauce or butter and cheese. Add some extra herbs and peas for more texture and flavors. You can even be a little dramatic and thread the noodles through the sausages to create an eye-catching dish.
One of the most classic choices when it comes to appetizers or snacks for game nights. This finger food recipe is a favorite amongst sausage lovers. It is known not only for how good it is but also for how quick and easy the cooking process is.
This means even if you only have the patience for the expected time length to microwave hot dogs or the simple method to make hot dogs in toaster ovens, this dish is still for you. No matter how busy or lazy you are, you'll certainly agree that this is an effortless recipe.
All you need to do is wrap your leftover hot dogs in crescent roll dough, heat them in the oven, and in less than 30 minutes, you can have a plate full of delicious bite-sized treats to enjoy. You can also switch things up a bit by including bacon or jalapenos in the wraps.
Easy and understandable guides on how to make these tasty treats by this video:
These muffins are made for all the corn dog lovers out there. They allow you to fully enjoy the delicious sausage without having to deal with the hassle of a wooden skewer or worry about sauce dripping everywhere.
What's great about these little treats is they carry both the pasty sweetness of regular muffins and the irresistible savory hot dogs flavor. Stuff them with some cheese so everything melts together, dip them in mustard or chili, and get ready to have the time of your life.
Chicago dogs can be a mouthful and a bit overwhelming sometimes. Make them easier and more enjoyable to eat by turning them into little muffins. This way you can still taste the great variety of vegetables and not have to worry about not being able to finish everything.
These hot dog cups are not only insanely tasty but also eye-catching to look at. They are a colorful explosion of mixed vegetables and hot dogs in tiny pastry cups, something you don't see every day on a dining table.
This recipe is a fun new way to eat both waffles and corn dogs. You can make these corn dog waffles as little treats for your kid's birthday party or just to simply bring some excitement to breakfast.
Needless to say, these snacks are so quick and easy to make. You can also make plenty in such a short amount of time as well. Nothing brings life to the party like these golden, crispy, and fantastic-smelling corn dog waffles.
Craving some good old greasy sliders with grilled meat but don't have time? Try these instead. They are a simplified version of regular sliders combined with the delectable taste of hot dogs, giving you the perfect summertime comfort food.
This recipe is also very flexible. You can switch out the original fillings for anything you prefer, from vegetables, seasonings, to sauces. In just less than 30 minutes, you can have delightful bite-size appetizers that everyone will enjoy.
Don't Let Good Food Go To Waste!
Hot dogs are the gifts that keep on giving. They can be made in a blink of an eye, and consumed just as fast because of how good they are. The best part is that even as leftovers, you still don't have to worry about their texture and flavor. Everything is still just as good.
There's no limit to what you can use leftover hot dogs for. As long as you want to, there will always be something new for you to try out. Next time when you're thinking about throwing out days-old hot dogs, see this list and find something new to make them with instead.
Nutrition Facts
8 servings per container
---
Amount Per ServingCalories327
% Daily Value *
Total Fat 16.2g

25

%
Cholesterol 42mg

15

%
Sodium 2479mg

104

%
Potassium 131mg

4

%
Total Carbohydrate 33.1g

11

%

Dietary Fiber 2.2g

8

%
Sugars 2.1g

Protein 14g

29

%
---
Calcium

220

%
Iron

3

%
Vitamin D

3

%
* The % Daily Value tells you how much a nutrient in a serving of food contributes to a daily diet. 2,000 calories a day is used for general nutrition advice.