How much is a clove of garlic? Garlic has a distinctively strong taste and pungent smell. In addition, it is incredibly versatile. Combining garlic with other ingredients creates layers of flavor that make your dishes stand out.
However, using too much garlic will overwhelm the taste of other ingredients in your recipe. That is why you have to be careful with the amount of it when cooking. But how much is enough?
Fortunately, I'm here to help you! After reading this post, I'm sure you can deal with any garlic recipe with full confidence. Other than that, you can also learn about ways to store garlic, signs of bad garlic, and tips to treat garlic smell.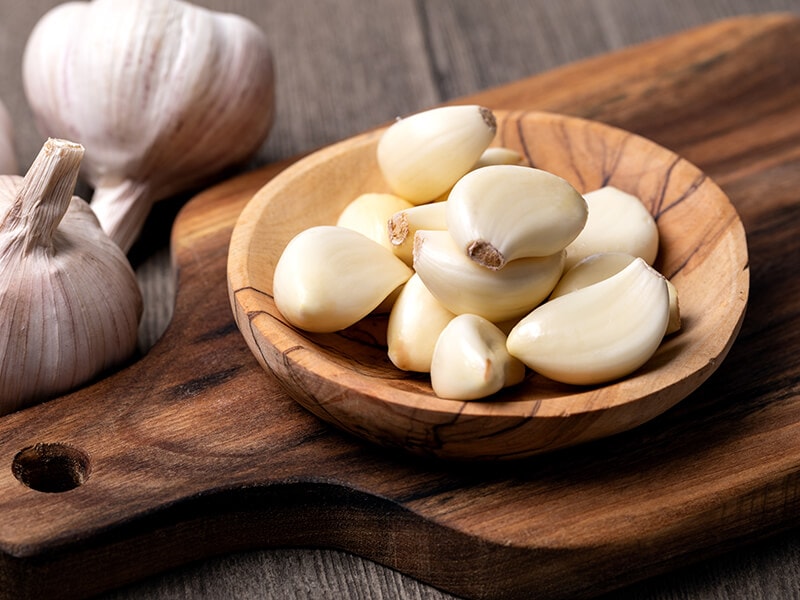 Basic Knowledge About Garlic
Garlic has long been an indispensable ingredient in cooking. You can hardly find any kitchen without its presence. However, while it is prevalent, many people don't actually know how valuable garlic is to their health.
A Garlic Clove And A Garlic Head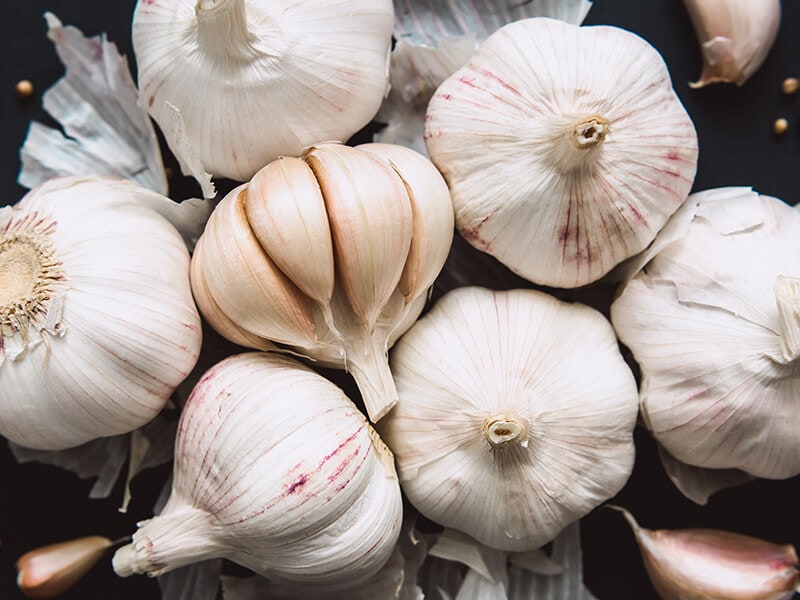 Garlic is a type of root vegetable in the genus Allium, along with the onion, shallot, leek, and chive (1) . It grows best in fertile, well-drained soil and warm weather. A large amount of garlic in the world derives from China.
Garlic appears in the form of a bulb covered with white papery skin. When it ripens, its tops begin to wither and die. After harvesting, garlic bulbs will undergo a drying process before storage.
A garlic head refers to a whole bulb of garlic. When peeling the skin of this bulb, you will find many wedge-shaped lobes inside. These segments are garlic cloves. Normally, a head of garlic comprises 10-12 cloves.
Sizes Of Garlic Clove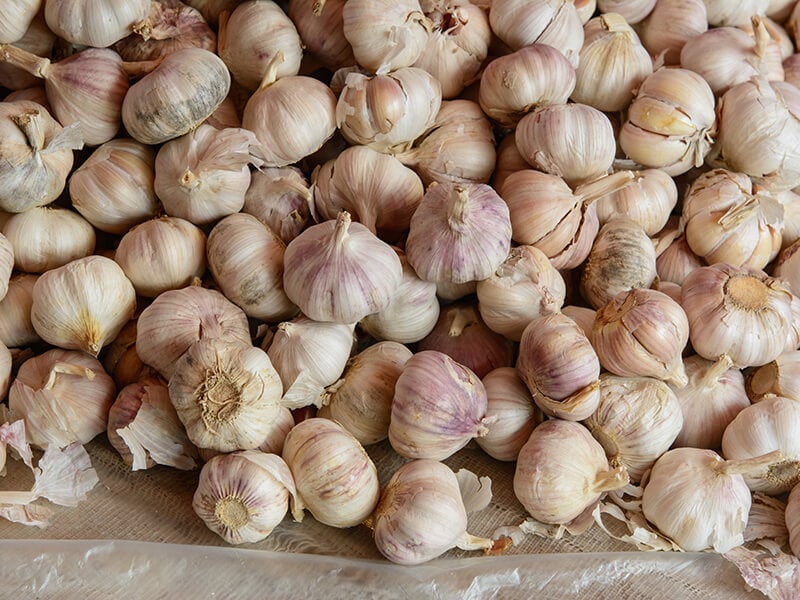 The side of garlic clove can vary depending on the garlic type. Sofneck garlic often produces more cloves than hardneck varieties, but they are generally smaller. Even in the same bulb, the sizes of each clove are different.
Normally, a small garlic clove is 1 inch long and ⅜-½ inch in width. The size of a larger one measures approximately 1.25-1.4 and ⅝-¾, respectively.
The weight of small garlic is about 2-3 grams per clove, whereas a medium-sized clove can weigh 4-6 grams. Some garlic may grow as large as 7-10 grams per clove.
Health Benefits Of Garlic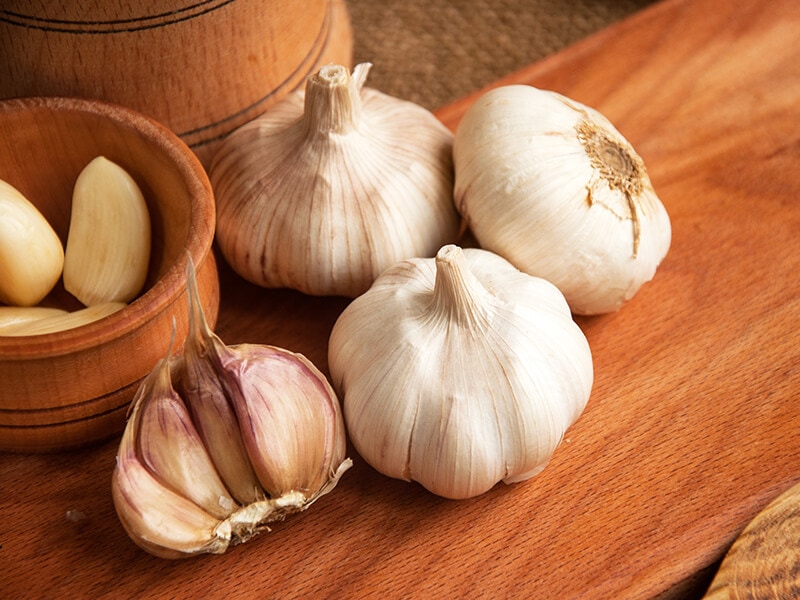 Garlic offers you more than just its flavor. Many health benefits are associated with this flavoring ingredient's strong smell and delicious taste.
An individual garlic clove contains 2% manganese, 2% vitamin b6, 4.5 calories, 0.2 grams of protein, and 1 gram of carbs of the daily value (2).
Garlic is one of the most concentrated sources of allicin. It gives off hydrogen sulfide, which explains why they are so pungent. This compound can prevent bacterial infections and boost the immune system.
Here's a fact! Eating garlic can reduce the length of cold symptoms. It also helps to prevent several illnesses like the flu and the common cold.
Garlic can reduce blood pressure and total cholesterol, which may lower the risk of heart-related diseases and even cancer.
Containing high antioxidants, garlic contributes to the prevention of cognitive diseases such as Alzheimer's and dementia. Another advantage of consuming garlic is that it can minimize bone loss.
Eating raw garlic can reduce the risks of cardiovascular diseases.
What You Can Have From A Medium Clove Of Garlic
A clove of garlic can produce different amounts of garlic forms. Generally, people use teaspoons to make the measurement. Teaspoon sizes can vary from 2.5 to 7.3 ml, while a standard teaspoon for cooking is 5 ml.
Many recipes often require a certain amount of processed garlic. But you may not know how many garlic cloves you need to make the same volume. If that's the case, you will want to look at the table below.
| Garlic Forms | Number Of Teaspoons Per One Garlic Clove |
| --- | --- |
| Chopped Garlic | ½ -1 teaspoon |
| Minced Garlic | ½ -¾ teaspoon |
| Garlic Powder | ⅛ teaspoon |
| Granulated Garlic | ⅛-1 teaspoon |
| Garlic Flakes | ½ teaspoon |
| Garlic Salt | ⅛-½ teaspoon |
Chopped Garlic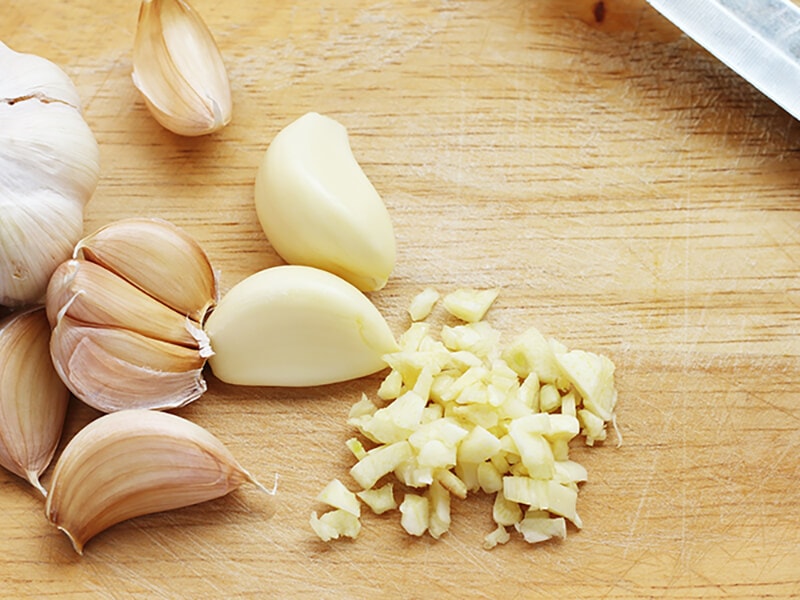 Chopped garlic is 1/8 inch on all sides and commonly appears in pasta and stir-fries. Once this ingredient blends, it adds a subtle garlicky flavor to your dishes. This is a fantastic alternative for people who cannot bear the pungent taste of fresh garlic.
A big garlic clove can produce approximately one teaspoon of chopped garlic. The small one will equal half a teaspoon, while a medium clove can fill ¾ your teaspoon.
If you only have little time, you can always opt for a jar of chopped garlic in supermarkets. However, pasteurization has changed its flavor, so it cannot compare to fresh garlic.
Minced Garlic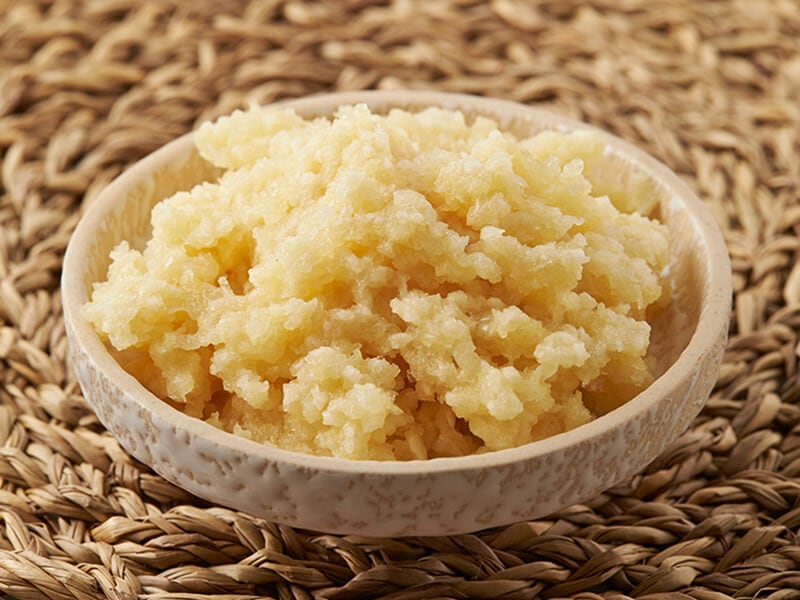 Minced garlic is finer than chopped one and usually is 1/16 inch on all sides. A small garlic clove can make up ½ a teaspoon of minced garlic. If you choose the bigger clove, you can have up to 75% of a teaspoon.
Minced garlic is best for sauces and marinades as it distributes flavor better than its chopped counterpart. The smaller your garlic is, the more intense its flavor becomes.
To mince garlic, you have to chop it first and then drag the knife across the garlic back and forth. Many kitchen utensils can help you do the job, such as a food blender, garlic press, or mortar and pestle.
Do you want to know how to mince garlic fast? If you don't, then refer to this helpful tutorial.
Garlic Powder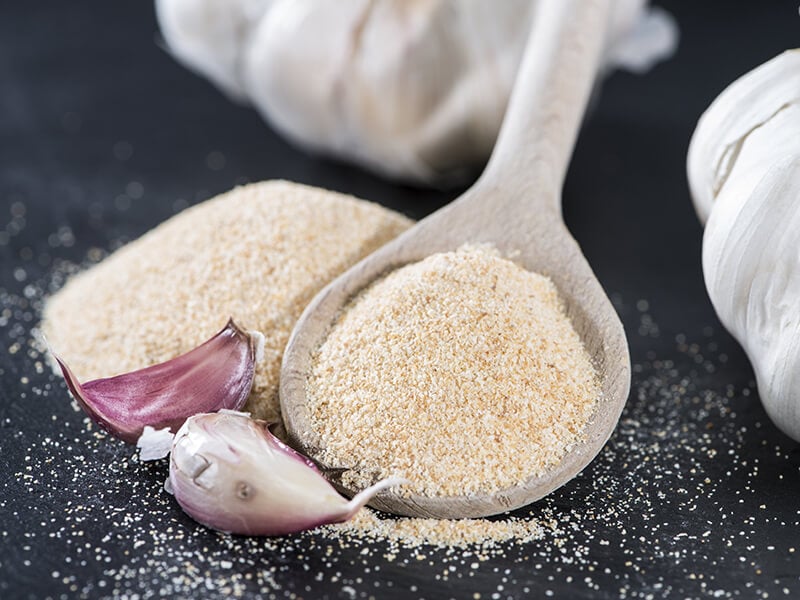 Garlic powder is a popular alternative to fresh garlic. This processed garlic type is the most concentrated among various garlic forms. In addition, its taste is also sweeter due to the drying process.
You can use garlic powder in any recipe that calls for dried or fresh garlic. Moreover, since it has the finest texture, it can disintegrate into your dish quickly. On average, 1/8 teaspoon of garlic powder can replace a garlic clove.
Granulated Garlic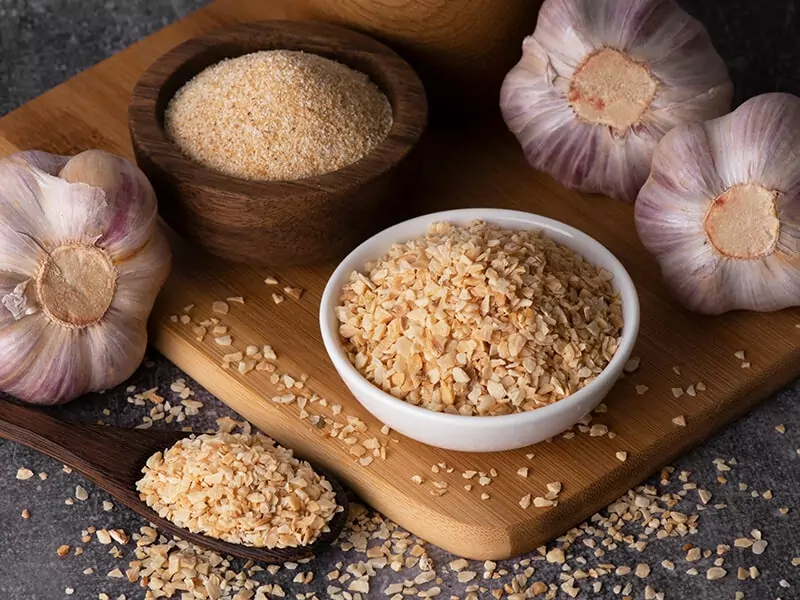 This variety is coarser and less concentrated than garlic powder. Therefore, you only need 1/8 teaspoon of it in exchange for one small garlic clove. A standard-sized clove will produce an amount of ⅓ tablespoon (or 1 teaspoon) of granulated garlic.
People mostly use granulated garlic in sauces, dry-meat rubs, and stir-fries as a seasoning. This is because it distributes the flavor in a dish evenly without adding moisture. This form is superior to garlic powder for soups since it's less prone to forming clumps.
Garlic Flakes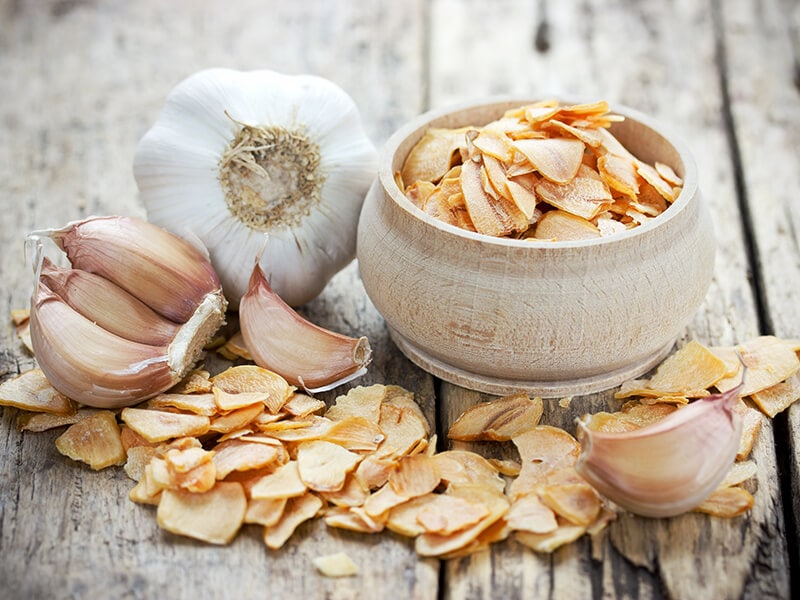 Sliced garlic, after going through a drying process, will become garlic flakes. It is a moderate source of phosphorus, which can keep your bones and teeth healthy. Besides, it contains no preservatives or salt.
You should use 1/2 teaspoon of garlic flakes to substitute for a garlic clove. Soups, sauces, stews, and casseroles commonly require this ingredient.
Garlic Salt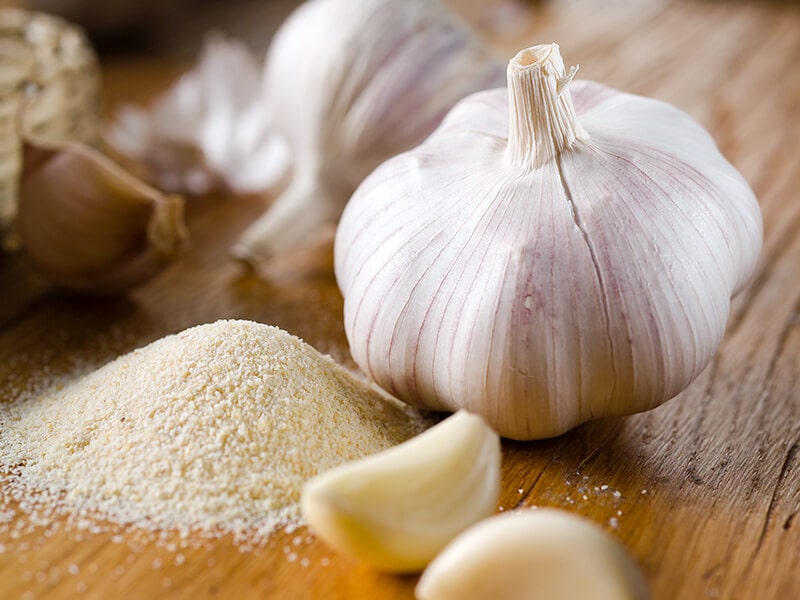 Made of a combination of dried, ground garlic and table salt, garlic salt is an amazing burst for your taste. It is perfect for seasoning, rubbing, or marinating meats. However, since it contains salt, you should adjust it before cooking.
¼ teaspoon of garlic salt is enough to replace a medium garlic clove. For the smaller or bigger ones, use ⅛ and ½ teaspoon, respectively.
Including garlic salt in your recipes helps reduce cholesterol and increase antioxidants in the body.
Garlic Cloves And Tablespoons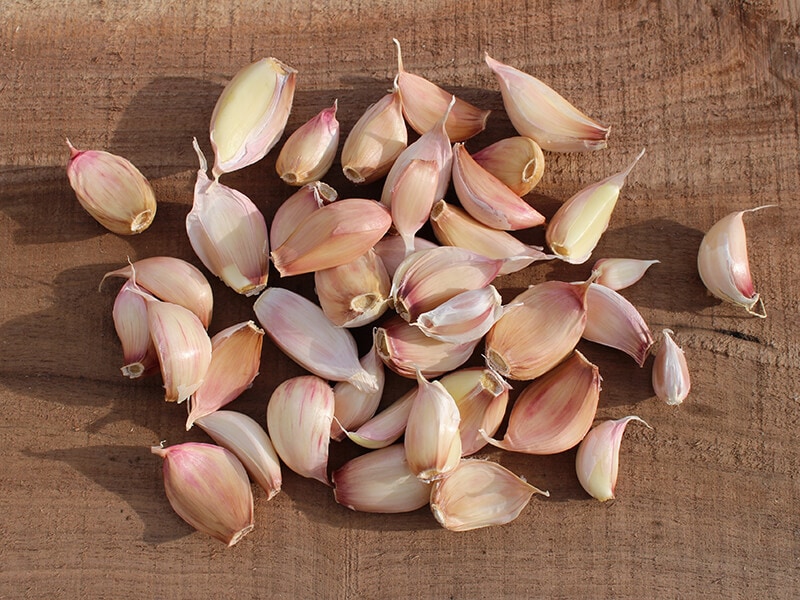 A tablespoon is a popular unit of measure. A standard US tablespoon has a capacity of 15 ml, which equals 1/16 standard cup, 3 teaspoons, and half of a fluid ounce in America.
Check the table below if your recipes call for a tablespoon of garlic cloves.
| Number Of Garlic Cloves | Tablespoons |
| --- | --- |
| 1 | 1/3 |
| 2 | 2/3 |
| 3 | 1 |
| 4 | 1 and 1 teaspoon |
| 5 | 1 and 2 teaspoons |
| 8 | 2 and 2 tablespoons |
| 10 | 3 and 1 teaspoon |
| 12 | 4 tablespoons |
While teaspoons are more convenient for small recipes, tablespoons are a better choice for preparing food in large amounts. When measuring, remember to fill the tablespoon to the brim and flatten it with a knife or spatula to ensure accuracy.
Measuring Garlic With Cups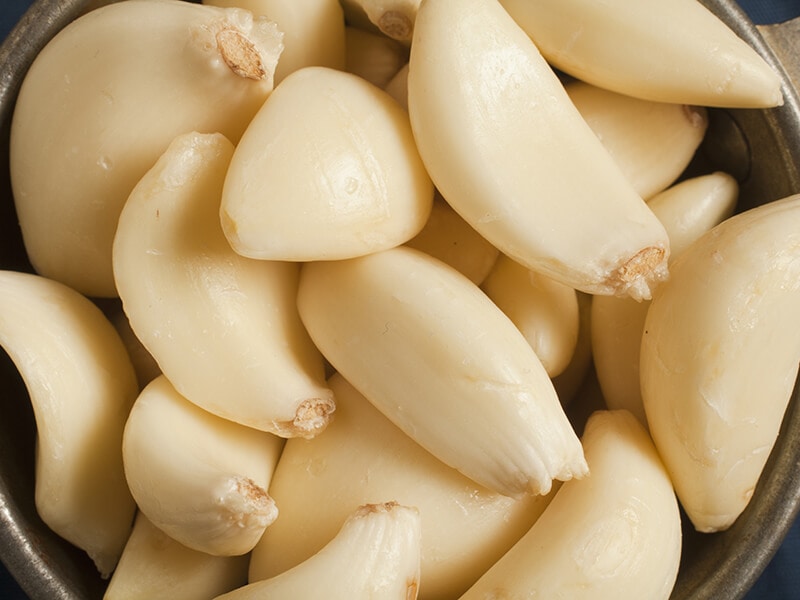 Besides teaspoons and tablespoons, cups are also a helpful measuring tool in cooking. A standard cup has a capacity of 236 ml or 8 fluid ounces. Take a look at the table below for more specific conversions.
| Garlic cloves | Cups |
| --- | --- |
| 12 | 1/4 |
| 16 | 1/3 |
| 24 | 1/2 |
| 32 | 2/3 |
| 36 | 3/4 |
| 48 | 1 |
Cups are perfect for measuring vast amounts of garlic. You should place the cup on a flat surface and level it with a knife. After that, read horizontally according to the capacity inside.
Need to learn how to measure ingredients with cups? This video will show you how to do that!
The Shelf Life Of Different Garlic Cloves
If you are like me, you probably have a lot of garlic heads stacked in your kitchen. Have you ever looked at them and wondered how long they could last?
Garlic has no expiration date like many vegetables. The shelf life of garlic ranges from a few days to years, depending on how you store it.
Usually, small and medium-sized garlic heads last longer than large ones. Therefore, use the large bulbs first. Garlic whose stem is less than one-half inch from the head will not stay good for long as more air penetrates its wrappers.
A garlic bulb can last up to 6 months if completely intact in a favorable environment. Don't peel the papery skin; once you do, the garlic's shelf life will shorten significantly.
The ideal temperature for commercial garlic storage is between 56-58 degrees F. If the temperature is below 50 degrees F, garlic may sprout; above 66, it will wilt rapidly. Humidity for your garlic should be 45-50%.
A fridge is not an ideal place for storing garlic. The moisture can stimulate the sprouts to grow. You should keep it in a cool, dimly lit place for a better result. In addition, make sure to let your garlic "breath" by allowing some air circulation.
Individual garlic lobes can last for 2-3 weeks in the same storage condition. If you peel them, you must store garlic cloves in a fridge and use them within a week.
How To Detect Bad Garlic
When garlic is not in its best condition, some changes happen in its appearance, odor, and texture that you can notice immediately.
Appearance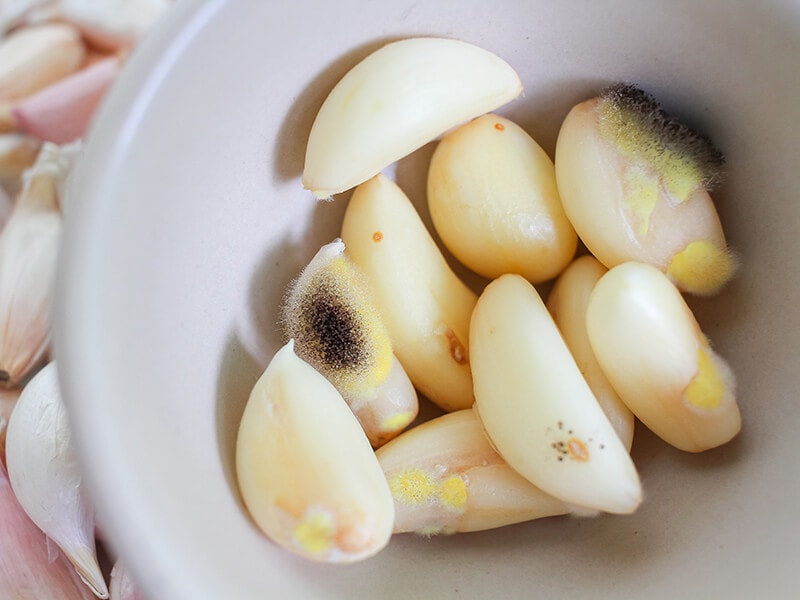 Bad garlic usually has weird spots and mold on its flesh. Unlike fresh garlic, spoiled garlic does not have a white color but changes to a yellow hue. You can also see brown or black spots like bruises on the skin.
Mold is a clear indication that your garlic has gone bad. It occurs when garlic grows under warm conditions and can be white, blue, or black. Eating moldy garlic can lead to serious health problems, so you should toss it immediately.
Another change in the appearance of garlic is the growth of stalks. Sprouted garlic is safe to eat, but its flavor is not as good as fresh one. You can cut away the stem since it tastes bitter and use the rest as usual.
Odor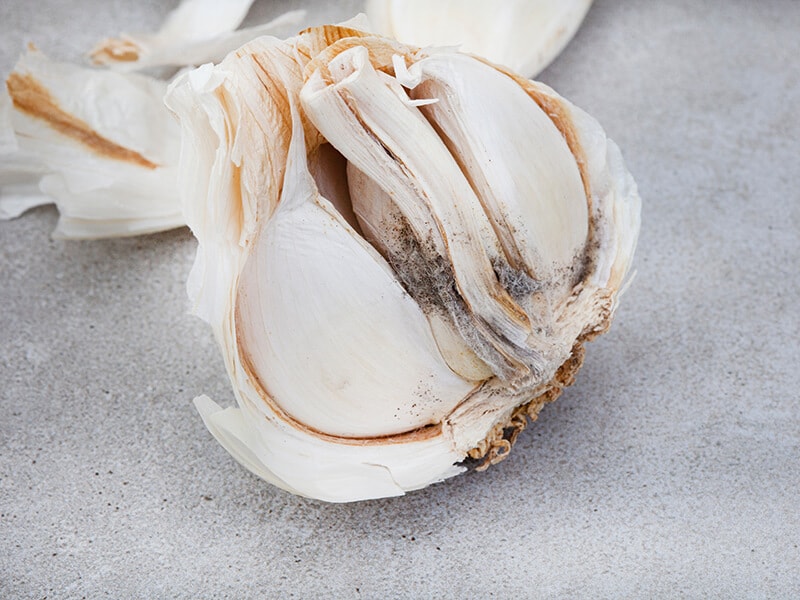 When you damage garlic cells, they produce an alliinase enzyme. This enzyme turns alliin into allicin, which causes a pungent flavor of garlic. However, instead of giving off the same smell, bad garlic gives off a rancid and sour odor.
Texture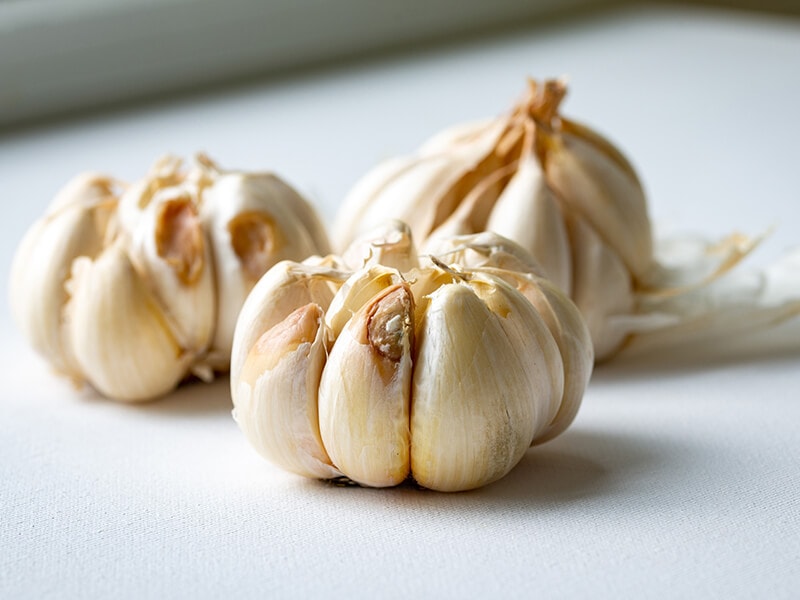 Fresh garlic has a firm texture. If your garlic clove is soft to the touch or has hollows inside, then surely it's not in its best condition. Although slightly soft garlic is safe to eat, it loses much of the pungent taste.
However, since a whole bulb contains many cloves, you should check each one. Perhaps some of them are still nice and firm. But when the garlic drips liquid, you must throw it away.
Mushy garlic is harmful to your health. It contains a bacteria called clostridium botulinum, which attacks the nervous system. These microbes can result in paralysis and severe health problems when eaten.
How To Treat Garlic Smell
As tasty as garlic is, it may bring an unpleasant smell to your breath or your hands when processing it. However, there are some practical ways to eliminate the pungent smell.
Garlic Breath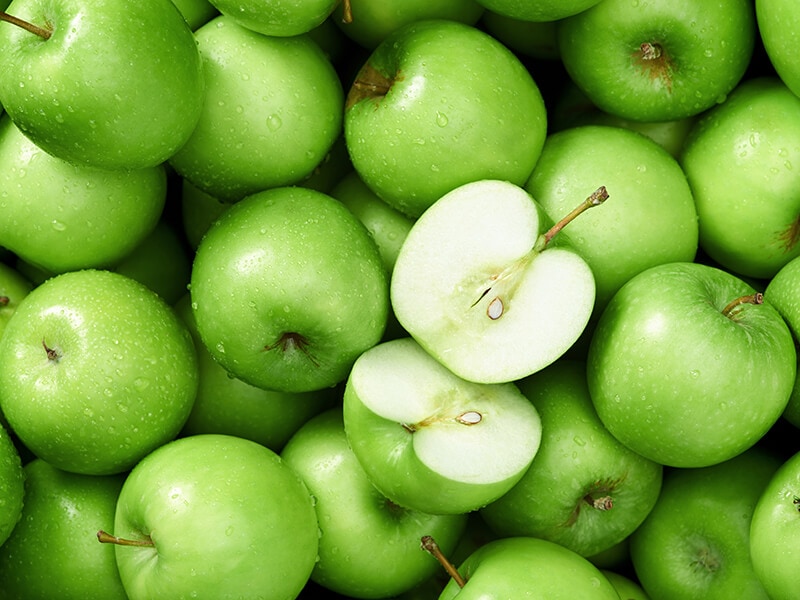 The sulfur compounds in garlic, which create its strong smell, are the main culprit in causing garlic breath. To get rid of this unpleasant odor, you can apply these tips.
Eat fresh fruits and vegetables: apples, spinach, or mint can decrease the pungent smell of garlic.
Drink milk: Milk significantly reduces the sulfur compounds that give the distinct garlic smell.
Use chlorine dioxide mouthwash: Mouthwashes can cover up the odor of garlic on the breath, especially those that contain chlorine dioxide.
Use essential oils: Essential oil also brings some antibacterial benefits. Add a teaspoon of carrier oil and a few drops of peppermint oil to your mouth and use them as mouthwashes.
Stay hydrated: Water stimulates the production of saliva, which can remove part of the smell in your mouth.
Drink green tea: Green tea is high in polyphenols, which help to cover up the odor of garlic fairly well.
Chew gum: Like drinking water, chewing gum can stimulate saliva and wash away food particles.
Drink lemon juice: Lemon juice works exceptionally well with crushed garlic. The acid inside lemon can neutralize the compound that causes bad breath.
Brush and floss: Brushing and flossing can eliminate bacteria that cause the odor and food residue below the gum line and in plaque on the teeth.
Garlic Smell On Hands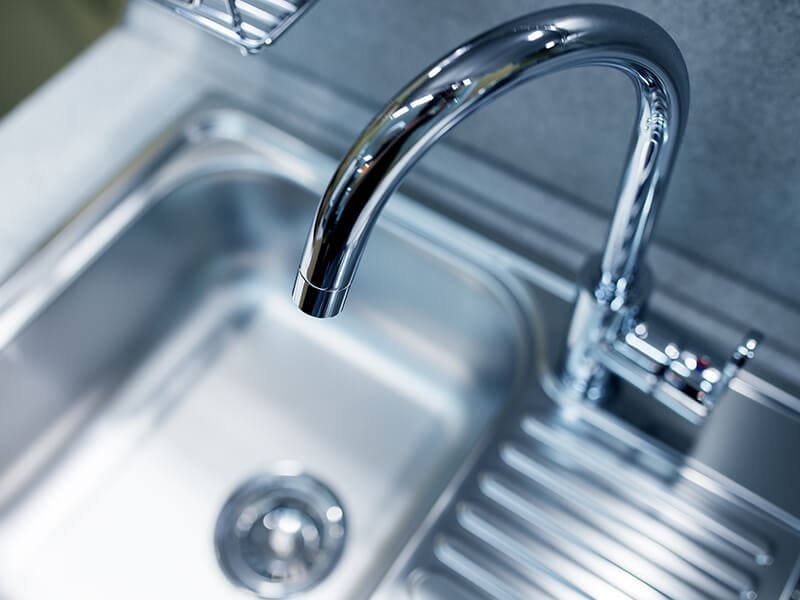 Your hands directly come in contact with garlic when preparing it. Therefore, getting the garlic smell all over your fingers or hands is unavoidable. Keep these tips in mind, and you will soon find dealing with this problem is easy as pie.
Rinse with mouthwash or toothpaste: Pour a small portion into your hands and rub for 30 seconds; the garlic smell will fade away.
Wash with lemon and salt: It works well but be careful as they may irritate your skin.
Make use of stainless steel: Rubbing your finger over stainless steel, like a sink, or faucet, under cold water can bind molecules of garlic.
Rub with coffee: Either whole coffee beans or ground coffee can erase the smell of garlic on your hands.
Rinse with baking soda and salt: Add 1 teaspoon of salt and 2 teaspoons of baking soda and rub for 30 seconds to eliminate the smell.
Delicious Recipes With Garlic For You And Your Beloveds
Although garlic is more like a seasoning than a main ingredient in dishes, no one can deny its contribution to the flavor of the food. You can verify this by trying these recipes!
Sharp cheddar cheese, Italian herbs, and garlic are great companions to the light, soft pieces of bread. Easy but impressive, this recipe is a must-try. In addition, since it contains cheddar cheese, you may want to serve it warm when it is still cheesy and gooey.
This recipe includes roasted garlic, fresh parsley, olive oil, peppers, and of course, pasta, making it perfect for a fresh and nutritious meal. Feel free to replace gluten-free pasta with regular pasta or even noodles.
Make your own garlic and olive oil pasta right at home with the easiest recipe.
This recipe is full of Thai flavor with bold curry paste, tasty salmon, creamy coconut milk, and curry powder. Boil the salmon until it gets crispy, then dip it in a curry sauce with chili garlic butter. This curry is best when eaten with rice.
Here's another pasta and garlic recipe for you! But this time, the shrimp and the garlic lemon butter sauce will help your dish stand out. It won't take long for a lovely meal with all the nutrition you need. So, what are you waiting for? Let's make it now!
FAQs
If you have already read all the information above and still feel vague about it, why don't you check these queries for better comprehension?
A Humble Garlic Clove Can Mean So Much
How much is a clove of garlic? Well, it's enough to change your entire dish if you ask me! Garlic is a must-have ingredient in every home cook's kitchen. Without its presence, the dishes will never be complete.
Garlic has a lot of varieties to meet different needs. Regardless of its form, this ingredient plays a vital role in forming the flavors of your food. You can chop, mince, dry, or grind it, but the distinctive pungent flavor will remain the same.
If you feel the same way I do, comment below and let me know. And if you know someone who is struggling with these conversions, share this post with them immediately!
Paragraph
webmd.com, Garlic – Uses, Side ffect And More [Online]
Healthline.com (2022), 11 Proven Health Benefits Of Garlic [Online]