How many teaspoons is a clove of garlic? Have you ever had to deal with a recipe that calls for a clove of garlic, but you only have pre-chopped or pre-minced garlic? You may wonder how to convert a clove of garlic to teaspoons. Well, you are in the right place!
Garlic is a popular ingredient in cooking. Its powerful and pungent flavor can whet anyone's appetite. Garlic can also be extremely good for your health if prepared properly.
In this post, you will find everything you need to know about this useful ingredient, including the conversion between garlic cloves and teaspoons. So, don't miss this opportunity to take your cooking skill to a whole new level.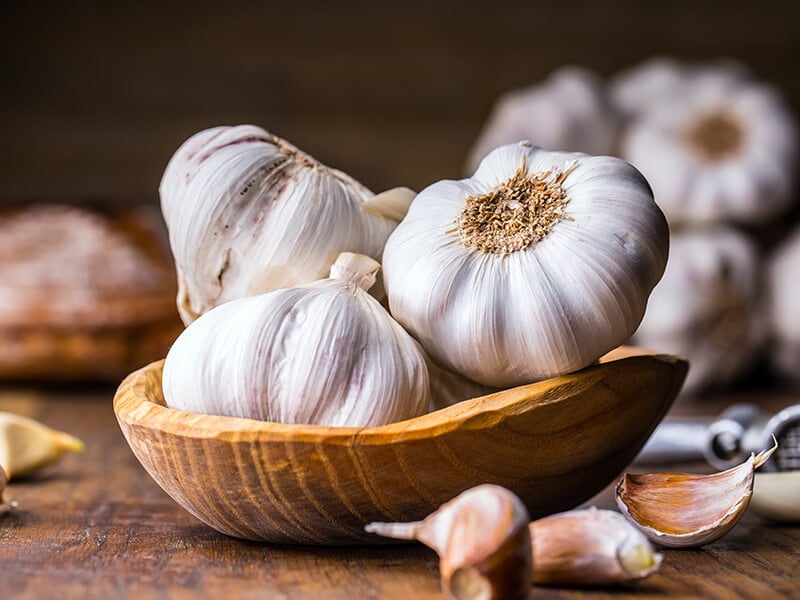 What Is A Clove Of Garlic?
Garlic has been used as a seasoning worldwide, not just for its affordable price but also versatility. But how much do you know about garlic? Let's find out right now!
A Clove Of Garlic And A Garlic Head
Garlic belongs to the lily family, along with aloe and onion. It contains antioxidants that can increase antioxidant enzymes in human bodies and reduce blood pressure (1).
A head of garlic refers to a garlic bulb covered in white papery skin. If you remove the papery layer, you will find many individual lobes lying inside. These lobes are garlic cloves.
A head or a bulb of garlic normally contains 10-12 garlic cloves. You can remove them separately to cook and leave the rest intact. There are so many garlic species all around the world, but you can categorize them into 2 types: hardneck garlic and softneck garlic.
Hardneck Garlic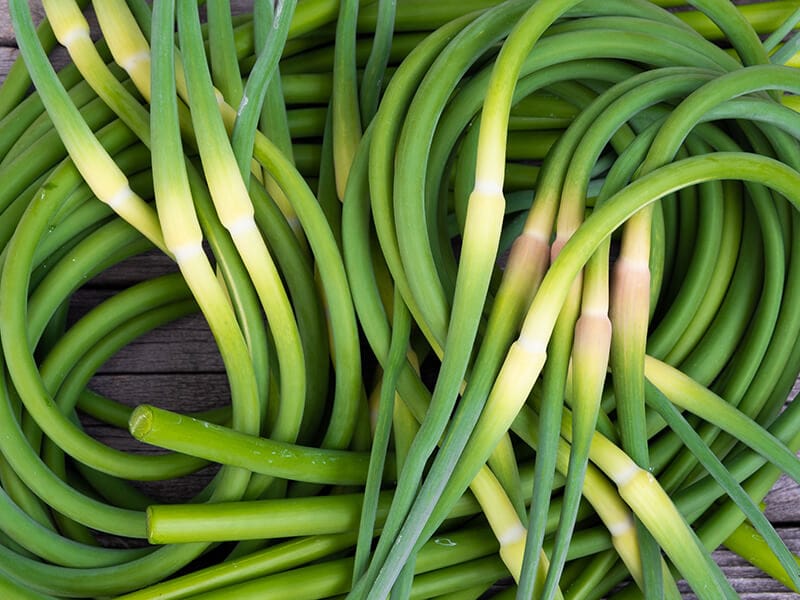 Hardneck garlic has a hard seed stalk that grows from the center of the bulb. As the plant reaches maturity, the stalk turns rigid. The skin of hardneck garlic is thick and brittle, which makes it easier to peel.
Each hardneck garlic plant can produce 6-10 big cloves of garlic. However, it has a shorter shelf life than softneck garlic and lasts only 3-5 months.
Softneck Garlic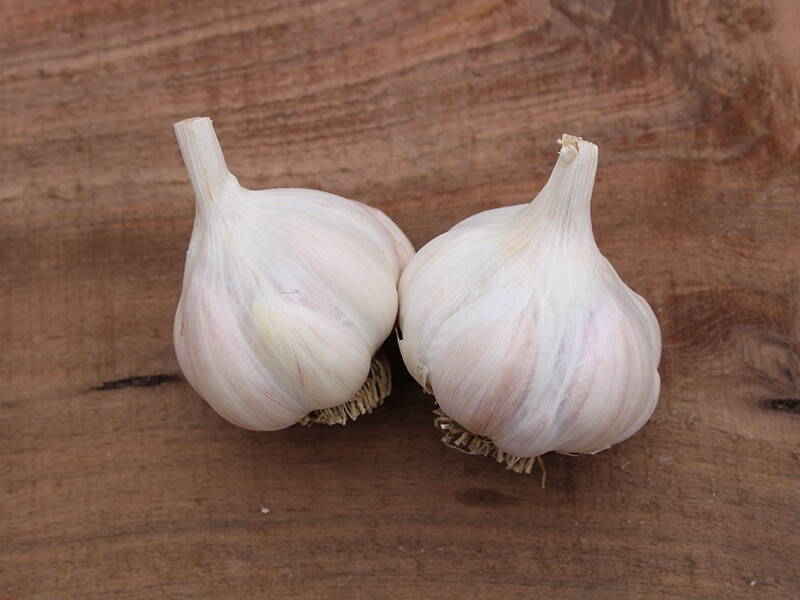 Soft garlic does not have a scape; therefore, its stem is much softer and more flexible. This variety has more yet smaller cloves than hardneck types. Each bulb produces 12-20 cloves.
The way these cloves arrange is also odd. They do not follow a single ring line as hardnecks do; instead, they form 3-6 layers. Softneck garlic can stay fresh for 9 months after harvesting.
Differences Between Chopped Garlic, Minced Garlic, And Garlic Powder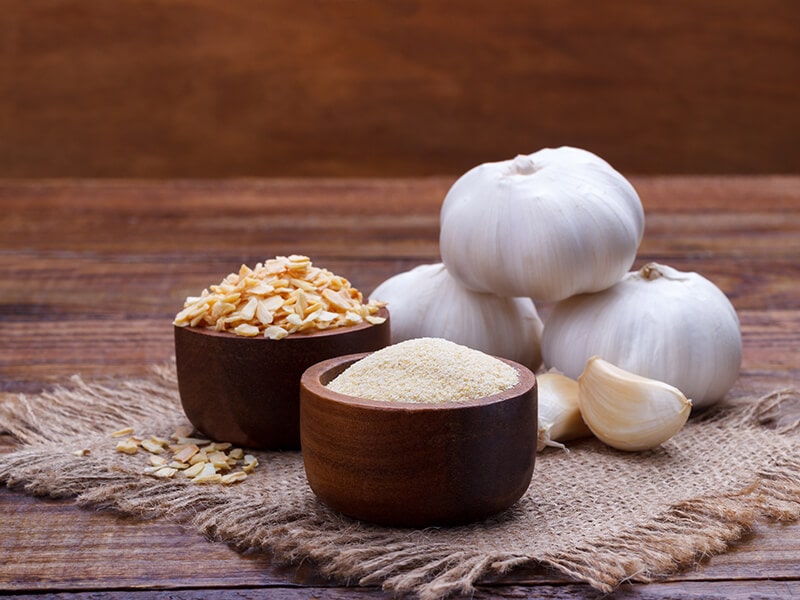 Overall, minced garlic is finer than chopped garlic. Chopped garlic is some small pieces of garlic that are about 1/8 inch on all sides, whereas minced garlic is only 1/16 inch.
You may wonder why you need to distinguish them. Here is the answer! When a dish calls for chopped garlic, using the minced form can result in overcooked garlic. Even worse, it will burn and ruin your whole dish.
Fresh garlic is hydrated and ground finely to become powder. Garlic powder disintegrates into your recipes faster than any other form of garlic. Moreover, because it has a very fine texture, the powder tastes more concentrated and pungent.
From Garlic Cloves To Teaspoons
How to make a conversion between garlic cloves and teaspoons of garlic? If you are looking for the answer, don't skip this part!
What Affects The Amount Of Garlic In A Teaspoon?
The amount of garlic you can get from a garlic clove is uncertain. This results from the differences between the clove sizes and the conditions of your garlic.
Size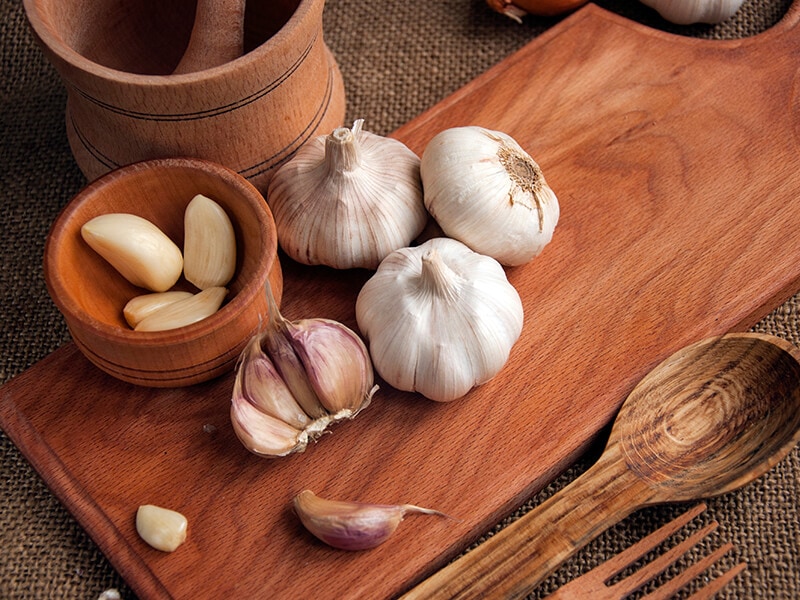 Softneck garlic cloves are generally smaller than hardneck ones. And even when they are in the same bulb, the sizes can vary too. So when a recipe calls for a clove of garlic, let's assume it is talking about a medium size garlic clove.
A typical garlic clove measures 1-1.5 inches in length and 3/8-3/4 inches in width at the widest part. The average weight of a garlic clove is about 4-7 grams.
The Conditions Of Garlic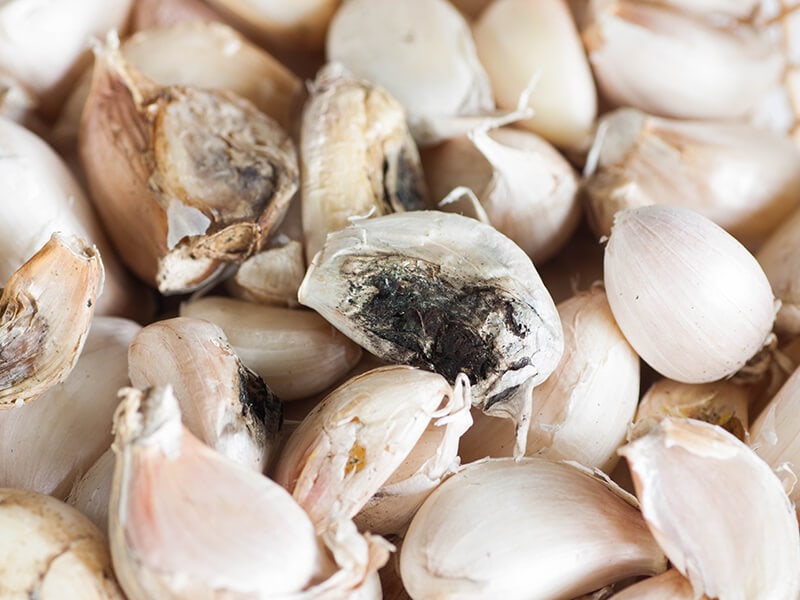 Fresh, plump, moist cloves will produce more garlic than soft, dry ones. You may need a few dry garlic cloves to have the same amount as a clove of fresh garlic. A noteworthy thing to remember is that when you unpeel a garlic clove, it starts to degrade quickly.
Softness and dehydration are also signs of spoilage in the early stage. If your garlic cannot hold its form when you squeeze it, then toss it. Besides, the color can also be a good indicator. Good garlic is white, so don't use it when it turns yellow!
Sprouted garlic is safe to eat, but its taste is not the same. However, if your garlic grows mold, then surely it is bad. Throw the cloves away! Otherwise, the mold may spread and destroy the rest of your perfectly intact garlic.
The Number Of Teaspoons Can Vary Among Garlic Forms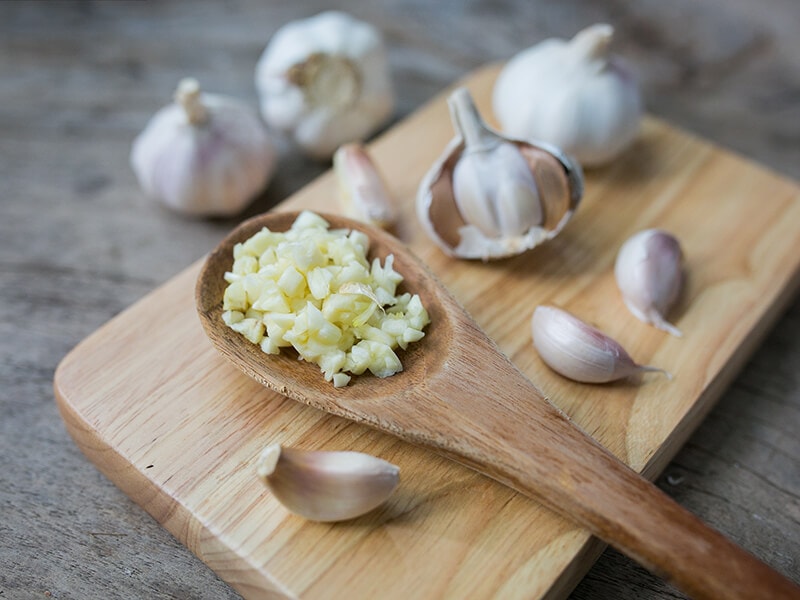 One thing you should keep in mind is that there is no fixed answer to this conversion. What you are doing right now is just estimating. But don't worry! A little extra or less amount of garlic will not affect your delicacy that much.
Still, the table below will give you an overview of this matter. In this measurement, a teaspoon refers to a common US type – a standard measuring teaspoon for ingredients.
| Garlic Clove | Amount Of Chopped Garlic (Tsp) | Amount Of Minced Garlic (Tsp) | Amount Of Garlic Powder (Tsp) |
| --- | --- | --- | --- |
| 1 | 1 | 1/2 | 1/8 |
| 2 | 2 | 2 | 1/4 |
| 3 | 1 tablespoon | 1 tablespoon | 3/4 |
There are some notes when making a conversion. The finer the garlic is, the more pungent taste it gives off. As a result, if you add garlic excessively, its flavor can overpower the main ingredients.
All of them may start at a certain figure. However, the amount of garlic in a teaspoon will change irregularly when the number of garlic cloves increases.
For example, you need 6 garlic cloves to make up a tablespoon of minced garlic (3 teaspoons) according to the ratio, but the actual number is just 3. That is because minced garlic is stronger in taste.
Sometimes, a recipe may need a certain type of garlic, but you cannot always have it at your home. So, you can depend on the number of garlic cloves and replace them with an appropriate amount of substitutes.
How To Measure Garlic With A Cup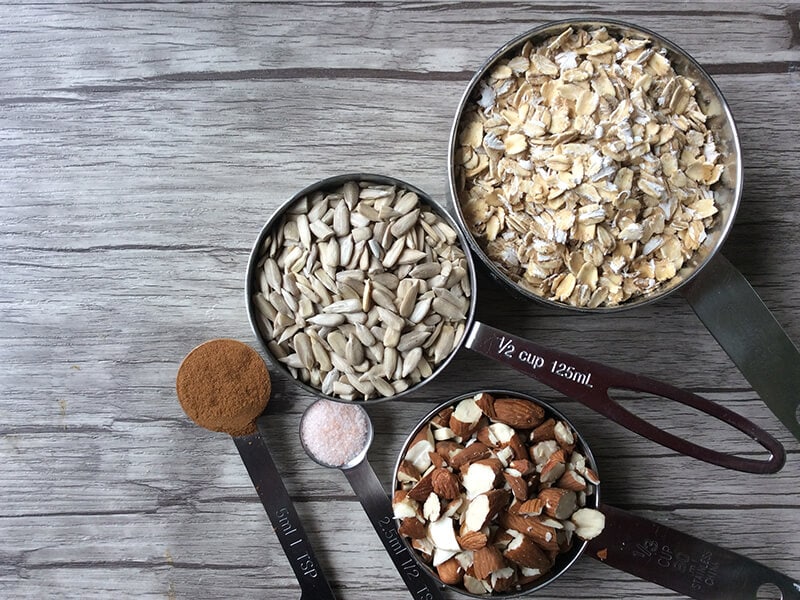 You don't need a scale to measure your garlic. Look for a metric cup in your kitchen, and I will show you how immediately! The table below presents the right volume-to-weight conversion of garlic.
| Metric Cup (250 ml) With Raw Garlic | Grams | Ounces |
| --- | --- | --- |
| 1/4 | 36 | 1.27 |
| 1/3 | 48 | 1.69 |
| 1/2 | 73 | 2.54 |
| 2/3 | 77 | 3.38 |
| 3/4 | 109 | 3.82 |
| 1 | 145 | 05.07 |
| 2 | 270 | 10.14 |
| 3 | 435 | 15.21 |
When using metric cups for measurements, make sure to place the cups on a flat surface and level the garlic inside as evenly as possible. This helps to ensure accuracy when you read horizontally.
Other than the quantities listed above, there are some common weights of garlic that a recipe usually calls for. For example, 500 grams of garlic equals 3.5 metric cups, and a kilogram will require an amount of garlic that fills 6 and 9/10 cups.
Other Forms Of Garlic On The Market
Garlic is delicious, but it is quite time-consuming to prepare. So, if you prefer a more convenient option, there is a wide selection of processed garlic for you to choose from.
Granulated Garlic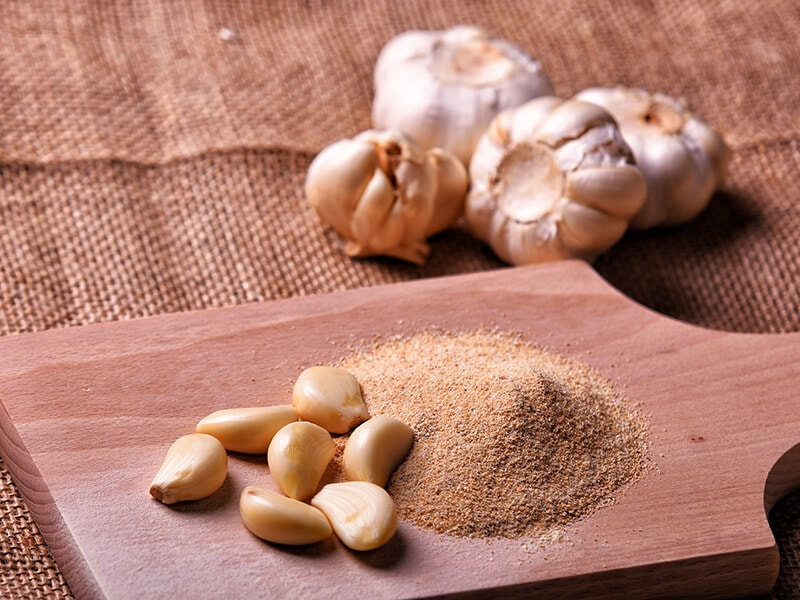 Granulated garlic is similar to garlic powder but coarser, like the size of cornmeal. To make it, people dry garlic cloves in the oven or a dehydrator, then grind them with a spice grinder.
Granulated garlic can contribute to your dish's flavors without adding moisture. Using granulated garlic to make sauces or soups is ideal as it does not form lumps in your dishes. A clove of garlic can produce nearly 1/4 teaspoon of granulated garlic.
Garlic Flake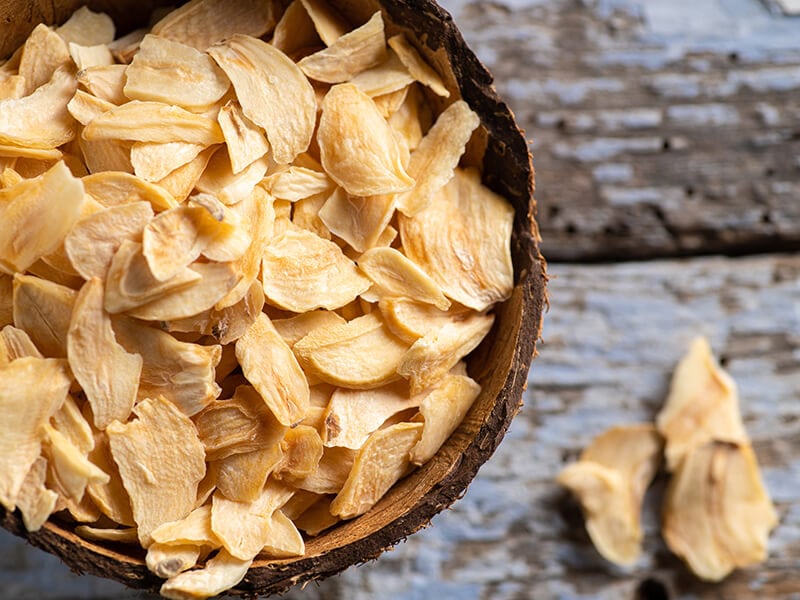 Garlic flake is dried or dehydrated minced (sliced) garlic. It can be used as a seasoning or in stews, sauces, and soups.
These bits of garlic absorb liquids in your dishes and release their own flavor, making the dish's flavor bolder. A garlic clove can make up half a teaspoon of garlic flakes.
Garlic Juice
The oil extracted from garlic is garlic juice. You can press, juice, or blend the fresh garlic to get this oil. Generally, a clove of garlic equals 1/2 teaspoon of garlic juice. This ingredient eliminates the need for preparing garlic and is also very garlicky.
Garlic can burn and produce a bitter taste in recipes that call for high heat. In this case, you can use garlic juice to solve your problem.
You can make garlic juice at home with simple kitchen tools by following this instruction!
Tips Avid Cooks Should Know When Cooking With Garlic
Garlic is a must-have kitchen item, but have you heard of these tips yet? If you are still struggling with peeling garlic and don't know how to prepare it correctly, this section is a game-changer!
How To Peel Garlic Faster
Peeling the little garlic cloves can be frustrating and dangerous (if you use a knife), especially when you have to deal with a large quantity of them. Don't worry; I got your back! Feel free to look over these simple tips, as they may be useful for your next recipes.
Shake The Jar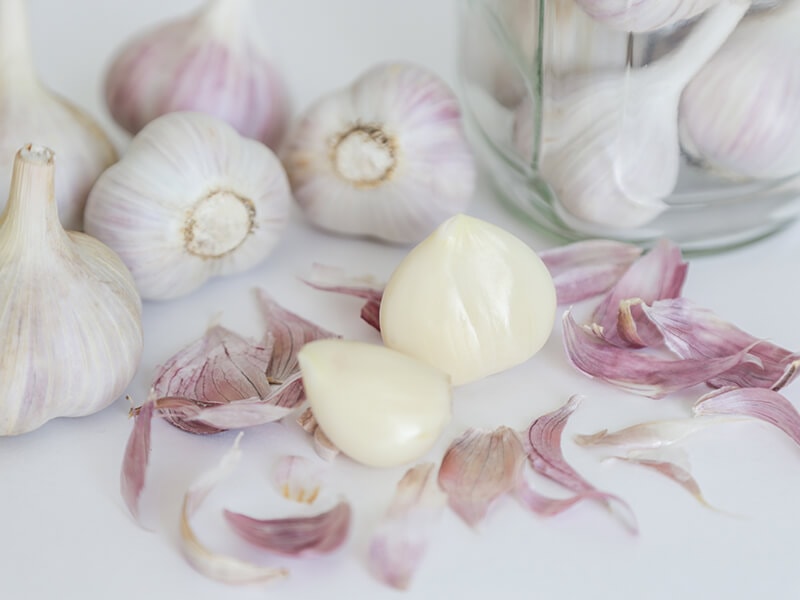 I'm sure you all have a couple of empty bottles or jars in your kitchen, so why don't you make use of them? You just have to pile the garlic cloves into a jar and shake it! You may be surprised by how the skins come off so effortlessly.
NOTE: You may want the container to be much larger than the amount of garlic you need to peel. It will provide you with plenty of space and surfaces to shake around.
Smash The Garlic First
Instead of smashing the garlic after peeling it, you can do it in reverse. Let's smash the garlic first. Simply press down a blade of a knife until the skins crack. Then you can easily separate the flesh. This method is not only easy but also neat. In addition, no equipment is needed.
Microwave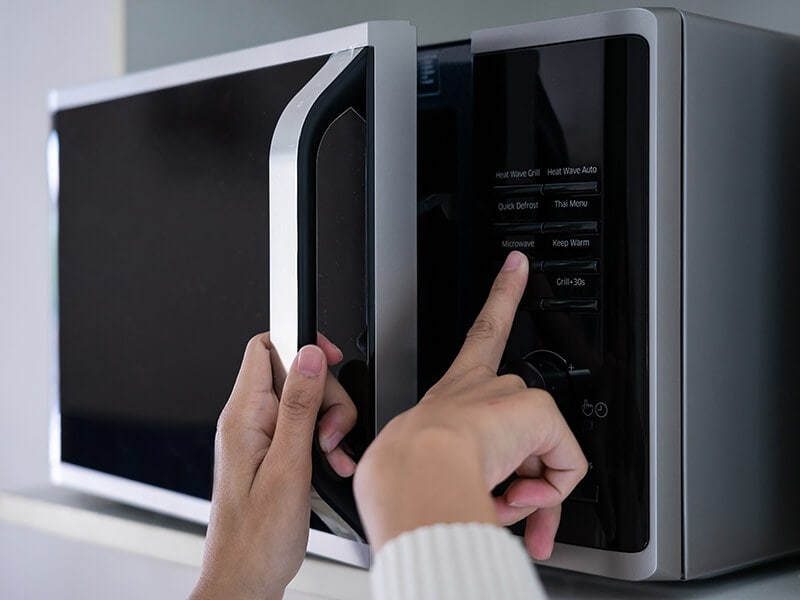 If the garlic is too fresh, it will be harder to peel as the papery skin of the garlic clove is not brittle enough. The same thing also happens when you have to remove the skin of softneck garlic.
In this situation, it is essential to use your microwave, and I can assure you that this method works incredibly well.
First, you need to trim the top of the bulb and remove the excess skin outside. Then microwave it for 20 seconds. Finally, let it cool a little bit, and you will have perfectly intact garlic fleshes.
The Best Ways To Prepare Garlic
Knowing the best way to prepare garlic, you can enhance its flavor as well as its influences on your health. So, why don't you keep scrolling and let's find out!
Use Fresh Garlic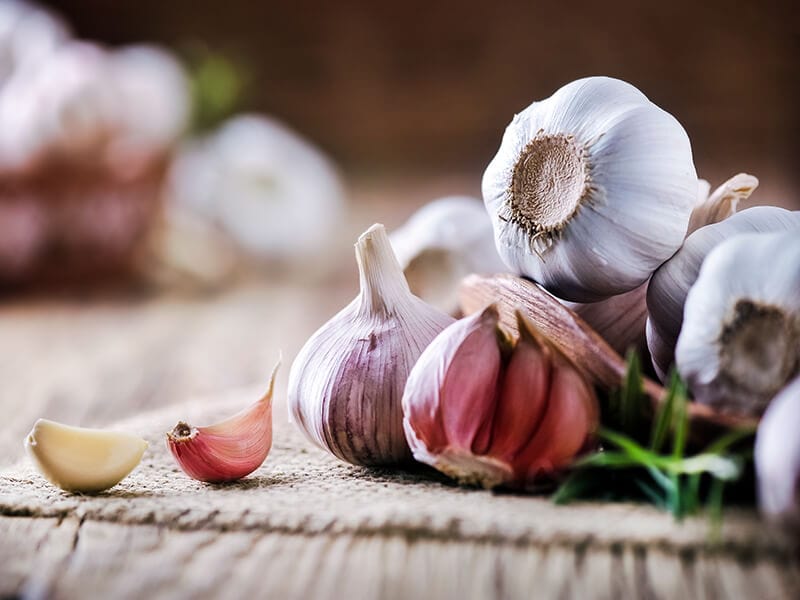 Fresh garlic contains a large amount of allicin – a compound that can prevent bacterial infection, blood clots, and cancer (2). Although you may prefer the bottled version of garlic for its convenience, the garlic inside is probably not antibacterial anymore due to the loss of allicin.
The 10-Minute Garlic Rule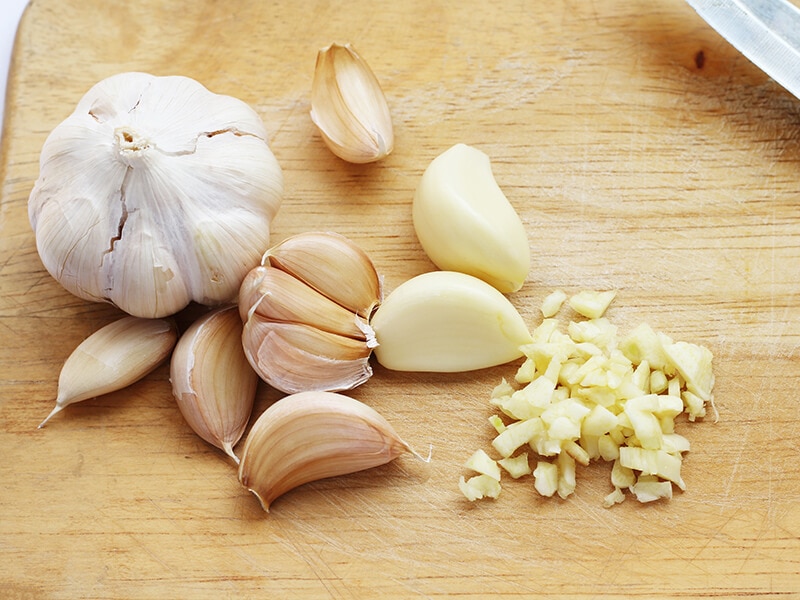 When you cut a garlic clove, its cells start to break and release enzymes. These enzymes come to react with oxygen and trigger the formation of allicin. It takes 10 minutes to let the compound fully develop. After that, feel free to fry, bake, or steam and still get all its health benefits.
Chopped, Minced, Or Mashed Garlic?
The more damaged the cells are, the more enzymes it releases. Therefore, mashing will give you the most benefits. Other than that, mashed garlic will give off a more pungent flavor.
To chop garlic fast, you can press the flat side of a knife on the garlic. After the skin has loosened, take it out. Next, use a knife to trim the dry stem of the clove and slice it into pieces. Finally, turn the knife 90 degrees and continue chopping.
To make minced garlic, collect the chopped garlic into a pile and run the knife through the pile until the garlic reaches the desired size.
If you want to make mashed garlic, sprinkle a pinch of salt onto the minced garlic. Use a flat side of the knife to press and smear until it turns to paste. If you want to mash a large amount of garlic, just use a zip-top bag and a rolling pin.
How to chop garlic safely and quickly? Watch this useful tutorial now!
How To Get Rid Of The Garlic Smell?
To remove the pungent smell in your mouth after consuming garlic, brush or chew some parsley. Another effective way is to drink a glass of milk. Milk can significantly reduce the sulfur content (which is responsible for the peculiar flavor) inside garlic.
The garlicky-smelling can stick to your hand when you prepare it, so let's use a lemon wedge, salt, or baking soda to scrub your hands and rinse well with water.
The Ultimate Guide To Storing Your Garlic
Most people do not know how to store garlic properly. Don't be like them! If you store it right, garlic can last up to 6 months.
How To Store Garlic Heads And Cloves?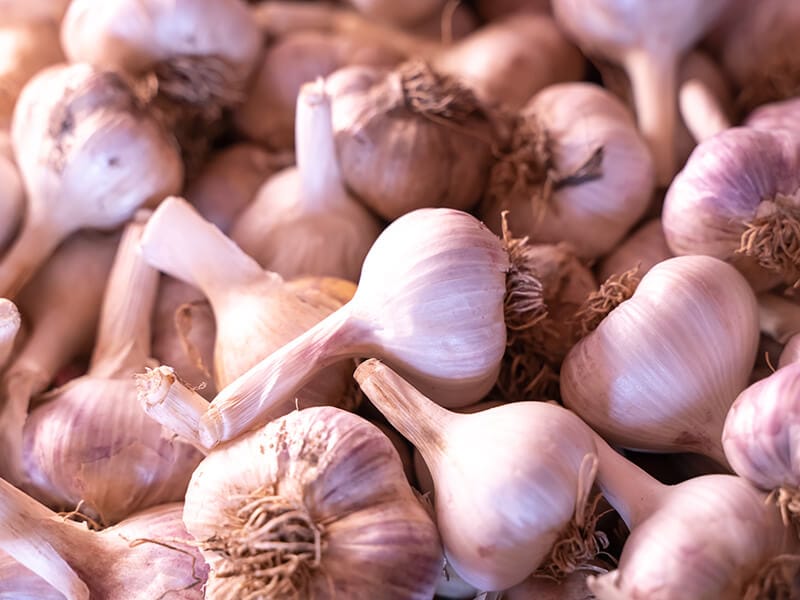 If you have no plan to use garlic soon, just store the whole head. Yes, the whole and unpeeled heads! Do not store your fresh garlic in the fridge, as it will grow sprouts. Instead, keep it in a dry, cool, dark, and well-ventilated place like a basket or open paper bag.
As for the unpeeled cloves, store them the same way! However, once you separate a head of garlic, the garlic cloves can only last for 2 – 3 weeks, depending on their freshness.
The optimal temperature for dry storing garlic is 60 – 65°F with mild humidity. Lower humidity makes garlic dry, while higher one may bring about mold.
If you miscalculate the number of garlic cloves you need and already peel them, it's time to let the fridge interfere! You need to put your leftover cloves in airtight bags or containers to avoid the smell of garlic before storing them in your fridge.
When peeled, garlic's shelf life shortens significantly. Even when you store it in the fridge, you must plan to use it in a week or less.
What About Minced Or Chopped Garlic?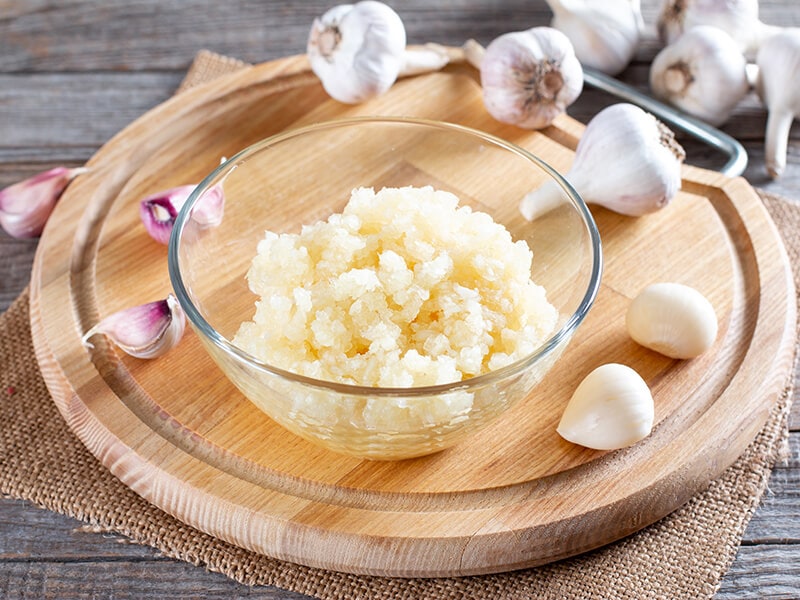 It is best to use minced garlic immediately, but if you cannot, here are 2 things you can do. One is to store it in oil, while the other is to freeze it directly.
If you choose the former, add your minced garlic to an airtight container and pour oil in until the garlic is fully covered. Then seal and refrigerate it for a week or freeze it for up to 3 months.
You should use a clean and dry spoon to scoop out the garlic from the jar. This helps avoid mold growth and contamination.
The second way will be helpful if you want to store your garlic in individual portions. You can keep your garlic fresh for 3 months in the freezer with a few simple steps.
You only have to transfer the minced garlic into ice cube trays and let it freeze for about 2 – 3 hours. After it is frozen, move the garlic cub into an airtight container or freezer bag. Simple and effective, isn't it?
Garlic cubes are exceptionally convenient for storing your garlic.
Are You A Real Garlic Lover? Try These Recipes Now!
Garlic is an incredibly versatile ingredient, so think beyond soups and sauces. Spend some time looking over these recipes to enrich your menu.
This combination of juicy prawns and buttery garlic sauce can instantly give you Hawaiian vibes. Making these garlic shrimps is not challenging at all. Besides the key ingredients, you will need some flour, paprika, and seasonings, like salt and pepper.
Follow this step-by-step instruction to make a Hawaiian dish at home!
Garlic knot is a classic Italian snack. These strips of pizza dough are tied into a knot with melted butter, parsley, and garlic on top. Crusty outside but light inside, garlic knot has a chewy and a bit sour flavor, which is perfect for snack time!
Honey-fermented garlic is a sweet and savory mixture of flavors. It will ferment for a month, but you don't have to wait. Eat it anytime you want, as you may not resist its charming fragrance. This fermented garlic is great to have during cold and flu season!
Making fermented garlic with honey right at home with this surprisingly easy recipe.
You only need 3 ingredients and less than 5 minutes of preparation time to make this simple recipe. Heads of garlic are wrapped in aluminum foil and roasted in the oven for 40-50 minutes. You can add the tender, sweet garlic heads to any dish or simply spread them on baguettes.
FAQs
Have you found all the information you need? If you still have questions and don't know where to find the answers, take a look at this section!
Get Yourself Ready For Dealing With Garlic Recipes!
Garlic is an extremely versatile ingredient. It adds a pungent and umami flavor that can enhance the taste of your dishes.
You already know how to make the conversion between different garlic forms. Now you can cope with any recipe that calls for garlic with full confidence. But don't overthink! After all, it is just a matter of personal taste!
Have you ever had any trouble with garlic? How did you overcome that situation? I'm sure you have many experiences to share. So, leave a comment below and let other readers know your story. And last, don't forget to share this informative post with your loved ones!
Paragraph
Healthline.com (2022), 11 Proven Health Benefits Of Garlic [Online]
webmd.com (2022), Garlic: Is It Good For You? [Online]