Garlic bulbs and cloves are indispensable ingredients for any kitchen with their delicious garlicky undertone and appetizing smell. However, many cooks have asked me: should I use a whole garlic bulb or just the individual cloves?
If you are wondering whether they are the same thing or not, this post is for you. I will discuss their characteristics and flavors to give you a detailed comparison between these two components.
From the provided information, you can learn to store and use each ingredient in suitable methods to achieve the tastiest flavors!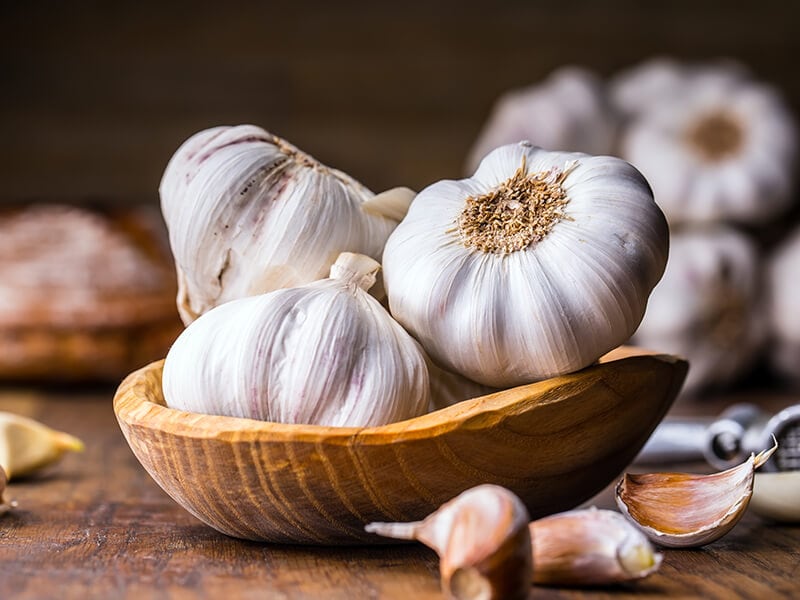 What Is Garlic? And What Are Its Bulbs Like?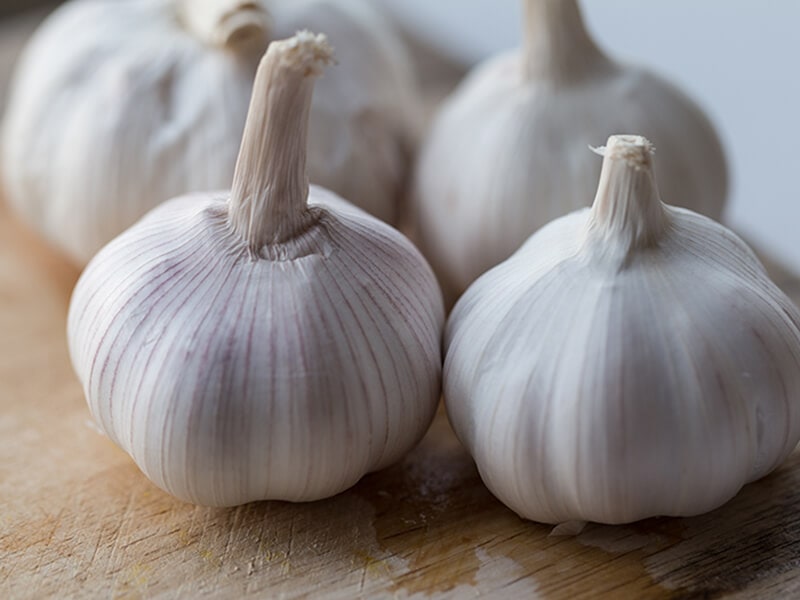 The garlic plant is a bulbous herb that comes with many individual cloves packed together into a piece. This piece is called the garlic bulb, which typically grows underground and has long roots (1).
Garlic brings a strong, pungent, and garlicky taste, plus a subtle sweet and nutty undertone. Smaller bulbs usually have smaller cloves that come with a more powerful garlicky flavor.
A small proportion of garlic can enrich the dishes' flavors, but a large amount can overshadow the overall taste and become unpleasant.
Garlic comes in two main categories: softneck and hardneck. The former is easier to store, while the latter contains more flavors and is generally larger in size.
Garlic bulbs have multiple sizes, typically ranging between 1 to 2 inches in diameter. The individual cloves are covered by a protective white, papery skin, and they can be detached from the bulb.
The primary purpose of garlic bulbs is to hold the attached garlic cloves. However, they can be planted onto the ground to grow new garlic plants.
China is currently the largest producer and exporter of garlic, followed by India, South Korea, and the USA. The garlic bulbs produced in China typically come in large sizes and contain around 12 individual cloves.
An Overview Of Cloves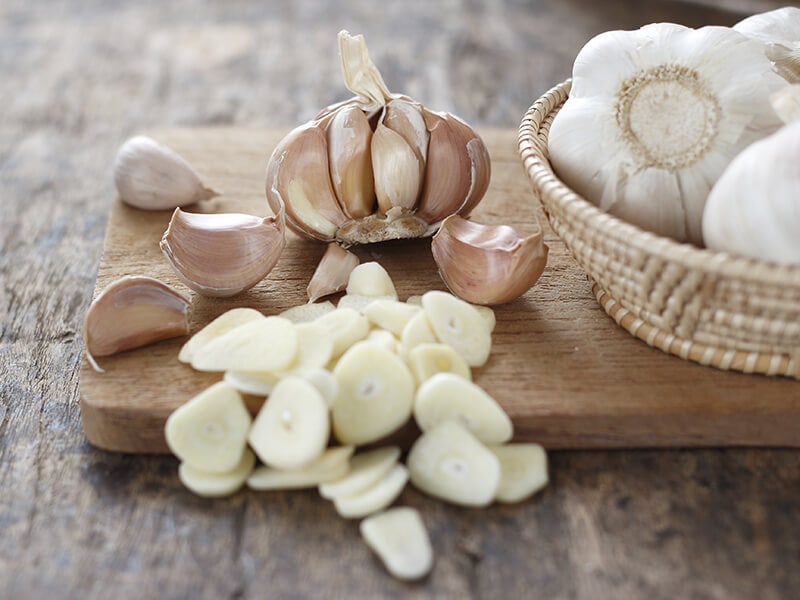 As mentioned in the previous section, garlic cloves are the parts of a garlic bulb. When removing the papery skin of garlic bulbs, you will see many oddly-sized garlic cloves attached to the head.
They are also the main component of the garlic plants that most people use in cooking and making medicines. You can peel, chop, mince, or use the whole clove, which will work well with various recipes.
An individual clove is small and covered in white papery, fibrous skin. You can detach the cloves from the garlic bulb by cutting off its top and using your hand to pull them out.
Most recipes call for the removal of the skin, but some work well without it. For example, if you add garlic to a sauce that you're going to strain later, it doesn't matter whether you keep the skin on or not.
How To Peel And Mince Garlic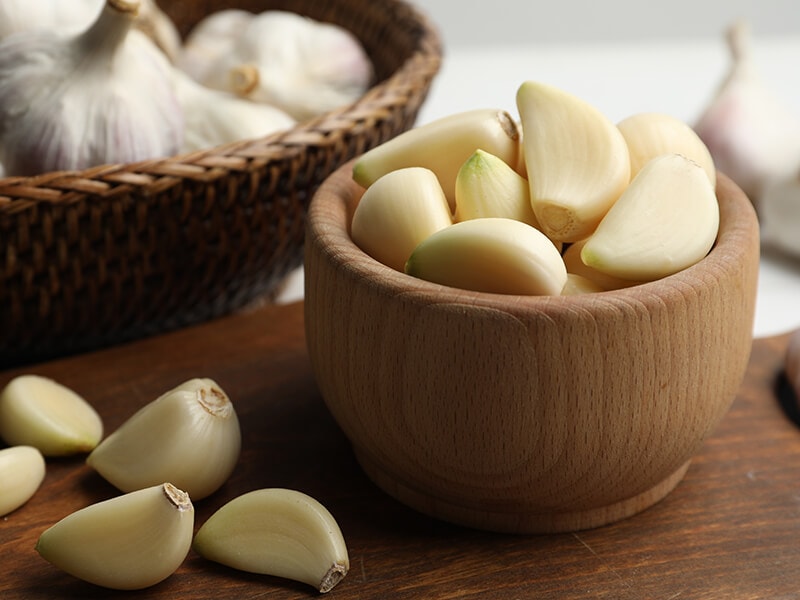 Peeling the papery skins of garlic is time-consuming and uncomfortable due to the garlicky scent. Follow the instructions below, and you can do the task much easier.
Step 1: Loosen The Garlic Cloves
Remove the outer papery skin with your fingers, then take apart the inner garlic cloves. Next, trim off each clove's root end.
Step 2: Peel The Garlic
After removing the cloves, cut off their stems using a knife and squeeze the cloves out of their skin.
Step 3: Mince The Garlic
To chop the cloves, slice them lengthwise from top to bottom and slice clockwise over and over until the mince is smooth enough. If you want to mince the cloves into a paste, scrape them back and forth using the knife's side.
If you don't have a knife, use some alternative tools like a food processor or a garlic press. You can also press the cloves with a fork or grate them using a grater to mince garlic.
Discover some excellent hacks to peel your garlic easier!
Garlic Bulbs Vs. Cloves: The Core Difference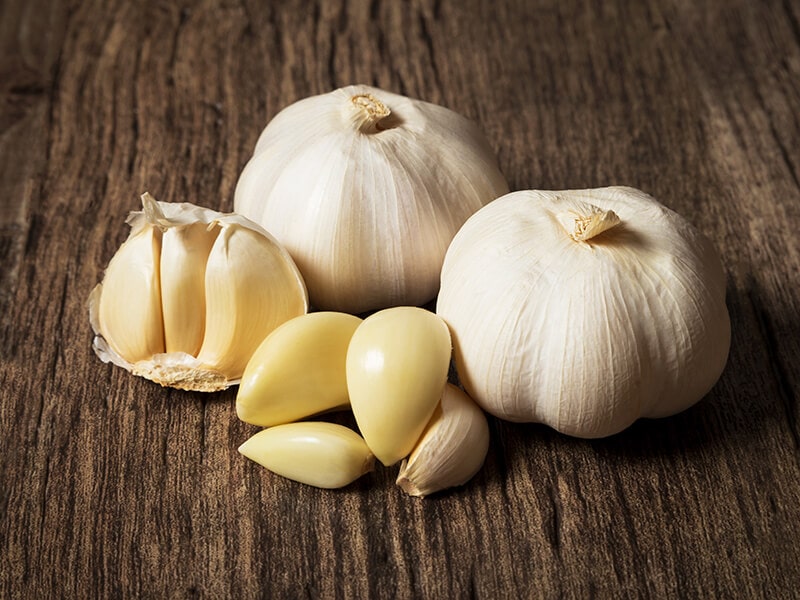 Though garlic bulbs and cloves are the main components of a complete garlic plant, the difference between them is pretty apparent. While garlic bulbs are made up of many garlic cloves, a clove is just an individual segment of a garlic bulb.
Therefore, there won't be much difference in the flavors and aromas of these two parts. However, garlic bulbs and cloves feature some distinct cooking methods and usage, which I will discuss further in the next sections.
Features
Garlic Bulbs
Garlic Cloves
Definition
Made of many garlic cloves
An individual segment of the garlic bulb
Cooking Methods And Usage

You should trim off the top and remove the outer skin before cooking

Can be blended with the other dishes

Work well with roasting, grilling, braising, or steaming

Can be simmered in stews or soups to enrich the flavors

Can be fermented

You should detach the cloves from the bulb and remove the outer skin

Can be minced, chopped, or cooked whole

Typically fried, but can work with multiple cooking methods

Minced and used as a seasoning materials
Definition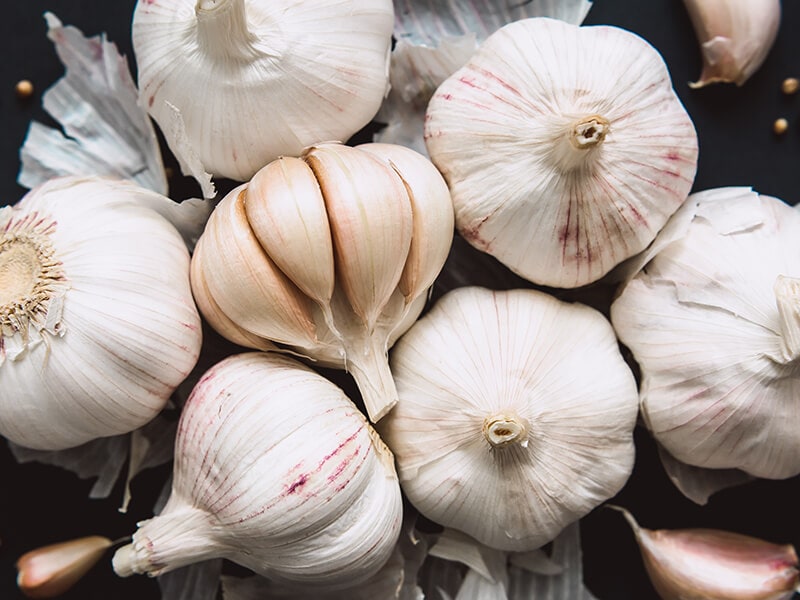 Garlic plants come with many clusters called "bulbs", "heads", or "knobs". Meanwhile, a garlic clove is only an individual segment of the garlic bulb.
On average, a pound of garlic purchased in grocery stores or supermarkets has around 8 to 10 bulbs. One bulb of garlic is typically made of 10 and 12 garlic cloves.
However, the number can increase up to 30-40 garlic cloves for the hard-neck garlic bulbs. In addition, the sizes of the garlic cloves in one bulb are not the same.
A clove of garlic can be ground into ½ teaspoon of powder. Meanwhile, one tablespoon of chopped garlic may equal 2 large garlic cloves or 4 smaller ones.
How Should You Use Garlic Bulbs In Cooking?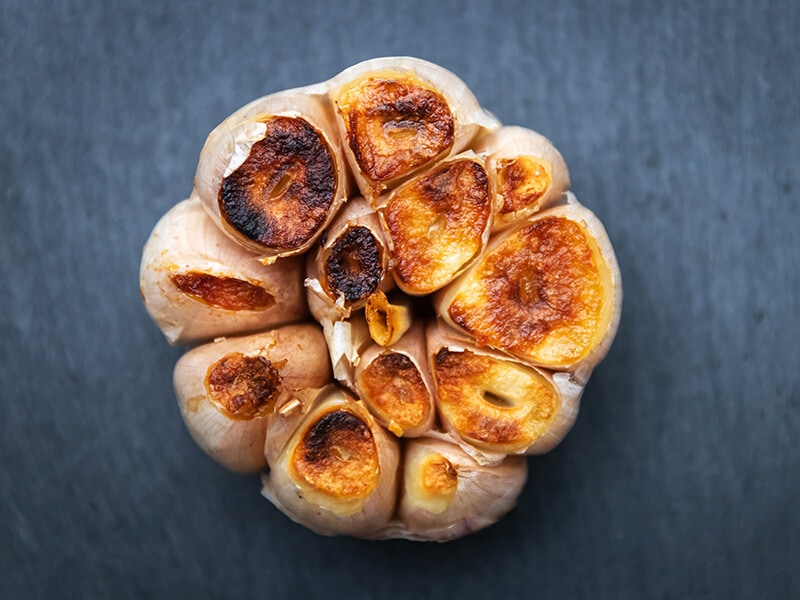 Garlic bulbs are often used for cooking a large proportion of food, which is more time-efficient than peeling small cloves. While the garlic cloves are chopped or minced into tiny pieces before cooking, garlic bulbs are kept in their original shapes.
For example, you can trim off the top and remove the white outer skin of the bulbs and place them on a baking dish to roast. The garlic bulbs also work well with roasting and grilling methods, giving them a smoky flavor and a more tender texture.
In addition, they can be braised or steamed, which retains their signature flavors, smells, and valuable nutrients. This form of garlic is usually added to other dishes like soups or stews to enhance their flavors.
This method gives the broth or sauces the same garlicky undertone and a pungent aroma as using garlic cloves, but it is much more convenient. You can wrap the bulbs with spices like salt and pepper in a cheesecloth and simmer it to extract the flavors and juice.
Lastly, the garlic bulbs can be fermented, bringing a darker texture and a more pungent, sweet flavor.
Terrific Cooking Ideas With Garlic Cloves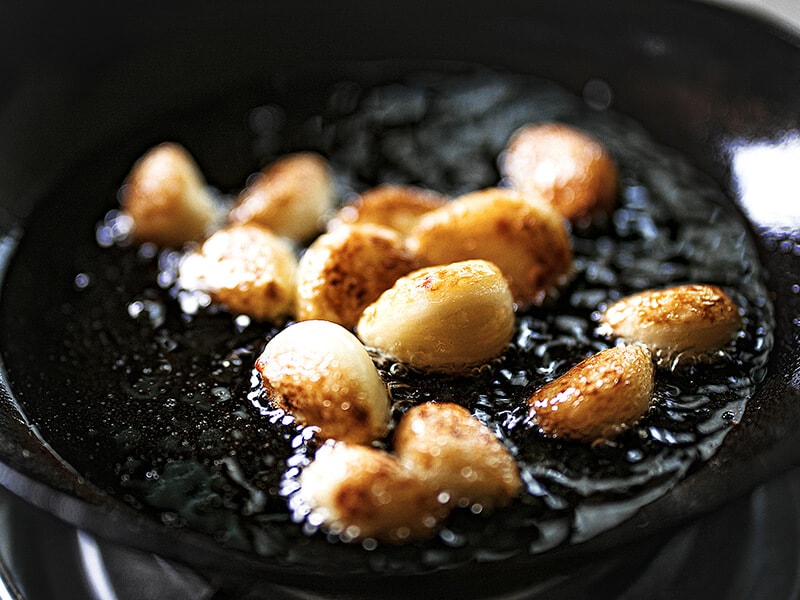 Most small households prefer using garlic cloves in their daily cooking since the cloves are more suitable for a smaller proportion of food. You can mince the garlic cloves into powder, chop them into pieces, cook the whole cloves with food, or even eat them raw.
Garlic cloves can also be roasted, grilled, or steamed, but the most efficient and popular way to prepare them is by frying. When you fry garlic cloves, they go under a chemical reaction called Maillard, which happens when heat reacts to amino acids and sugar present in garlic. (2)
As a result, fried garlic will develop a brown and caramelized texture, plus a more delicious nutty, sweet, and savory taste. Frying with butter or oil also turns the unpleasant smell of garlic into a more appetizing aroma.
There are various minced garlic powder products sold in grocery stores. They serve as a seasoning material for various dishes, giving them a garlicky and savory taste, plus a powerful aroma just like fresh garlic.
If you don't like processed products, you can mince raw garlic and mix it with other spices like salt, herbs, and ginger to create a delicious and natural seasoning mixture.
This is how you fry the tastiest and crispiest garlic cloves.
How To Grow Garlic Bulbs Using The Cloves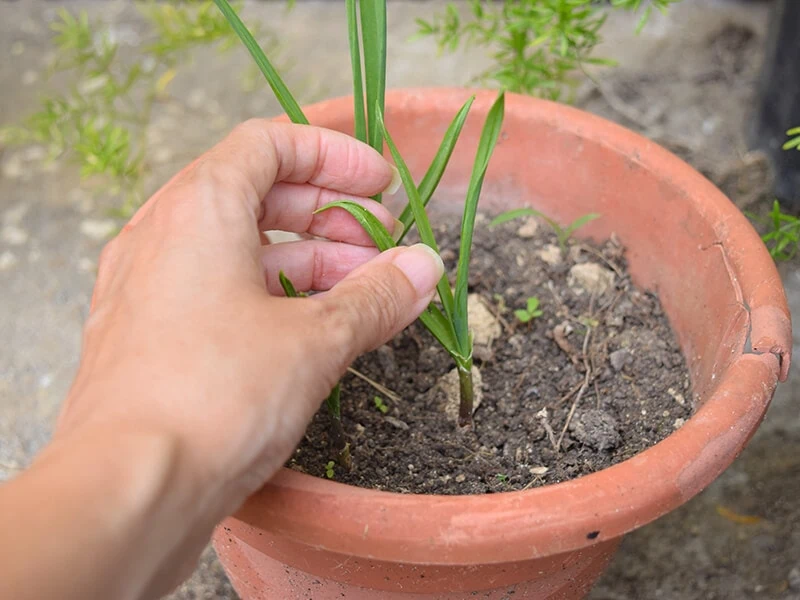 Garlic is one of the easiest plants to grow at home as it just needs minimal soil and water. So, why not regrow your house-made garlic from the garlic cloves and save time purchasing them from the store?
To start with, fill a large container with water and let the cloves float in it for 1 to 2 days. After the period, a green part called a sprout would grow on the cloves and slowly develop into complete garlic plants.
You need to plant the germinated bulb onto wet soil and leave only the sprout exposed to air. Ensure that the soil is moist by watering it once a few days, but don't overwater the pot.
Also, don't forget to choose the right garlic varieties as well as select a perfect sowing and harvesting time. Mistakes like wrong garlic types, overcrowding the planting area, using low-quality soil, or unsuitable watering can lead to small garlic bulbs.
Garlic plants take around nine months to grow fully and be ready for consumption. Though the nurturing time is long, it will add a little fun to your daily life.
Here are all the tips you should know when growing garlic at home!
The Best Varieties Of Garlic You Can Choose From
There are various varieties of garlic with distinct shapes, sizes, and flavors. Here are some popular garlic types to consider based on your cooking methods and preferences.
Elephant Hard-Neck Garlic
The elephant hard-neck garlic typically features larger sizes than traditional garlic varieties. This easy-to-peel type can bring to your dish a very subtle garlicky flavor. Each bulb usually contains 4 – 7 cloves.
Walla Walla Early Garlic
This one boasts a mild garlicky taste and a subtly sweet undertone. One bulb typically contains 12 to 20 cloves. As a softneck variety, Walla Walla early garlic can last longer than most hardneck garlic types.
Gurney's California White Garlic
This softneck variety comes in plump and large-sized bulbs, plus white papery skin and creamy clove textures. This garlic variety is easily plantable and excellent for cooking with its powerful and spicy-hot flavor.
The Best Way To Store Garlic Cloves And Bulbs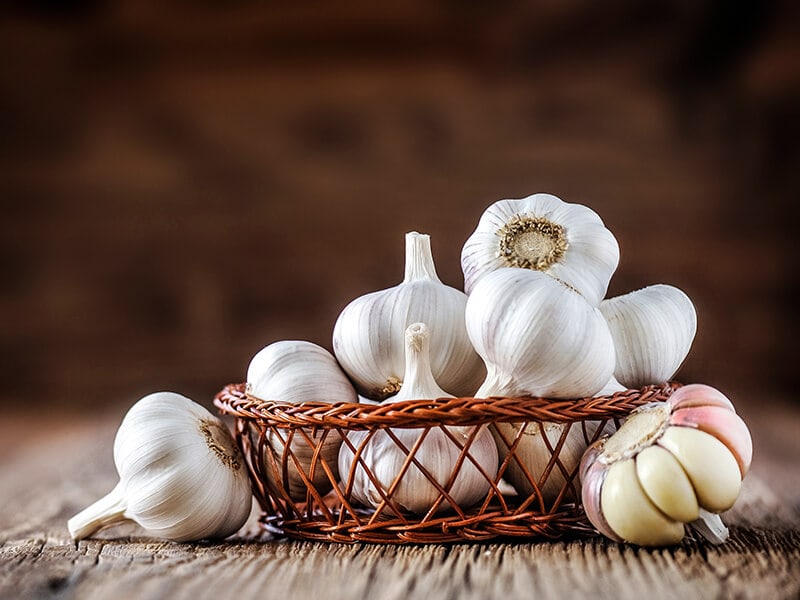 Whatever your storing method, always keep the garlic bulbs and cloves from water exposure. It's best to store garlic cloves and bulbs in a dark and cool place with no sunlight and good ventilation.
The reason why you need ventilation is that the air can keep garlic fresh and dry. When exposed to moisture and heat or kept within a closed jar, the cloves and bulbs can rot or sprout.
In ideal conditions, garlic bulbs and cloves can last for five months. However, you should use them as soon as possible to retain their natural and fresh flavors while minimizing the risks of rotting.
In addition, the chopped, minced, or peeled garlic should be used immediately or within a few days. Also, avoid freezing garlic because it can result in a mushy garlic texture and compromise the flavors.
Garlic cloves with sprouts are still safe for consumption. However, discard all the moldy ones that show signs of discolorations (bluish-green spots) or have a fizzy look on the skin.
If you don't want to peel garlic every cooking time, blend the peeled garlic cloves with spices and a little moisture to form a garlic paste. It can last for around one to two weeks in an airtight container when refrigerated.
Here is how you can keep garlic fresh and delicious for many months!
FAQs
The answers below will give you more interesting facts and cooking tips about garlic cloves and bulbs. Check them out to discover more!
Garlic Bulbs And Cloves Are Practically The Same
It's not hard to differentiate between a garlic bulb and a garlic clove. While a garlic bulb is an entire head of garlic plants that consists of many cloves, a garlic clove is just an individual wedge of the garlic bulb.
Nevertheless, garlic bulbs and cloves have a lot of things in common. They are both components of a garlic plant with a pungent aroma and a garlicky, earthy flavor. These two ingredients can work well with various recipes and add more flavors to the dish.
I hope this short comparison has given you useful information. If you like this post, please like, share, and leave me a comment. Thank you for reading!
Paragraph
En.wikipedia.org. 2023. Garlic.
En.wikipedia.org. 2022. Maillard Reaction.