Yellow vs. White popcorn, what is the difference between them? I think this is the question that many people wonder about.
Popcorn is one of the most popular snacks; thus, you have eaten it several times. But, have you ever wondered which type of corn kernels is used to make popcorn?
White and yellow kernels can be used to produce popcorn, but there are a few different features between them that you surely want to know. If you have the same wonders like me, let's explore the mysteries behind hulls of popcorn.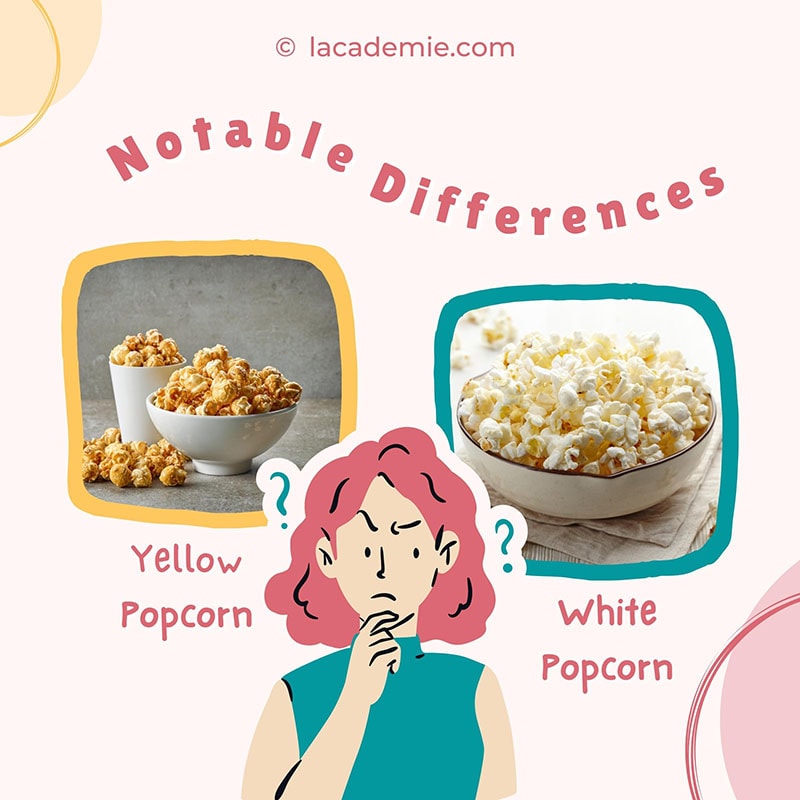 Popcorn: What To Love?
Historically, the term corn has appeared for a long time, from 1848 in the American dictionary. Gradually, popcorn became popular with the advent of popcorn machines and was widely sold at low prices during the second world war.
Popcorn appeared the first time in cinemas in 1938, and it has become a typical snack you have to try when going to the movie theater until now.(1)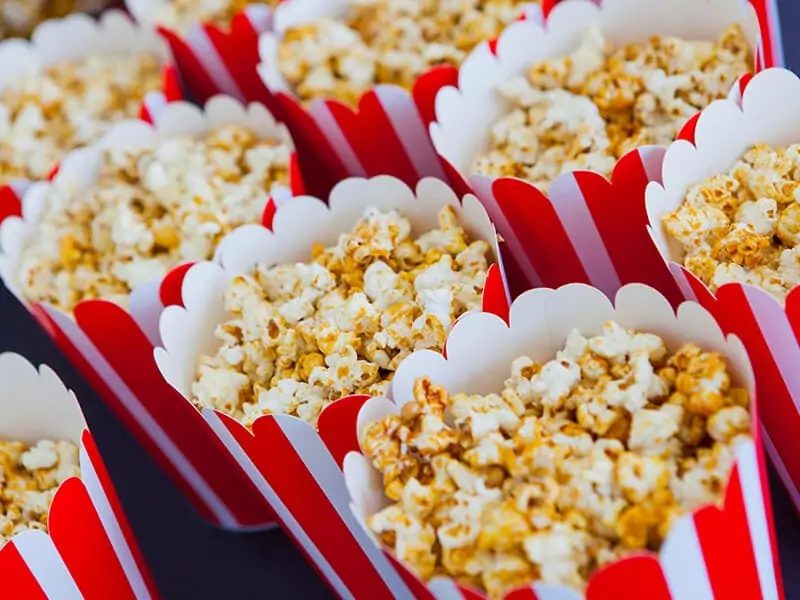 Popcorn is a form of flint corn, utterly different from other soft corn types. This sweet snack is considered corn, whose grains open up a starchy mass when exposed to heat.
Like a lot of people, you might be asking whether popcorn is gluten-free or not. While the traditional popcorn doesn't contain gluten, other variants might or might not include glutenous ingredients.
The corn kernels can come in various colors depending on variation and plant breeding. However, there are 2 types of maize you'll find when buying the top-rated popcorn kernels: white and yellow popcorn. They are used to produce popcorn sold commonly in cinemas.
Do you know popcorn is one of the oldest snack foods in the world? Watch this video:
What Do You Know About Yellow Popcorn?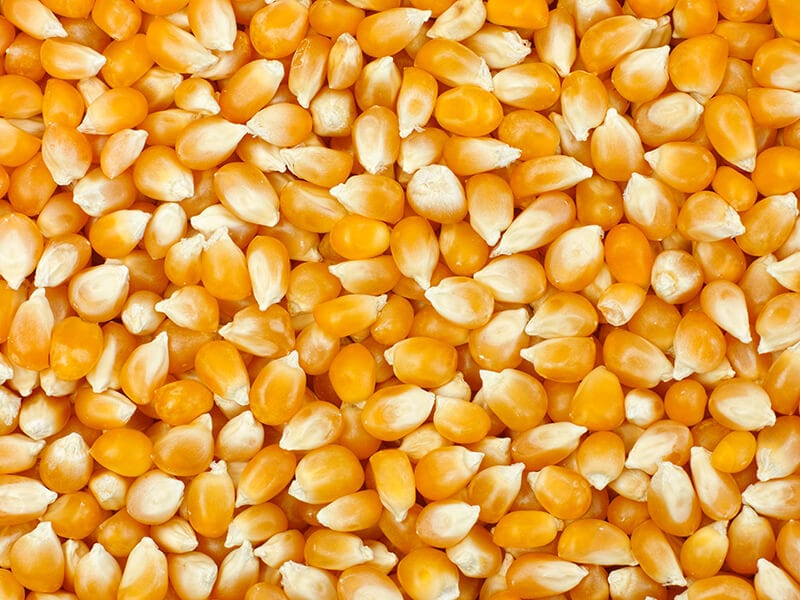 Usually, people often describe yellow popcorn as pearls with round-shaped at the top. This kind of popcorn kernel usually has a realistic color from yellow to bright orange. Yellow popcorn comes in a variety of sizes and is commonly used for commercial purposes.
In addition, this type of popcorn is also a popular choice because they are easier to harvest and straightforward to grow per acre. When compared to the yield of white popcorn, it is almost double.
The expansion mass of yellow popcorn is also considered a commercial advantage and comparative criterion compared to the white variety.
What Do You Know About White Popcorn?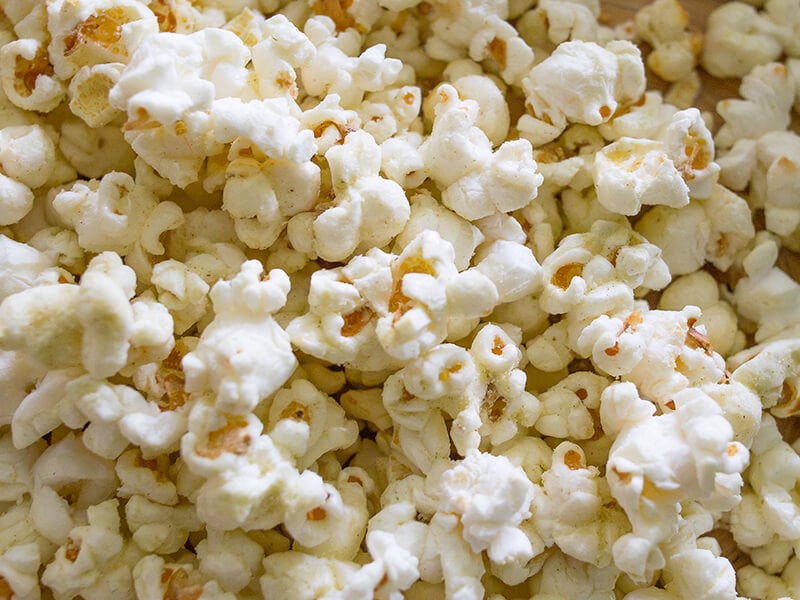 Contrary to yellow popcorn, white popcorn is usually rice-shaped with a long kernel pointed at both ends. The actual color of white popcorn ranges from bright white to dusty white.
White corn is often preferred because it is softer, has less hull, and does not cause much discomfort when enjoyed. Their expansion is also less than that of yellow popcorn and has a pure flavor. Therefore, this type is often consumed by families.
Comparison Of Yellow Vs. White Popcorn
Before going into the specifics of the difference between the two types of popcorn, I think you should first look at some of their characteristics. This comparison table will help you grasp some of the basics before diving deeper into them.
| Features | Yellow Popcorn | White Popcorn |
| --- | --- | --- |
| Color | Yellow | White |
| Unpopped Shape | Larger, pearl shape with round-shaped at the top | Smaller, long kernel pointed at both ends |
| Texture | Fluffy, sturdier, heavier, durable shape holds extra moisture | Tender, lighter |
| Popped Size | 46 times of its original | 40 times of its original |
| Popped Shape (*) | Snowflakes, or butterflies | Mushroom |
| Taste | Stronger corny flavor | Mildly sweet flavor |
| Hulls | Thicker - easily get stuck between teeth | Tender, smaller, less visible, thinner hull-do does not make unpleasant while enjoy |
| Nutrition Value | Higher in fiber, protein, sugar, sodium, and fat | Higher in calories, carbs Sugar-free |
| Purpose | Easily found in commercially available popcorn and movie theater | Personal consumption |
| Price | Cheaper | High cost |
(*) The shape after popped can vary; you should reference other features to distinguish yellow and white popcorn.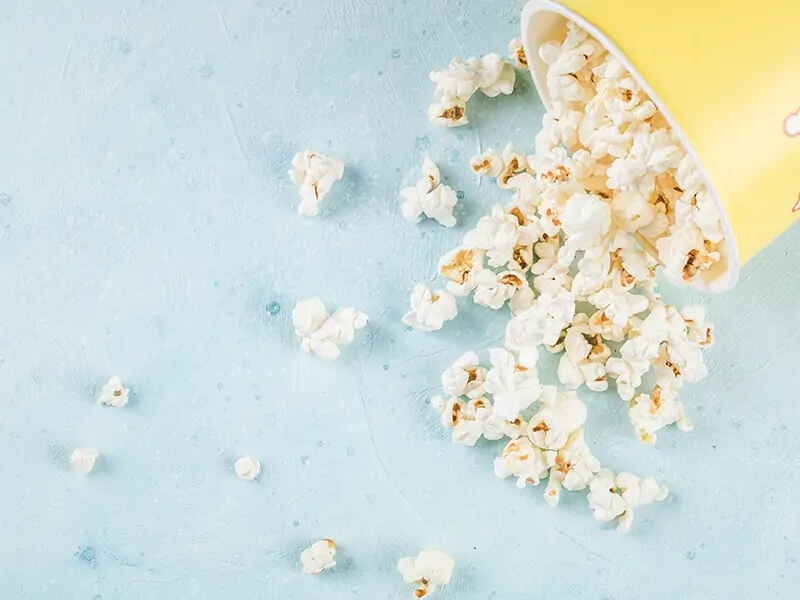 The Differences Between Yellow Popcorn And White Popcorn
As soon as you read the comparison table, make sure you have a basic idea of ​​the differences between the two popcorn. It can be seen that the difference manifests itself from the time it is in the form of kernels until it becomes popcorn. Let's analyze them.
Color
The color of popcorn kernels of the two types is easy for you to distinguish. When in unpopped shape, yellow popcorn can be identified by its yellow color or bright orange.
Meanwhile, the white kernel is recognized by its pure white color, dusty white or bright white. You can utilize a few fun ways to color popcorn kernels if you want them to appear more exciting.
In addition, after being popped, the color of these white and yellow types also has a slight difference. However, the difference might not be that obvious for those not paying a close attention.
After popping, the yellow kernels also have a slight yellow tint, while the white popcorn retains its original color.
Unpopped Shape
In my brief introduction to popcorn, I covered the kernels issue of two types: white popcorn is known for its kernel shape like rice grains, small in size, and has a long kernel pointed at both ends.
Meanwhile, yellow kernels are considered to be pearl-shaped, larger than the white ones.
Texture
Texture quality often has a difference between white and yellow kernels and is influenced by the shape of the raw kernels.
Therefore, after being popped, the yellow popcorn will be fluffier and more durable, suitable when combined with many layers of toppings. You can comfortably cover both chocolate and caramel without worrying about getting them soggy.
On the other hand, the texture of the white popcorn will be softer than the yellow one, so the topping layer on top of the white popcorn should not be too dense. If you only intend to enjoy it with butter and salt, feel free to choose white popcorn.
Popped Size
Exploded size is the crucial point determining why yellow popcorn is used for economic purposes. The famous butter popcorn in the cinemas that you often see is yellow popcorn.
The expansion of yellow kernels is higher than white kernels. While white popcorn can expand to 40 times its original size, yellow popcorn can yield 46 times. This feature also shows you the different profits between the two kernels.
Popped Shape
Popcorn has a familiar terminology, which is "flake" and is divided into two types, "Snowflake" (Butterfly) and "Mushroom".
Typically, you would think of it as white popcorn with small kernels, often appearing as a flake mushroom. Meanwhile, with a larger size, the yellow popcorn type produces snowflakes.
However, it is a fact that both white and yellow kernels can make flake mushrooms and snowflakes.
Mushroom-shaped popcorn: It is a type of popcorn seen as a round, shaped like a mushroom (that is why it is called a mushroom). This popcorn makes it easy to make with toppings, especially caramel.
Snowflake-shaped popcorn: It is commonly sold in movie theaters because of its large shape and winged edges. Due to its size and durable texture, you can easily combine it with various core layers.
The shape of popcorn after popping can be different; you should refer to other characteristics to distinguish between yellow and white popcorn.
Taste
After the popcorn was popped, they had a slight difference. Therefore, with close attention, you may notice that the yellow popcorn can have a stronger flavor, while the white variety has a mildly sweet taste.
However, when you pair them with toppings, they do not seem to make any difference.
Hulls
If you put yellow and white popcorn on the scale to compare, perhaps the hull criteria is a bright advantage that makes white kernels highly appreciated.
Many people find it troublesome or uncomfortable when thick and large hulls of yellow popcorn cling to the teeth or throat. Therefore, white popcorn is often preferred, thanks to its thin, small hulls.
You can easily buy hulless white popcorn in the market. These kernels explode the hulls enough that you cannot realize them in your mouth.
Imagine, enjoying a small bag of popcorn with small hulls is always more pleasant than large ones. Thus, they don't leave an unpleasant experience when the hull sticks to the teeth.
Nutrition Value
Their nutritional value is quite similar, and there is only a slight difference in the specific numbers. To make it easier for you to visualize, I will put the numbers in the comparison table:
| Nutritions | Yellow Popcorn (In 1 oz) | White Popcorn (In 1 oz) |
| --- | --- | --- |
| Calories | 124 | 130 |
| Protein | 3.5 g | 3 g |
| Fat | 7.1 g | 7 g |
| Carbs | 14.2 g | 16 g |
| Fiber | 3.5 g | 3 g |
| Sugar | 3.5 g | 0 g |
| Sodium | 195 mg | 105 mg |
Therefore, the minor differences between white and yellow popcorn are calories, protein, fat, carbs, and fiber. The significant difference is probably in the sugar and sodium. In terms of calories and carbs, white popcorn is more prominent but completely sugar-free.
In comparison, yellow popcorn dominates in protein, fat, fiber, or sodium. In addition, yellow popcorn contains sugar.
Purpose
Due to the difference in popped size and texture, the movie theaters often serve yellow popcorn. Who does not love big bags of popcorn covered with dense toppings and attractive colors?
Meanwhile, white popcorn is often used for household consumption, especially for people who like eating small hull popcorn.
Price
The cost of yellow popcorn is usually cheaper than white popcorn. That's why in terms of commercial popularity, yellow popcorn has gained the upper hand.
One small tip for when you buy popcorn kernels: it's better to opt for the more expensive ones, as it typically means that the length of time popcorn kernels can last is longer. Also, make sure the product is well-rated as those products tend to have better flavors.
The Similarities Between Yellow Popcorn And White Popcorn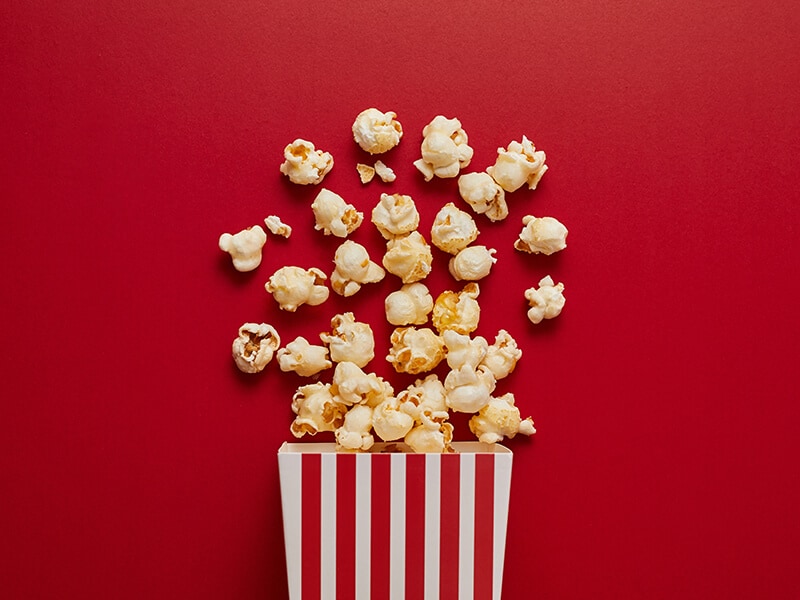 If you have grasped the differences between white and yellow popcorn, I am sure you will conclude their similarities easily. Let's take a look at some of them.
Healthy Snacks
Although the nutritional value of yellow and white popcorn has slight differences, they are still healthy snacks. The fiber contained in two types of popcorn is beneficial in helping you reduce the risk of obesity, heart disease, or type I diabetes.
In addition, they also have Polyphenol Antioxidants Polyphenols – help you improve your health significantly. Remember that they are only healthy if you prepare them properly and use the proper topping.
Cooking Method
Whether it's white popcorn or yellow popcorn, it all goes through the same exploding method. All you need is heat and oil, then popcorn explodes. So you're done with a delicious batch of popcorn to enjoy with your favorite movie.
How To Make Healthy Popcorn At Home: Step By Step Instruction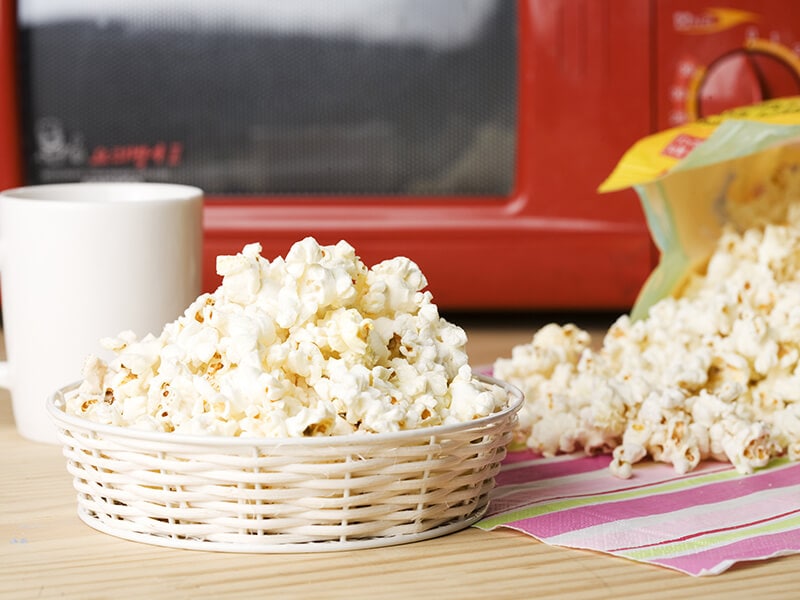 Can you only enjoy popcorn at the movie theater or the pastry store? No, you can make popcorn at home in healthier ways. Come on, roll up your sleeves and let's go to the kitchen.
Method 1: Using A pot
This method is so simple that anyone can apply it. A convenient and quick way to make popcorn without popcorn makers, this method allows you to have delicious popcorn right away.
What you need:
White or Yellow kernels
Vegetable oil (for healthy purposes)
A pot
A bowl
Instructions:
Step 1: Measure ingredients
First, you must measure the correct ratio of the kernel to oil. If you want to explode ½ a cup of kernels, you must prepare about 3 tablespoons of oil.
Step 2: Put the pot on the stove
Place the pot on the stove on medium heat, add oil to the pot. Then, add three kernels to the pot to test. Wait until the temperature of the oil is hot enough to pop the kernels.
Note: Refrain from adding too much oil, as it can be a factor leading to chewy popcorn. Stick to 3 tablespoons for every ½ cup, and you'll have perfectly crispy popcorn. If you don't have vegetable oil, there are other best-matched oils for popcorn for you to choose as alternatives.
If you see your kernels have exploded, you have started the popcorn process. Pour all the kernels into the pot. Once you're done, close the lid.
Step 3: Pop the kernel
You should shake the pot continuously to protect popcorn from burning. Pay attention to the sound of the explosions. Listen carefully until the sound is gone.
Step 4: Turn of the heat
After removing the pot from the stove, you should continue shaking to ensure all the kernels are popped. Hold the lid for a few seconds.
Step 5: Pour the cooked popcorn into the bowl.
You can transfer this popcorn into a bowl for easier handling. Finally, add your favorite topping and enjoy.
Capture straightforward steps to make popcorn with your pot. Watch this video:
Method 2: Using A Microwave
Besides the pot method, you can also use the microwave to make popcorn. This way is even simpler than popping popcorn in your pot. Try it now.
What you need:
White or Yellow kernels
Vegetable oil (for healthy purposes)
A lunch bag
Salt
A bowl
Microwave
Instructions:
Step 1: Measure ingredients
Measure the ingredients into a bowl. Add a teaspoon of oil, ½ cup of kernels, and sprinkle with ½ teaspoon of salt. Then mix ingredients in a bowl. Make sure your kernels are well mixed with oil and salt.
Step 2: Put the mixture in the lunch bag.
Once you have finished mixing the ingredients, put them in the bag. To prevent popcorn from falling outside the microwave, seal the bag. You can manipulate it by folding the mouth of the bag into solid folds.
Step 3: Put the bag in the microwave.
All you need now is just put them in the microwave. Set time to about 2 ½ – 3 minutes. Listen carefully to their sounds. Stop the microwave when you can no longer hear it.
Step 4: Pour the cooked popcorn into the bowl.
You can transfer the popcorn in this bag to a bowl to enjoy.
Notes: Do not open the microwave while you still hear the popping popcorn sound. This will affect the quality of the popcorn and cause it to splatter. Also, during the popcorn process, it's best to wear oven gloves to avoid burns.
Here's the easiest to pop your popcorn at home:
Method 3: Using An Air Popper
An air popper is a particular device that uses hot air to pop popcorn. The air popper spins the popcorn kernels in a central chamber, and its hot air helps the kernels explode.
Another advantage of using an air popper is that the technique to clean popcorn machines is very easy. In fact, it's straightforward enough that you can even nail this on your very first try.
You can use this device to make popcorn without oil, but I recommend using butter to enhance the flavor.
What you need:
White or Yellow kernels
Air popper
Butter
A bowl
Instructions:
Step 1: Plugin your equipment
First, you have to plugin your popcorn maker. Because the kernels will go through a cork trough and eventually fall out, therefore, you should prepare a bowl to hold the popcorn.
Step 2: Measure your ingredients
Measure the right amount of kernels for your needs. Prepare ½ cup of kernels to explode 4 quarts (or 16 cups or 1 gallon) popcorn.
Step 3: Pour the kernels into the air popper
Pour the measured amount of kernels into the popcorn maker. Note, pour from the top. Cover the protective plastic that came with the machine on top. Some models come with a measuring cup, so if yours has one, be sure to place it on top.
Depending on the model, you may be able to melt the butter in that cup during the popcorn process.
Step 4: Turn on the air popper
Once you are done with the preparation, turn on the device. At this time, the air popper will work and explode the corn. Therefore, you should leave it alone, absolutely do not remove the lid or touch the machine.
Wait until no more bangs are heard, and the machine is no longer operating. Tilt the device to get the leftover rag popcorn.
What To Pair With Your Popcorn?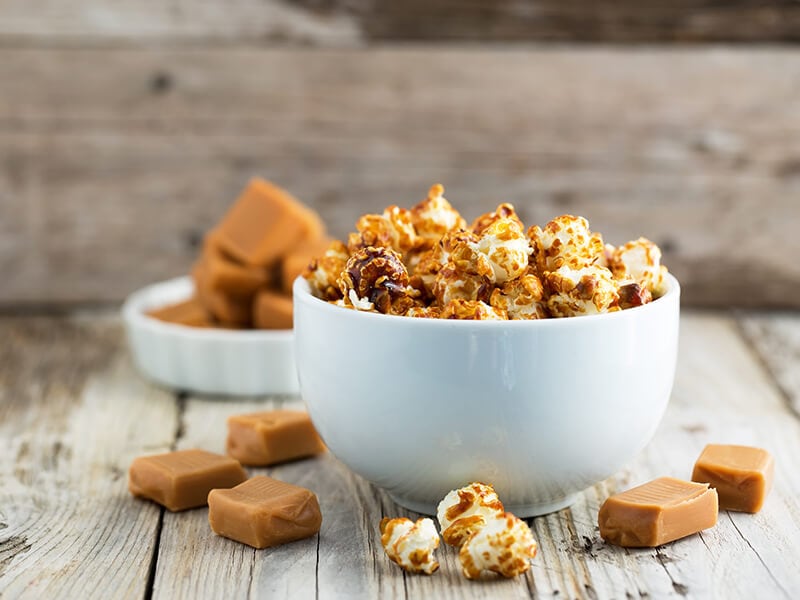 To add more flavor to the fresh popcorn, you should try some of the toppings below. They will make your popcorn more flavorful and appealing:
Butter And Salt
Butter is one of the most popular, and you can use it as a way to make seasonings stay on popcorn. Just melt the right amount of butter on the pan. Adjust the heat just right so as not to burn the butter. Finally, mix the butter and sprinkle a little salt on the popcorn to make it richer.
Caramel
How can you resist the sweet taste of caramel popcorn? Caramel is a classic topping for popcorn. Prepare the butter, brown sugar, vanilla extract and boil the mixture until it thickens and bubbles. Don't forget to mix it with the popcorn and enjoy.
Matcha And White Chocolate
If you love both matcha and chocolate, this is the perfect choice for you. This topping will bring you to the Asian-Japan vibe. To limit the bitterness of matcha, you should combine it with white chocolate to bring out the sweet taste.
Brown-Butter
In addition to the traditional butter flavor, you can try combining popcorn with brown butter. Heat the butter until it turns brown. Pay attention to the color of the butter carefully to avoid burning the butter. Once cooled, add to the popcorn and enjoy.
Chilli Cheese
Swap savory popcorn if you're no longer interested in the sweetness of caramel. Why not? Create a topping with cheese powder, chili powder, paprika, and a pinch of salt. Spread the topping evenly over the popcorn and pop up your favorite movies right away.
Nutritional Yeast
Wanna enjoy healthy popcorn? Try nutritional yeast now. Simply choose your favorite nutritious yeast, sprinkle them evenly over your popcorn, and enjoy it right away.
Curry Popcorn
Do you find it strange that I recommend this to you? Come on, don't hesitate to try something new because it's unbelievably delicious. Mix the curry powder well and add seasoning to taste.
After that, sprinkle on popcorn and finally inhale its fragrance. Just kidding, don't hesitate to try a few pieces right away.
FAQs
After learning about the similarities and differences between yellow and white popcorn, I think there are a few things that you still wonder about this exciting snack. See if you have any concerns here.
Let's Try Popcorn- A Healthy Snack For Your Movie Night
Whether you choose white popcorn or yellow popcorn for tonight's home movie screening, it's a good choice for you. It's rich in fiber, low in calories, and packed with essential nutrients, and it's a snack suitable for your kids.
However, if you want it to be indeed a healthy snack, be careful when preparing it. Lightly seasoning, using vegetable oil to cook will help you enjoy popcorn without watching out your scale. Just enjoy it.
What do you think of my comparison table? Please share with everyone if you find the above information useful.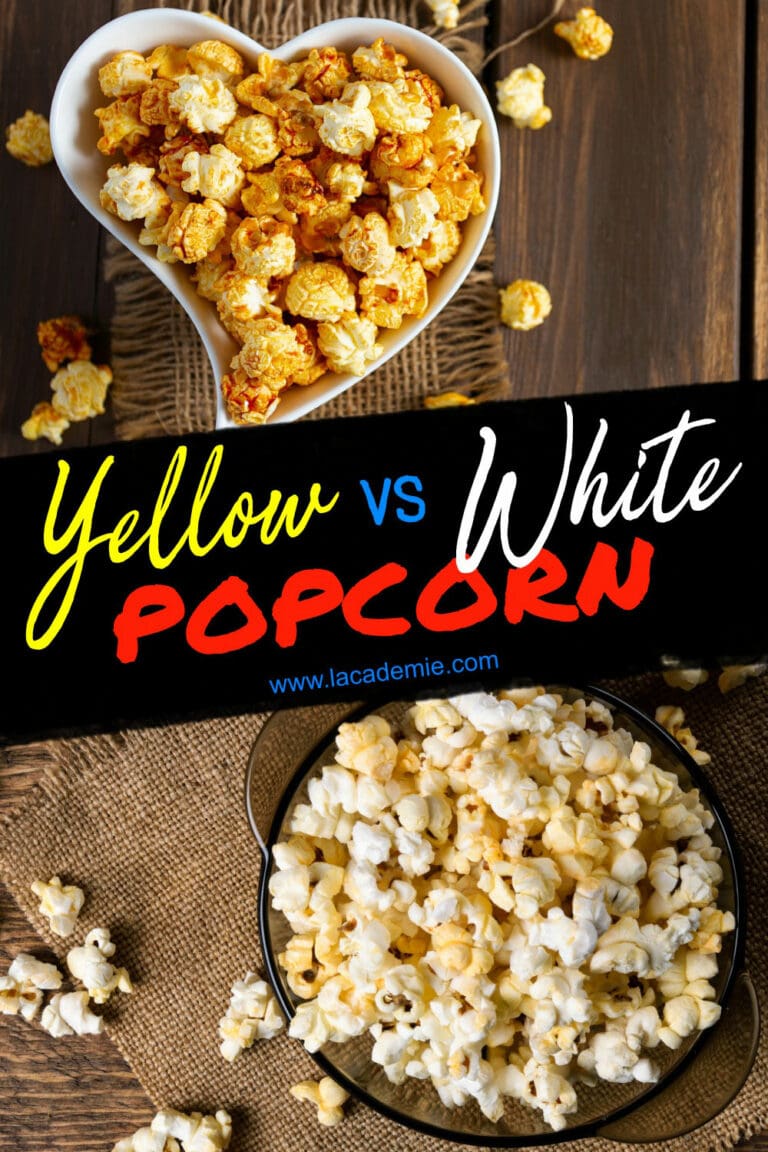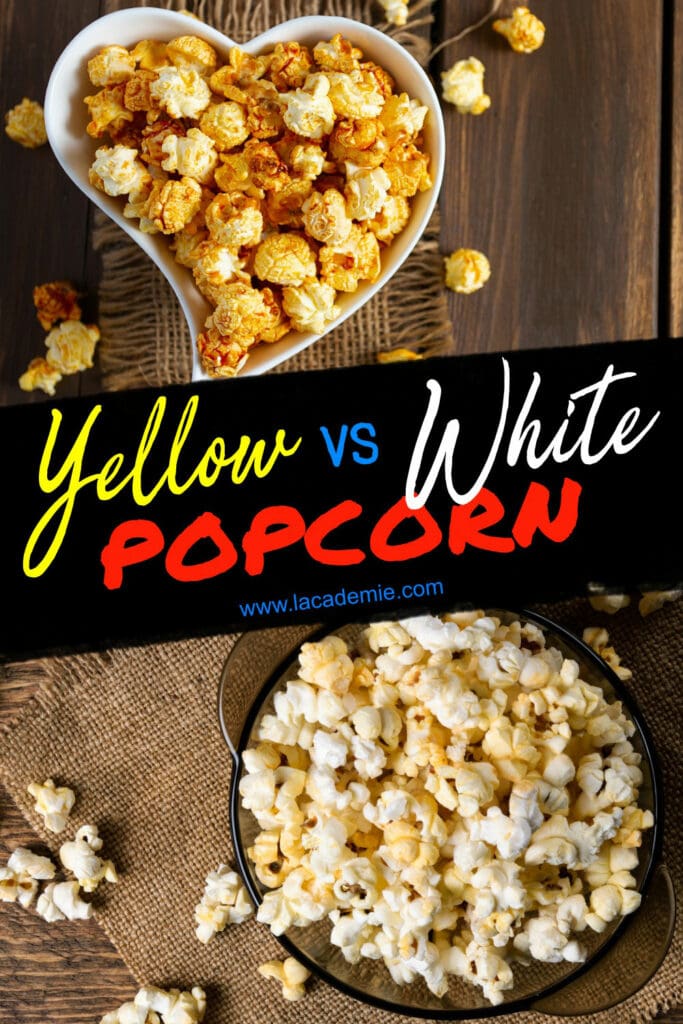 References
"Popcorn Wikipedia". En.Wikipedia.Org, 2021 https://en.wikipedia.org/wiki/Popcorn.