Knowing how to reheat popcorn is important if you don't want your stale but still very edible popcorn to go to waste. This article will tell you everything you need to know about old popcorn and how to utilize it.
"I have had enough of popcorn." said no one ever in human history. Everybody loves popcorn. And sometimes, when you love it too much, you buy or make too much of it, and are left with a lot of leftovers that you don't know what to do with.
And that is why I am here to help.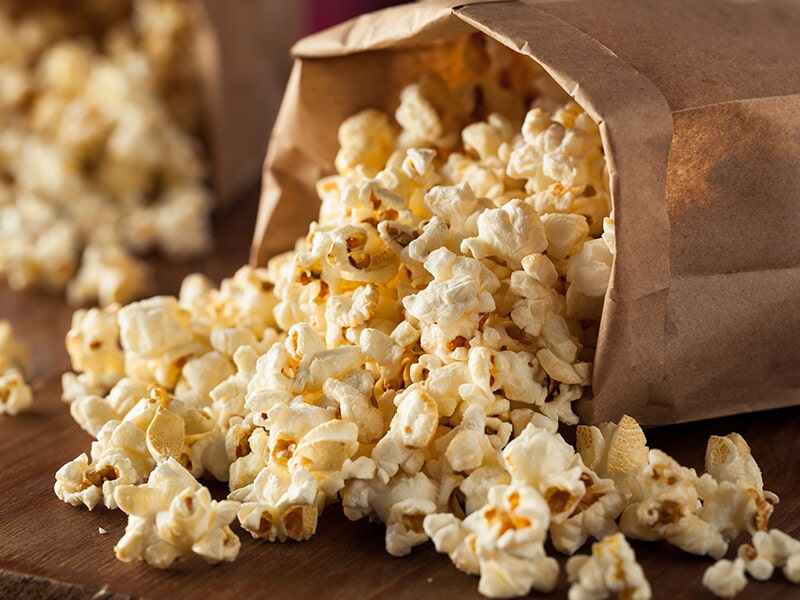 Introduction To Popcorn For Everyone
Popcorn is a movie theater staple, an insanely tasty snack that everybody loves, yet is also healthy and nutritious. Some would even say popcorn is the best food ever to exist. So what makes popcorn so great? Let's dive in and find out!
Where Does Popcorn Come From?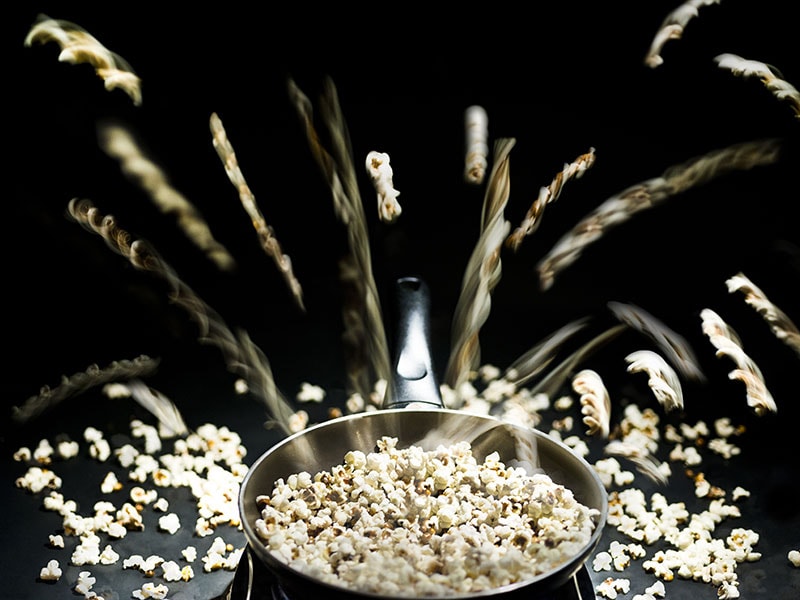 Popcorn is made from corn kernels. It works like this: When you heat the kernels to a certain temperature, the kernels would expand and break from the inside out, as the inner fibers now form the outer layer of the kernels.
They would also make happy popping sounds during this process. This is why the act is called popping popcorn.
Here's a fun fact for you: When the kernels are heated to the point of popping, they can increase up to 20 to 50 times their original size. Now isn't that cool! (1)
See how popcorn expands in slow motion here.
Types Of Popcorn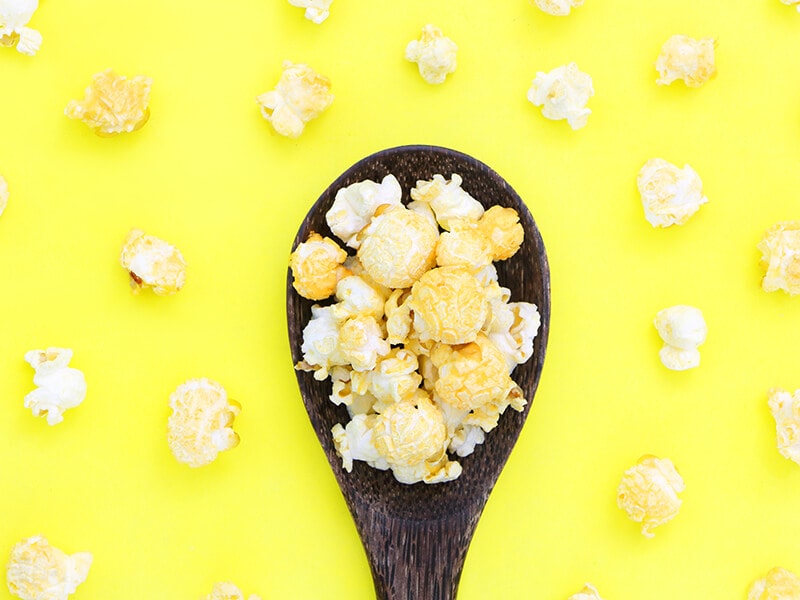 There are many types of kernels, each with its own quirks and specialties. The taste and shape of the popcorn will depend on the type of kernels you choose. Among them, four types of kernels are the most popular. Let's see what they are (2).
| Item | Appearance (kernel) | Appearance (popped) | Flavor (popped) | Texture (popped) |
| --- | --- | --- | --- | --- |
| White | Pale yellow, medium-sized, rice-shaped | White with small "wings" | Neutral and sweet | Slightly more tender than yellow |
| Yellow | Large and yellow, pearl-shaped | White with a yellow tinge, large and inconsistent | Nutty and earthy | Crunchy |
| Ladyfinger | Small with a thin hull | Small and inconsistent, with little "wings" jutting out | Nutty | Tender |
| Mushroom style | Large and sturdy | Ball-shaped, big, and fluffy | Fluffy and earthy | Firm and a bit chewy |
Note that white, yellow, and ladyfinger popcorn all belong to a group called "butterfly-style popcorn". This, along with mushroom-style popcorn, is used to refer to the shape of the popcorn after popping.
Butterfly-style popcorn when popped tends to have a small, thin, inconsistent shape with little "butterfly wings". Some people call this type of popcorn "snowflake wings", which also refers to its appearance.
Meanwhile, mushroom-style popcorn is studier and has a more consistent shape, and generally looks like little corn balls.
Everybody Loves Popcorn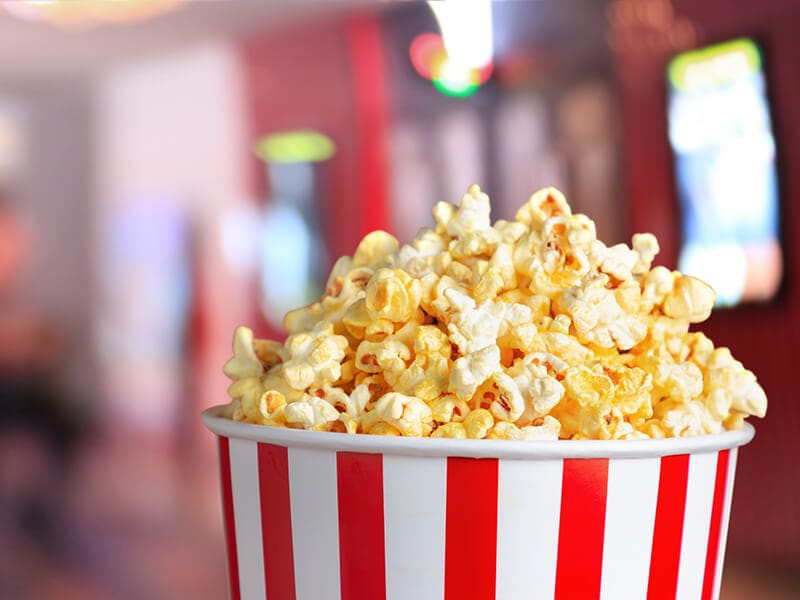 Why do people love popcorn so much? To answer this question, let's take a trip back down memory lane.
Popcorn's rise into metaphorical food stardom was in the 1930s, during the Great Depression. People were poor, and they couldn't really afford more expensive stuff anymore, including food.
Now popcorn enters the stage. It was cheap, it was readily available, and it required very few ingredients. So naturally, it has become everyone's favorite, until this day (3).
Besides the historical reason, it is undeniable that popcorn tastes good, is versatile, and has that fun vibe to it that compels you to make it – even if you are not going to the cinema. It has a crunchy texture, a sweet, salty, and rich taste, and a buttery fragrance.
So really, it's not surprising at all that everybody loves popcorn.
Five Best Ways To Revive Stale Popcorn
Found a bunch of stale popcorn in your kitchen, and don't want it to go to waste? Worry not, as revived popcorn can taste just as good as new. Find some of the best ways to restore popcorn below, and pick one based on your preference and available tools.
I also gave each method a rating under their description, and listed the methods from high to low ratings – but remember, these ratings are not absolute. It also depends on your taste and preference. What might be right for you might not be so for others. So proceed with caution!
1. Air Fryer Rules The Kitchen
Ratings: 5 stars out of 5
Air fryers are the new 21st-century kitchen stapler. They are clean, quick, and versatile. Naturally, it would be a great tool to revive popcorn. But let's not dawdle too much; I'll show you the instructions.
Step 1: Preheat the air fryer to 250°F – 300°F (or 125°C – 150°C).
Step 2: Coat the popcorn with a light spray of oil for a little extra crispiness. Remember to stir the kernels around to spread the coatings evenly!
Step 3: Pour popcorn into the air dryer basket.
Step 4: Fry the popcorn for 2 – 3 minutes.
In the end, the renewed popcorn will be crisp and keep the heat for a long time. And it's fast too! There's nothing that can go wrong with this method.
The air fryer is the supreme ruler of the kitchen – at least when it comes to popcorn.
2. Using The Classic Oven
Ratings: 4 stars out of 5
Operating an oven should be easy enough, as most people have used an oven at least once in their lives.
However, remember to be careful with popcorn, or else you can end up with either a scorched, pitch-black batch of popcorn failure or a huge oily mess in the oven that you end up having to clean.
To crisp up popcorn, follow these steps:
Step 1: Take a large dish or a baking sheet. Make sure it is oven-safe.
Step 2: Line said surface with parchment paper.
Step 3: Spread an even layer of popcorn on parchment paper. The layer must be even so that the kernels will be heated equally.
Step 4: Spray a coat of cooking oil or butter on the popcorn and stir so that the coating is even.
Step 5: Preheat the oven to 250°F – 300°F (or 125°C – 150°C).
Step 6: Put the tray into the oven and let everything heat for 3 – 5 minutes. In this window, you should prepare extra seasoning if you want to add more.
Step 7: And serve! Add seasoning if you feel like it.
One pro is that this renewed batch should taste as good as fresh popcorn – crispy and crunchy, with the distinct aroma of hot popcorn. Sure, you have to wait a bit for the oven to preheat, but I'm sure it's worth the wait.
Bring your popcorn back to life, and kicking!
3. What About The Microwave? I'd Say Meh
Ratings: 3 stars out of 5
What if you prefer the microwave to the oven? Don't worry; I've got you covered. Here is a step-by-step guideline on heating popcorn in the microwave:
Step 1: Place popcorn in a dish or bowl. Make sure to check if it's microwave-safe.
Step 2: Spread a wet paper towel or plastic wrap on top of the popcorn. This keeps the popcorn from hardening and becoming popcorn-shaped blocks of bricks.
Step 3: In the microwave goes the dish/ bowl.
Step 4: Set the heat level from medium to high.
Step 5: Microwave popcorn for 20 – 30 seconds. This is when you should prepare the seasoning.
Step 6: Check the popcorn regularly. If you spot any burning signs, stop immediately.
Step 7: Add seasoning if you feel like it.
This method is much quicker than using an oven, as your hot popcorn will be ready within just around one or two minutes.
But this comes with a price: Popcorn is also very quick to cool down, so you have to wolf it down fast, or else you would be left with a bowl of dry, hard, chewy sadness.
4. Using A Popcorn Warmer
Ratings: 3,5 stars out of 5
Sometimes popcorn lovers love it so much they have a professional popcorn warmer in their house. And that would be great for this task, as the machine is created specifically to make popcorn.
These are the general steps to take when you use a popcorn warmer to reheat popcorn:
Step 1: Turn on the heat lamp.
Step 2: Put popcorn in the warming case and set it at 200°F – 250°F.
Step 3: Take out the popcorn whenever you feel like eating it.
When you use a popcorn maker, the popcorn can be crisped up just like new.
The cons of this method? The popcorn warmer is more suitable for keeping a large quantity of popcorn, so using it will certainly raise your electricity bill. Also, you may find it hard to navigate the machine.
Learn how to operate a popcorn warmer here.
5. What About Using A Pan? It Might Not Be The Best Idea
Ratings: 2,5 stars out of 5
How about a good old batch of popcorn from the pan in your kitchen? Don't worry. Please read the steps for reheating popcorn down below:
Step 1: Put the pan on the stove on low to medium heat.
Step 2: Drop in some cooking oil or butter for crispiness.
Step 3: Wait for the oil to get hot (or the butter to melt completely).
Step 4: Pour popcorn into the pan and put a lid on top for moisture. Remember to choose a lid with a vent hole.
Step 5: Shake the pan every 15 – 20 seconds so the popcorn gets heated evenly.
Step 6: After 3 – 5 minutes, take the pan off the stove and start serving.
Out of all the methods, this must be the most tiring one for your hands, as you have to shake the pan every now and then, and there's no way to be sure the popcorn would be heated evenly. Some people might also be afraid of boiling oil.
Overall, this is not a very safe bet, especially for clumsy people. So, trust the machines, guys.
Pay Attention To These Things When You Revive Popcorn
While reheating popcorn is relatively easy, there are also quite a few things that can go wrong with it. So keep in mind these bits of advice when you try to reheat popcorn:
Advice #1: Don't Try to Re-pop Unpopped Kernels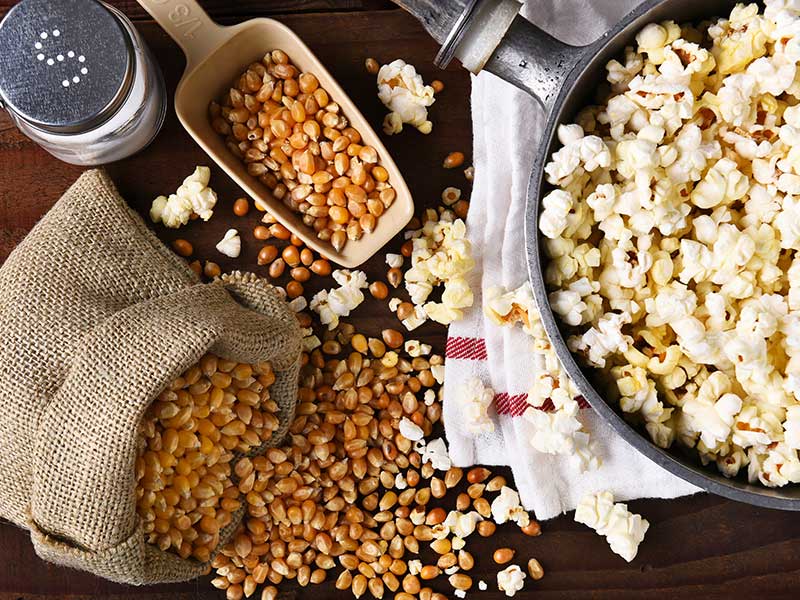 If you have ever bought or made popcorn before, the chance is that there are always some unpopped kernels somewhere in the batch. Many people might wonder if a second try would make them pop.
And the answer here is no. It is unlikely that the unpopped kernels will pop, and much more likely that they will burn completely, and bring to your batch of popcorn a scorched smell and flavor. I highly recommend not doing this.
Advice #2: Pay Really Close Attention to The Popcorn During the Process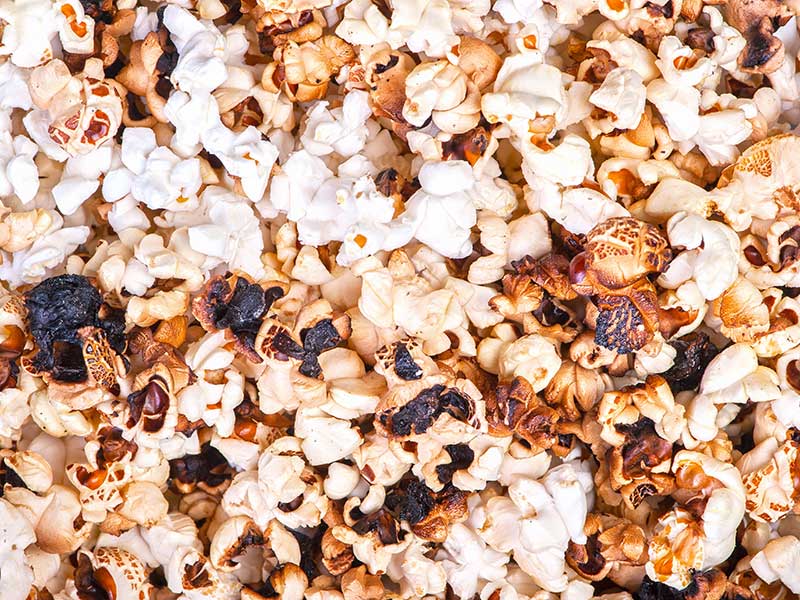 The thing is, popcorn can be fickle. You look away one moment and then it is completely burned, leaving you baffled and sad with no popcorn.
So when you reheat popcorn, look after it carefully. Use a microscope if you have to (I'm kidding). Rely on your eyes, nose, and ears to detect possible signs of burning.
Tips To Lengthen Popcorn's Shelf Life
Aside from learning to revive popcorn, it's important to know how to prolong its shelf life too. After all, you want to keep it as good and fresh as possible, even when you are not feeling like eating it.
In this section, I am going to cover all the bases on how to store popcorn. Pay close attention!
Make Popped Popcorns That Last Longer
The state that popcorn was first made and stored plays an important part in its shelf life. Generally, plain popcorn kernels contain a lot of fiber and little of pretty much everything else, so even for popped popcorn, if you don't season it, it can remain good for up to a few months.
However, it's the seasoning that's the matter. Although it's quite difficult for kernels to go bad, seasonings like butter, caramel, sugar, etc., can turn rotten after some time. Usually, the shelf life of seasoned popcorn would be 1 – 4 weeks.
So if you want to make a huge batch of popcorn for later use, it's best not to season it.
Storage Advice For Seasoned Popcorn
If your popcorn is already seasoned, don't worry. Sure, seasoned popcorn has shorter shelf life than plain ones, but it still lasts a very long time compared to other foods. If you follow the methods down below, rest assured that your popcorn will be kept safe and fresh.
At Room Temperature
Popcorn can be kept at room temperature, and it will last for some time before going stale. But of course, you need to store it properly so that it retains its deliciousness.
Step 1: Take an airtight bag or container. The more it is exposed to the outside environment, the faster popcorn will go stale. So shut the lid or tie the bag tightly to trap its natural moisture.
Step 2: Find a plastic wrap or a plastic bag, and wrap it tight around or just enough to cover the top of the container.
Step 3: For those who use a bag, remember to tighten it in a way that as little air is left in the bag as possible, and throw in some rubber bands for good measure.
Step 4: Close the lid and screw the lid tightly.
Find a place with low levels of humidity, sunlight, and temperatures, like your pantry or cupboard. Popcorn stored by this method should last 2 – 4 weeks.
This is how you seal popped popcorn.
In The Fridge
If you want to keep popcorn for even longer, using the fridge might be a smart option. Here I'm going to show you the steps to store popcorn in the fridge:
Step 1: Take an airtight container and follow the same steps as when you keep popcorn at room temperature.
Step 2: Place the popcorn container in the fridge's humidity zone, and turn the humidity down to Low (or 10% – 30%). In this way, the popcorn should last 3 – 4 months.
What About The Freezer?
As freezing stalls the rotting process, you can use it to store popcorn and maintain its freshness. When you freeze popcorn it can last for months.
● Step 1: Place popcorn in an airtight heavy-duty freezer bag.
● Step 2: Seal the bag in such a way that as little air is left in the bag as possible, and outside air can't reach the popcorn inside.
● Step 3: Label the bag. Popcorn kept this way will last up to 3 months.
Creative Ways To Utilize Stale Popcorns
If you are feeling adventurous and simply reheating popcorn just won't cut it for you, there are amazing recipes with popped popcorn you can try out. Below I will list some of the best but simple recipes that you can easily make at home.
This is it. This is the ultimate dessert to bring to Christmas family dinners. It is colorful and sprinkled with candies, so the kids will absolutely love it. And everyone can munch on it while binging Christmas movies together.
Impress Santa (and everyone else) with this cute snack.
Yes, you heard me. It's that simple: Popcorn made into giant balls. But trust me, the only thing that is better than popcorn is a giant ball of popcorn. With the addition of corn syrup, vanilla extract, and butter, these giant popcorn balls might just kill you with their tastiness.
If you have a batch of old caramel popcorn, this recipe is for you. Moose munch popcorn combines the most loved ingredients like milk chocolate chips, syrup, marshmallow, and peanuts to create the ultimate dessert to rule over other desserts.
Fancy something colorful for your party next Saturday? Want to absolutely impress everyone, or just yourself, with a quirky, playful dessert? Try making Neapolitan popcorn. This recipe takes the combination of popcorn, chocolate, and strawberry-flavored mix to the next level.
Ever get tired of boring old cakes made in boring old ways and want to rock your kid's next birthday party (or your own) with something revolutionary? Birthday cake popcorn has got you covered. This dish is gooey, colorful, and out of the ordinary.
This is how you rock the next birthday party with birthday cake popcorn.
FAQ
Sure, popcorn is simple to make, but there are so many little things that can go wrong and prevent your popcorn from achieving perfection. So here, I have compiled some of the most commonly asked questions. If you wonder about these things too, I hope the answers can help.
And That's A Wrap!
Popcorn is cheap, basic, and simple. It hardly goes bad, and just a few revive tricks can go a long way in restoring it to its former glory. So whenever you have a batch of stale popcorn, don't throw it out, be creative with it instead.
Now that you know how to reheat old popcorn and all its potential, grab your tools and go. And if you have some extra tips for other popcorn lovers, don't hesitate to share them with everybody.
Paragraph
Popcorn, 2022. Wikipedia.
Joshi, D. Package and practices of popcorn (Zea mays var. Everta).
Anon, Why do movie theaters serve popcorn? Encyclopædia Britannica.