Swedish desserts are considered one of the most delicious but also the easiest desserts in the world. Most of them are cakes, cookies, buns, and sweets, certainly satisfying your love of sweetness.
A variety of Swedish desserts brings you various choices for your meals and your children. Pieces of cakes or some cookies will light your meals up and contribute to meal perfection.
These 18 easiest Swedish desserts will diversify your dessert ideas in which you can change over from one by one. Changing dessert recipes more or less will make your meals diverse and impressive. Let's see what Swedish dessert recipes are the best for you now!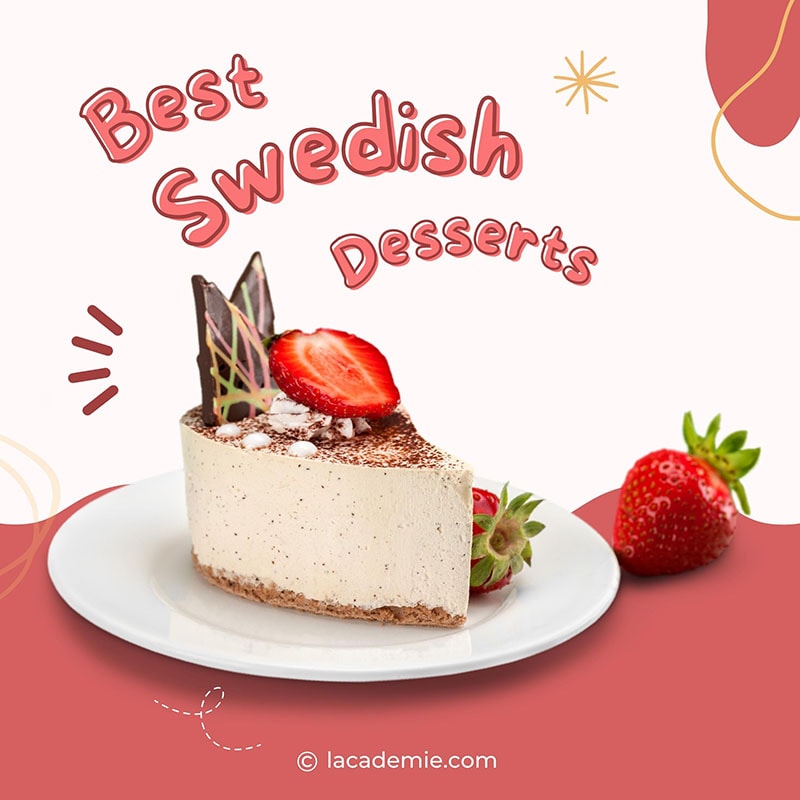 Discover 18 Ways To Get Incredibly Wonderful Swedish Desserts
The Swedish desserts will be divided into three categories, from cakes, cookies, and other fabulous desserts made with Swedish style. Going through this list and opting for one idea before reading the next part to get specific information.
Swedish Cakes For Desserts
Sticky Chocolate Cake
Swedish Apple Cake
Swedish Almond Cake
Princess Cake (Prinsesstarta)
Swedish Cheesecake (Ostkaka)
Swedish Blueberry Yogurt Cake
Spiced Parsnip Cake
Almond Caramel Cake (Toascakaka)
Swedish Pancakes
Swedish Ginger Cookies (Pepparkakor)
Swedish Butter Cookies
Swedish Oatmeal Crisp Cookies
Swedish Buns For Desserts
Semlor Buns
Saffron Buns
Swedish Cinnamon Buns (Kanelbulle)
Other Swedish Desserts
Swedish Apple Pie
Swedish Christmas Toffee
Swedish Waffles
18 Of The Most Iconic Desserts From Sweden
Go through every section below to get the deeper information of the top 18 ideas to get a decent dessert. Reading these passages to know how these desserts look like, what they taste, and how to make them.
9 Ideas For Swedish Cakes To Sweeten Your Desserts
In the culinary world of Sweden, cakes are always the most comforting and convenient option for serving as dessert. Just a piece of cake, you can give a nice final touch for your meals. Slightly sweet, soft, and dense texture makes the cake beloved by people of all ages.
Sticky chocolate cake is considered one of the easiest and most heavenly desserts for almost all pleasure of meeting.
The cakes with crispy edges but sticky, gooey, soft, and dense texture always is a perfect idea for your children's interest.
The wonderful sticky chocolate cake is best if you let it cool in the fridge and pour some syrup over the cake before serving.
Make the Swedish sticky chocolate with ingredients you have at home. You can see this video to know more:
The Swedish apple cake is formed with a crispy crust, a thick base, and a side vanilla sauce to get the best taste for dessert.
The cake with the slight sweetness of apple will add a unique flavor to the cake and make it more appealing than other cakes.
Serving the cakes with a thick vanilla sauce of potato starch, cream, and milk is to make the cake more aromatic.
Your dessert of Swedish almond cake and a cup of coffee is one of the best ideas you can get. The tartness from coffee harmonizes with the slight sweetness, moisture, and softness of the cake to form the wonderfully melt-in-your-mouth flavor.
The addition of almonds will add an irresistible aroma and delightful taste together when it is mixed with other typical ingredients to make cakes.
Besides serving the cake as desserts, you can also take it to be your flavorful breakfast.
You must be attracted by the appealing appearance of the princess cake when they get the elegant but beautiful colors. Like other cakes, the cake has a dense and soft texture together with vanilla pastry cream outside.
The garnishes of marzipan or raspberry jam contribute to the tangy and impressive flavor of Princess cake.
Just a piece of princess cake together with appetizers and main savories make a perfect meal.
ưGet Princess cake ready on your meal table in less than 2 hours. You can see this video to know more:
Unlike many other cheesecakes, the Swedish cheesecakes are far less sweet, but it's also comforting and heavenly.
Your cheesecake becomes better if you serve it with fresh strawberries or your favorite fresh fruits.
The cheesy, soft, dense, and tangy cake and the slightly sweet and sour but juicy fruits create the perfect dessert for your meals.
Don't even think that this Swedish dessert is the typical blueberry sweet treat that you can find everyday. Aside from the undeniably juicy blueberries, this cake also boasts a fantastic flavor balance from yogurt and lemon zest.
Moreover, the beaten eggs add an airy and soft texture when you enjoy them with some favorite side beverages.
Topping the cheesecake with blueberries is a good way to make it more appealing and glamorous than other cheesecakes ever.
The spiced parsnip cake will impress you with the top layer of caramel-flavored icing and some pecans, making it aromatic, totally comforting, and delicious to taste.
Below, a layer of sweet, buttery cake, spiced, and tender texture will make your can a unique version of spiced parsnip cake.
Usually, you will spend about 2 hours getting the cake finished after going through some simple steps. Thus, if you like to serve your meals with a piece of spiced parsnip cake, plan to make it 2 hours before getting meals.
As their names suggest, the difference between almond cake and almond caramel cake is the top layer.
While the almond cake has some almond as toppings, the almond caramel cake has a layer of a mixture of brown sugar and almond, which makes the almond caramel cakes to some certain extent more appealing.
Making Swedish almond caramel cake becomes more accessible than ever with these detailed guidelines.
With the typical ingredients to make cakes, just use them to make Swedish pancakes to serve with maple syrup and fresh fruits. You need to combine all the ingredients and then fry the mixture in a large saucepan to get the pancakes.
Actually, without cream, syrup, or fresh fruits by the side of Swedish pancakes, they will go bland.
Your dessert becomes more delicious but easier with these Swedish pancakes.
It sounds not strange to use cookies to finish your meals. The crunchiness, sweetness, and delight from the cookies will make your desserts more stunning. These cookies also give you a simple, quick, and convenient dessert.
Truth to be told, ginger cookies are a widely beloved dish in Swedish cuisine. The spicy and sweet flavor of ginger, along with the citrusy orange zest, will yield a crumbly treat no one can dislike. After all, how can a national dessert be anything less than perfect, right?
Traditionally, Swedish ginger cookies are served on Christmas eve because nothing is better than these cookies on cold days.
Another version of cookies is crispy and good-tasting Swedish butter cookies that you can also serve as a decent dessert.
Swedish butter cookies or pressed butter cookies become more colorful with the topping with coarse sparkling sugar. You can also use a firm cookie press to create many fun and exciting shapes for your treat, making it even more appealing to young children.
Just make the cookies in advance and serve them many times by storing them in the air-tight container for cookies or in the fridge for longevity. Who doesn't love having desserts available right when they need one, am I right?
The Swedish oatmeal cookies are pretty different from the other cookies when they contain two halves like sandwiches. A half is crisp and tangy with rolled oats and ground almonds, while the other is also firm with the melted chocolate.
These cookies can be finished in just around 25 minutes, so if you don't have a lot of time to make other types of cookies, just bake Swedish oatmeal cookies for your dessert.
Brilliant Swedish Recipes With Buns For Desserts
Like other recipes, the Swedish buns are also a great dessert idea for serving a crowd as making them is easy and quick with simple ingredients. Check these suggestions below to get better information.
Semlor buns are like sandwiches with the topping of almond paste, cream, and some powdered sugar. The dish's popularity has also spread to Estonian food culture and other countries worldwide.
No one dislikes eating semlor buns, especially children, because I know how excited my nieces are when they are treated with these buns as desserts.
The softness, tanginess, and creaminess are in one semla bun, making it one of the most impressive Swedish desserts.
Saffron buns are one of the most delightful things to enjoy on Christmas day in Sweden. The buns have nothing except a soft, aromatic, and slightly sweet texture with the unmistakable flavor of saffron. This is definitely a treat that you should try at least once in your life.
Now, I know what you're probably thinking. Saffron is expensive and can be hard to come by, so how can you replicate this must-try treat? There are plenty of different ingredients to use instead of saffron. The taste might not be exactly the same, but they'll still yield satisfying results.
Mixing raisins in the dough and top them over the buns makes these buns more impressive when enjoying them.
The kanelbulle or cinnamon buns are also one of the most well-known desserts in Sweden and across the world.
Unlike many other buns, the addition of cinnamon into buns makes them more delicious and unique. As a type of buns, serving cinnamon buns on Christmas day is a traditional culture of the Swedish.
However, I think that if you like, you can make and enjoy them whenever you want.
Other Swedish Desserts For Effortless Entertaining
Besides cakes or cookies, in this section, I will let you know what else to serve a dessert that is not complicated or time-consuming to make. Just go with me and find out how they taste and how they are made.
The Swedish apple pie is an easy-making but good-tasting recipe with soft, fresh apple and warm cinnamon.
The pie becomes a good dessert with tender and juicy apple slices on the top and a tangy, dense, and flavorful texture as a base.
Take a piece of Swedish apple pie to make your dessert light and, together with other savories, make your meal perfect.
Serve Swedish crisp apple pie as your dessert in the next meal! You can see this video to know more:
Swedish toffee is also one of the easiest Swedish desserts to make, even if you are skillful at baking or not. Just a jar of Swedish Christmas toffee, you can save a lot of time making time-consuming and complicated desserts for several days.
Follow these two steps; you get Swedish Christmas toffee with ease: Cooking the mixture of syrup and chopped almonds until the texture gets slightly firm, and then pour the texture into paper cones to get the toffee.
I loved these waffles when I was young; however, my mother didn't know how to make them in Swedish styles, but her recipes are almost the same.
The most challenging part to make these waffles was mixing flour and eggs to form a smooth batter, but now with the help of a machine, everything becomes easier than ever before.
Place by the side of these Swedish waffles with banana slices or some syrup and cream to get the best taste.
Satisfy Your Sweet Tooth With These Swedish Desserts
These 18 ideas about cakes, cookies, and the other will give you diverse choices for Swedish dessert recipes in which you can turn normal ingredients into stunning desserts to bring your meal the impressive final touch.
If you don't find your favorite recipes for your desserts in the list here, please help me to leave the comment below, and I'll add your ideas immediately as I can. And if you think my post is useful, feel free to share it with your relatives.