Just like everyone, I'm obsessed with borscht, one of those Russian recipes that date back to the 19th century. I was curious about other dishes, too, so I spent days in the kitchen recreating some recipes from the two-continent country. The results were splendid.
Russian cuisine started to diversify in the 15th century. It is evident that the Russians love to use vegetables in their food. Dishes made with dough are also abundant, and needless to say, meat is an essential part of their diet, with chicken tops the most-favorite chart.
Let's go exploring!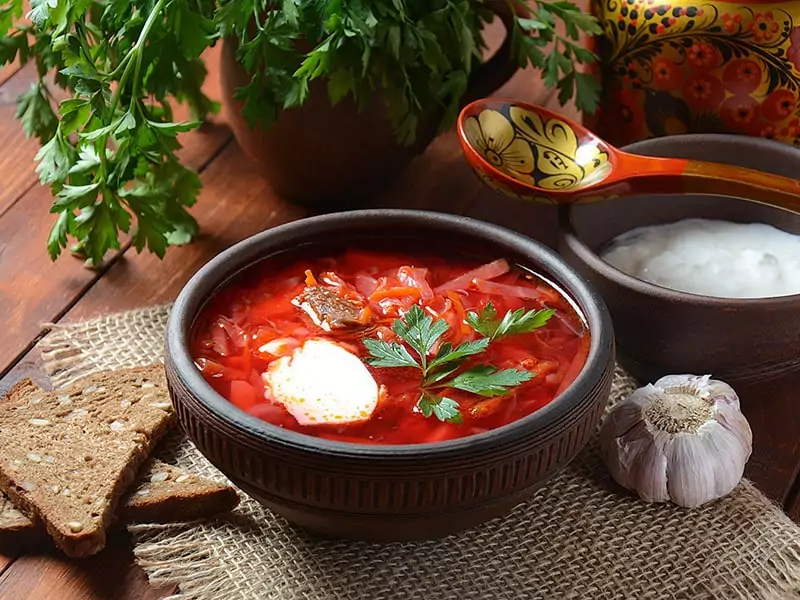 21 Authentic Russian Recipes
If you love the red beet soup, here are more options to spice up your dinner rotation. Scroll down and explore the best dishes Russian cuisine has to offer, from main courses, appetizers, and side dishes that make you stuffed to irresistible drinks and desserts to accompany your meals.
Russian Main Course Recipes
Shashlik (Russian kebabs)
Bef stroganov (Russian beef stroganoff)
Pelmeni (Russian meat dumplings)
Kulebjaka (Russian cabbage pie)
Piroshki (Russian meat hand pies)
Uzbek plov (Russian lamb pilaf)
Kurnik (Russian chicken pie)
Russian Side Dish Recipes
Olivier salad (Russian potato salad)
Russian carrot salad
Russian vinaigrette salad
Borscht (beet and cabbage red soup)
Shchi (Russian cabbage soup)
Ukha (Russian fish soup)
Okroshka (Russian cold soup)
Russian Drink And Dessert Recipes
Sbiten (Russian hot honey)
Prianyi chai (Russian spiced tea)
Medovic (Russian honey pie)
Russian romanoff
Pashka (Russian Easter dessert)
Syrniki (Russian cheese pancakes)
Russian blini (Russian pancakes)
Be my guest. Let me show you the best Russia dishes that you can't resist!
Tasty Main Courses Made In Russia
Begin your meal delightfully with these awe-inspiring main courses and starters. They are the most exciting parts of the meal, and everyone will wish they were invited to your Russian-style dinner.
Shashlik used to be associated with the elites only, but now everyone in Russia can enjoy these delicious skewers. Traditionally, lamb and goat meat are used, but modern versions include chicken, beef, and pork as well.
Shashlik is the perfect addition to your upcoming summer cookout. The meat cubes are surprisingly tender and flavorful, thanks to the yogurt marinade, but you can substitute it with any acid liquid like vinegar or wine. Don't forget some onion chunks and bell peppers.
Much to my surprise, bef stroganov is not of American origin but Russian. Like shashlik, this dish used to be prevalent among the upper-class only. You can find many versions of it today, but only the American and the original stand out from the crowd.
It's understandable why the dish is such a hit. The beef is sauteed to perfection, drenched in creamy gravy, and served over a bed of rice pilaf or egg noodles. Sour cream is unmissable, and rest assured its rich and intense flavors will keep you coming back for more.
This Russian beef stroganoff outdoes its American equivalent. Watch this video to know more:
Originating from Siberia, pelmeni has come a long way to your dining table. These adorable dumplings are mainly served with ketchup or sour cream, but I prefer to have it with a splash of vinegar.
Like every other dumpling, making pelmeni is pretty challenging, yet it is much easier than their Chinese counterparts. The filling is made with seasoned ground meat, and you can either boil or fry them. Yes, you can serve them in soup, too.
Remaining one of the three largest cabbage producers in the world, there's no surprise to see many Russian dishes include this leafy vegetable. To illustrate, I proudly present to you this amazing cabbage pie, perfect when the breezy winds start to arrive.
The recipes vary greatly, but the common thing is the slightly cooked onion and cabbage to build the flavors. You can also add some eggs made with your top-notch egg cooker and season the mixture to taste. Lastly, pour in the batter and bake until golden and flaky.
Russian cuisine offers astonishing versatility and range, and piroshki is an example. The filling has two options, sweet and savory, with the former made with poppy seeds, blueberry, or fruit jam and is less popular than the latter.
These hand pies are made with yeast dough, and they can be either fried or baked. Most people enjoy them with a dollop of sour cream or hot sauce for a slight kick, but in my opinion, they are already tasty on their own with creamy mashed potato and juicy meat.
Pilaf goes by many aliases (pilau, perloo, perlau, etc.) depending on where you live. The dish originated in Uzbekistan, but its popularity has spread to other countries. It is known as plov in Russia, a hearty rice dish that remains a perennial favorite from daily to festive meals.
The aromatic smell of garlic and a bevy of spices will undoubtedly wake up your appetite. Go for the shoulder or ribs, as those are the best meat cuts of lambs for my experience.
Or you can make use of the remaining lamb in the fridge to cook this dish. For the rice part, basmati is a no-brainer, but devzira or arborio is also worth a try.
Kurnik needs no introduction. Think of the dish like a chicken pot pie but Russian. It makes a dazzling entrance to many festive events, from weddings to religious holidays. The filling of kurnik has several layers, which is rather complex. But you know, practice makes perfect.
In this recipe, the filling has two layers, the chicken and the kasha (buckwheat). Start with the dough base, then a crepe, and spread the fillings evenly. Repeat the layers until you form a mountain and bake the pie for about thirty minutes. My mouth waters already!
Sublime Russian Side Dish Recipes You Cannot Miss
Russians make some of the best soup you have ever come across, and one of the world-famous recipes is borscht with fresh dills and smetana. Their salad culture is also strong with staples like Olivier or vinaigrette salad.
Bow down to Olivier salad, the king of every potato salad in this world! The delicacy was named after Lucien Olivier, a chef that owns the well-known Hermitage restaurant back in the day. Today, the Russians love to eat his salad during the New Year's Eve feast.
The traditional salad combines potatoes with carrots, peas, onion, and dill pickles – the core ingredients. Some people add ham to the moreish mixture, but bologna is sometimes considered as well. Dress the salad in creamy mayo, and let's start mixing and mingling!
This Olivier salad is the best potato salad you've ever had.
Quick, straightforward, and brimming with flavors, this carrot salad does not fail to elevate your healthy-eating game. Its popularity has grown dramatically, with the dish now sold at supermarkets and served on the feast tables in many post-Soviet countries.
Initially, the salad looks assuming, but it's more than just finely julienned carrots. It is loaded with fragrant herbs and spices, namely garlic, coriander, and some optional ones like paprika or cayenne pepper. Marinate the salad at least four hours before serving.
Beet has an impressive nutritional profile. The super-healthy vegetable helps your cells grow and reduces the risk of heart diseases. Even if you are skeptical about its benefit, there's one thing about beet that you have to admit it's true: it has an incredible taste.
It is typically served as a mouth-watering Russian appetizer or a side dish during the holidays and guaranteed that everyone will swoon with sheer delight. The salad is loaded with potatoes, carrots, and sometimes sauerkraut, perfumed with fresh parsley and dressed with extra virgin olive oil.
Here's a hearty, show-stopping soup made with beet that the vegans and even the meat-eaters cannot wait to get their hands on. Although Borscht is a dish that originated from Ukraine, it's a common fixture in Russian and polish households.
Depending on your mood, borscht can be served hot or cold, meaty or light. Roasting the beet beforehand is not required but highly recommended, as this helps enhance its natural sweetness. The flavors are perfectly balanced with tomato paste and a myriad of spices.
It's difficult to describe schi with mere words. They are delectable, adaptable, and should not take you more than thirty minutes to prepare. The soup takes even better after reheating, but I'm unsure whether there's anything left after the first serving.
This cozy soup can be embellished with whatever you please. My pick is spinach, but you can sneak in some protein with tender beef chunks or spice it up with red peppers. Sauerkraut is also a brilliant idea if you want a pleasing tangy flavor in every slurp.
Rustle up this amazing schi when you're in a dinner rut.
Coming home to a piping hot bowl of soup is my only wish during the winter. As much as I love my signature creamy mushroom soup recipe, I'm up for a change – and luckily, I came across ukha while I was scratching my head.
Instead of pike, I use fresh salmon because it tastes better, in my opinion. For the vegetables, I stick to the traditional carrots, potatoes, and fresh herbs. The real star of this dish whose name starts with "U" is no other than the broth, which is spiced with black peppercorns and bay leaves.
Contrary to ukha, okroshka is ideal for serving when the heat strikes. The summer soup is marvelous, quenching your thirst with every spoonful. There are two types of liquid for your consideration: kefir, the fermented milk drink, and kavass, the fermented bread drink.
Technically, okroshka is a salad bathing in a buttermilk dressing that dominates the dish with its rich creaminess. The vegetables are crunchy and satisfying, lending beautiful colors to the soup, whereas fresh dill brightens the flavors with its herbaceous undertones.
Russian Drinks And Desserts For A Full-Bodied Meal
What I love most about the following desserts and beverages is that they require very little to almost no effort. Everything is done in a snap, yet the results will make you think as if they have been prepared for hours.
It's December, and the snow is whalebone-white almost everywhere. Warm clothes alone won't help you beat the piercing sharpness, especially if you live in Yakutsk, Russia, the city identified as one of the coldest places on Earth. What you need is a glass of sbiten.
Sbiten is made with honey, water, jam, and a host of comforting spices. It's an East Slavic treat famous throughout Belarus, Russia, and Ukraine.
There have been countless variations since over a thousand years ago; some people lace the drink with rum or vodka while others tweak the recipe with mint or dried chili peppers. They are all yummy anyway.
There's another holiday beverage you'd love to take a sip, and it's no other than the classic pryanyi chai that used to be served from a samovar, a traditional Kashmiri kettle. Unlike sbiten, this Russian drink does not contain alcohol, perfect for any underage guests.
The dreadful winter seems to shorten with this heart-warming spiced tea. You will be hung up on the woody nuances of cinnamon, which are flawless against the citrusy notes from orange zest and lemon juice, while honey adds a sweet touch that ties everything together.
Medovic is a gorgeous masterpiece in the dessert industry. It was invented by a young chef who wanted to impress Alexander I's wife, Empress Elizabeth Alexeievna. And now, it's your turn to whip up this lip-smacking dessert to treat your family and friends.
Making this cake seems like forever, but the result is always worth the effort. Each layer is baked individually for seven minutes and assembled alternately with a cream cheese frosting made with burned honey and dulce de leche. Sweet dreams are made of this.
Also known as strawberry romanoff, the frozen treat has received tremendous compliments from food critics and dessert connoisseurs worldwide. It was Marie Antoine Careme who came up with this luscious dessert, but some claim he received help from Auguste Escoffier.
Whatever the case is, the world owes the Russians one praise for this beautiful dessert. Its two main components are fresh strawberries and sweetened whipped cream.
They are finished with a scoop of vanilla ice cream, and I've also seen people giving it a flavor punch with rum or brandy.
Don't hesitate to treat yourself with this Russian strawberry romanoff.
If the Americans celebrate Easter with icing cookies and chocolate eggs, the Russians have this second-to-none Pashka. Indeed, you don't have to wait until Easter to have a slice – this cake is meant to enjoy all year round with your loved ones.
The taste is on point thanks to the inclusion of cottage cheese and cream cheese, which boasts a decadent creaminess to the dessert. As you spoon into the cake, you will be greeted with a fruity-nutty surprise. Garnish with pineapple chunks or jelly beans.
Sure enough, pancakes are a top-notch choice for breakfast. The Russians share the same opinion, and they have developed a sublime recipe that will give your favorite pancakes some severe competition. I'm in for the showdown between them!
Syrniki is lucky enough to inherit the best traits from both pancake and cheesecake: soft, fluffy, and gently sweet. If tvorog is not available where you live, ricotta will do the job just fine. Top these pancakes with jam or fresh berries, and I'll let you decide who's the winner.
Another quick-and-easy Russian breakfast that made it on the list is blini, or you might have also heard people call it blinchiki.
Half pancake, half crepe, blini gets the best of both worlds: soft, sweetened, and as delicate as a flower. Since its look is more like crepe, I propose you make blini with a proper crepe maker. But if you don't have one, a regular pan will still do just fine.
If blini were a flower, it would be the prettiest one in your garden. Similar to crepes, they are made with basic ingredients like milk, eggs, and flour. Serve with cottage cheese, Greek yogurt, jam, honey, or a drizzle of chocolate. And yes, blini makes a great dessert to boot.
These Russian pancakes are the gateway to a delightful morning.
Nutrition Facts
6 servings per container
---
Amount Per ServingCalories327
% Daily Value *
Total Fat 18.3g

28

%
Cholesterol 123mg

41

%
Sodium 146mg

7

%
Potassium 597mg

18

%
Total Carbohydrate 4.5g

2

%

Dietary Fiber 0.9g

0

%
Sugars 1.7g

Protein 34.8g

68

%
---
Calcium

48

%
Iron

3

%
Vitamin D

71

%
* The % Daily Value tells you how much a nutrient in a serving of food contributes to a daily diet. 2,000 calories a day is used for general nutrition advice.