If you are wondering what Irish foods to enjoy when visiting this country, I am here to help. Ireland is a great place to visit. It is famous for its beautiful landscapes. But has anyone told you that the food there is also excellent?
Your days in Ireland will be more remarkable if you try the delicacies there. Each dish has its unique history and reflects a part of Irish culture. You shouldn't miss them.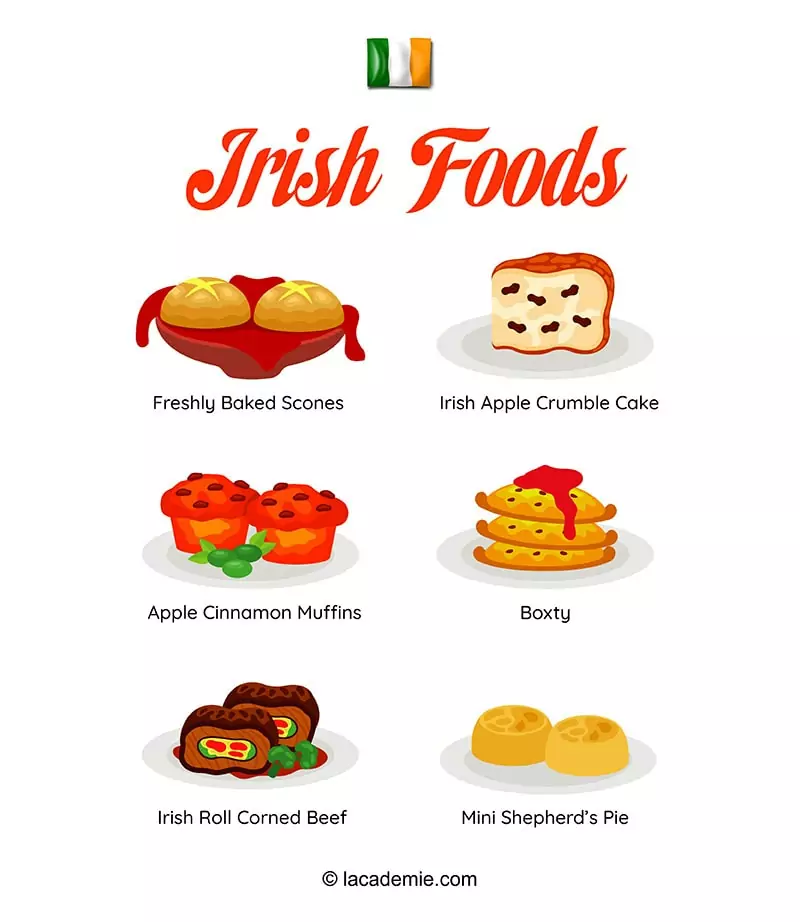 Irish Appetizers
Finding some appetizers should be the first step in planning a perfect Irish meal. Let me show you what the best choices are.
1. Boxty (Irish Potato Pancakes)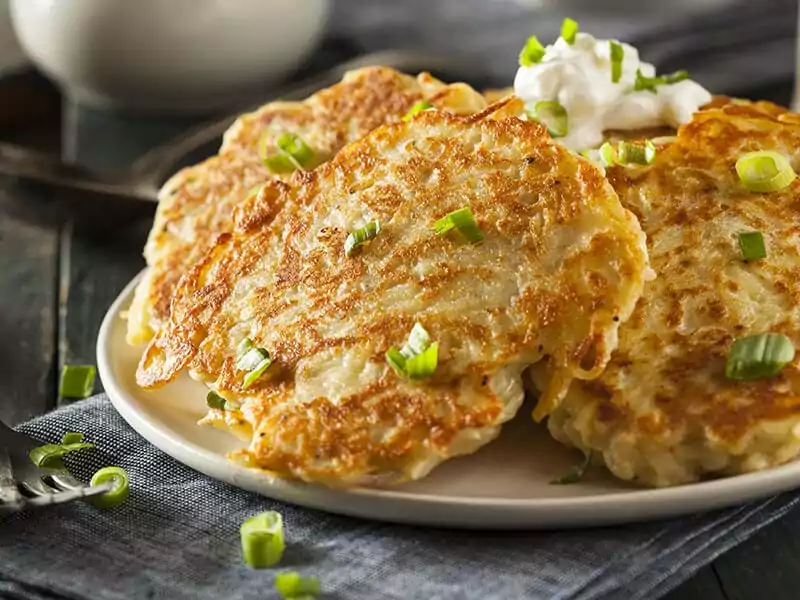 Irish people often say, "boxty in the griddle, boxty in the pan, if you can't make boxty, you'll never get a man". It implies that Boxty is a traditional and basic dish in Ireland. Let's see what makes it so special!
Boxty is the name of the pancakes made from potato, buttermilk, flour, and baking soda. Everything is mixed together and then pan-fried. It originated in the 1700s when poor people relied on potatoes for food.
It has long been a staple of St Brigid's Day, which celebrates the start of spring. I highly recommend Boxty as the first food to try in Ireland.
2. Colcannon (Irish Mashed Potatoes)
Colcannon is another potato dish that has recently gained popularity. It was officially in the journal of William Bulkely, a traveler in the 16th century. Now it is a must-have Irish dish on Halloween days and Saint Patrick's Day.
There is another tradition associated with Colcannon. On holidays, some girls will find a small trinket in her Colcannon bowl, which means she is the next one to get married.
That girl will then pour the last spoon of Colcannon into her stockings and hang them over the doorway. Locals believe that any man going through these stockings will be the husband of that lucky girl.
Colcannon only has 5 common ingredients in Ireland: mashed potato, milk, butter, and kale or cabbage. This dish is rich, healthy, and refreshing. People fall for it so much that they even wrote a song about it.
Irish Main Dishes
The main dish is the most important element in a party. In Ireland, each dish is distinctively tasty and has a unique story of origin that tells a lot about Ireland. Let's explore them!
3. Shepherd's Pie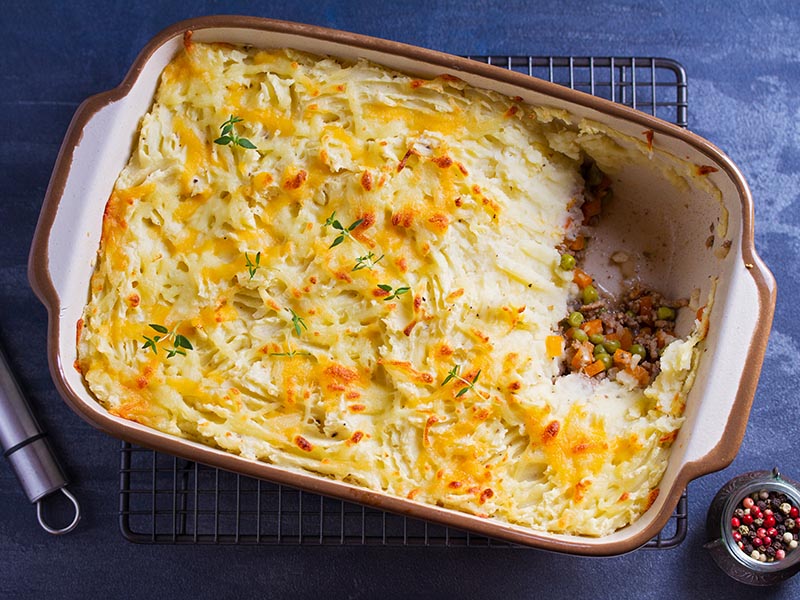 Speaking of shepherd's pie, people often know about it as British food. But it is also an iconic and traditional dish of the neighboring country, Ireland. Its history is complicated. It originated in Britain between the 13th and 15th centuries.
I bet you have tried shepherd's pie because it is so prevalent in America. So what is the point of trying it in Ireland? Well, this is because it is one of the dishes to celebrate Saint Patrick's Day. Enjoying a dish is way better, isn't it?
4. Bangers and Mash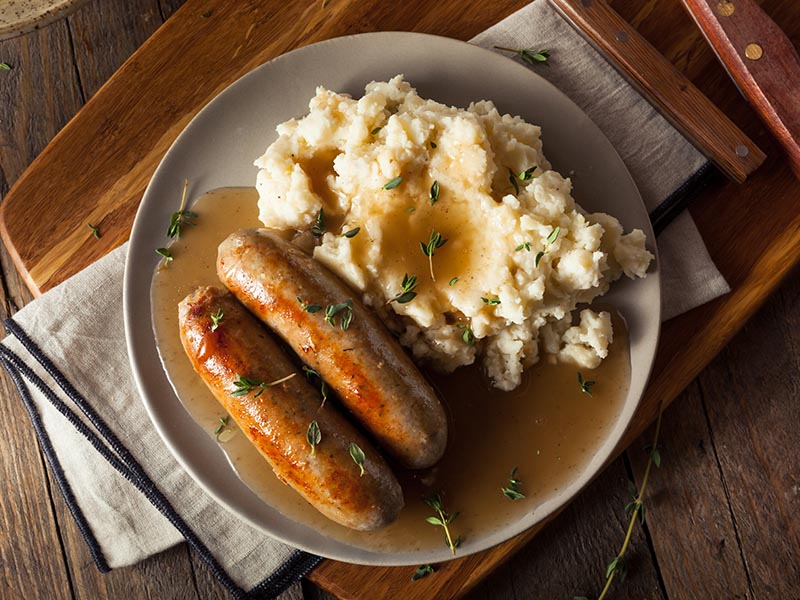 Bangers and Mash have long been a popular dish in Irish and British pubs. It contains sausages, mashed potatoes, and a delicious sauce. Are you curious about the weird name? Let me tell you its story.
Sausages were a very common food. But when World War II happened, meat was so scarce that people produced sausage by adding more water to the meat. But it would explode while frying, so they called it "bangers".
About "mash", there is no interesting story at all. It has this name because the potatoes are mashed before serving.
5. Irish Stew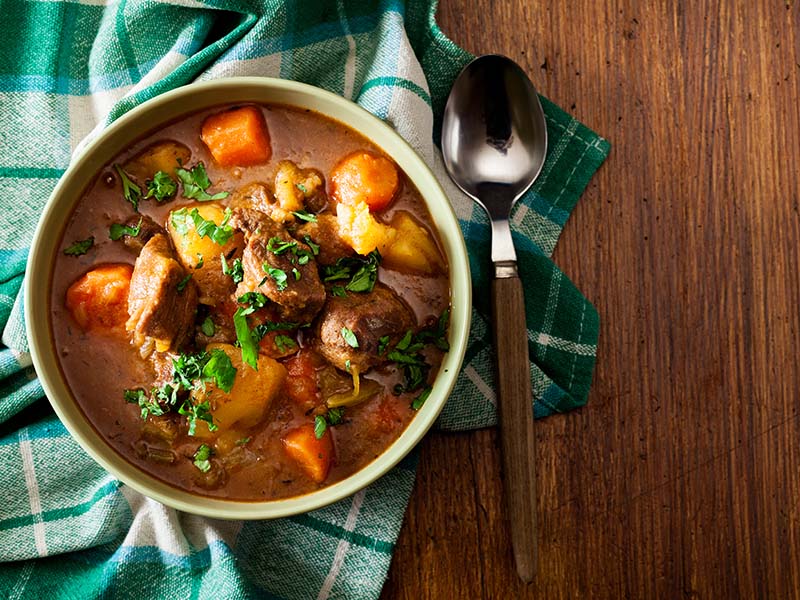 Ireland has its own stew, taking the country's name. It was invented in the 1800s for lower-class people.
At that time, potatoes and onions were the cheapest and most common vegetables, and mutton was the most pervasive meat. People had to use low-cooking methods to cook the meat because it was too hard.
Nowadays, this stew is a popular dinner dish in Ireland for everyday meals and special occasions like Saint Patrick's Day. Beef and lamb are common choices now. And some people also add carrots to the stew.
Learn more about Irish stew's interesting history and how to make it.
6. Irish Smoked Salmon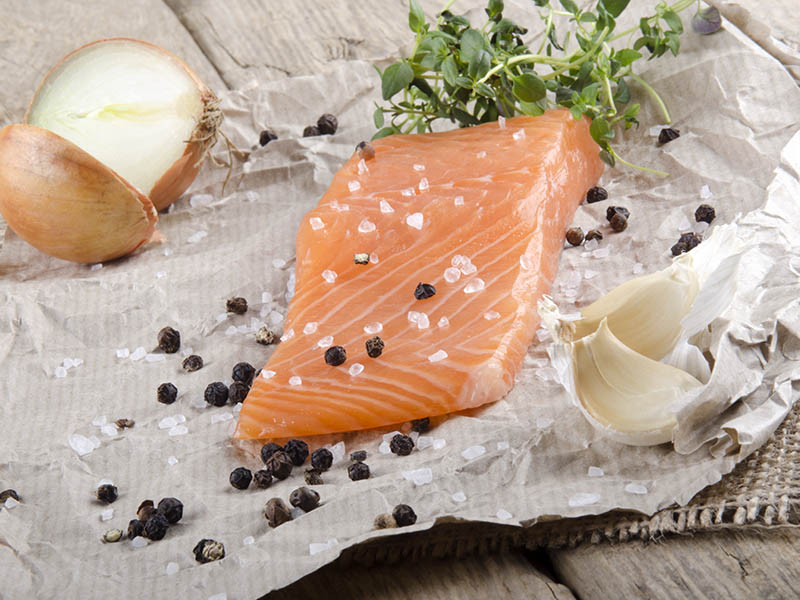 The sea covers entire Ireland, so there is no doubt that fish must be one of the specialties here. Ireland is particularly famous for smoked salmon, exported in large quantities worldwide.
This dish is made from Atlantis salmon, a salmon native to the Irish sea. Traditionally, people serve smoked salmon with coleslaw, butter, lemon, and bread. It has a remarkably salty taste that can make everyone addicted.
7. Champ (Mashed Potatoes with Butter, Milk and Scallions)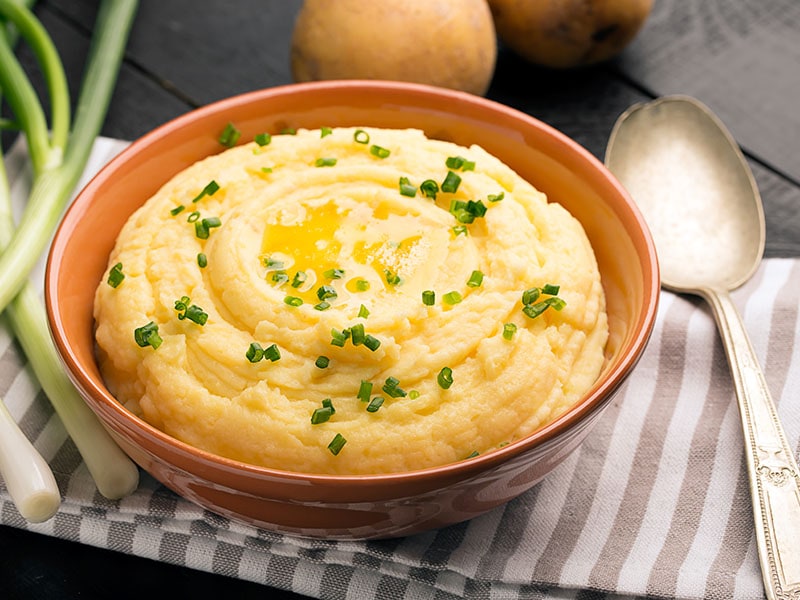 Champ deserves to be the national dish of Ireland. People love it so much because it is fantastically mouth-watering and can be made with just some simple ingredients, namely mashed potato, butter, milk, and green onion.
In the past, potatoes were the only food available. This dish helped many Irish people survive famine since it is nutritious and inexpensive. That's why it is very meaningful to Irish cuisine and culture.
Champ is an amazing dish for Irish lunch. Its light taste and creamy texture will make you feel relaxed and refreshed.
At this point, you may realize that Champ and Colcannon have something in common. They are both made from potatoes. However, in Colcannon, people use cabbage or kale rather than scallions.
Moreover, Champ is pervasive in Ulster, while Colcannon is more common in the other provinces. People cook Champ when the first potatoes in the season are collected.
8. Black/White Pudding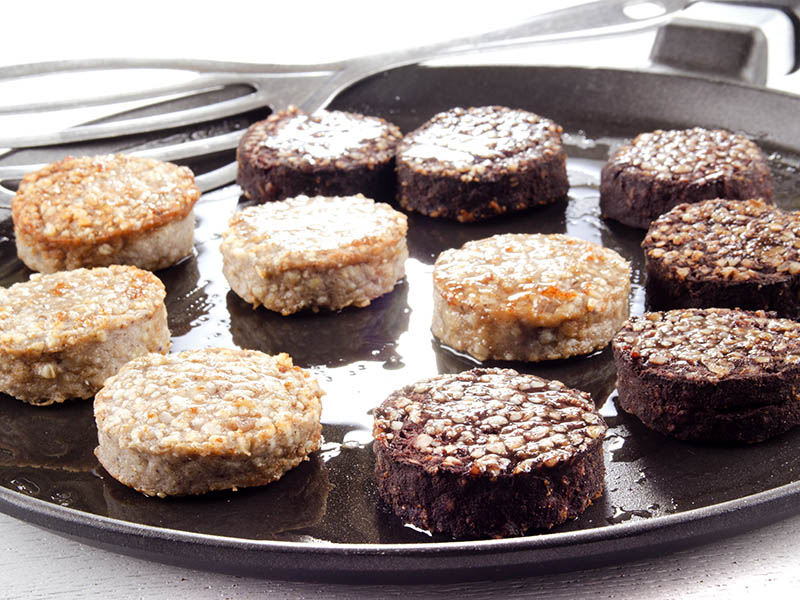 n Ireland, puddings are not puddings at all. Locals use that word to refer to blood sausages. There is no exact data about these sausages' history, but people believe they were created long ago, probably before the 15th century.
There are black and white puddings. But only the black ones contain blood, whereas white puddings have pork meat and spices. They are one of the most common dishes in Irish breakfast. People serve them with beans, bacon, mushrooms, eggs, and potatoes.
Regarding flavors, black pudding has a distinctive salty and metallic taste due to the amount of blood. White pudding, however, tastes oniony and slightly spicy.
9. Fish Pie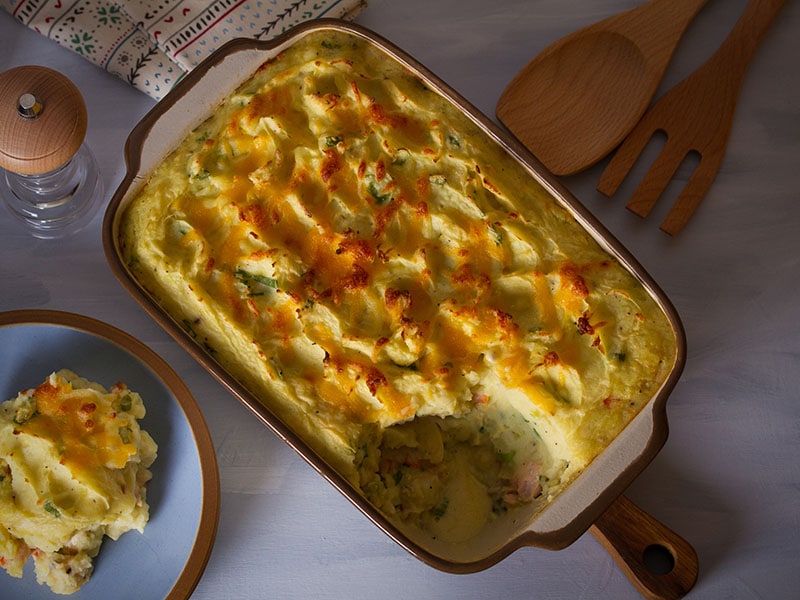 Fish pie or fisherman's pie originally came from Scotland. And now it has become a traditional dish of the entire UK, including Ireland. It has some shared features with shepherd's pie. Both are creamy, warm, and comforting dishes with similar toppings.
You can find fish pie in most Irish pubs, especially in Dublin. Nothing is better than enjoying such a hearty dish with a glass of wine.
10. Seafood Chowder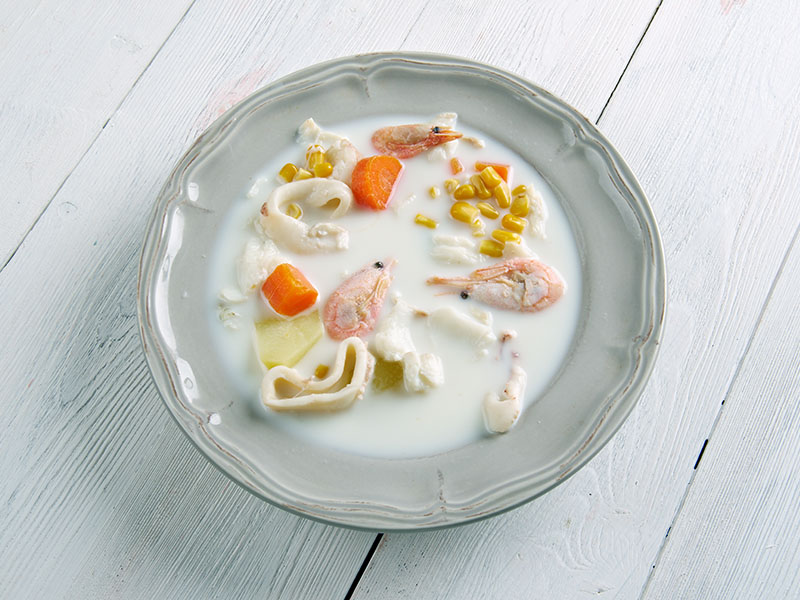 A night in Ireland will be very cold without a bowl of seafood chowder. If you plan to come to Kinsale, you will have a chance to try the best seafood chowder in a cooking contest called "All Ireland Chowder Cook-Off".
Seafood chowder is a hearty and cozy dish you can find in pubs and restaurants, especially in coastal regions. Ireland is famous for chowders, so I am sure you will have a wonderful culinary experience.
11. Potato Soup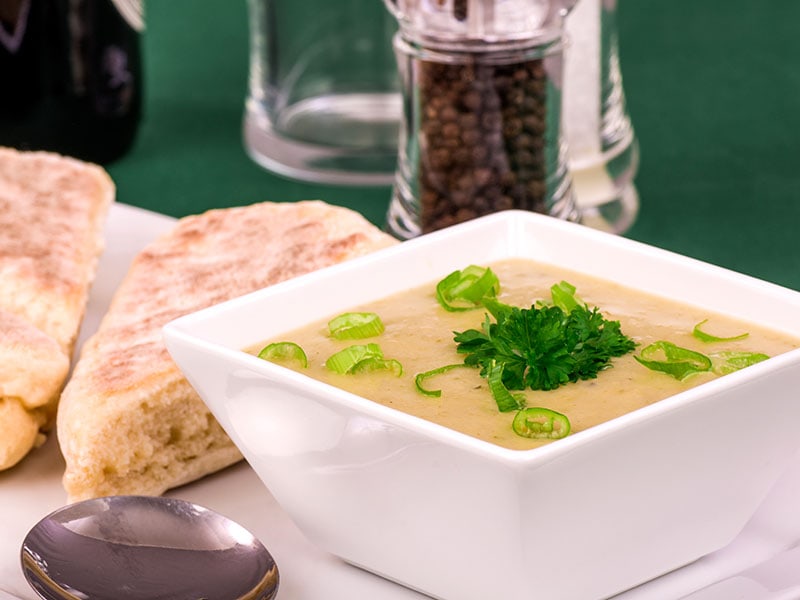 It seems that every country has a potato soup recipe. It is cheap, nutritious, and easy to make. However, in Ireland, this soup has a lot more meaning.
It originated in the 1800s when most Irish people didn't have meat to eat, and they had to rely on the only source of food, which was potatoes.
By mashing potatoes and slow-cooking them with onion, salt, and pepper, they created a simple but delicious dish that helped them go through that difficult period. Nowadays, it is still a very common dish in rural families.
12. Dublin Coddle (Sausage and Potato Stew)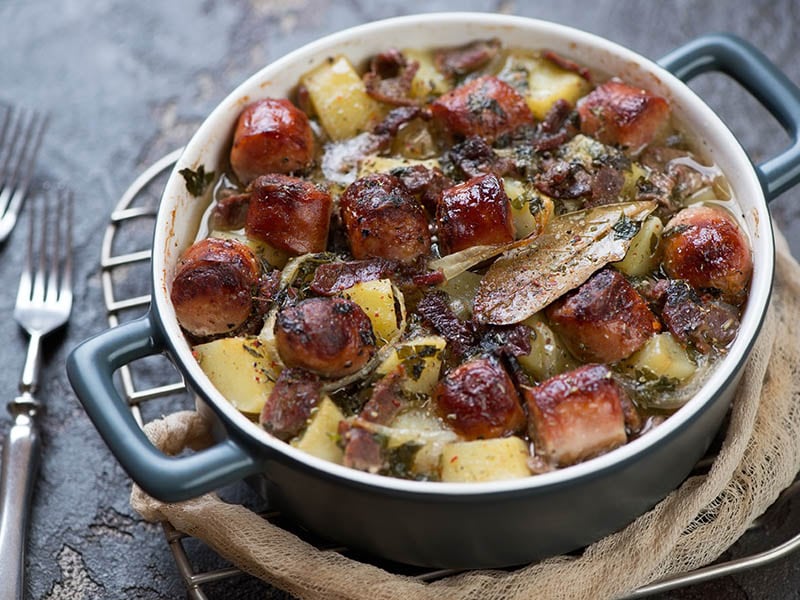 Coddle is the specialty of Dublin. It originated in the late 1700s when a famine occurred in Ireland. At that time, they tried to cook any leftover meat and root vegetables available to create a soup that could fill their stomach.
The classic version of Coddle consists of sausages, potatoes, onions, and bacon. But now carrots are also added.
Coddle is served all year round, thanks to the availability of the ingredients in all seasons. Local people particularly love to enjoy it in winter since it can warm them up.
13. Beef and Guinness Stew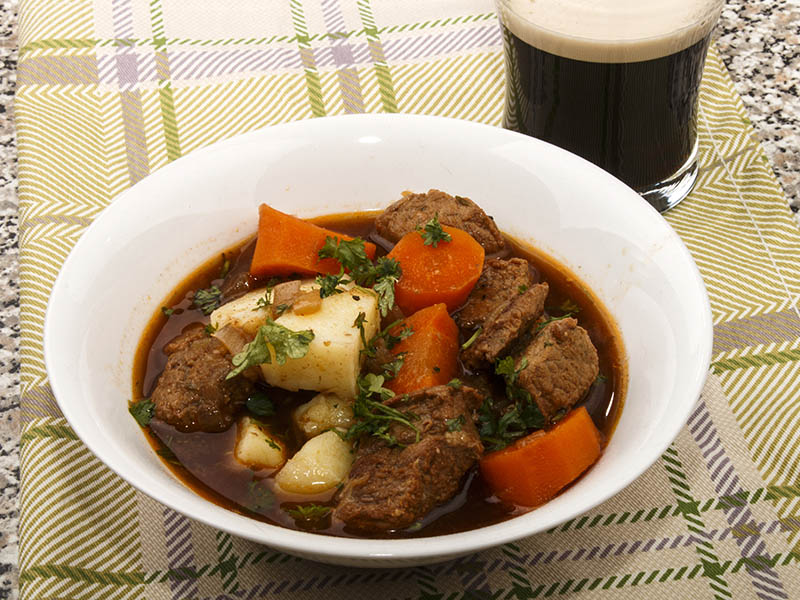 Besides the common beef stew recipe, Ireland has a unique recipe that contains Guinness black stout beer. This stout emerged in 1759 and has long been used in cooking. It provides the meat with an incredibly yummy and mouth-melting, tender texture.
The ingredients of beef and Guinness stew are similar to ordinary Irish stew. The basics are potatoes, beef, carrots, and onions. It is a very famous pub food in Dublin. People love to enjoy it alongside a cup of Guinness.
14. Irish Breakfast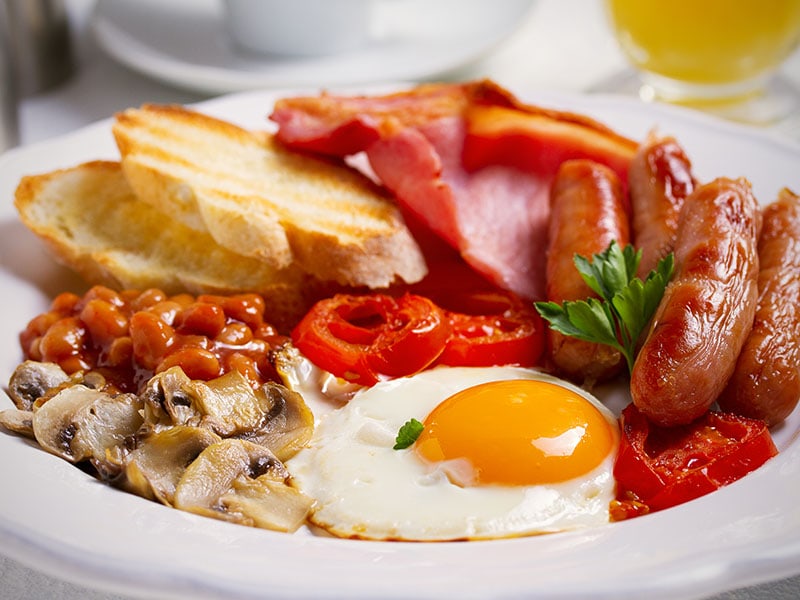 The way Irish people eat breakfast will stun you. The dish was created in order to provide enough energy for workers. It contains bacon, eggs, black beans, black or white pudding, soda bread, grilled tomatoes, sausages, and mushrooms.
Every ingredient is placed separately and fried in a pan with some butter. All of them are just very common food that can be made at home and always available even in rural areas.
Since Irish breakfast is a big meal, people can hardly finish it on a normal working day so they more often serve it on Sunday morning or Christmas morning when they don't have to work.
Let's see how Irish breakfast is different from the familiar English ones.
Irish Desserts
If you are a fan of sweet treats, you will surely be satisfied with these delicate desserts from Irish cuisine. Check them out!
15. Bread Pudding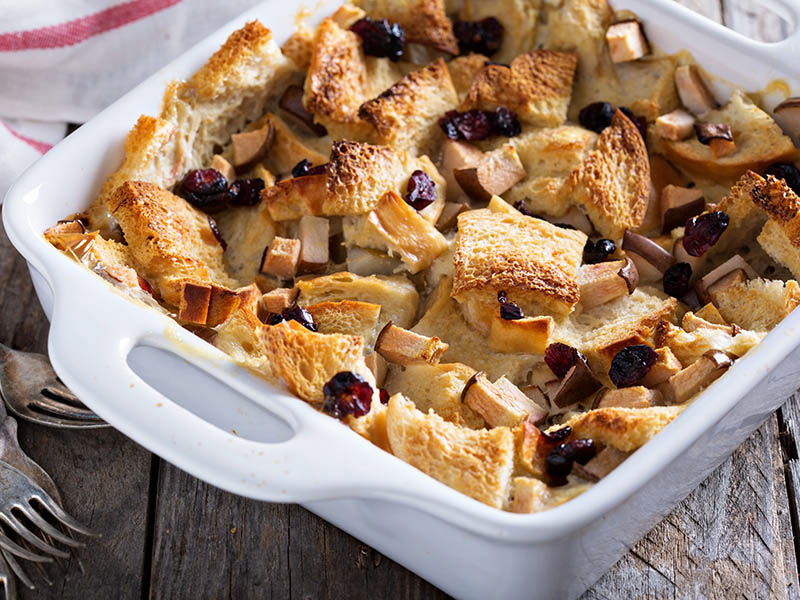 What can you do with cubed bread? Irish people used it to make a tasty dessert: bread pudding. Some say it comes from Europe, but the exact place and time are still a mystery. Others protest that it was created between the 11th and 12th centuries.
People make bread pudding the same way as make a sweet casserole. They coat the cubed bread in the sauce made from milk, egg, sugar, and vanilla and bake it until a creamy texture is formed. Sounds exciting, doesn't it?
It is hard to find such a delicate dessert in America. You should definitely give it a try.
16. Apple Cake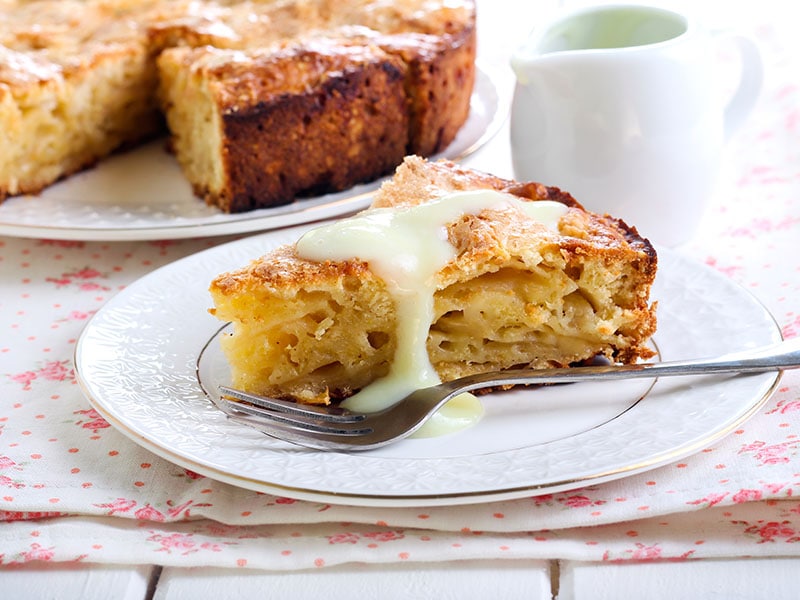 If you ask Irish people what the national dessert of Ireland is, surely apple cake will be their answer. It is said that Irish people spend €100 million per year on apples. I believe that most of that amount is spent on making apple cake.
Irish apple cake is different from American apple cake. It often goes with a delicious creamy custard sauce. I promise that it will make your day.
17. Brown Bread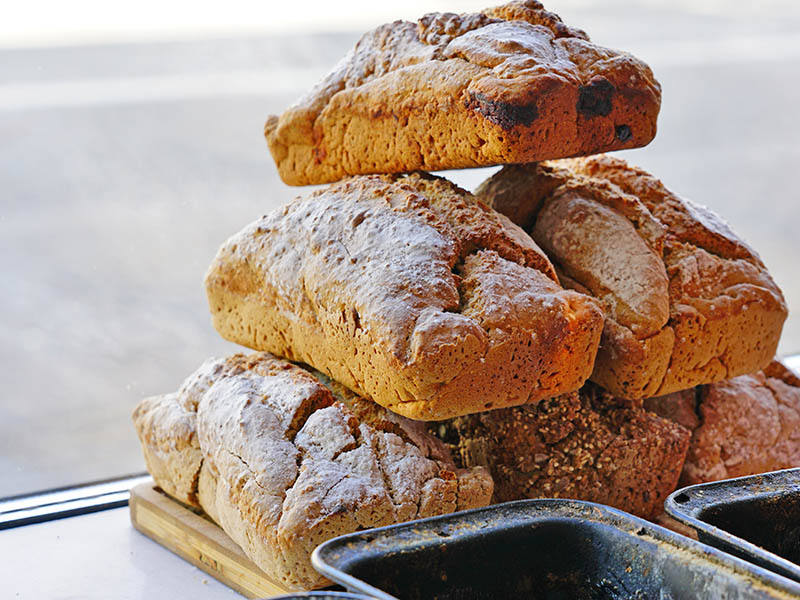 Another iconic dessert of Ireland is brown bread. People use baking soda to make it more fluffy and airy. This bread is so popular that most people think it originated in Ireland.
In fact, North American indigenous people invented the technique of using baking soda. Irish people adopted it in the 1840s and created brown bread.
Nowadays, it is used as a sandwich. You can have a sweet or savory filling, such as jam and cheese.
18. Soda Bread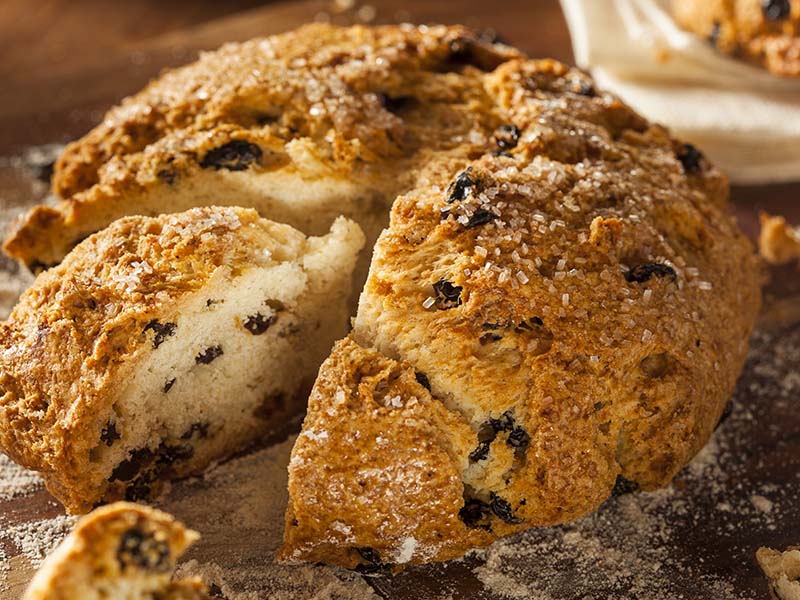 Like brown bread, soda bread was created using the technique borrowed from native North American people. Baking soda replaces yeast, resulting in crusty bread for Saint Patrick's Day.
American people first used pearl ash to substitute for yeast before baking soda since the latter was not available until the 1830s. From that point, people used it to create the famous soda bread.
Now, you can find soda bread in both bakeries and local households. Many Irish people make soda bread for their families using their own unique traditional recipe.
19. Shortbread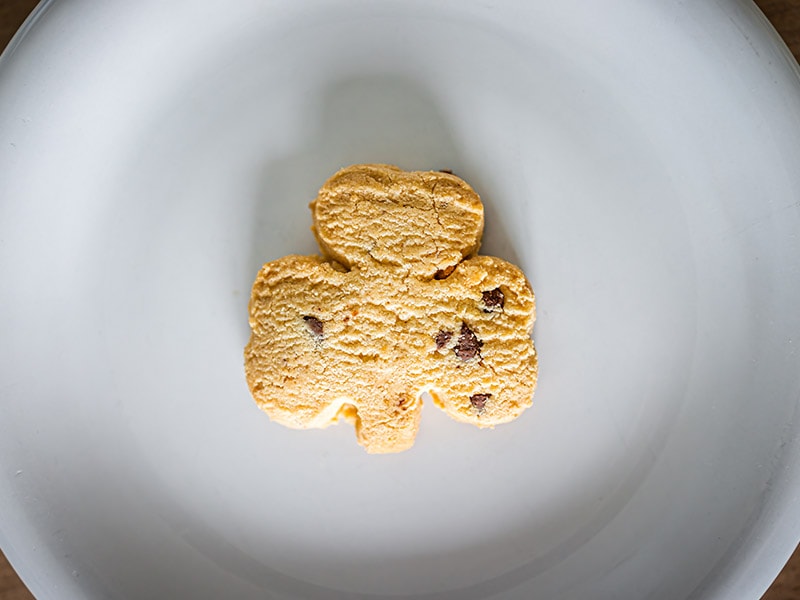 Legend has it that in the 15th century when Mary Queen of Scots ruled the country, the leftover dough that was used to make bread was left in the oven until it became dry and crispy. People loved to eat it and referred to it as "biscuit bread."
Over time, people use butter instead of yeast and add more sugar. Then its name was changed to "shortbread." The Queen and Prince even enjoy it in teatime with guests. It is perhaps the easiest dessert to make. But its taste is just amazing.
20. Barmbrack/Báirín Breac (Fruit Bread)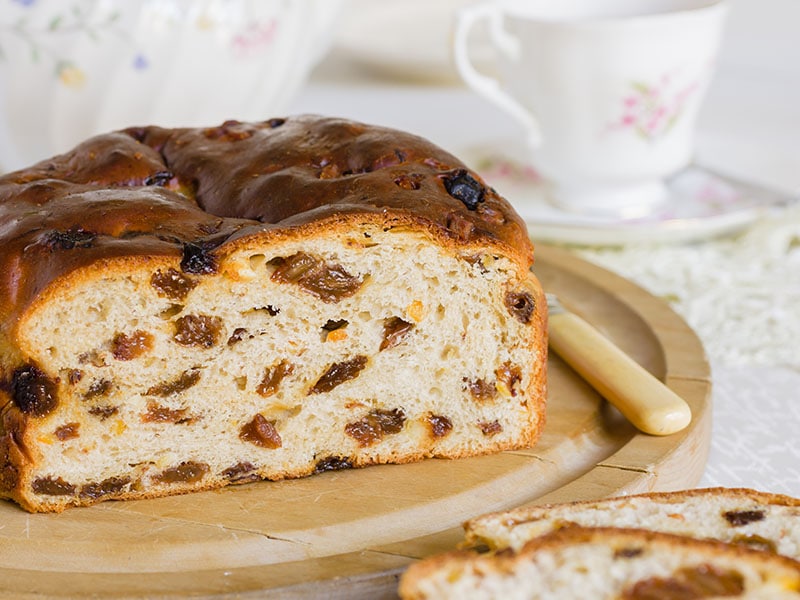 Barmbrack is a staple of Halloween and New Year's Eve in Ireland. It has a dough made of flour, brown sugar, and pumpkin pie spice. A lot of sultanas and raisins are embedded in it, creating a stunning bread that is perfect for tea time.
Tradition has it that on New Year's Eve, the woman of the house bakes a giant Barmbrack. At night, the men will get 3 pieces and throw them against the door. At the same time, he calls for the Holy Spirit. They do that in order to prevent starvation.
The tradition of cutting Barmbrack on Halloween is fascinating.
21. Gur Cake (Chester Cake)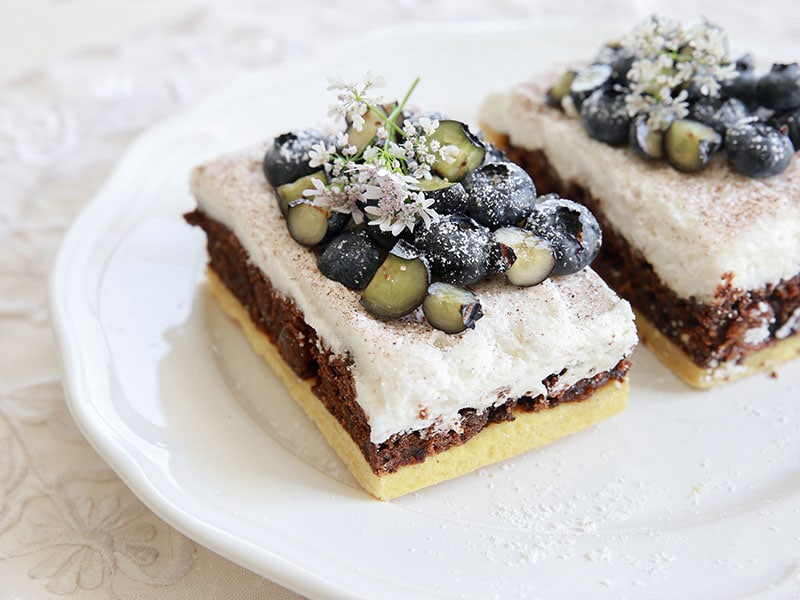 Gur cake is the short form of gurrier cake. It is particularly popular in the city of Dublin. "Gurriers" is an old word that refers to students who skip their class. They are also said to be "on the gur".
Since most gurriers' families are poor, they don't have money to buy food. So when they want something to eat, they will collect the leftover bread and cake in the bakery and invent a new cake to enjoy at dinner, which is called bread pudding.
All of the ingredients are leftovers, namely breadcrumbs, raisins, and sweeteners. It is square in shape and has 2 thin pastry layers and a thick filling in the middle.
22. Chocolate Guinness Cake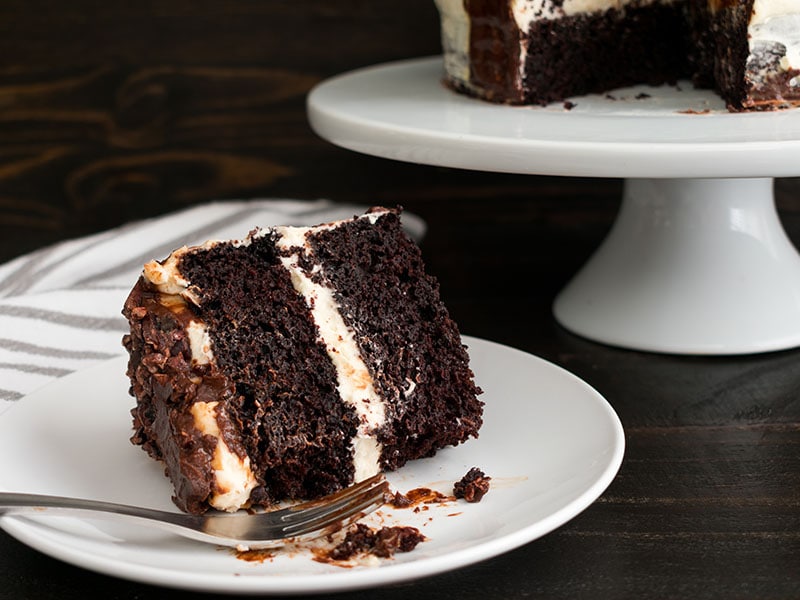 This may be the first time you have heard of a cake made from beer. In Ireland, people make chocolate Guinness cake and serve it on holidays, birthday parties, and Saint Patrick's Day. Guinness provides a caramelized taste to the.
This cake has a chocolate dough topped with whipped cream made from sour cream, egg, and butter. Such a beautiful cake will always be the spotlight of the entire party.
Irish Alcoholic Drinks
Ireland is very famous for alcoholic drinks. They are all produced in a unique way that you can hardly find in other countries. Let's take a look at the most popular ones!
23. Sheridan's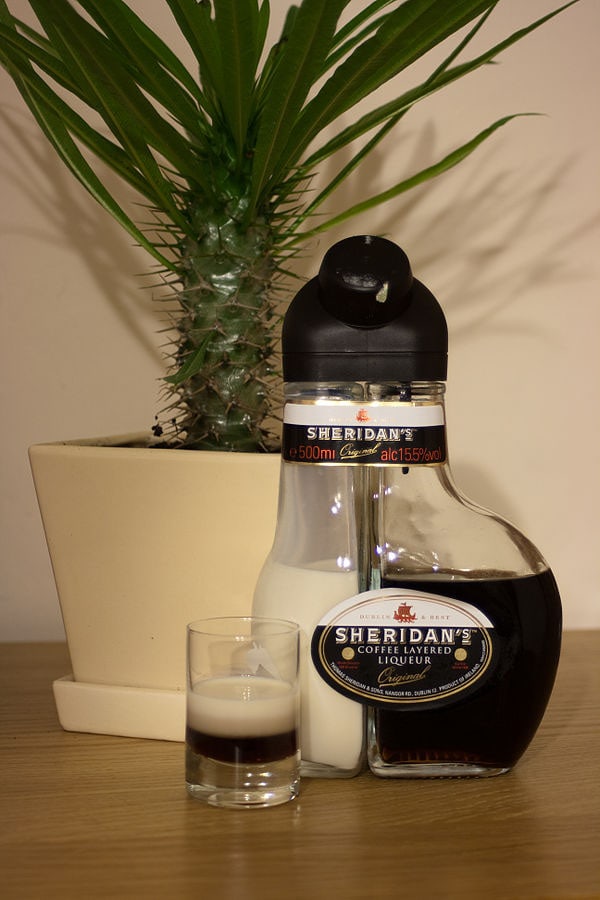 Like Baileys, Sheridan's is an authentic Irish drink invented by Thomas Sheridan & Sons, a company under the ownership of W&A Gilbey, in 1994. It is also a very impressive drink that will spark your interest.
Looking at the bottle, you can see how it differs from ordinary alcohol. It has 2 parts separated by glass. The black part contains a mixture of coffee and whiskey, while the white one is filled with milk and white chocolate.
Are you curious about how to drink it? First, pour the black liquor into a cup, then let the white chocolate float on the surface. Then you will have an amazing 2-layer drink.
24. Irish Coffee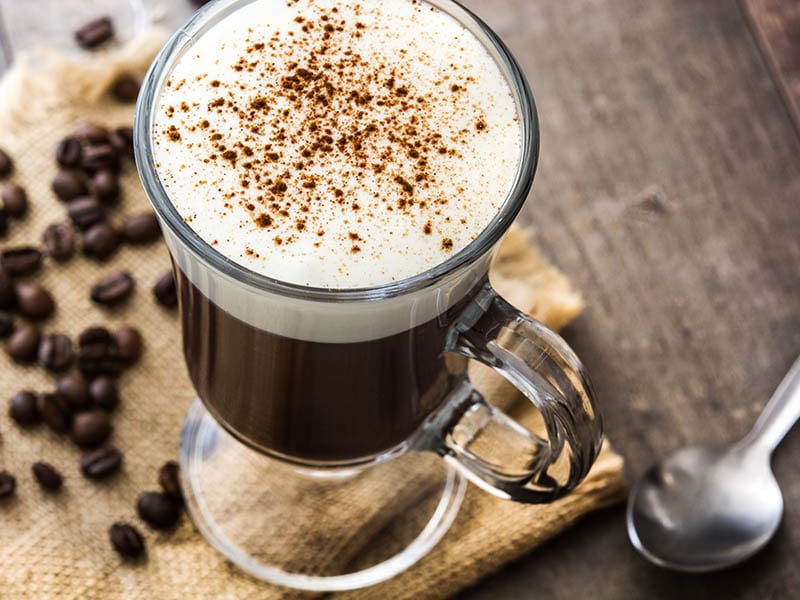 Irish people seem to have a huge passion for combining whiskey and other drinks. There was a chef named Joe Sheridan. He worked for Foynes Port near Limerick. In 1943, a flight had to go back because of the storm.
He saw the passengers cold and weary and decided to make them a drink by combining whiskey and coffee then topped with some cream. Surprisingly, they loved it so much that it became the airport's specialty.
25. Baileys (Irish Cream)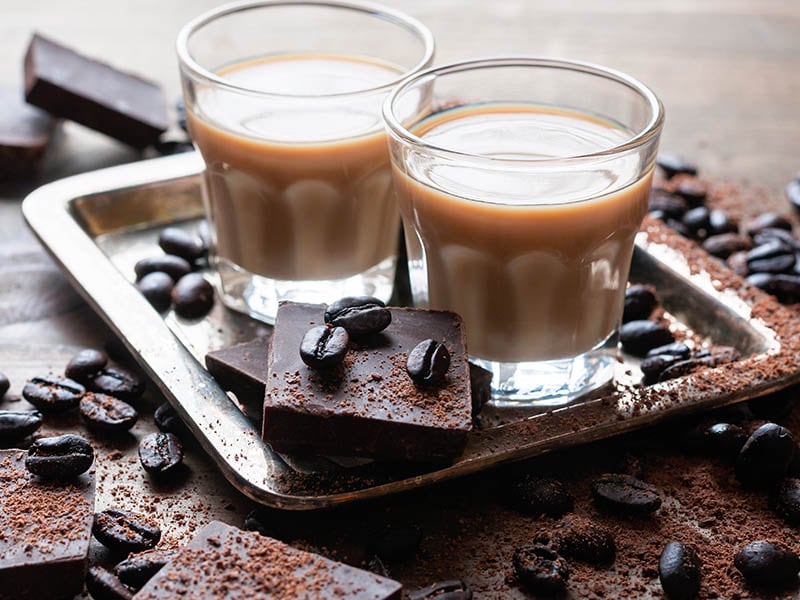 Baileys is a unique alcoholic drink you can't find anywhere except in Ireland. It has whiskey as the base and is added with cocoa powder and cream, creating an unusually delicious flavor that has seduced both local people and travelers.
This fantastic drink was invented by Tom Jago, an English liquor executive at W&A Gilbey, in 1971 and reached the market in 1794. Not long after then, it became a hit and has been considered one of the most loved drinks in the world.
If you aren't familiar with this cream liqueur, you might wonder whether Baileys Irish Cream will spoil. Although its shelf life is not extremely long, I believe that you'll use up a bottle before the drink has a chance to go bad.
26. Guinness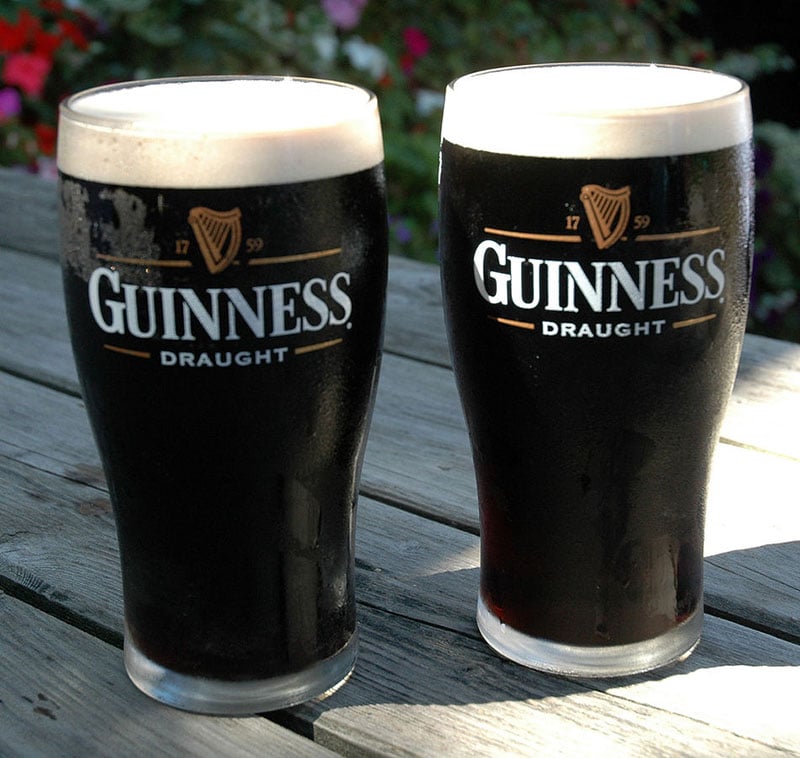 Do you remember the beef and Guinness stew I introduced before? Now let's learn about Guinness alone. It was created by Arthur Guinness, who worked at St. James's Gate Brewery, one of the most famous alcohol brands.
Guinness is a dry liquor made from barley, hops, roast malt extract, water, and brewer's yeast. Its taste is both sweet and bitter, with a hint of chocolate. People enjoy it alongside hearty dishes such as stew, shepherd's pie, and baked salmon.
---
Ireland Is A Dreamland When It Comes To Food
Have you decided which foods to try when coming to Ireland? I guess that can be challenging since there are too many great options. But you don't have to worry that you won't be able to try all of them. There are more chances ahead.
I hope that you will have a great vacation in Ireland. Before you leave, don't forget to share this article so that it can reach more people. If you know any delicious Irish food not on the list, kindly let me know in the comment section below so this article can be more complete.