"Does Baileys Irish Cream go bad?" is a frequently asked question amongst those who enjoy this drink. You might find yourself wondering the same thing as you open the bottle from your fridge today.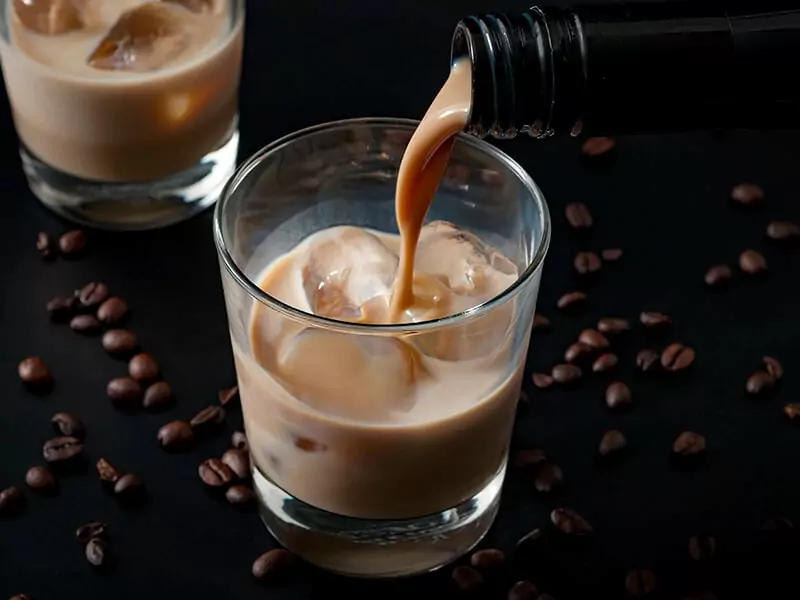 The confusion is understandable as Baileys does have an alcohol volume of above 15%. Still, at the same time, it also contains dairy, which is something that is notorious for going bad quickly. This article is here to tell you all about the shelf life, storage, and spoilage of this famous drink.
Is It Possible For Baileys Irish Cream To Go Bad?
The short answer is yes. It takes approximately 2 years for the drink to go bad because even though it is an alcoholic beverage, it still has milk and cream in the ingredients.
What Is Baileys Irish Cream?
Baileys Irish Cream is an alcoholic drink made from a mixture of Irish Whiskey, cream, and cocoa. It originated from Ireland and was introduced as the first-ever cream liqueur in 1974.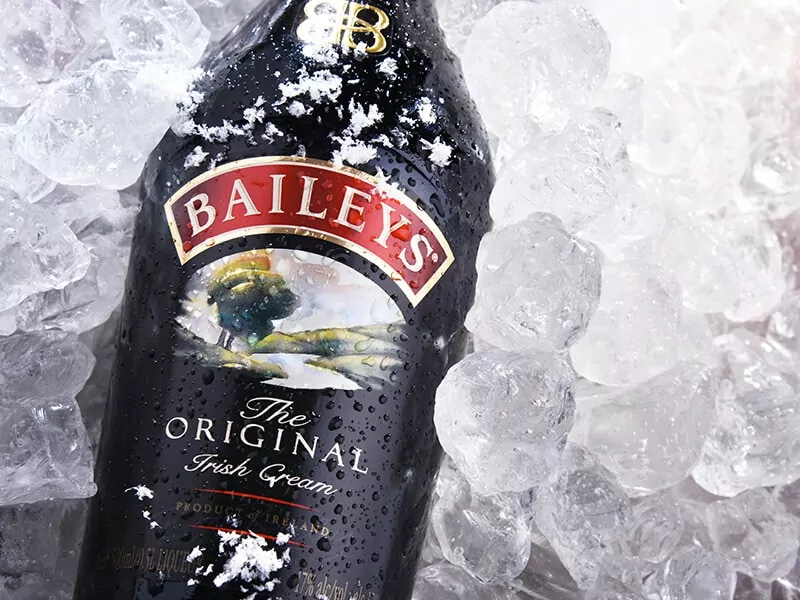 You can find this signature Irish beverage mostly in a 750mL bottle at many liquor stores and supermarkets. It is also worth noting that Baileys is a liqueur (1), meaning that it is sweetened and has an alcohol content of 17%, which is lower than regular liquors.
Baileys is a popular choice for dinner parties and large gatherings because even though it is an alcoholic beverage, it still tastes sweet and milky with a hint of fruitiness.
That's why they appear in the list of ingredients in Irish-originated desserts. Or you can also mix it with a different variety of drinks such as coffee, hot chocolate, ice cream, and tea.
The Shelf Life Of Baileys Irish Cream
The general lifespan of this specialty from Irish cuisine is 2 years. However, unlike regular foods and beverages, this differs greatly between each bottle depending on multiple factors. Keep reading to find out what they are and how you can guarantee the best storage for your drinks.
Does Baileys Irish Cream Go Bad?
There are 2 main types of liquors: base spirits and liqueurs. Base spirits, such as vodka or gin, usually have a very long shelf life. Meanwhile, liqueurs are more likely to go bad because they are mixed with ingredients that have expiration dates like eggs, cream, etc.
As Baileys is a liqueur with cream and cocoa, it's safe to say that it will go bad. Generally speaking, Baileys has a best-by date of 2 years after bottling. However, it is recommended that you finish it within 6 months after opening.
How Long Does Baileys Irish Cream Last?
The lifespan of a Baileys bottle is decided by many different elements. As previously mentioned, it is guaranteed to last for 2 years by the manufacturer. This doesn't necessarily mean that it will expire precisely after the date has passed, however.
| Types | Pantry | Fridge |
| --- | --- | --- |
| Irish cream (unopened) | Best-by + 6 months | - |
| Irish cream (opened) | - | 6 months |
Unopened
When unopened and stored correctly, Baileys should last for a very long time, even past its best-by date. If you keep it in a cool environment, such as a cellar, dark room, or fridge, the alcohol can be an effective preservative to keep the cream fresh.
Opened
Once the seal has been opened, the heat exposure will make the drink a lot more sensitive. From the opening point to beyond the 2-year mark, it will slowly lose its flavor and consistency in texture until it eventually thickens and curdles. How long the process takes depends entirely on proper storage.
So the best option is using them to make your favorite sweet courses, for example desserts in mason jars. By mixing with ingredients in these sweets, you might not recognize how your opened bailey Irish cream changed in flavor or texture.
What Happens When Your Baileys Irish Cream Go Bad?
Much like other liqueurs, Baileys will have a slow decline in quality over time after opening. So how can you tell when it is still drinkable and when to throw everything out? The following information will help you decide.
4 Ways To Tell If Baileys Irish Cream Is Bad
As Baileys Irish Cream does not have a specific expiration date, you should check for its quality based on other standards. Pour a small amount into a glass and check the following signs:
Smell: Much like other foods, the first sign that your Irish Cream has gone bad is its smell. If it smells sour, musty, or something similar to custard, it has probably gone off and needs to go.
Texture: The usual consistency of Irish Cream is thick and creamy. If it is separated into congealed and lumpy clots, much like cottage cheese, that means it has gone bad.
Color: Irish Cream that has gone bad tends to have some separation between the milk and the whiskey, so your drink may start to look dark and cloudy instead of its usual opaque light brown shade.
Taste: This is the very last step in making sure your Baileys are still drinkable. Keep in mind that after a while, your Baileys will start to taste differently and not be as sweet as it originally is. However, bad Baileys will have a very distinct sour taste, almost like yogurt.
What Happens If You Drink Curdled Baileys?
Contrary to popular belief, the answer to the question of whether you should drink curdled baileys is not always no. There are a few different factors to consider before throwing away your drinks.
If properly stored, your baileys can last way past their best-by date and be consumable for a few weeks or even months. Curdled Baileys is not always unsafe to drink. However, it probably won't taste as good, and the texture may become less smooth, making it unappetizing to some.
However, if your Baileys is both expired and stored poorly or has been exposed to some outside contamination, it has probably gone bad. At this point, drinking it might give you a stomach ache or cause other digestive problems (2).
The last issue concerning Baileys is what happens when you use it to make other drinks. Fresh Baileys might curdle if you mix it with acidic things like citrus, lime, or soda. If you want to avoid this, try serving it with chocolate or coffee.
How To Store Baileys Irish Cream? Proper Ways To Make It Last Longer
The general rule to store Baileys is to keep it at a cool place as it doesn't do well with fluctuating temperatures. Baileys is best stored in temperatures under 70°F or 20°C. If your house temperature is higher, it is recommended to keep it in the fridge for the best possible results.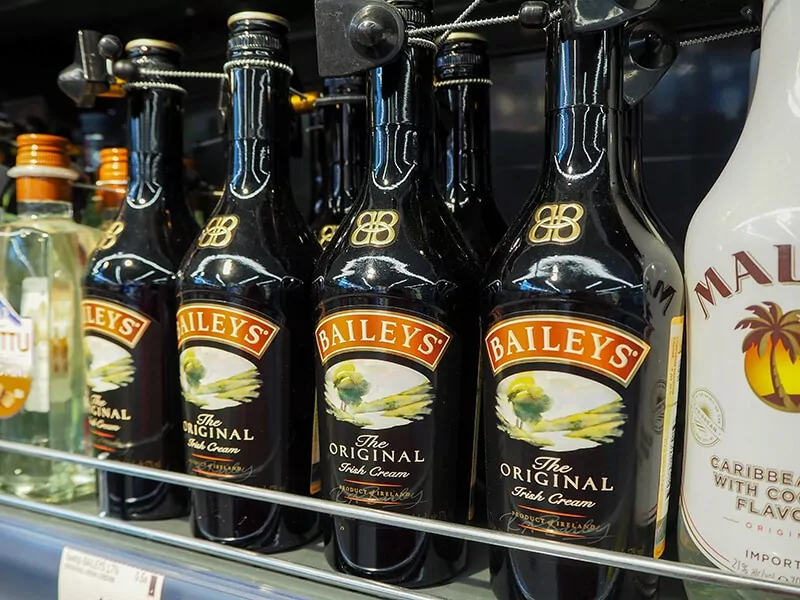 How To Store Unopened Baileys Irish Cream?
If your Baileys is unopened and kept in an ideal environment, it should last quite a long time, anywhere between 6 months to 2 years.
The best place to keep your unopened bottles of Baileys is somewhere cool and dark with a consistent temperature.
The pantry is a pretty good option, but you can also store it in the fridge (either side-by-side or french door fridge are acceptable), a cellar, or anywhere in your house that fits the above standards.
How To Store Opened Baileys Irish Cream?
Your Baileys is much more sensitive to the outside environment after the seal has been broken, so make sure to always keep it in a cool place. Re-seal the bottle right after you have poured your drink and return it to the storage space.
The ideal place to store your opened Baileys is somewhere dark and cool with no direct exposure to sunlight. If your room temperature is on the high side, keep it in the fridge where the taste will be enhanced and kept from going bad quickly.
Another important factor to consider is protecting your Baileys from outside contamination. Try to avoid drinking straight from the bottle so bacteria can't colonize and curdle your drink. Don't keep the cap off for a long time because the longer it is exposed to air, the more likely it is to develop mold.
What Is The Best Way To Store Baileys Irish Cream?
Even though it is not a requirement, the most ideal place to keep your Baileys in the fridge, since it is cream-based alcohol, it is important to keep it cool at all times to avoid spoiling. After all, that's what fridges are for, right?
Storing your Baileys in the fridge also helps to make it a lot more fresh and flavorful for when you decide to drink it. After refrigeration, it becomes richer so you can fully taste the perfect mixture of the sweet cream, the vanilla undertone as well as the fruity whiskey finish.
Should You Freeze Baileys Irish Cream?
You shouldn't freeze Baileys because even though the alcohol may not freeze, the cream does. Once it becomes solid ice, it will become difficult for you to pour the drink. Even if you do manage to defrost it, it will change the drink entirely in a bad way.
This can also create small ice crystals that will completely change the texture of the drink. You will most likely end up with a strange, slushy liquid that is unappetizing to drink.
Baileys Irish Cream Drink Combination For You To Try
Besides many Irish culinary recipes with Bailey Irish cream, baileys can make great drinks on their own. However, most of the time, it is often drunk with other beverages. As a result, it tends to be much more flavorful and interesting. Find out how you can utilize your Baileys to its full potential.
Truly one of the most classic combinations of all time. The initial sharp bitterness from the coffee is instantly soothed by the sweet creaminess from the Baileys, giving you a delightful drink during any time of the day.
If you have a sweet tooth, this combination is something you certainly cannot miss. With all of the ingredients being so rich and creamy, this drink combination will be like dessert in a glass.
Make yourself a delicious Frozen Mudslide like no other using this addicting beverage. Just have a scoop or two of vanilla ice cream and add a shot of Bailey's to have the most amazing creamy, fruity, and slightly alcoholic dessert.
Find new ways to drink this iconic English beverage by using Baileys instead of regular milk and sugar. This will give your tea a lovely light vanilla undertone and extra creamy smoothness.
For those who love some hints of caramel in their drinks, try making a B52 cocktail shot from this combination. If you are unsure whether this kahlua can go bad, well, it is, even though this is an alcoholic drink.
Because the shot is a harmonized mixture of coffee, orange, cream, and whiskey which contains high levels of sugar. But overall, this is an overwhelming drink that I highly recommend you try at least once to fully experience the taste.
FAQs
Have some more questions about Baileys and how you can preserve it? Check out the following questions to see if yours is included.
Bonus Tips For All The Ways You Can Enjoy Baileys
If you want to try a dairy-free and vegan version of Baileys Irish Cream, try Baileys Almande, which is made with almond milk and has 13 percent alcohol. However, as its alcohol content is slightly lower than the original, it can go bad more quickly.
When making drinks using Baileys, always make sure it is fresh and avoid mixing it with lime, citrus, or soda if you don't want clumps in your drinks.
Even though you shouldn't freeze Baileys, you can still make some Baileys ice cream by mixing it with heavy cream, condensed milk, and dark chocolate.
In addition to the combinations mentioned above, you can also use Baileys to add an extra sweet taste to pastries, cookies, etc., or make it into syrups and glazes for puddings, parfaits, and other desserts.
With all the information I have provided, hopefully, it is now easier for you to store and enjoy your Baileys Irish Cream. Do you have any more questions regarding Baileys Irish Cream? How about some tips and tricks on how to store it? Let me know in the comment section!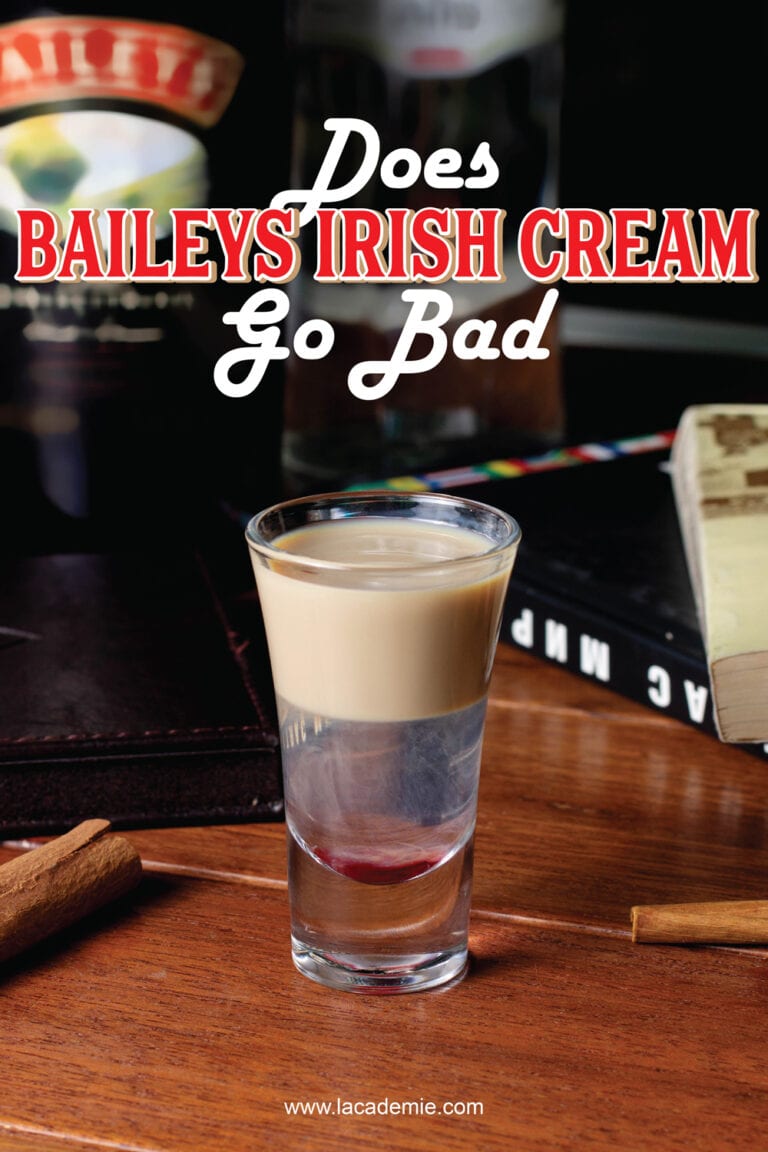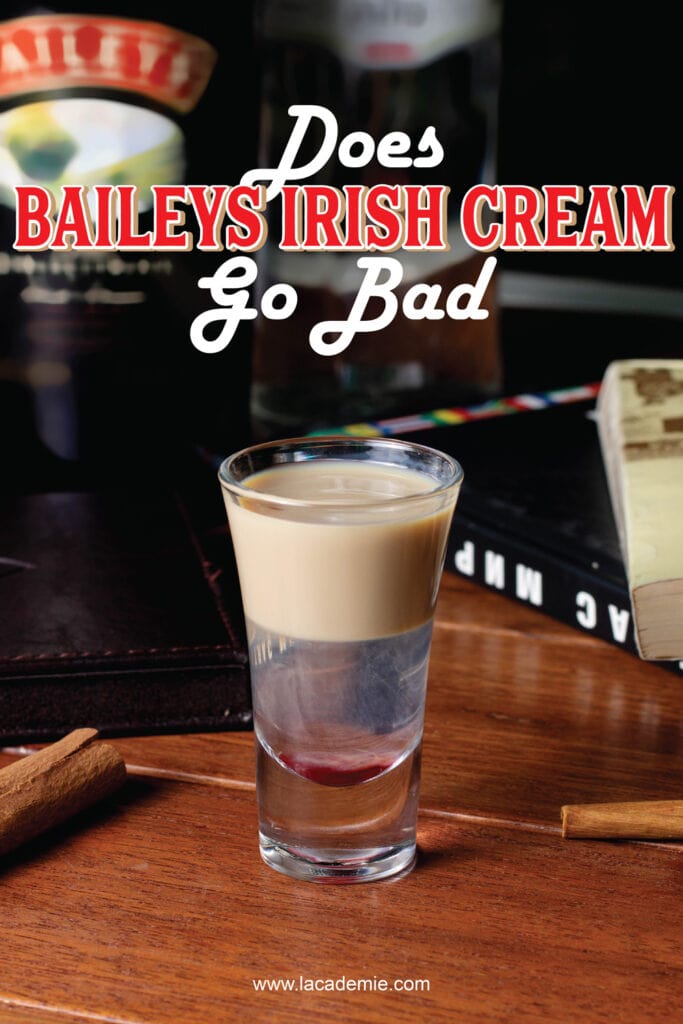 Reference
1. En.wikipedia.org. 2021. Liqueur – Wikipedia.
2. Brooke, C., 2020. Why Should We Not Eat Spoiled Food? – The Whole Portion. [online] The Whole Portion.