Waffles and pancakes are such well-loved breakfast foods that they have been competing for a while now. They are both widely enjoyed for their incredible characteristics. It's hard to come to a conclusion which is better because they are both so good in their own ways.
In this article, I will give you information on all the main differences between these two pastries, from how they are made, their cooking methods, to what they taste like. Anything that you need to know to decide once and for all, which fits your preferences better.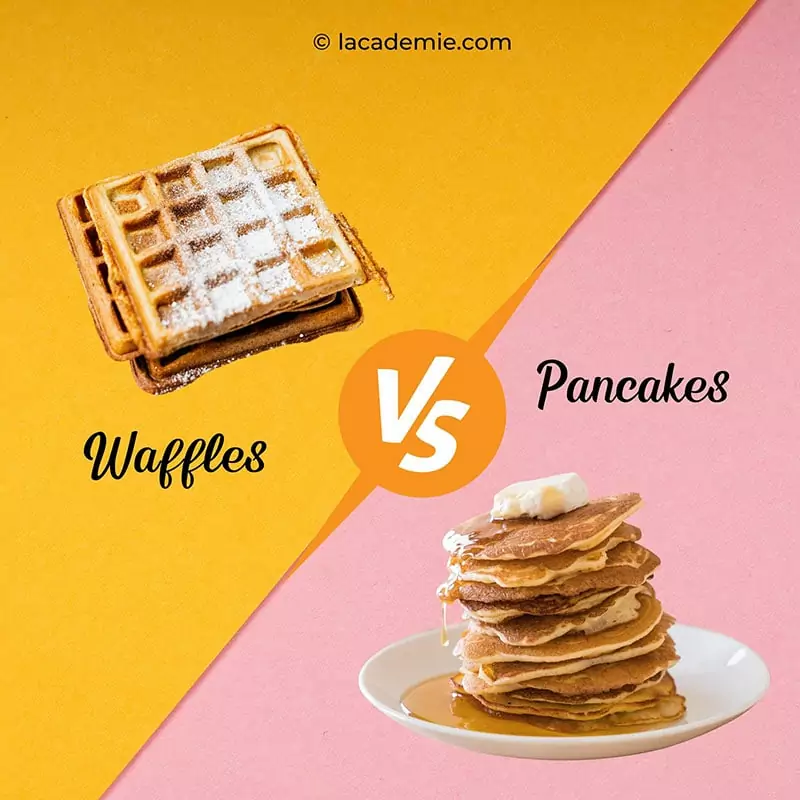 The Main Differences Between Waffles And Pancakes
It's surprising just how much of a difference ingredients mixtures and cooking methods can make. Despite having the same ingredients, pancakes and waffles turn out to look and taste completely different because of the features mentioned above.
What Are Waffles?
Waffles are a sweet food that originated in Belgium and became popular in the U.S. in the 1800s. They are made from a batter consisting of flour, baking powder, eggs, oil, and water. They can be eaten in many ways, mostly with syrup or other sweet and savory toppings(1).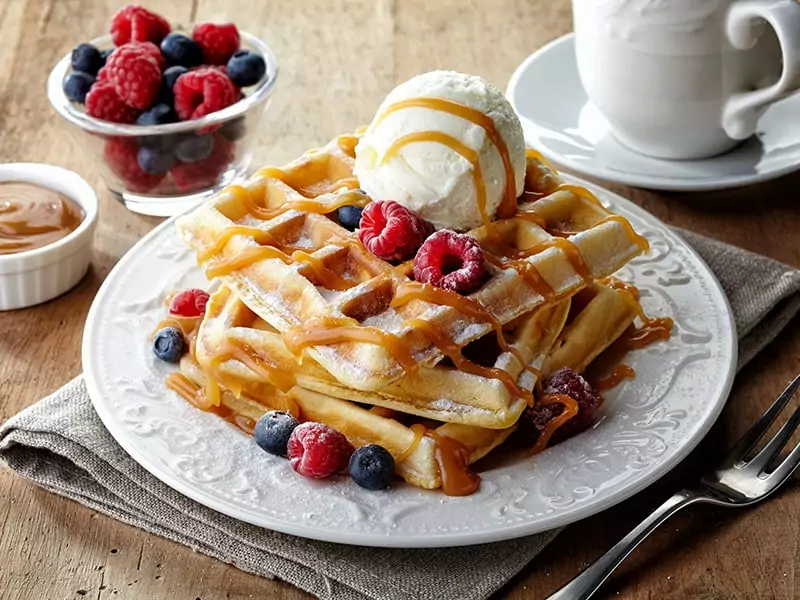 This honeycomb-shaped treat can be found in many households in North America and Europe. Americans eat these foods whose name begins with "W" mainly as breakfast alongside orange juice or coffee.
At the same time, Europeans have them more as desserts with whipping cream. No matter what the role is, they have become a staple in many daily meals.
Make your best waffle in just a few easy steps. The video below should be able to help you:
What Are Pancakes?
Pancakes are flat, round cakes made by frying a starch-based batter with oil or butter. They are a classic and irreplaceable part of many American meals, particularly breakfast and brunch(2). Another contest between pancakes and flapjacks is also popular with numerous people.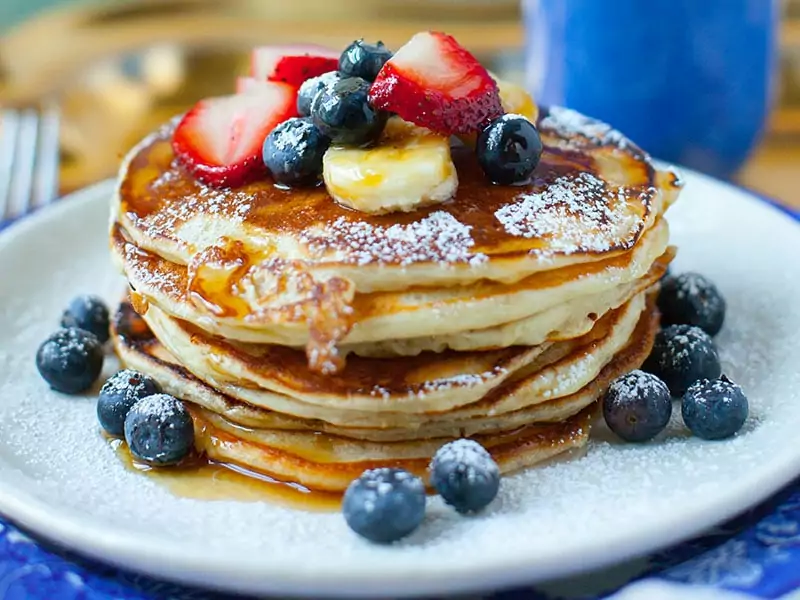 Pancakes are loved for their ability to be anything you want them to be. You can stack, fold, roll them up, and eat these pancakes with all kinds of foods, from sweets like cream and jams to savory foods like bacon. And you can eat them anytime, though most prefer the morning.
Even when you make pancakes a few days in advance, they can still be tasty, so long as you know the correct procedures to reheat pancakes. This truly goes to show how versatile and delicious pancakes are.
Learn all about these four easy and simple ways to make pancakes, see the video below:
How Similar Are Waffles And Pancakes?
The biggest thing waffles and pancakes have in common is perhaps their role in the American household. These foods are both go-to choices when it comes to breakfast and brunch. This is because of how quick and easy they are to make, only taking ten minutes and some simple ingredients.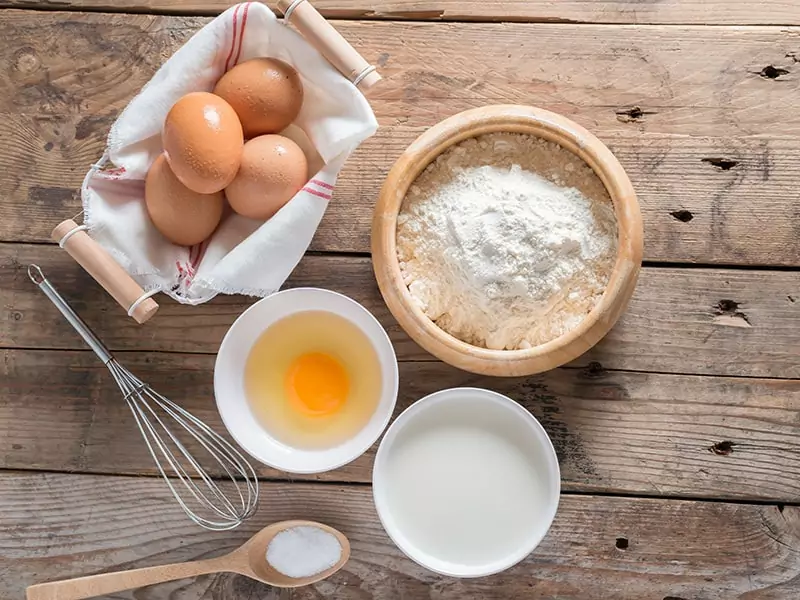 Speaking of ingredients, that's another thing they share. Both waffles and pancakes are made from the same primary baking products, which are powder, flour, and eggs. This also means they can both be eaten with different types of toppings, from sweet, savory, tangy, to even citrus.
Waffles Vs. Pancakes, Which Is For You?
Despite sharing similarities in their basic ingredients, waffles and pancakes are not the same and have proven to be different in so many ways. Let's find out what they are and which one fits your preferences best.
| Characteristics | Waffles | Pancakes |
| --- | --- | --- |
| Cooking Technique | Made in waffle irons, usually come in round or square shapes, take less effort but not very adjustable | Made on frying pans, skillets, or griddles, easier to adjust to personal preference |
| Batter | Contain more sugar, and oil, so they are crispier, eggs are also added and whipped separately to make them lighter | Denser and heavier than waffles |
| Texture | Crispy on the outside, light and fluffy towards the center, this helps toppings stay on the surface | Tender, soft, and spongy inside out, absorb liquid toppings pretty quickly, can become soggy easily |
| Flavor | Bready and buttery, sweeter due to the extra sugar | Quite similar to waffles, but not as sweet and flavorful as waffles |
| Appearance | Round or square shape with signature honeycomb pattern, eaten individually with toppings on the surface | Round and flat cakes with toppings dripping down the layers, usually stacked in four per one person serving |
| Calorie Content | Contain 20% more calories | Have 20% fewer calories |
Cooking Technique
Based on their special appearance, you can probably guess that waffles need a particular maker. They are made using waffle irons to achieve the signature honeycomb pattern. The batter is drizzled into the iron then compressed with heat for a few minutes to cook.
Pancakes, on the other hand, can be made on any frying pan or griddle that you have. You can pour the batter to make them as big or small, or as thick or thin as you want. They take a bit more effort and skill to make than waffles but also are more flexible and adjustable.
Batter
While they both share the same ingredients, the batter used to make waffles and pancakes are different. Waffles usually have more fat and sugar in the mixture. Added sugar means more caramelization, which is what makes waffles so much more golden and crispy than pancakes.
You might also notice this if you take your waffles to go often, but they are quite light. This is because of the extra eggs. These eggs are beaten separately so they can create foam which brings more air into the mixture. Pancakes, on the other hand, are much more dense and full.
There are some notes about whether to store pancake batter overnight in the fridge because it affects the final texture of your pancake. So what is the best texture of a pancake? Keep reading for more information.
Texture
Waffles are very fun to eat, thanks to their texture. They are crispy and slightly charred on the outside but quite fluffy and creamy on the inside. When paired with toppings, all the tiny squares help the waffles remain crunchy and keep everything from soaking through.
Pancakes, however, are the exact opposite. They are smooth, tender, and spongy all the way through. This is why, when served with other toppings, especially syrup or honey, the ingredients of the pancakes will melt into one another, creating an incredible mixture of flavors.
Flavor
Having the same ingredients that only differ in ratios, pancakes and waffles have pretty similar flavors. When plain, they both have the same light sweetness and buttery scent. Waffles are just a bit sweeter and richer because of the extra caramelized sugar.
While toppings usually decide how the waffles or pancakes taste, you can also take them to the next level by directly adding some spices into the ingredients like cinnamon, vanilla, or mix-ins like chocolate, berries, and other fruits.
Appearance
Waffles are undoubtedly famous for their honeycomb exterior. However, they are usually only limited to this look for the most part. While they can also be stacked, most prefer to eat them singularly because of their hard, crunchy texture.
Pancakes are traditionally stacked so you can have layers of mixed-in toppings. They are also much more flexible and diverse in shapes. You can purchase molds to make them look more fun and exciting. Many even make it an art to draw pancakes as different things on their griddles.
Calorie Content
Generally speaking, neither waffles or pancakes are entirely good for your health. However, because of the extra eggs and sugar, waffles do have 20 percent more calories than pancakes. You can make them both healthier by replacing the ingredients or using healthy toppings.
A classic showdown between waffles and pancakes for you to decide the winner. Watch this video to know more:
Waffles And Pancakes All Around The World
All across the globe, there are multiple versions of waffles and pancakes made and served in lots of different ways. Wherever it is, there are always some variations of these two amazing foods, reinvented to reflect the cultural diversity of that region. Here are some you should try.
If you have heard of waffles, you certainly know about Belgian waffles. This infamous dish is enjoyed on the daily by so many for its incredible taste, crispy texture and pillowy insides. Truly a must-try for anyone who loves waffles.
A classic combination that is adored and loved by many Americans. This recipe brings together an unexpected burst of sweet and savory flavors. If you don't want to eat waffles with the same old sweet toppings anymore, give this a try.
Crepes are basically thin pancakes made without baking powder. Pancakes can sometimes feel a bit overwhelming, so try crepes instead. They are more subtle, both in taste and texture, and just as delightful to enjoy.
A brand new and flavorful way to enjoy pancakes. This Korean version of pancakes is the perfect side dish in many Asian countries. It may seem a bit strange at first, but after the first bite, you won't be able to resist its savory and spicy taste.
Detailed instructions on how to make this irresistible pancake, you should see the video below:
This Russian version is quite similar to the American buttermilk pancakes. They are just as light and fluffy, only a bit thicker and more burned around the edges. They can often be eaten with sour cream for an extra layer of savory flavor.
FAQs
There is so much to talk about when it comes to waffles and pancakes. If something is still on your mind about these pastries, read here to find the answers.
Waffles Or Pancakes, The Choice Is Yours!
Waffles and pancakes are both delicious breakfast foods that you can easily make and enjoy. If you like a little bit of freedom in your cooking, or maybe some softness in your food, pancakes are the way to go.
Waffles are also exciting and addicting in their own way. They have that crunchiness that you just can't stop eating, plus they are unbelievably convenient; you can make them quickly and take them anywhere.
As you might know, food is subjective. Everything comes down to your personal preference. Both waffles and pancakes can make great canvases for your food masterpieces. Don't limit yourself to just one kind; try them all out and let me know what you think.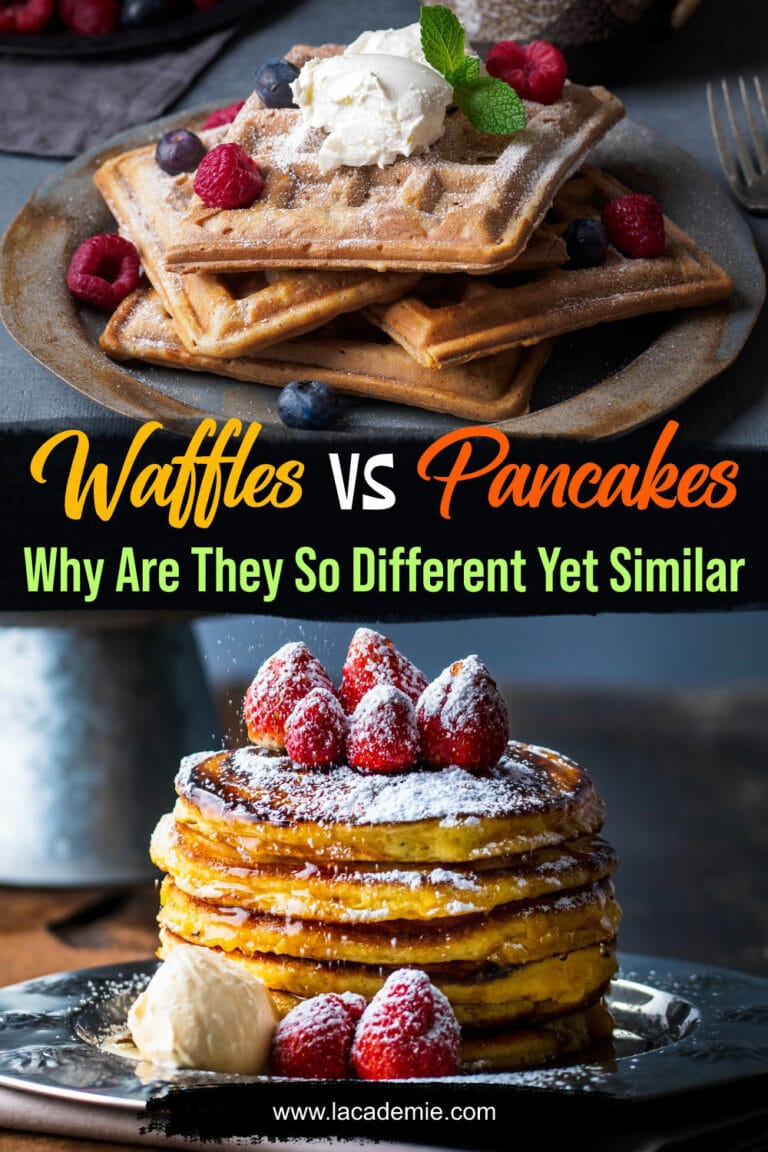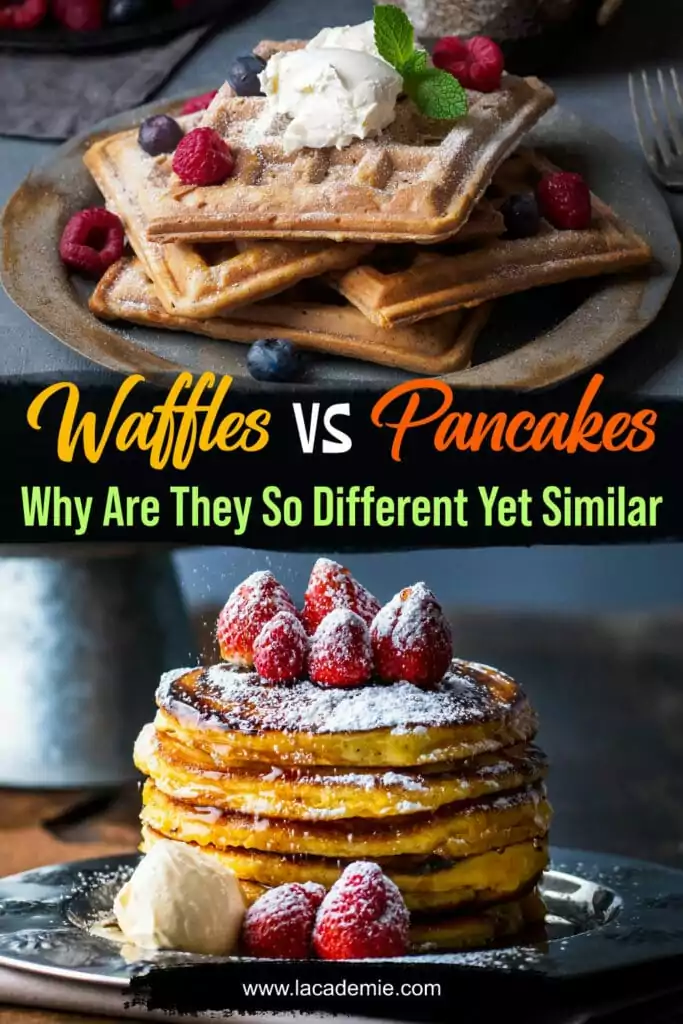 Reference
En.wikipedia.org. 2021. Waffle – Wikipedia. [online] Available at: <https://en.wikipedia.org/wiki/Waffle>.
En.wikipedia.org. 2021. Pancake – Wikipedia. [online] Available at: <https://en.wikipedia.org/wiki/Pancake>.