How much do you know about Welsh foods? Despite strong influence from its British neighbors, Welsh cuisine is still something that will leave a long-lasting impression. Experiencing it is a must if you have a chance to do so.
Do you know that Wales is a land steeped in history, with more castles per square mile than any European country? Because Wales has a rich history, it enjoys significant culinary diversity as well. Keep on reading this article to learn more.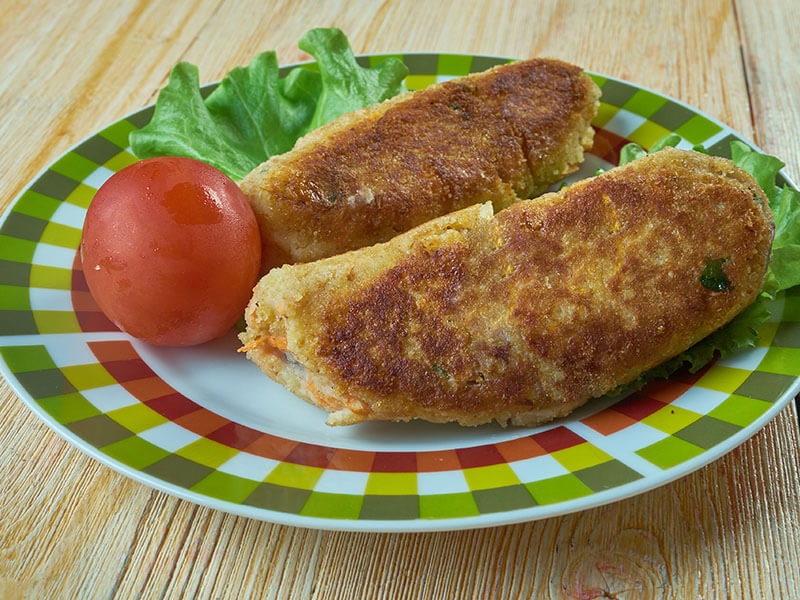 Have A Taste Of Delicious Welsh Bread And Soup Dishes
Like its neighbors, Welsh cuisine lays its foundation on bread and soup. There are many warm and hearty dishes from those two that you can enjoy alone or eat with other stuff for a nourishing meal.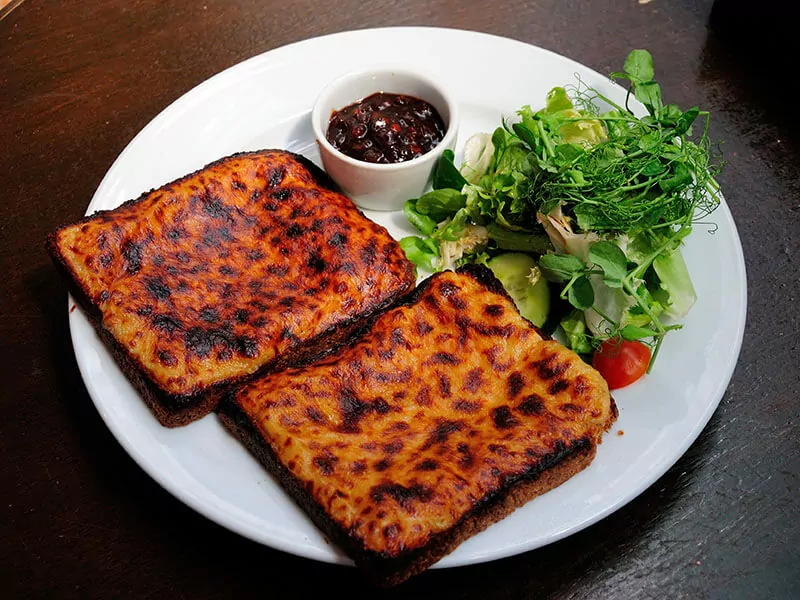 If you need a quick Welsh breakfast recipe, look no further than Welsh Rarebit, the icon of the region's cuisine. People believe the original name to be Welsh Rabbit, but no one can understand the connection because the dish doesn't have anything to do with the carrot addict.
In essence, Welsh Rarebit consists of a few slices of toasted bread topped with a hot cheese-based sauce. But simplicity is the mother of complexity. Every family has its own recipe with different choices of toast, cheese, and sauce.
There are a few common varieties of Welsh Rarebit. Topping your bread with a fried egg will give you "Buck Rarebit". Meanwhile, serve your bread with tomatoes, and you will have "Blushing Bunny".
Anyway, the most common method is to dip a slice of buttered toast in a mixture of butter, flour, Cheddar cheese, and Worcestershire sauce. The Welsh love their toast so much that they dedicate each year's September 3rd to National Welsh Rarebit Day.
Check out this detailed guide for making Welsh Rarebit at home.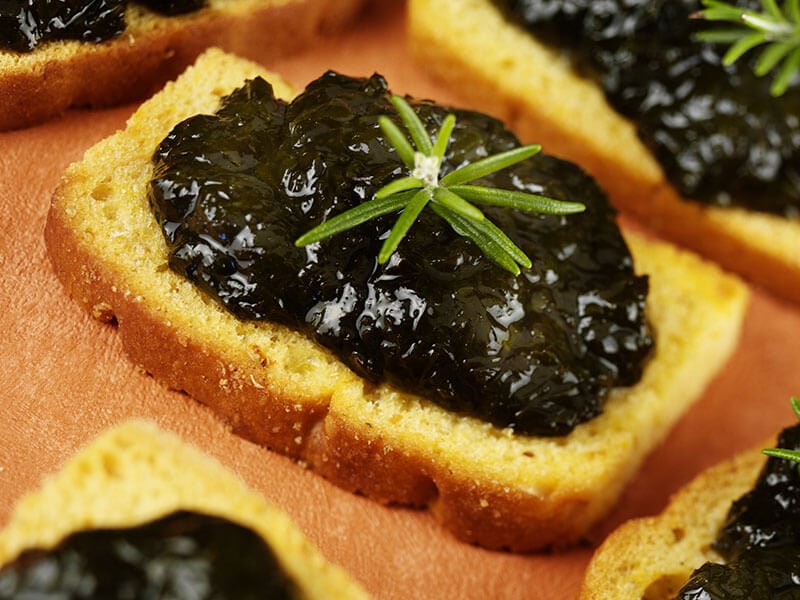 Nowadays, seaweed is all the rage in the West as a trendy gluten-free, low-fat, low-salt food. But the Welsh turn out to have followed that trend long before anyone else. They have a delicious and nutritious dish called Bara Lawr, or "laverbread" in Welsh, based on laver seaweed.
It is a local type of edible seaweed that the Welsh have consumed since at least the 17th century. People have to wash and boil raw laver many times before it is tender enough to be spread over toast with some olive oil and lime juice to make Bara Lawr.
Laver has a salty taste evocative of the blue sea alongside a rich, umami-packed flavor that is like expensive caviar. Bara Lawr is a fascinating dish to go with bacon or cookies for a light yet delightful meal.
3. Bara Brith – Welsh Fruit Tea Bread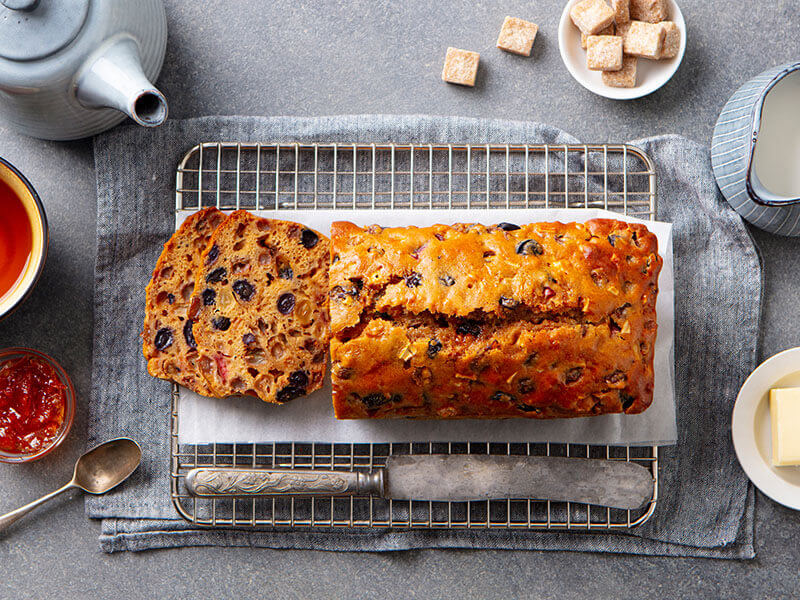 The Welsh acquire their incurable fondness for tea from the English culinary culture, but the English, in turn, are seduced by the Welsh fruit tea bread. Known as Bara Brith in Welsh (literally "speckled bread"), it is a principal part of tea breaks across the UK.
People make Bara Brith from a mixture of yeast-raised dough, spices, eggs, and dried fruits (usually raisins). But people only use dried fruits that have been soaked in tea and brown sugar overnight. The last step of making Bara Brith is to bake it in the oven and spread it with butter.
An anecdote says that this signature bread variety resulted from a Welsh cook's experiment going terrifically right. Although not many young Welsh people enjoy Bara Brith nowadays, the bread is still a cornerstone of Welsh cuisine, a delicious delicacy that tourists have to experience.
Discover a great recipe for cooking homemade Bara Brith here.
Leeks play an irreplaceable role in Welsh culture. It is the national symbol of the country and appears in various myths and legends. The legume is also influential in many Welsh recipes, either enhancing the flavor of the foods or featuring the leading role itself.
Leek soup is an example in which leeks are the main star. It is a sumptuous yet simple dish consisting of fresh leeks, cream, garlic, and vegetable stock. Many people find the soup delicious and amazingly effective against a nasty cold.
Legend has it that sometime in the 6th century, Saint David, the patron saint of Wales, led his Welsh soldiers into battle against Saxon invaders. He asked his soldiers to wear leeks on their helmets for identification, and in the end, his army prevailed against the pagan enemy.
Ironically, Wales' love for leeks possibly dates back to its own pagan era when the ancient Druids or Celtics walked the land. If so, Leek soup might have been around for a very, very long time.
5. Cawl – Welsh Lamb Soup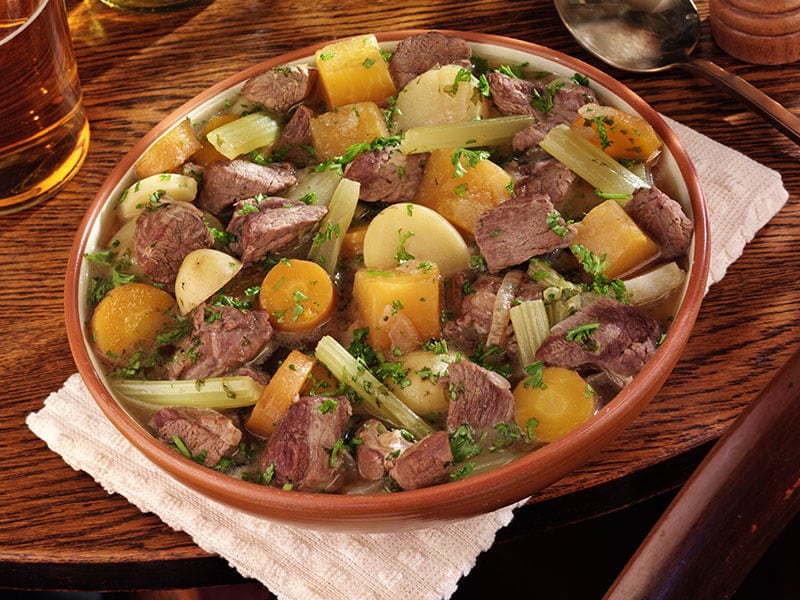 In many people's opinion, Cawl should be Wales' national dish. It has a long history (dating back to as far as the 14th century) and a powerful appeal to the general population. Trying the soup is a must if you visit Wales in the chilly months of autumn or winter.
While many dishes take on the name "Cawl", the authentic version is made from mutton and leeks. They have to be slowly cooked with potatoes, carrots, and other vegetables until tender and flavorful. Variations with chicken, pork, or seafood exist, but they're not "real" Cawl.
The "real" variety with mutton is more common inland, while you will have an easier time coming across seafood-based Cawl in coastal areas. In addition, some regions keep the meat in the broth, but others serve them separately.
The soup started as a dish of poor peasants who needed rich food to get through winter. It didn't have much meat back then. Now, Welsh people serve Cawl with bread and cheese as a hot, excellent meal in a cold atmosphere.
Discover everything there is to know about cooking Cawl here.
The following dishes will make an attractive addition to your breakfast, lunch, and dinner. They are both rich in nutrients and flavors, with the added bonus of an exotic vibe.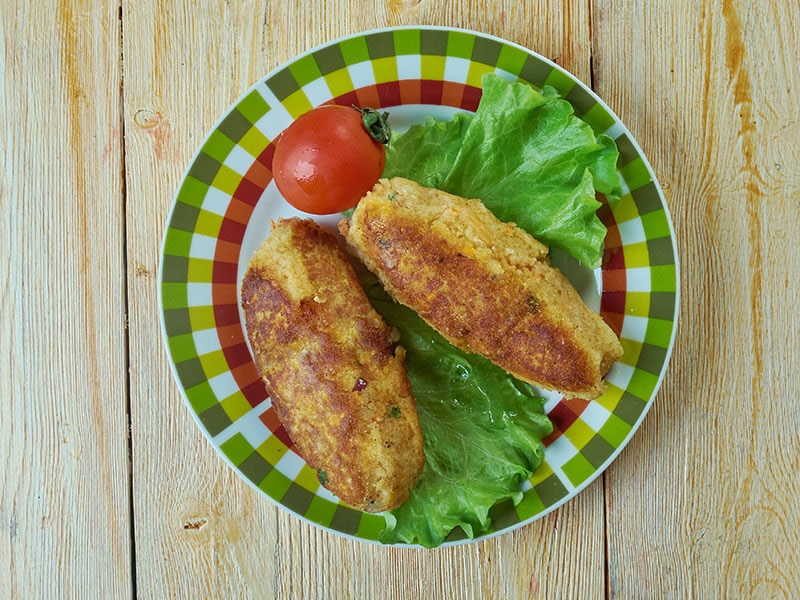 Can sausages be vegetarian? The Welsh answer is yes with its proof in the traditional dish Selsig Morgannwg, or "Glamorgan sausage" in Welsh. It is named after a major Welsh county that ceased to exist in 1974 when Glamorgan was divided into smaller counties.
Selsig Morgannwg includes local Caerphilly cheese, leeks, bread crumbs, and spices. Do people use sausage casings for this cheese-based "sausage"? No, they simply shape the mixture into sausage sages, possibly with eggs for better binding, and fry them.
The sausage appeared in Glamorgan first in the mid-19th century. But it wasn't until World War II, when meat was in short supply, that Selsig Morgannwg became popular in other parts of Britain.
7. Welsh Cheese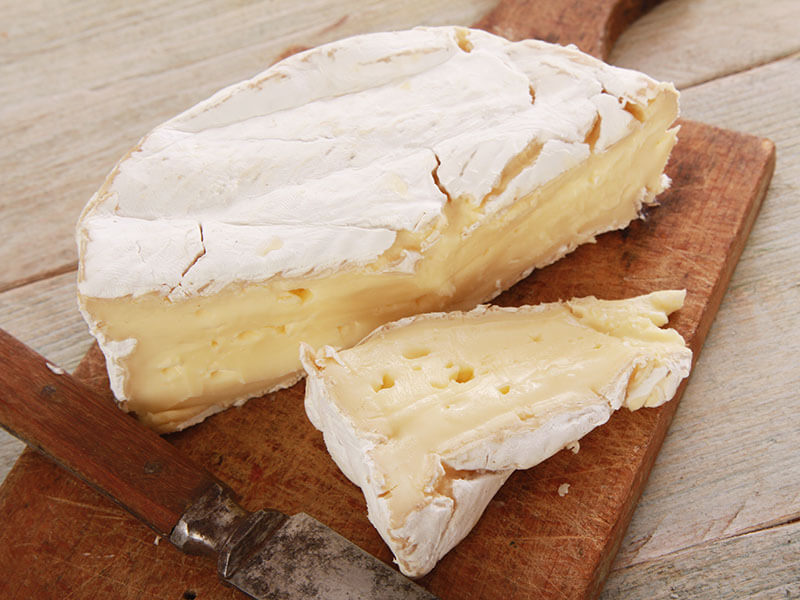 You can't whip up a mouth-watering Welsh Rarebit without good local cheese. But there is much more to Welsh cheese than you think.
The most famous cheese variety is the hard and milky-white Caerphilly cheese made from cow's milk. It originated from the town of the same name as food for local coal miners. As you read on, you will see how heavily this type of cheese features in Welsh foods.
Besides that, you have many options to choose from. A few examples are the ale-containing Y Fenni cheese, sweet and grassy Llanboidy cheese, or beautiful Perl Las blue cheese. Just one thing to remember: Best cheese usually comes from farm markets, not comfy shopping centers.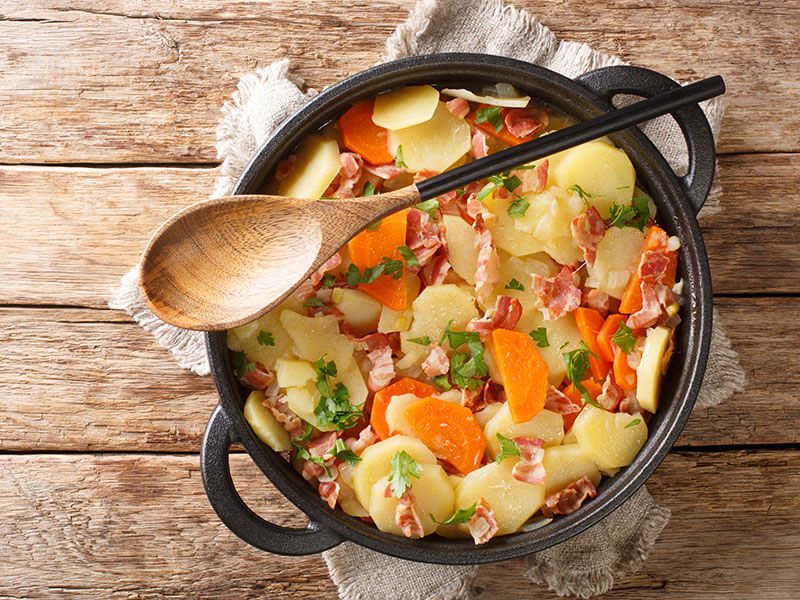 Can you cook a stew with a frying pan? Most types of stews will scream dissent at such a method, except for Tatws Pum Munud, a traditional Welsh stew. Judging from its name, literally "five-minute potatoes", you can see that it is an easy dish to make.
Welsh people cook Tatws Pum Munud from bacon, potatoes, onions, carrots, and other vegetables. All the ingredients are thinly sliced so they can fit nicely in a frying pan, which is the popular cooking vessel for this stew. Serve it hot with bread and Worcestershire sauce.
9. Conwy Mussels
Winner!! @conwymussels #conwy #northwales #seafood #moulesmariniere pic.twitter.com/txDgjb6WHl

— Tatters (@tattersantiques) September 18, 2020
On the north coast of Wales lies the historic town of Conwy (formerly Conway). Its tourist attractions include charming medieval architecture, stunning seaside scenery, and fleshy mussels fed by the rich nutrients from River Conwy and the Irish Sea.
They can be fried in oil with cream and shallows or equally tasty when steamed with wine. To maximize your culinary experience, remember to pair these tasty mussels with suitable side dishes! They can be fried in oil with cream and shallows or equally tasty when steamed with wine.
This wonderful gift from Mother Nature didn't begin easily. Back in the 19th century, Conwy people harvested only pearls from mussels and fed the other parts, including the meat, to livestock. Now they consider it to be a delightful delicacy.
Experience how to catch and cook Conwy mussels here.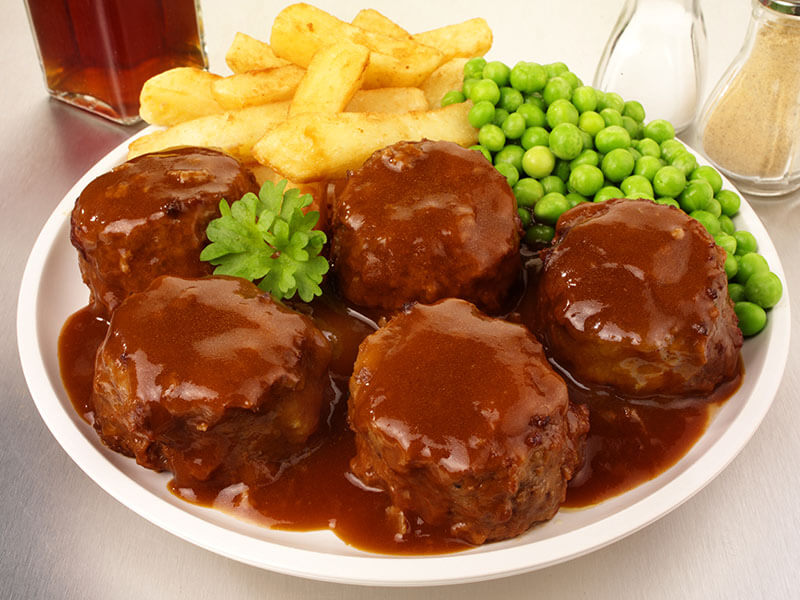 Meatballs are a universal dish, but do you dare to try the Welsh version? It is called Faggot and is made from spices, herbs, pork (or mutton), and various pork offals parts such as belly meat, livers, and hearts. Those meatballs come in large sizes at a low cost.
It was a favorite dish in Britain during World War II and is currently regaining its popularity.
Faggots with peas, onion gravy, and mashed potatoes make an inexpensive and fascinating Welsh lunch recipe. The fattiness of the meat and the vigor of spices create a pleasant mix.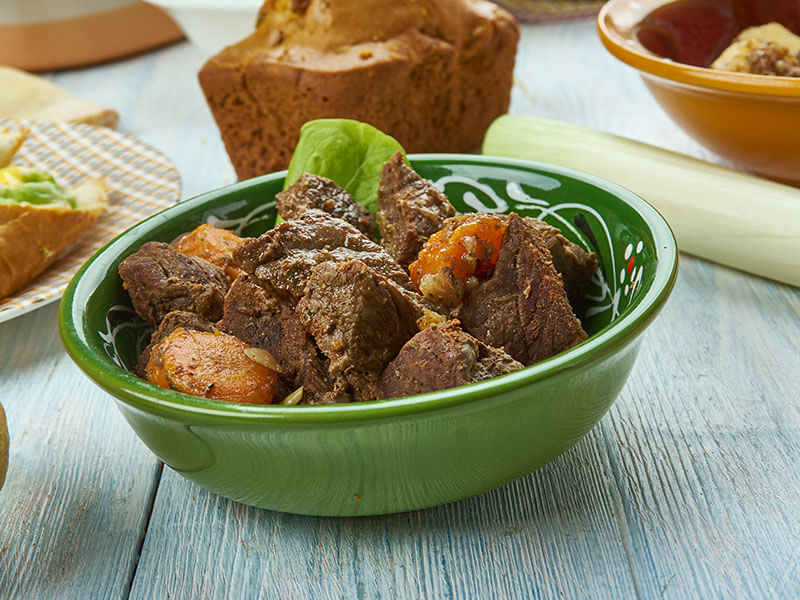 Scouse usually refers to the impressive English dialect of the port city of Liverpool. But it is also the name for a delicious stew that originated from that city and eventually became popular in Wales.
The dish owes its name to Lobscouse, a similar stew that sailors from Northern Europe formerly eat. The name eventually got shortened and became "Souse" and gave the people of Liverpool that nickname, too.
This stew bears some similarities to the legendary Cawl. It is made from big chunks of beef, potatoes, carrots, and sometimes ale for a stronger flavor. Scouse aptly demonstrates the cultural exchanges between Wales and the rest of the UK.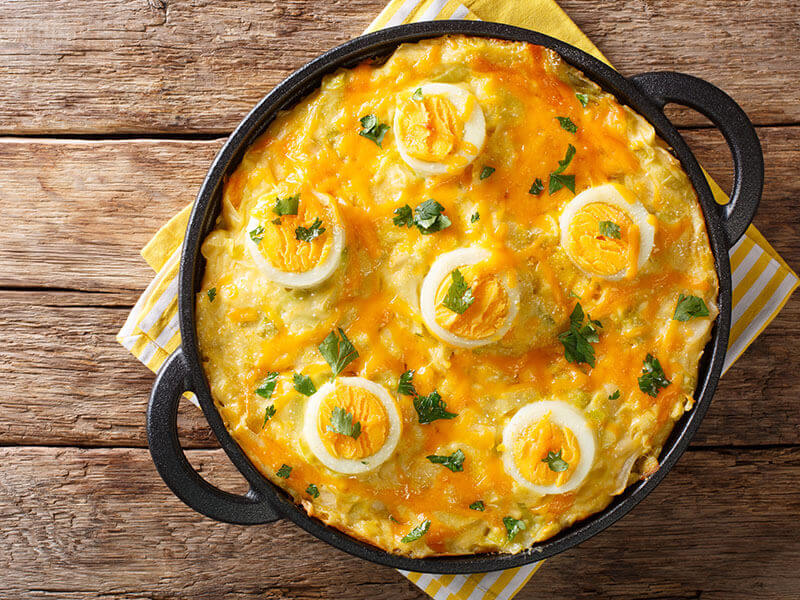 Off the northwest coast of Wales lies the country's largest island, Anglesey, whose former nickname was "Mother of Wales". It is a historic county now, meaning it no longer formally exists. But its name lives on in the famous recipe Wyau Ynys Mon or Anglesey Eggs.
This is a nice dish to level up your ordinary hard-boiled eggs. You need to prepare a mixture of mashed potatoes with boiled leeks before frying it in butter alongside flour and milk into a thick, creamy sauce.
All that is left is to serve halved boiled eggs with the sauce, cheese, bread, or possibly a meat dish. Wyau Ynys Mon is a fulfilling and protein-rich breakfast item that all Welsh families are familiar with.
Discover this interesting recipe for Anglesey Eggs here.
13. Gwledd y Cybydd – Welsh Dish Of Bacon And Potatoes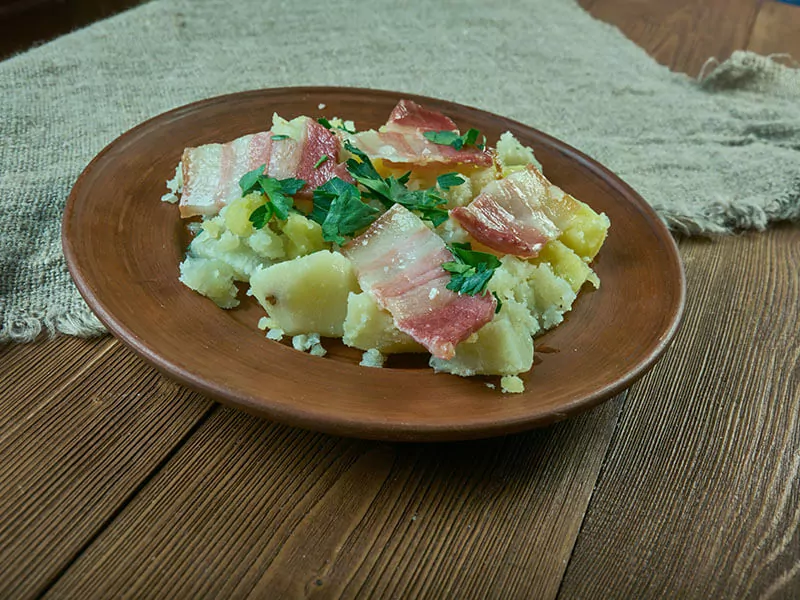 Sumptuous foods aren't always desirable. If you're fed up with rich and greasy dishes, let's try Gwledd y Cybydd or Miser's Feast in Welsh. Local people originally envisioned this interestingly named recipe as a frugal meal for poor people, but it has constantly risen in status.
It doesn't take much to make Gwledd y Cybydd. All you need is some boiled potatoes, bacon or pork chops, and pepper. Bake or simmer them in a pot until tender, and your "feast" is complete.
Gwledd y Cybydd is a welcoming Welsh dinner recipe at the end of a hard day when you don't have much time to cook. It first appeared as a cheap fare for people without much to their name, but the dish is now popular with busy bees as well.
14. Salt Marsh Lamb
Gower salt marsh lamb – wilted cabbage – lamb fat carrot – potato and shoulder pressing – nasturtium.#foodbythesea
.
.#michelinstar #beachhouseoxwich #gower #oxwichbay #Food #Goodfood #restaurant #finedining #beach #luxury #foodart pic.twitter.com/K3p83SOzup

— BeachHouseRestaurant (@BeacHouseOxwich) September 17, 2021
You have probably heard of salted lamb, but how about Welsh salt marsh lamb? The country is home to salt marshes, a kind of diverse ecosystem that supports mineral-rich grasses and plants. Sheeps feeding on them produce meat of a superb and unforgettable flavor.
Additionally, locals butcher the sheep at a more mature age, allowing the lamb to fully develop its flavor. You can find the best salt marsh lamb from Harlech in North Wales and the Gower Peninsula in the Southwest part of the country.
The optimal time to buy tender, tasty lamb is summer and autumn. More specifically, you can order perfect salt marsh lamb between July and October.
Most people enjoy its sweet, succulent taste to the fullest by simply roasting with a minimal amount of seasoning. France has long been a big producer and lover of salt marsh lamb. Wales is a newcomer, but it's catching up thanks to the supreme quality of its delicacy.
Learn how Gower salt marsh lamb achieves international recognition here.
15. Tatws Popty – Welsh Oven Potato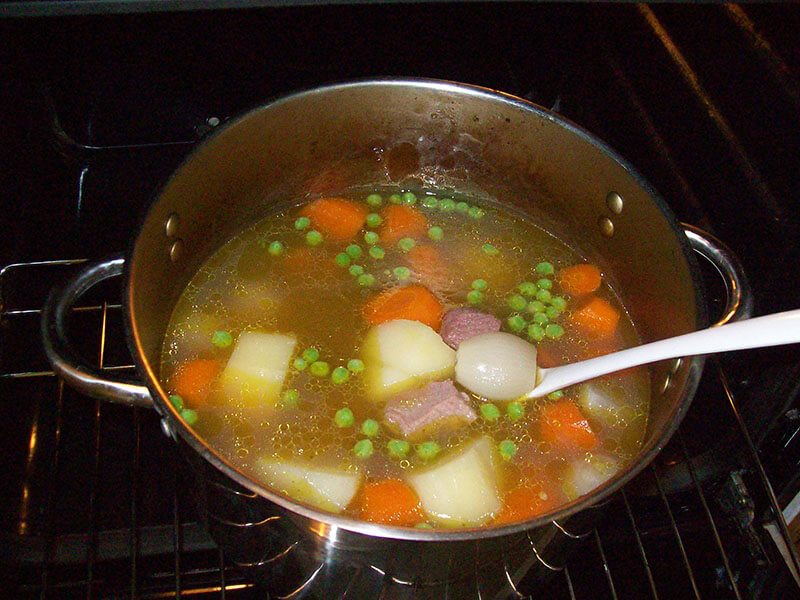 While depleting Britain's pool of ingredients, World War II at the same time enriched the country's culinary wealth. It forced the people to be creative with the little they had. Tatws Popty, or "oven potatoes", is a Welsh dish popularized during that turbulent age.
This unsophisticated dish is made from big chunks of potatoes, preferably the local Pembrokeshire variety. The next step is to roast or bake them with a variety of vegetables, such as leeks (a must-have), onions, or parsleys.
When the potatoes are golden, tender, and aromatic, you can enjoy Tatws Popty with sauces as a main dish or pair it with meat or soup. It is not only an easy comfort food but also a reminder of how uneasy it is to break British resilience.
Savor To Your Heart's Content These Amazing Welsh Cakes
Welsh people appear to have a strong liking for concluding their meals with nourishing and fulfilling cakes. These dishes can act as a meal in their own right, too. They will add a nice touch to your diet.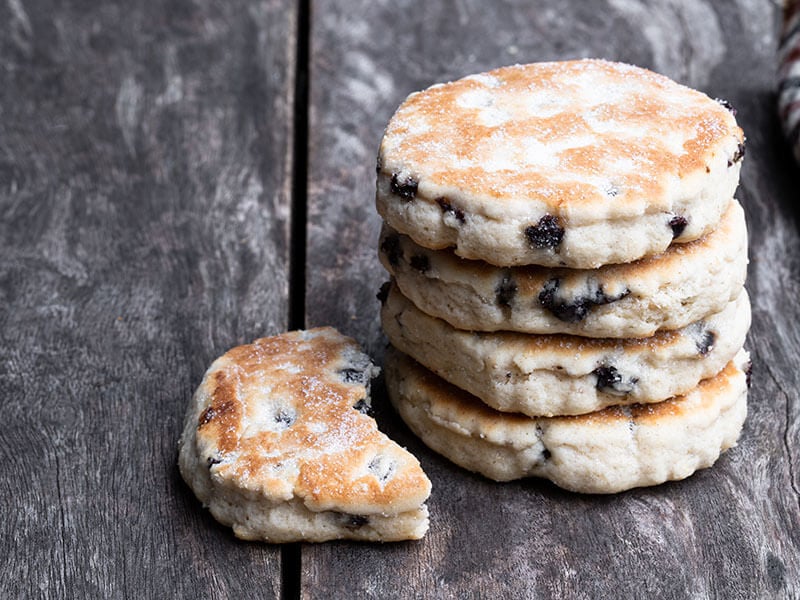 There aren't many Welsh desserts, but lacking in quantity doesn't mean a deficiency in quality. Let's have a taste of Picau ar y Maen, literally "cakes on the stone", a delicious and simple snack. It used to be cooked on a bakestone (a Welsh distinct cooking device), hence the name.
People prepare Picau ar y Maen from basic baking stuff: flour, baking powder, eggs, and sultanas (golden raisins) or ordinary raisins. Mix everything into a smooth dough before splitting it into many small circles.
The traditional Welsh way of baking Picau ar y Maen is to do so with a bakestone which is made from sandstone. Nowadays, it is acceptable to use a frying pan for this task. After the cakes are ready, you can serve them with tea or sweet drinks.
See how delicious Welsh cakes taste in the old town of Betws-y-Coed in North Wales.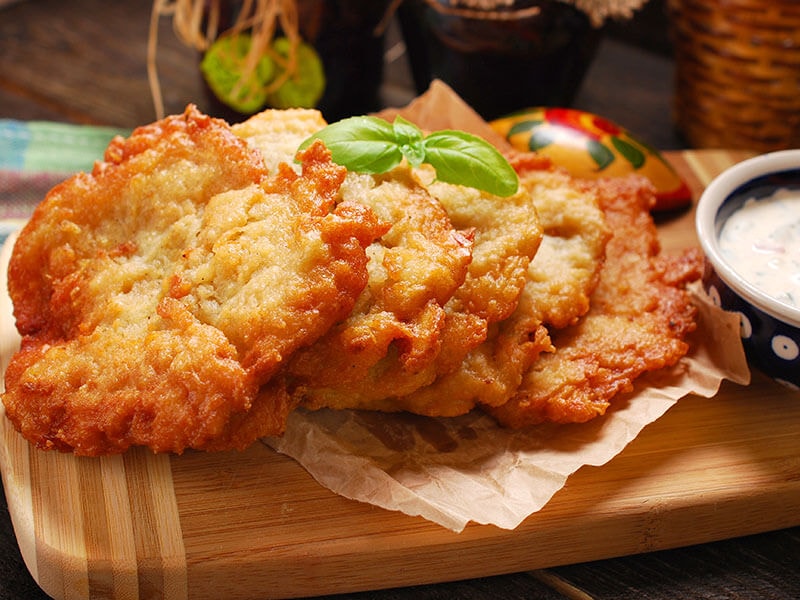 Like many other countries, Wales has a special place for potatoes in its cuisine. The vegetable features heavily in Welsh appetizers, main course, and even snacks. Teisennau Tatws is a savory potato-based cake that you should try.
This traditional dish involves mixing mashed potatoes with flour, butter, milk, and spices. Then, the cook will divide the dough into small rounds, which are fried in butter or baked in the oven.
Depending on the content of seasonings, Teisennau Tatws can be very sweet or slightly salty. While it is a savory snack, you can pair it with fruit jam, fried eggs, or bacon for a light meal.
18. Crempog – Welsh Pancake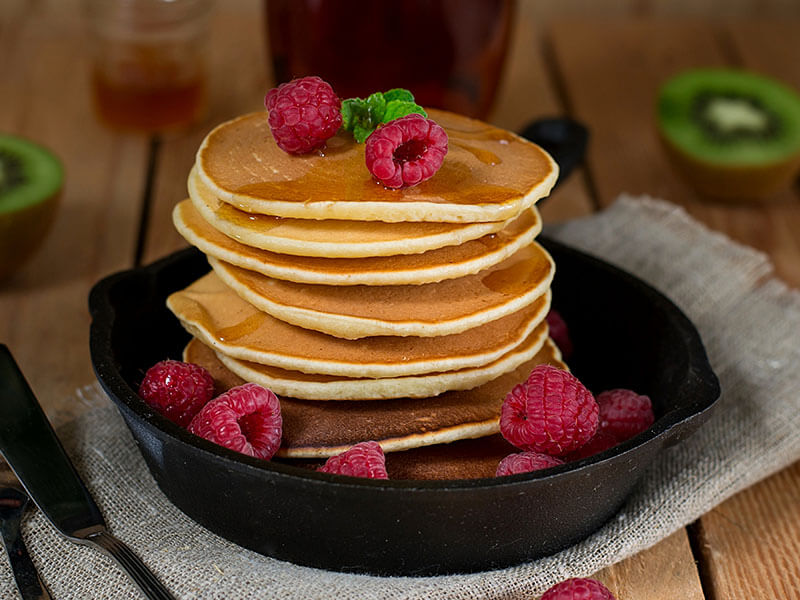 Asides from Picau ar y Maen, Welsh people can cook many other delicious things with a bakestone. One shining example is Crempog, an ancient type of pancake that is very popular at Welsh birthdays, big parties, or other celebrations.
Crempog includes flour, eggs, butter, and, most importantly, vinegar. All the ingredients are mixed into a soft and smooth dough. The last step is to divide it into circles, fry on both sides until golden, and serve with butter or jam.
This Welsh pastry is thicker and smaller than other types of pancakes in Britain and even in Europe. There are several varieties of Crempog according to their ingredients. For example, Crempog Furum has yeast, while people bake Crempug Wen from refined flour.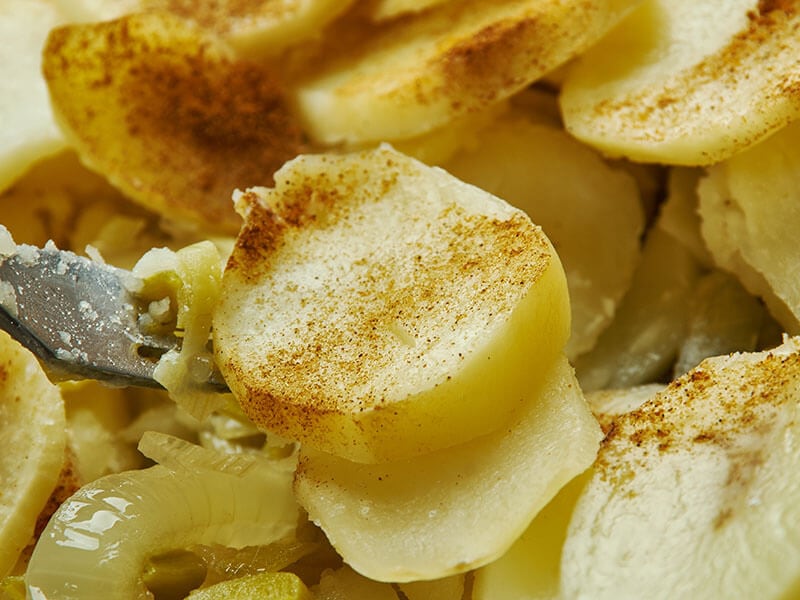 You can transform the pungent smell of onions into a culinary plus as long as you know the way. That is a valuable lesson from Teisen Nionod, the Welsh version of onion cakes.
The dish usually consists of two layers. The first one has seasoned potato slices, while the second sheet is a mix of chopped onions and butter. After baking for one and a half hours or more, you will have a fragrant and appetite-provoking Welsh side dish for meat or soup.
Sometimes, people include white Caerphilly cheese in the Teisen Nionod recipe. This addition considerably improves the appearance and nutritional value of the cake.
Discover a convenient way to prepare Welsh onion cakes here.
Let's Spend Your Time With Welsh Foods
It is a long-standing joke that English food was the main reason behind Englishmen's eagerness to leave home and discover new lands. Well, I can't say about English cuisine, but its Welsh neighbor is certainly no laughing stock when it comes to culinary excellence.
Welsh foods may not be well known around the world, but they are terrific and full of flavors. Some local delicacies, such as Conwy mussels or salt marsh lamb, are slightly expensive but always good value for your money.
If you like this article, please show your support by sharing it with other people or leaving a comment. Your attention will motivate me to help you explore more captivating dishes from around the world (like the past Englishmen). Many thanks!