Recipes made with the addition of fish leftovers are also versatile like when the fish is fresh. The appropriate cooking method plays an important role in making the remaining fish flavorful and keeping the moisture inside.
The right combination of leftover fish with other ingredients will create your new dish with a new flavor and new look, which makes you not realize whether you eat with leftover or fresh fish.
Besides, remaking fish leftovers is a good method to save your cooking time because you don't need to wait until the fresh fish is finished before starting the next steps to get the whole dish done.
For those reasons, knowing leftover fish recipes is helpful for you to remake your leftover fish and diversify your meals. Let's go with me to find amazing ways to remake your leftover fish.
Here, Get Outstanding Ideas For Cooking With Leftover Fish
Finding out leftover fish recipes is not difficult, but choosing the best option matters to you. Like fresh fish, just putting it in the wrong place, combining it with wrong added components, you get the dish as a disaster. I'll help you with ideas you should try right now.
Leftover Fish With Salads, Tacos, And Rolls
Salmon Nicoise Salad
Wahoo Salad
Leftover Salmon Caesar Salad
Tuna Tabbouleh Salad
Fish Taco Grain Bowl
Veggie-Fish Spring Rolls
Pasta And Rice With Fish Leftovers
Leftover Salmon Pasta
Salmon Fried Rice
Pasta Gratin With Fish And Spinach
Kedgeree With Leftover Fish
Remaking Leftover Fish With Soup And Dip
Smoked Fish Dip
Smoked Haddock Chowder
Other Ideas For Cooking Leftover Fish
Cod Fish Cakes
Salmon And Eggs Breakfast Scramble
Salmon Rillettes
Fish Nuggets
Tuna Casserole
Leftover Salmon Lemon Dill Sandwiches
Smoked Fish Pate
Minty Salmon And Broccoli Frittata
Fish Escabeche With Leftover Fried Fish
21 Easiest To Turn Your Leftover Fish Into New Feasts
When you didn't know the amount of fish an average person eats and accidentally made too much fish, it's time to learn what recipes you can make with the uneaten food. Here are 21 dishes you can make with all the remaining fish in your house.
Leftover Fish With Salads, Tacos, And Rolls
Nothing is easier than making use of your leftover fish to make salad, tacos, or rolls. What you just need to get them ready to eat is to prepare your favorite veggies, make an insane dressing, reheat fish leftovers and then assemble them together.
If you have leftover baked salmon now, let's prepare some more veggies to go with it and form a Nicoise salad with leftover salmon to serve your meals in just 10 minutes.
Moreover, if your cooked salmon is a fried dish, it would be better if you know how to reheat your fried fish precisely in different kitchen appliances before mixing it in the salad.
Being packed with salmon and many veggies, the salmon Nicoise salad can provide your body a lot of nutrients for aiding body and brain development.
With leftover fried or grilled wahoo fish pieces, you can also make a stunning salad like other fish. Besides, you can use the salad to fill the sandwiches for a quick and convenient but nutritious breakfast.
Wahoo salad can be served as a whole meal when it contains enough essential nutrients to supply your body, as Hawaii wahoo is an excellent source of healthy protein, vitamin b12 and B6.
Take use of your grilled fish slices to make a wonderful salad! Watch this video to know more:
If you find something to eat with available leftover fish in 15 minutes, leftover salmon caesar salad is an excellent idea.
Making salad with cooked fish or fish leftovers can make a totally fresh delicacy with juiciness and creaminess.
You can serve the salad as a whole dish or a versatile side dish for pizza or many other main savories.
Another version of salad you can use leftover fish to make is tina tabbouleh salad, which combines fresh and crunchy veggies, cooked tuna fish, and fresh herbs to add aroma to the whole meal.
Like other salads, you can pair the salad with tuna as your whole meal because it has enough nutrients and delight. Moreover, accompanying it with your other favorite dishes to form a wonderful feast is a considerable idea.
If you are super into salads, another idea for you to change over your meals is from a fish taco grain bowl.
You can start the dish with your available leftover baked salmon to save at least 20 minutes to finish the yummy Mexican fish recipe.
The combination of veggies and well-marinated salmon is a perfect idea to create an irresistible dish that is good for your health.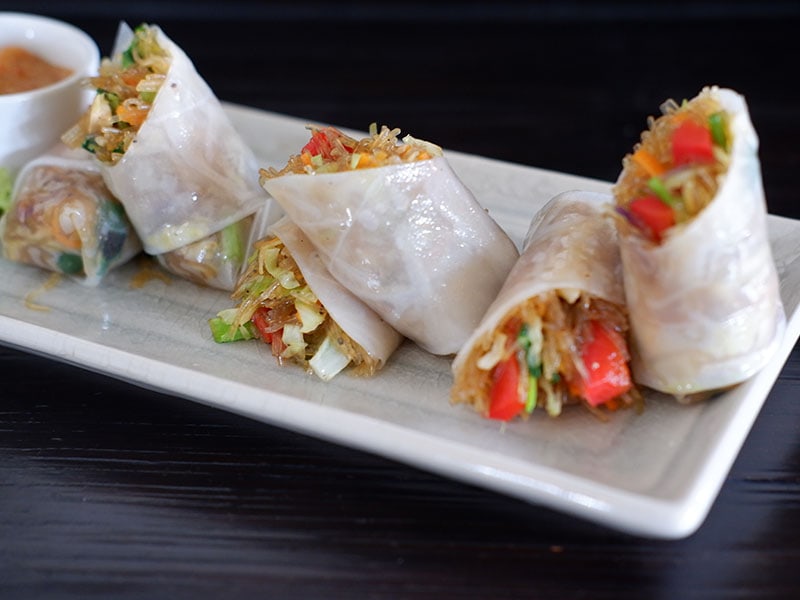 Do you love Southwest Asian food? If the answer is yes, continue reading to get famous spring rolls with fish followed by the Vietnamese cooking style.
Your rolls will be the best if you serve them with fish sauce with lime juice, hot chili, grated ginger, and sesame oil.
What makes the Vietnamese spring rolls with fish special are flavored, or even bland rice paper that makes your spring rolls tender and easy to eat.
Pasta And Rice With Fish Leftovers
Besides salad, you can remake your fish leftovers with brilliant recipes of pasta and rice. These recipes are definitely good to satisfy your taste and your hunger, thanks to appropriate spices to flavor leftover fish.
Your favorite pasta tossed with cooked salmon, and some fresh chopped herbs are all that you need for meals like dinner or lunch.
The creamy and full-flavored texture with marinated and cooked fish form the best version of pasta.
Just 25 minutes to get the pasta finished, you can cut much time in cooking, so consider making them when you're busy with work.
Moreover, you can serve the pasta as a whole meal or even a side dish. In case you want to enjoy it as your main meal, let's prepare some treats to serve with your pasta to make your dinner more delightful.
With your cooked salmon, making salmon fried rice is on your hands within around 20 minutes. Flavored and cooked salmon together with white cooked rice and some veggies like trimmed asparagus make your fried rice tangy and heavenly.
Just a bowl of salmon-fried rice, you can satisfy your stomach and also your taste. The dish is really a perfect dinner idea when you have no time for cooking. For a healthier meal, you can use rich-nutrients brown rice instead of regular rice.
9. Pasta Gratin With Fish And Spinach
The pasta gratin with leftover fish and spinach undoubtedly is a healthy recipe for your family members as it contains two of the most nutritional ingredients – fish and spinach to support the immune system, keep eyes healthy, and boost hydration.
Moreover, fish and spinach are considered the best food to enhance baby development, and now you can find an easy but healthy recipe for your children.
You are advised to serve the gratin with a sherried cream sauce or top the mixture over the green salad to get a perfect taste.
One more idea with white rice and your leftover fish is kedgeree. The dish is like fried rice, but with the addition of curry powder, you turn the fried rice into another recipe with a flavorful and aromatic taste.
Light color, tangy odor, and good taste are what encourage you to practice the recipes whenever you get leftover salmon fish.
Remaking Leftover Fish With Soup And Dip
Why don't you try using leftover fish to make soup or dip? The recipes for making soups and dips with fish will never let you down in terms of flavor and cooking time.
It'd be a waste to throw away your uneaten fish after learning how to cook fish by smoking it. Instead, why don't you use the leftovers to make smoked fish dip? It's a great way to turn all the remaining ingredients into another good recipe.
The smoked fish dip is a traditional Florida dish and is renowned worldwide as the most fantastic dip to pair with bread slices for a quick and convenient breakfast.
With this recipe, you can use already fried fish to simmer with a broth of vegetables, mashed potatoes, and some chopped fresh herbs to raise the flavor of the whole dish.
The dense texture flavored with fried fish will be an insane dish for your dinner. Moreover, there is nothing better than eating warm smoked haddock chowder on cold days. I think that no one can know whether you use the leftover fish or the fresh one.
Other Ideas For Cooking Leftover Fish
There are thousands of other recipes you can practice with leftover fish besides salads, soups, or dip. Other cooking methods will form other fabulous recipes with your fish leftovers, so let's discover them right now.
Cakes with codfish are also good for remaking leftover fish into another version of an easy and quick appetizer.
Codfish contains a high low-fat source of protein, vitamin B12, omega-3 fatty acids, and niacin, making it an excellent ingredient for those who want to reduce their fat intake and enhance heart health.
Serving these cakes with tartar sauce is likely to raise the dish's deliciousness level.
Let's turn your grilled fish into brilliant fish cakes! Watch this video to know more:
Your leftover cooked salmon now is not useless anymore when it can join with eggs to form an easy and quick breakfast with tangy flavor and good taste.
My sister often serves this dish with bread or spreads it over bread slices for convenient meals. And I think that your children will get addicted to the recipe because of its convenience and delight.
Another thing you can spread over your toasted slices of baguette for a decent breakfast is salmon rillettes that is made with smoked salmon in the French style.
The recipe doesn't require a lot of time in cooking; however, if you plan to serve the dish tomorrow, cook the dish ahead and let it chill in the fridge to get the best taste.
Now, let's feed your family with another idea of fish nuggets with crisp outsides and moist and cheesy insides, making them a go-to recipe for almost all children.
Serving these nuggets with tartar sauce is to get a better taste if you like! The fish nuggets are so easy and quick to eat, and usually, they take about an hour to get the recipe ready on the meal table.
All you want to know to make fish nuggets is presented in a specific way.
Like many other casseroles, tuna casserole is creamy, dense-textured, and full-flavored. And they are one of the most well-loved family dinner delicacies that no one can resist.
The dish is mainly related to Middle Americans. Still, the traditional Florida dish was trendy in Pacific Northwest in 1930 and now becomes one of the most delightful recipes made with tuna that is helpful to improve heart diseases.
Tuna casserole is good to go with any salad, grilled, roasted, or baked veggies. Crunchy or fresh veggies are suitable to pair with this casserole; thus, opt for whatever you like.
Now, get an incredibly good breakfast with leftover salmon lemon dill sandwiches that have a creamy and tangy texture and delicious flavor.
Just cook the creamy sauce with prepared ingredients; add the mixture with cooked salmon; assemble the blend with flatbread, and then top the filling with sliced avocado and sprouts to eat more deliciously.
Simple smoked fish pate is what you can use up leftover fish to create an excellent new dish. The smooth, cold, and creamy texture makes the recipe ideal to accompany it well with salads and warm pasta.
You can get the best version of smoked fish pate when you let it cool in the fridge one day before serving.
The crunchy but tender, crunchy stem broccoli, creamy and flavored texture, and well-seasoned smoked salmon join together and form minty salmon and broccoli frittata with good flavor and appealing look.
Just the overall description like this, you can imagine how easy the recipe is; thus, consider making it to treat your family.
You might have known escabeche as a famous dish in Belize and Mexico that includes turkey or chicken. However, the escabeche recipe I'd like to introduce today utilizes fried fish.
Cooking fish escabeche with leftover fried fish is very easy with simple steps and quick time. You need to spend around 10 minutes making a sauce to toss these leftover fried fish.
Fish escabeche recipe has fried fish tossed with a juicy and full-flavor sauce of tomatoes, taking this fried fish to a new level of deliciousness. Moreover, top some fresh chopped herbs over the fish to get a better flavor.
You don't have to just stop there. With the various dishes you can pair with fried fish, you can pick one to your liking so that you make this recipe even more delicious.
If you've had leftover fried fish, fish escabeche will be ready on your meal table in 10 minutes.
Is There Any Leftover Fish Recipe I Forgot?
With leftover fish, you definitely can use up and create many kinds of new dishes from salad, soup, dip, cakes, and spring rolls when you know how to combine it with veggies, spices, or other ingredients in an appropriate way.
These 21 ideas above are the most highly recommended recipes to make the dish with ease and convenience. Just follow the recipes and taste the dish as you want; you get your favorite dish version.
If you like my post or just find it helpful to read, help me to share it. And if you have any exciting ideas, leave a comment in the section below. I'll add your idea to my post as soon as possible.
Nutrition Facts
2 servings per container
---
Amount Per ServingCalories203
% Daily Value *
Total Fat 9g

14

%
Cholesterol 47mg

16

%
Sodium 221mg

10

%
Potassium 565mg

17

%
Total Carbohydrate 10.8g

4

%

Dietary Fiber 1.3g

6

%
Sugars 4.6g

Protein 19.7g

40

%
---
* The % Daily Value tells you how much a nutrient in a serving of food contributes to a daily diet. 2,000 calories a day is used for general nutrition advice.