French soup recipes provide a wide array of selections to feed your obsession. Ranging from creamy Chestnut to thick Beef Bourguignon, this list always has something for everyone!
French soups are nutrient-dense, warming, and super flexible. Not only are they a staple of French children's diets, but they are also an excellent way to kick off your classy dinner party.
Despite being delicious, many people are unsure if they can pull off these recipes at home since French cuisine has a long and illustrious history of being challenging. However, rest assured that these French soup ideas are truly a piece of cake!
As the days get cooler, you know the soup season has come. From late autumn to early spring, you will find a large soup pot in every French household. They provide a domestic feel and, thus, are worth a spot in some of the most renowned French cookbooks!
Here is my collection of the most well-known French soups that you can effortlessly put together in your kitchen! They are so delectable and inspiring that you will feel like eating under the Eiffel Tower in your own house!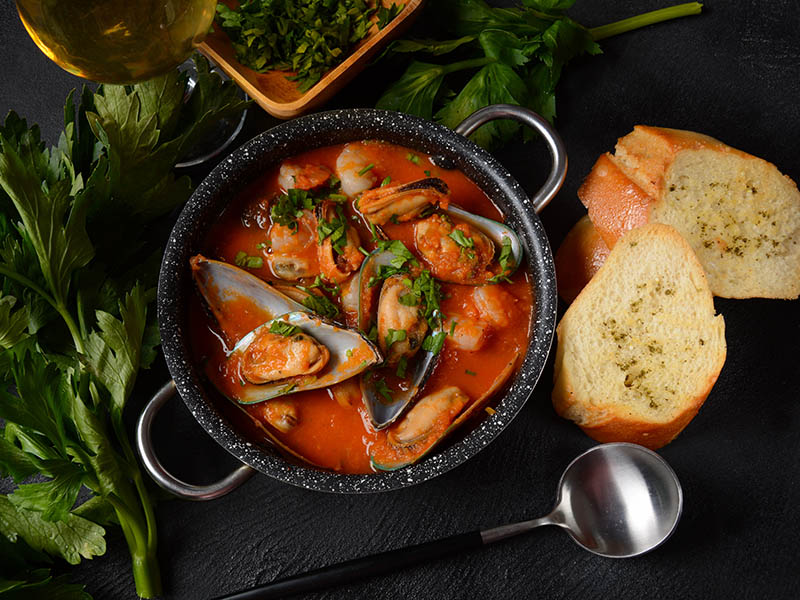 Let These French Soup Bowls Permeate Your Kitchen!
Filling the air with the delectable smells of these French soups is probably the best thing you can do to your house during the wintertime. The best part is that they are a breeze to cook! So, let's join me on the journey to uncover some of the best French soups!
TOTAL TIME: 4 hours and 40 minutes (Preparation completes in: 25 minutes + Cooking finishes in: 4 hours and 15 minutes)
Considered by some as France's national dish, this Christmas classic is a Beef Stew enhanced with root vegetables.
Translated as "pot on the fire", the soup was historically considered a dish for the poor. It makes use of less costly cuts of beef (ideally marrow bones) that are cooked slowly until soft.
Nowadays, soup is popular and cherished in various locations, ranging from rural towns in France to chic Parisian cafés.
Enhance your dining experience of Pot Au Feu on a chilly winter day by preparing thick pieces of crusty French bread for dipping in the stew liquid. Trust me, it will never bore you!
TOTAL TIME: 2 hours and 30 minutes (Preparation completes in: 30 minutes + Cooking finishes in: 2 hours)
Dated all the way back to the 18th century in France, excluding this Soupe À L'oignon would mark any list of French soups incomplete!
If you have Parisian friends, you will know that Parisians link their lives with visiting a French café and eating a cup of hot French Onion Soup there. Lucky for you, there is no need to make such an excursion for the treat, as you can recreate it at home!
Hearty beef stock and caramelized onions come together to provide a sweet, salty, and intensely flavored soup under a melted Gruyère topping. Without a doubt, this soup is designed to excite your taste senses and warm your heart with just one mouthful.
You can enjoy this French onion soup as a stand-alone dish or pair it with the main course of your choice. It can be a meaty meal (such as pig tenderloin, steak, or grilled chicken) or a light salad to enhance the soup's richness and heartiness.
Learn to warm your tummy with this easy homemade French Onion Soup!
TOTAL TIME: 31 minutes (Preparation completes in: 5 minutes + Cooking finishes in: 26 minutes)
This hearty, creamy Chestnut Soup is a wintertime staple in France. Fresh chestnuts are cooked in an aromatic broth and blended until smooth, providing a luxuriously rich texture with a full-on sweet buttery flavor.
If you visit France during the winter, you will fall in love with the fragrance of roasted chestnuts emanating from every street corner. It will inspire you to generate this creamy and delicious French starter on the way home to warm you up during the holiday season!
When chestnuts are not in season, you can use cooked, peeled chestnuts available in a can, jar, or Sous Vide. While the latter may not be as fresh, it will nevertheless result in a delectably creamy soup.
TOTAL TIME: 1 hour and 5 minutes (Preparation completes in: 25 minutes + Cooking finishes in: 40 minutes)
Vichyssoise is a creamy soup prepared with leeks, potatoes, chicken stock, and cream. People prefer enjoying it cold as a first dish during the summer months, although it is also delectable when served hot.
There is continuous disagreement about the soup's origins. According to some culinary historians, the initial soup idea was devised in 1859 by French chef Jules Gouffe, while others credit Louis Diat, a French chef who worked at the New York Ritz-Carlton.
Also known as "Potage Parmentier", this creamy leek and potato soup is ideal for a cozy winter supper or a nutritious lunch. Serve it with a crusty Baguette or your favorite cheese toast!
TOTAL TIME: 55 minutes (Preparation completes in: 10 minutes + Cooking finishes in: 45 minutes)
Bisque is a French culinary method that involves boiling seafood to extract its flavors. Shrimp Bisque is a brilliant example to demonstrate this cooking method. Originally a fisherman's meal, this decadent dish has become a worldwide hit!
This thick and rich pureed soup is brimming with cream, shrimp meat, Cognac (or wine), and a spice blend. Despite the restaurant quality, the soup is deceptively simple to prepare at home and takes less than half an hour.
While the shells boil in liquid, the soft meat is braised in aromatics and herbs. After adding the meat to the flavorful broth, the mixture is blended and thickened with cream. Personally, I love to infuse the recipe with a dash of fire by adding Cayenne or Cajun.
Shrimp Bisque is ideal for date night at home, entertaining, or any time you are looking for an exquisite chef-quality cuisine with incredible wow effects to tingle your taste buds.
TOTAL TIME: 30 minutes (Preparation completes in: 10 minutes + Cooking finishes in: 20 minutes)
While the dish's name translates as "mushroom soup", I would not blame you for calling it "champion soup". This recipe brings you a hearty, earthy, and velvety soup that you need when having a hectic schedule.
Like Chestnut Soup, you will blend all ingredients in this recipe to create a creamy Mushroom Soup. After heating the elements, the soup is chilled, pureed, and reheated. Lastly, top your soup bowl with fresh herbs and high-quality French cheese, and enjoy!
Simple but lovely, this traditional French Mushroom Soup is an elegant match for a weeknight supper or as an appetizer for a dinner party.
French Mushroom Soup infuses an elegant air to your weeknight supper!
TOTAL TIME: 30 minutes.
If you are searching for something to do with your leftover hams after the holidays, you must try this delicious and healthful Garbure. It is a classic French thick soup made with meat, cheese, stale bread, and many vegetables.
Originally a peasant soup, its moniker derives from the Spanish word "Garbias", meaning stew. This rustic soup from Gascony is rich, smoky, and purposefully thick. Nothing is more savory to taste on a sweltering winter day than this magnificent French food idea!
Making Garbure is best done on weekends when you can commit a few hours to be at home. It will take time, but not necessarily a great deal of work.
Serve this Garbure with buttered toast and enjoy it with a fork! You hear me right! A fork helps pick up those massive vegetable bundles in this soup unless you have serious spoon skills.
TOTAL TIME: 55 minutes (Preparation completes in: 20 minutes + Cooking finishes in: 35 minutes)
The autumn season is the best time to showcase your pumpkin cooking ability. French Pumpkin Soup is one of the finest ways to do so! The recipe's ideal balance of sweet and savory flavors will impress anyone you serve it for!
This Potage Au Potiron is not only thick and creamy but also healthful to your body. It is a surefire recipe for any chilly autumn evening! A good tip is to consume it immediately with fresh bread for mopping up the soup bowl.
TOTAL TIME: 45 minutes (Preparation completes in: 15 minutes + Cooking finishes in: 30 minutes)
By now, it should be evident that the French excel at making vegetable-centered meals. This French Carrot Soup helps cement the above argument.
The soup's name stems from the origin of its primary ingredient, a carrot type known as the Crécy carrot or red carrot of Meaux. This historic cultivar originates in Crécy La Chapelle in Meaux, situated East of Paris, not far from the French capital.
This straightforward and comforting French staple, Potage Crécy, is made using rice, making the soup smooth and full, ideal to be a stand-alone meal or a side dish with supper!
TOTAL TIME: 1 hour and 10 minutes (Preparation completes in: 20 minutes + Cooking finishes in: 50 minutes)
Thanks to its captivating aromatic scent, Bouillabaisse is one of the most gratifying dinners you can prepare at home.
This Provencal seafood stew is as straightforward as it gets. There is a broad range of seafood and shellfish you can utilize for this soup bowl, including clams, shrimp, mussels, and cods.
Making Bouillabaisse requires an important ingredient: the brilliant French sauce of orange peel, saffron, and fennel. While Saffron is a critical component of the soup, Rouille is a spicy aioli to serve alongside this renowned French soup.
Also, pair the soup with a crispy Fennel Salad. Together, they form a heavenly match! The nicest thing is that there is something for everyone at the table, even fussy children, from the delectable broth to various fish and seafood to select from.
Learn how to cook and pronounce Bouillabaisse the French way!
TOTAL TIME: 1 hour and 5 minutes (Preparation completes in: 15 minutes + Cooking finishes in: 50 minutes)
Nothing soothes your soul quite like this cozy and hearty French Chicken Soup. By substituting potatoes for noodles, this French recipe made with chicken will undoubtedly satisfy you and your family with just one bowl!
This soul-warming soup is brimming with fiber and will keep everyone full. Adding a dash of wine and a sprinkle of Herbes De Provence (Provence's herb mixture) will enhance the richness of this French dish. The best part is that you can have leftovers for lunch the following day.
Like Pot Au Feu, it is ideal for serving this French Chicken Soup with mustard on the side so that guests can add as much or as little as they wish. Bring warm, crusty bread to the gathering as well. There must be something to sop up the delectable broth, right?
TOTAL TIME: 1 hour.
A hearty, comfortable, and nutritious dinner is something everyone is after during the winter season. Fortunately, this French Lentil Soup provides precisely that.
With the generous helping of Puy lentils, carrots, celery, and bacon pieces, this soup is a straightforward meal brimming with flavors. A mouthful of it will show you what a creamy and chunky texture is like.
You will adore this soup for its multiple levels of flavor: the bacon's smokiness, the lentils' earthiness, and the veggies' sweetness. When cooked, these little green lentils maintain their forms and thicken the soup without becoming sludgy.
While you can eliminate the bacon for a more satisfying vegetarian or pork-free meal, the ingredient enhances your Lentil Soup's taste significantly and leaves your home smelling great!
Whether you are seeking to improve your eating habits or shake off the winter blues, this Lentil Soup is your go-to pal!
TOTAL TIME: 50 minutes (Preparation completes in: 20 minutes + Cooking finishes in: 30 minutes)
It is normal to be scared by the number of ingredients needed for this hearty soup. However, it is well worth the effort! Once you have mastered the recipe, it becomes pretty simple. As a bonus, you have a household staple to your cooking repertoire!
Packed with root vegetables and baby lima beans, this French Farmer's Soup is where the diversity of veggies and herbs meets the light broth. Its earthy aromas will instantly fill your kitchen with a Parisian atmosphere!
Although the soup is traditionally consumed during the colder months, you can generate and enjoy it all year round. Pair it with a glass of Pinot Noir and experience how it enhances your tastes.
TOTAL TIME: 1 hour (Preparation completes in: 30 minutes + Cooking finishes in: 30 minutes)
Tourin is a garlic lover's dream come true. This delectable and light soup is layered with various flavors and ready in an hour. There are a number of methods to prepare this brilliant meal. No matter how you spoon it, you will not be disappointed!
Originated in the Southwest region of France, this classic garlic soup utilizes a large quantity of garlic, whole cloves, chopped sage, sliced shallots, and chicken stock. Egg whites and yolks help thicken Tourin, making it both tasty and nutritious.
Each February, Villeréal municipality in the Lot Et Garonne area hosts a Tourin cook-off to honor the skill of local cooks in producing this delectable soup. It is also customary to offer this brilliant soup to newlyweds.
If you wish to elevate the dish's taste to new heights, don't forget to garnish it with a tablespoon of red wine and shredded Gruyère cheese.
Add Tourin to your French food repertoire and satisfy garlic lovers in your family!
TOTAL TIME: 1 hour and 20 minutes (Preparation completes in: 10 minutes + Cooking finishes in: 1 hour and 10 minutes)
French culinary enthusiasts consider Beef Consommé to be one of the most refined soup forms in the country. This delicacy is opulent and packed with nutrients.
What makes this soup unique is its transparent, full-flavored, and fat-free liquid broth, thanks to the utilization of egg whites. Although the recipe requires much time and effort, the outcome is an intensely tasty experience that will warm you to the core.
The dish's history extends all the way back to the Middle Ages, when only the rich could afford the ingredients to make this elegant treat. Its delightful and smooth bowl of juicy, clarified beef broth is the only component consumed in the meal!
Beef Consommé is the top-of-mind choice for an appetizer at formal parties when it is decorated with mild-flavored components (sliced veggies, egg yolks) that do not overwhelm the delicate soup.
Besides, the French also use it as a foundation for different soups, including Brunoise and Onion Soup.
TOTAL TIME: 1 hour and 30 minutes (Preparation completes in: 15 minutes + Cooking finishes in: 45 minutes + Eggplant sweating time takes: 30 minutes)
While the film showed Ratatouille as a vegetable casserole stewed in a basic tomato sauce, this classic recipe may be prepared in various other ways. Turning it into a soup-based dish is one of those brilliant ways.
With multiple layers of flavor created by the variety of vegetables cooked to perfection, this savory Ratatouille Soup is thick, nutritious, and low in calories, pairing nicely with warm fresh bread and cheese.
The nicest thing about this recipe is that it uses up Ratatouille leftovers and transforms them into something delectable. Rest assured that it tastes nothing like leftovers! In contrast, the dish is creamy and cost-effective. A true feast from virtually nothing!
TOTAL TIME: 2 hours and 45 minutes (Preparation completes in: 45 minutes + Cooking finishes in: 2 hours)
Your family's meat enthusiasts will adore this French take on a worldwide staple. Beef Bourguignon is simple yet so unique in flavor. With a delectable red wine base and a large portion of carrots, potatoes, onions, and beef, it outshines ordinary stews.
Compared to other broth-based dishes, this French staple has a far more nuanced taste profile thanks to its special preparation method.
Serve your dish with rustic, crusty bread, egg noodles, or any other carbohydrate of your choosing. Pour a bottle of velvety Pinot Noir to complete the experience. Your family and friends will be taken aback by this crowd favorite!
Beef Bourguignon has the power to outshine ordinary stews.
TOTAL TIME: 2 hours (Preparation completes in: 30 minutes + Cooking finishes in: 1 hour and 30 minutes)
Taking its name from a classic French paste, Soupe Au Pistou is a popular summer soup akin to Italian Minestrone.
This Provencal soup is brimming with vegetables, white beans, carrots, and noodles, topped with a substantial quantity of Pistou – a blend of basil, garlic, and extra virgin olive oil.
The name of this unique French sauce derives from a French verb meaning "to pound" since it is usually created with a pestle and mortar. It is critical to add Pistou right before serving. Putting Pistou into an overly hot soup might dilute fresh basil's scent.
While you can fully blend the paste into the soup before serving, you can also add it in individual bowls for guests to swirl in and modify the flavor to their liking.
TOTAL TIME: 45 minutes (Preparation completes in: 10 minutes + Cooking finishes in: 35 minutes)
There is no better way to warm your belly than enjoying a cup of delicious Butternut Squash Soup. This cozy dish works well as an appetizer at an elegant dinner party, as well as an ordinary meal on any chilled weeknight.
Indeed, butternut squash and chilly weather go hand in hand like they were meant to be, which, in fact, they were! Thus, this classic Butternut Squash Soup will complement your autumn and winter dinners, especially when paired with grilled cheese sandwiches.
Don't worry if there are leftovers after the meal. This creamy dish tastes much better the following day! In addition, you can try making crockpot butternut squash soup using a crockpot for a no-fuss cooking experience.
One appealing thing about Butternut Squash Soup is that while cooking, this recipe will fill your kitchen with the comforting aromas of its ingredients. It is like fall-in-a-bowl, ideal for satiating cozy autumn desires!
TOTAL TIME: 1 hour and 10 minutes (Preparation completes in: 10 minutes + Cooking finishes in: 1 hour)
All of your favorite autumn flavors plus an unexpected dash of rosemary take this Pumpkin And Honeynut Squash Soup to the next level. The flavors of pumpkin, honeynut squash, and rosemary complement one another well.
When cooked, honeynut squash becomes sweeter and softer for chopping. A pair of these adorable squashes are ideal for roasting and serving as a stand-alone meal.
Thanksgiving appetizer is the best purpose you can label for this soup dish. However, do not save it exclusively for special occasions as you can consume it as a nutritious weekday supper. Its fragrances will fill and warm your house!
People often call this soup the "Elixir of Autumn", as it perfectly encapsulates the essence of autumn. It is an excellent dish to offer when guests arrive. Don't forget to accompany it with a wheel of cheese and a nice Baguette!
TOTAL TIME: 1 hour (Preparation completes in: 10 minutes + Cooking finishes in: 50 minutes)
Tomatoes are one of the most adorable ingredients in Southern France. Therefore, why not carry some of them into the cold months with this Tomato And Basil Soup? The dish is rich, calming, and so memorable with the delectable addition of fresh basil.
This Provencal variation is similar to the traditional tomato soup you are familiar with. However, the dish provides a more satisfying meal to its eaters when served over a grilled cheese sandwich.
It is the greatest tomato soup you can prepare effortlessly at home! Every aspect of it emphasizes the natural tomato taste. The dish is perfect for the winter and monsoon seasons, as well as any light summer day!
TOTAL TIME: 30 minutes.
This Watercress Soup is a classic grandmother's dish brimming with onions, defrosted peas, and bright watercress. For those who did not know, watercress is an aquatic perennial plant with a succulent texture and peppery flavor comparable to mustard greens.
If you are not a fan of fresh Watercress Salads, this soup may convert you! To boost the flavor even more, you should enjoy it with baked lemon and sesame croutons. The dish is low in calories, making it ideal for a healthy midweek supper.
Adding a poached egg to Watercress Soup is an amazing combination.
TOTAL TIME: 1 hour and 30 minutes (Preparation completes in: 15 minutes + Cooking finishes in: 1 hour and 15 minutes)
Also known as Potage Saint Germain, this Split Pea Soup is a traditional French recipe that blends earthy green split peas with vegetables, purees until smooth, then topped with crispy bacon for a smoky taste.
This recipe is a simple and inexpensive soup to prepare. The final result is rich, creamy, and satiating, guaranteeing to become a big hit in your family!
According to legend, this soup originated in Saint Germain En Laye, a little hamlet in Paris's Western suburbs noted for its regal castle.
The hamlet had a strong agricultural culture with its huge vegetable harvests and pig farms, among which peas and ham are the most adored produces. Combining these two regional staples, you achieve the popular Potage Saint Germain.
While it may not be entirely appropriate to label anything containing both ham and bacon as "healthy", Split Pea Soup has a lot to offer in terms of nutrients! It is high in fiber, protein, and a good amount of iron and vitamin B from split peas.
TOTAL TIME: 42 minutes (Preparation completes in: 12 minutes + Cooking finishes in: 30 minutes)
Aïgo Boulido, which translates as "boiled water" in Provencal dialect, is a modest soup of garlic and sage, supplemented with eggs. It has a lovely aroma and strong medicinal powers to assist digestion, fend off winter ailments, and overcome hangovers.
That description is quite a lot, right? Yet, this fancy French soup is surprisingly simple to prepare. Thanks to the use of extra virgin olive oil and protein-rich egg yolks, the dish is super watery and silky. So, if you want a decadent and rich dish, this soup is not for you.
In contrast, if your body is yearning for something simple and healthy after all of the Christmas cookies and fudges, this easy soup is a must-have item on your nutritious dish list.
TOTAL TIME: 1 hour (Preparation completes in: 20 minutes + Cooking finishes in: 40 minutes)
Although officially a casserole rather than a soup, Cassoulet is a special kind of food that makes you want to snooze for the wintertime after enjoying a large bowl. The dish is rich, meaty, and overly simple, with a few fragrant vegetable notes.
Made with duck, tasty French sausages, pig, and beans, this colossal meal is certain to gratify anybody who lives by the daily slogan of "protein". Like a good Risotto, Caussolet spread out gently over the dish, forming a loose sauce with distinct flavors.
A brilliant tip is to accompany the dish with a French Baguette and salad!
Close Your Eyes And Pick A Soup That Sticks To Your Mind!
My list of well-known French soups can go on forever! However, those recipes above are easy dishes you can generate easily without leaving your door! After going over all of them, which French soup impresses you the most?
Let me know your choice in the comment below, together with the reason why. In case your top pick is not on my list, I am happy to hear your suggestion. For now, thank you for reading!
Nutrition Facts
4 servings per container
---
Amount Per ServingCalories412
% Daily Value *
Total Fat 27.1g

42

%
Cholesterol 91mg

31

%
Sodium 233mg

10

%
Potassium 589mg

17

%
Total Carbohydrate 39g

13

%

Dietary Fiber 4.7g

16

%
Sugars 8.8g

Protein 4.5g

8

%
---
Calcium

98

%
Iron

2

%
Vitamin D

32

%
* The % Daily Value tells you how much a nutrient in a serving of food contributes to a daily diet. 2,000 calories a day is used for general nutrition advice.